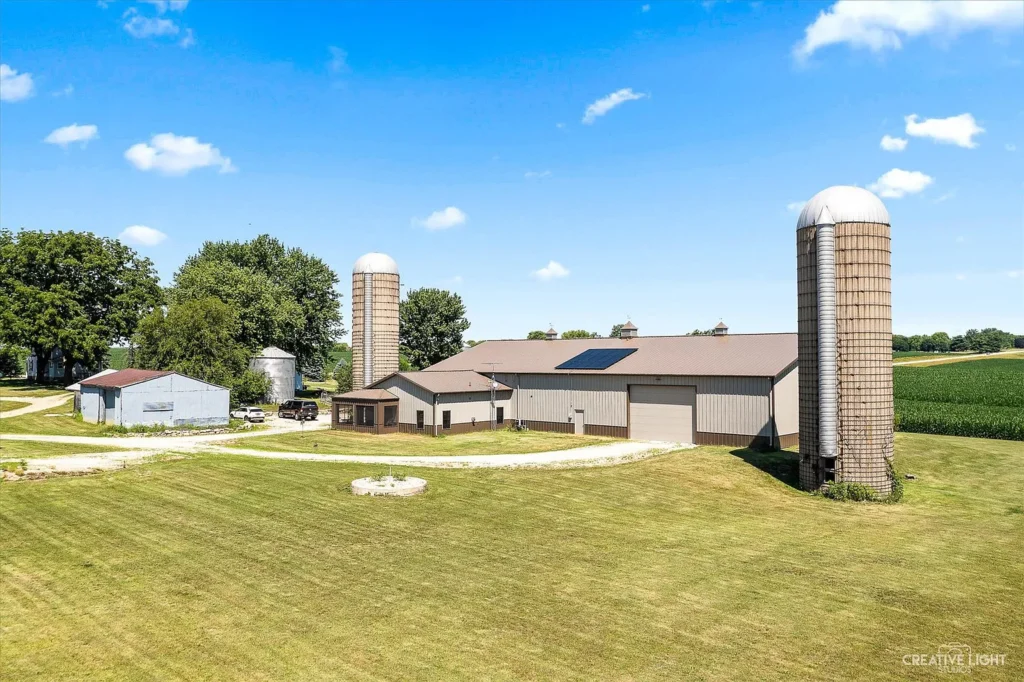 $1,000,000
8,559 Sq Ft,
1 Bedroom, 2 Bathrooms
https://www.zillow.com/homedetails/12350-W-State-Route-26-Polo-IL-61064/248545311_zpid/?
About this Home
Built for the ultimate hobbyist sanctuary. This completely custom built Barndominum rests on a 3.35 acre parcel with 2 silos and 1 outbuilding for additional storage. There are two entrances to the gravel driveway for easy access for large vehicles and trailers. From the ground up no expense was spared creating the ultimate live in shop. The concrete pad is a deep pour to accommodate automotive lifts while not interfering with the radiant floor heating system. The post frame constructed shell was manufactured and installed by Morton buildings and offers a limited warranty on the metal work. This style framing allows for large spans so that no floor space is interrupted by posts. A new septic system was installed at the time of construction. Comed supplied power with multiple 220 outlets to power any tool you need. While also offering solar power, reducing your summer electric bill to an average of $20. The shop area offers plenty of ceiling height for lifts or tall vehicles such as semi's and RV's. The three vehicle doors have electric openers and the height and width to accommodate any vehicle you can imagine. The shop is hard piped for shop air. The loft area has a folding half wall so that items can be forklifted into the loft easily. Below that is a half bath and the mechanical room. The living quarters offer an open concept living space with one bedroom and one full bath. The kitchen has custom built cabinetry and stone counter tops. All appliances are less than 5 years old and stainless. Out back is your very own orchard of fruit trees. The property does have hardwired video monitoring included in the sale. This property has nearly endless possibilities. Seller would be willing to sell many pieces of equipment such as scissor lift, fork lift.
Photos of 12350 W State Route 26
Gail currently spends her free time geeking out about what's new and trending in the world of barndominiums.
She is the former executive editor of BarndominiumLife.com and loves working with the team and members of the barndominium community. She now contributes to the blog on occasion, but only when she feels like it!