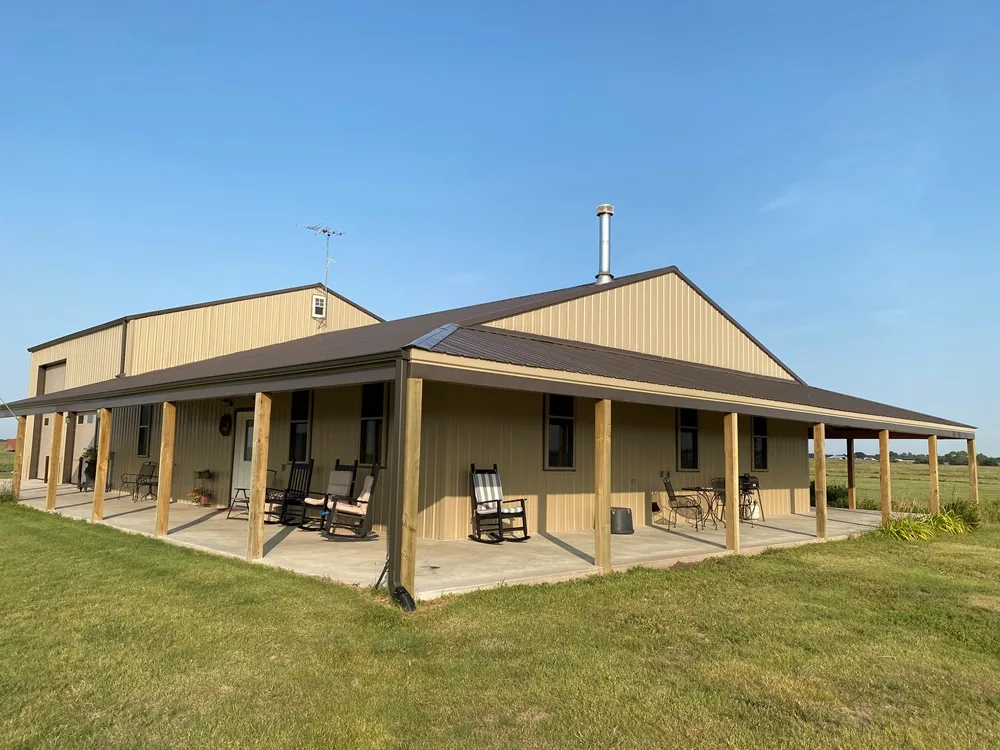 $780,000
1,920 Sq Ft
2 Bedrooms, 2 Bathrooms
https://carrauction.com/houses-and-homes-for-sale/477-se-70th-ave-stafford-ks-160-acres/
About this Home
Explore this newly built bardominium property nestled in the heart of western Kansas near Stafford. Spread across 160 acres of mellow, native pasture and retired CRP grass, this must-see property offers a harmonious blend of rustic appeal and modern comfort. The bardominium boasts spacious living quarters with an open-concept design, perfect for entertaining guests and enjoying the peaceful setting. Three sides of the Barndo have a wrap-around covered porch which will leave you with the decision of where to sit today to enjoy the expansive horizon. The acreage allows for various outdoor activities, from gardening to stargazing, while the surrounding landscape exudes a sense of serenity. If that's not your vibe, how about multiple hunting opportunities including a waterfowl pond complete with concrete, built-in blinds?! Finish levels and
details to note include: Granite natural stone countertops throughout including window sills, SS Appliance Package, Maple Cabinetry, Large closet and storage spaces, 20′ x 40′ basement, Oversized Garage with room for interior expansion, Generac whole home generator, barrel style wood fireplace, RV hookup, solid fencing with cross-fence (paddock) in place. Whether you're seeking a weekend retreat, lodge accommodations or a permanent residence, this property offers the ideal balance of country living and contemporary style. Don't miss your chance to own a piece of western Kansas paradise.
Photos of 477 SE 70th Ave
Gail currently spends her free time geeking out about what's new and trending in the world of barndominiums.
She is the former executive editor of BarndominiumLife.com and loves working with the team and members of the barndominium community. She now contributes to the blog on occasion, but only when she feels like it!