Are you looking for a new home? Then you should check out these Quonset hut garage homes.
These prefabricated steel garages were first used by the US military, and their popularity has only grown in the decades since. Now, people are using them to create homes and businesses of all shapes and sizes.
Quonset hut garages are the perfect option for those who want a sturdy, weatherproof structure but don't want to spend a fortune.
It was even possible for this couple to construct a Quonset hut-style garage for a fraction of the cost of a stick-built garage, costing only around $6,000 compared to a typical stick-built garage that would cost upwards of $30,000.
The possibilities are endless, basically. Take a look at these stunning Quonset hut garage homes to get inspired to build your own one day.
Get a FREE 18 Month Barndominium Planner
There are 39+ steps that must be taken before groundbreaking. Learn them all in this FREE checklist, available for immediate download.
Charming Converted Contemporary Quonset Hut Garage Home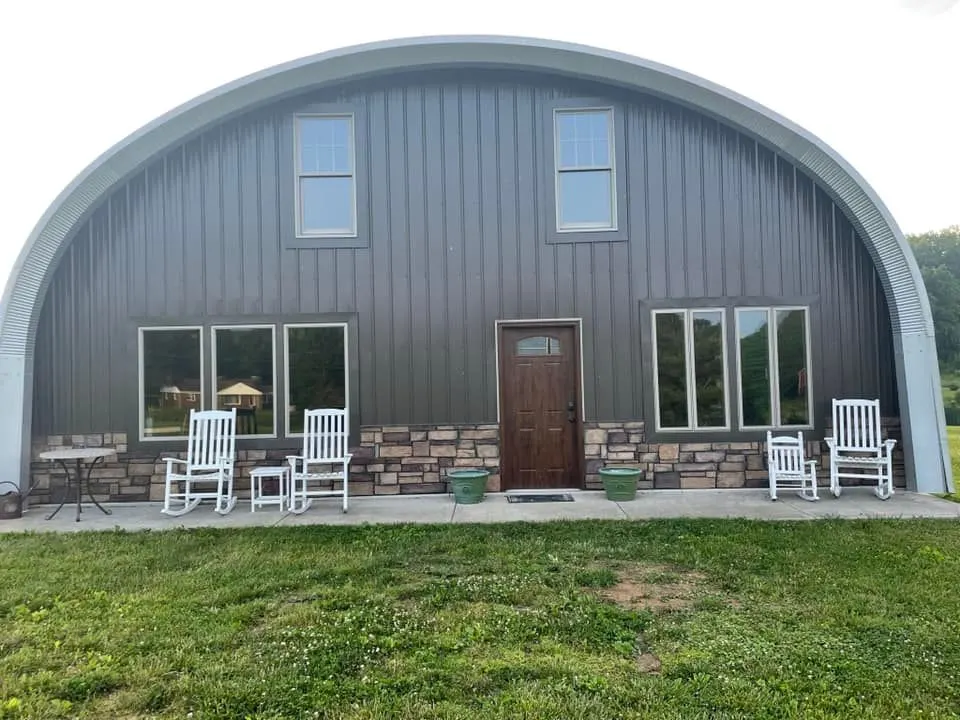 Source: Kristi Cropper
A used Quonset hut garage was repurposed as the foundation for this charming home! In order to provide a more rustic feel to the home's exterior, panels painted in a muted, darker color with a bricklayer were used in the remodeling.
As a result, the overall look contributes to a feeling of understated yet still lived-in comfort, further enhancing the beauty of the home's greenery.
In keeping with the friendly approach to the home's aesthetic, a classic wooden door and windows that are typically found in a regular country home have been added.
This allows the rocking chairs to naturally fit in to get a comfortable rest before enjoying a great day outside for family barbeques.
Minimalist and Functional Quonset Hut Garage Home
Source: Linda Roe Gardner
To survive the harsher weather conditions, the Quonset hut garage home has taken a completely functional approach as intended while still presenting a modern minimalist appeal.
The windows provide sufficient light and ventilation from the outside to provide natural lighting to the interior, while the gray exterior color enhances the clean look of the structure.
In terms of interior design, the home is a mixture of modern and homely, with wooden furniture used throughout to contrast the striking practical design.
There are also a variety of knickknacks dotted around the home, giving it a more lived-in look, adding to its welcoming appearance, making it the perfect place to gather with family and friends.
Stunning Elevated Quonset Hut Garage Home
Source: Rick Clifford
This Quonset Hut garage home combines boldness and contemporary design to create a strikingly beautiful home.
A muted gray color is used for the walls of this house, but the seamless brickwork, along with the bold accents painted on the window and door frames, makes the house look very inviting.
Many things make this Quonset hut garage home stand out, but one of them is the elevated structure that makes it possible to create a multi-car and multi-purpose garage.
The bricks then serve as an additional layer of protection and insulation for the ground level of the house while at the same time adding a decorative element that enhances both its appearance and its energy efficiency.
Having the windows and patio on the second level that serves as the home of this structure allows the sunlight to naturally seep into the home's interior, bringing natural light to the home.
The patio also serves as a wonderful place for the family to soak up the sun while having a nice cup of coffee.
How to Build Your Own Barndominium & 200+ Floor Plans
Get started today with our program "Barndominiums Made Easy: How to Build Your Own Barndominium" and get 200+ barndominium floor plans included!
Cozy Farmhouse-Style Quonset Hut Garage Home
Source: Sandro Frattura
A Quonset hut garage home like this one will certainly capture the attention of anyone looking at it with its striking red exterior coupled with its cozy appearance that complements the overall look of the home.
What makes this home stand out is the fact that despite the bold color scheme of its exterior, this structure manages to blend seamlessly into the lush greenery surrounding it.
Regardless of its smaller size, the compact look is sure to provide a more homely feel to the home's interior. If you are looking for a smaller home while still maintaining the appeal of a farmhouse, this style may be a great option.
Modern White Quonset Hut Garage Home
Source: Will Peterson
The white finish of this decked-out Quonset hut garage home gives off an understated yet sophisticated appearance that is perfect for a home in such a snowy climate.
Minimalist windows and scones are lined up on the exterior, which exudes a contemporary appeal that enhances the home's overall appearance.
This modern home has a very sophisticated look to the interior, with shades of white and clever wooden elements sprinkled throughout as a complementary contrast to the white.
This gives it an overall look similar to that of most modern homes today, including their modern features.
Should You Get a Quonset Hut Garage Home?
Because Quonset hut garages are extremely durable and can withstand severe weather conditions, they are currently being repurposed as homes. As these are made from metal, they are more fire- and insect-resistant, retaining heat well in the winter and remaining cool in the summer.
Furthermore, Quonset hut garage homes are inexpensive, so you can often build one for a fraction of what it would cost to build a traditional house.
If you're looking for a unique and affordable home, a Quonset hut garage home may be the perfect option for you. A barndominium may also be an appealing choice as your next residence.
Like this Post? Sign up for our email list!
Be the first to see new posts about the best barndominiums, construction guides, floor plans, and more! Enter your information below to become a BarndominiumLife VIP.
Noah Edis is a passionate staff writer at Barndominium Life, a leading online resource for all things barndominium. With years of experience in the writing industry, Noah has made a name for himself as a skilled storyteller and a knowledgeable authority on the topic of barndominiums.
Noah's interest in barndominiums began when he stumbled upon the concept while researching alternative housing options. Intrigued by the rustic charm and functionality of these converted barns, he soon became obsessed with the idea of living in one himself. He spent countless hours researching the construction, design, and decorating aspects of barndominiums, and soon became an expert on the topic.
As a staff writer at Barndominium Life, Noah enjoys sharing his knowledge and passion for these unique homes with others. He has written numerous articles covering a wide range of topics, from the history of barndominiums to the best ways to decorate them. Noah's writing is informative, engaging, and always on-trend, making him a valuable asset to the Barndominium Life team.
Noah is a graduate of the University of British Columbia, where he earned a degree in English Language and Literature. When he's not writing about barndominiums, he can be found exploring the great outdoors, trying new restaurants, or spending time with his family and friends. Noah is dedicated to his craft and is always striving to improve his writing skills and knowledge of the barndominium lifestyle.
Connect with Noah on LinkedIn