It was the fall of 2017. Another year gathered around the table for Thanksgiving. Little did I know that after some neighborhood gossip my life would change forever that day.
"They're building a barndominium."
"They're building a what?" I inquired. "A barndominium."
My cousin told me about this new style of house popping up around Texas, Oklahoma, and other southern states. A promise of affordability, durability, and some devilish good looks.
After that, I was off to the races. I became obsessed with barndominiums and started this site, the most read resource for barndominium fans.
Not until now have we slowed down to fully answer the burning question EVERYONE has when they start out – what is a barndominium, anyway? What type of home can we consider a barn, what's considered a regular home, and what's considered a barndominium? Additionally, can you even use a barn as a house?
In this intensive, in-depth guide, we'll cover every aspect of the barndominium. First, we'll cover the history of the barndominium (they have an origin story that you may not have expected!).
Then, we'll cover how much barndominiums cost, and other things to consider before getting started building.
After that, we'll cover what you should know once you actually live in your barndominium. Things such as barndominium insurance, upkeep/maintenance, and more. Finally, we'll finish off this guide with a review of the pros and cons of the barndominium, and some awesome barndominium pictures.
This guide did not come together on accident. It's the result of years of work and learning we've put in running BarndominiumLife.com. For this guide, we spoke with numerous home design and construction experts to fully understand the history of the barndominium. We hope that you find this article enjoyable and informative.
We would be remiss if we did not mention our 138 page eBook "Build Your Dream Barndominium" available now on Amazon.
How to Build Your Own Barndominium & 200+ Floor Plans
Get started today with our program "Barndominiums Made Easy: How to Build Your Own Barndominium" and get 200+ barndominium floor plans included!
What is a Barndominium, Anyway?
First and foremost, let's define what a barndominium is (and isn't). This is likely the most controversial subject when it comes to barndominiums, so let's set the record straight once and for all.
A barndominium is usually a metal building, sometimes quite large, that usually
has room for both living quarters and a shop or garage area. They sometimes even feature a horse stable. Many barndominiums are actual barn to home conversions, but an increasing number are ground up construction of a brand new homes.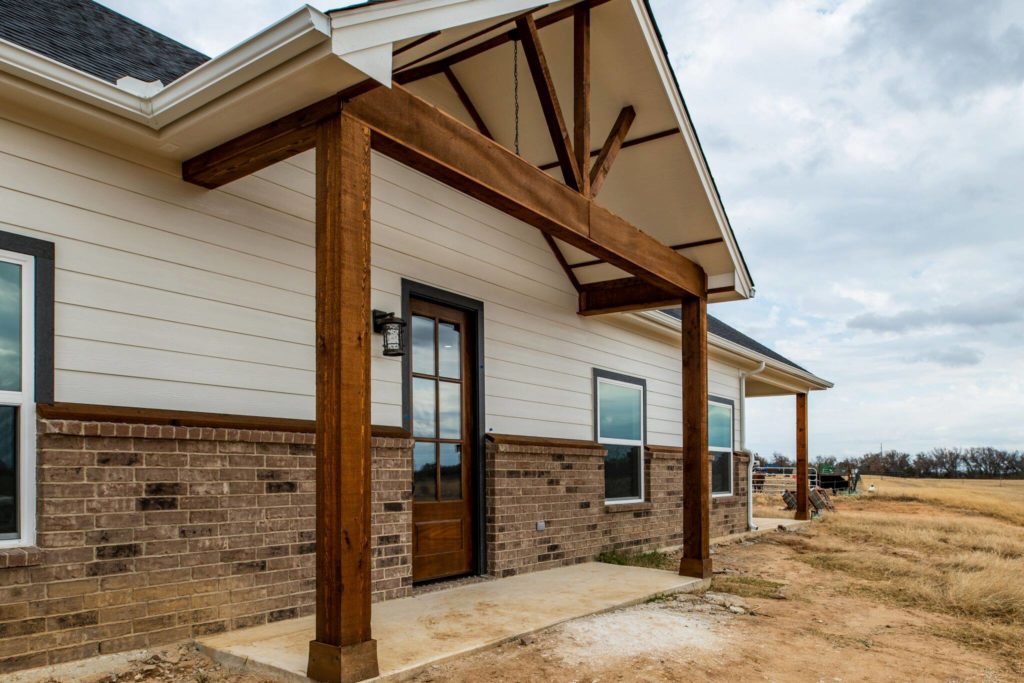 The sleek farmhouse design style has exploded in popularity, and the barndominium helps you get that farmhouse look on the exterior, not just the interior. On the other end of the spectrum, other farmhouses are heavy on the rustic, countryside look.
What is a barndominium without a great room? Most feature an expansive, open-concept living room with high vaulted ceilings. Almost all barndominiums have a rectangle foundation, allowing the barndominium floor plan to be customized to your exact liking.
Folks love the barndominium because they offer a number of advantages over traditional homes:
Cheaper and quicker to build than conventional houses
Flexibility in space management
Lower maintenance requirements
Lower insurance costs and associated taxes
What is the History of the Barndominium? Where Did They Originate?
When most people think about barndominiums, the first place that springs to mind is "Texas" and rightfully so. The barndominium has exploded in popularity recently, and much that can be attributed to Chip and Joanna featuring a barndominium conversion on their hit show Fixer Upper. Not only was that barndominium in the great state of Texas, but the majority of interest are from people who live in Texas.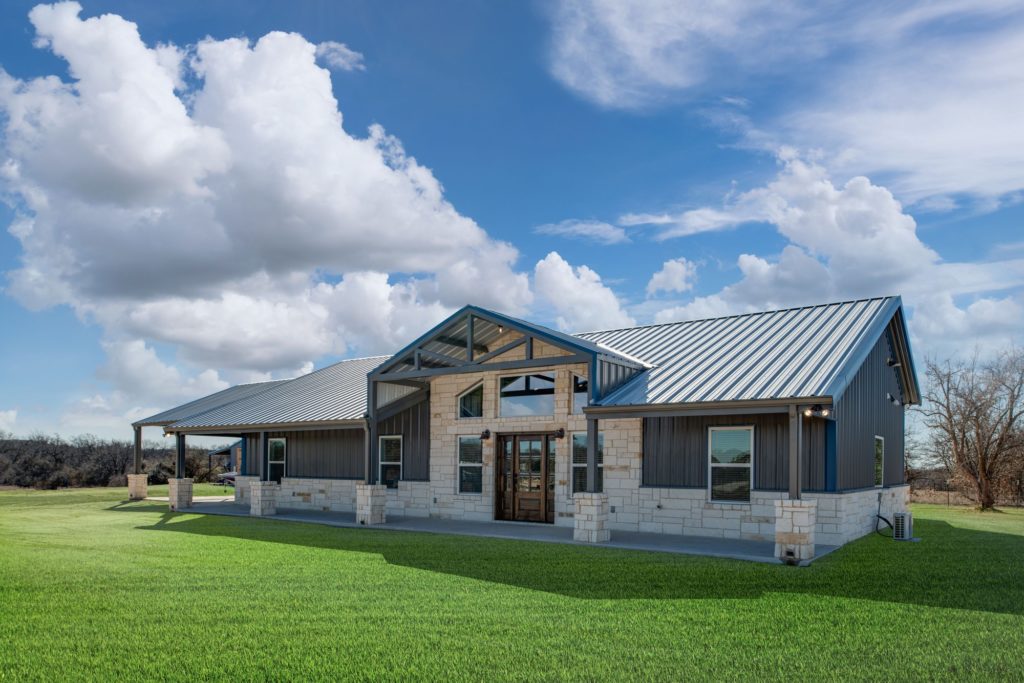 What may surprise you is that the origin of the barndominium starts very far from Texas, in the state of Connecticut. After months of research and digging, we were able to find the very first mention of the word "Barndominium." Believe it or not, it was in the New York Times in 1989.
The person who coined the term "barndominium" is a gentleman by the name of Karl Nilsen, who was a real estate developer in the Connecticut area. He was working on a new style of planned community that centered on living near horses. Think of a community that's built around a golf course, and this was essentially the same idea with horses. Karl is the one who came up with "barndominium" as the name for his new concept in the 1980's.
From this point in the 1980s and after a single New York Times article as an artifact, it wasn't until the mid-2010's that the term regained popularity again. This was when the popular HGTV show Fixer Upper featured a barn to barndominium conversion on its third season. This is really when the barndominium concept started to take off across Texas and the rest of North America.
Who Are Barndominiums For?
Aside from all the advantages of the barndominium such as faster construction and efficiency, there are some major lifestyle reasons folks are attracted to the barndominium.
In the BarndominiumLife Facebook groups, we've been polling nearly every new member and asking them two questions – "Where are you from?" and "What attracts you to the barndominium lifestyle?"
After reviewing the answers to the second question, we feel we've uncovered some key reasons folks love living in a barndominium. A lot of the people who responded just said they love how barndos looks. That said, many of the reasons for barndominiums are lifestyle related!
The number one reason folks are attracted to the barndominium is so they can have a shop/house combination. This is really attractive for people who work in the trades and need a covered area to work during the day. It also has the added benefit of making your commute pretty easy!
Another major lifestyle benefit of the barndominium is the ability to fit large families and relatives. Barndominiums tend to be cheaper to build on a per square foot basis, so a large family has the room it needs to run around and enjoy.
Last, people love the open concept floor plans for their living room and kitchen areas. Many older homes do not have open areas like this, as it's considered a luxury in current design trends. With the barndominium, you can get a great open space for less cost than most other methods.
How Much Do Barndominiums Cost?
If the first question we usually get is "What is a barndominium?" the second is almost always "how much do barndominiums cost?"
One of the major selling points of the barndominium is that they are cheaper to build than the typical home. The average in 2020 is around $95 to $125 per square foot for a new build. This number, however, can vary wildly based on a few different factors.
The first and most important factor in figuring out how much your barndominium will cost relates to how much you'll do yourself. If you're going to hire a general contractor to handle everything for you, you'll be looking at closer to $125/sq ft (or more). If you feel capable of being your own general contractor, this will save a lot of money.
In our Facebook groups, we have members who have taken on nearly every aspect of construction themselves. With just the materials to worry about, they're reporting construction costs as low as $30/sq ft! Unless you're a pro, we don't necessarily recommend going this route.
How Much Does A Barndominium Cost Vs Building a Regular Home?
Now that we know building a barndominium usually costs between $95 and $125 per square foot, let's compare that with traditional home building.
We wrote extensively about barndominium cost vs house, but here are the numbers in plain English. Building a traditional home usually starts at $145 per square foot for an average sized house. A good chunk of that cost is devoted to exterior framing of the walls and covering that with brick, stucco, or another material. And then, there's the roof, of course.
With the barndominium, you can skip most of those costs. The primary cost with a barndo comes from the metal "shell" which includes a roof, typically. This keeps costs significantly lower than traditional methods. For answering the question barndominium cost vs a traditional home, the barndominium is a clear winner.
Can You Just Use a Barndominium Kit?
For just the shell, some companies are promoting barndominium kits that make building a barndominium easier. These arrive on a pallet or semi trailer, and you must put them together yourself after you've poured a concrete foundation.
While a barndominium kit is not exactly turnkey, it's still a lot easier than paying someone for ground-up construction. Many manufacturers will help arrange construction crews to come to your land to help assemble it as well. We highly recommend the barndominium kit approach for anyone who's looking to save on cost.
How Do You Get Barndominium Financing?
One of the most common concerns we hear early on in the barndominium building process is "where will I be able to get barndominium financing?"
While most lenders are still warming up to the idea of financing a barndominium, there's plenty that are lending for our beloved home. Coming in prepared is the key, we wrote an in-depth post about how to get barndominium financing. Here's what you need to prepare:
Solid plans
Actual contractor or subcontractor bids and
A good credit rating
Long story short, getting a construction loan (which let's face it, most barndos are new builds) is harder than getting a loan for an existing home. This is because it's harder to get an accurate appraisal, because there's no comparables! A barndominium in the middle of a rural area isn't identical to, well, any other property!
Not to worry. If you have an existing relationship with a local bank or credit union, try there first. They'll have detailed information on your financial background, and a solid relationship goes a long way. If that fails, a farm credit shop may be a good place to turn. Last, the online mortgage brokers are usually ready and willing to issue a new loan.
A note – many readers ask us about using a VA loan for a barndominium. While it is possible, we don't suggest it because VA loans have so many requirements for new construction. Instead, it's best to use a traditional lender for the construction, then refinance using a VA loan!
Building a Barndominium – How to Get Started
So you've decided that the barndominium life is for you. What's next? Before the internet, eBooks, and social media took over our world, this would have been a lot harder to answer.
Luckily for you, the future barndominium fanatic, you have plenty of ways to get the information you need. Between our two Facebook groups, our eBook "Build Your Dream Barndominium" and this very website BarndominiumLife.com, you have everything you need to get started.
How to Build Your Own Barndominium & 200+ Floor Plans
Get started today with our program "Barndominiums Made Easy: How to Build Your Own Barndominium" and get 200+ barndominium floor plans included!
Here is a quick snapshot of what you need to consider in order to get started building your barndominium. We try to link to applicable articles where we've written about the topic in greater detail. If you want everything in one place, however, our eBook is a handy option with all the info you need in one place.
Unless you're one of the lucky ones who already has a plot of land upon which to build your barndominium, finding some land comes first. Finding the right plot of land is trickier than it sounds. I mean, what could be complicated about finding the right patch of dirt at the right price? Quite a bit, it turns out.
There's a few things you want to consider when looking for land for your barndominium:
Consider the Zoning
While you'd assume that most plots of land far away from the closest city will have minimal zoning restrictions, you'd be mistaken. Many counties and states have instituted zoning classifications as far out in the country as you could possibly imagine.
Before buying a piece of land, consider what it's classified for. Is it considered residential, commercial, agricultural, or something else? A call to the local planning and zoning department of the county or city you're in is usually the easiest way to find this out.
Figure Out the Taxes
One important thing to note is that different states can have wildly different tax rates, even for plots of land without buildings. For example, in Texas there are no state income taxes. Sounds great, but they make up for it with some really high property tax rates.
Make sure you're aware of what the tax rate will be after you own it. Especially if you're not planning to build your barndo for a few years, paying taxes on an unused plot of land can really hurt.
You should also consider the taxes after your barndo is built. Some jurisdictions have very different tax rates based on the value and size of the buildings that are built on a piece of land.
Make Sure Public Utilities Are Available
One of the more important points, running water and electricity are pretty much taken for granted these days. But, if you're looking for a house that's far out in rural America, it's not a given.
When evaluating a plot of land, you'll need to determine a few things:
Make sure there's running water, or figure out if you need to drill a well
Ensure you can hook into the city/county septic or sewer system. If not, you'll need to install your own
Is there a local electricity grid you can tap into? Many are choosing to be completely "off the grid" with solar panels (Ahh, that's where that phrase came from)
Last, make sure there's adequate cell coverage or internet options. Many opt for satellite internet
How to Build Your Own Barndominium & 200+ Floor Plans
Get started today with our program "Barndominiums Made Easy: How to Build Your Own Barndominium" and get 200+ barndominium floor plans included!
Getting Started on the Design – Floor Plan, Blueprints, and More
Once you've figured the "where" part of building your dream barndominium, you need to figure out the "how." The "how" means answering questions such as:
"What do you want your barndominium to look like?"
"How big do you want your barndominium?"
"What sort of features do you want your barndominium to have?"
And so much more
If you feel overwhelmed, you're not alone. It's easy to try to focus on too many things at once. For that reason, we suggest starting by focusing on the floor plan of your barndominium.
In order to decide on a floor plan, you'll be forced to think about various aspects of your lifestyle and decide what's important and what isn't. For example, do you have a large family or a small one? Do you want a shop or a large garage area? Even basic questions such as these will help you figure out a general idea of what you're looking for. After you have a basic floor plan in hand, it's much easier to figure out the rest.
Finding Your Ideal Barndominium Floor Plans
Although we're a bit biased, we have a ton of barndo floor plans posted on BarndominiumLife.com. You can find any type of floor plan you're looking for, including:
With these plans, you'll be in an excellent position to get started. From getting financing to finding a builder, with a good set of floor plans you'll be able to communicate nearly exactly what you're looking for.
While some sites sell extremely expensive plans that include elevations and electrical, we don't suggest these. For one, many states mandate that your plans must be completed by someone with local knowledge of zoning mandates. The second issue is that some states go even further, and mandate that your plans are stamped by an architect. While most aren't like this, even if you bring some basic plans to an architect, this can reduce your costs tremendously.
Building a Barndominium Yourself vs Using a Contractor – Or Be Your Own GC
Once you have floor plans ready to go, you'll be at a fork in the road.
"Should I build my barndominium myself, or let a barndominium builder do it for me?" "Can I do some of the work, while contracting out most of it to various trades? Said differently, can I be my own barndominium general contractor?" "Can I build the entire barndominium DIY?"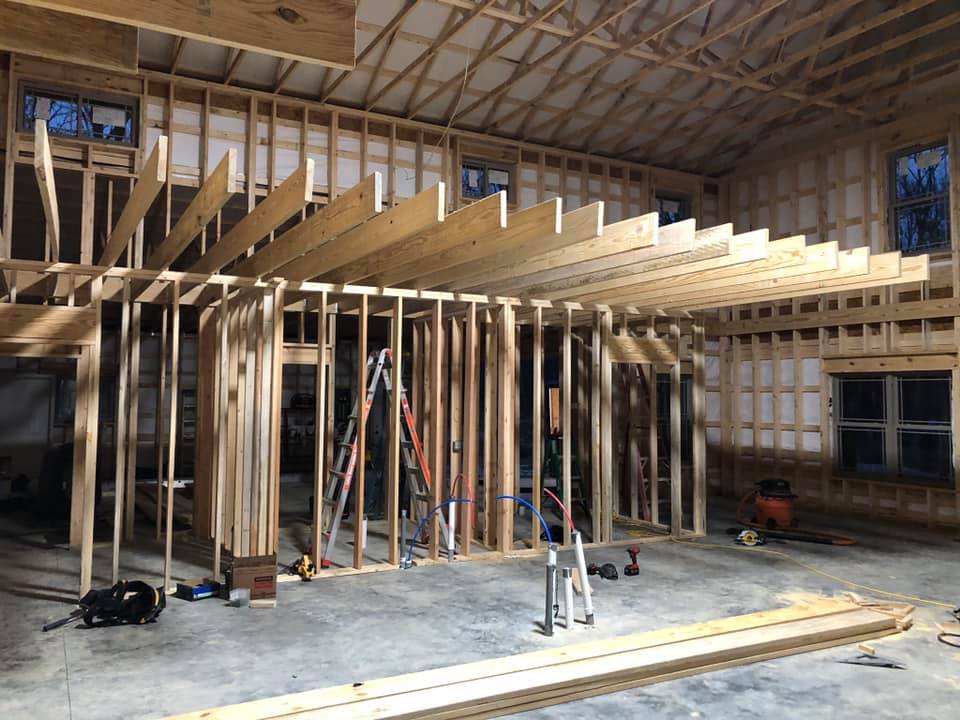 All of these questions will likely be on your mind as you weigh how to get started building your barndominium. Here at BarndominiumLife.com, we've seen folks take all three approaches to building their dream barndominium. Below, we'll outline the pros and cons of each approach, and give you some things to consider as you get started.
Build a Barndominium Yourself
Saving money is the main advantage of building a barndominium yourself. Barndominiums are already more affordable compared to traditional homes. When you cut out contractors and subcontractors, you save even more money.
You also have greater control over the project. While contractors and tradespeople can carry out your requests, doing it yourself ensures that everything matches your specific requirements.
Doing everything yourself is the best approach for those who enjoy do-it-yourself projects. It also helps if you have experience with home construction and power tools.
Building a barndominium yourself gives you more control and saves money. Purchasing a kit or a metal shell makes the building process easier compared to building a traditional home but still involves a lot of hard work.
You need to lay the foundation, erect the frame, and add the subfloors and walls. You then need to add electrical and plumbing, the roof, siding, and fixtures. There are a lot of steps involved and inexperienced individuals may run into trouble with some of the tasks.
Keep in mind that there are also many tutorials on how to handle each step of the building process. With enough ambition and physical ability, the DIY route is possible. It just involves more work compared to the alternatives.
Pros:
Saving money
More control
Personal satisfaction
Cons:
Involves hard work
May require experience
Hire a Builder for Your Barndominium
Some people prefer to let others do everything. If you do not have the time, energy, or ability to build a barndominium on your own, hiring a builder is a convenient option.
By hiring a builder, you do not need to worry about interviewing and negotiating contracts with subcontractors and tradespeople. Laying a foundation, adding electrical lines, and installing plumbing are tasks that typically require specialized knowledge and skills. Contractors are responsible for finding the right people for each job.
Contractors also oversee the building process. They ensure that everything is built to your specifications while keeping workers and tradespeople on track. Thanks to these benefits, you are less likely to deal with delays and setbacks.
Hiring a builder is a good choice for those who want to sit back and let someone else handle the hard work. However, this option also costs more compared to doing it yourself or acting as your own contractor.
On average, contractors charge a 20% commission on most projects. Depending on the size of the barndominium, hiring a builder may cost significantly more compared to the DIY approach.
You also have less control when hiring a builder. General contractors try their best to execute your wishes. However, you are still likely to experience occasional communication issues. Some contractors also try to pressure you to accept their recommendations, which may not align with your vision for your barndominium.
Pros:
Convenience
Professional results
Fewer setbacks
Cons:
Higher costs
Less control
Being Your Own General Contractor
A third option is to act as a general contractor and hire tradespeople. You get to oversee the building of your barndominium while hiring skilled professionals to carry out the work.
Being your own general contractor provides flexibility, allowing you to choose how much you want to handle yourself. You have the option of hiring tradespeople for every step in the building process while overseeing their work or hiring for specific tasks.
For example, you may choose to erect the frame yourself and then hire electricians, roofers, and other subcontractors to complete the rest. Each project that you tackle yourself saves you more money.
As the contractor, you also have the freedom to hire tradespeople to complete the entire project. Compared to hiring a contractor, you have more control over every decision from the materials to the design and layout of the barndominium.
Being your own contractor also comes with a few challenges. You need to compare and interview a variety of tradespeople for each job and then negotiate contracts. You also need to coordinate each job to complete your project within your intended timeframe.
For example, you need to wait until you lay the foundation to erect the metal shell. You need to construct the shell before you can start installing the interior walls and features. Barndominium insulation is a whole topic in and of itself. If you enjoy overseeing complex projects, this may be the right option for you.
Pros:
Flexibility
More control
Saving money
Cons:
Finding the right tradespeople
Extra responsibilities
Living in a Barndominium – What Now?
Let's fast forward a bit in time, Marty McFly style. Let's say you found a reputable barndominium builder in your area, paid them a reasonable amount of money, and now have a brand-spanking-new barndominium for you and your family. What now?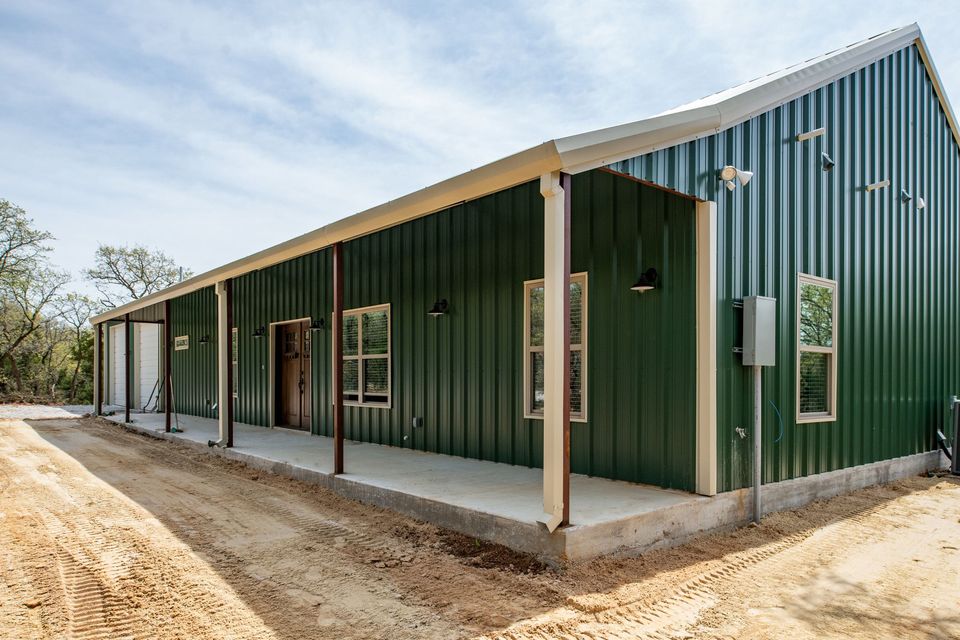 We hate to break it to you, but your work is not nearly done. Being a homeowner is not as much work as actually building the house, but it's not a walk in the park, either. You have more things to consider. Things like:
Are Barndominiums Safe for Me and My Family?
The first concern and consideration folks have when considering a barndo is definitely safety. We wrote an in-depth post breaking down the 4 things you need to know, but here's a quick summary for anyone concerned about barndominium safety.
#1 – Barndominiums offer greater protection against fire
Since most conventional homes are built using wood or stick construction, barndominiums have a distinct advantage over their timber counterparts. Not only does the metal used to construct barndominiums make them more durable, but it's also better for withstanding potential fires.
#2 – Barndominiums are safer in a tornado
Since barndominiums are most popular in Texas, Oklahoma, Kansas, and other parts of tornado alley, we get asked about their safety during these storms. A barndominium constructed with metal offers better protection against the elements, including tornados. Because of its steel construction, barndominiums may withstand up to an F-4 tornado.
#3 – Barndominiums are safe during lightning
A big potential concern we hear about relates to lightning strikes. Since barndos are made of steel, some wonder if they're more susceptible to lightning strikes than traditional homes. That is NOT the case. Steel has a lower electrical resistance compared to other materials, helping to spread out the heat of the strike.
#4 – What about barndominiums during an earthquake?
If you live in an area that is along earthquake fault lines, you may have concerns about building a brand new house on your land. With barndominiums, however, they are considered safe compared with other styles of housing. According to the World Steel Organization, steel buildings are considered safer as they tend to dissipate energy from seismic waves.
Barndominium Durability – What You Need To Know
If you're looking to build a barndominium, you likely want this house to be your forever home for you and your family. Because of this, many ask us if barndominiums are a durable type of house compared with traditional methods. The answer is a resounding YES! Here is what you need to know about barndo durability.
First, barndominiums provide better protection against the elements. Things like moisture, mold, rust, fire, and severe weather are all better withstood by a barndo. This durability is due to the unique design of barndominiums. Since most consist of a metal shell, this steel provides better protection against the environment.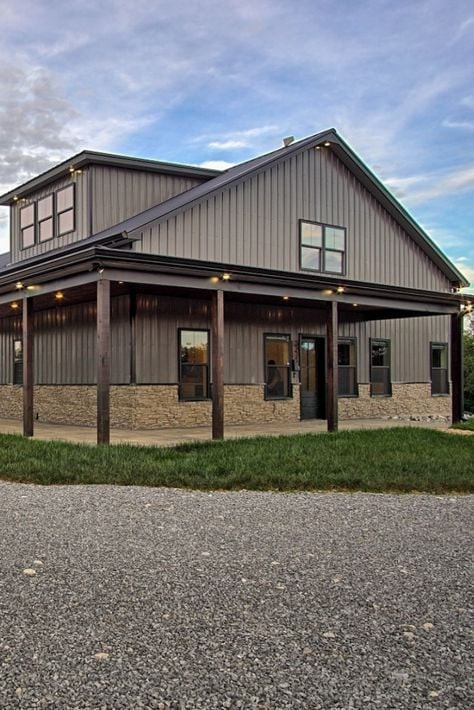 The next thing to know is that maintenance requirements on a barndominium are significantly less than traditional homes. Because they're made of steel, you may never need to repaint your home – not once. Also, the metal construction results in easier renovations and repairs. Rebuilding a wall in a barndominium is way easier than other types of homes, where the wall may be part of the structure of the house.
The bottom line is that if you want a safe and durable home, with fewer repair and maintenance needs, the barndominium is an excellent choice.
Barndominiums Are Energy Efficient vs Regular Homes
Energy efficiency is higher up on the list of "wants" when it comes to building a new house than it ever used to be. And when you consider the benefits, who can blame them?
From decreased heating and cooling bills to lower electricity bills overall, living in an energy-efficient home is a huge perk. Not only are lower bills a plus, but spaces that are energy efficient tend to have better air circulation, moisture levels, and temperatures overall. As icing on top, energy-efficient homes also tend to hold more resale value than wasteful homes.
Barndominiums are some of the most energy-efficient homes you can build. Here are some of the top reasons this is the case:
Tend to feature windows that are energy efficient
Usually made of prefabricated steel which decreases energy needs and upkeep expenses
Easy to create more metal partitions and rooms, which closes off living sections and increases energy efficiency
Getting Barndominium Insurance
Now that you've built your dream barndominium and live in it, you've got to get homeowners insurance. That brings up your next question: Who issues the best barndominium insurance? Read on for more info.
Barndominium insurance is issued by most U.S. insurers — the same ones that provide coverage for single family homes. And there are various factors to consider when evaluating the right one for your barndo, including:
What's provided in the coverage
Types of coverage
What they cover
What they don't cover
Costs
So, when shopping for barndominium insurance, it's essential to understand the types of policies available, what the policies cover, and how the rates for the policies are determined.
What is a Barndominium – Overview of Pros and Cons
Now that we've covered what is a barndominium in greater detail, we'll start to end this in-depth guide with a recap of barndominium pros and cons:
Pros
Cheaper and quicker to build than conventional houses
Flexibility in space management
Lower maintenance requirements
Lower insurance costs and associated taxes
Cons
Financing a barndominium can be difficult without proper knowledge and guides
Smaller pool of buyers due to high customization if you decide to sell
Barndominium Pictures and Ideas
If you're looking for barndominium pictures and ideas, this very website is a pretty good resource, in our opinion. We have published dozens of articles featuring various barndominiums across the United States. In addition, our Pinterest page is really active with specific ideas for barndominium kitchens, bathrooms, outdoor areas, and more.
Here's a sample of some of the barndominiums we've featured. There's more content coming on a weekly basis, so stay tuned for more!
This might be the most famous image in the barndominium community. This barndo was built by H&H in Montana, click the link below to view more.
Amazing Small Barndominium
Bonieca Boatright, a retired corrections officer with a decade of duty on Death Row in the toughest prison in Texas, shows she still has a creative side by building an amazing small barndominium.
How to Build Your Own Barndominium & 200+ Floor Plans
Get started today with our program "Barndominiums Made Easy: How to Build Your Own Barndominium" and get 200+ barndominium floor plans included!
North Texas Barndominium – Weatherford, TX
For any North Texas barndominium enthusiast with $1.3M to spare, this may be your best bet at owning a piece of barndominium history. See all the pictures below for a taste of the high life.
Washington, IL Down to Earth Barndominium
Awesome Oklahoma Barndo
South Carolina Barndominium
Conclusion
Whew! That was a lot of info! Hopefully, by now you feel more educated on exactly "what is a barndominium?"
Whether you're just beginning your barndominium journey and need help with floor plans and finding land, or you already live in one, we hope you've found this article informative and useful.
If you're looking for more info on building your dream barndominium, get the Barndominium Life Program!