Building your own home is one of the most rewarding things a person can do. With the ability to create the house exactly as you have dreamed and with everything you want, it is a dream that so many people aspire to. However, the high cost and the amount of sheer effort it takes to get this kind of project off the ground can be a real roadblock. For those who have thought about this undertaking but didn't think they could make it happen, building a barndominium in Arizona could be the answer.
Building a barndominium in Arizona is an accessible project for a wide range of people.
There are a number of things you can do with a barndominium that might not be possible with a traditionally built home.
Because of that, it might be a project that you can afford to take on, even if you thought a custom home was out of your reach. We have put together a comprehensive guide to building a barndominium in Arizona. By reading this guide, you can get a head start on your custom home project and set yourself up for success.
If you finish reading this article and would like even more expert information, be sure to check out the ebook, Build Your Dream Barndominium by Don Howe. It has all kinds of floor plans, design ideas, and other helpful information that can get you started on the right track towards this unique dwelling.
What Is a Barndominium and What Are Some of the Advantages?
Most traditional houses are built with wood frames and concrete foundations that can be costly and complicated to build. A barndominium, however, is built from a new or previously existing metal pole frame structure.
These structures are usually used to construct barns and other agricultural outbuildings, but with a little bit of design and skill, they can be used to build beautiful, unique homes.
Perhaps the most prominent advantage of building a barndominium in Arizona is the price.
Traditional homes are generally very expensive to build from the ground up. This might be the main reason why you have decided against this kind of project in the first place.
However, building a barndominium in Arizona is quite a bit cheaper. Because of this, it is a lot more accessible to people with all kinds of income and economic backgrounds.
A barndominium in Arizona is also easier to build and maintain than a traditionally framed house.
Because of their simple construction and design, they can usually be put up in a matter of weeks instead of the months or years it can take to get a house up off the ground.
This is also one of the reasons the cost of construction is less. The labor and materials it takes to get a barndominium in Arizona built to bring the overall price down in the long run.
Cost of Building a Barndominium in Arizona
When you are budgeting for a new home build, it is important to know how to effectively plan for your costs. A home is generally budgeted out by the square foot.
This way, you can know how big of a house you can afford and what you should be planning for when you are drawing up the blueprints and the floor plan. This will help you understand where the money is going and just how much house you and your family will need and can afford. Getting a barndominium budget tracker can also help you track bids and costs.
On average, a new home in Arizona that is built with traditional methods will cost somewhere in the ballpark of $300 per square foot.
This will just be for the initial construction of the structure itself. It will not include things like bathroom vanities, appliances, or electronics that you will want to add once the house is built.
This will dictate just how big your custom dream home can be and what it will contain once it is built.
A barndominium in Arizona, however, will be more in the region of $230 per square foot.
While this may not seem like a massive difference right off the bat, it is important to consider that most homes are somewhere around 2,000 square feet.
Saving this extra $35 per square foot is sure to add up and cost you a lot less than a traditional home.
With this extra money, you can include all of the custom cabinetry and granite countertops that you want. These are the things that make building a home from the ground up worth the cost and the effort.
Barndominium Builders in Arizona
When you start the process of building a barndominium in Arizona, you are going to want to pay careful attention to finding the right barndominium builder to hire.
This is one of the most important considerations to make since the construction business is vast and varied. It can be difficult to know what to look for in a builder, but finding the right one will ensure that your project is as enjoyable and easy as it should be.
One of the things you should look for in a barndominium builder is their experience.
Not every construction company will have the experience of building this kind of structure. Some are only experienced in building traditionally framed homes.
Because of this, finding a builder who has worked with metal pole barns in the past is a very good idea. In fact, there are many construction companies that specialize in these structures.
One of the other things to look for in a builder for your barndominium in Arizona is their reputation with their past clients.
The construction business is very personal and requires a delicate hand. That's why you should always look for a builder who has a good reputation. There are many places online where you can read reviews of construction companies from their past customers.
Looking for builders who have had a good relationship with the people they work with is a surefire way to find the right company. Luckily, we have put together a list of some of the best barndominium builders in the Arizona region.
Steel Building Systems
Steel Building Systems has over 25 years of experience building residential steel buildings in Arizona. This type of knowledge of the region and the needs of the people who live there makes them a good option for your builder. They are able to build all kinds of steel buildings and are sure to be able to help you get the finished product you are looking for.
Desperado Steel
Desperado Steel offers custom metal buildings for all kinds of purposes. Whether you are building for residential or commercial, they are able to put their experience to use for you. The majority of their clients come from referrals, so you can be assured that they deliver a good product in a friendly, timely manner.
Barndominium Kits Arizona- Kit Providers
Not everyone wants to build the metal pole structure for their barndominium from the ground up. For those who would like a little bit of a leg up, there are barndominium kit providers that can help you move quickly towards the finish line. These kits come pre-fabricated with everything you need to get your project started as fast as possible.
The benefit of getting a barndominium kit is that they come with all the parts right out of the box. If you do not want to spend a lot of time sourcing parts and materials, this could be the way to go. Any builder could help you get your barndominium kit put together in no time at all.
Barndominium Financing in Arizona
Barndominium Financing Request
Farm Plus Financial
Farm Plus Financial is an incredibly popular lender of ranch loans and farm loans in Arizona. Their years of experience make them a great choice for getting financing for your barndominium in Arizona. They know what it takes to get the job done and the help you will need along the way.
Where to Find Land for a Barndominium in Arizona
Before you can start building your barndominium in Arizona, you are going to have to secure a piece of land on which you will build.
This can be one of the most exciting steps in the whole process and one that is incredibly important. Finding the right piece of land is essential to a successful barndominium build.
When looking for a piece of land for your barndominium in Arizona, you will have to make sure that it is zoned for residential use. Not all land is and you could find yourself in big trouble should you choose incorrectly.
You will also want to make sure that it is accessible to all the utilities you will need like water and power.
Barndominium Floor Plans in Arizona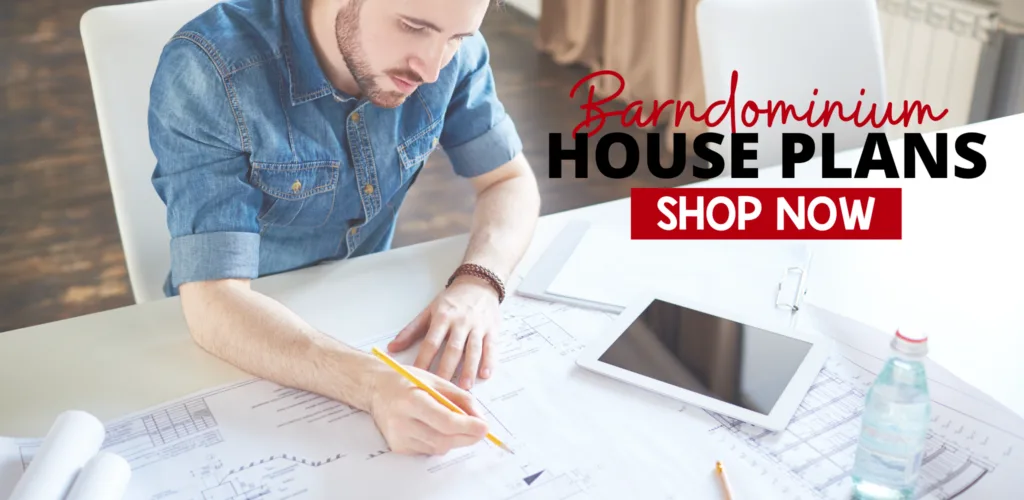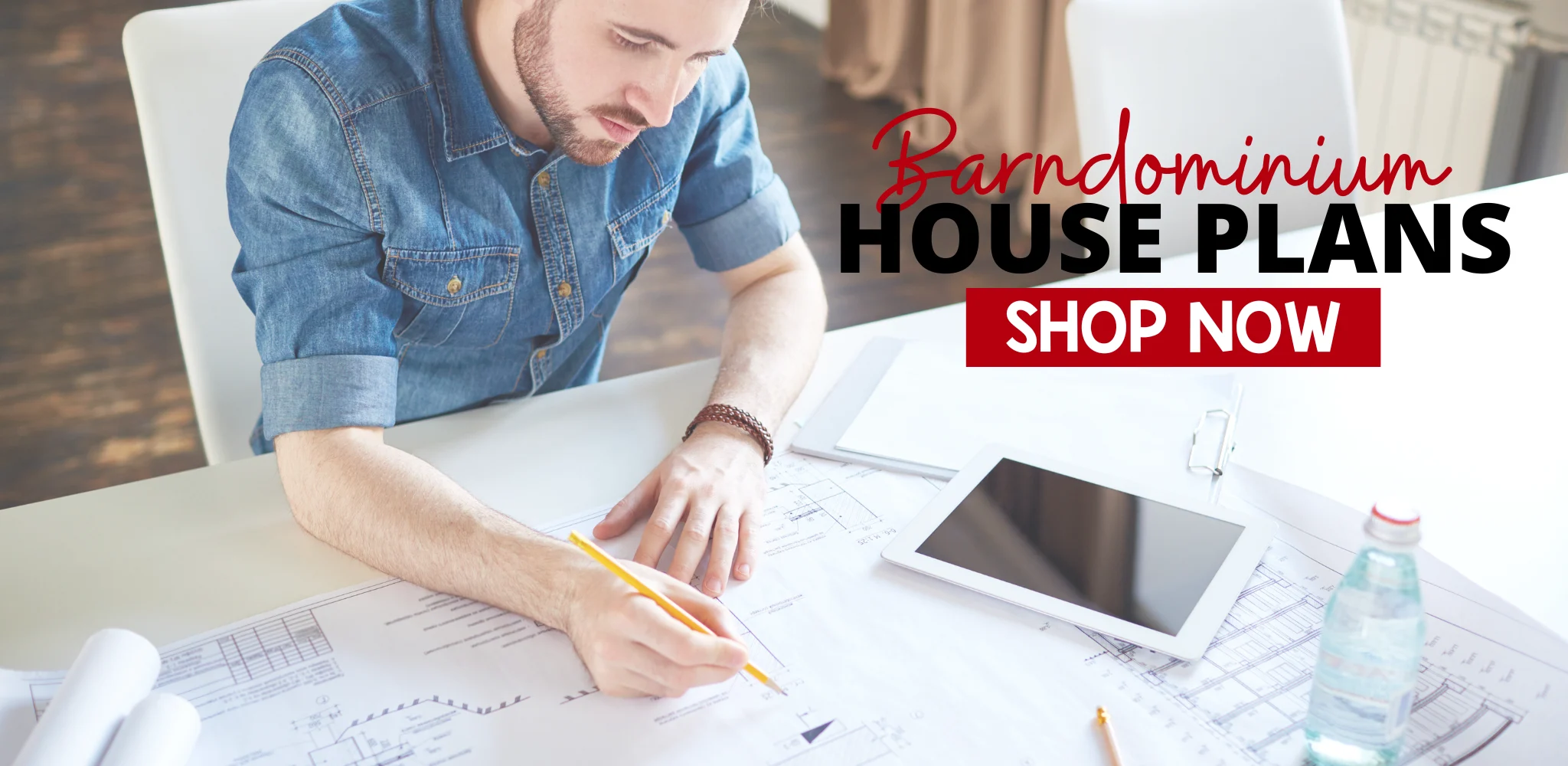 Don't want all the hassle of building a barndominium from the ground up? Then you may want to buy an existing barndominium in Arizona! With our Barndominiums for Sale Marketplace, you can browse to your state and find a barndominium for sale near you.
The beauty of buying an existing barndominium is that it can be really easy to customize the floor plan to your liking. The previous owners' setup is just a starting point! Also, by buying a barndominium in Arizona, you bypass the potential troubles of the building process – delays, dealing with contractors and subcontractors, and city or county bureaucrats trying to make your build process a nightmare.
Don't delay – find a barndominium for sale in Arizona now!
Conclusion
By reading this guide, you now have a good idea of what it takes to build a barndominium in Arizona. All you have to do next is start on the path to your very own custom home. If you would like even more tips and information from the pros, check out the Barndominium Life Program!
Michael O'Connor is a seasoned barndominium writer passionate about creating unique and innovative barndominiums. With over 15 years of experience in the construction industry, Michael has established himself as a leading expert in barndominium design and construction.
His work has been featured in several respected publications, including Barndominium Life, where he frequently contributes articles on best practices and emerging trends in the field. Michael's ability to blend traditional techniques with cutting-edge technology and design concepts has earned him a reputation as one of the most knowledgeable writers in the industry.