When considering building a home, it is not uncommon to be overwhelmed by your options. There are so many ways to build a home, and not all of them will be right for you. With proper planning and understanding of the field, though, you can build the perfect home. Barndominium kits are a fantastic way to get the home you have been dreaming of for much less money.
DIY Barndominium Kits
There are all kinds of barndo kits available on the market and many different providers. Some of them manufacture their own kits, while others simply design them and put them together. In this article, we have put together everything you need to know about purchasing a barndominium kit. Knowing the types of barndominium kits that are out there and everything you need to know can help you make the right choice.
Barndominium Kit Prices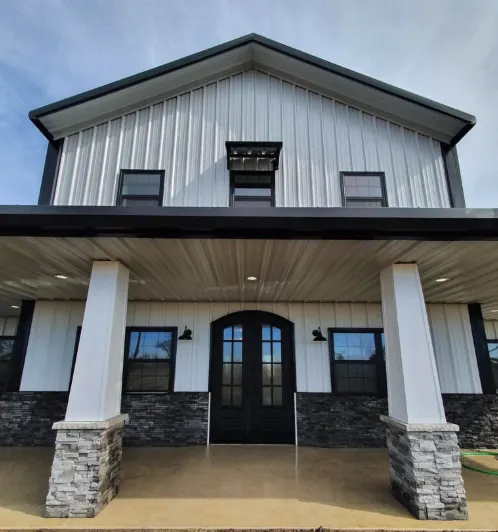 The price of a barndominium kit will depend on quite a few factors.
For example, a kit that is for a single-room tiny home will be much cheaper than a large, multi-story kit. However, there are some averages that you can use to decide if it is the right option for you. For the most part, you can find a basic barndominium shell kit for around $10,000.
One of the things that make the cost of barndominium kits so varied is the work that goes into them. If you are going to make your home liveable, you will have to spend some extra money on finishing the job. Because of this, you can expect a prefabricated barndominium kit to cost between $20 and $140 per square foot. After that, the price will go up depending on what you want to add on.
What is Included in a Barndominium Kit?
All barndominium kits are different, and not all will come with the same things.
In some cases, a kit will only include the shell. This will be the things like poles and joists as well as the corrugated metal that makes up the siding. For other kits, they might come with extras like windows and porches as well as stairs and all the other furnishings.
One thing you can rely on with barndominium kits is that they will not come with electrical components or plumbing. These utilities will need to be added to your total budget if you want to live in your home. You will also have to take care of basic things like the slab foundation. Keeping this in mind as you plan for your barndominium will put you one step ahead of the game.
Types of Barndominium Kits
There are all kinds of barndominium kits available to you, depending on your needs and your budget. Most of the time, kit providers will have a selection of layouts for you to choose from. These will range from small shells to large, multi-level shells. If you want to build something as easy as possible, choosing one of these premade floor plans is a good option.
In other cases, kit providers will work with you to come up with your own custom design. If you are looking to be involved in every aspect of the process, this is a great option for you. Not only do you get to design the home yourself, but you also get the help of their professional team. This increases the odds that you will be happy with your barndo and that it will serve you well for many years.
Advantages of Barndominium Kits
There are many advantages to buying a barndo kit instead of building yours from scratch. One of the most important benefits is the convenience of the process. Because everything is prefabricated, all you have to do is put it together. This eliminates a lot of the architecture and design work that comes with building your own barndo.
The other significant advantage of using barndominium kits is their durability. Because they are built with their design in mind, every beam and post will be supporting the structure as a whole. This means that your barndo will be much stronger and more inclined to last for a long time. If you are buying a barndo kit to build your forever home, this will be your best possible option for longevity.
Steel Barndominiums vs Wood Barndominiums
One of the other major advantages of using barndominium kits is that almost all of them are made of steel. When you build using steel, you can rely on its durability and know that it will require less maintenance. This can save you a lot of money throughout the course of your life in the home. They are also straightforward to build when you compare them with a wooden barndominium or post-frame building.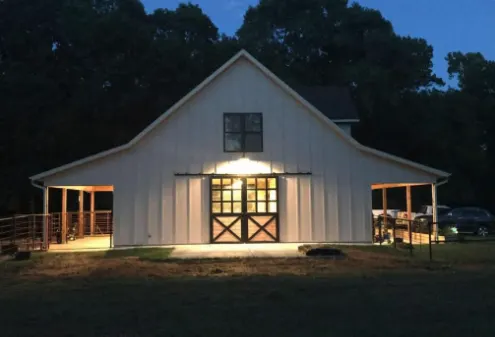 However, wood has its own set of charming touches and organic qualities. If you want something that has an earthy feel and a more refined look, a wooden barndominium is a safe bet. One thing to keep in mind, though, is the fact that most barndominium kits are not wood. If you want to build with wood, you will need to build your barndominium entirely from scratch.
Barndominium Kits FAQs
When deciding if a barndominium kit is the right choice for you, it is important to know the facts. There are a lot of things to keep in mind when choosing barndominium kits. Since they come from all kinds of manufacturers and have a wide variety of choices and options, they can be tricky. Also, a rule of thumb that applies to one kit may not apply to another and vice-versa.
Before you decide on whether a barndominium kit is the right choice for you, ask some questions. It is important to ask the below questions whenever you are thinking of working with a kit provider. Knowing some of the answers to these questions about barndominium kits will help you navigate the process. With the right understanding of the market, you can find the perfect kit for your particular project.
How much flexibility do I have in the layout of my barndominium?
Depending on the kit you decide to go with, you could end up having a lot of flexibility with the floor plan. Many barndominium kits only come with the shell of the barndo itself. In these cases, you will be able to determine the layout of the interior according to your needs. If your kit comes with the complete package, though, you will be beholden to the layout of the kit.
If you are willing to spend a little extra money, you can sometimes design the layout of the kit yourself. Some kit providers allow you to create a custom kit according to your specs. If you want something that will be exactly what you are looking for, this is the best option. This way, you can design your own floor plan and still get the convenience of the kit.
What type of installation is used in metal buildings?
When you purchase barndominium kits, they will come with steel posts and metal siding. These steel posts are driven into the ground or your concrete slab foundation. Then, the metal siding is attached to the steel posts to create the structure. From there, you can create whatever design inside that you want for your home.
When it comes to steel barndominiums, where are the cost savings over traditional homes?
Most of the time, when people build a barndominium, they are doing it to save money. Because barndominiums are so much easier to construct, they cost a lot less in labor and materials. A barndominium can generally be built in about half the time it takes to build a traditional home. This translates into much lower bills by the time the project is finished.
The cost of your barndominium will depend heavily on where you are building. However, on average, a barndominium will cost between $30 and $40. When you compare this to the average of $100 to $200 for a traditional home, the savings are astronomical.
Can you customize a barndominium kit?
In some cases, you can customize your barndominium kit according to your exact specifications. To do this, you will either have to hire a draftsman or work with the team at the kit provider. Either way, you can design a barndominium kit that is exactly what you have been looking for.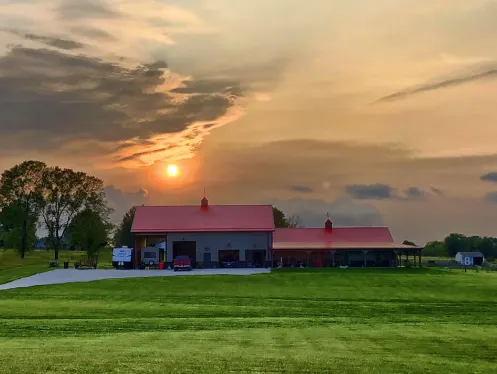 One thing to remember when designing barndominium kits is that it will cost you some extra money. The extra work that is involved with creating the kit from scratch could produce a hefty price tag. However, since everything will be fabricated to work together, it could save you money on labor. This could make custom barndominium kits a great way to get what you want without breaking the bank.
Are barndominium kits available in my area?
Barndominium kits are available in almost every state. However, one of the major advantages of barndominium kits is the fact that they can be shipped almost anywhere. Most kit providers will ship directly to your build site. This means you are not limited to kit providers that are in your specific area.
What is the square footage price for a barndominium kit?
The cost of barndominium kits will depend heavily on what is included with the kit itself. If you are going to be adding things like wraparound porches and multiple floors, you will end up paying more. However, if you simply want the shell that comes with most barndominium kits, you can keep your costs low.
In general, for a standard barndominium kit, you can expect to pay anywhere between $10 and $30 per square foot. Depending on your options, though, you could end up paying much more. If you live in a particularly remote area of the world, you will also pay more for shipping in the long run.
Can you finance a barndominium kit?
In some cases, you might be able to finance your barndominium kit through the bank. However, this will most likely have to be with the use of a construction loan. This means that you will not be able to build your barndo kit yourself. You will have to use a contractor that is licensed and certified, which can add to your overall cost.
You may also be able to take out a personal loan for your barndominium kit. The availability of these loans will depend on your credit score and your debt-to-income ratio, though. If you have excellent credit, a personal loan could be the way to go. However, be sure to look at the current interest rates for these loans before you decide.
What do I need to do before I get my barndominium kit?
Before you get your barndominium kit, you should absolutely have your plot of land in place. This plot of land will also have to be cleared and ready for construction. This means leveling out any inclines and clearing the area of brush and trees that will be in the way. This way, you can get your barndo kit delivered and start working right away.
You will also need to have a concrete slab foundation installed before you can start building. These are the simplest and least expensive foundations to build. However, you may want to drive your frame posts directly into the foundation. Check with your barndo kit provider to see what your best options are.
Do I need a permit to build a barndominium with a barndominium kit?
You will almost certainly need a permit to build your barndo with a kit. In most cases, you will have to install utilities and electricity unless you are building completely off the grid. However, the permits you need will depend on your municipality and where you are thinking of building. Check with your local assessor's office before you decide to start building.
Get Started With Your Barndominium Kit
Conclusion
Building a home with barndominium kits can be an incredibly low-stress way to get the home of your dreams. If you have been thinking about creating a barndo, a kit can help. Knowing everything you can about them and what they have to offer can give you the upper hand once you start your project.
If you would like more guides like this one, check out the rest of BarndominiumLife.com. There, you will find more helpful tips and tricks from the pros. You will also find featured barndominiums, barndominium floor plans, and information on financing and insurance. Knowing as much as you can will help you get the best results for your dream home.
Michael O'Connor is a seasoned barndominium writer passionate about creating unique and innovative barndominiums. With over 15 years of experience in the construction industry, Michael has established himself as a leading expert in barndominium design and construction.
His work has been featured in several respected publications, including Barndominium Life, where he frequently contributes articles on best practices and emerging trends in the field. Michael's ability to blend traditional techniques with cutting-edge technology and design concepts has earned him a reputation as one of the most knowledgeable writers in the industry.