A lot of folks these days are considering building a barndominium. Perhaps you're one of them. If so, we're here to help you find the information you need.
Barndominium Cost Per Square Foot Prices: Costs appear to be coming down after the craziness of 2021. The average will be around $95 to $125 a square foot for a full turnkey build. Average cost is $220,000. That includes granite countertops, Andersen windows, roll-up glass doors and many other amenities.
We'll look at options from the higher end — like the 2600 square foot barn with living quarters and generous downstairs stables/shop area (seen above) to the 900 square foot cottage (shown below,) — with a mid-range barndo thrown into the middle.
And, we're going to cover a great deal of other information as well.
Barndominium Cost Per Square Foot: Knowledge really IS power
After reading this article all the way through, you'll be able to sort out how they come up with that "per-square-foot" number, and how you can sometimes make it go down (or up) depending on a few critical choices (such as what you want regarding such options as exterior enhancements, and necessities like appliances, flooring, cabinets, kitchen and bathroom fixtures and countertops).
But, being so empowered, you can be a much smarter buyer — whether you're building turnkey or DIY — and even feel free to enjoy the process, knowing exactly what you're going to get come move-in day.
And, you'll be able to answer with some authority the question, "How much does it cost to build a barndominium?" "How much will the barndominium cost per square foot?"
Ready to get started building a barndominium?
Barndominiums have officially arrived.
These unique structures were once thought of as just a way to be near your livestock in the winter.
(Folks in olden times slept in a loft above their cattle to take advantage of their collective heat – true story).
My, how times have changed. Barndos are a hot housing option now. Particularly in Texas and the states surrounding and adjacent to it.
In fact, the term barndominium now has its own Wikipedia page. A sure sign of social acceptance.
In the very recent past, you were limited on finding barndominium plans and prices. In fact, they were once considered to be merely pole barns with apartments.
But today you have hundreds of designs to choose from — from the smallest one bedroom at 700 square feet. To the largest we've found — a five bedroom creation with full shop and indoor riding arena.
As you can imagine, the pricing on such a wide array of options can be elusive. "It depends," is the answer you'll hear most often when asking how much a particular barndo design will be.
And in truth, you can't really blame the builders. Even when you buy a kit, delivered straight to your property, the final price per square foot will depend on a host of options that can only be determined by you as the ultimate owner. AFTER you decide on things like granite countertops vs laminate and stained concrete vs carpet, etc.
That's what ultimately drives up barndominium prices.
OK, I understand. But what are the "ballpark" figures?
All right, here are the ranges and options we've discovered. (We're excluding costs you've probably already taken care of, such as your lot or acreage, well and septic (if needed).
Lowest cost we've found in researching the subject is $20 per square foot for a barndo kit that's dropped off on your property and left for you to finish out. By yourself. That would be for a tiny barndo with walls, a roof, and not much else.
Don't get us wrong. That's wonderfully low, but it counts on you doing everything from hanging drywall to plumbing the place by yourself. Can you also hang windows and doors? If so, you're going to save a lot of money no matter what barndo DIY kit you choose, from whatever vendor.
So, what is a more realistic barndominium cost?
For the rest of us who must rely on skilled, often expensive subcontractors to do this sort of thing, the cost to move into that same small barndo is probably going to double — to more like $40 per square foot — or more.
In fact, that's just what Absolute Steel Texas (located in Terrell, Texas), says is their bottom-line move-in price for each of four small DIY barndo kits they manufacture.
Lets take a closer look at one of those styles. It will be instructive, since this company is very transparent on its pricing, allowing us to see more or less how we can total up hard costs ourselves almost to the penny, well before move-in.
We will then be able to compute with some accuracy the barndominium price per square foot on any kit — no matter who the manufacturer is or how big the kit is — DIY (kit and materials costs only) or turnkey (labor and materials supplied by builder along with the kit).
For those keeping score so far, here is a simple formula
The barndo kit, delivered to our property will be "X" dollars. And ancillary costs to buy finish-out materials locally — drywall, cabinets, paint, etc, — will be "Y" dollars. Labor will finish the formula, represented by "Z". And the three numbers added together will represent the total costs right up to move-in.
Here's a DIY example: Kit cost (X) $10,000 + Materials cost (Y) $10,000 + Labor cost (Z) $0 = $20,000. Cost per square foot (1000 sq ft barndo) is $20,000 divided by 1,000 = $20 a square foot.
If we aren't all that handy, though, and aren't blessed with friends skilled in the construction trades, who will work for the price of a case of beer, we can safely add another $20,000 to arrive at a minimum builder turnkey finished cost of $40,000, or $40 a square foot on that particular example. Actually, that's probably low if you involve a local contractor and his experienced crew. Better make that at least $50,000. Which is still relatively low compared to other new construction options.
By the way. Need a good contractor to do the job for you, if you aren't very handy or just aren't up to DIY? Check out this article with a checklist and questions you can ask to narrow the odds of getting a good one.
Let's see how that formula plays out with real numbers
As we said, Absolute Steel sells a kit that really is just a cottage, called the Teton. (They also have three other cottage/cabin barndominium kits — but we'll just analyze the Teton for now).
(Bear with us if you have no intention of buying something this small. We'll get to a much larger example in a moment).
And now, the Barndominium Floor Plans with Cost
Here comes a floor plan for the Teton Model C — which is the cottage pictured here.
It's priced at $9,000, and measures 900 square feet. This would make a very comfortable getaway cabin in the mountains, or in the country, or even as a "mother-in-law suite" behind your home. Shoot, it's bigger than our first apartment.
Here's the floor plan:
Pretty cool, right?
Now let's see what it includes, according to the manufacturer:
"The steel frame. Your kit is shipped in a manageable bundle that can fit on a small trailer, or in the bed of a larger pick up truck.
"Exterior walls.
"Complete roof
"Simple and complete instructions.
"A "Grocery List". There are some common items that are better served being purchased from your local hardware store. The price difference that we could offer would be offset by the shipping costs, so it's to your advantage to get these specific things locally."
In a nutshell, you'll need to buy and/or install:
Drywall – for interior walls
Doors – 2 exterior, 6 interior, 2 sliding/foldout
Windows – 5
Electrical – wiring, boxes, etc.
Interior Framing – wood studs
Cabinets – basic for kitchen and bath
Countertops – laminate or butcher block should be fine
Fixtures – toilet, sink, water heater, shower
Plumbing – for the sink, tub and toilet
Paint – enough to cover all the walls and ceiling
Flooring – vinyl will probably do, in keeping with the cabin's rustic ambiance
Please note that this list doesn't make provision for a concrete slab.. Many kit builders provide one as part of the package, along with interior framing, cabinets and even countertops. This kit DOES come with a roof, but NO slab. Be clear up front whether you need to factor in these expenses or not.
What's the grand total?
We used this tool to arrive at a reasonable estimate of your total DIY costs on this cabin. It's a very useful online estimating app we found at CostToBuild.net. It will come in handy for your own research when costing out and comparing other barndo kits you might have in mind.
Just change the square feet and add or subtract elements where necessary to reflect what the kit builder is supplying versus what you will need to either do yourself, or contract out.
NOTE: This tool is intended primarily for "turnkey" projects, with a precalculated markup added for contractors. To turn it into a valuable DIY estimating tool, please follow the highly detailed — but necessary — steps below.
A couple of notes on this tool:
Go all the way through, answering questions as best you can.
Click the final "Calculate" button. Then, click "Export to Edit Page."
Ignore the warning that pops up.
When the estimates list appears, remove all lines that aren't relevant: "Sewer, Water, Gas" for example, can be removed since you'll probably not be building in an area where those connections are possible. Just click the trash can button at the end of the line and it will be subtracted from the total.
See if your kit includes a slab in the price. If it does, click the trash can on the "Site Work" line to take that expense out of your DIY total.
Same thing for other line items your kit builder says specifically are included in your kit price; If your kit comes with "Interior Framing," for example, remove the "Rough Carpentry" line, but leave the "Finish Carpentry" line. You'll be doing that yourself.
On all lines, if you're doing the work yourself, zero out costs for "Labor."
A few more notes on this tool
Leave the first column alone in all cases, That figure is a reasonable national average estimate of materials for the size barndo you specified.
Under "Construction Plans and Specs" at the bottom, substitute the exact cost of your kit. Even if that cost is $120,000. In this case, though, it's just $9,000 for the 900 sq ft Teton cabin
Finally, under "Contractor Overhead and Profit," remove that line. The contractor isn't doing any work in this case – you are.
LAST STEP – check each remaining line carefully to make sure you have:

Added in all the items you'll be paying for
Subtracted all the items your kit purchase includes
Zeroed out labor on lines where you will be doing the work yourself.
Next steps
Now, divide the bottom line total on that worksheet by the square feet in your plan to get a DIY square foot price for your new barndo.
In the case of the Teton, add $9,000 for the kit and an estimated $31,000 for materials to finish it out. (Here is our online worksheet for your reference.) That brings the final cost to $40,000 or so, and $40 a square foot. Right at Absolute Steel's predicted $40 per sq ft. for a DIY assembly of the Teton. If we go back and add in labor estimates, that price will increase significantly.
So, if you can manage it, DIY is going to be your most cost-effective option.
A final note on this section
You can see how this tool and formula might help to estimate costs on kits where you do the labor. And, it can help you understand and possibly work with the builder to save yourself time, work and money on a project in which they do everything turnkey.
So, look for kits with a relatively low price tag, and then run estimates on what the final sq ft cost might be both DIY and turnkey. The answers might surprise you.
Before closing, take a look at these small bardominium/cabins from a very cool custom wooden kit builder through giant online retailer Amazon . Though many are too small to be permanent dwellings, check the 700 to 1200 sq ft cabins near the bottom of the post to see what they offer on mid-size cabins. Amazon even offers level pay financing on many of these cabins.
Here's a short video on framing the Teton and other buildings by Absolute Steel.
Now for a mid-range to luxury barndo example
Here's a barndo builder that now makes kits as well as providing turnkey services. For right now, though, let's just examine their turnkey services.
A few facts on their new line of kits can be found at the end of this section.
Texas Barndominiums, is one of the leading turnkey builders of custom barndominiums in the state. They operate in dozens of counties across Texas.
When you visit the Texas Barndominiums home page, you're immediately drawn to their Instant Pricing tab. There you'll find a way to easily obtain your own "ballpark" pricing information.
They offer you many turnkey barndominium options, including a 30 foot by 40 foot, two-bedroom, one-bath floor plan with a 3:12 pitched roof and a base price of $155,000.
Let's explore that offering a bit further.
The power of partnership
Since Texas Barndominiums is primarily a full service provider, you are paying for their considerable experience and skills to make sure your new barndo is all that it can be.
Here's what they say on their website is included in that $155,000 price:
Engineered concrete slab
Stained floors
Spray foam insulation
PEX plumbing
Laminate counter tops
Pre-manufactured cabinets, and
9 ft ceilings
However, that doesn't mean you will be expected to pay the remaining materials costs necessary to finish the barndominium out. You won't.
They also do everything on our larger DIY list, providing all materials, labor and project management, for the stated price on each barndo option — in this case, $155,000 base cost.
That's pretty much everything needed for final move-in.
Here's what that floor plan looks like: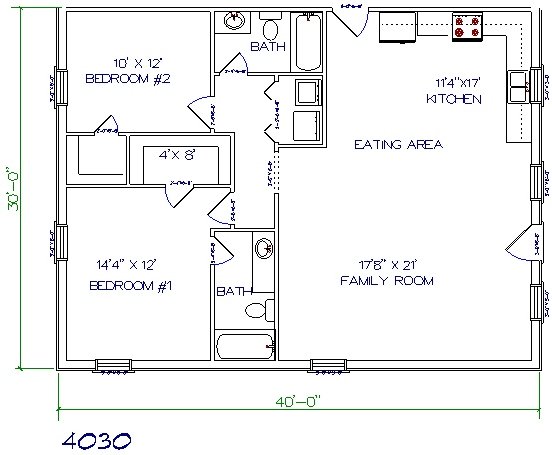 And, here's a snapshot of their final online worksheet. You'll see that on this matrix, we made some upgrades that immediately ramped up the price. We added an engineered wood floor and a wraparound porch on two sides, which is not shown on the floor plan above. Please use your imagination.
Preliminary tab on this floor plan after these upgrades — $168,000.
And we had intended to return to our DIY online worksheet again to get a feel for what actual move-in costs might be, but apparently that's unnecessary.
Texas Barndominiums General Manager/Owner Erik Cortina says that, if no other upgrades or changes were made to our chosen example, that $168,000 would be the full move-in price.
"Because our Barndos are custom, we build to suit our customers' needs," he says. "The prices on our website are an approximation for that purpose, but it is a move-in price except for appliances, well, and septic. We build from start to finish. So customers do not need to pay for additional materials." Or labor, we might add.
In that case, all we need to do to get fairly close to an accurate square foot number is simply divide $168,000 by 1400 sq ft (we added 2 wraparound porches for an extra 200 sq ft, remember?) and we get a very favorable $120 per square foot cost. Again, that's assuming we don't add upgrades like granite countertops.
If we did, Erik and his team would rework the estimate to reflect the changes and quote a new move-in total.
Final notes on this example
To find out the true cost (not cost per square foot, but total cost) of your new barndominium home, you would need to add back in the cost of the land, well, septic and probably an access road to get across your property to your house. Plus, whatever other costs we haven't thought of yet.
That, after all, is why you pay a professional builder like Texas Barndominiums to construct your dream barndo. They will leverage their many hours of previous experience to foresee and forestall possible problems with yours.
One last note: Owner/General Manager Erik Cortina says, "As for the DIY crowd, we have started offering barndo shells for those customers that want us to do the foundation and metal building but want to finish the building out themselves.
"For barndo shells, we typically charge $38 sq. ft. and up for living quarters with continuous roof. Since our barndo shells are custom, our customers have the option to add almost as many windows and doors as they want.
"Also, they get to select the type of windows and doors, and that can have a large influence in cost.
"Our Barndo shells include engineered foundation, metal building, windows, and exterior doors. Metal soffits are optional and need to be done later in the build, so they are not part of the barndo shell."
To learn more about this unique service, call them at 866.812.2226.
Now for a true luxury barndominium example
Next, we pay a visit to DC Structures in Damascus, Oregon to check out their seemingly transparent style of letting the buyer know what the cost of their kits are right up front — although you'll find that in actuality the "kit" price has very little resemblance to the finished price. We'll try to explain.
First of all, the prospective owner can find the stated price easily enough. It's clearly visible on each page of their catalogue.
But unlike other builders, you cannot extrapolate that number into anything approaching an accurate final cost. To get that you'll need to contact someone on their sales team.
After a short interview about the kit in which you're interested and a discussion of your needs, you'll receive a square foot cost that may seem startling, until you realize the time and craftsmanship that goes into these premium structures — created from select grade heavy Northwest timbers.
These "kits" are not the kind of DIY project we discussed earlier, and your chances of lowering the per sq ft figure that the company quotes are slim. In fact, that figure will likely go still higher depending on your state of residence and the available kit upgrades you pick out. The type and grade of upscale fixtures this finely crafted dwelling would require will also have an impact.
We'll take a closer look at just what you can expect from a partnership with DC Structures to build your very own "barn with living quarters," as they call their kits.
But first, here's a video on the company, showcasing their craftsmanship and their devotion to detail:
Examining "The Oakridge" Barn With Living Quarters
We're going to look at what they say is their most popular kit — "The Oakridge," which, again, they characterize as "closer to a timber frame home designed in a classic barn style" than a modern, low-cost barn frame with a residence built into it — which is what most folks expect from a barndominium. Indeed, these structures are difficult to compare with metal warehouse-style barndos.
These dwellings are truly crafted to last, using beautifully aged hardwood posts and beams to carry out tastefully executed architectural designs.
The Oakridge is the smallest of the barn-with-apartment kits they put together and ship all over the United States. Here's how they describe it:
"With ample space and storage, the Oakridge comes in first place for being our most popular barn with living quarters. The bottom floor can be adapted to suit your individual needs—be it stalls to keep your horses, a garage to store your outdoor toys or a workshop for your craft."
In addition, the Oakridge is expandable into four larger sizes, going all the way up to 5,184 square feet.
Breaking down the numbers
The Oakridge breaks down as follows:
36′ x 36′
2,592 Sq. Ft.
2+ Bedrooms
Up to 5 Horse Stalls
Or, configure the downstairs space however you choose
Here is the upstairs floor plan:
And now a few details and the numbers
When this package is delivered to your homesite, it will need assembling as well — but not by a couple of your buddies from college and a keg of beer.
This will require the involvement of a professional crew of workmen who know how to assemble this kind of dwelling, given as it is to super high vaulted ceilings and other intricacies of post and beam construction.
Okay. So, what are we up to on costs?
Well, the base price of this "kit" theoretically is $118,300, which, if we were comparing apples to apples, would make it a little over $45 a square foot right off the semi your package of timbers arrives on.
However, a spokesman for DC Structures says "the lowest estimate we would give for an all-in cost per square foot to order and build the Oakridge 36′ is about $127 a square foot." That includes a concrete pad, interior framing, a full complement of high quality Andersen windows, this list of deliverables and the hiring of a general contractor with whom they interface for the time it takes to build your "barn with apartment."
And that $127 sq ft figure, he adds, is "significantly more" in states like California.
Here's the bottom line
In actual fact, then, there really is very little point, once again, in going through the online shopping list drill we are proposing you use with DIY barndominiums, because you're locked into that $127 a square foot minimum no matter what. And $127 times 2,590 square feet means you're going to be spending a minimum of $328,930 by the time your barn with living quarters is done.
This kit falls therefore — as it should — into a luxury structure category that is for those with the financial means to have the very best of everything.
If this includes you, we're glad we could bring these fine craftsmen to your attention.
Anyway, back to the main debate.
We've talked today about barndominiums that are low priced, medium priced, and the relatively high priced. We've discussed the things you need to know in order to make intelligent buying decisions as you step through the building process.
And we hope we've demystified for you exactly what goes into the formulation of the industrywide practice of pricing barndos by the square foot. In most cases, if you find a kit builder who will let you buy just a shell at a low cost, it bears checking out our formula of "X" (the basic kit) + "Y" (materials) + "Z" (estimated labor — in the DIY scenario that's zero because you're doing it all — except slab, electrical and probably plumbing) divided by the total number of square feet.
In some cases, where you aren't doing the labor yourself, the builders' square foot cost for a turnkey project might be more favorable than if you tried to manage the project yourself. Run the numbers and see. You might be favorably surprised.
Did you give up your chance to make your barndominium exactly the way you want by choosing a kit?
Not at all. Many kit builders will work with you to customize your barndo either before delivery or onsite. For an increase in price. But if you choose your options carefully, you'll get exactly what you want within the budget that you set at the beginning.
By going the kit route rather than hiring an architect for plans, and a general contractor to create and execute your custom barndomium, you'll generally save money, and be able to quickly answer the question, "How much does a barndominium cost per square foot?"
Final words
These are just our opinions. Feel free to enter your thoughts and experiences in the Comments section below. If you're politely disagreeing, we'll probably post it. We certainly don't have ALL the answers.
And, if you have found any of the above to be useful, please give us that feedback as well.
So long, and may you build the barndominium of your dreams.
PS Please spread the word about this site via social media and email. Thanks.