The idea of building your own custom home is enticing for a lot of people. Dreaming about how you might decorate it and some of the special design features you might include can be very exciting. However, you may have done some research and found that the cost and effort that is required is just too high. Perhaps the idea of starting a construction project that is so involved and complicated has been intimidating. Perhaps building a barndominium in Illinois is the perfect option for you! Read our guide to see if building a barndo in Illinois will fit your lifestyle and budget!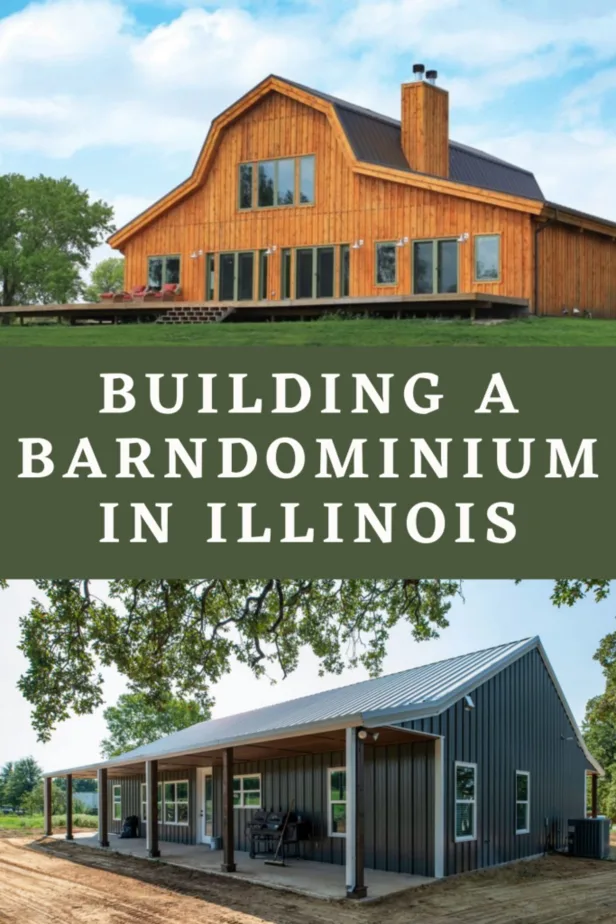 Luckily, there has been a boom in tiny houses and other alternative housing options in the last few years. Barndominiums are a part of this movement and have burst onto the scene with a lot of popularity and enthusiasm. Building a barndominium in Illinois is a fantastic option for people who might not otherwise have the resources and know-how that it takes to build their own home. That's why we have put together this in-depth guide to building a barndominium in Illinois that can help you make the right decisions.
If you read this article and are inspired to find out more about the ins and outs of building a barndominium in Illinois, be sure to check out the ebook, Build Your Dream Barndominium by Don Howe. There, you will be able to find all sorts of ideas and inspiration for this rewarding project.
What Is an Illinois Barndominium and What Are Some of the Advantages?
A barndominium is a custom home that is built from the steel shell of a barn or metal pole structure. There are many advantages and benefits to building this kind of home for you and your family. Many of them have to do with the way it is constructed and the unique process of erecting the main structure. By adhering to these processes and getting started on the right path, you can build a home that is designed to your exact specifications and needs.
One of the biggest advantages of building a barndominium is the low cost. Compared to a traditional home, a barndominium is incredibly cheap to build without sacrificing quality. Since it takes such a short period of time to do the initial construction, you end up saving money on both labor and materials.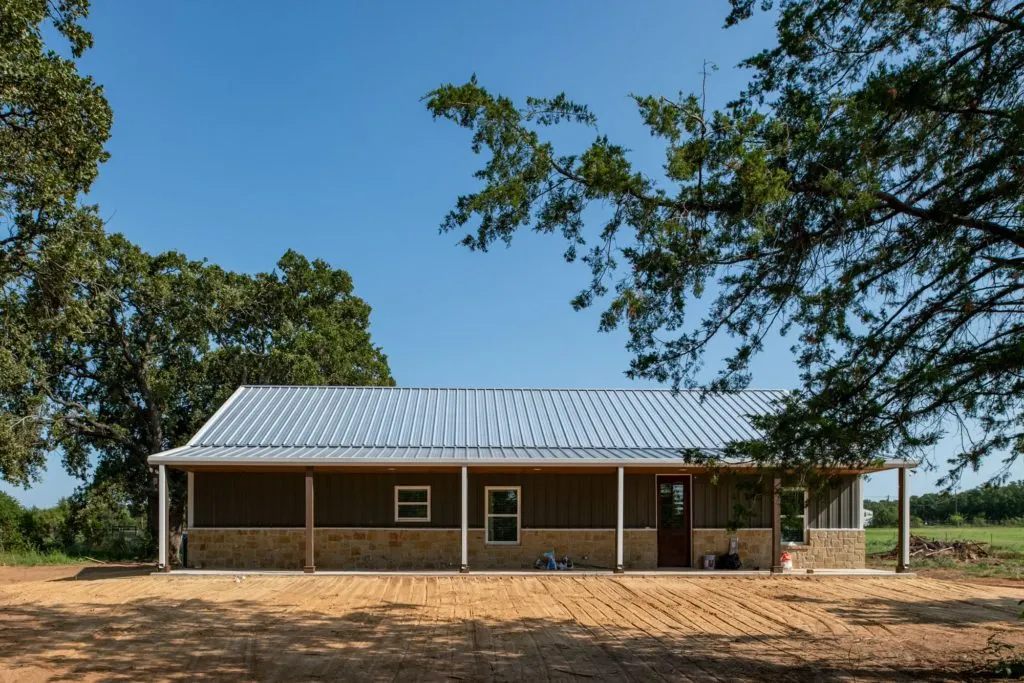 This lower cost allows you to find more space in the budget for the custom touches and things you want to include in your custom home. It also means that the regular maintenance is much cheaper and easier than with a home using wood slat siding or other, more traditional materials. The steel shell is much easier to clean and keep looking nice all year round.
The other major advantage is its durability. Since the metal pole structure is generally made out of steel, you do not have some of the problems you may encounter with an all wood construction. Things like termites, dry rot and other deterioration will not be as prevalent as they might be with a traditional 2×4 framed home.
Cost of Building a Barndominium in Illinois
When you are planning out the budget for a large scale construction project like a home, you will do so by calculating the cost per square foot. This allows you to figure things out like the floor plan and how many bedrooms and bathrooms the home will have. By budgeting this way, you can have a good idea of how much house you are going to need and what it will cost to get it.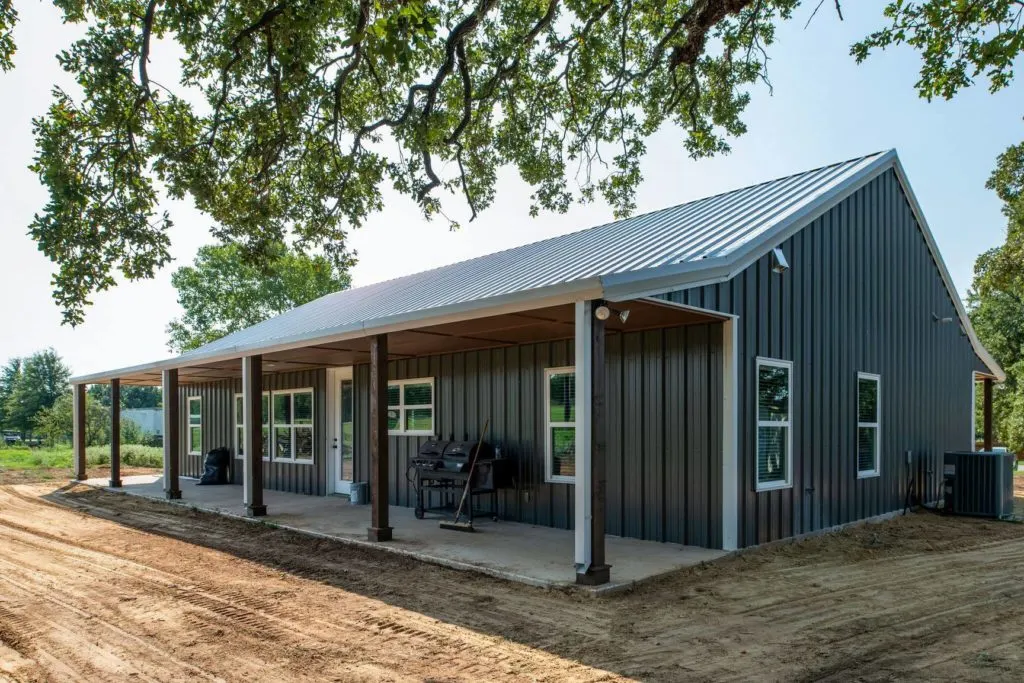 The cost of building a traditional home in Illinois is, on average, between $260 and $280 per square foot. This price includes only the initial cost of construction and none of the other design elements or extras that you might want from a custom home. Because of this, you will have to include more money in your budget for all the things that make building your own home worth the money, time and effort that it takes.
However, the cost of building a barndominium in Illinois is quite a bit cheaper. At around $220 to $240 per square foot, this leaves so much more room in your budget for things like custom countertops, appliances and electronics. Because of this, building a barndominium could be a great option for people who are first-time homeowners or are building a home for the very first time. With such a lower cost of entry, it is much more accessible to people who may not be able to afford a traditionally constructed home in Illinois.
Barndominium Builders in Illinois
One of the biggest considerations you will have to make when building a barndominium in Illinois is the builder. Who you choose to do the initial construction on your barndo will have a huge impact on how the project goes and how you feel about the end product. However, it can be hard to choose the one that is best suited for you, due to the sheer number of construction companies that are on the market. Fortunately, there are a number of things you can look for that will help you make the right choice.
One of the things to look for in a builder is their reputation with previous clients. By searching for them online, you can find reviews and testimonials by clients they have worked with in the past. This will give you a good idea of what they are like to work with and what the end result of their work ended up like. Previous clients are a great way to research a builder, and the odds are if they have been happy with them, you will be too.
Another thing to look for is their experience with metal pole barns and other similar structures. Not all construction companies are alike and they will all have different levels of experience with this sort of project.
By doing some research, you can find out if this is something they have worked with before. Some builders even specialize in this type of structure. To help you with this process, we have put together a short list of the best barndominium builders in Illinois.
Johnson and Johnson Enterprise
Johnson & Johnson Enterprise has been working with clients to build large scale post frame structures for over 30 years. In this time, they have gained experience in building this specific type of structure for your barndominium in Illinois. This ensures that they know the proper way to build you a durable and well designed metal pole structure.
Cleary Building Corporation
The builders at Cleary Building Corporation have been in business since 1978. They know what it takes to deliver a high quality product to their clients. Because of this, they are a great choice for people who want to work with a builder that is experienced and has your best interest at heart.
Pinno Buildings
Pinno Buildings has a dedication to customer service that is unmatched in the industry. They take pride in being able to deliver a positive customer service experience to their clients. If you want to make sure that the whole process will be as easy as possible, they could be a great choice.
Barndominium Kit Providers in Illinois
If you don't want to build your own post frame building from scratch, you also have the option of ordering a barndominium kit. Kits can be ordered to your exact specifications and are delivered with everything you need in order to get your project up off the ground. If you are nervous about starting the process, a kit could be a good choice.
One of the major benefits of using a barndominium kit provider is that you will receive all your materials in one package. This takes away some of the guesswork that comes with gathering and sourcing building materials. You could get started on your barndominium in Illinois as soon as your prefabricated kit arrives.
Barndominium Financing in Illinois
Barndominium Financing Request
Farmers State Bank
Farmers State Bank operates in many different counties in Illinois. Their experience in the community and dedication to the area makes them a great choice for building a barndominium in Illinois. Finding financing for your barndo is incredibly important and they would be more than willing to help you with this process.
Central Bank Illinois
Since 1907, Central Bank Illinois has been working with people just like you to find the financing for their construction projects. If this kind of longevity and dedication is important to you, they are a good option. Their long standing relationship to the area makes them perfect for building a barndominium in Illinois.
Where to Find Land for a Barndominium in Illinois
One of the most important considerations you will have to make when building a barndominium in Illinois is the piece of land you will build on. There are many places online where parcels of land are listed for sale. There, you can narrow down your search to your exact wants and needs.
The piece of land you buy for your barndominium will have to be zoned for residential purposes and be accessible to utilities like power and plumbing. Any of the agricultural banks listed above will be happy to help you get financing for your plot of land.
Barndominium Floor Plans in Illinois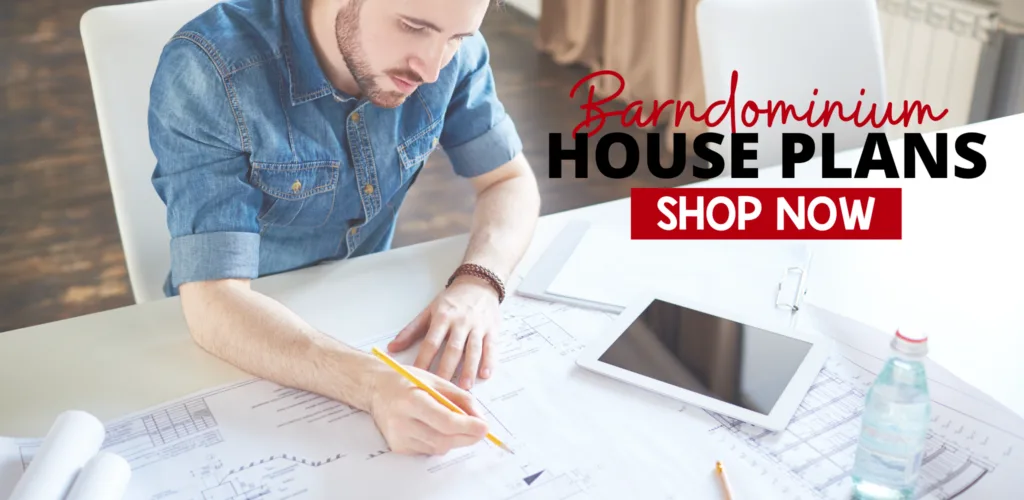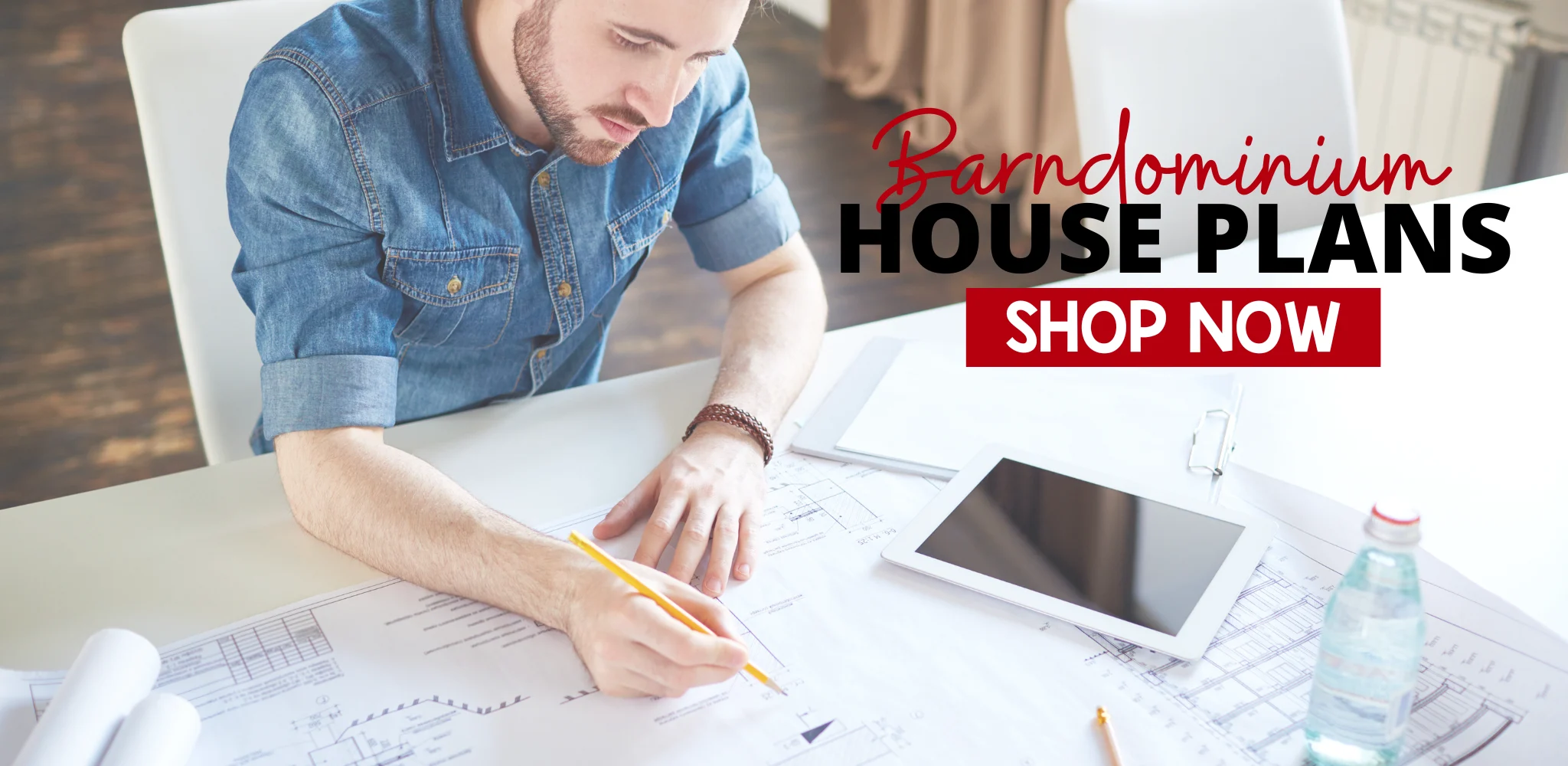 Don't want all the hassle of building a barndominium from the ground up? Then you may want to buy an existing barndominium in Illinois! With our Barndominiums for Sale Marketplace, you can browse to your state and find a barndominium for sale near you.
The beauty of buying an existing barndominium is that it can be really easy to customize the floor plan to your liking. The previous owners' setup is just a starting point! Also, by buying a barndominium in Illinois, you bypass the potential troubles of the building process – delays, dealing with contractors and subcontractors, and city or county bureaucrats trying to make your build process a nightmare.
Don't delay – find a barndominium for sale in Illinois now!
Conclusion
Now that you have read this in-depth guide to building a barndominium in Illinois, you have a good idea of what it takes and the things you will need to get started. If you would like some more helpful design tips and unique floor plans, be sure to check out the ebook, Build Your Dream Barndominium by Don Howe.
If you would like more guides like this one, check out the rest of BarndominiumLife.com. There, you will find more helpful tips and tricks from the pros. You will also find featured barndominiums, barndominium floor plans, and information on financing and insurance. Knowing as much as you can will help you get the best results for your dream home.
Michael O'Connor is a seasoned barndominium writer passionate about creating unique and innovative barndominiums. With over 15 years of experience in the construction industry, Michael has established himself as a leading expert in barndominium design and construction.
His work has been featured in several respected publications, including Barndominium Life, where he frequently contributes articles on best practices and emerging trends in the field. Michael's ability to blend traditional techniques with cutting-edge technology and design concepts has earned him a reputation as one of the most knowledgeable writers in the industry.