Barndominiums are quickly becoming a popular choice among homeowners for their low design costs as compared to more traditional home designs, and they can also be as quaint as you'd like to accommodate smaller families or groups or to simply foster closeness among occupants.
Or you may opt for a more spacious layout to accommodate a larger family or vacationing crowd or to create more privacy.
If you are in the market for a large home, whether as a family home or simply a vacation home, one of these 6 bedroom barndominium floor plans just may provide the perfect solution for creating the home of your dreams.
6 Bedroom Barndominium Kits
If you're looking to start building your barndominium, one of the first things to do is to get a quote for the metal shell or barndominium kit. By using the quote service below, you'll get connected with a barndominium kit provider within a few hours at most. Prefabricated barndominium kits mean that the metal shell that makes up your barndo is produced off-site, then it's brought to you for erection and assembly. While some builders will help you order the barndominium kit, we suggest doing it separately to avoid a potential markup on the barndominium kit.
That's it! By using the tool above you'll get connected with a kit provider for 6 bedroom barndominium kits.
6 Bedroom Barndominium Floor Plans
The Best Barndominium Floor Plan With All the Amenities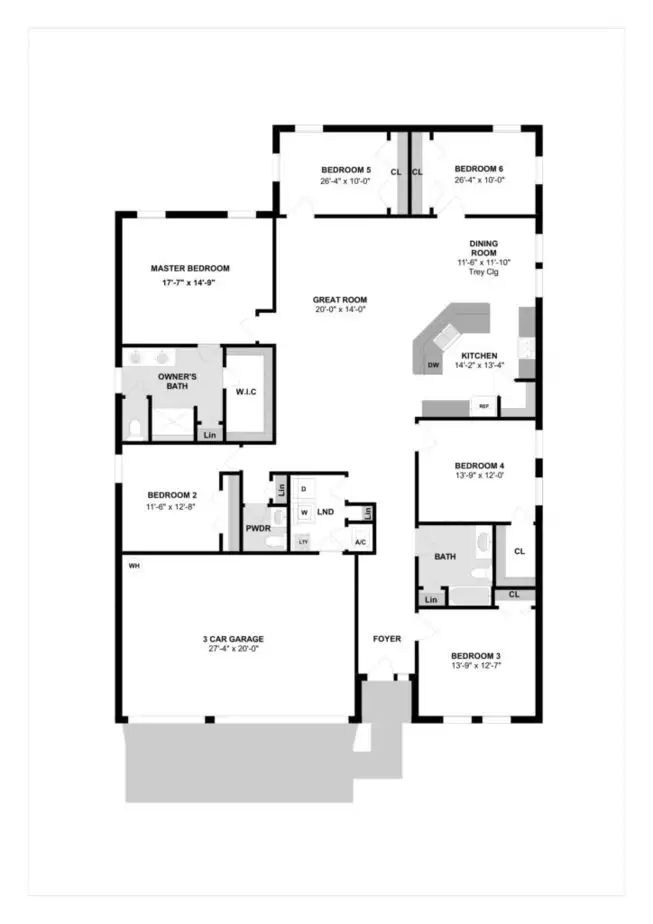 This barndo floor plan combines all the best features in this spacious 6-bedroom layout, including a huge master bedroom complete with its own linen closet and walk-in closet.
Meanwhile, the open, airy dining area/kitchen and 20′-0″ x 14′-0″ great room, which hint at great family meals and good times to come, further add to the excitement of the home.
Finally, the foyer provides the perfect spot to create an inspiring welcome for incomers, and the 3 car garage means no fighting over covered parking, whether you also have a teen with their own car or a car enthusiast for a spouse who has two cars.
The Best Barndominium Floor Plan for Exterior Views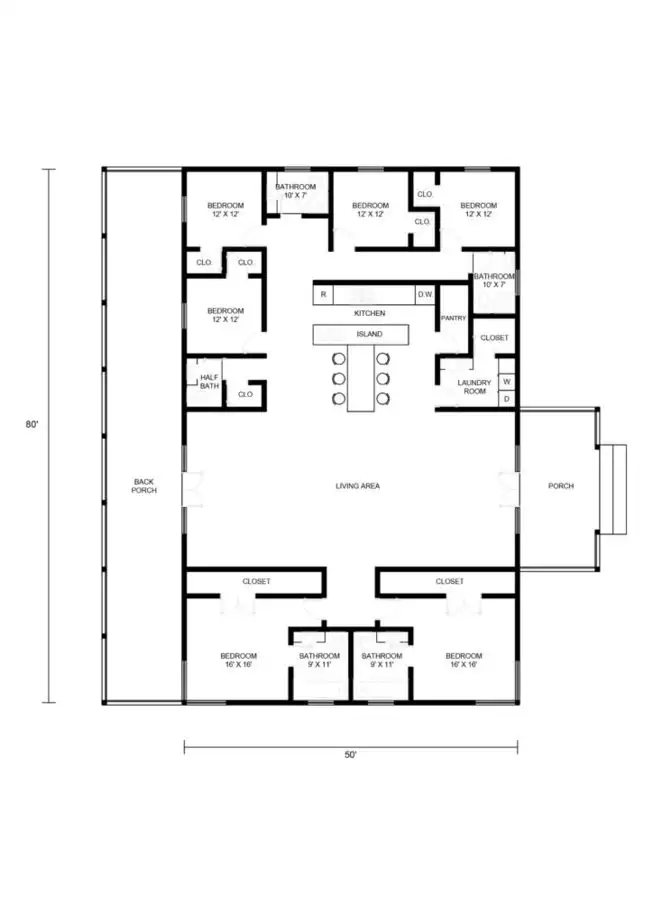 This floor plan features 4 of the bedrooms on one side of the home, two with their own bath, which is just perfect for families with older kids or overnight guests who require their own space.
In the meantime, the island in the kitchen creates a great meeting area for family breakfasts together, or perhaps it could serve as the perfect space to help school-aged children complete their homework while preparing dinner or tasty after-school snacks.
It also includes a spacious living room, which provides the ideal space for creating the perfect family movie night,
We love that this plan includes a huge back porch, which provides the perfect escape for stargazing or basking in the awe of the sunset or the sunrise, depending on the chosen position of your design.
We also love that this plan includes a front porch as well, which is just perfect for taking in exterior views from the front of your home, especially if your property sits on a lakefront or near a nature preserve, or it can just serve as the perfect entry for ushering in family and guests.
It also includes two bedrooms on the other side of the home, which provides the perfect spot for older children or overnight guests to unwind, and each also includes its own bathroom for added privacy.
The Best Barndominium Floor Plan for Parents With Small Children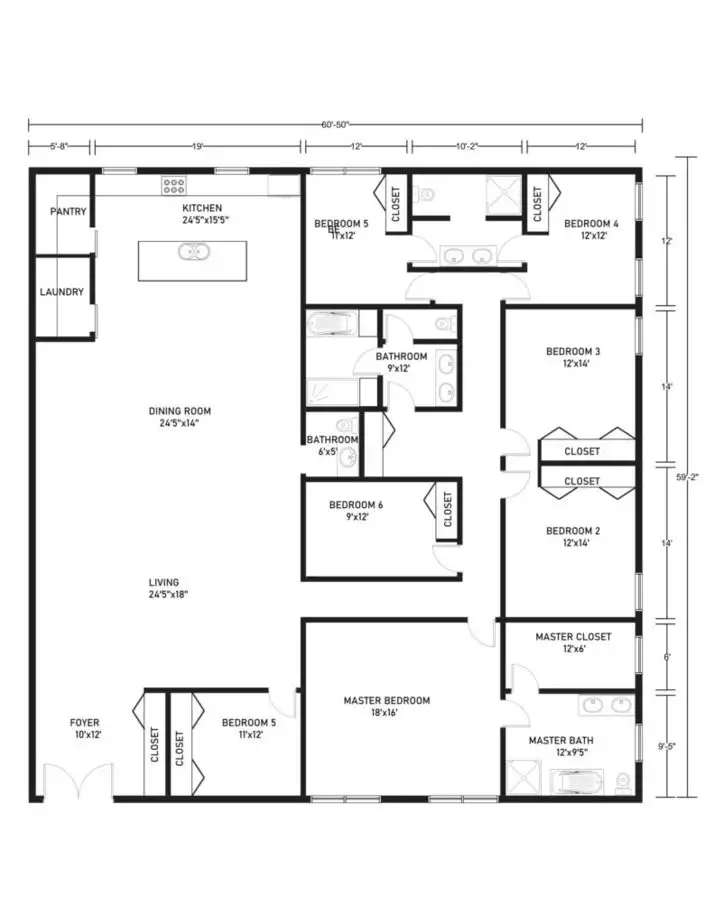 This floor plan features all the bedrooms on one side of the home, which enables you to designate one side of the home for sleeping and relaxation, while dedicating the other side to bustling everyday living and entertainment. It also enables parents to keep watch over sleeping, small children.
In the meantime, the open kitchen/living room/dining room area and open foyer provide a clear view of the rest of the home, which enables you to also keep an eye on wandering and playing children during waking hours while carrying out everyday tasks, such as preparing meals in the kitchen, doing laundry in the laundry room, or just simply lounging in the dining room or living room for added confidence.
The Best Barndominium Floor Plan for Independent Work or Study
This floor plan is a favorite because it features a study, which makes it a suitable choice for families engaged in lots of independent work or study, and its location just off the main hallway means plenty of quiet when utilizing its late nights.
The expansive open kitchen/dining area/living room also means lots of seating, which allows for lots of dining and lounging with family and friends.
Meanwhile, the spacious laundry room located just off the kitchen provides a great opportunity to create the laundry room of your dreams complete with plenty of storage. And it also includes a large linen closet just down the hall right off the powder room, which offers ample room for storing lots of fresh, clean linens for your large family and guests.
The Best Barndomium Floor Plan for Large Group Gatherings
This floor plan screams group vacation or the perfect place to entertain out-of-town guests with a second floor that includes 3-bedrooms, an open coffee/pantry area, and a beautiful view of the downstairs area.
Or perhaps it could provide the perfect hideout for visiting or returning college children or live-in parents who need their own space. It also includes a study for a bit of at-home working, studying, or job searching.
Meanwhile, the first floor houses a sizeable master bedroom complete with a master bath and walk-in closet for parents' own little escape. However, the large open kitchen/dining area/living room is there for spending cozy times with your family and making great memories to last a lifetime.
This plan also features a covered porch just off the front of the property for creating great outdoor memories.
The Best Barndominium Floor Plan for Outdoor Living
One of the 6 Bedroom Barndominium Floor Plans is this simple plan that includes all the right features to inspire a more intimate family time with a quaint, open kitchen/living area, and all 6 bedrooms nestled on one side of the home.
Meanwhile, the large porch located just off the rear of the home is just great for families who enjoy basking in the ambiance of the outdoors maybe even more so than spending time indoors. However, the indoor open kitchen and spacious living area enable you to make the choice.
The Best 6 Bedroom Barndominium Floor Plan for Enjoying the Outdoors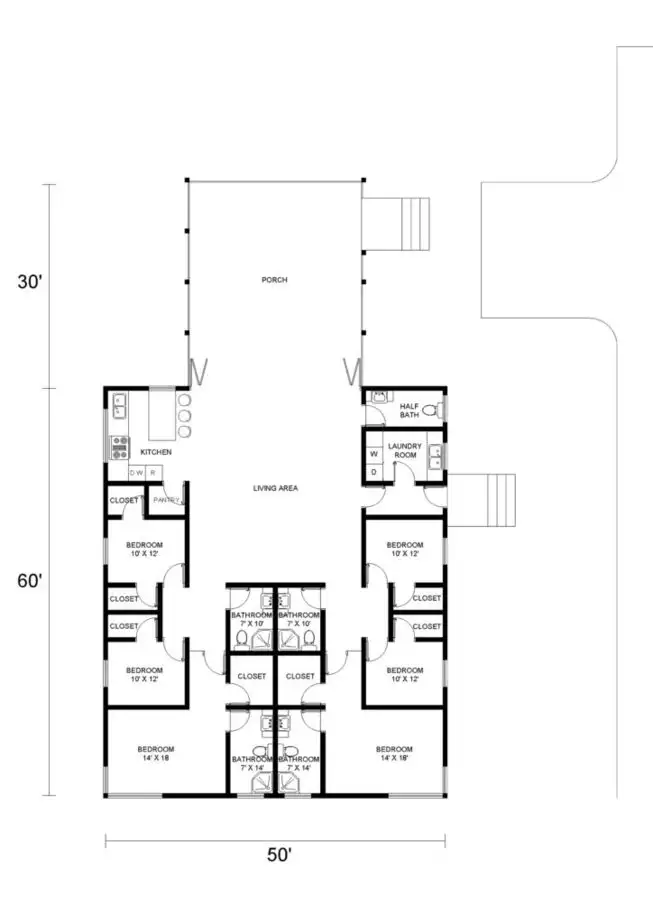 We love this plan because it also stresses lots of outdoor living with a huge back porch and expansive yard that also takes precedence over the design.
The awe of the outdoor living area is followed by the awe of the vast open indoor living room that provides the perfect place to escape the cold of the outdoors into the warmth of the spacious heart of the home, which also inspires good family times to be had or perhaps to simply enjoy the beauty of the outdoor view from indoors on rainy days or during extreme outdoor temperatures.
Meanwhile, the quaint open kitchen provides a cozy nook for preparing heartfelt meals in peace that your family and friends are sure to love.
It also does not include a master bedroom or bath; however, it does include two larger bedrooms, each with its bathroom, on one side of the home, which suggests it would also make a great floor plan for a vacation home.
These 6 Bedroom Barndominium Floor Plans only show how totally adaptable barndominiums are. If you are considering building your own barndominium, check out the Barndominium Life Program, the perfect guide to make your barndominium journey easier.
Boasting a generous 4467 square feet of heated space, this barndominium ensures comfort in every corner. The property features six well-appointed bedrooms, providing ample private space for everyone. With 4 modern bathrooms, convenience meets luxury for all residents. The single-story design promotes easy accessibility, while the open-concept layout enhances the sense of space and connection. This barndominium is a perfect blend of rustic charm and modern amenities, offering a unique and comfortable living experience.
Gail currently spends her free time geeking out about what's new and trending in the world of barndominiums.
She is the former executive editor of BarndominiumLife.com and loves working with the team and members of the barndominium community. She now contributes to the blog on occasion, but only when she feels like it!