The exterior house paint color already sets an impression of what awaits inside the home. If it was a person, it is the attitude you display without even talking. The Alvord Texas red barndominium has an interesting red exterior paint. What attitude does that reflect if you were a guest coming over for the first time? In personality tests, red stands for dominance and attention. You're going to be interested in this red barndo and we, too, are excited to show you around. Let's check out the photos of this 3-bed and 2-bath gorgeous home.
Alvord Texas Red Barndominium Exterior
Red is a great choice, judging how well it blends into the landscape surrounding it. Yet, being conspicuous, it also grabs all the attention from everything else around it. Red certainly has a strong call to be noticed. But then again, red also stands out against the glare of the Texan sun.
In a way, the color does remind us of what barndominium originally is, a barn. Shall we get a little bit of history briefing here? Indulge us as this might also be interesting to know.
Barns originally weren't painted at all because the early farmers in New England didn't have money to spend on paint. They searched for ways to protect the barn wood against elements and eventually found ways to make their own protective paint with a recipe made of skimmed milk, lime, and red iron oxide which created a rusty-colored mixture. They have also found a way to seal bare wood from rotting with Linseed oil from flax plants, staining the wood a dark coral hue.
The farmers also noticed that painting the barns also kept them warm during winter, with the darker color absorbing heat more than plain wood does. And so, the tradition of red barns gained popularity due to its purpose and suitability.
Now, what do you think about painting your house red?
The Alvord Texas Red Barndominium Interior
Now let yourselves in to this astonishing look of the home interior. We could all agree on getting a prehistoric feel, but with a whole lot of modernity. The reddish flooring still has that olden feel, adapting to the rustic ambiance of the interior structure and features.
Rustic feels can't be complete without the earthy touch that wood and stone give. Get a more defining rustic ambience with exposed wood beams, a wooden mantel, and a brick fireplace in the middle of the living room. And let's not skip on the color palettes that take us to that nostalgic earthy natural look of the olden times.
The Alvord Texas Red Barndominium has this unique lighting fixture that is very charming. As it is most often pointed out in the perspective of interior design, lighting fixtures do more than just light up your homes. They are also accent pieces to adorn your homes. In this barndo, the chandelier adds an even more earthy feel of the interior. These look like ordinary tree branches but they also resemble animal antlers. Whichever it is, it gives a hint of the wild. This piece is certainly quite a character in this modest home.
Open Concept Living, Dining and Kitchen areas
Oh, but we really do love open spaces. Why not? You get a view of the entire floor, without partitions light and air passes openly. Talk about energy-efficiency. And you have to agree, the decorating ideas are limitless without walls!
Kitchen
The Alvord Texas Red Barndominium has quite a small kitchen space. But this little space is so neat and polished with the grey and white theme. Those overhead wooden cabinets look sleek and really lovely. The same ornamental lighting fixture lights up above the island. It poses a contrast against this kitchen's polished look, but definitely still looks classy in its own right. Even more classy are the touches of brass you'll find in the faucets and handles of the appliances. It subtly complements the chandelier and wooden cabinets.
Bedrooms
Now, onto the master bedroom. Here, the old farmhouse feel is heightened with the wooden sliding door that leads to the bathroom. The cabinet and windows are framed with the same wooden look as the sliding door. The utility room is conveniently accessible from the master bedroom, with the master bathroom and closet sitting in between.
The other 2 bedrooms also have the same wooden framing as in the master bedroom. Each room is accented by different lighting fixtures that is hung in the middle of the rooms. Both also features built-in closet for storage.
Master Bedroom, Bathroom, and Closet
2 More Bedrooms
Common Bathroom and Utility Room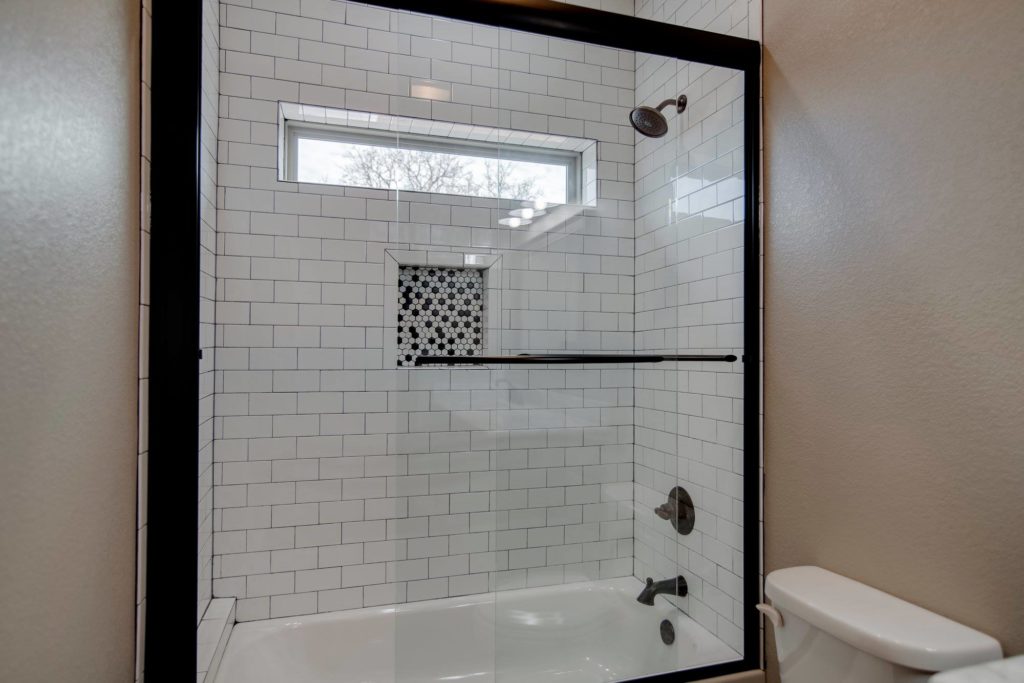 The Alvord Texas Red Barndominium is custom-built by HL Custom Homes. It showcases great planning, with just enough spaces for each room, and the accessibility of one room to another. The home is a beautiful design, a perfect representation of a dream home coming to reality.
Get more ideas when building your barndominium from the ultimate guide ebook Build Your Dream Barndominium by Don Howe.
How to Build Your Own Barndominium & 200+ Floor Plans
Get started today with our program "Barndominiums Made Easy: How to Build Your Own Barndominium" and get 200+ barndominium floor plans included!
Gail currently spends her free time geeking out about what's new and trending in the world of barndominiums.
She is the former executive editor of BarndominiumLife.com and loves working with the team and members of the barndominium community. She now contributes to the blog on occasion, but only when she feels like it!