Another beautiful home to check out is the Boyd Barndominium in Texas. It's custom-built for the Landes family by HL Custom Homes.
The Exterior
With an exterior look that's very cool on the eyes, this is admirably a fantastic creation of a beautiful home. The shade of bluish and grey exterior colors look great against the blue skies of the perfect sunny day, and the lush greeneries surrounding this home.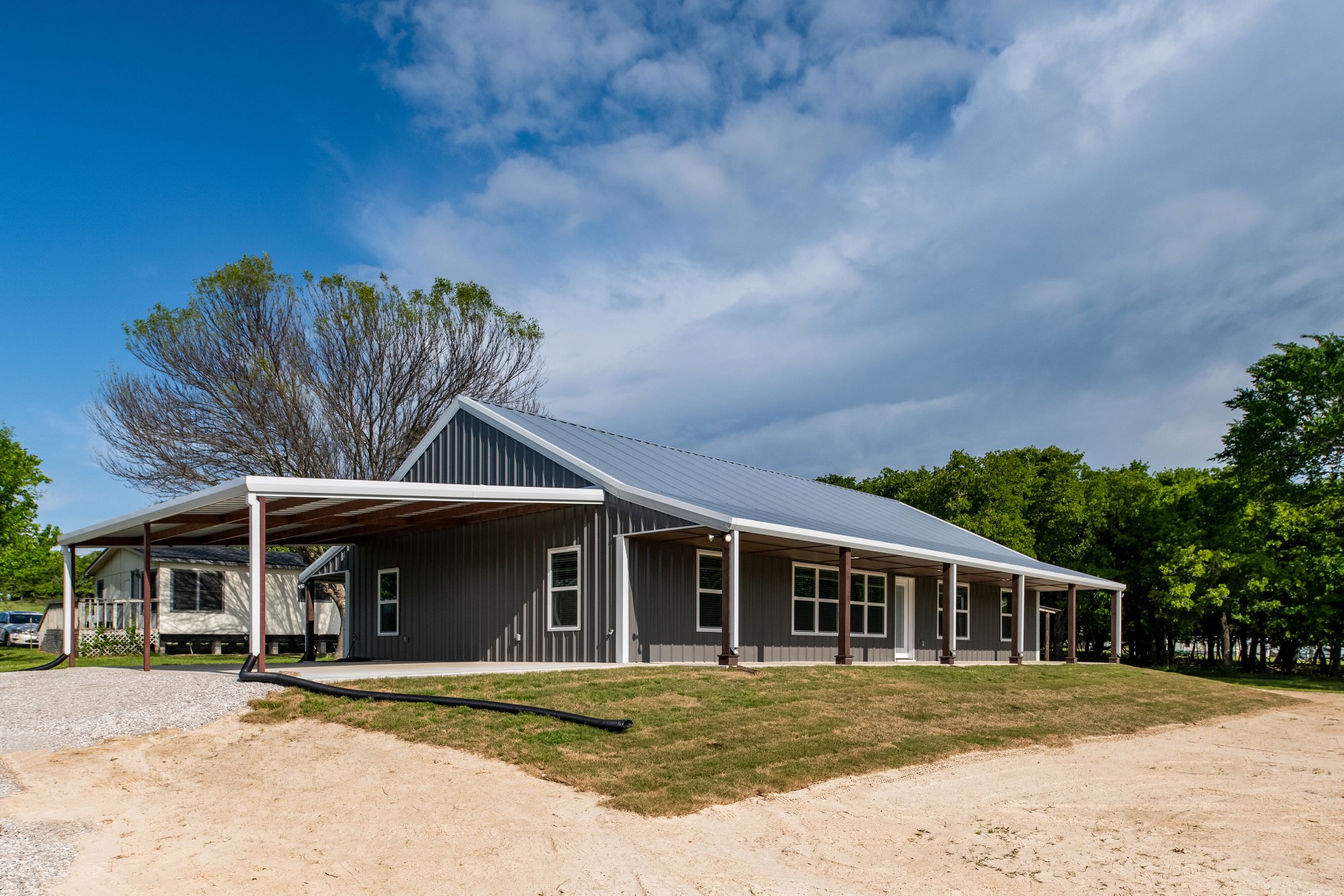 The Interior
Grey does have the tendency to be seen as dull and boring. But, this neutral color also reflects the modern and edgy style and is now the trend. The color suits any room, event, and mood. Grey gives the feel of class and timelessness, just the same as white and black. Yet, this color is not meant to be used on its own.
In this open concept interior, the brown-stained flooring appears crisp against the grey-painted walls and ceiling, thus, giving off a stronger rustic look and feel. While the room looks simple and plain, the best thing about shades of grey is that it can match with just about any interior decorating style, and colors you pick for your furniture. There are a lot more reasons why you must paint your walls grey.
Another thing to love is the great amount of natural light coming in from huge windows that are common features of a barndominium. With grey walls, the room remains cool and while neutralizing the brightness so it doesn't get too glaring.
Anyone who enters the home would be drawn in right away to the kitchen. It sits in a corner still having that edgy look in grey with just enough space to move around. The backsplash is very noticeable and we could just agree that it looks appealingly artsy with the olden-brickwork look.
While other homes may have packed their homes with lots of storage areas, the Boyd Barndominium has just enough storage cabinets in the kitchen, not making the space too packed. As they say, it's not how much storage spaces you have but how you organize your stuff.
While we go around checking out barndominiums, we never get to miss adoring those lovely lighting fixtures. Although these may be considered something with a basic function of giving off light, these fixtures actually have different types and could also do more than just brighten an area or the whole room. In interior design, these lighting fixtures are used as decorative accents. While this part gets a little more complicated and needs a creative eye, it wouldn't hurt to check out some interior designer lighting tips.
The Bathrooms
Spacious bathrooms are such a luxury, especially when the space of your home doesn't allow you to have this. What we like about the bathrooms is that the storage cabinets are kept compact and mostly on the lower areas. It does help give more space to the room.
While most of us make do with a single small mirror in our bathrooms, this huge vanities in the bathrooms are to be envied. The Boyd Barndominium showers have contrasting appeal. While the master shower has the outdoorsy look, the common bathroom with white with splashes of grey tiles give off quite a more modern and clean look.
Master Bathroom
Bathroom 2
It's always so exciting to be touring around these beautiful homes and picking out pieces of ideas on what you would like when you finally build your own barndominium. We love knowing what works and what doesn't depending on your lifestyle needs. There are also things you need to consider and mistakes to avoid before you start building.
Get yourself a copy of the Build Your Dream Barndominium by Done Howe for a more comprehensive step-by-step guide to building your barndominium.