When you've finally decided to get your own Oklahoma barndominium, you can get pretty excited during the process, from planning to building and the finishing touches. After all, you're finally getting your dream home! You set a budget for the land and construction and everything else that needs to be spent on during the process.
But then again, it's so easy to get carried away with all the excitement of your dream home unfolding before your eyes that you eventually lose control over the budget. To help prevent that from happening, our informative eBook "Build Your Dream Barndominium" can help with this.
Don't get it wrong, this isn't to kill your enthusiasm over barndos. It's safe to conclude that most barndo owners were able to successfully stick to their budget, or even under their budget. In this case, the barndo owner had his personal preferences when it came to his finishes. Terry Evans built a wonderful barndominium home, now let's view what he's created.
Let's check out these photos of the Oklahoma Barndominium!
Terry Evans built a 50 x 60 x 16 pole barn over a 1.3-acre lot with a wrap-around porch on half of the building. With the building equally split in half, he had two 25 x 60 areas- one for living space and the other half for the shop. The living space has 3 bedrooms, 2.5 baths, and 2 great rooms.
Now you might think it needed so much space for two great rooms. But the city required to have 51% in living space in order to be able to build a half-shop, half-home property. His best solution was to make a two-storey living space for his Oklahoma Barndominium.
The 1500 square foot living space was designed to have a great room, kitchen, utility, a guest 1/2 bath, master bedroom with walk-in closet and master bathroom on the first floor. The second floor was a 750 square feet space with two small bedrooms, a game room, and a small full bath. Plus, a storage room in an attic space.
Going back to spending a lot for this lovely Oklahoma Barndominium, the owner opted for high-end finishes with granite; all custom-built cabinets; large, solid cedar beams on the ceilings and stair rails; and Travertine marble, heated floors. With all these said, the owner did spend on everything that he wanted for this dream home.
The ceilings and walls throughout the great room and game room are built on 1×8 Knotty Pine sealed with water-based sealers to prevent them from going yellow over time. An 8×12 cedar beam and 8×8 rafter are installed throught the game room and great rooms.
Oklahoma Barndominium Kitchen
All kitchen cabinets are custom-built using Knotty Alder. The countertops are granite and he had the center island painted sage green to match. The owner installed the kitchen backsplash himself.
Oklahoma Barndominium Floor Plans
Terry Evans cites that he wasn't planning to build this big but it just happened! Well, it helps if you act as your own general contractor. He kept himself busy keeping the contractors lined out with what and how he wanted his home to be built. He also had to find the best prices on the material costs.
Acting as the general contractor isn't an easy task. You may not be doing the hard labor but managing subcontractors, making sure everything is done professionally, and all materials and supplies are the best and preferred options for your home require just as much effort and even more time. More importantly, you need to know a great deal about construction. Your home being on the line, you have to be meticulous about it.
Other benefits of being an owner-builder:
Being able to do tasks you feel comfortable doing.
The construction timeframe is more in your control.
Being able to select your tradespeople.
The absolute satisfaction of being able to say you have done it yourself.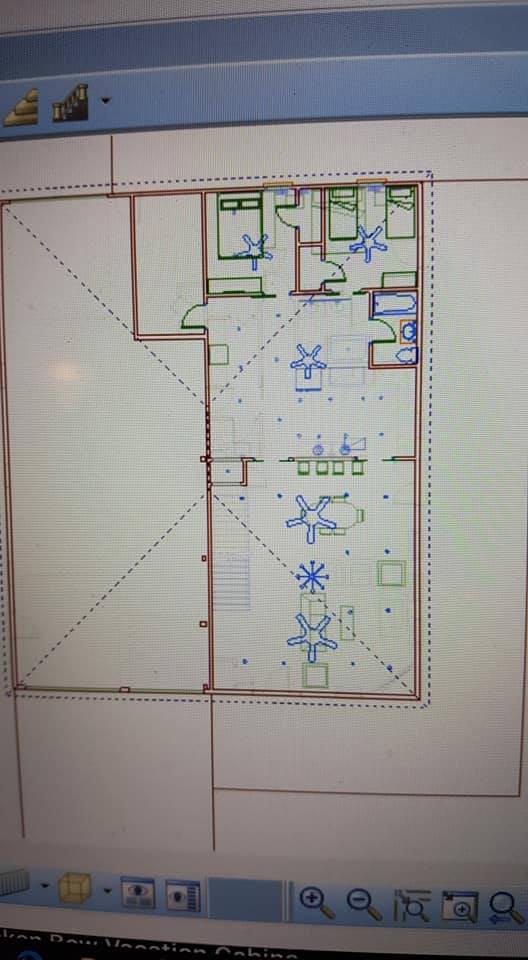 Terry Evans purchased the 1.3-acre lot that had an old house because all the utilities were already available and it saved on his build cost. The building was torn down and the pad for his barndo was built in 2016. The building shell was built in the spring of 2017.
He had put his home up for sale which took a year and finally got sold in April 2017. Since, he had started living inside his motor home pulled up in the shop side of the barndo to start building the inside of his new place.
How much has the owner spent in total?
Without the land, Terry Evans spent over $300K. But with that cost, he has a total of 5200 square feet under one roof: a living area of 2250 square feet, a 1500 square feet garage with heated floors and insulated garage doors, and 1450 square feet of a wrap-around porch. To add, he installed heated floors in the concrete for both the shop and the living space. With that, he doesn't have to "winterize" his RV, boats, and toys anymore.
Guess, in the case of barndominiums, it's safe to say that even with great expenses still comes greater savings…eventually. Well, by now we already know that barndominiums are a lot cheaper to build than regular houses. To add to that, barndos are more durable and energy-efficient.
The owner mentioned that he let his wants to override his needs too many times. And why not if it gives you this beautiful place to live in for the rest of your life? After years of working, retiring to a property you've done yourself is the most rewarding. Spending on your barndominium would be the best splurge you can ever get yourself for retirement.
Now, all you'll need to do is relax at the comfort of your dream home!
For more ideas about everything barndominium, get your copy Build Your Own Barndominium ebook!
How to Build Your Own Barndominium & 200+ Floor Plans
Get started today with our program "Barndominiums Made Easy: How to Build Your Own Barndominium" and get 200+ barndominium floor plans included!