If you have been thinking about building a barndominium in Oklahoma, you probably have a lot of questions. Barndominiums are structurally sound, easy to assemble homes that have a lot of options for customization and personalization. Because of this, they can require quite a bit of planning and it is always best to be as prepared as possible.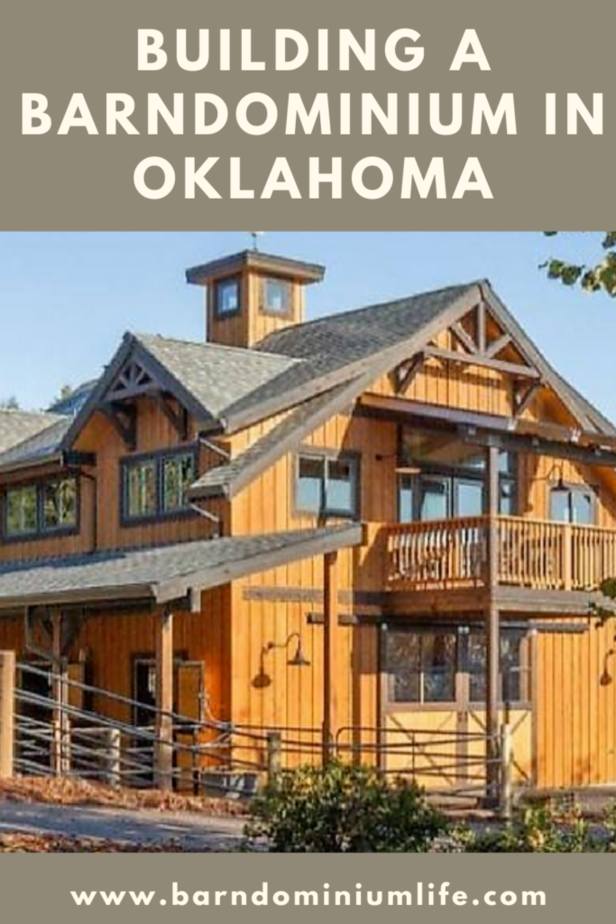 Every state is going to have its own standards and levels of cost, laws and regulations. This article will help you get started on the road to building the barndominium in Oklahoma that best exemplifies your style and personality.
If you want access to some of the best information on building a barndominium in Oklahoma, check out the ebook Build Your Dream Barndominium by Don Howe. There, you will find all kinds of tips and helpful advice on the best ways to get the home of your dreams in a unique package.
How to Build Your Own Barndominium & 200+ Floor Plans
Get started today with our program "Barndominiums Made Easy: How to Build Your Own Barndominium" and get 200+ barndominium floor plans included!
What Is an Oklahoma Barndominium and What Are Some of the Advantages?
A barndominium is a home that has been built inside of a prefabricated or already existing barn structure. They are extensions of the age-old practice of farmers who built their homes adjacent to the barns where they kept their livestock. However, modern barndominiums are just as contemporary and luxurious as any newly built home currently on the market.
Most barndominiums are built out of metal barn shells that have either been repurposed or built from scratch. While these structures are usually meant for farming or other agricultural purposes, they can be framed and wired up on the interior just like any other home. This makes them a great option for those who want a home that is unique and perfectly tailored to your style.
One of the biggest advantages of building a barndominium in Oklahoma is the ability to make it your own. Since barndos tend to have open floor plans, there is room for all kinds of personal touches and layouts that can't be done as easily in a traditional home. Because of this, building a barndominium in Oklahoma could be a great choice if you want more than just an average house.
Cost of Building a Barndominium in Oklahoma
Perhaps one of the most appealing things about building a barndominium in Oklahoma is the price. Barndominiums tend to be quite a bit cheaper than a standard house. This is because the construction of the metal barn structures tends to be quicker and easier than a standard home build.
The streamlined construction process saves money on all kinds of things. The amount of labor and materials needed is greatly reduced and this brings the cost down significantly. The cost of building a standard home in Oklahoma is about $240 per square foot. This is not including things like fitments or other style touches and extras.
Conversely, building a barndominium in Oklahoma is significantly cheaper. The construction of an Oklahoma barndominium will cost about $190 to $220 per square foot. If you are able to keep your floor plans simple and your design elements uncomplicated, you could build a barndominium in Oklahoma on a relatively small budget.
By saving money on construction, you can use the extra funds to customize your barndominium to your exact specifications. This is one of the reasons why barndominiums tend to be incredibly unique and full of character. If you are someone who enjoys expressing yourself through interior design and a unique home, building a barndominium in Oklahoma could be a fantastic option for you.
Get a FREE 18 Month Barndominium Planner
There are 39+ steps that must be taken before groundbreaking. Learn them all in this FREE checklist, available for immediate download.
In the process of finding a builder for your barndominium in Oklahoma, you are going to want to keep a few things in mind. Finding a company that is reputable and has a history of honesty is one of the most important things to look for. A distinguished barndominium builder will end up saving you money and time in the long run by keeping the construction process running smoothly.
Another incredibly important feature to look for when finding a builder for your barndominium in Oklahoma is build quality. Due to the ice, snow, and other weather conditions that are prevalent in Oklahoma, you are going to want to make sure your barndominium is of the utmost importance.
By finding a builder who has experience with barndominiums in Oklahoma, you can ensure that your custom home will be suited for the climate. This will increase the longevity of your home and keep you secure and cozy even in the harsh winter months.
It is not always easy to narrow down your choices for barndominium builders in Oklahoma. With so many to choose from, you might not know where to start. Fortunately, we have put together a list of some of the best barndominium builders in Oklahoma.
DKS Construction

DKS Construction has experience building barndominiums and other pole structures all across the state of Oklahoma. They have a commitment to detail and clean construction that is perfect for barndominiums of all types. They do construction with both residential and commercial customers for a wealth of experience that will work wonders for any custom home.
Millennial Custom Homes
The builders at Millennium Custom Homes understand what it takes to build a beautiful home in a small amount of space. They are able to install things like custom granite countertops and artisan cabinetry in your barndominium in Oklahoma. Their design consultants have worked with all kinds of customers with many different requirements in order to help them build the home of their dreams.
Gober Buildings
Gober Buildings offers high-quality, post framed metal buildings for customers looking to build a barndominium in Oklahoma. They have built custom metal buildings for over 5,000 customers and have used that experience to hone their skills. Because of this, they are able to tailor their designs to exactly what you are looking for in a custom home.
Barndominium Kit Providers in Oklahoma
If you are not interested in repurposing an old barn or building one from scratch, the answer may lie in a barndominium kit. These kits come fully fabricated to your design and can be assembled in a relatively short period of time. This is just one of the ways you can cut back on expenses when putting your barndominium in Oklahoma together.
The best thing about using a kit to construct your barndominium in Oklahoma is that you can design it just how you want it. The pieces will come already fabricated and with comprehensive instructions to help you through the construction process. Many people find that this is the easiest way to get their metal structure put together.
Many kit providers offer different floor plans and building types for you to choose from. By being able to pick the right floor plan, you can set up your barndominium in Oklahoma to be exactly what you need to achieve your dreams.
Like this Post? Sign up for our email list!
Be the first to see new posts about the best barndominiums, construction guides, floor plans, and more! Enter your information below to become a BarndominiumLife VIP.
Barndominium Financing in Oklahoma
One of the best resources for getting barndominium financing is by using BarndominiumLoans.com. They are a quote service that takes down your information and works behind-the-scenes with vetted lenders who are best for your location and financial situation.
Whether you have a perfect credit score or a subpar one, and whether you're located in South Carolina or South Dakota, you can submit your information to get a quote within 24-48 hours.
Barndominium Financing Request
Oklahoma Ag Credit
Oklahoma Ag Credit specializes in getting financing for rural homes all throughout the state. They offer flexible terms and competitive rates that can help you get the loan you need to build your barndominium in Oklahoma. They even offer a specific country home loan that could work perfectly for your project.
Regent Bank
The team at Regent Bank is dedicated to getting you the right loan with the right terms for your barndo. They have been supporting agricultural construction in Oklahoma for years and understand the ins and outs involved in these types of projects.
Vision Bank
Vision Bank has been helping people get their rural construction loans for over 100 years. That kind of experience is unparalleled in the industry. This makes them a great choice if you want a team behind you that knows everything there is to know about building a barndominium in Oklahoma.
Where to Find Land for a Barndominium in Oklahoma
When building a barndominium in Oklahoma, you are going to have to find a plot of land. This plot must be compliant with all the zoning laws and regulations in order to build your home on it. This makes finding a piece of land one of the more difficult steps in the process.
There are many places to find land for sale in Oklahoma. Although it is one of the more expensive and complex things you have to take care of in order to build a barndominium in Oklahoma, it is an exciting prospect. Many people build barndos simply because they found a piece of land that they love.
Barndominium Floor Plans in Oklahoma
Don't want all the hassle of building a barndominium from the ground up? Then you may want to buy an existing barndominium in Oklahoma! With our Barndominiums for Sale Marketplace, you can browse to your state and find a barndominium for sale near you.
The beauty of buying an existing barndominium is that it can be really easy to customize the floor plan to your liking. The previous owners' setup is just a starting point! Also, by buying a barndominium in Oklahoma, you bypass the potential troubles of the building process – delays, dealing with contractors and subcontractors, and city or county bureaucrats trying to make your build process a nightmare.
Don't delay – find a barndominium for sale in Oklahoma now!
Conclusion
Building a dream home is something that many people never get to achieve. By building a barndominium in Oklahoma, you can get everything you are looking for with less money and in less time. If you are looking for more fantastic tips on how to start designing and planning for your barndo, check out the Barndominium Life Program!
How to Build Your Own Barndominium & 200+ Floor Plans
Get started today with our program "Barndominiums Made Easy: How to Build Your Own Barndominium" and get 200+ barndominium floor plans included!
Michael O'Connor is a seasoned barndominium owner passionate about creating unique and innovative barndominiums. With over 15 years of experience in the construction industry, Michael has established himself as a leading expert in barndominium design and construction.
His work has been featured in several respected publications, including Barndominium Life, where he frequently contributes articles on best practices and emerging trends in the field. Michael's ability to blend traditional techniques with cutting-edge technology and design concepts has earned him a reputation as one of the most knowledgeable writers in the industry.