For many, building a barndominium is a lifelong dream. After so long living in urban or suburban that might have been too cramped or designed to someone else's standards, you've finally got the opportunity to build the barndo you've always wanted.
Especially for those who are creating their forever home, it's important to get the layout just right so you can enjoy it for years to come. We've got some incredible 4 bedroom barndominium floor plans for you to consider for your next build. These layouts are perfect for larger families, multi-generational families, or even those who love to entertain.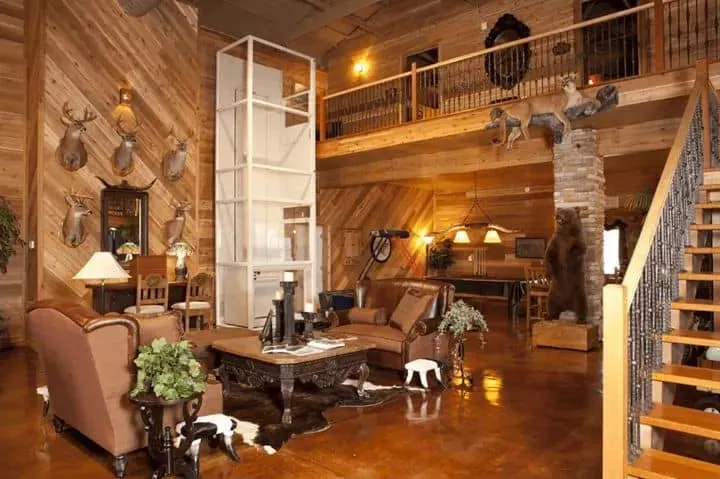 There are so many considerations to take into account when designing a floor plan for your home. As you look through these options, you might decide that you need something different for your unique lifestyle, and that's ok!
One of the best things about building a barndominium is how customizable and adaptable they are to your needs. No matter what you're looking for, there are plenty of ways you can make your dream a reality even if it means building a multi-family barndominium, we can help you.
How to Build Your Own Barndominium & 200+ Floor Plans
Get started today with our program "Barndominiums Made Easy: How to Build Your Own Barndominium" and get 200+ barndominium floor plans included!
If you're adept at design, consider using some barndominium planning software to create a custom layout (we've got more on that below). But if you'd prefer to leave the planning to the pros, many barndo designers can help you create precisely what you need.
Many builders specialize in this exact thing, so you can be sure you'll end up with the barndominium you've always envisioned. Just make sure you choose the right barndominium builder.
4 Bedroom Barndominium Kits
If you're looking to start building your barndominium, one of the first things to do is to get a quote for the metal shell or barndominium kit. By using the quote service below, you'll get connected with a barndominium kit provider within a few hours at most. Prefabricated barndominium kits mean that the metal shell that makes up your barndo is produced off-site, then it's brought to you for erection and assembly. While some builders will help you order the barndominium kit, we suggest doing it separately to avoid a potential markup on the barndominium kit.
That's it! By using the tool above, you'll get connected with a kit provider for 4-bedroom barndominium kits.
4 Bedroom Barndominium Floor Plans – Things to Consider
Although many of these 4 bedroom barndominium floor plans may look perfect, they may not be well suited to your lifestyle or how you plan to use your home. Before you dive in and start designing a layout, take some time to think about these elements and how you can create a home that works well for your needs.
Lifestyle
This aspect will be different for everyone. How many kids you have, how often you have overnight guests, whether you need a home office or a workshop, and how much you utilize common living spaces should all affect the layout of your home. Use this information to outline how many different kinds of rooms you'll need in your house and what their relative sizes should be to one another.
Make sure you leave some room for some flexibility, though – kids grow up and might move out, elderly parents might move in for extra care, or you might find yourself needing more space than before if you run a home business. That's one reason we think four barndominium floor plans work so well – there's ample space for all of life's needs.
Consider Your Land
There's nothing more enjoyable than taking in the beautiful outdoor views while relaxing in your barndominium, so account for that when planning your layout.
If you are fortunate enough to have gorgeous forest or mountain views on one side, consider having your main living room wall face that way, with large windows installed to take advantage of the scenery. If you'd love nothing more than kicking back on the porch while watching the colorful sunset, be sure to incorporate this into your design plans as well.
Traffic Flow
This can be a tricky one for people to envision, but it's crucial to get it right, so your barndominium doesn't inconvenience you. Be sure to map out common paths to ensure you're creating accessible routes for your space.
For instance, how far is it to haul your dirty clothes from the bedrooms to the laundry room? How much of a walk is it from the garage to the kitchen when you're bringing in heavy groceries? How do you want your bedrooms laid out, so you don't have to sneak around like a mouse in the evenings to avoid waking up your family?
All of these are important factors that should be at the forefront of your mind when designing your layout.
How to Build Your Own Barndominium & 200+ Floor Plans
Get started today with our program "Barndominiums Made Easy: How to Build Your Own Barndominium" and get 200+ barndominium floor plans included!
Closets and Storage
Although you want your home to be beautiful, its functionality also plays a large role in your life. To that end, making sure that you leave ample room for closets and storage should be a critical factor in your 4 bedroom barndominium floor plans.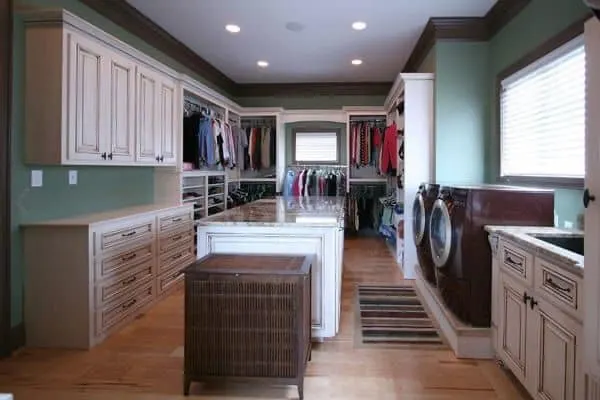 Take into consideration not just bedroom closets, but pantries, workshop storage, and linen closets as well. Don't forget to leave plenty of room for general storage too, as this is where you'll keep items like holiday décor, luggage, and everything else you can't fit into your main closets.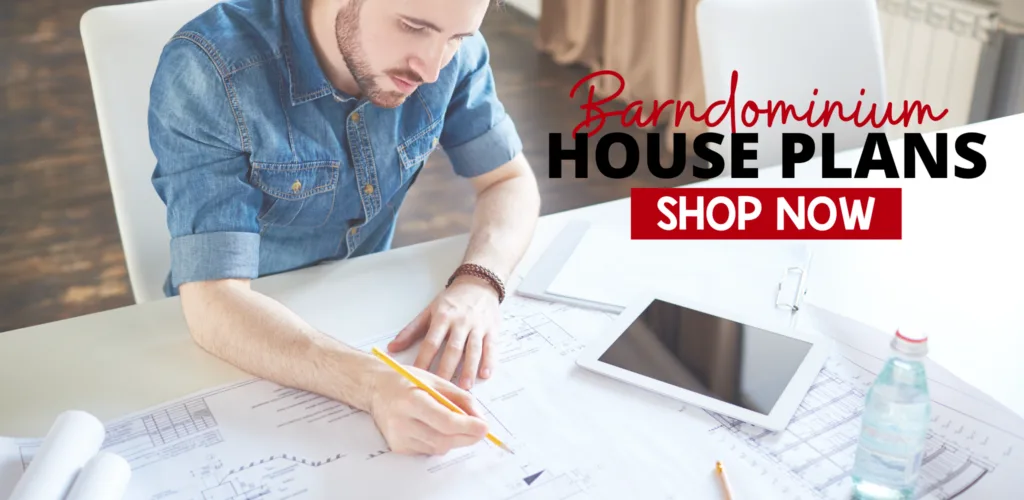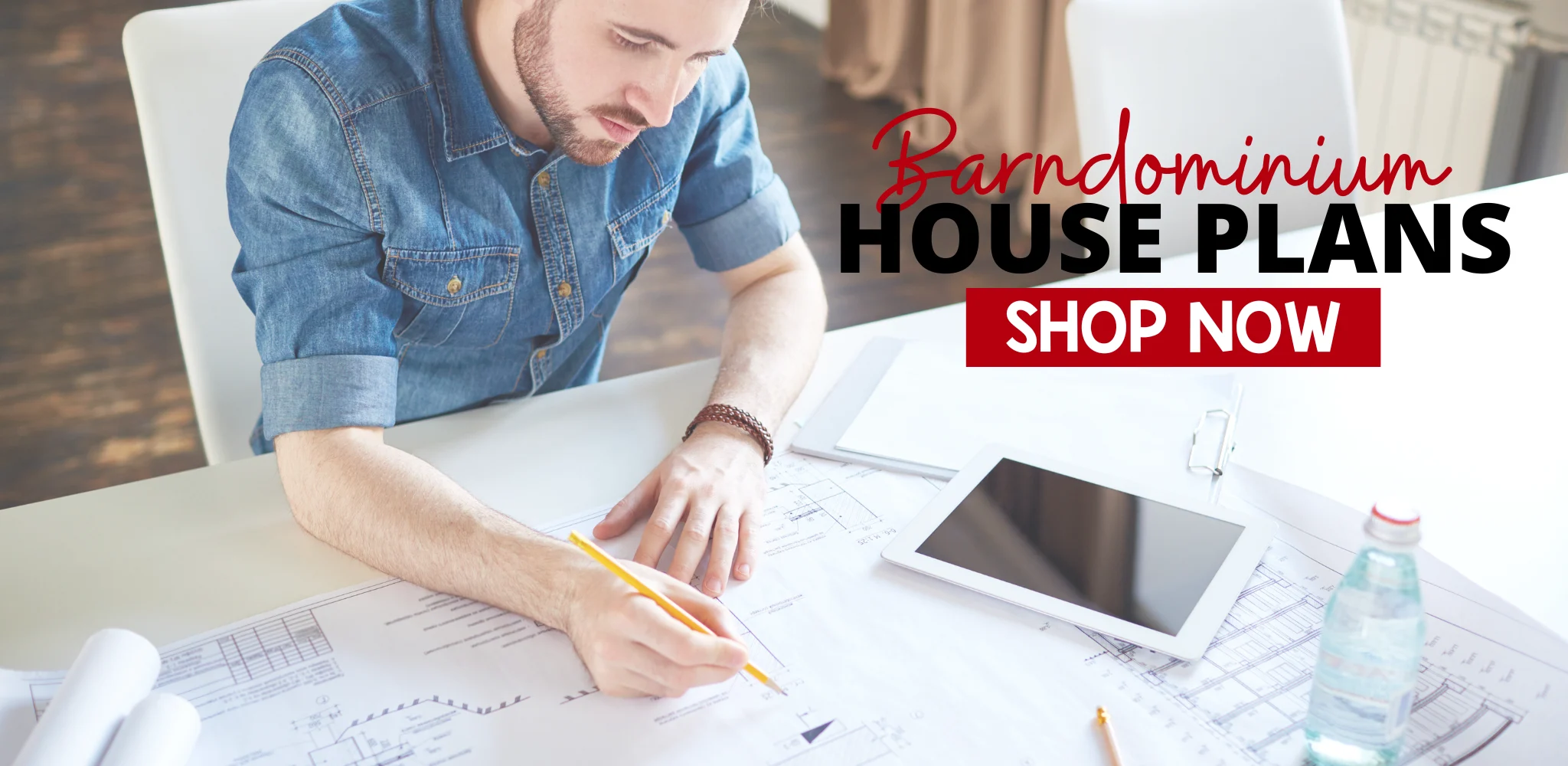 4 Bedroom Barndominium Floor Plans with Pictures – Get Inspired with These Floor Plan Ideas
Now that you've done the hard work of determining the various needs for your house, it's time to start looking at 4 bedroom barndominium floor plans to give you all kinds of great ideas!
Embracing a tranquil ambiance, this expansive one-story residence boasts 2,525 square feet of heated living space, providing ample room for all your desires and requirements. With four inviting bedrooms and three well-appointed bathrooms, it's designed to accommodate families and guests with ease. A dedicated recreation area promises endless entertainment possibilities, while the cozy family room, graced by a charming fireplace, invites you to unwind and create lasting memories. The open-concept design seamlessly connects living spaces, ensuring that daily living and hosting gatherings are a breeze. Welcome to a home that combines comfort, style, and convenience in perfect harmony.
A brilliant take on accessibility, this blueprint positions the open area in the middle of the home, and in a linear fashion. It allows family members to enter the dwelling from either side – through the porch on the right or via the garage on the left.
You will appreciate the amenities incorporated in various parts of this barndo: The garage includes a utility room and a closet. A half bath is added to the open area. Also, note that an office is available for family members working from home.
Ideal for large families, this residence boasts 4 bedrooms, each with its own bathroom.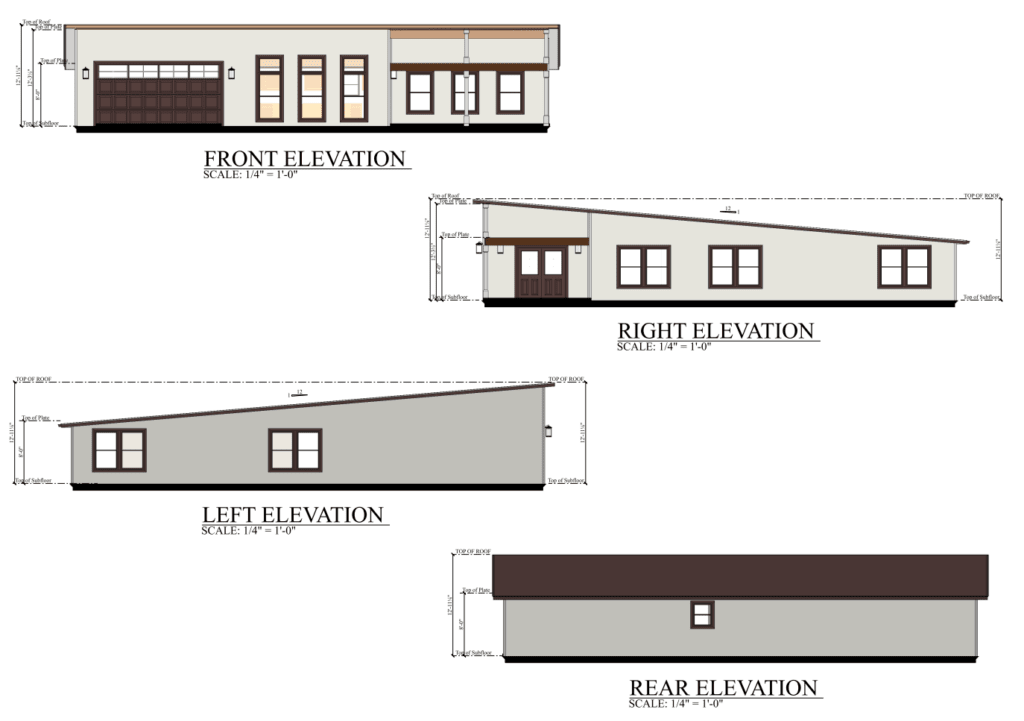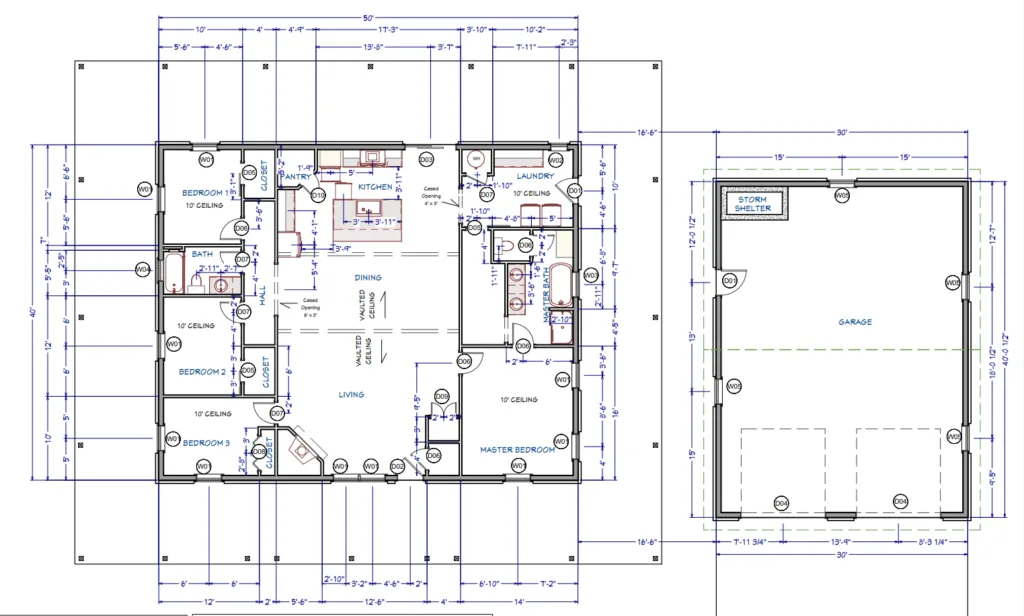 This 40×50 barndominium has 4 bedrooms and 2 bathrooms, wraparound porch. The 10″ vaulted ceiling and open concept living area with a fireplace up to the kitchen area create an airy atmosphere. Each bedroom has its own closet. A huge detached 2-door garage is built a few steps from the living area.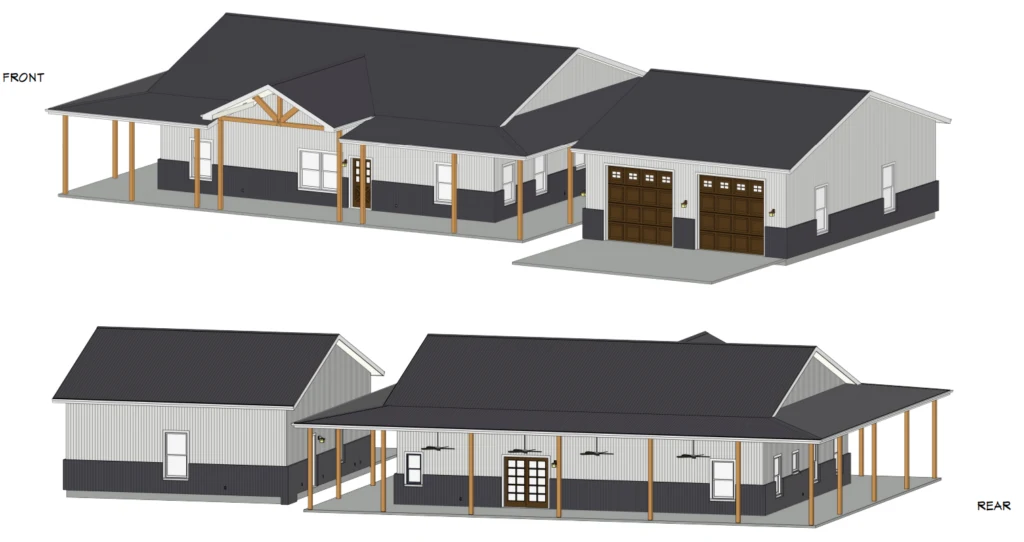 When you have a growing family, or even when you just love to have guests over, this floor plan works perfectly for you. 4 Bedrooms will indeed have everyone at home comfortably settled with lots of additional space at the loft. The front and back patios are great spaces for outdoor relaxation or small gatherings.
This 4 bedroom barndominium with garage/shop is packed with features that we absolutely love. Not only is the garage/shop connected to the house, it's also a bit separate so you don't get dust and particles inside the house. Also, the garage is huge which leaves plenty of room for activities. Last, don't miss out on this 4 bedroom barndo's master bedroom area. It's absolutely huge and I love how it connects to the kitchen pantry and laundry through the closet.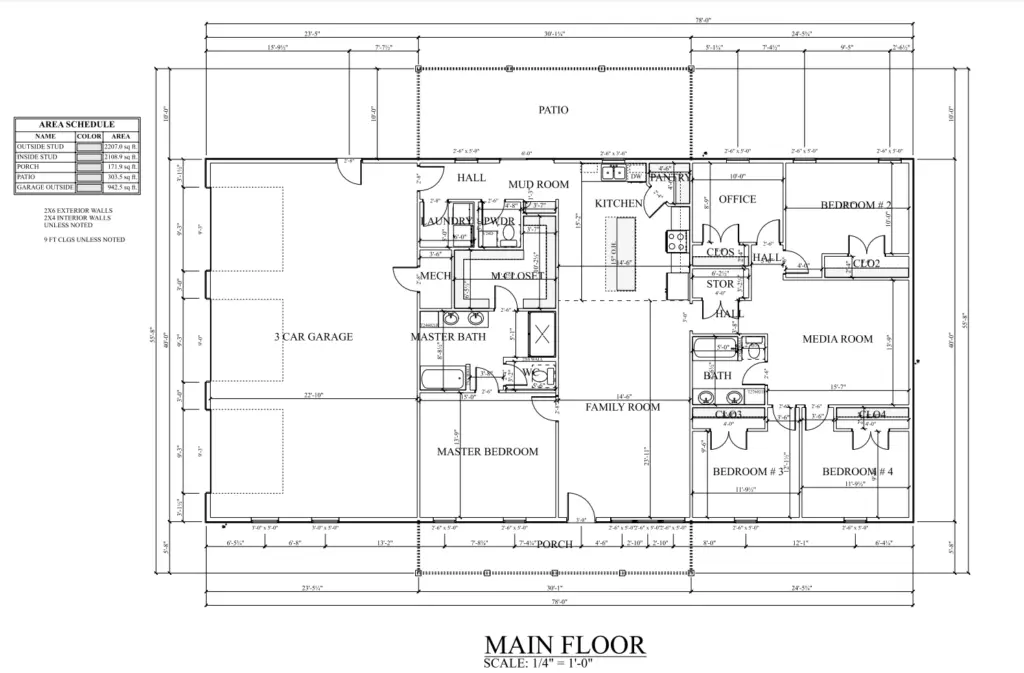 This spacious floor plan features four bedrooms and two and a half bathrooms, with an open-concept design that encourages seamless living and entertaining. The master bedroom is located on one side of the house for ultimate privacy, while the three remaining bedrooms and an office are situated around a media room on the other side. The three-car garage provides ample storage space, and the front and back porches offer a charming outdoor living area. This home is perfect for families who love entertaining and have plenty of room to spread out.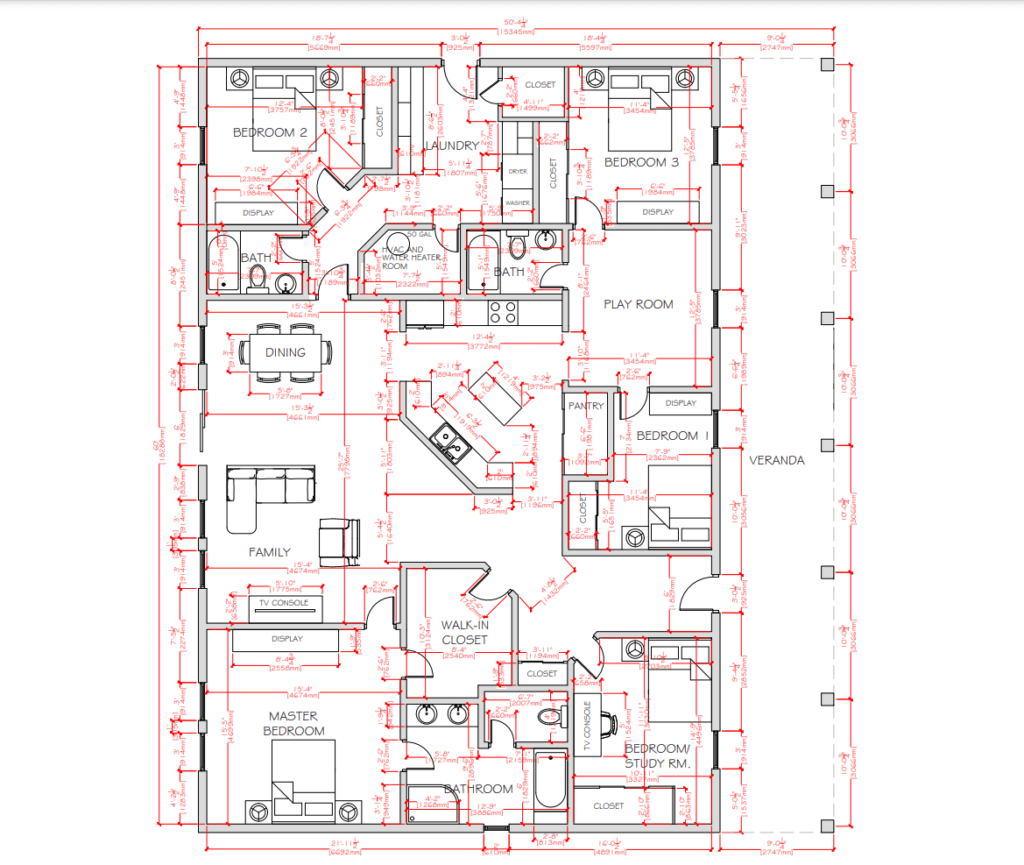 These 4 bed 3 bath barndominium floor plans are perfect for those who want to maximize the number of features while keeping the home a manageable 3,000 sq ft. We wouldn't necessarily call it small, but it's manageable for a 4-bed! This plan includes an extra bedroom/study room, a huge walk-in closet, and a tidy family/living room that is cozy and hospitable.
Perfect for those who need or want a large workshop attached to their home, this 4 bedroom barndominium floor plan also has an office and a large walk-in closet off the master suite, giving you plenty of space for all your needs.
Two of the bedrooms are located on the opposite side of the house from the master bedroom, allowing for extra privacy for those who want it.
This is the layout of our dreams for anyone who wants a home with plenty of space to relax. Porches on the front and back of the house allow for outdoor entertaining, while the open-concept living area provides lots of space to stretch out.
All of the regular bedrooms are located off a large playroom, which is the perfect way to separate them from the noise of the main area.
Giving extra privacy to the main bedroom suite, this 4 bedroom barndominium floor plan also boasts a game room that will give the kids their own space to play and entertain friends.
Two full baths and a half bath means you can avoid many of the fights that arise when the whole family is trying to get ready at the same time as well!
This Barndominium is the right size for families or people who like to host parties. It has 4 beds and 3 bathrooms. The office is perfect for people who work from home, while the playroom is a great place for kids to play and let their thoughts run wild. The large family room is a great place to relax and have people over. From the front and back decks, you can take in the fresh air and beautiful views, and there is plenty of room to sit and eat outside
Lofts give you a versatile space for whatever kind of activities you need. It can be a great spot for a small home theater, a playroom for the kids, or even a study area that will give them the privacy they need to complete their work. With plenty of garage and porch space as well, this barndo will work for a variety of lifestyles.
If you need a large garage to use as a workshop or to store several cars, this is the plan for you. A 22'x27′ garage at one end of the home is the perfect spot for car enthusiasts or someone who just likes space to work.
Get a FREE 18 Month Barndominium Planner
There are 39+ steps that must be taken before groundbreaking. Learn them all in this FREE checklist, available for immediate download.
The master bedroom is located close to the other bedrooms for the sake of convenience, while a central playroom gives a spot for the whole family to congregate.
Design Your Own Barndominium Floor Plans
If these floor plans got your creative juices flowing, yet you're still looking for something different, feel free to create your own layout using this custom design software. It's perfect for the DIY aficionado and will let you take a virtual tour of your home after you've completed your plan.
If you're looking for even more inspiration, we've created a comprehensive e-book called "Build Your Dream Barndominium" with everything you need to know to begin building the barndo you've always wanted.
Conclusion
Whether you're looking to design your own barndo from scratch, or you want someone else to take the reins on your layout, you'll still need to put some time and thought into planning out how you want your house to function.
This is where the Barndominium Life Program comes in. It is specially created to guide you step by step in your barndominium journey!
For more information about building your dream home, plus plenty of inspiration to get the look you want, be sure to subscribe to our email list below to stay up-to-date on our newest articles filled with everything you need.
If you would like more guides like this one, check out the rest of BarndominiumLife.com. There, you will find more helpful tips and tricks from the pros. You will also find featured barndominiums, barndominium floor plans, and information on financing and insurance. Knowing as much as you can will help you get the best results for your dream home.
Like this Post? Sign up for our email list!
Be the first to see new posts about the best barndominiums, construction guides, floor plans, and more! Enter your information below to become a BarndominiumLife VIP.