Nearly everyone knows that barndominiums are gaining in popularity and show no signs of slowing down. Why, you might ask? One of the biggest benefits of building a barndominium is that it's easy to attach a shop or garage area to your home.
More so, we are specifically going to be looking at the 40X60 barndominium floor plans with shop because of the convenience it provides. What could be better than your commute home after a long day of work being a few steps into your mudroom!
This is before we mention all of the other benefits of a barndominium with a shop – space to store tools, equipment, or even some fun vehicles like an ATV or boat.
The 40×60 barndominium floor plan is by far our most requested dimension. This is because 2400 square feet is the size of an average home in the United States, typically with 3 or 4 bedrooms and 2 or 3 bathrooms. It's big enough for a family, but not too big for a couple!
Below we've highlighted some barndominium floor plans with shop – mainly ones that are 40×60 but we have some other floor plan sizes in there as well! Enjoy!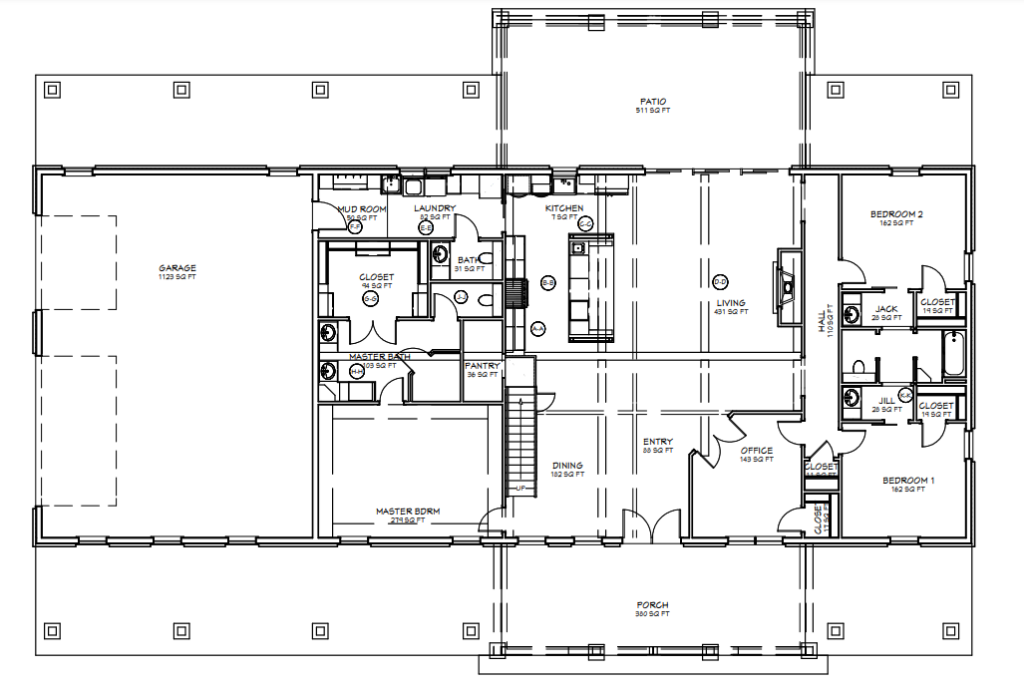 This barndominium with loft showcases making the most out of all the space available. Vaulted ceilings create a huge indoor space. All the rooms are on the main floor while the loft can be turned into additional storage or a private space for guests. It features a front porch and a patio, and the garage can fit2-3 vehicles.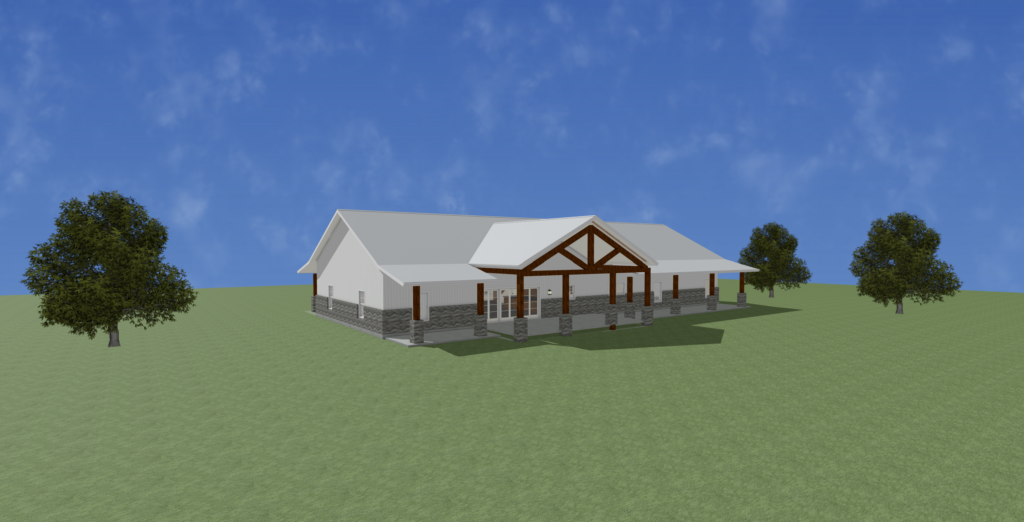 This plan is the perfect design for leisure. The Living space is just the right size for one or for a couple and great for a man cave or she-shed use. Whether chilling and small gatherings on its wraparound porch, tinkering with your vehicles in this massive shop, or hobbies that require a huge space, this home accommodates lots of relaxing time.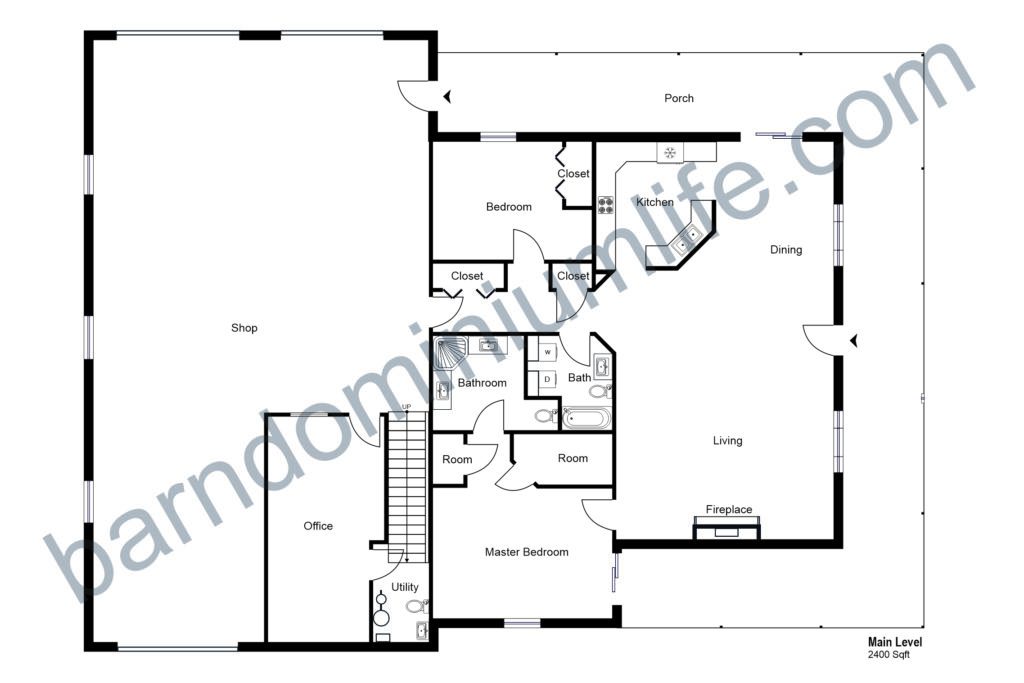 Floor plan for a barndominium with a shop
Many of these plans are practical, which is to say that they look as good as they are on paper with every aspect of the puzzle that needs to be checked has already been covered.
How to Build Your Own Barndominium & 200+ Floor Plans
Get started today with our program "Barndominiums Made Easy: How to Build Your Own Barndominium" and get 200+ barndominium floor plans included!
40X60 Barndominium Floor Plans With Shop
In this section, we are going to be taking you through some of the best barndominium floor plans around. In particular, we'll be highlighting some 40X60 barndominium floor plan samples so you can see them for yourself. We hope you envision each of these floor plans as if you were surrounded by family young and old, and maybe a drink in hand. And some great tunes playing!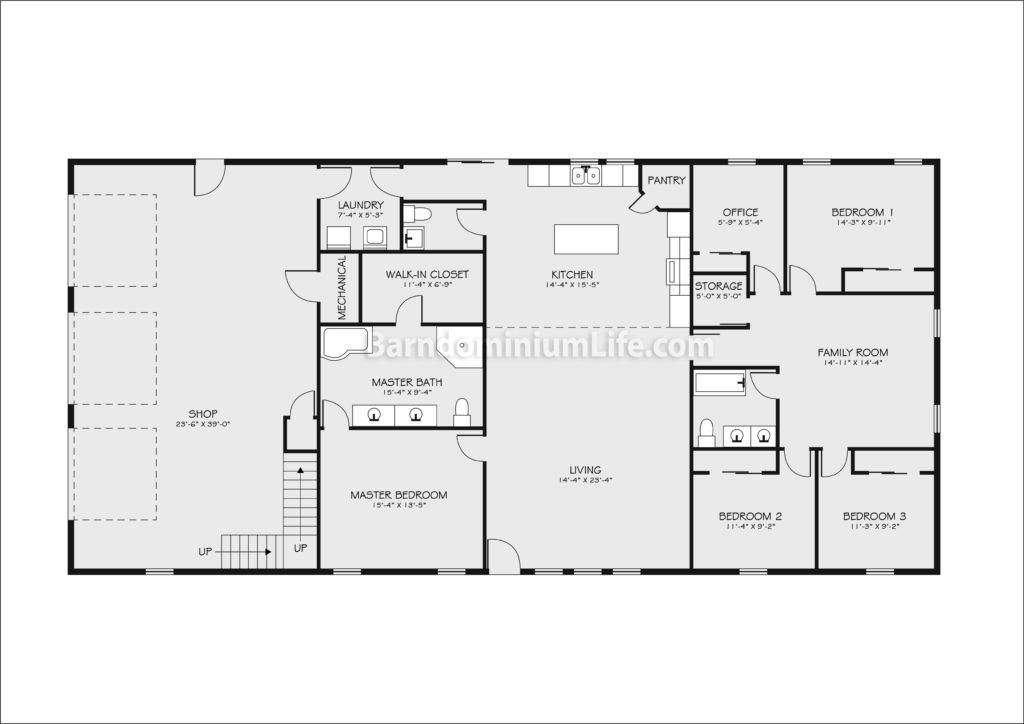 We love the way that this barndominium floor plan flows. There is very minimal wasted space, as the plan features great amenities such as a pantry, storage, and an office. That's before you even count the four full bedrooms!
We especially like how the three bedrooms open up into a family room area. We could easily see family movie nights and other hang-out sessions in that space!
The only thing that we'd improve on in this plan is keeping the master bedroom away from the shop area. While we wouldn't want it next to the living room either, if you work early in the morning or late at night it will be a disturbance!
This floor plan is very similar to the first example, but with a few minor differences. First, the office is moved away from the other bedrooms and shares a wall with the master bedroom. This gets a thumbs down from us but to each their own.
We do like the mudroom entrance, it does seem to flow a bit better than the first example. We love the open "grand room" type space that connects the kitchen and living rooms.
Interestingly, this barndo floor plan only fits in three bedrooms to the same 2400 square feet of living area. We think the first example is more our style but wanted to provide both!
This floor plan is a bit harder to read and does not show the attached shop. That said, we really like this example as it has a luxurious master bath AND retreat area.
Get a FREE 18 Month Barndominium Planner
There are 39+ steps that must be taken before groundbreaking. Learn them all in this FREE checklist, available for immediate download.
40×60 Barndominium Floor Plans Conclusion
There are a lot of plans out there and many of the sample 40X60 Barndominium plans with shops we have highlighted here are some of the best in the market.
Some of the best plans embrace simplicity with a certain touch of style to match. This simplicity allows you to make these plans your own when they are completed.
This is so because some of the plans out there have a certain level of complexity, one which allows room for little improvement. These, however, give you the freedom to do absolutely what you want and with the shop, you have your home and office and home all to yourself looking as good as you want.
40×60 Barndominiums with Shop – Real World Examples
Here's not just the 40×60 barndominium floor plans with shop, but some real-life 40×60 barndos. These examples give you a simple look at what we are talking about and also help you understand what this structure has to offer you.
40×60 Barndominium With Shop #1
40×60 Barndominium with Shop #2
40×60 Barndominium with Shop #3
How to Build Your Own Barndominium & 200+ Floor Plans
Get started today with our program "Barndominiums Made Easy: How to Build Your Own Barndominium" and get 200+ barndominium floor plans included!
How Much Does a 40×60 Barndominium Cost?
Looking at the cost of a 40X60 barndominium with shop, the cost-per-square-foot is normally on the average of about $95 – $125 per square foot. Nevertheless, there are many other factors like location, the material of choice, the builder, and the special features you are looking for. There are many options like custom cabinets, and granite countertops, all of which affect the overall price of your 40X60 barndominium with shop.
The formula for Calculating the Total Cost
To be able to calculate the total cost of your 40X60 barndominium with shop, there is a simple and effective formula for calculation. With all the variables labeled, the overall price of the barndominium kit is to be labeled as "A," the total price of the finishing materials such as insulations and cabinets are "B" and the overall cost of labor "C."
So, for us to effectively calculate the final price, it is simply the coming together of these three factors.
A+B+C = Overall Price
The 40X60 barndominium is definitely the full package because you have everything you need from work to your home in one simple and excellent structure.
A well-defined structure which is something that is scarce, more so, a dual-purpose solution structure such as this one which allows you to have your working quarters alongside your living space, all in the same building.
For a family that needs a lot of space, two-bedroom barndominium floor plans with shop is a great choice and are cost-effective as well.
For those who need more space, three-bedroom barndominium floor plans with shop is also a good plan to follow.
Taking a look at the cost of building the barndominum by yourself versus hiring a professional, the difference is clear. Looking at cost, the amount you are going to spend on a 40X60 barndominium is far different from the amount spent by a professional contractor because there are some things you definitely cannot put tabs on.
No matter how much information you have gathered, the professionals have been through a lot and have a lot of experience with handling structures such as these.
Conclusion
The sheer comfort that you derive from having your home and office all in one location is not something very easy to come by and in times like these, where movement is somewhat a problem that we see the benefit.
Apart from the issue with movement, you also have the luxury of choosing a shop and house design that suits your style, and the reason why the 40X60 barndominium is the best option is because of the effective use of space.
Looking to build a 40×60 barndominium floor plan with a shop, we have covered the basic and most important information in this regard. We have also highlighted many other facts covering the cost and the difference between hiring a professional and doing it yourself.
Either way, both factors would require personal consideration from you and how much you would want to spend on the project overall.
Here's the best part, we've come up with a new program to help you build your 40×60 barndominiums so much easier. The Barndominium Life Program is created to mentor barndo lovers when building their dream barndominiums.
We know you have enjoyed the information provided here, and we would like to get feedback from you.
Once again, good luck with building your 40×60 barndominium floor plan with a shop and spreading the word on the information we have provided here via social media and e-mail.
Like this Post? Sign up for our email list!
Be the first to see new posts about the best barndominiums, construction guides, floor plans, and more! Enter your information below to become a BarndominiumLife VIP.