If you've ever dreamt of living in a cozy yet functional space that combines the rustic charm of a barn with the modern comforts of a home, then small barndominiums might be just what you're looking for.
These unique structures offer a perfect blend of practicality, affordability, and stylish design, making them an increasingly popular choice for homeowners and builders alike. So, whether you're considering downsizing, seeking a weekend getaway, or looking for a unique living space that stands out from the crowd, join us as we explore the captivating world of small barndominiums and discover the endless possibilities they offer. Get ready to be inspired and let your imagination run wild as we unveil the charm and allure of these remarkable dwellings.
What is a barndominium?
A barndominium is a metal-built barn transformed into a classic living space. Even though this is what it stands for right now, it was not always like this in the past because it had a different meaning back in the day. The designs used for barndominiums are similar to those of warehouses or pole barns, but they are beautiful and affordable homes with lovely interiors.
Many of the new models of this building have the following features:
Engineered concrete slabs
9 feet ceilings
Energy-efficient windows
Is a small barndominium worth it?
These buildings are beautiful and for starters, getting a feel of what it is and what it offers requires that you start small – as smaller buildings are cost-effective – and work your way to the top.
Tiny barndominiums are also a good option for people who have little or no need for space, such as people retiring, empty-nesters, and small families. They are also great for those who are downsizing or looking for a cheap state to build in.
If you take a look at the small barndominium floor plans, you will notice a lot of advantages that many people are looking for, such as:
2000 sq. ft space or less
Good use of the small space
Cost-effective
Easy to heat/cool due to proper insulation installations
We are going to be covering a number of these plans to help you understand the advantages of having a small barndominium for yourself. Let's go.
Small Barndominium Kits
One of the best options for building a small barndominium is to get a barndominium kit.
Barndominium Kits come completely prefabricated to your build site. This 1500 square foot barndominium kit is a great option.
They can be a great option for people who want to be able to build a small barndominium without having to spend time sourcing materials or making sure that you have all the parts you need for your particular build. They are also a good choice if you don't want to go through the hassle of designing your exterior and building your small barndominium completely from scratch.
One of the nice things about building a barndominium with a kit is that you get complete support from the kit provider.
Almost all barndominium kit providers will offer comprehensive help during your entire build process with one of their kits. Many of them will also be able to direct you to builders in your area who have worked on their kits in the past. This gives you a great advantage when it comes to experience and expertise on these particular kits, so you can be sure your build process will be smooth.
Small Barndominium Floor Plans
There are some great small barndominium floor plans that you will love. Here we round up our small barndominium floor plans for you to get some great ideas from.
This floor plan features a cozy and functional layout that includes three bedrooms, two and a half bathrooms, a convenient mudroom, and a welcoming porch. The bedrooms are strategically placed to offer privacy and comfort to the occupants. The master bedroom includes a private ensuite bathroom, while the other two bedrooms share a full bathroom. The kitchen, dining, and living areas flow seamlessly, creating a spacious and open-concept living space. The mudroom provides a place to store shoes, coats, and bags. The back porch is perfect for outdoor entertaining or simply relaxing in the fresh air. Overall, this floor plan is designed for comfortable living.
When designing a small barndominium, it is incredibly important that you maximize your space. This 30×40 floor plan does a great job with this by utilizing an open concept. By combining the kitchen and living room space, this plan feels open and inviting. It also helps give the illusion of space by using as few walls as possible.
We also love that this small floor plan has a walk-in closet in the back hallway. Storage can be an issue with small barndominiums and this closet helps reduce clutter. Making sure that everything has its own space is one of the most important things when working with smaller spaces. Having this large storage unit will help keep everything orderly and tidy.
This small barndominium floor plan is unique and packs a lot of utility into a small space. If you only have a small amount of space to work with, you must make good use of it. This is done very well here with the addition of a shop and guest bedroom. Having these extra spaces gives everyone enough room to live their lives without being on top of each other.
The thing this small barndominium floor plan does very well with the traffic flow. The way the bedrooms are located on one side and the living area on another is a great feature. It delineates each area of the home and keeps everything in its own space. We also love the large porch, which creates additional outdoor space for guests and residents.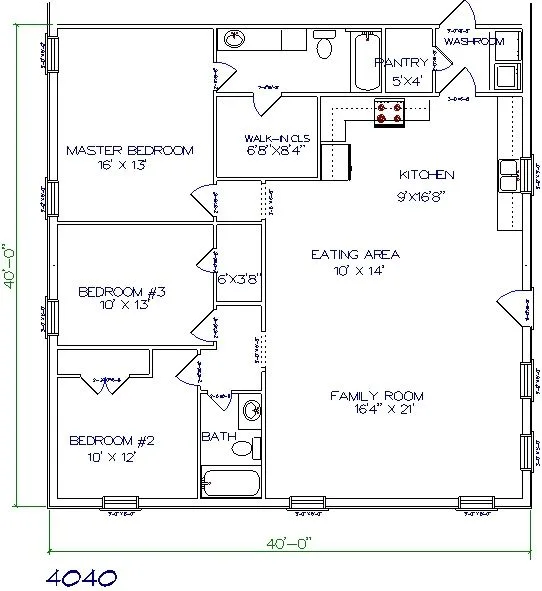 Even though this small barndominium floor plan is only 40×40, it has a lot to offer. This three-bedroom plan features a walk-in closet and a dedicated dining area. By utilizing an open floor plan, this home has enough space for everyone to do their own thing. That can be incredibly important when living in a small home with more than one or two people.
This plan also uses the trick of separating the living area and bedrooms. With the common area being cut off from the rest of the home, this gives great boundaries to the entire home. If someone wants, they can go to a bedroom if they want some space. Having options like this is a great way to make the most out of the space you have allotted.
This 30×40 small barndominium floor plan is another great example of how you can create the illusion of space. Having the bedrooms and living area separated by bathrooms is both utilitarian and clever. Using the separation for an entire function allows you to make the most of every square inch. This is one of the most important things when designing a small barndominium floor plan.
We also love the absence of hallways in this small barndominium floor plan. By having every inch of this plan be useful in some way, the designers have created a perfect small space. When space is at a premium, it is very important that you don't let any of it go to waste. That's why this plan may be small but it still manages to have a utility room and walk-in pantry.
This small barndominium floor plan has a lot going on despite its lack of room. It manages to pack in enough bedrooms and bathrooms for a functional, multi-person home. The open concept allows for a hallway between the two bedrooms, which is very useful. Having that negative space makes this home seem bigger than it actually is.
We also love that the designers of this small barndominium floor plan have combined the pantry and utility room. This is a great option if you are trying to use as little space as possible. Whenever you can, combine spaces that don't necessarily need their own room. For example, a combination pantry and storage unit can end up saving you a lot of real estate.
This 30×40 barndominium floor plan is a great example of how to use length. When designing a floor plan, think about the dimensions of your plot of land. If you can use the shape to your advantage, you can create something truly unique. We love how this one takes the shape of the plot and uses it to the design's advantage.
This small barndominium floor plan also has an excellent flow, which is essential. The open concept living room and kitchen flow into the pantry and utility room at one point. This eliminates the need for separation barriers like walls or hallways. We also love that the bathrooms are within the same space, saving room on plumbing and doorways.
More Small Floor Plan Ideas
Small Barndominium Interiors
The floor plans are captivating, I mean, you get to see the skeletal form of your barndominium, but this is nothing compared to the barndominium interior designs we are about to show you.
You would find that these images stimulate your mind in such a way that you can visualize what your dream barndominium would look like once it is completed.
These images would show you how easy it is to manage floor space and storage and still maintain a beautiful outlook.
Small Barndominium Interior #1
Small Barndominium Interior #2
Small Barndominium Interior #3
Small Barndominium Costs
Looking at the cost of a small barndominium, the cost-per-square-foot is normally on average about $95 – $125 per square foot.
Still, there are many other factors like location, the material of choice, the builder, and the special features you are looking for. There are many options, like custom cabinets and granite countertops, all of which affect the overall price of your small barndominium.
A Formula for calculating the total cost
To be able to calculate the total cost of your small barndominium, there is a simple and effective formula for calculation. With all the variables labeled, the overall price of the barndominium kit is to be labeled as "A," the total price of the finishing materials such as insulations and cabinets are "B" and the overall cost of labor "C."
So, for us to effectively calculate the final price, it is simply the coming together of these three factors.
A+B+C = Overall Price
Small barndominiums are cost-effective and for you to be able to manage your space and still get the best out of it is excellent value for your money. The bottom line of going small is that you virtually get everything you ever wanted in a home and still make sure that you do not spend too much on the building.
Barndominium Cost Calculator
Here at Barndominium Life, we have put together a barndominium cost calculator to help you get a good idea of what kind of small barndominium you can afford. This calculator allows you to use sliders to change parameters like square footage and whether or not you want a shop or a porch.
The calculator assumes a base cost per square foot of $120. This allows you to get a basic idea of whether or not you can afford to add extra features. These are also included in the form of being able to decide what kinds of countertops and cabinets you want.
Something you should consider is the fact that the base cost to build will be different in every state. Some states, such as New York and California, will have a higher cost for building. For example, the cost to build in California is $138 per square foot. On the other hand, the cost to build in Iowa is just $96 per square foot. The barndominium cost calculator will give you a good basic average of what your barndo will cost and you can make adjustments depending on where you intend to build from there.
Conclusion
Small barndominiums are a testament to the ingenuity and creativity of modern architecture. These compact yet versatile spaces have redefined the concept of living, offering a unique blend of functionality, affordability, and aesthetic appeal.
Whether you're seeking a cozy retreat, a sustainable living option, or simply a distinctive home that reflects your personality, small barndominiums have it all. From their open floor plans and customizable layouts to their eco-friendly features and rustic charm, these dwellings capture the hearts of homeowners and enthusiasts alike.
So, why settle for the ordinary when you can embrace the extraordinary? Consider the possibilities of small barndominium living and embark on a journey that combines the best of both worlds—the timeless allure of a barn and the modern comforts of a home. With small barndominiums, you can truly live life on your terms, surrounded by the beauty of nature and the warmth of a welcoming space.
Discover the magic of small barndominiums and make your dream of a unique and remarkable home a reality today.
If you would like more guides like this one, check out the rest of BarndominiumLife.com. There, you will find more helpful tips and tricks from the pros. You will also find featured barndominiums, barndominium floor plans, and information on financing and insurance. Knowing as much as you can will help you get the best results for your dream home.