There are countless ways to decorate and design the interior of a barndominium, depending on your personal preferences and style. If you are looking for some inspiration on how to design your barndominium interiors here are some ideas that can help with your planning.
How to find the right style for your barndominium interior
Finding the right style for your barndominium interior can be a fun and exciting process. Here is some tips to help you find the right style.
Start by researching different styles and interior design trends that you find appealing. You can find these on social media, and in magazines.
Next, consider the space and how you wish it to function. Think about how you want to use your barndominium. Do you hope to have an office or a separate guest room? These decisions will help you determine what type of interior you are looking for.
Don't forget to consider your personal style, hobbies, and interests when choosing a design style. For example, if you love cooking, you may want to incorporate a spacious kitchen with ample storage and counter space.
If you are struggling to find the right style for your barndominium interior, consider hiring a professional interior designer. They can help you navigate design choices and create a cohesive and personalized space that meets your needs. Remember, finding the right style for your barndominium interior should be a fun and enjoyable process, so take your time and enjoy the journey.
What to Look For in Barndominium Interiors
If you are thinking about building a barndominium, knowing what to look for in barndominium interiors can be a great help. Not only will it inspire you and get you thinking about what you might want the interior of your own barndominium to look like, but it will also give you ideas for what you can add and what you might need to include. Taking the time to think about what your interior needs can help smooth out the process and make building your barndominium interior much easier.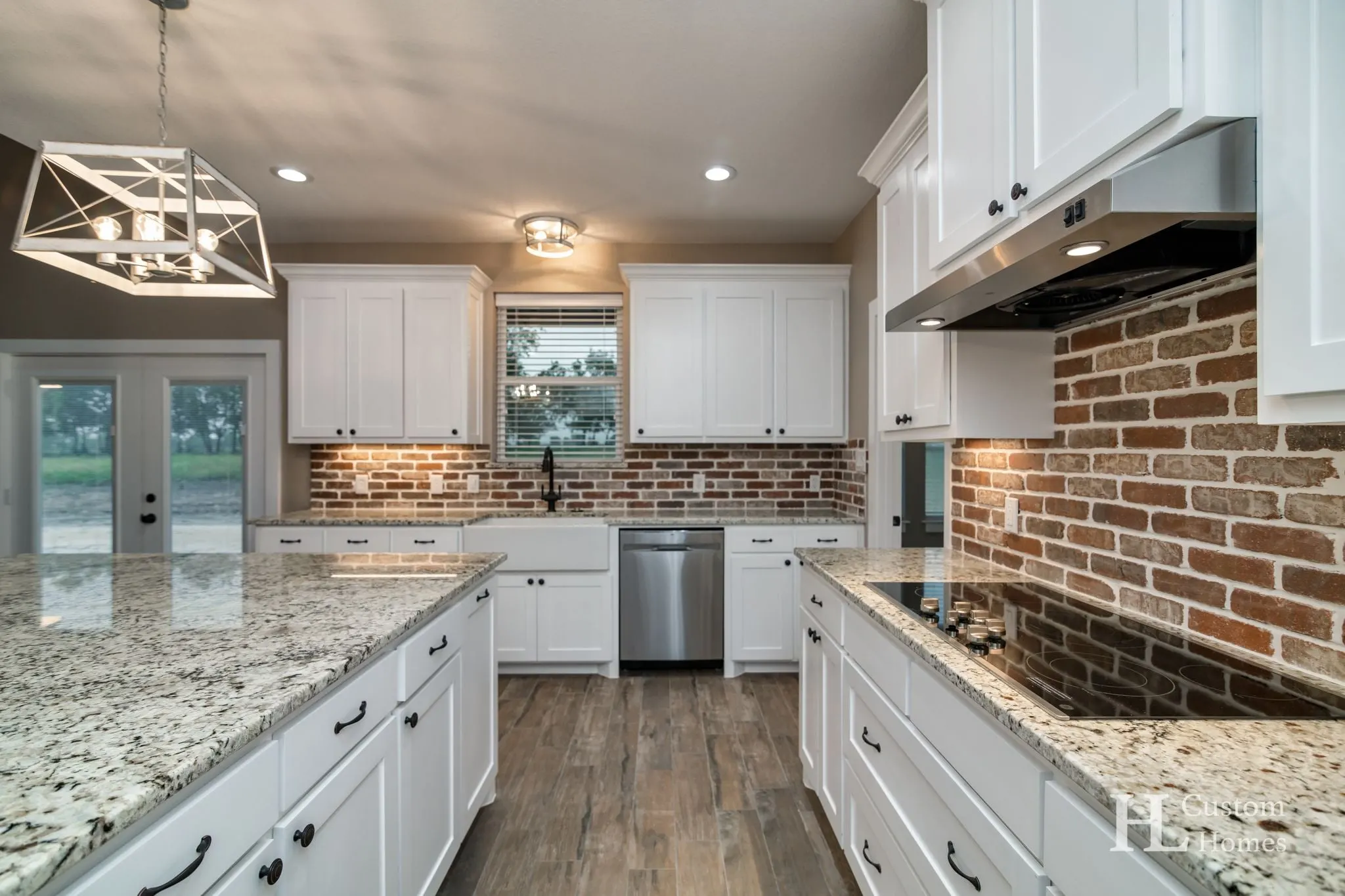 Style
The first thing you will want to look at when browsing barndominium interiors is the style. Noticing how all the different textures and colors work together can get you thinking about your aesthetic and what you might want to include when the time comes to start building. It can also give you a good idea of how home interiors are supposed to work together and how each little detail supports the larger look of the home.
When looking at the different styles of barndominium interiors, take note of the way the lines and the textures work together. Notice if the flooring is made of wood or tile and how the different contrasting or coordinating colors complement each other. This will allow you to start making some decisions on your designs.
Traffic Flow
Traffic flow is another important thing to think about with your barndominium interior. Many of the barndominiums we have listed below have an excellent flow that not only complements the style but also makes the home incredibly functional and nicely appointed. By considering how people are going to be able to move inside the barndominium, you can make sure that no one will be running into each other as they go from room to room.
One of the main considerations with traffic flow is how the rooms relate to one another. Look at the barndominium interiors pictured below to get a good idea of how rooms can be laid out to maximize the amount of flow and get the best possible feel.
Bedrooms and Bathrooms
The number of bedrooms and bathrooms you have in your barndominium interior will be crucial to how comfortable it will be for everyone who is living there. This is especially true with bathrooms, which can cause traffic jams during the morning routine if there aren't enough. If possible, prioritize bathrooms over living areas and bedrooms.
However, you also want to make sure that your barndominium interior doesn't have too many bedrooms. More rooms mean more walls, which can quickly encroach on the interior space. Working with a professional draftsman or designer can help you figure out the ideal number of rooms for the amount of space you have.
How to Build Your Own Barndominium & 200+ Floor Plans
Get started today with our program "Barndominiums Made Easy: How to Build Your Own Barndominium" and get 200+ barndominium floor plans included!
Materials
The materials you use for your barndominium interior are just as important as the layout itself. You can either harden or soften the feel of the interior, depending on the materials you use. For example, wood and carpet can be great ways to warm up a space, especially if you have a very open layout. However, if you are looking for a more modern, contemporary feel, stone and brick are great ways to give your barndominium interior a cleaner look.
You will, of course, have to consider cost when you are choosing materials for your barndominium interior. Some materials, like wood flooring, are much more expensive. However, there are usually more affordable alternatives, such as laminate, that can give you a similar look and feel without all the expense.
Layout
The layout of your barndominium interior is another very important consideration. A well-designed layout will not only help with traffic flow but will also set the tone for the entire interior's look. Considering how the different spaces will relate to one another is very important and should be something you take note of when looking at these barndominium interiors.
One thing you should think about is whether or not you are going to have an open or closed concept. Open-concept interiors have no separation between the kitchen and the living area, which can open up the feel of the room and make it much more inviting. However, this layout is not for everyone and can make it difficult to get work done in the kitchen while people are socializing in the living area. Consider your personal preferences as you go through the below barndominium interiors.
Barndominium Interiors: Examples You'll Love
Here are the best barndominium interior design examples we could find. Hopefully, they'll trigger your imagination. And, if you don't already own a barndominium, they'll make you want one even more.
Boyd House Texas
The interior of this barndominium in Texas has a lot going for it. However, one of the most incredible things is the combination kitchen island and breakfast nook. The barn trim on the island combines so well with the rustic light fixtures and creates a look that is absolutely amazing.
Being able to sit in this breakfast nook and enjoy a meal so close to the kitchen is a great way to not only save space but to encourage socializing at the same time.
The rest of the kitchen is just as beautiful. With a great range top counter right above the breakfast nook area, this is a great way to create memories and have a lot of space on the rest of the counter. This barndominium interior is so well designed that it feels like it's both cozy and spacious, and it can hold a lot of people without feeling too cavernous.
White Barndominium in Crafton Texas
The hardwood-look vinyl flooring in this barndominium interior is absolutely stunning. Its pattern adds such a wonderful feeling of space and a great touch of color to the mostly white interior. It is also laid out absolutely perfectly with the way it runs along the length of the room and draws the eye toward the kitchen. We also love the island that keeps this open-concept spacious and breathable.
Built-in shelves are one of the best features you can include in a barndominium interior. These are absolutely gorgeous and so well done that they almost seem like a design feature instead of a practical storage addition.
The lights above the countertops make these built-ins look incredible, and all that storage space is absolutely nothing to shake a stick at. Adding some treasured items won't make them look cluttered with that clean design.
Rustic Illinois Barndominium
The kitchen in this rustic Illinois barndominium is one of the most amazing barndominium interior designs we have ever seen. With the granite countertops and the polished cement floor, there is a great combination of raw textures and polished surfaces.
We also love the stainless steel appliances and the incredible wood barn door that covers up the pantry. The island itself is large and gives a lot of space for people to gather and spend time in the kitchen without making the workspace too crowded.
If you want to save as much space as possible with your barndominium interior, one of the best ways to do it is with a loft area. The way this loft is laid out is perfect for connecting the two areas of the home and preventing isolation within the space. We also love the supporting beam that holds up the loft itself. It is much more than a functional element and ends up being a great focal point.
Barndominum for Horse Lovers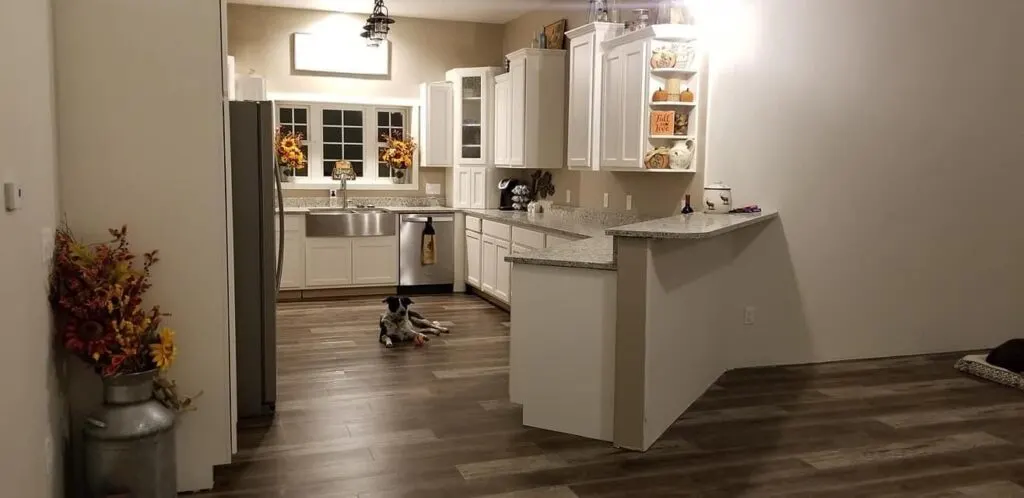 The kitchen in this barndominium is a great mixture of open concept and closed concept. The way this is laid out is a great way to combine these two types of layouts and allows you to work in the kitchen without being disturbed while still being able to get your cooking done. It also has an excellent countertop breakfast bar that is incredibly unique.
If you want to have a great layout for your barndominium interior, having a kitchen that kicks out like this is a great option.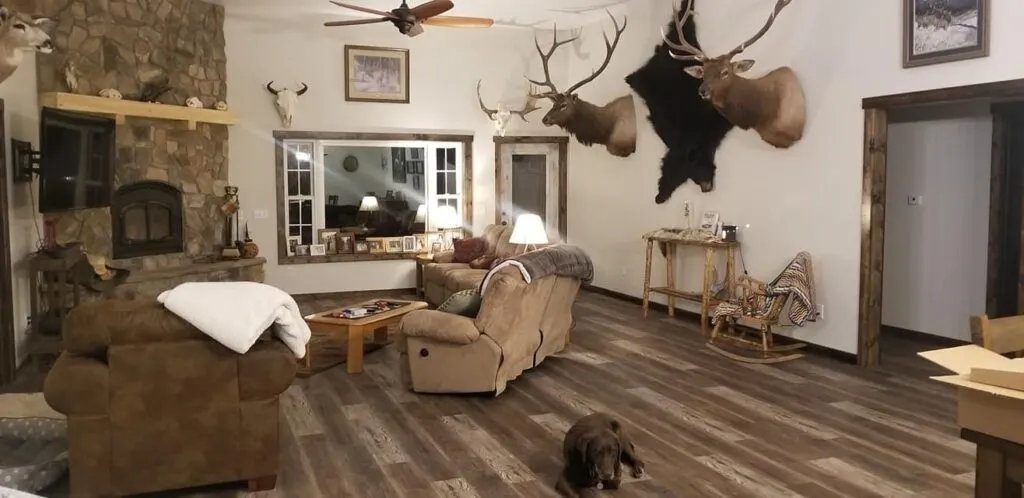 One of the great things about a barndominium is that you can have the interior look however you want. The decoration in this particular barndominium is a great example of this. The stone fireplace and the rustic, dark wood trim is a great way to bring your own sense of style to your interior and make your barndominium completely customized.
Morgan Mill House in Texas
This barndominium interior is one of the most beautiful we have ever seen. The combination of the polished concrete floor and the vaulted natural wood ceiling is absolutely breathtaking and shows how different textures and shades can make a space look big without making it feel unwelcoming.
We love the different wood types that make an appearance in this front room and feel that it really makes for a great experience upon entering this amazing barndominium.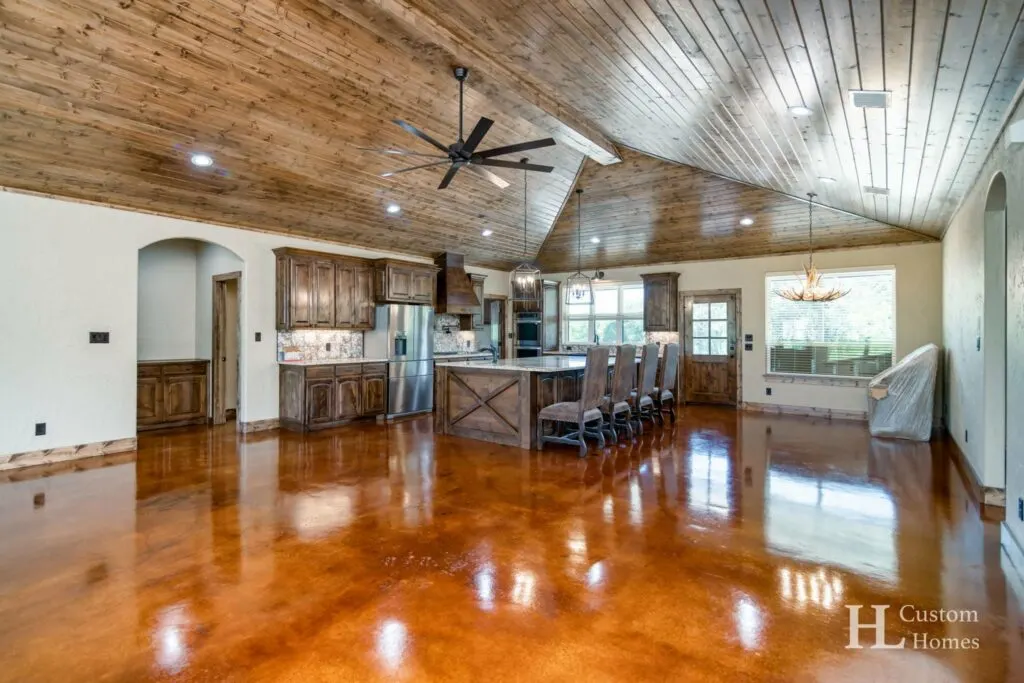 The kitchen of this barndominium interior also utilizes a lot of those same principles. The polished concrete follows all the way through the interior, and the different types of wood also show up on the cabinetry and the kitchen island. The barn door trim on the island is another small touch that really demonstrates how little details can fully enhance a space.
Cody Long Arkansas Barndominium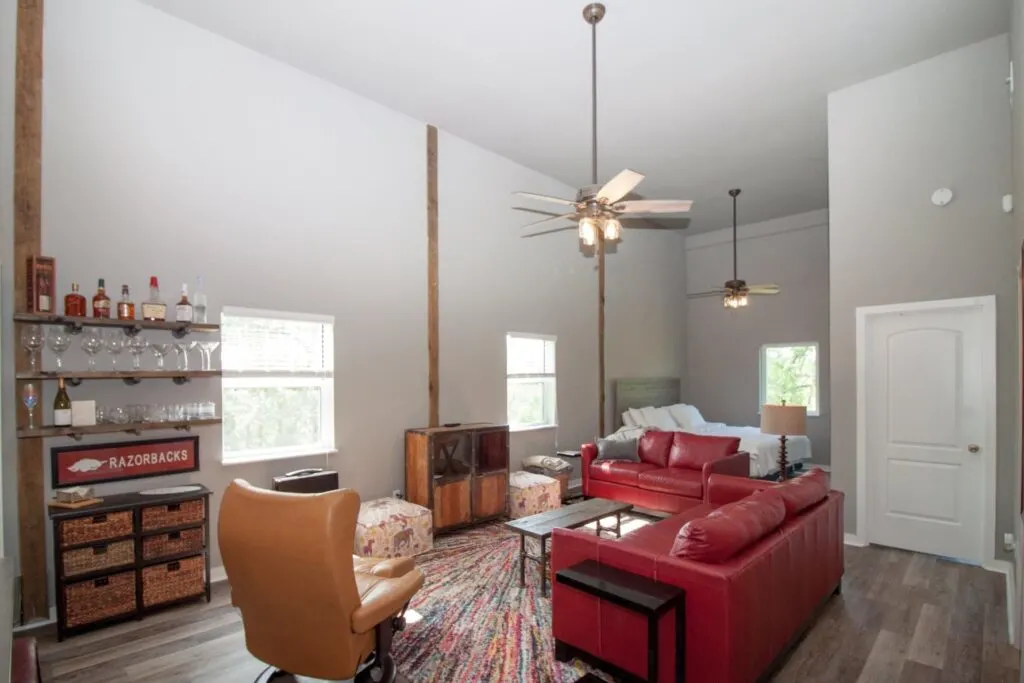 Sometimes, the best thing you can do with your barndominium interior is make it as simple as possible. This barndominium is a great example of that. The simplicity of the colors and the textures make it look incredibly modern and give it a great, welcoming feel that doesn't appear too vast or unapproachable.
We love the wood trim pieces that run up the walls and separate the different sections of the living room. This is a great way to add subtle details that don't overwhelm the whole look.
The kitchen is another great, modern space that doesn't feel cluttered or too complex but still has a style all its own. There is a continuation of the wood trim pieces and the stainless steel appliances always make for a great design touch. We also love the modern farmhouse-style light fixture than hangs over the adorable dining room table.
More Amazing Barndominium Interiors to Inspire You
We loved the picture of this open-concept barndominium interior a lot. We even featured this next one on our Pinterest account.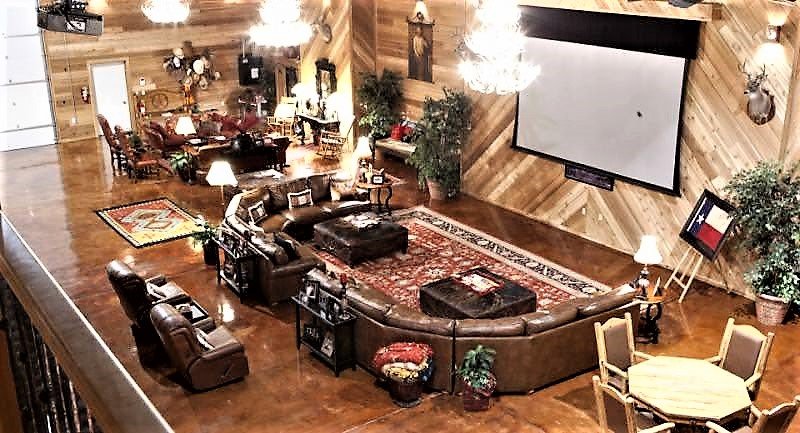 Get Your Free Construction Draw Schedule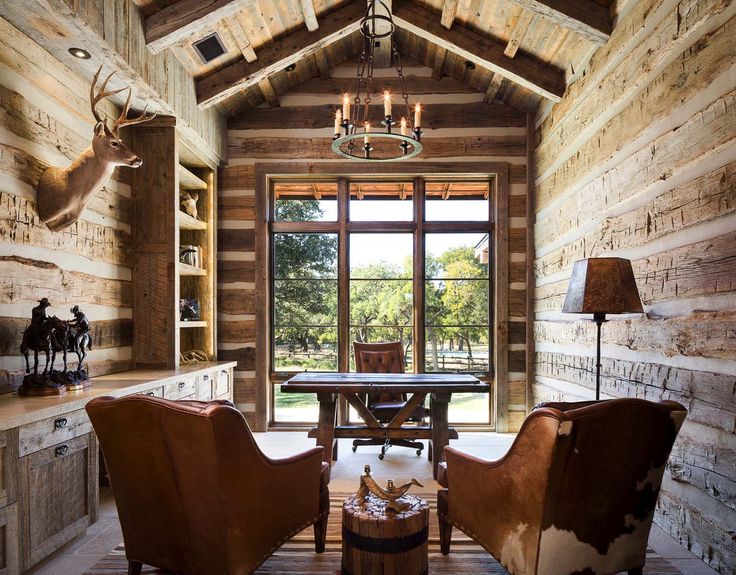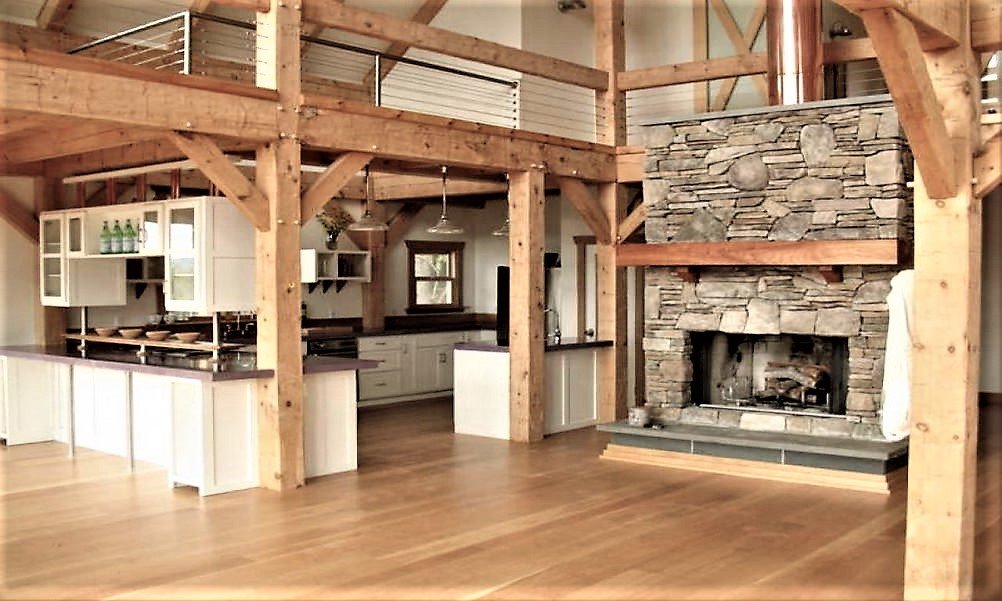 Get a FREE 18 Month Barndominium Planner
There are 39+ steps that must be taken before groundbreaking. Learn them all in this FREE checklist, available for immediate download.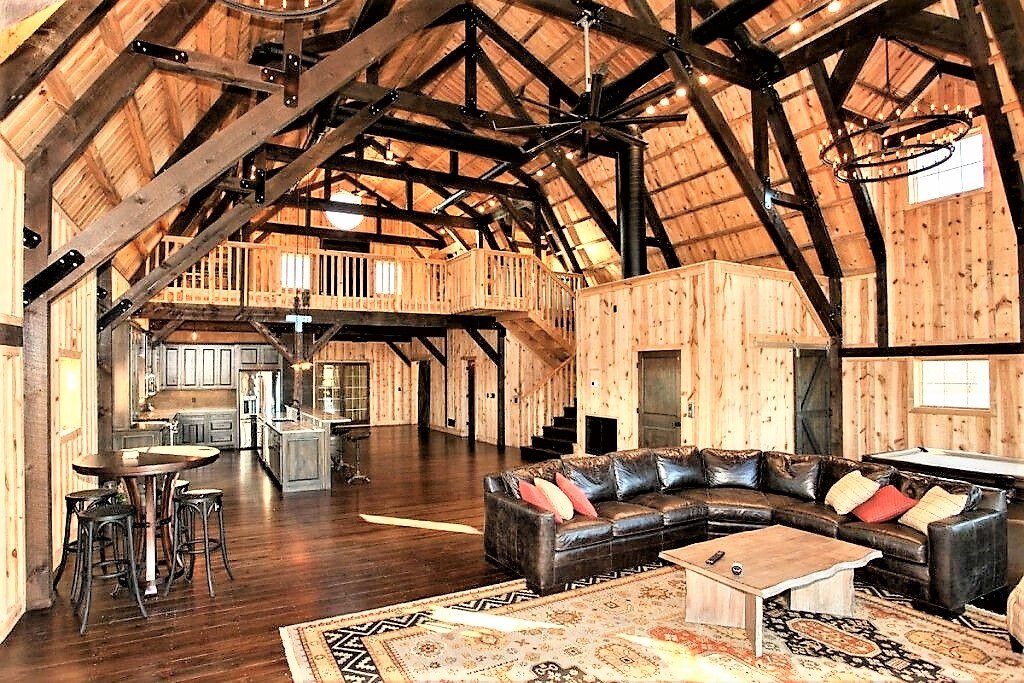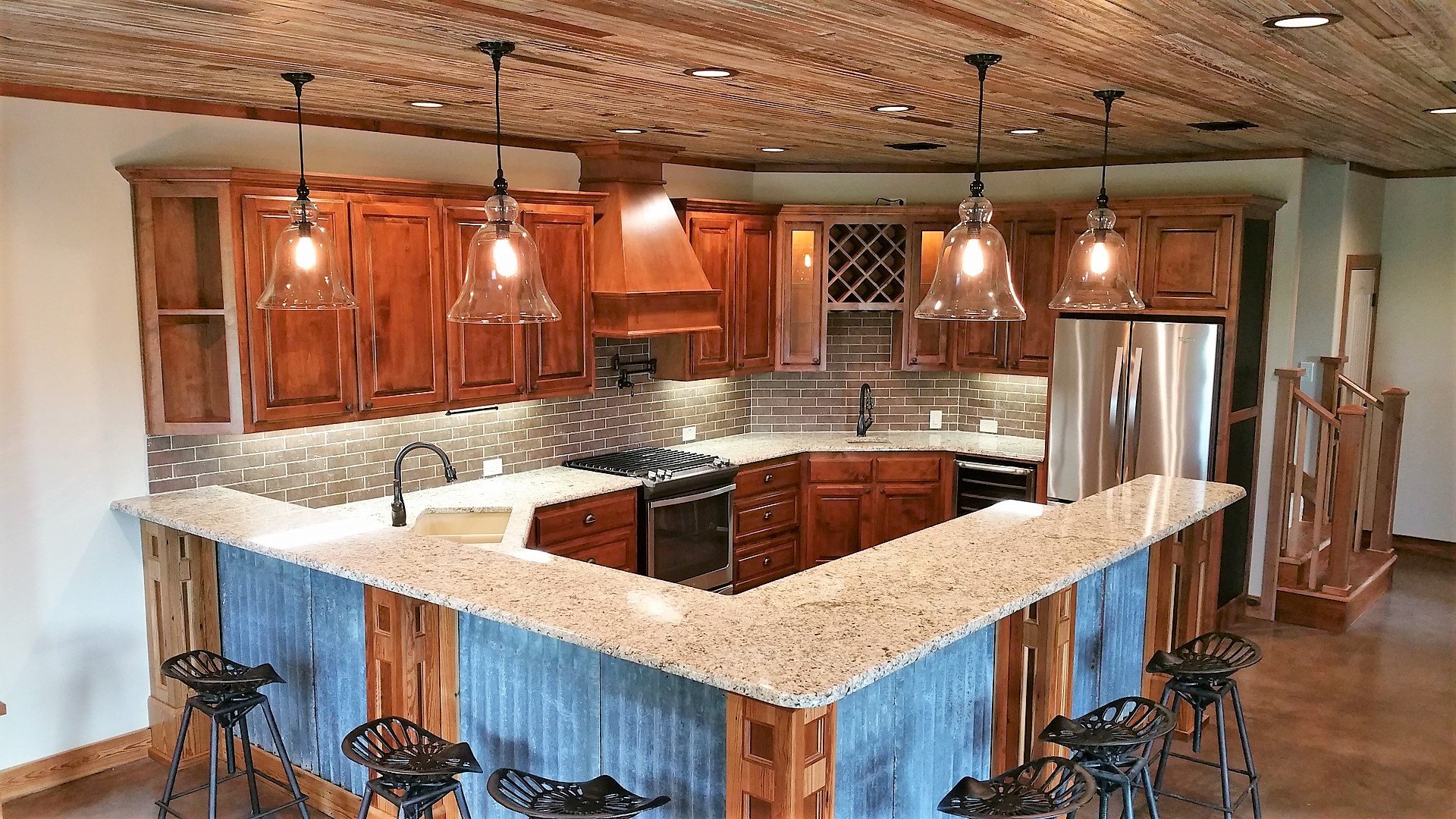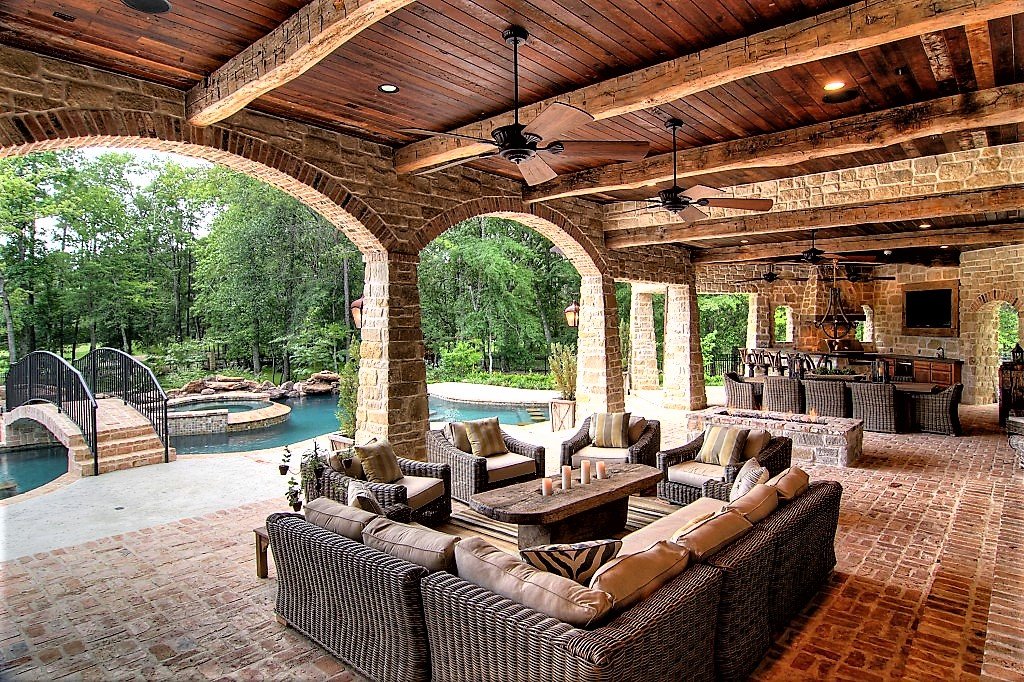 How to Build Your Own Barndominium & 200+ Floor Plans
Get started today with our program "Barndominiums Made Easy: How to Build Your Own Barndominium" and get 200+ barndominium floor plans included!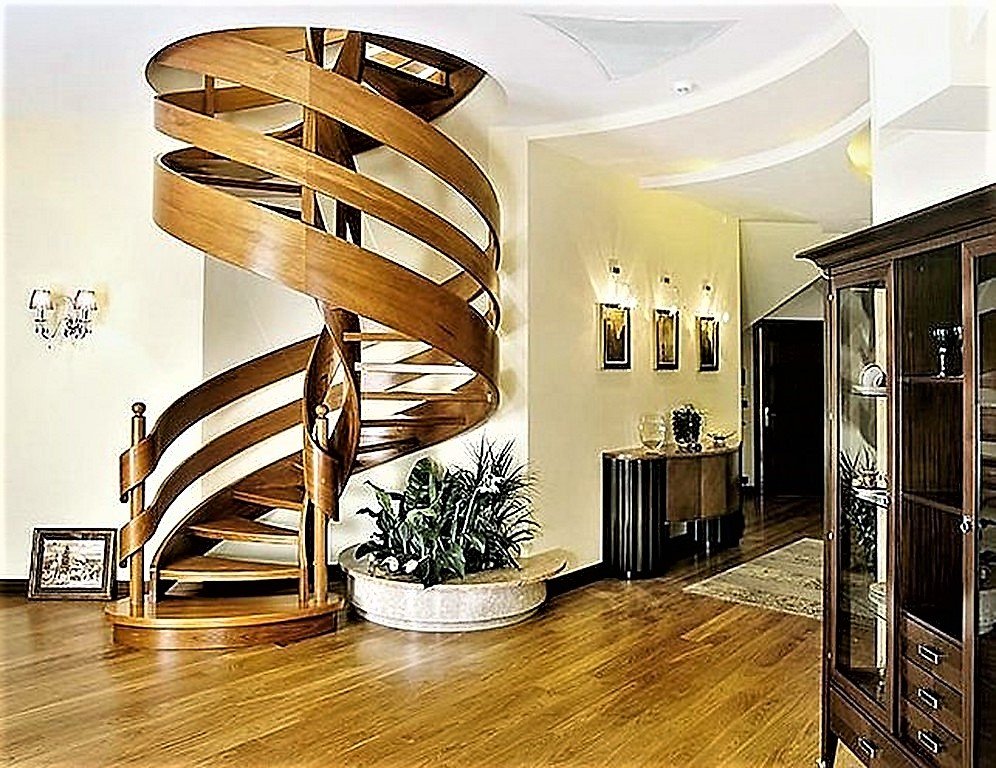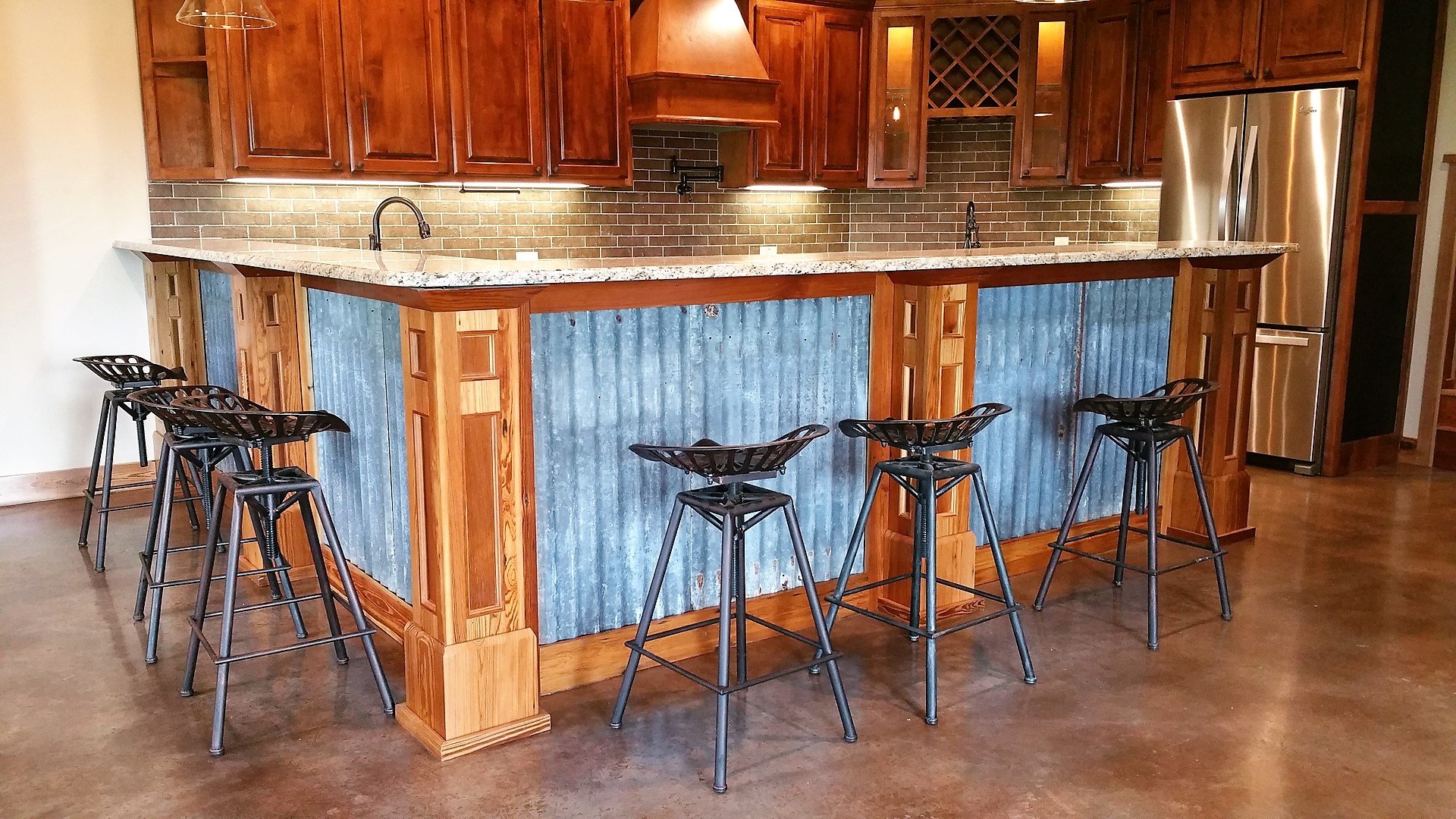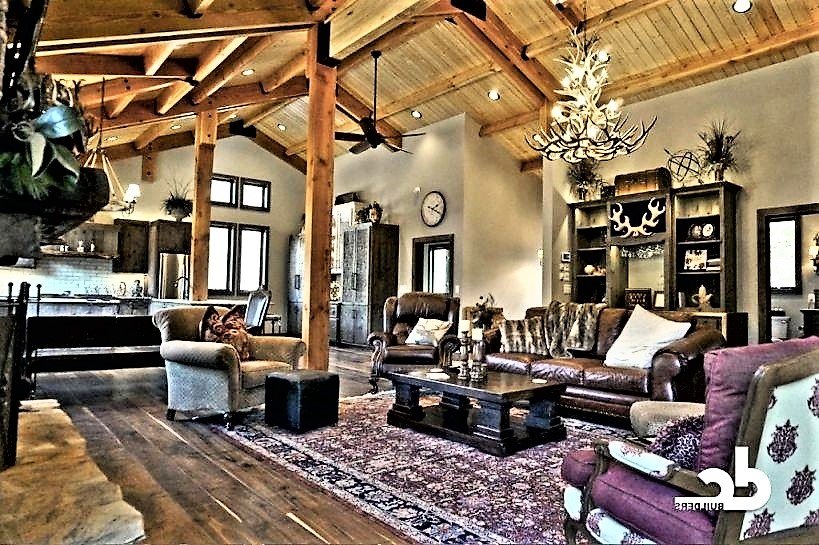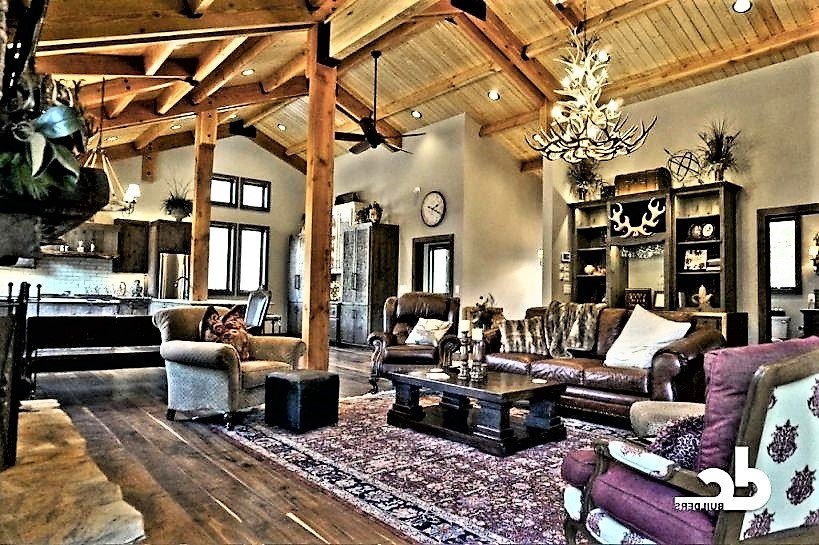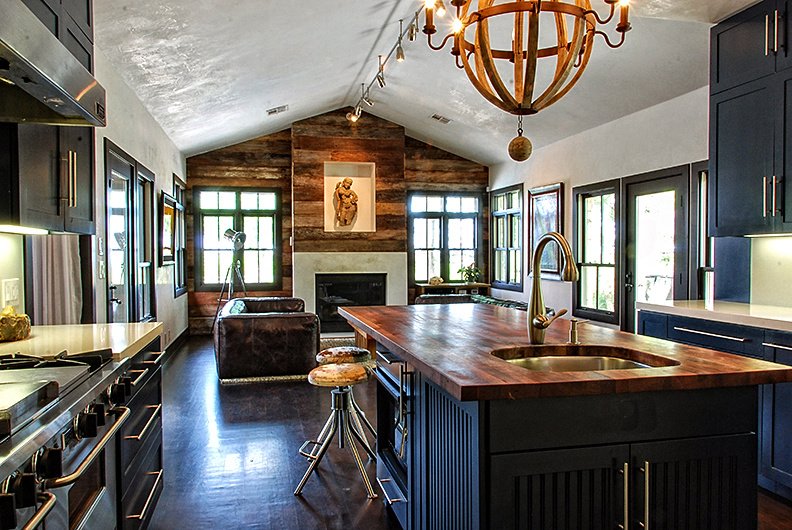 Get a FREE 18 Month Barndominium Planner
There are 39+ steps that must be taken before groundbreaking. Learn them all in this FREE checklist, available for immediate download.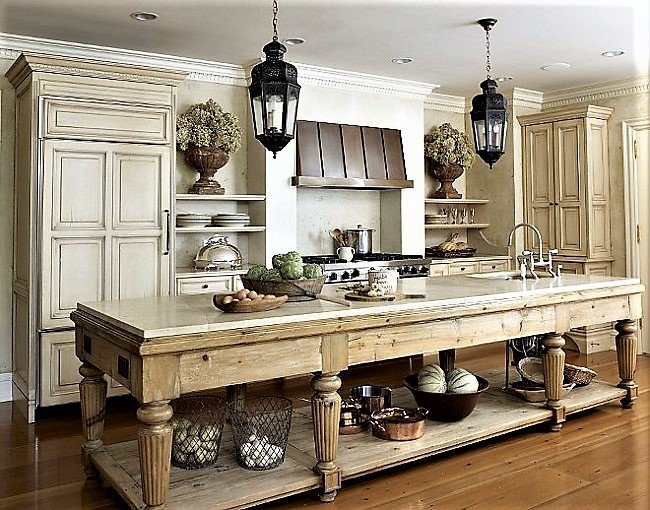 How to Build Your Own Barndominium & 200+ Floor Plans
Get started today with our program "Barndominiums Made Easy: How to Build Your Own Barndominium" and get 200+ barndominium floor plans included!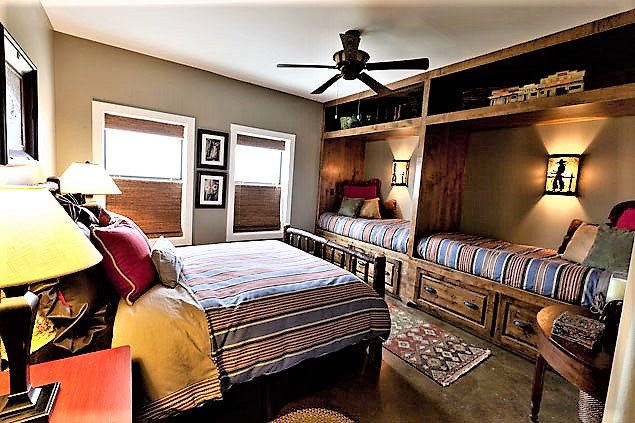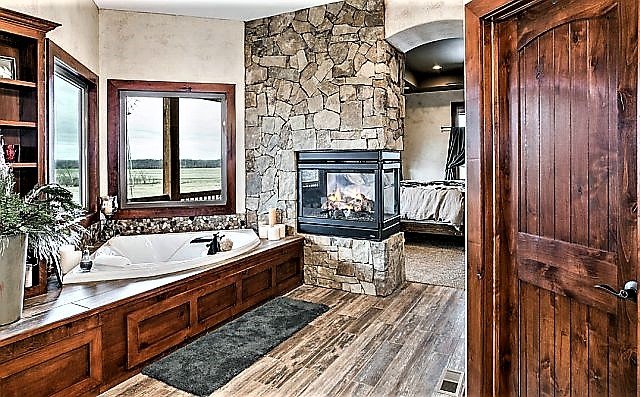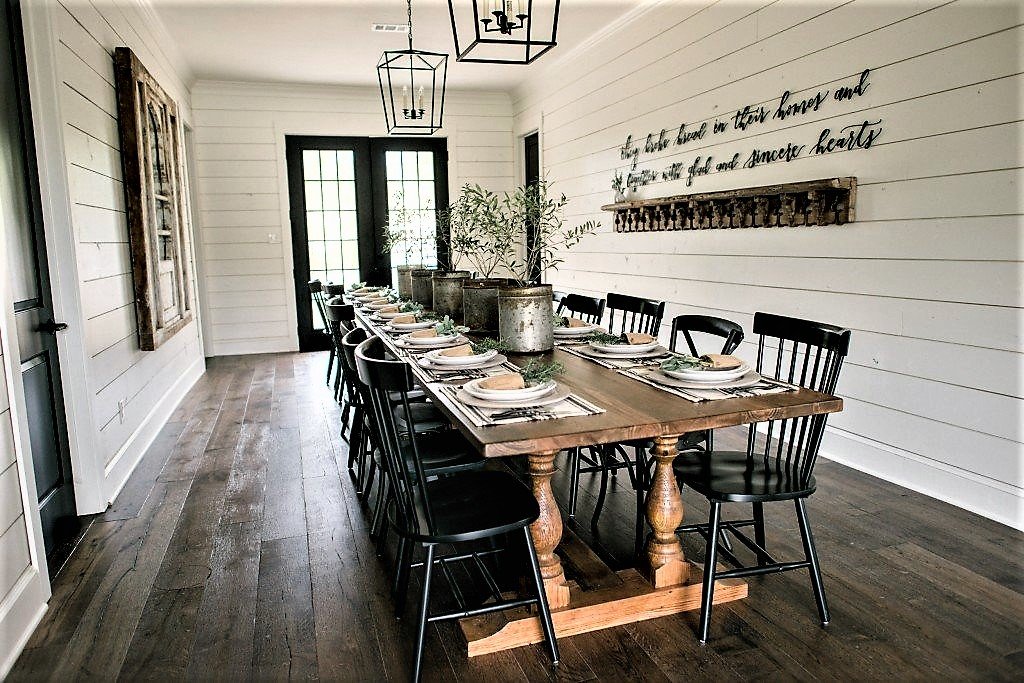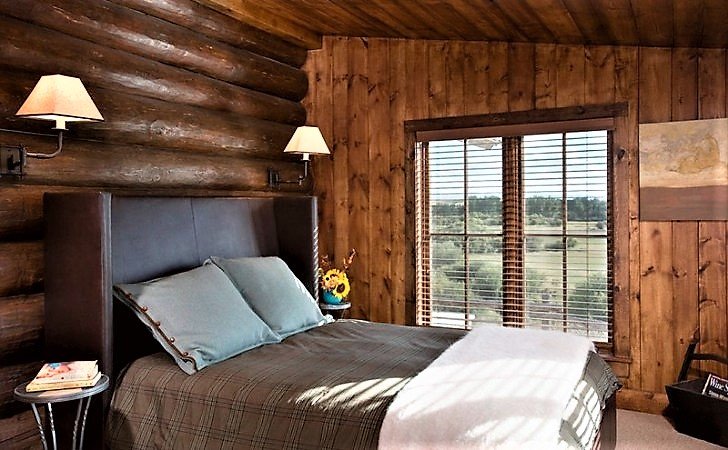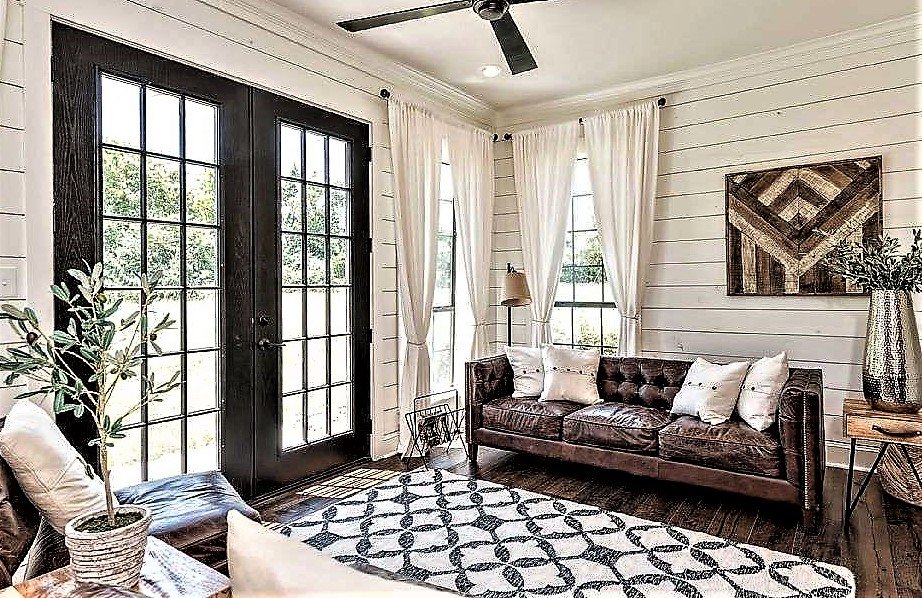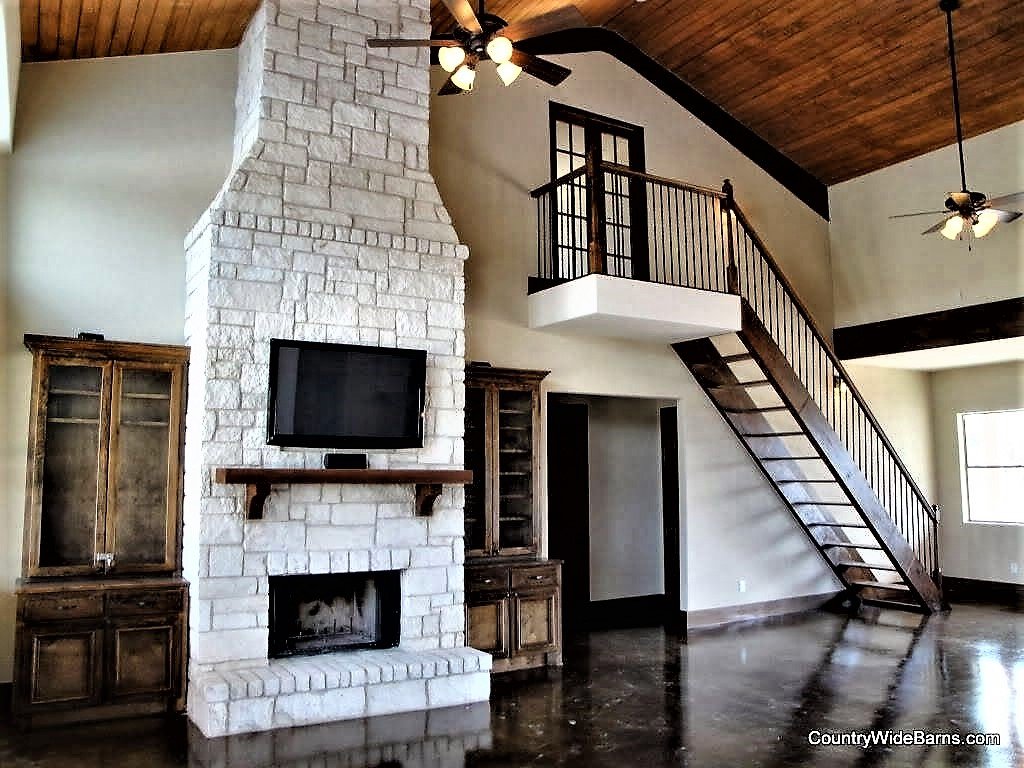 Barndominium interiors offer endless design possibilities for those who seek a unique and rustic living space. Whether you're looking for a cozy and warm atmosphere or a sleek and modern aesthetic, there's a barndominium interior design style that will suit your tastes. From the use of natural materials like reclaimed wood and stone to the incorporation of industrial-inspired features like metal accents and concrete floors, the possibilities are truly endless. With the right inspiration and design guidance, you can create a space that reflects your personal style and meets your functional needs. So, start exploring these inspiring design ideas and get ready to transform your barndominium into your dream home.
How to Build Your Own Barndominium & 200+ Floor Plans
Get started today with our program "Barndominiums Made Easy: How to Build Your Own Barndominium" and get 200+ barndominium floor plans included!
If you would like more guides like this one, check out the rest of BarndominiumLife.com. There, you will find more helpful tips and tricks from the pros. You will also find featured barndominiums, barndominium floor plans, and information on financing and insurance. Knowing as much as you can will help you get the best results for your dream home.
Like this Post? Sign up for our email list!
Be the first to see new posts about the best barndominiums, construction guides, floor plans, and more! Enter your information below to become a BarndominiumLife VIP.