Building your own custom home gives you the opportunity to do some interesting things. If you are a creative person who wants something entirely unique, building a barndominium is a great choice. They allow you to include things that might not work with traditional home design and decor. One of these options is an outdoor barndominium kitchen, which can bring your whole family together.
Building an outdoor barndominium kitchen can give you a lot of extra space for your home. Whether you are planning on having some large family gatherings or simply like cooking outdoors, they are a great choice. There are all kinds of options to choose from and designs you can use to create your dream kitchen. Looking at some outdoor barndominium kitchen ideas is a great way to get started.
Benefits of an Outdoor Barndominium Kitchen
Building an outdoor barndominium kitchen can give you a lot of extra space in your home. One of the quirks of almost any party or gathering is that everyone wants to congregate in the kitchen. However, this can be distracting, especially if you are trying to cook for a lot of people. With an outdoor barndominium kitchen, you get a place to reserve for your cooking projects while still giving people a gathering space.
The other major benefit of an outdoor barndominium kitchen is their unique look. Because you have to work the kitchen into something that will withstand the weather, this limits your design options. However, with home design, limitations can be your best friend. They can open up some options and give you ideas that you wouldn't have otherwise thought of if the possibilities were endless.
Perhaps the biggest benefit of building an outdoor barndominium kitchen is that they increase home value. If you build your barndominium in an area that has a lot of nice weather, this will be a highly desirable feature. Should you decide to sell your barndominium down the line, an outdoor barndominium kitchen is an excellent selling point. They look great in photos and will help your home stand out from the pack.
Outdoor Barndominium Kitchen Ideas
Before you decide to build an outdoor barndominium kitchen, you should have some ideas. Drawing inspiration from other outdoor kitchens is a great way to come up with your own design. Combining things you like and removing the things you don't will help you come up with the perfect layout. To help get you started, we have put together a few beautiful outdoor barndominium kitchen ideas.
Outdoor Service Window
One of the great ways to incorporate an outdoor barndominium kitchen is to combine the inside and outside. A service window can give you the convenience of an outdoor kitchen without the expense. Having this window will bring the practicality of the outdoor space, and you won't have to build a second kitchen. Everyone can gather outside, and you can still have your space when working on the cooking projects.
This particular service window utilizes a reclaimed frame, which brings a whole new level of cool. The ledge and stools underneath allow for conversation without taking up room in the kitchen. This could be a great option if you also want a bar area for your gathering space. This gives you plenty of room for your guests without taking up space for extra kitchen equipment.
Barbecue Island
One of the tricky things about barbecuing is it seems there is never enough space. Unlike cooking in a regular kitchen, you don't usually have the space you need for prep and staging. This can make barbecuing frustrating, and you might avoid it, even when it's nice out. If you include a barbecue island like this one in your outdoor barndominium kitchen, you can solve the issue.
This outdoor barndominium kitchen features a large island with plenty of storage next to the grill. This is a simple way to get the space you need without having to install a whole new kitchen range. Plus, the designers of this kitchen have included some beautiful light fixtures. Little touches like that can take your outdoor kitchen to the next level.
Elegant Dining Spaces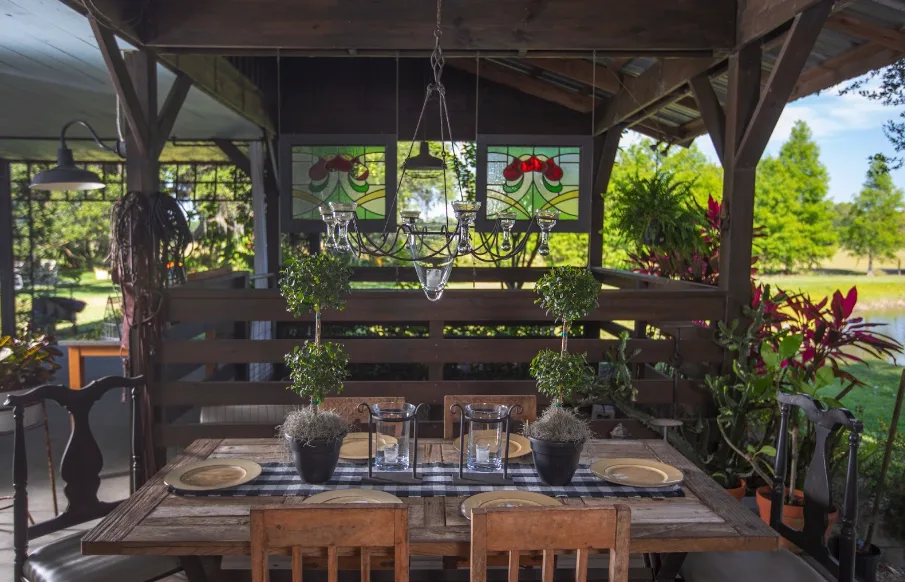 One important thing to remember is that an outdoor barndominium kitchen doesn't have to be complex. In some cases, it is enough to have a grill and a beautiful place to eat. If you are working on a budget, you can spend more time designing the dining space. Some plants and lighting can make all the difference and create an incredibly elegant experience.
This outdoor barndominium kitchen features some stained glass and heavy, dark wood. This, combined with the designer chandelier really brings out the beauty of the space. This is an excellent gathering area for guests and family and can make room in the kitchen. Spending a little less on equipment and a little more on decor can really go a long way.
Enclosed Full Kitchens
A fully enclosed area is one of the most popular options for an outdoor barndominium kitchen. This can be especially useful in areas that get a lot of rain, even during summer. Even if it is raining, a fully enclosed outdoor barndominium kitchen can still be used, which makes it well worth it. Plus, if you create a way to close it up, it will be safe all year long, no matter what the weather is like.
This particular outdoor barndominium kitchen has a full range and a sink as well as drawers and cupboards. The layout also allows for everyone to gather or to sit at the bar top. This saves space and allows for more than one person to work in the area. It also has a large hutch in the back for creating a bar if that is something you might be interested in.
Conclusion
An outdoor barndominium kitchen can take your barndominium to the next level. With a little bit of planning and imagination, you can create something truly original. Saving yourself some space and making good use of your outdoor areas is a smart move. By checking out these outdoor barndominium kitchen ideas, you can get inspired for your own.
If you would like more guides like this one, check out the rest of BarndominiumLife.com. There, you will find more helpful tips and tricks from the pros. You will also find featured barndominiums, barndominium floor plans, and information on financing and insurance. Knowing as much as you can will help you get the best results for your dream home.