Barndominiums are quickly becoming one of the most popular and enduring trends in the alternative housing movement. With so many builders specializing in this type of home build and more and more designers embracing this rural, country-style modern home, there has never been a better time to build a barndominium for yourself.
On top of this, there are a number of places in the U.S. that are fantastic for this kind of project. In this article, we have compiled the top places to build a barndominium. By choosing one of these amazing locations, you can build the custom home of your dreams!
1. Edmond, OK
Edmond, OK is a beautiful area that is home to attractions such as the Mitch Park Amphitheater, Armstrong Auditorium and Arcadia Lake. On top of that, it is one of the top places to build a barndominium in the United States.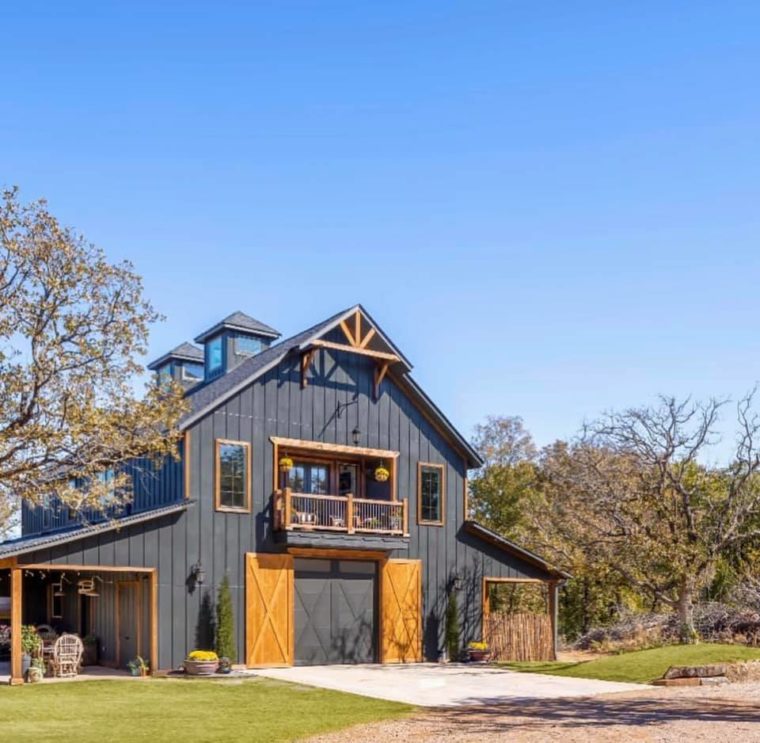 This beautiful barndominium in Edmond, OK is a perfect example of a custom home built in the classic barn style. The iron ore paint shade and natural wood doors and trim give this barndo a simple, tasteful look. The laid back and rustic style is built for the easy living and relaxed attitude of Edmond.
The crown jewel of this barndominium, though, is its patio. Divided into two sections, it has a raw and lived-in feel that is ideal for family gatherings. The plants and decor match the breathtaking landscape of the area and fit right in in Edmond.
On top of the fantastic area, it is quite inexpensive to build a barndominium in Edmond, OK. This is one of the appeals of living in a small town as well as building your own custom barndo. The prices for this project are quite a bit lower than a traditional build in a bigger city.
The cost of building a barndo in Edmond will be somewhere between $60 and $90 per square foot. Compared to the triple digit cost of a traditional home build, the numbers speak for themselves. You can get so much more for your money with a project like this in a town like Edmond.
There are also a number of builders in the area that specialize in this type of project. For example, DKS Construction builds metal pole structures all over the state of Oklahoma. Their experience and passion for the craft is perfect for making your custom home dreams come true.
Millennial Custom Homes is another fantastic barndominium builder in Oklahoma. Not only do they have experience building barndominiums, they can also do installations of things like granite countertops and custom, artisan cabinetry. With the amount of money you will be saving building a barndominium in Edmond, you can afford some of the finer things you might be looking for in a home.
Combining the beautiful rural landscape with the fact that Edmond has one of the top school districts in the state, building your barndominium there is a no-brainer. This charming town is a great option for those looking for their dream home, as well as a great place to live!
2. Waco, TX
Waco, TX is one of the most up and coming areas in the United States. With so many fantastic attractions and a beautiful natural landscape, it is no wonder this part of the state is becoming so popular.
With attractions such as the Waco Mammoth National Monument, the Cameron Park Zoo and the oldest suspension bridge in Texas, there is so much to do and see in this endearing town. The attractions are also incredibly varied. Not only is it the headquarters of Baylor University, it also features the renowned Dr. Pepper Museum!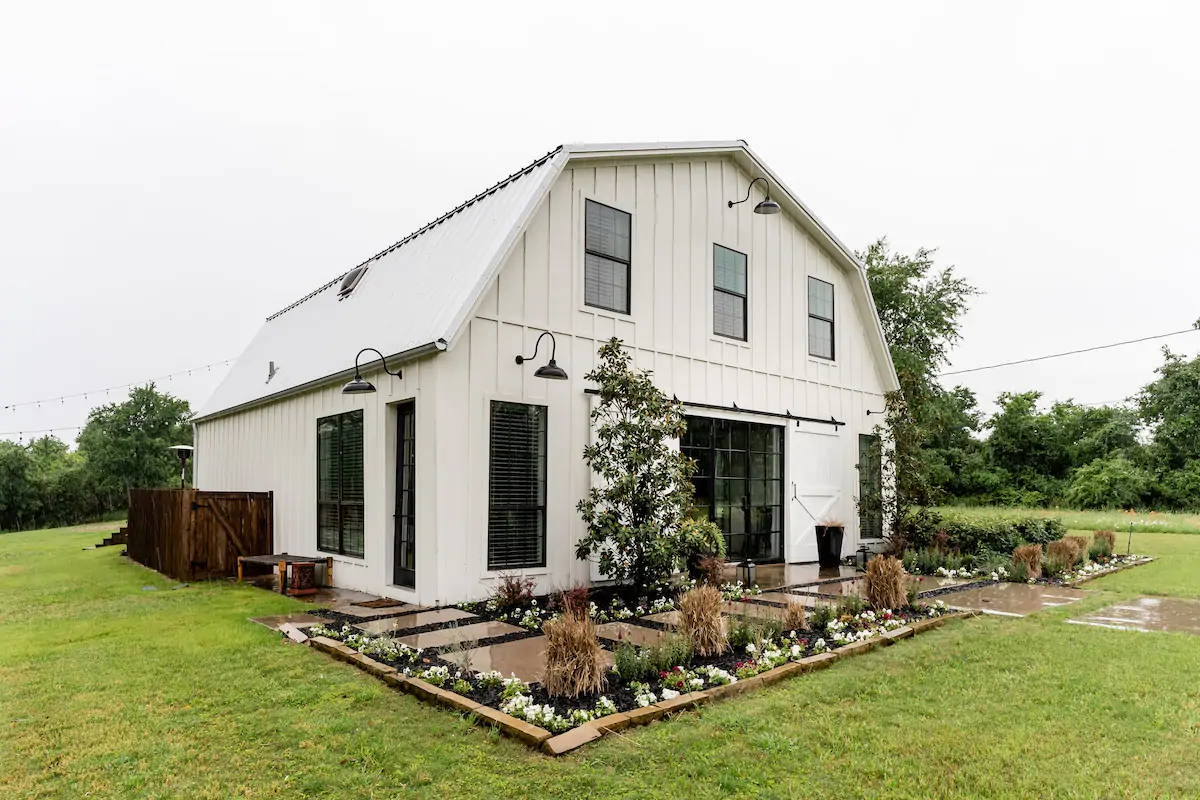 On top of these amazing features, it is also the home of one of the most famous barndominiums in the United States: The Fixer Upper Barndominium. This barndo, built by Chip and Joanna Gaines on their HGTV show is beautifully constructed and decorated. It is a prime example of what can be done with this type of home.
Featuring 5 bedrooms and 2 bathrooms, it is appointed and decorated by Joanna Gaines herself and has a laid back, country style that can't be beat. If you are looking for inspiration for your own barndominium, you couldn't do better than this one.
On top of the prime location, it is also quite inexpensive to build a barndominium in Waco, TX. At around $100 per square foot, you can get more home for your money. This will help you dedicate more of your budget towards decorating your barndominium exactly how you want it.
Texas is also home to many experienced barndominium builders to help you realize your dreams. CMW General Contractors is an incredibly popular construction company who can build one or two story barndominiums to your specific customizations.
Stout Builders is another fantastic construction company that has many good reviews from previous clients who have worked with them. They have the experience and knowledge of the area to help you build your own, perfect barndominium.
Waco, TX is also very liberal with their zoning laws. If you would like to build a barndominium with many custom features such as a garage or guest quarters, it is a great place to make this happen. You can remain in compliance with the zoning ordinances while still getting the exact home you have been dreaming of.
With all that Waco has to offer, it is a fantastic place to build a barndominium. The country home style fits right in with the landscape and your custom home will be very welcome there. With so many options available to you, your dream home is limited only by your budget and your imagination.
3. Fort Worth, TX / Weatherford, TX
In general, Texas is one of the top places to build a barndominium due to its wide open spaces and plentiful land. However, the pastoral and alluring town of Weatherford, which is right outside of Fort Worth is right at the top of the heap. Its fantastic atmosphere is only enhanced by the fact that it is so close to the metropolis of the Dallas/Fort Worth area.
Fort Worth itself is a larger city with nearly one million residents, but it is still safer than 93% of other Texas cities. This makes it a great place to raise a family and build your dream barndominium. With Weatherford just 30 minutes away, either one of these towns will be an ideal spot.
Weatherford is also the home to this beautiful barndominium built by HL Custom Homes. This 4 bedroom, 3 bathroom barndo is a fantastically designed and executed home that sits on a picturesque piece of land. The white stonework compliments the sparse clouds that dot the Texas sky and we love how well it sets the tone for the entire home.
Inside, this barndominium is spacious, but still self-contained, with each room being independent of the others. The stained and polished cement floors are a great touch that give some warmth to the interior and while still maintaining a modern, contemporary material aesthetic.
As stated above, it is fairly affordable to build a barndominium in Texas. There are so many things that you can do with that extra money, and with the more open zoning laws in the area, this is not just limited to the interior of the home. Shops, horse barns and large patios are all a possibility with the cash saved on the initial construction.
This area is also home to HL Custom Homes, who built the Weatherford barndominium. They are an extremely experienced builder who have worked on all kinds of barndos all over the state of Texas. They have even built barndos in Rhome, Boyd and Paradise.
Weatherford and Fort Worth are fantastic areas for this kind of custom home build. There are currently over a thousand listings for plots of land in the area, making this a booming area for building your barndominium. With that much space available, you can be sure to find the ideal piece of land for your barndominium.
4. Springfield, MO
For those who are interested in everything that the natural world has to offer, Springfield, Missouri is one of the top places to build a barndominium. Springfield has so many fascinating attractions revolving around the world of nature and wildlife. For those with kids and families, there is certainly something for everyone.
Springfield is home to the Fantastic Caverns, a network of underground caves that you can explore through a tram tour, as well as the Wonders of Wildlife National Museum. On top of these amazing attractions, it also features the Dickerson Park Zoo, which is one of the most renowned zoos in the United States.
Perhaps this dedication and sense of wonder towards nature is what inspired this gorgeous 3 bedroom barndominium in Springfield, MO. With an outdoor kitchen and a winery wall made entirely out of reclaimed wood, this barndo certainly has the connection to the outdoors that Springfield is known for.
The interior of this barndominium is just as beautifully appointed as the exterior. With charming accents and lighting fixtures, there is something interesting to look at no matter where your eye is drawn. By utilizing glass doors, the designer of this barndominium was able to bring a little bit of the exterior inside.
Missouri is a great place to build a barndominium for many reasons, but perhaps one of the most compelling is the price range. With the initial cost of building a barndo in Missouri being only $30-$40, there is so much you can do with a small budget.
Just like the barndo featured above, you can afford to put in the little details that make a custom home worth building. By building in Springfield, there is no limit to the amount of beautiful features that you can include like custom countertops or some designer light fixtures.
No matter what kind of family you are, there is something for everyone to enjoy in Springfield, Missouri. By building your custom barndominium there, you can connect with the outdoors in ways that are meaningful and long-lasting. This is exactly the reason that it is one of the top places to build a barndominium.
5. NW Arkansas
If you are looking for a relaxed way of life among one of the most famous regions in the United States, NW Arkansas is a fantastic choice. The Ozark Mountains are known the world over for their distinctive culture and way of living. For those who want a true feel for the Southern United States, you couldn't do much better than the Ozarks.
Containing larger towns such as Springdale and Fayetteville, there is plenty to take in on top of the natural beauty in this area of the country that makes it one of the top places to build a barndominium. This wide range of attitudes and culture is what makes NW Arkansas one of the top places to build a barndominium.
This area is also home to this amazing barndominium built by Jake Parker. The combination of metal and wood on the exterior of this barndo is one of the most immediately striking things about it. The contrast of organic and metallic materials creates a stunning look that is perfect for fitting in with the natural landscape around it.
Inside, it is just as visually appealing. With wood beams that give it that cozy country cabin feel, there is still a touch of modern design in this barndominium. By keeping these two aesthetics intact, Jake has truly captured the spirit and culture of NW Arkansas.
If you are not interested in building your own barndominium from scratch, there are a number of builders in the region who can help you realize your dreams. One of these is DC Sparks Construction who have a focus on partnering with you to get you exactly what you are looking for in a custom home.
ICC Builders is another fantastic construction company that has years of experience building barndominiums in NW Arkansas. By using this experience to constantly improve their process, you can be sure that they are going to be able to build a beautiful barndominium for you.
If you are interested in living in a place that has a rich cultural heritage and even its own dialect of American English, the Ozarks and NW Arkansas are a great option. With attractions such as the Crystal Bridges Museum of American Art and Hobbs State Park Conservation Area, it is a glorious combination of everything that makes this region special.
6. Houston, TX
If you are looking for more of a city life where you build your home, Houston, TX is one of the top places to build a barndominium. The epicenter of the American space program, Houston is a wonderful place to build your dream barndominium and raise your family.
This large metropolitan area is perfect for getting the best out of a city experience while still having room to stretch your legs and build your own barndominium. There are a number of areas that you can find in order to build the custom home you have been thinking about.
That's exactly what the owners of this 10,000 square foot barndominium did. This home, which is situated on a huge plot of land, is a prime example of what can be done with this form of home building. With a massive front porch, 4 bedrooms and 3 bathrooms, this barndo is big enough to match the state in which it is located.
The interior is designed to match the farmhouse style that is so popular right now. With so much space, it is luxurious and open feeling, while still having a cozy atmosphere. We love the sliding barn doors and the modern kitchen as well.
Houston has the best of both worlds when it comes to city living and a country atmosphere, making it one of the top places to build a barndominium. With so many things going on in the downtown area, it can seem just as urbane as any other big city. However, with wide open spaces just a short drive away, you can get out of town quickly and into the natural wonders of the great state.
One of the best things about building a barndominium in Houston is the fact that the city does not have any zoning laws. While there are some restrictions on development, there are no rules regarding land use.
This lack of strict zoning means that you can build your barndominium as big and as unique as you could possibly want. There is no limit to what can be done with a plot of land and a lot of imagination. As is evidenced in the barndominium above, everything is bigger in Texas!
7. Tuscaloosa, AL
There is no doubt that Alabama is one of the top places to build a barndominium. Zooming in even further, Tuscaloosa is a great town that has so much to offer. By building a barndominium in Tuscaloosa, you can truly absorb this beautiful part of the country.
Featuring the Alabama Museum of Natural History and Moundville Archeological Park, Tuscaloosa has a connection to the past which makes it one of the top places to build a barndominium. This is evidenced in both its national parks and the culture. If you are interested in building a home that is located in a pastoral and gorgeous area, it could be a great option for you.
This Alabama barndominium built by Wesley and Jennifer Clark is a beautiful example of the rustic country style that the state is known for. With polished stained cement and raw wood lining the interior walls, this barndo has a lot to offer.
On top of the barn-style aesthetic, it is also strikingly modern. With a firepit in the backyard that also features a hidden television, this barndo is full of surprises. Just like Tuscaloosa, there is a lot more to this home than originally meets the eye.
What makes Tuscaloosa one of the top places to build a barndominium is the affordable price. Most people who have built their barndo in the state spent somewhere between $30 and $40 per square foot. For that price, there is no end to the amount of customization you can do with your dream home.
There are many reputable builders in the area as well. Apex Contracting Service offers barndominium building across an extremely wide region. They are also highly recommended by people who have used them to construct their barndominium in Alabama.
Homestead Barndominiums is another fantastic builder who specializes in this type of project. They are not only dedicated to barndos, they also want to work with you closely to make sure that everything is built to your exact specifications.
7. Lubbock, TX
Looking for a unique and quirky town to build your barndominium? Look no further than Lubbock, Texas! There is so much in this northwest Texas town to enjoy and absorb. If you are looking for a place that matches your individual personality, this could be a great option for you.
Known the world over as the birthplace of rock 'n' roll legend, Buddy Holly, there is a special feeling to this place. This is what makes it one of the top places to build a barndominium. It's interesting aesthetic matches perfectly with the barndominium lifestyle.
Barndominiums have the ability to come in all kinds of shapes and sizes. They can be as unique and specialized as you are. If you want to build a barndominium that is unlike any other home you have seen, Lubbock is a great place to do it.
Just like Houston, Lubbock has no zoning regulations. This is perfect if you are looking to build a barndominium that reflects your own personal style. There won't be any guidelines for you to follow that might cramp your style.
It is also a great place to build something that has many reclaimed and recycled materials. Lubbock is home to the American Windmill Museum and the residents there love to see things be reused and turned into something incredibly special. This dedication to recycling is what make is one of the top places to build a barndominium.
There are also a large number of builders in the area, such as Country Wide Barns and Metal Buildings of Lubbock. These builders are staffed by locals who understand the culture and feel of the town. This is incredibly important if you want to take advantage of what makes Lubbock one of the top places to build a barndominium.
Conclusion
By knowing the top places to build a barndominium, you can make the best decision for you and your dream home. Depending on your individual style and needs, there is a place that will be perfect for you to settle in. Having an idea about a town's culture and feel is a great start in the right direction!
To help you figure out the best location for you to build your dream barndominium, get the Barndominium Life Program!