Introduction
This 4 bedroom, 3 bathroom Weatherford Texas Barndominium was built by HL Custom Homes. It features a modern style with touches of rustic warmth. This home sits on a picturesque plot of land that complements the country feel and sets the tone for the entire house. Check out more photos of this gorgeous barndominium in Texas!
Weatherford Texas Barndominium Exterior
Front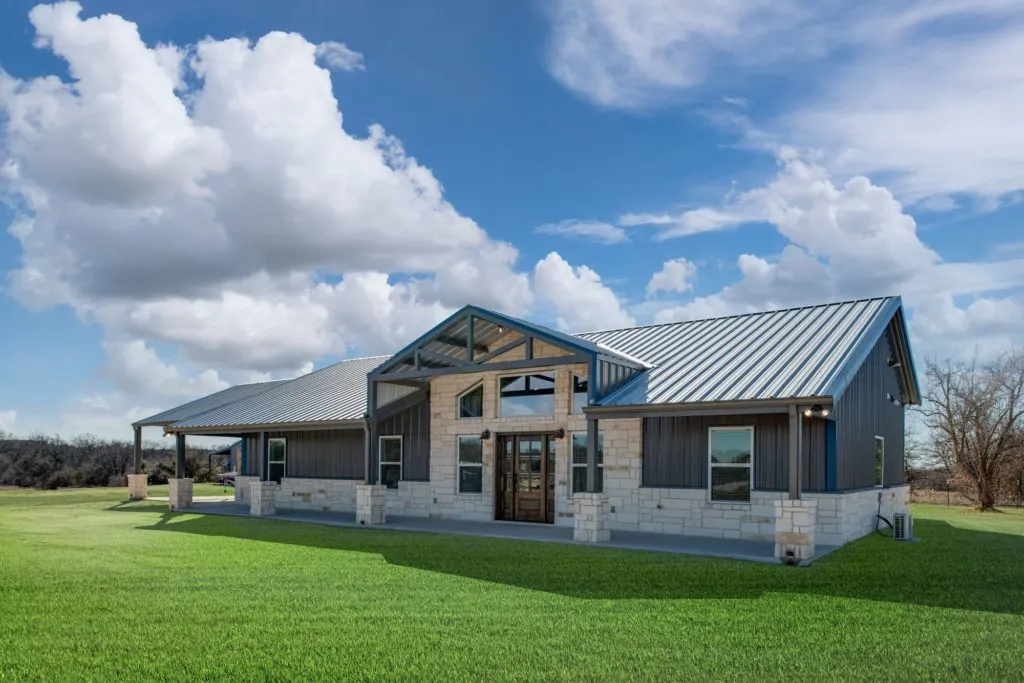 The white stonework on the exterior sits on top of a charcoal gray paint job for a striking, eye catching contrast. The large, front facing windows keep the living area bright and open while still keeping a low exterior profile.
One of the best things about the deep charcoal gray paint is that it matches nearly any natural color. This means that no matter what type of landscaping or gardening we may do, the paint will almost always match. This is a fantastic feature for any home, but works especially well on this Weatherford Texas Barndominium.
We love the white stonework not only for its clean look but also its easy maintenance. White stonework is easily cleaned and can help this barndo keep its crisp appearance. It also has the added benefit of being a natural, organic material that reflects its surroundings. This is incredibly important for maintaining a good balance of modern and rustic.
Back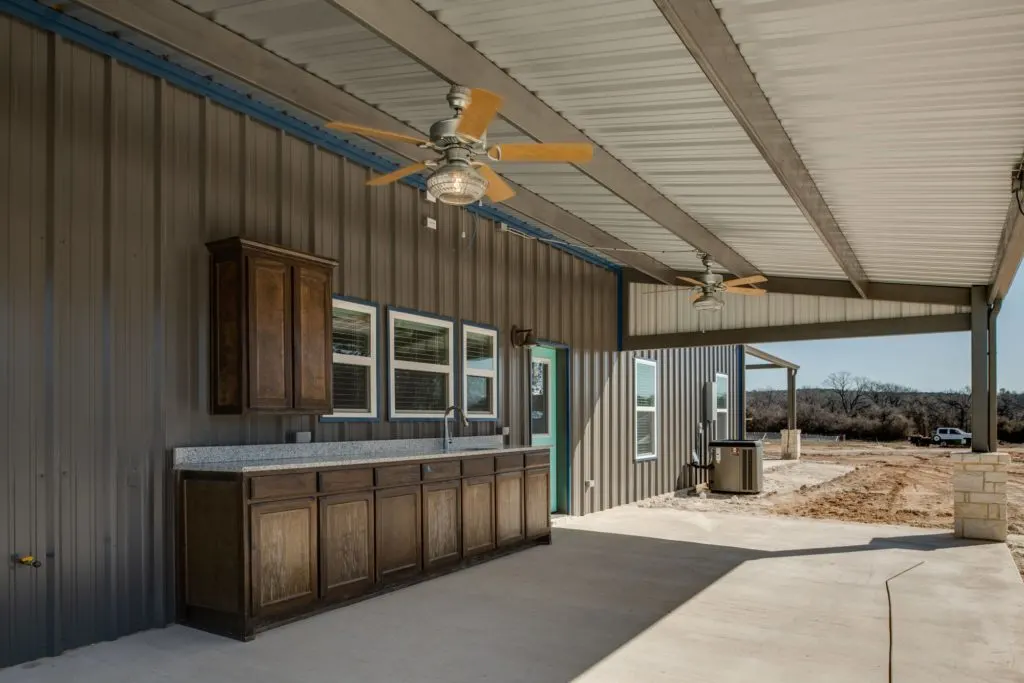 While the front-facing exterior of this Weatherford Texas Barndominium is beautiful, we are most excited about the back area. A carport covers an outdoor kitchen that is perfect for backyard barbecues and gatherings of all kinds. The corrugated metal siding is durable and meant to stand up to harsh rains and other inclimate weather.
How to Build Your Own Barndominium & 200+ Floor Plans
Get started today with our program "Barndominiums Made Easy: How to Build Your Own Barndominium" and get 200+ barndominium floor plans included!
Weatherford Texas Barndominium Interior
The interior of this Weatherford Texas Barndominium goes against the open-concept fad. With a separate living room and kitchen, the spaces are completely self-contained. We love the idea of bucking the trends and going against the grain with the floor plan.
The stained cement floors give the entire home a modern, mildly industrial feel. This could potentially clash with the homey touches and built-ins. However, we're very impressed with how well it works. Using dark colors in the lower parts of a home
The white stone fireplace brings touches from the outside of this Weatherford Texas Barndominium to the interior. We think this ties the entire design concept together and helps bring in the organic elements.
There are plenty of power outlets including in the shelving and embedded in the stained cement. This allows for flexibility in decorating and arranging electronic devices. It also helps keep cords hidden to contribute to the contemporary style.
Kitchen
The first thing we notice in this Weatherford Texas Barndominium kitchen is the bright turquoise trim. This unique accent detail is both striking and works to draw the eye and make the entire kitchen pop.
The marble-printed granite countertops ground the colors of this kitchen and center the entire feel. A large island with modern light fixtures provides a warm, inviting space for cooking and prepping as well as gathering.
We think the large pantry is one of the most exciting features of this open kitchen. With a separate door finished in turquoise, it helps keep the profile clean. Any home chef would be more than happy to have so much room for dry storage and other staples.
Bedrooms
The master bedroom features a mini-split air conditioner combined with the central air throughout the entire Weatherford Texas Barndominium. We think this would be perfect for beating the heat on those hot Texas nights.
Two of the bedrooms include a bathroom and large walk-in closets. We love the many built-ins and storage corners. They are perfect for keeping the clean style without letting the home look too cluttered with belongings.
How to Build Your Own Barndominium & 200+ Floor Plans
Get started today with our program "Barndominiums Made Easy: How to Build Your Own Barndominium" and get 200+ barndominium floor plans included!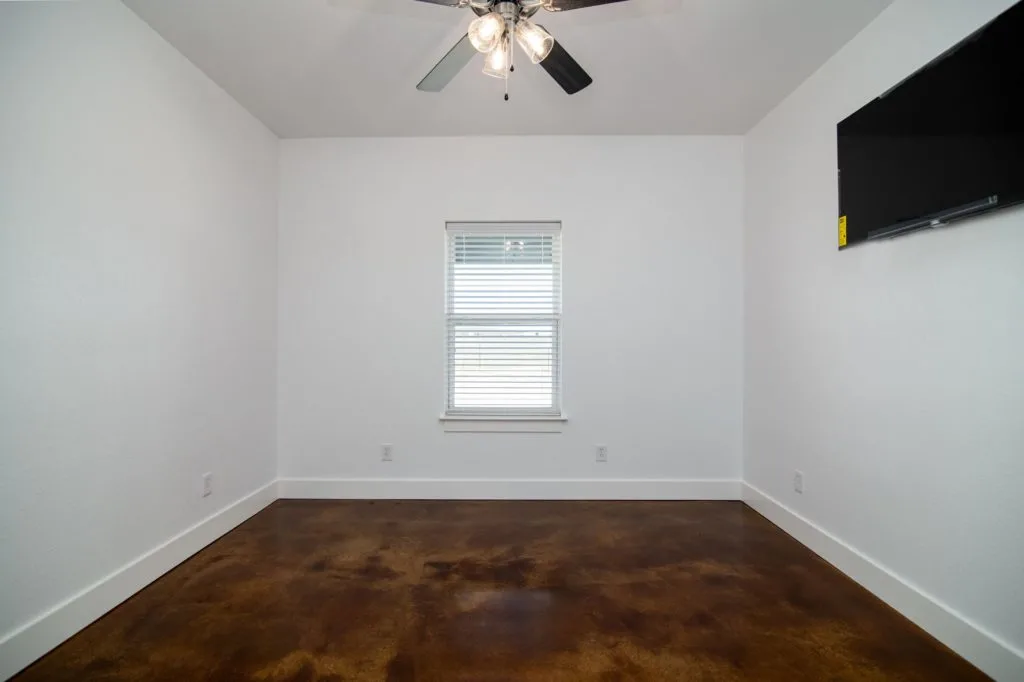 Bathrooms
The bathrooms in this Weatherford Texas Barndominium are just as unique as the rest of the rooms in the house. The wood-printed tile is one of our favorite things throughout the entire house. Just like the white stonework, it gives a warm, organic vibe to an otherwise cold-feeling material.
Lighter, blue-gray furnishings and cabinets give the bathrooms in this Barndo the same modern look like the kitchen. This entire house is based on mixing contrasting and complementing colors together. This is one of the reasons we think it is such an interesting home.
Conclusion
Interior design is all about using space and colors to draw the eye where you want it to go. This Weatherford Texas Barndominium has something for everyone. From the modern, contemporary flooring to the warm and cozy feeling wood print tile, there is something interesting around every corner in this home.
There are plenty of mistakes to avoid when designing your own barndo. We think that this one has managed to avoid all of them while still putting a unique twist on a classic look and concept.
For more ideas and tips on everything having to do with barndominiums, check out the Barndominium Life Program!
How to Build Your Own Barndominium & 200+ Floor Plans
Get started today with our program "Barndominiums Made Easy: How to Build Your Own Barndominium" and get 200+ barndominium floor plans included!
Michael O'Connor is a seasoned barndominium writer passionate about creating unique and innovative barndominiums. With over 15 years of experience in the construction industry, Michael has established himself as a leading expert in barndominium design and construction.
His work has been featured in several respected publications, including Barndominium Life, where he frequently contributes articles on best practices and emerging trends in the field. Michael's ability to blend traditional techniques with cutting-edge technology and design concepts has earned him a reputation as one of the most knowledgeable writers in the industry.