Looking to build a barndominium in Alabama? Check out our ultimate guide here -> https://www.barndominiumlife.com/barndominium-in-alabama/
An Alabama Barndominium is a great place to get away from it all and relax.
In this post, we are featuring a fantastic barndominium. We spotted it on Facebook and was posted by Wesley and Jennifer Clark. It is located in Tuscaloosa, Alabama. You can check more on our Pinterest for more featured Barndominimum
We fell in love with this barndominium at first sight. It has 4 bedrooms and 2 bathrooms. It is spread on an area of 1900 sq. ft. The Barndominium's garage covers 576 sq. ft. To be precise, it has a two-car garage with ample space to perform automobile check.
Alabama Barndominium Construction and Design
In Alabama, the roofing material varies in barndominium construction. In this Barndominium, 29 gauge painted metal roof is used which makes the roof durable and all-season resistant.
After reviewing the pictures, the overall design looked amazing. It could be a perfect place to spend time with friends and family members. The dining and living rooms are vast and wide. The kitchen is elegantly lit on a corner of the dining room. It has all the necessary appliances and kitchen ware installed. A mosaic marble plate serves as the kitchen's counter top, making it comfortable and spacious.
The Barndominium's interior is well maintained. It contrasts with that of the Barndominium's surrounding environment. The Barndominium's exterior is board and batten cedar. It is insulated with spray foam to resist high seasonal temperatures. This type of insulation considerably reduces power bills.
The interior walls of the Barndominium depict a cosy living experience. The painted drywall as inside texture looks elegant. Using some texture on the walls would have been made it look much greater.
Guess what? A dedicated firepit, located on the back porch, adds to the Barndominium's beauty. Just above the firepit, a TV has been installed. It could be the best place to get together. Plan a BBQ and have fun with your loved ones!
Here are pictures of Alabama Barndominium
We have compiled pictures of this Barndominium along with the most important first floor plan.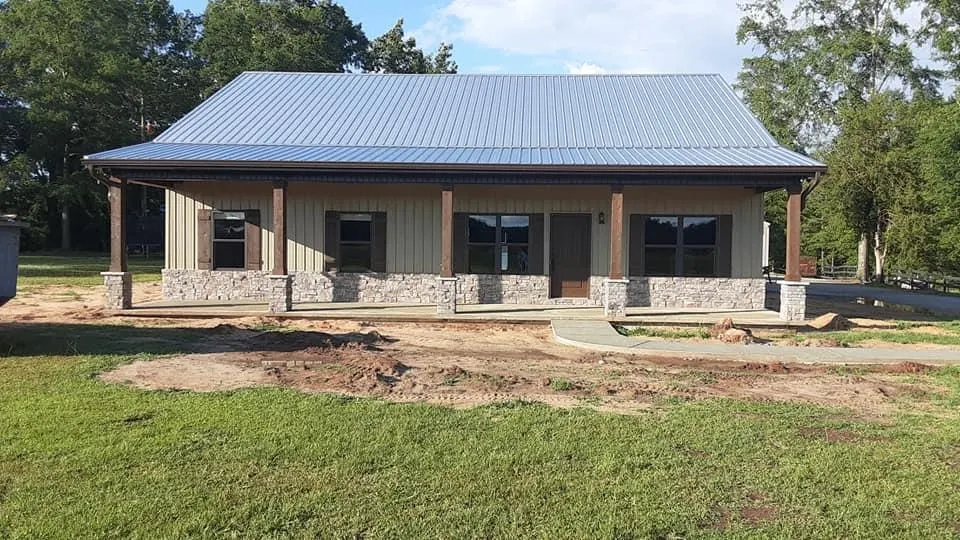 View of the Alabama Barndominium Living room

Inside of a bathroom

Front view of the Barndominium

Two-car garage

View of a bedroom


View of a bedroom

View of dining room along with kitchen.

View of another bathroom.

View of the firepit with TV in the backyard.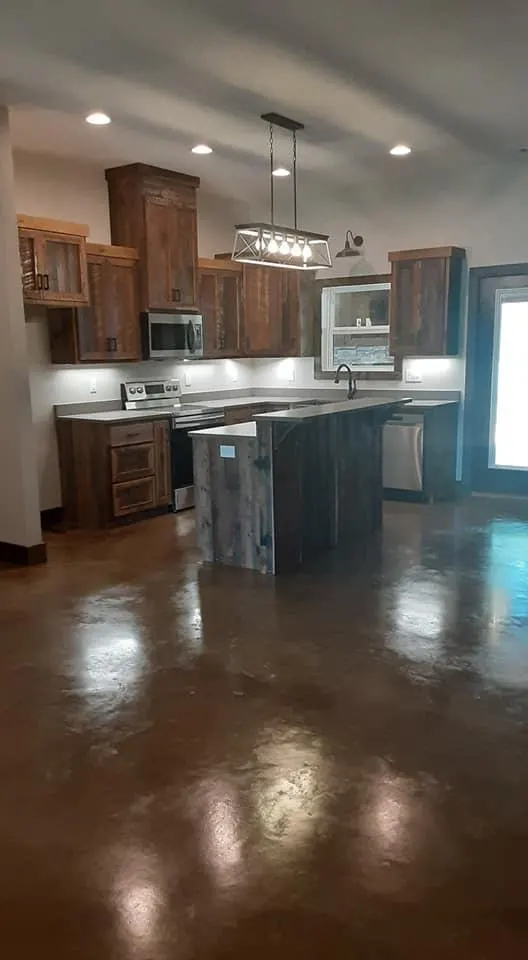 View of the kitchen of a different angle

View of another bathroom with elegant fixtures

Inside of the kitchen


Basin inside a bathroom

Complete inside view of a bathroom

Barndominium's first floor plan
Conclusion
We are in love with the built-ins of this barndominimum – a really nice touch and appealing interior.
Gail currently spends her free time geeking out about what's new and trending in the world of barndominiums.
She is the former executive editor of BarndominiumLife.com and loves working with the team and members of the barndominium community. She now contributes to the blog on occasion, but only when she feels like it!