If you're in the market for a new home, barndominiums are a popular and unique option to consider. Combining the rustic charm of a barn with the modern amenities of a home, these structures offer a versatile and affordable living space.
One popular feature for barndominiums is a garage, which can provide ample storage space for vehicles, tools, and equipment. Let's explore inspiring barndominium floor plans with garage, showcasing a variety of designs and layouts to suit different lifestyles and preferences. Whether you're looking for a cozy weekend retreat or a spacious family home, there's sure to be a plan that catches your eye.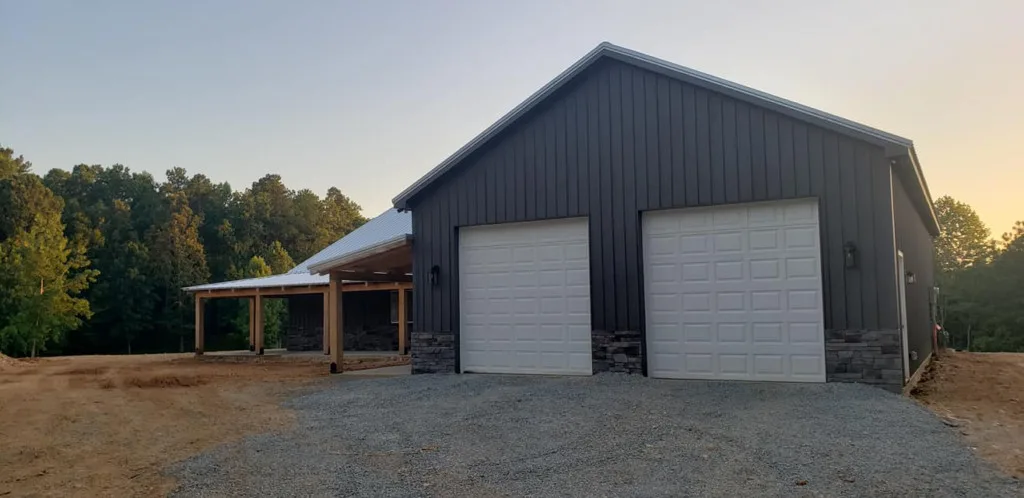 Barndominium Floor Plans with A Garage
With a traditional home, you might be limited to a one or two-car garage that is filled with so many items that you can't really enjoy it. The space might be functional, but it's certainly not fabulous. But with the layout of these barndominiums, your garage doesn't have just to be an afterthought; you can make it have just as much importance and impact as your kitchen or living room.
Whether you're the one designing your dream home, or you're leaving it up to a professional, be sure to examine all the ways you can utilize this space. You not only want to structure it in a way that will make your life easier, but you also want to create a barndo that you'll love coming home to every day.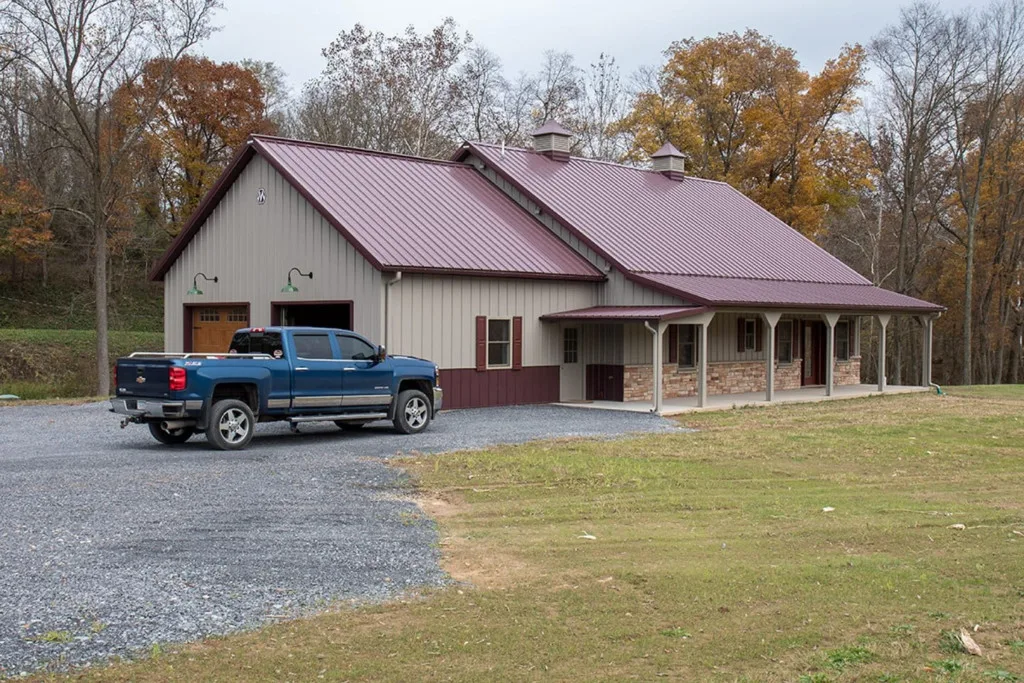 Barndominium Floor Plans with Garage – Things to Consider
Before you start laying out your floor plan and tacking a garage onto the end of it, there are a few important factors you'll want to take into account first.
Vehicles and Parking
The number of vehicles you have in your family and the availability of parking on your land will obviously influence whether you'll traditionally use your garage or whether you'll be able to save the space for something else, like a workshop. If you've got a property to spare, consider laying down a parking pad or constructing a separate carport off to the side where you can park.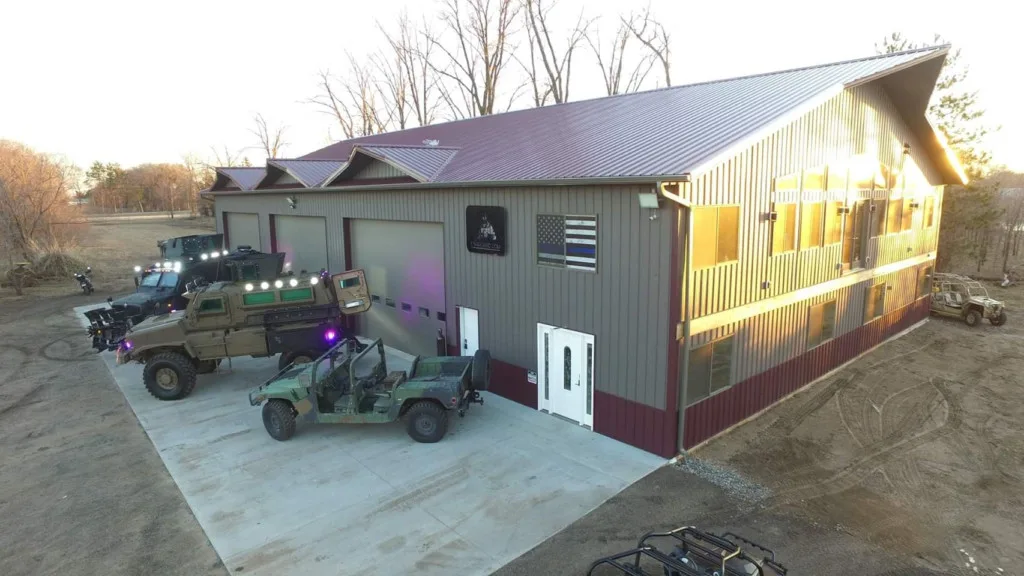 When deciding on the best parking arrangement, it's important to consider each household member's needs. While having a garage is convenient, parking all vehicles inside may not always be feasible. Compromises can be made by designating certain spaces for garage parking and others for outdoor parking. Additionally, planning for the future is important as the number of vehicles in the household may increase over time. By carefully considering the parking needs of everyone in the household, you can create a functional and practical barndominium floor plan with a garage.
Hobbies
Your hobbies and recreational time are going to play a huge role in how much garage space you'll need. If you have boats, ATVs, jet skis, or other toys, map out your floor plan so you'll have room for everything.
It's not uncommon for a family with several recreational vehicles to have a separate shed for the smaller items that can be stored with their lawn and gardening equipment. However, perhaps you'd prefer to have it all stay closer to the house for extra security. Whatever the case, this must all be considered when creating your floor plans.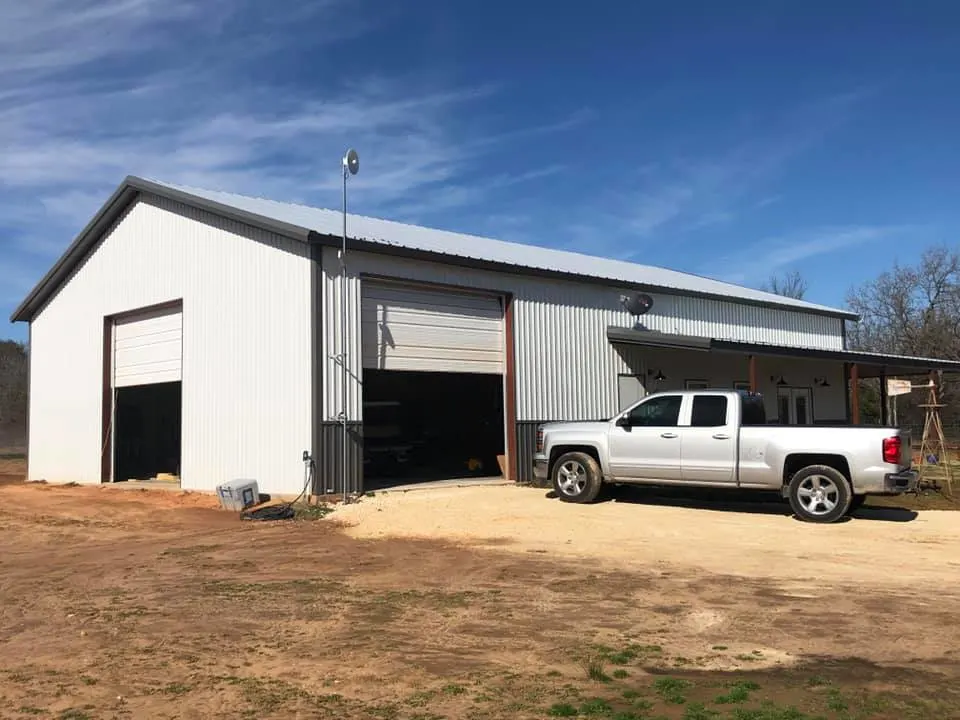 There are plenty of hobbies you may want to use your garage for beyond those outdoorsy ones, too! If you love woodworking, be sure to allow plenty of space for all of your projects in your new shop. If you love working on cars, you might need a larger garage than most, so don't be shy about adding those extra square feet onto your layout if it's in your budget.
Now is the time to make those plans work for you so that you end up with a home where you can live out your dreams! For hobbies where you'll be using many power tools and similar items, be sure to map out where your utilities like lighting and electrical outlets will be located.
Storage
If you're like most people, at least part of your garage will be dedicated to storage. It may be items that just wouldn't fit in your house, like extra sporting equipment, or perhaps it's something like a deep freeze that you'll need convenient access to. Regardless, you'll probably need to devote at least some of your square footage to storing things and staying organized.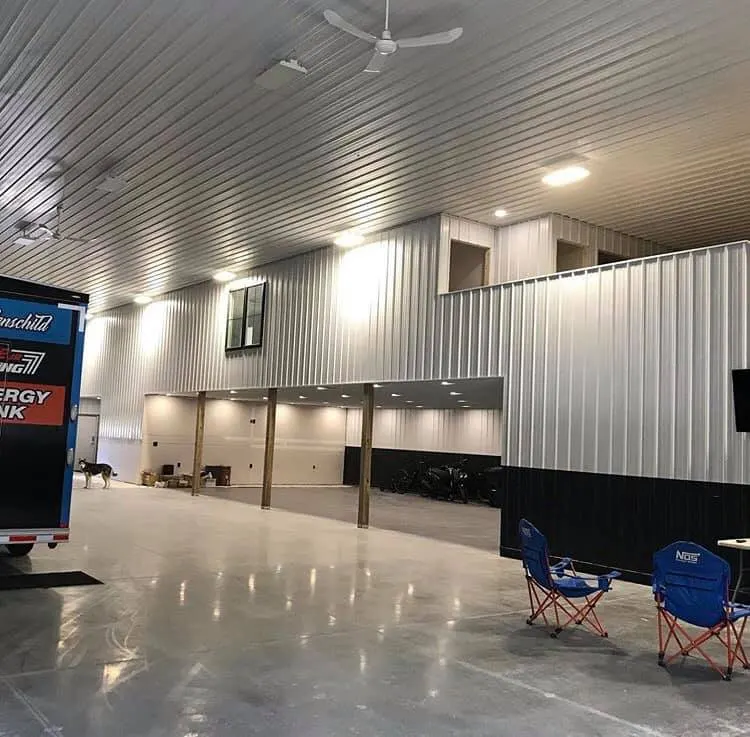 When trying to find room for it all, remember to utilize wall space as a way to get items off the floor and out of the way. Mounting bikes and kayaks are great ways to store these bulkier items without taking up valuable real estate in your garage. You can also get creative with storage racks near the ceiling, which would work best with items you only need once or twice a year, like a holiday décor.
Access to the Home
It's not uncommon for most garages and workshops to be located near the kitchen, but this may not always be the best layout for everyone. If your work tends to leave you dirty, you might want to consider a floor plan that will give you access to a bathroom where you can clean up before heading into the main part of the house.
Another convenient layout would put your garage next to the laundry room. After working on a big project, you can immediately put your clothes straight into the washing machine so that you don't inadvertently track any dirt, oil, or sawdust into your home after a long day.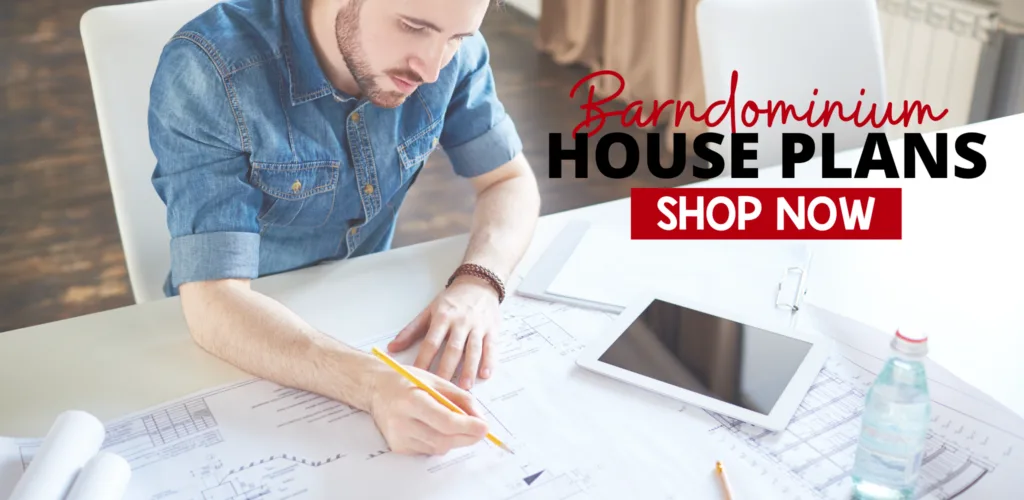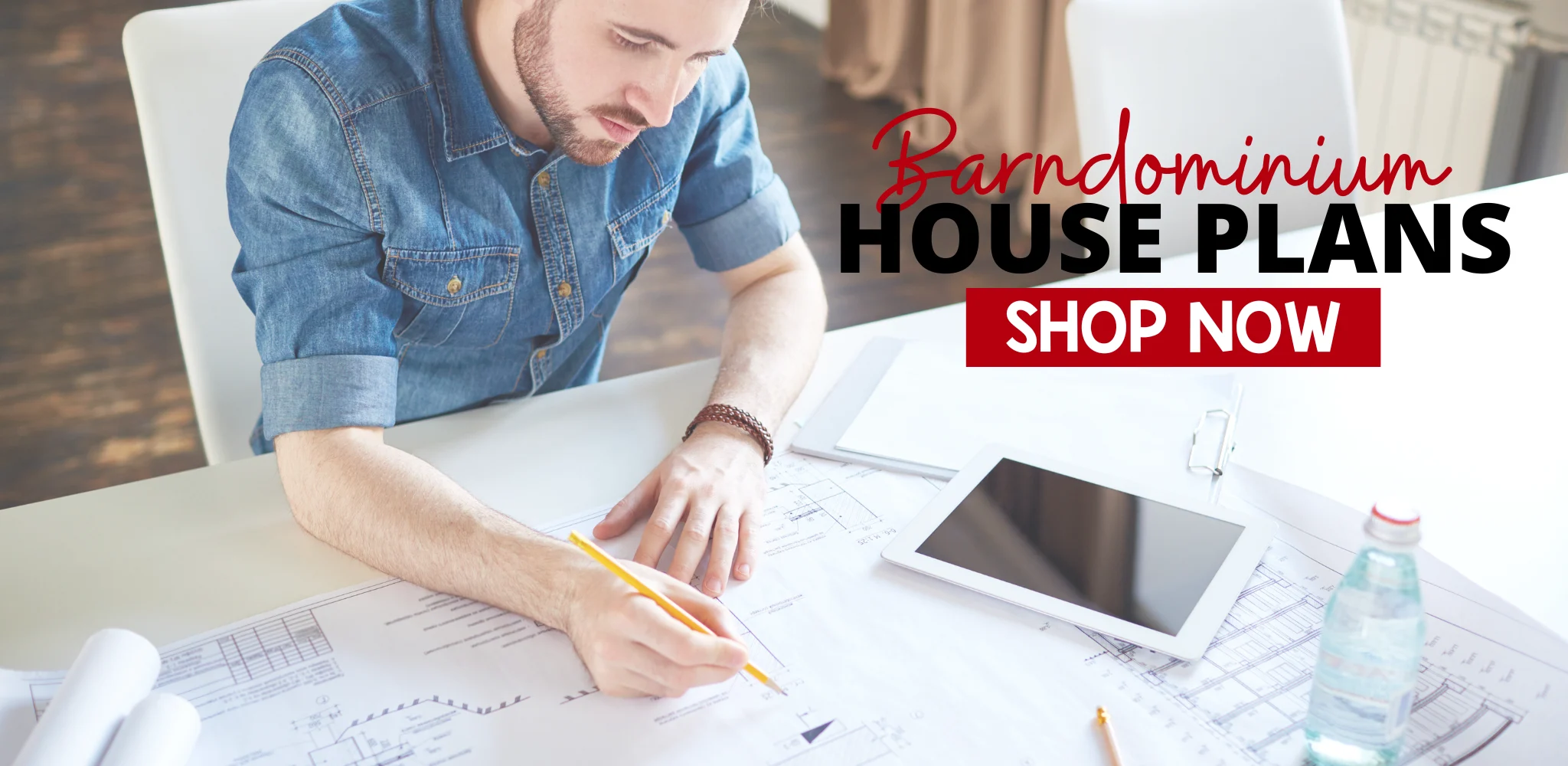 Barndominium Floor Plans with Garage Ideas
Once you've decided where and how large you want your space to be, take a digital walk through these barndominium floor plans with a garage to see if you find any other ideas that might inspire you.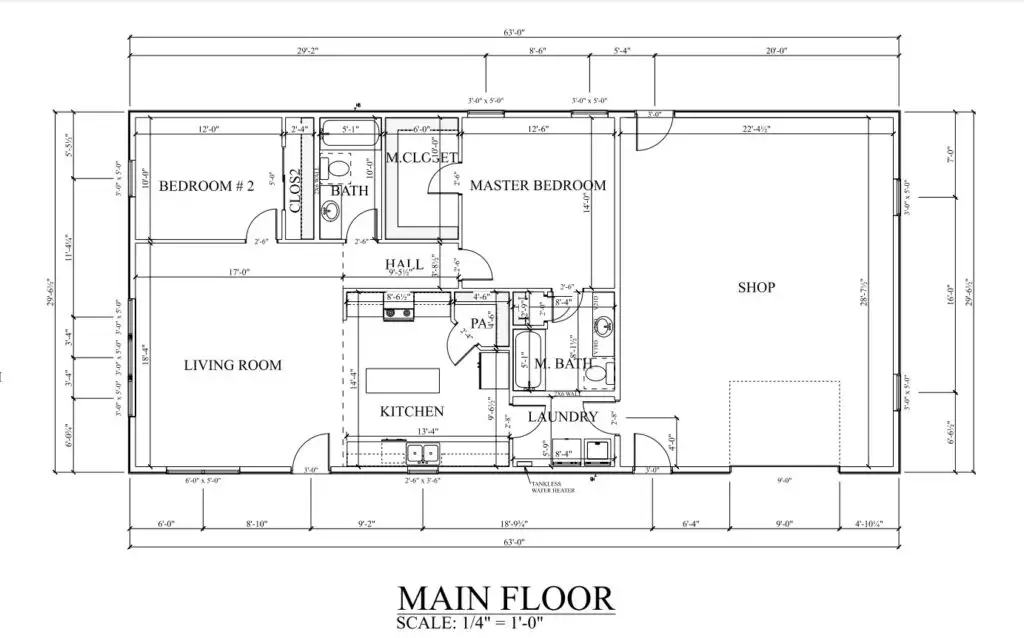 This is a classic work-from-home plan with a big shop area to match. It has all the essentials of a good two-bedroom plan but also the addition of shop space. This means that for those who wish to work from home, this is the best option. It is well-designed to give you living comfort and a good impression when you have guests around.
A brilliant take on accessibility, this blueprint positions the open area in the middle of the home, and in a linear fashion. It allows family members to enter the dwelling from either side – through the porch on the right or via the garage on the left.
You will appreciate the amenities incorporated in various parts of this barndo: The garage includes a utility room and a closet. A half bath is added to the open area. Also, note that an office is available for family members working from home.
Ideal for large families, this residence boasts 4 bedrooms, each with its own bathroom.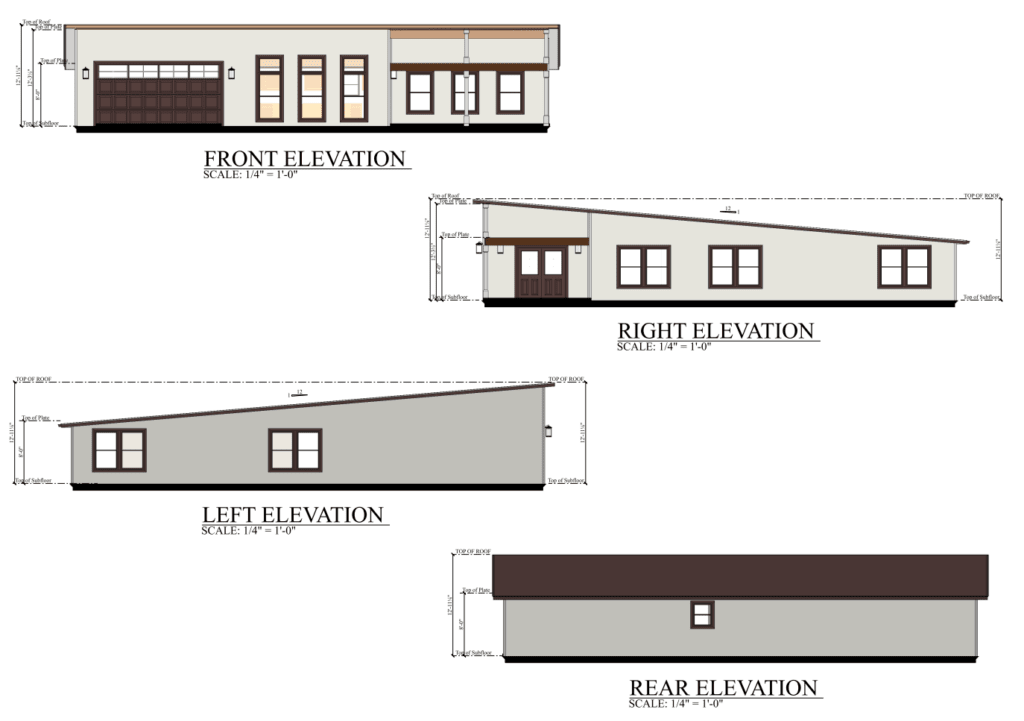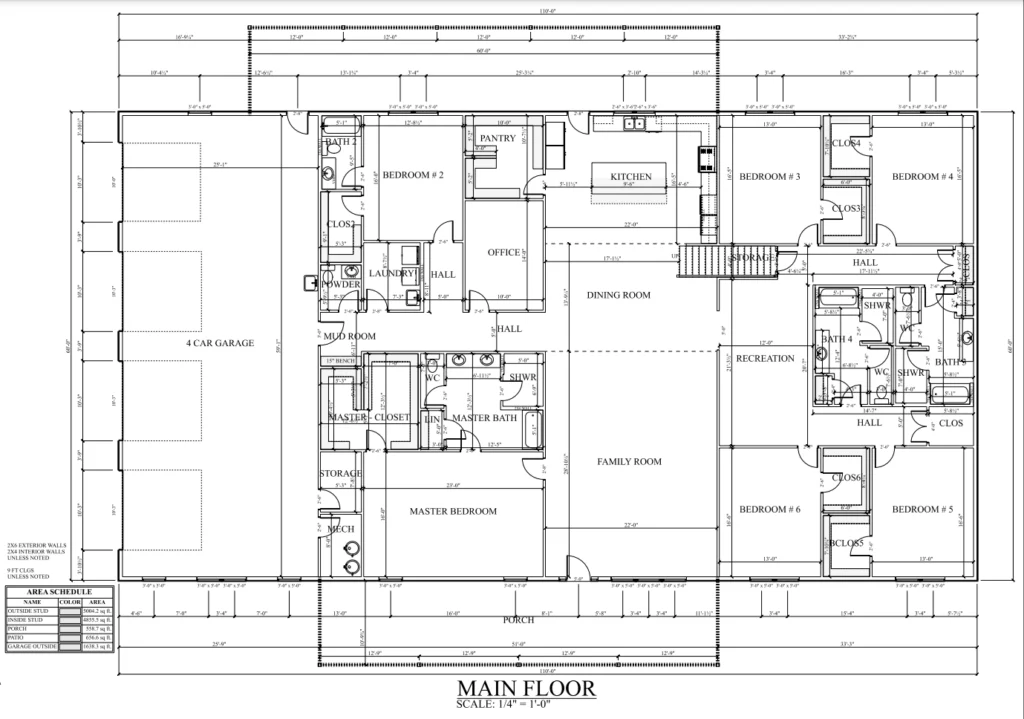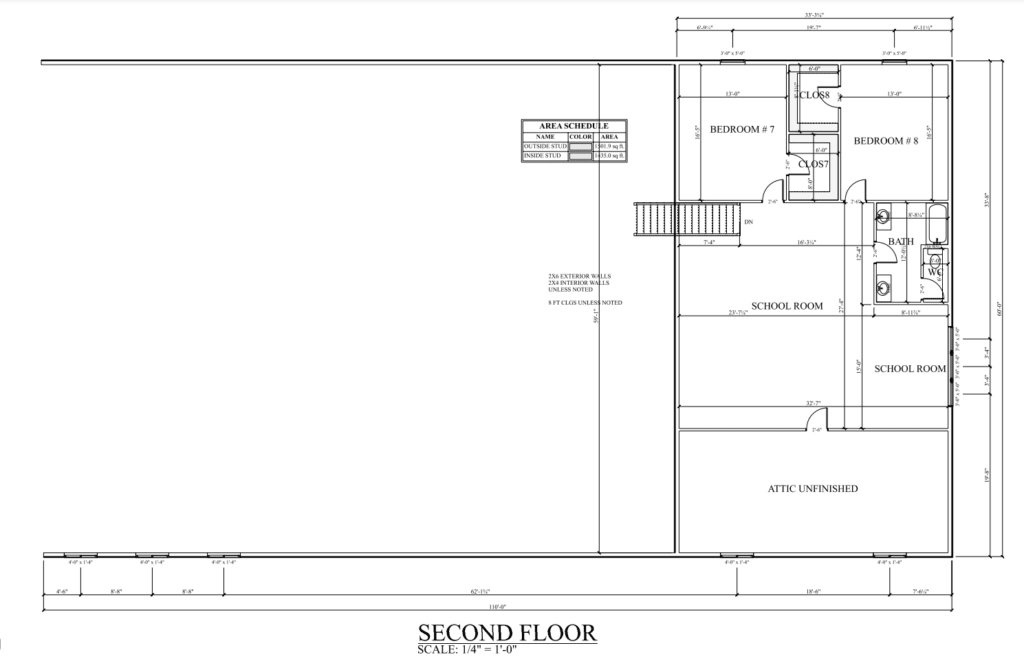 A stunning and spacious property offering 9,361 square feet of living space across two floors. This remarkable home features 8 bedrooms, 5.5 bathrooms, an office space, and a recreation room for relaxation and entertainment. With two school rooms and an unfinished attic for storage, there is plenty of space for educational activities and belongings. The property also includes a 4-car garage and front and back covered porches that provide beautiful views of the surrounding meadow. PL-60707 Meadowview Barndominium combines the charm of a barn with the comfort of a modern home, offering a versatile and inviting living space.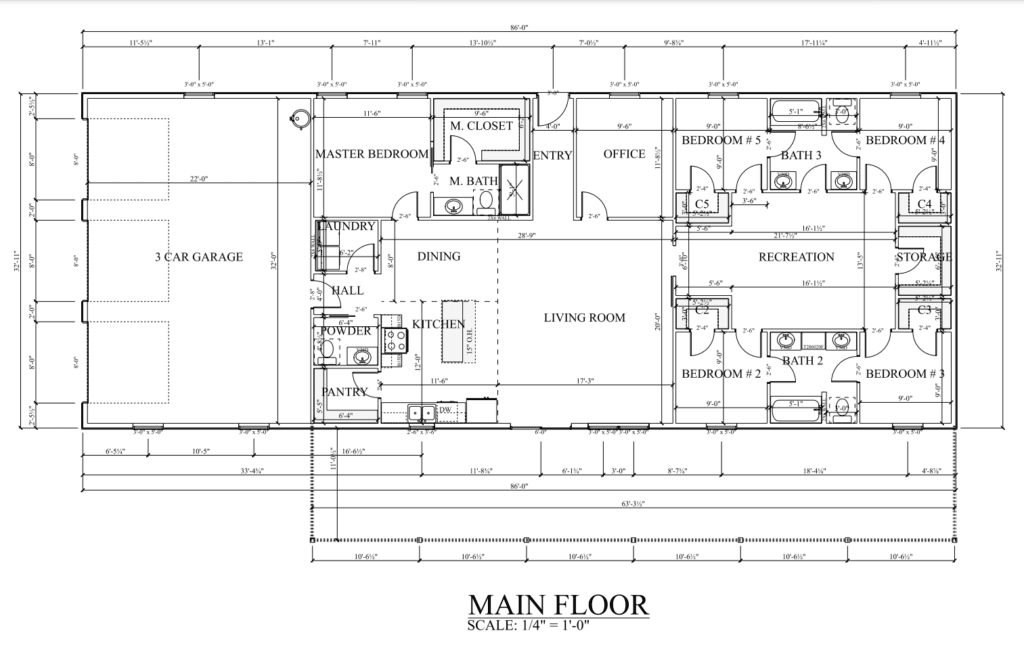 PL-62312 seamlessly blends style, functionality, and comfort, making it an ideal choice for a spacious and well-appointed home. With ample bedrooms, multiple bathrooms, office space, and a three-car garage, this floor plan caters to the diverse needs of modern living while exuding an air of elegance and sophistication.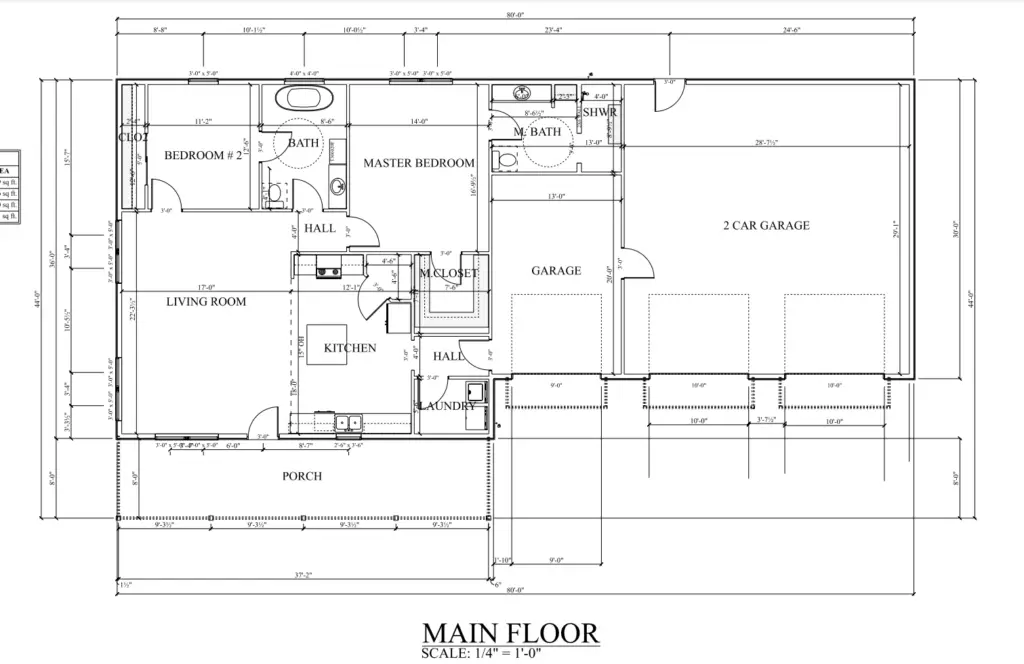 The PL-62510 Jordan Barndominium is a stunning and spacious home with a well-designed layout spanning 2,939 square feet. It features two bedrooms and two bathrooms. The barndominium offers a contemporary design with thoughtful details. The home's seamless flow and smart design make efficient use of every square foot, and the inclusion of a 2-car garage accessible through the kitchen adds practicality. Whether enjoying the front porch or hosting gatherings in the open living space, this floor plan offers a harmonious blend of comfort, convenience, and style, where modern living meets rustic elegance.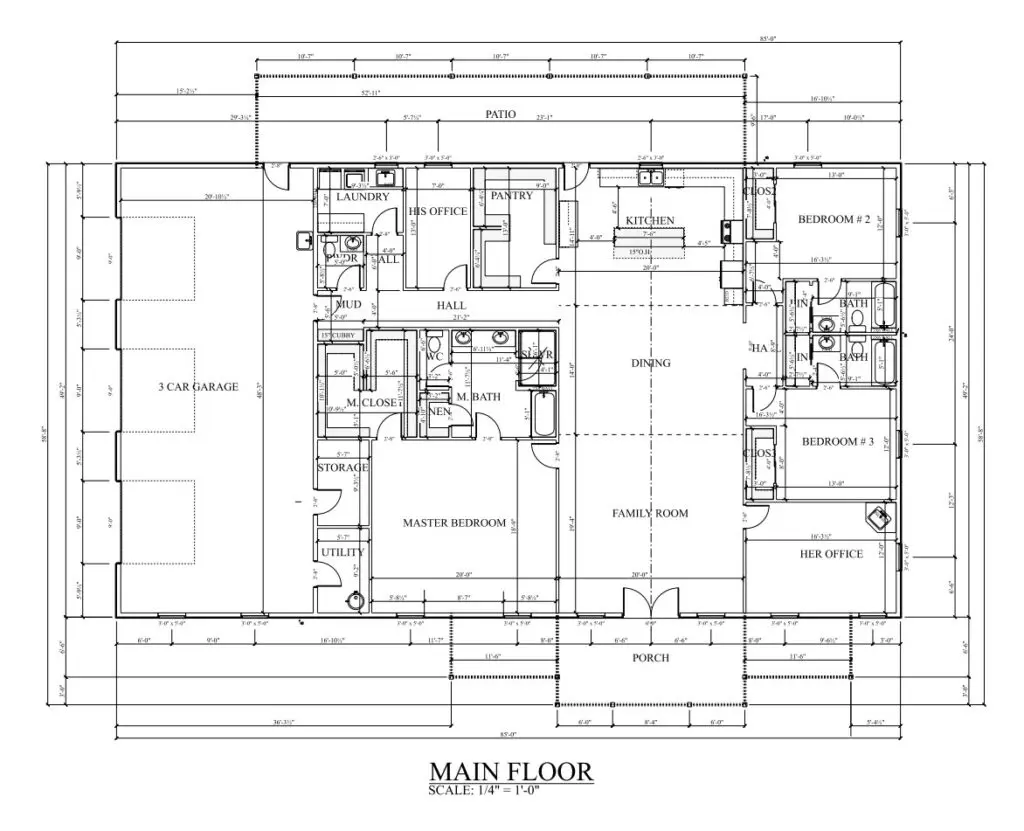 Step into spacious luxury with this exceptional home boasting 3,130 square feet of heated living space. With 3 generously sized bedrooms and 3.1 bathrooms, there's room for everyone to unwind and recharge. The attached 1,049 Sq Ft, 3-car garage adds convenience to your daily routine, complete with a storage room for organized living. The utility room simplifies household tasks, while two separate offices, tailored for him and her, offer comfortable and productive work-from-home solutions. Embrace the perfect blend of elegance and functionality in this remarkable residence.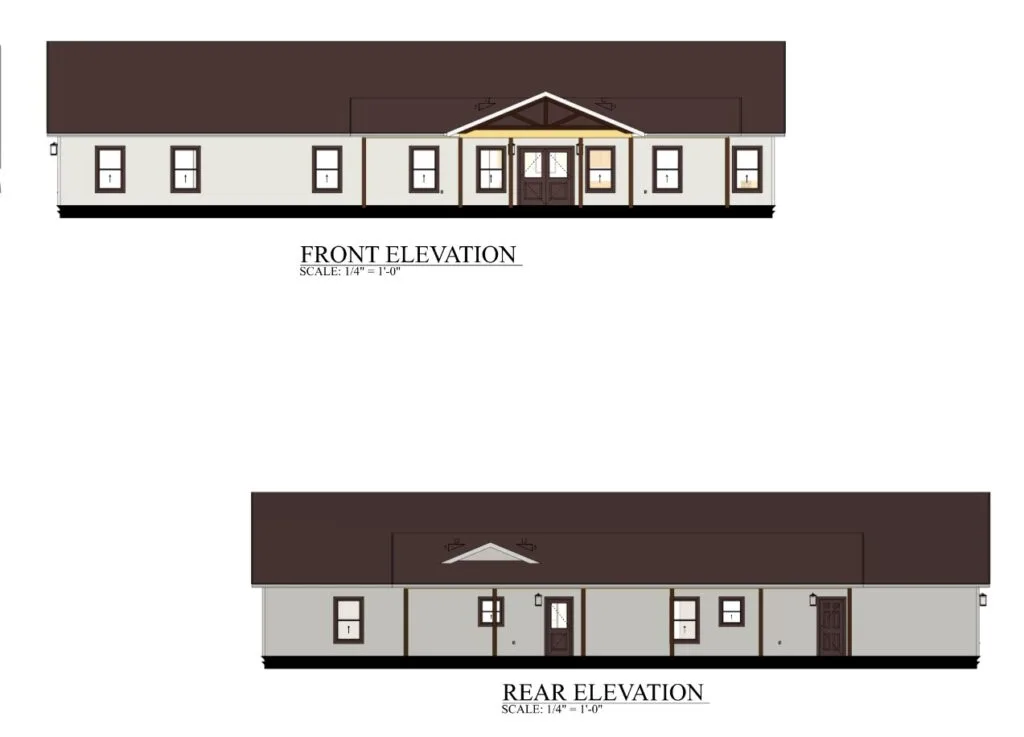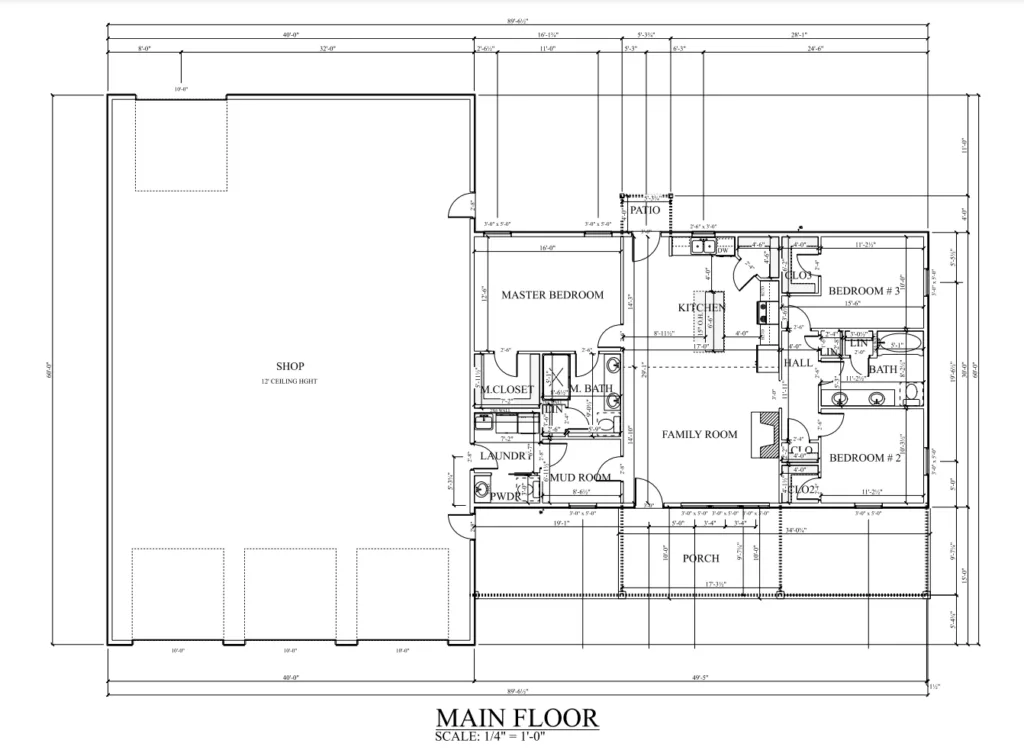 Discover 1500 sq ft of cozy comfort in this single-story home. With three bedrooms, 2.1 bathrooms, and an open concept design, it's the perfect space for your family. Stay organized with a spacious shop, a dedicated laundry room, and a practical mudroom. Cozy up by the fireplace and enjoy a clutter-free entryway.
Embrace the spacious comfort of this single-story residence, offering 2610 heated square feet perfect for family living and entertaining. With four bedrooms, two bathrooms, an office, media room, mudroom, and a convenient 2-car garage, this home provides the ideal blend of functionality and relaxation for modern living.
Step into luxury with this exceptional single-story home boasting 3,072 heated square feet of exquisite living space. With four spacious bedrooms, four luxurious bathrooms, a dedicated craft room, a versatile office, and a convenient shop, this residence offers the perfect blend of style, functionality, and comfort. Embrace the epitome of modern living with this thoughtfully designed property, where every detail is crafted to elevate your lifestyle.
With open space for the living room, dining room, and kitchen, this barndo breathes a welcoming and homey atmosphere. Ideal for a large family, it offers a master bedroom and bathroom as well as 4 other bedrooms, one of which can be the designated guest room. An equally large shop is built to the right side of the house and is accessible from the inside through the laundry area, and from the outside via a separate door.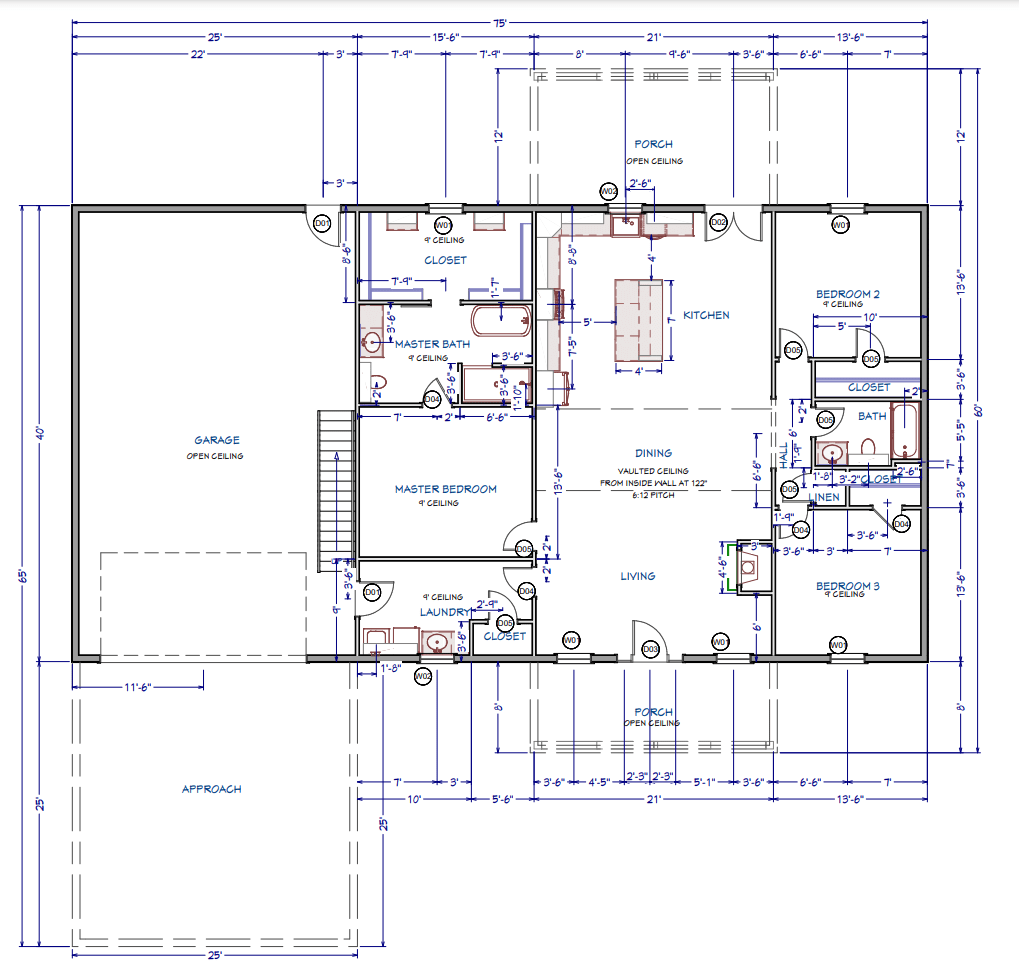 The open living room, dining, and kitchen area is great for hosting guests. A lovely fireplace warms the living room in winter. Chefs will love the kitchen and the huge island is ideal for cooking or eating with family and friends. Bedrooms have ample closet space. The new bathrooms are elegant. The front and back porches are ideal for outdoor relaxation. A garage provides room for parking and storing outdoor goods.
Discover the perfect blend of comfort and style in this charming 1-story home spanning 2,110 heated square feet. Boasting 3 bedrooms and 2 bathrooms, this residence invites you into a seamless open-concept living space. A generously sized wraparound porch welcomes you to enjoy the outdoors, creating a delightful space to relax and unwind. Complete with an attached 875-square-foot garage, this home is a testament to modern living with a touch of classic charm.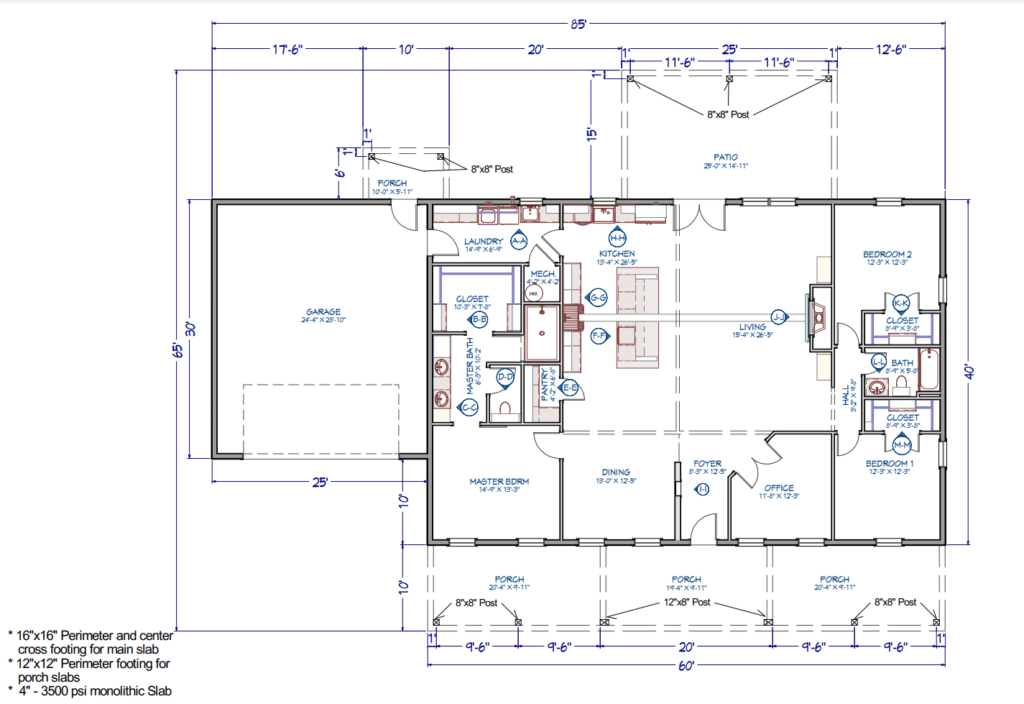 This beautiful home boasts 2400 sq ft of living space and a 750 sq ft garage. You'll find a spacious master bedroom with a bath and walk-in closet. Two other bedrooms share a well-appointed bathroom. You'll also have plenty of room to work from home in the dedicated office space. As you enter the house, a welcoming foyer leads into an open-concept living room with a cozy fireplace. The adjacent kitchen is a chef's dream, with plenty of counter space and storage.
Outside, you can relax on the front porch or entertain guests on the back patio. This stunning barndominium is perfect for those who love country living with all the modern amenities.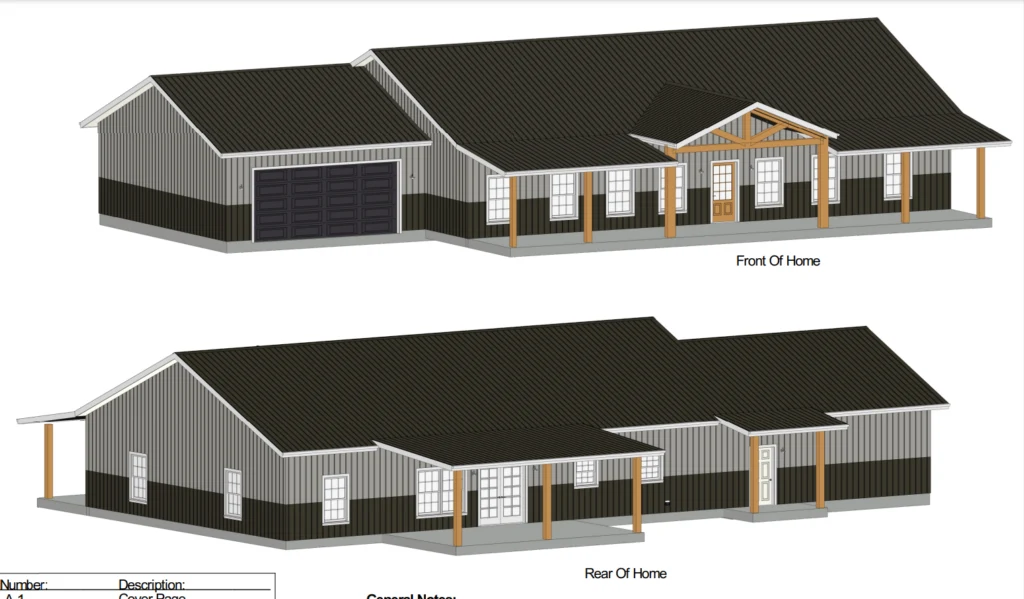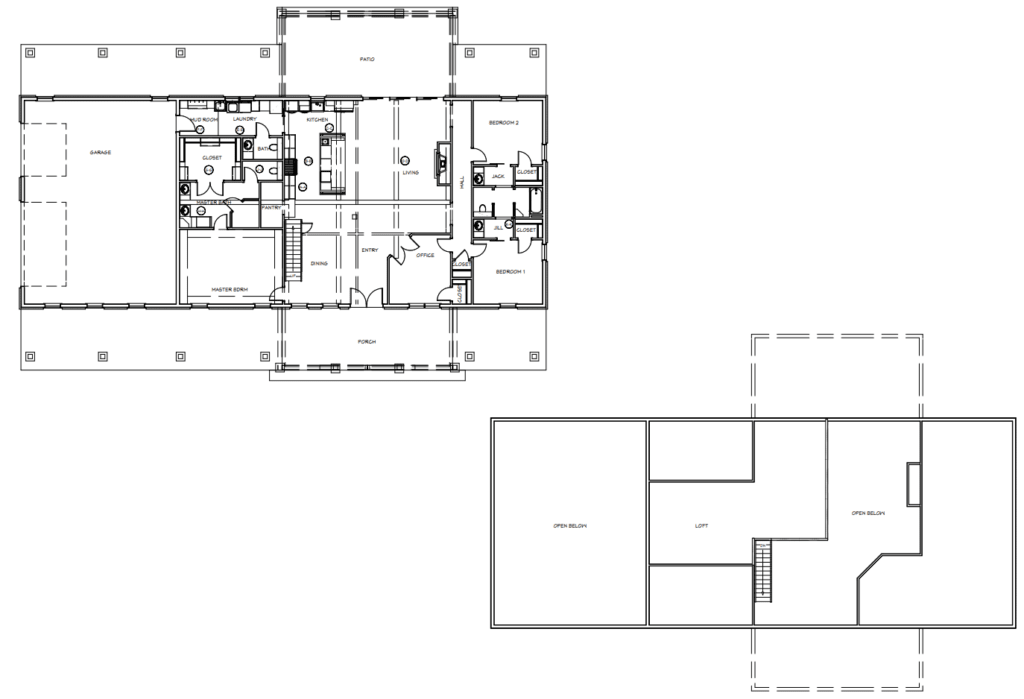 A spacious home with 2800 Sq ft with 3 bedrooms and 2.5 baths. It features a private space for working at home with one of the rooms intended for an office, a jack-and-jill bathroom, and a 2-door garage. Long stretches of front and back porches allow more space for relaxation, whichever view you prefer. Lots of storage spaces including the loft which can also be converted into a guest space, etc.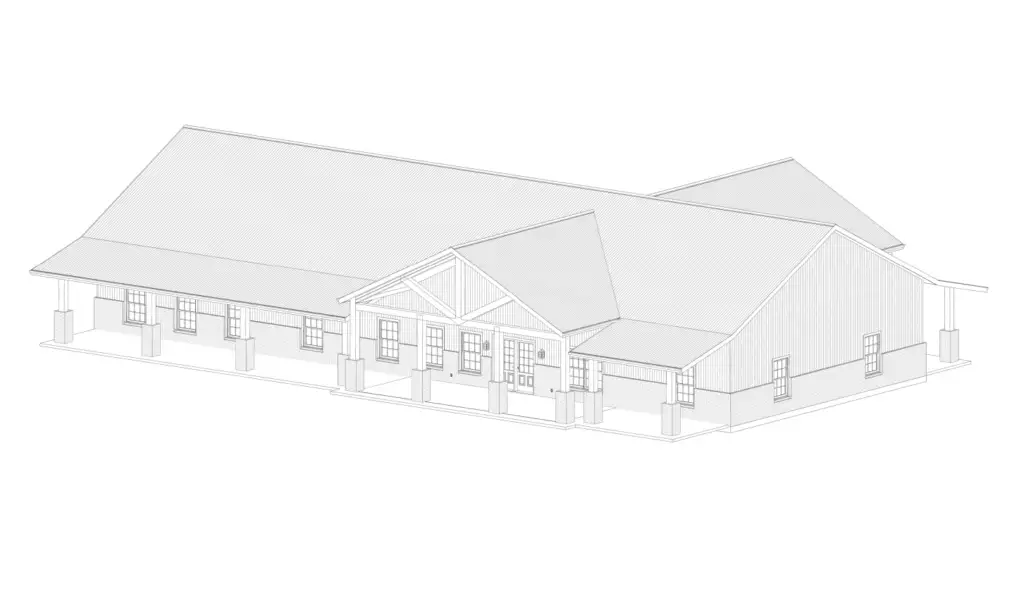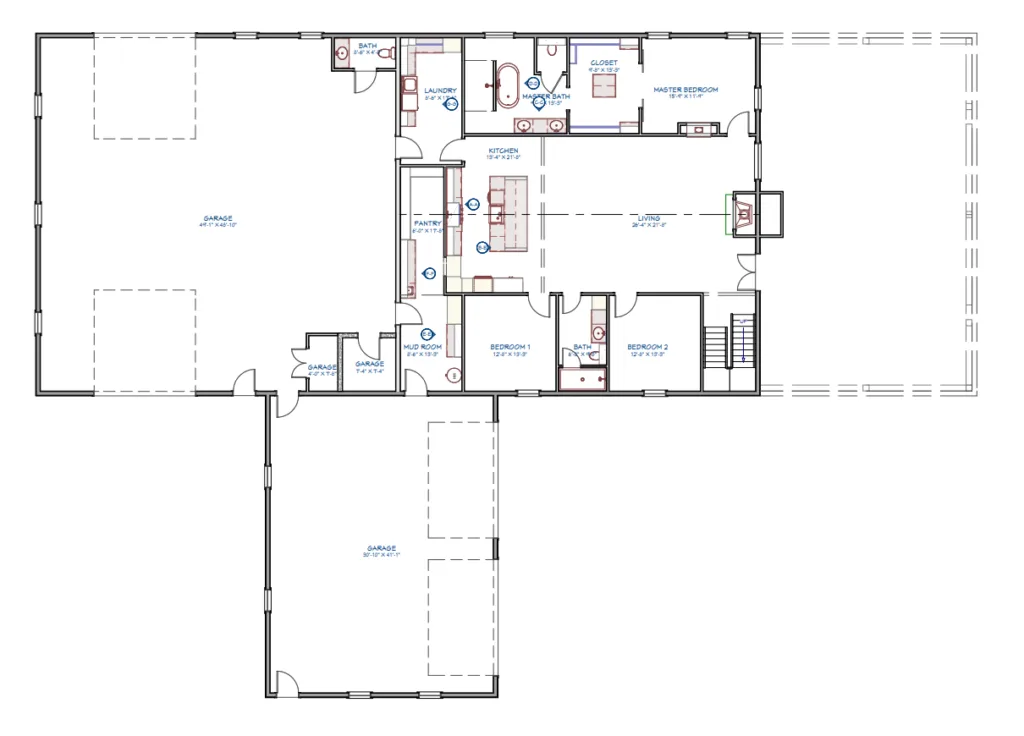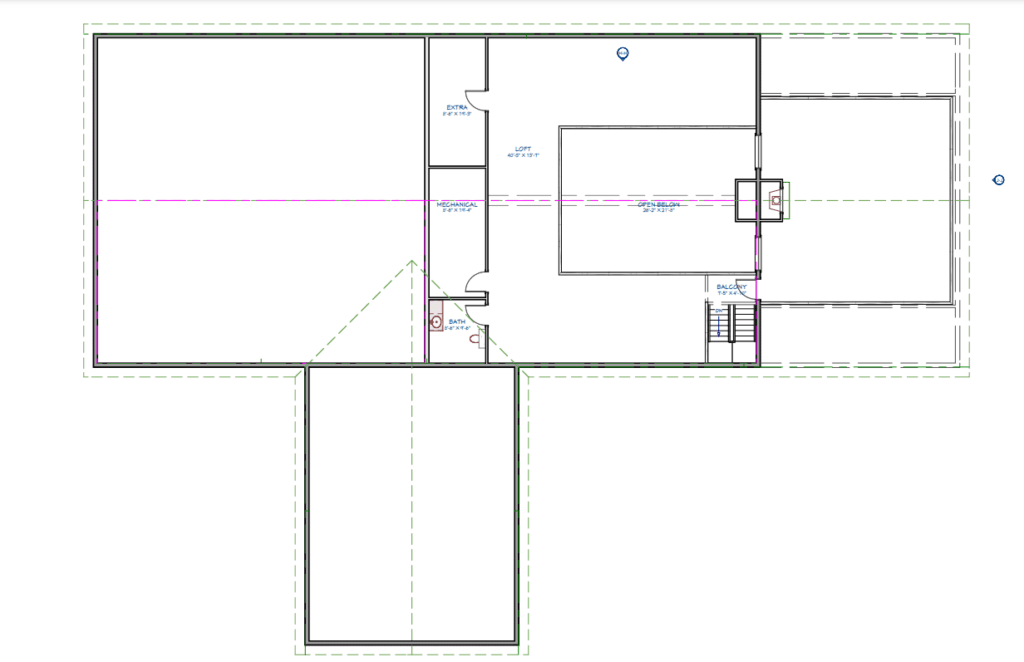 This 3 bedroom barndo is perfect for a family who loves the outdoors. It has 2 garages for storing off-road vehicles; the other garage can also be a shop and storage for other outdoor gear. The spacious balcony is a great space for holding gatherings or relaxation.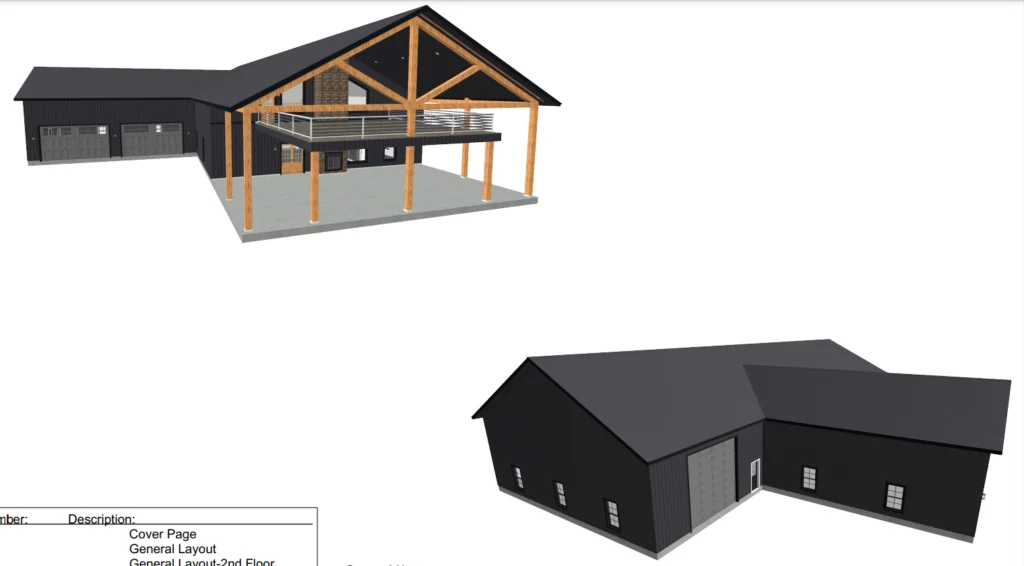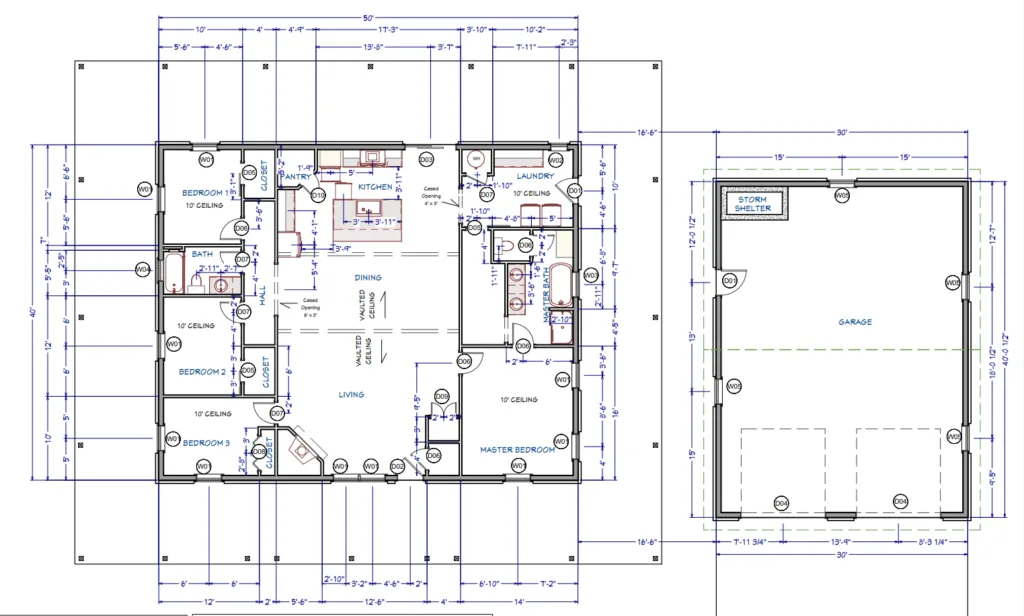 This 40×50 barndominium has 4 bedrooms and 2 bathrooms, wraparound porch. The 10″ vaulted ceiling and open-concept living area with a fireplace up to the kitchen area create an airy atmosphere. Each bedroom has its own closet. A huge detached 2-door garage is built a few steps from the living area.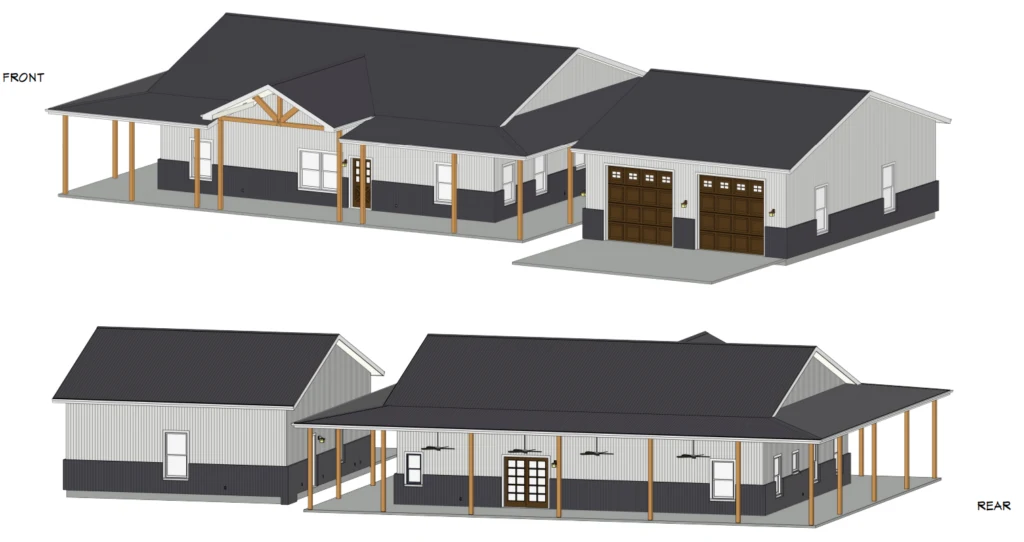 A 3-bedroom, 2000 sq ft barndo with a massive garage is just the perfect plan for a family that loves lots of space. The huge master bedroom is on one side of the barndo with a spacious bathroom and walk-in closet. Opposite are the 2 other bedrooms also both boasting ample space. The stretch of open living and kitchen space gives a lot of room to move around freely. The garage is also great not only for holding your vehicles but for extra storage as well.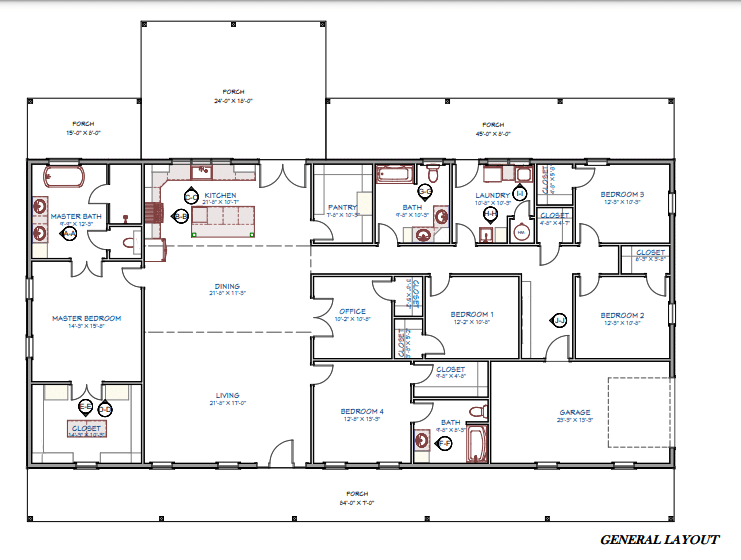 This barndominium with garage is perfect for a big family, or those who love to have guests over. It also has a room for an office, which can be converted to a playroom or craft room, whichever suits your family's needs. An open-space living room and the kitchen is spacious enough for a gathering indoors. A small garage is attached and the huge master bedroom is opposite.
What's great about this home is the 1440 sq. ft. massive garage, perfect for families with multiple vehicles. It has lots of space surrounding the home with front and back porches, and the concrete garage apron is also spacious enough to temporarily park your vehicles. Unlike other open-space concepts, the space here combines the living and kitchen areas while the dining area is separated in the corner. Another great thing about this is that the master walk-in closet connects the master bedroom and the laundry area.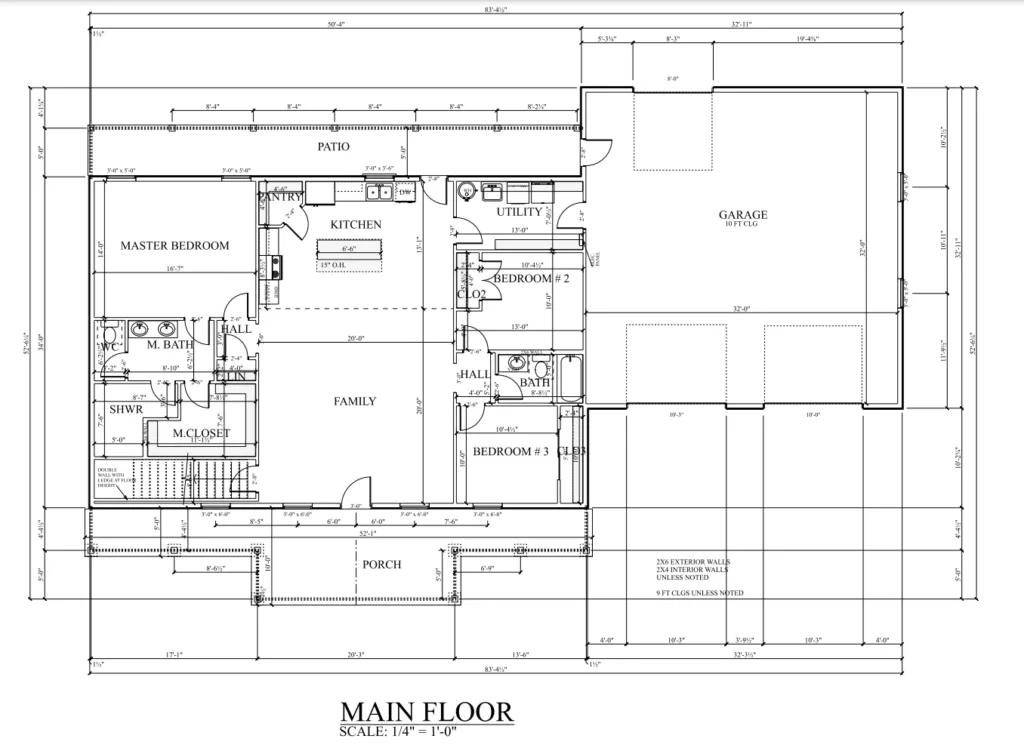 Equipped with a two-car garage on one side, this barndominium would have plenty of room for a parking pad for your vehicles if you'd prefer to use the space as a workshop instead. More storage space in the basement. Easy access to the utility room and a dedicated dog washing area would make this perfect for hunters and hikers who love to take their 4-legged friends with them into the outdoors.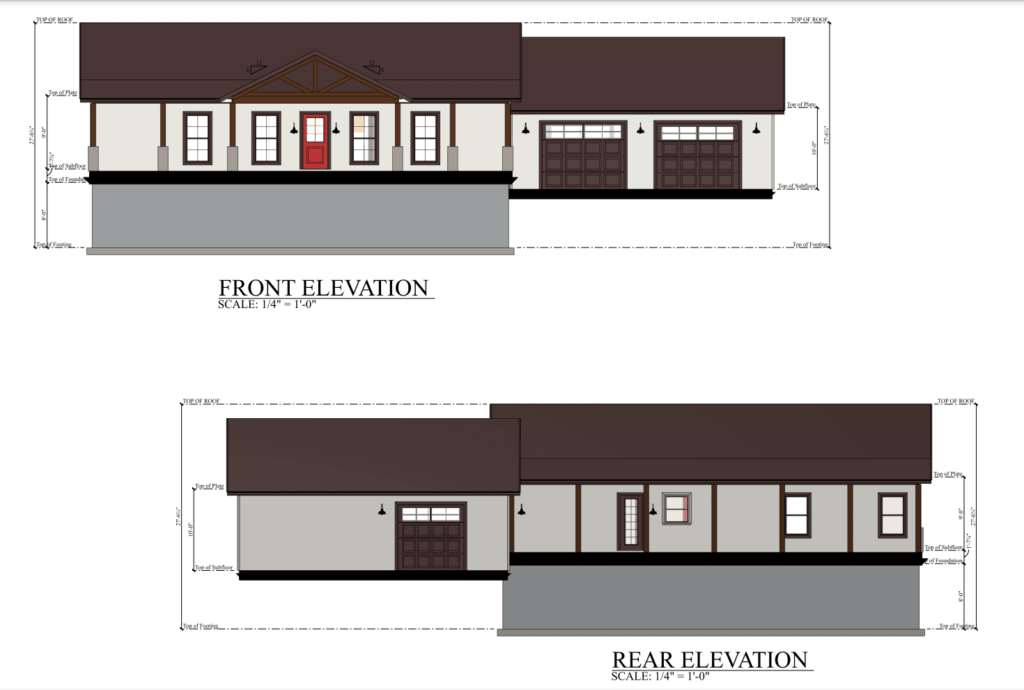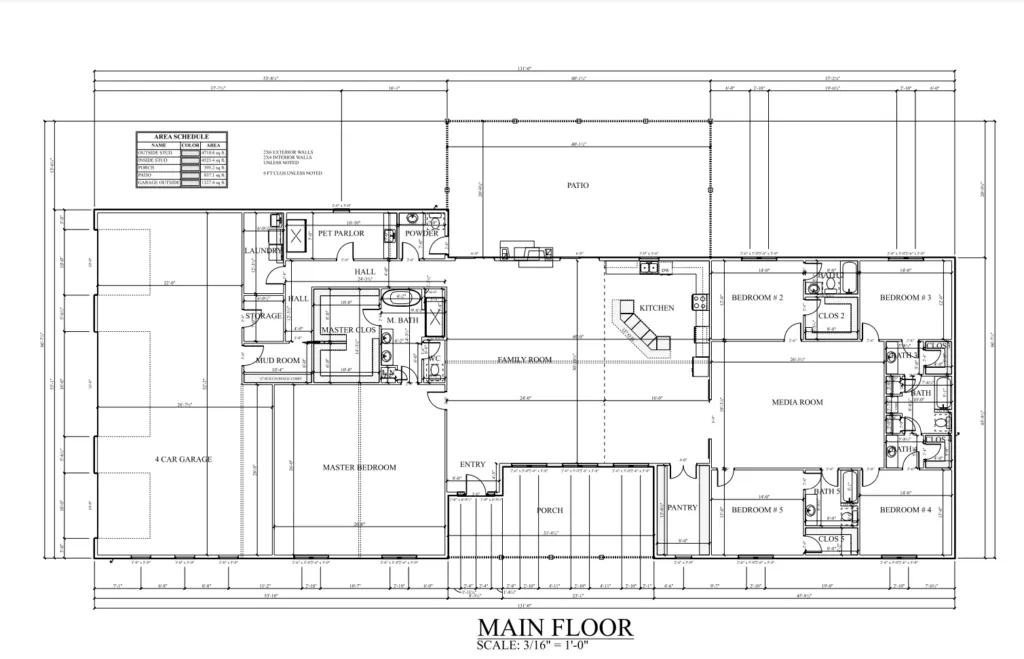 We love this layout that separates the master bedroom from the other bedrooms for privacy. The kid's bedrooms are centered around a large playroom, giving them the perfect spot to let their imaginations run wild as they play. Outside, a huge porch overlooks a playground area, which will be a great spot for them to spend time outdoors and burn off some energy in the process!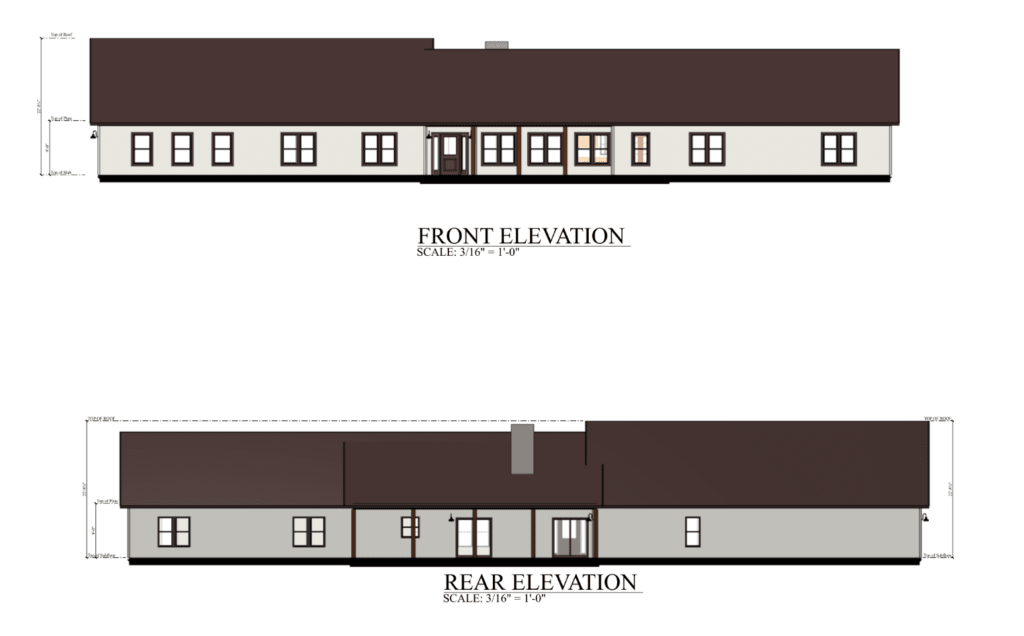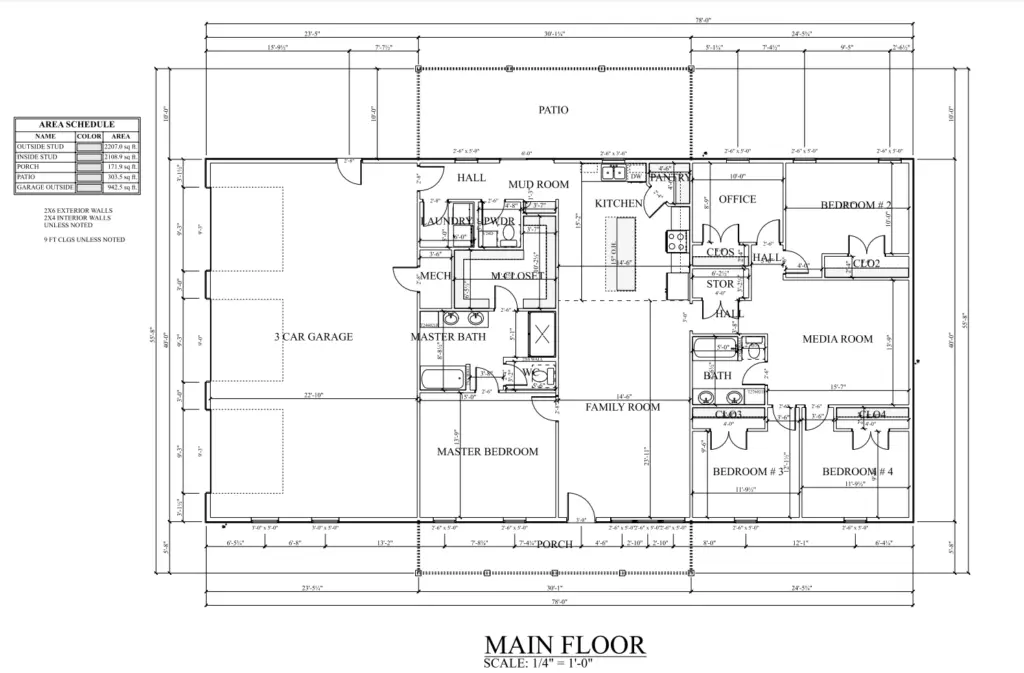 This spacious floor plan features four bedrooms and two and a half bathrooms, with an open-concept design that encourages seamless living and entertaining. The master bedroom is located on one side of the house for ultimate privacy. In contrast, the three remaining bedrooms and an office surround a media room on the other side. The three-car garage provides ample storage space and the front and back porches offer a charming outdoor living area. This home is perfect for families who love entertaining and have plenty of room to spread out.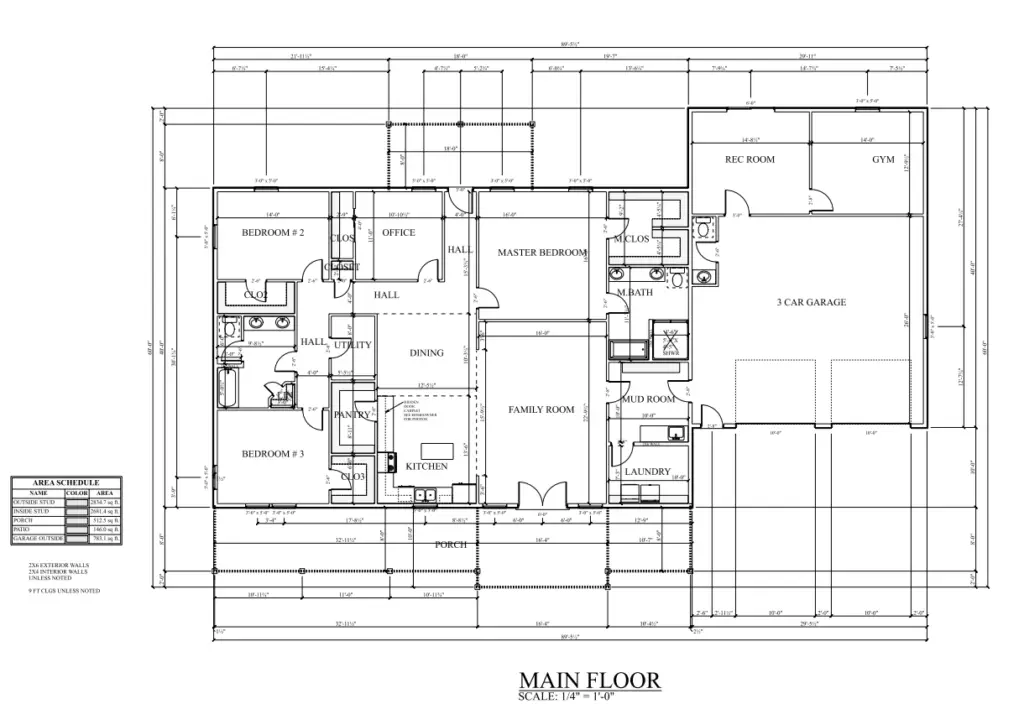 This beautiful house has a large floor area of 4,277 square feet, with three bedrooms and two bathrooms. The house also has a room for people who need to work from home and a large family room. The house also has a room for people who need to work from home and a large family room that's great for having guests over or spending time with family. This Barndominium house plan also has a three-car garage, a leisure room, and a gym. This beautiful house is finished off with a warm front porch, which is the perfect place to unwind after a long day.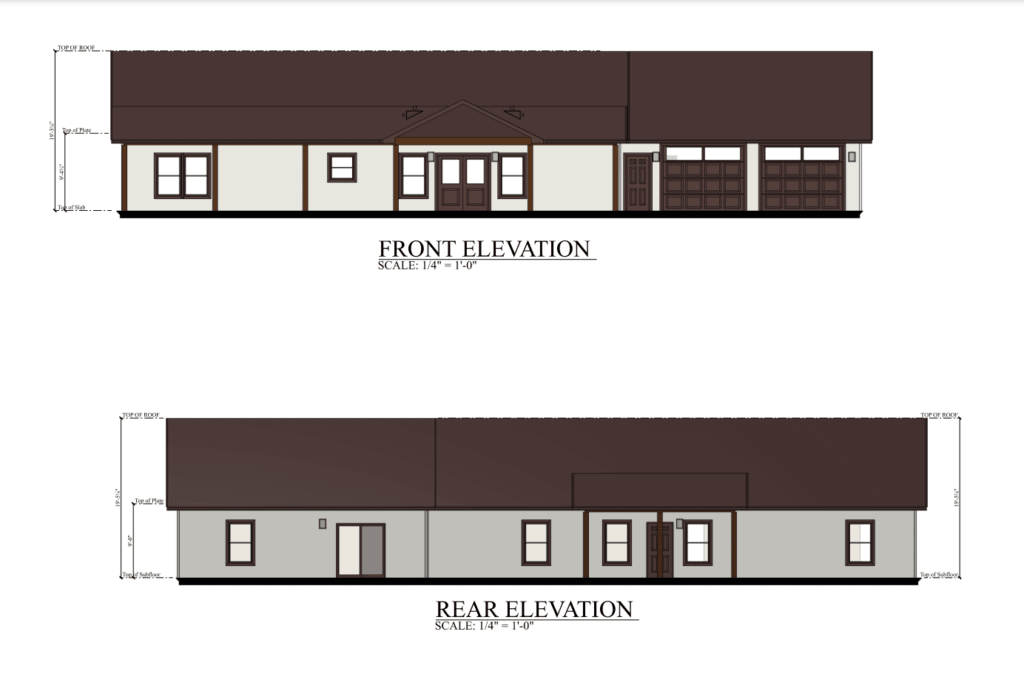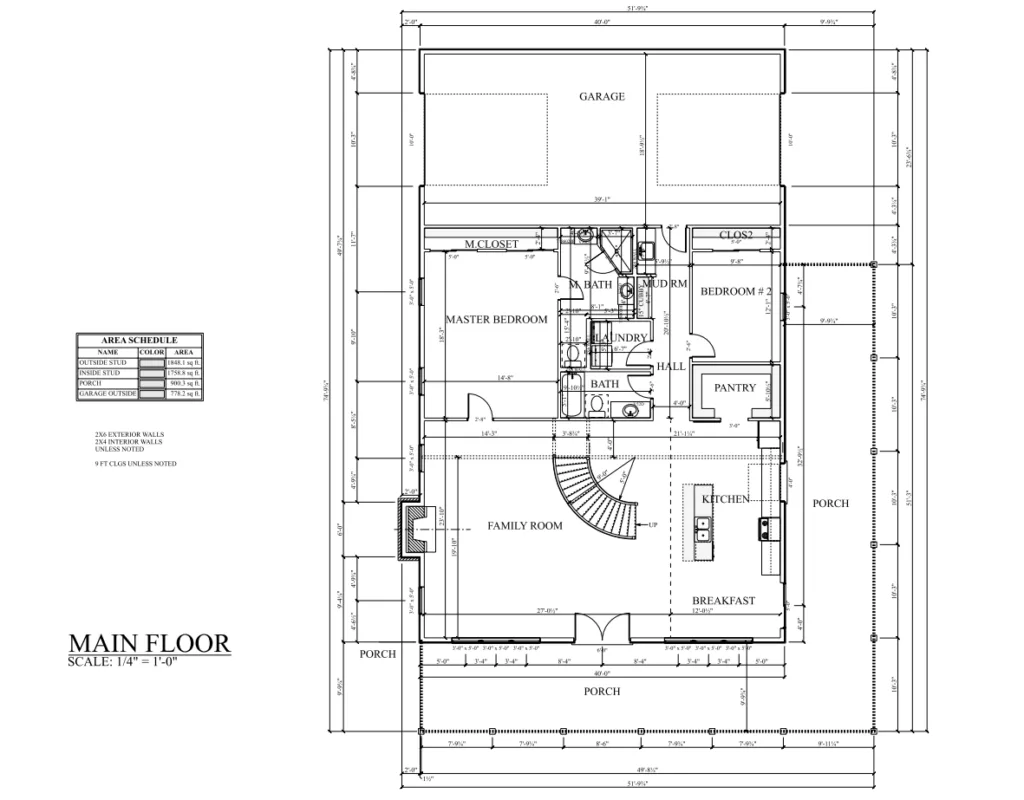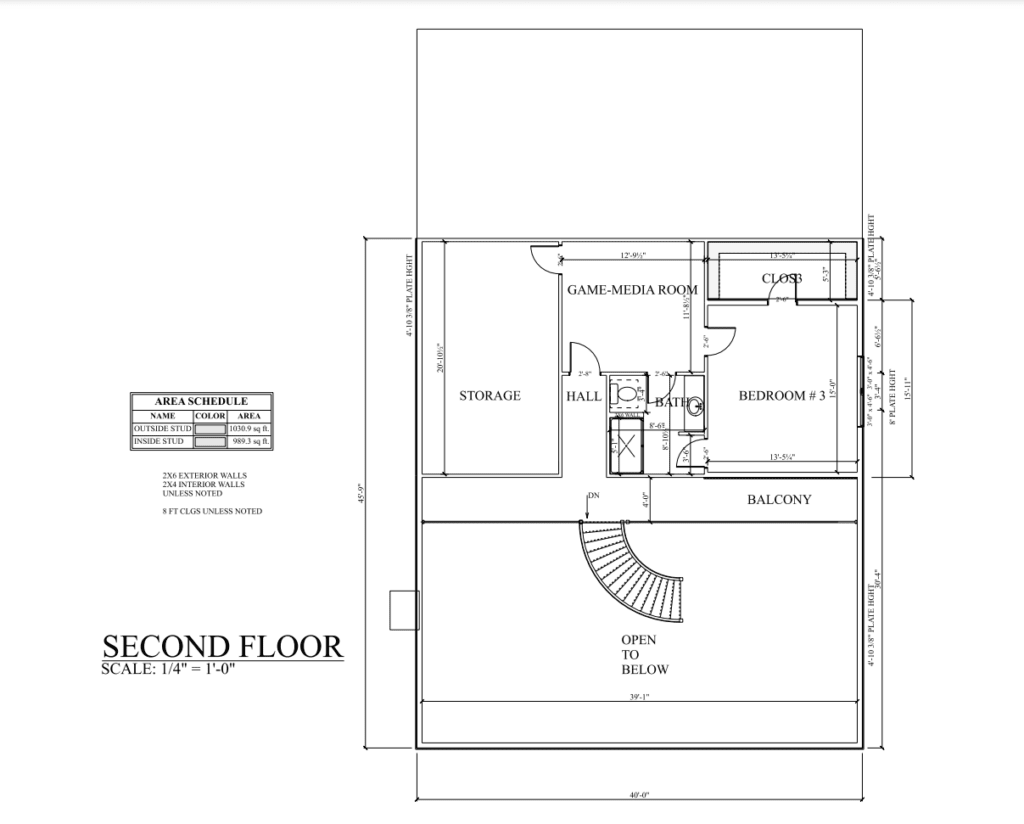 This stunning 2-story property offers 4,557 square feet of living space. The spacious family room with a fireplace is the heart of the home. The garage provides ample space for parking and storage. From the front porch extending to the sides, you can enjoy the beautiful scenery and relax in the fresh air.
The first floor features a master bedroom with its own bath and closet and a second bedroom with a closet, shared bath, laundry room, and mud room. On the second floor, a loft-style design includes another bedroom, a game room, a bathroom, and a huge storage room. This versatile space can be used for anything from a home office to a playroom for the kids.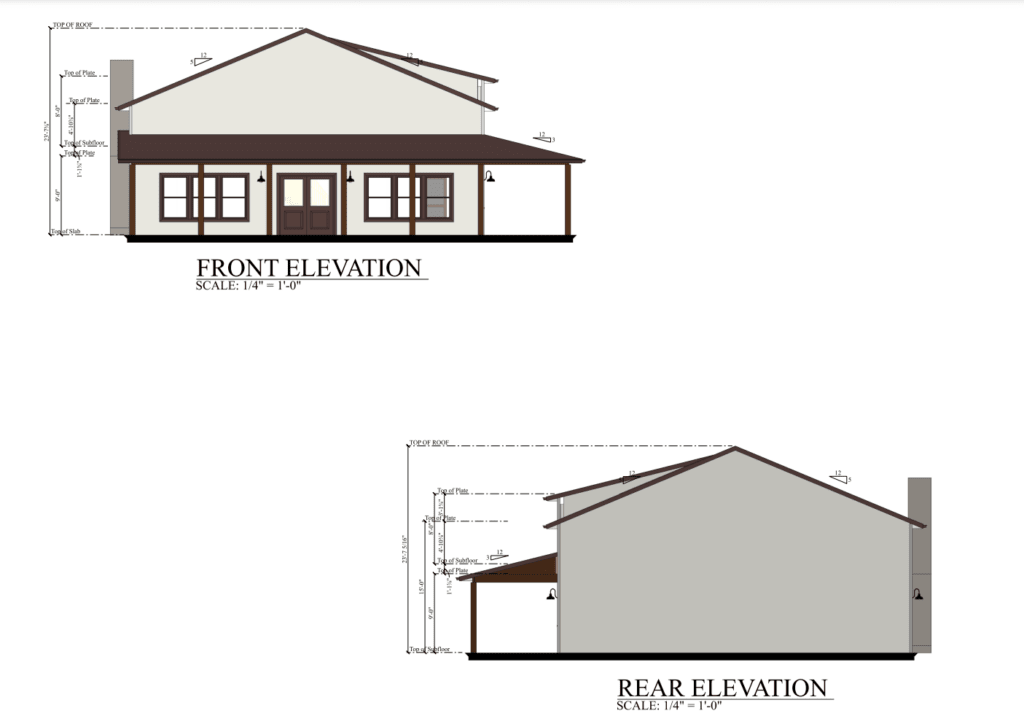 This layout is perfect for households that have a lot of stuff to store or want a separate area to use as a hobby room. Keep in mind that this garage is located quite far away from the kitchen though, so it might make for some long treks when hauling in groceries!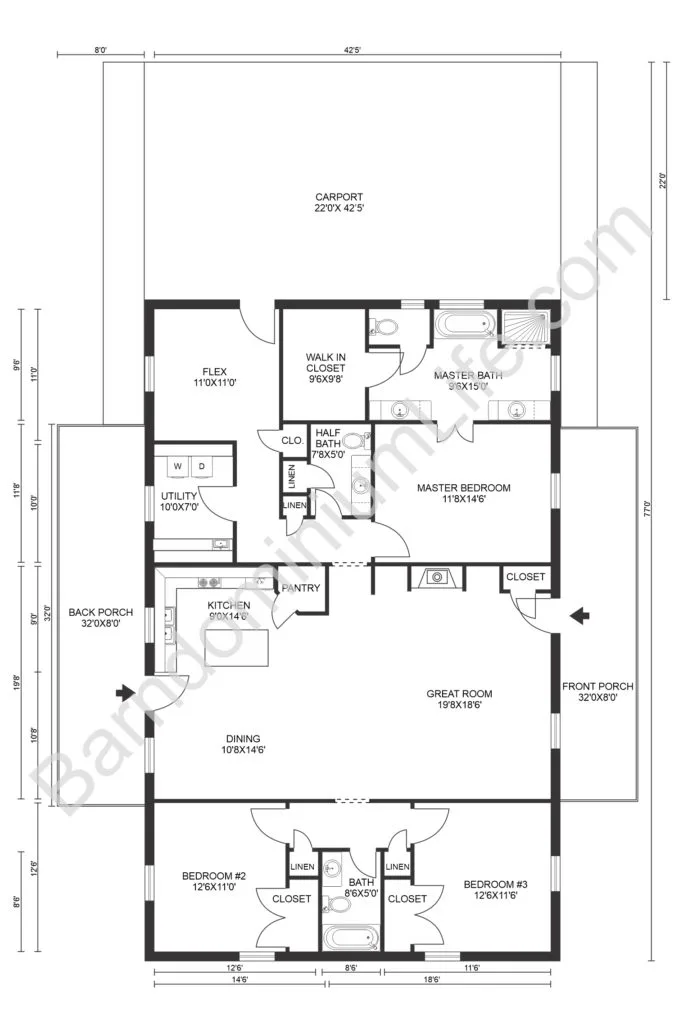 This 42-foot wide space is marked as a carport, but could easily be enclosed as a garage if preferred.
With an 11'X11′ room located at the entrance that could be used for extra storage, plus a nearby half bath and laundry room, this would make a great workshop for those with hobbies that tend to get a little messy.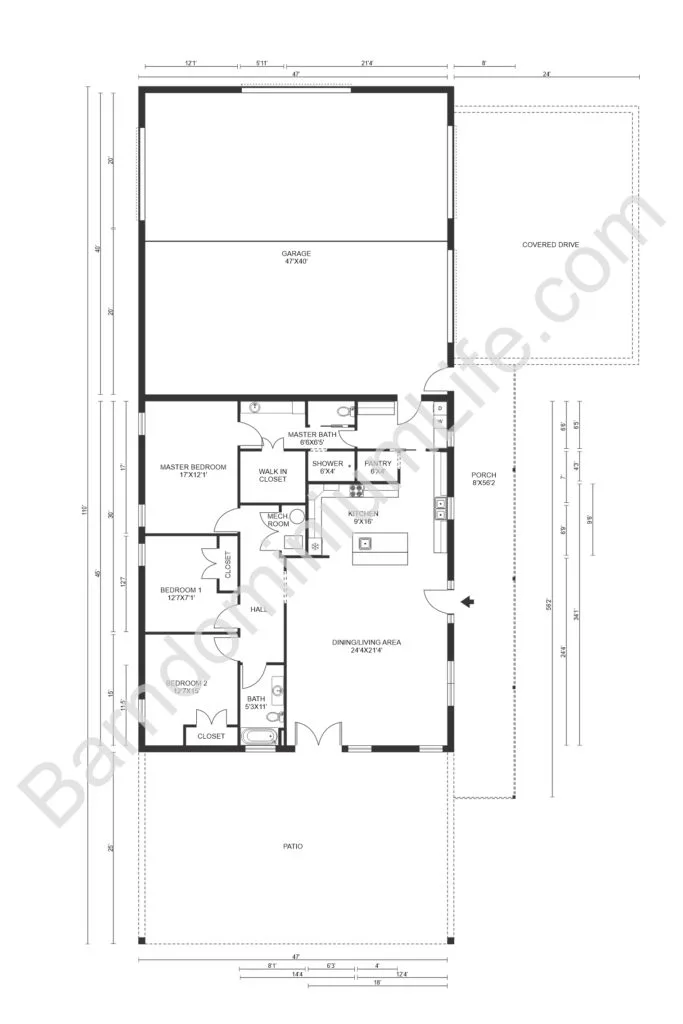 This huge garage has multiple entrances as well as a large area with covered parking, letting you use the space as an extension of your home while your vehicles are still protected outside. This garage is definitely large enough to divide up between workshop and storage space, giving you the best of both worlds in your dream barndominium.
The garage in this barndominium is located right around the corner from the kitchen, meaning you won't have to go far when you arrive home with lots to carry inside.
It's also located just steps away from a convenient bathroom and office, making it a good option if you have a home-based business where you might need both a workshop and a spot for your computer.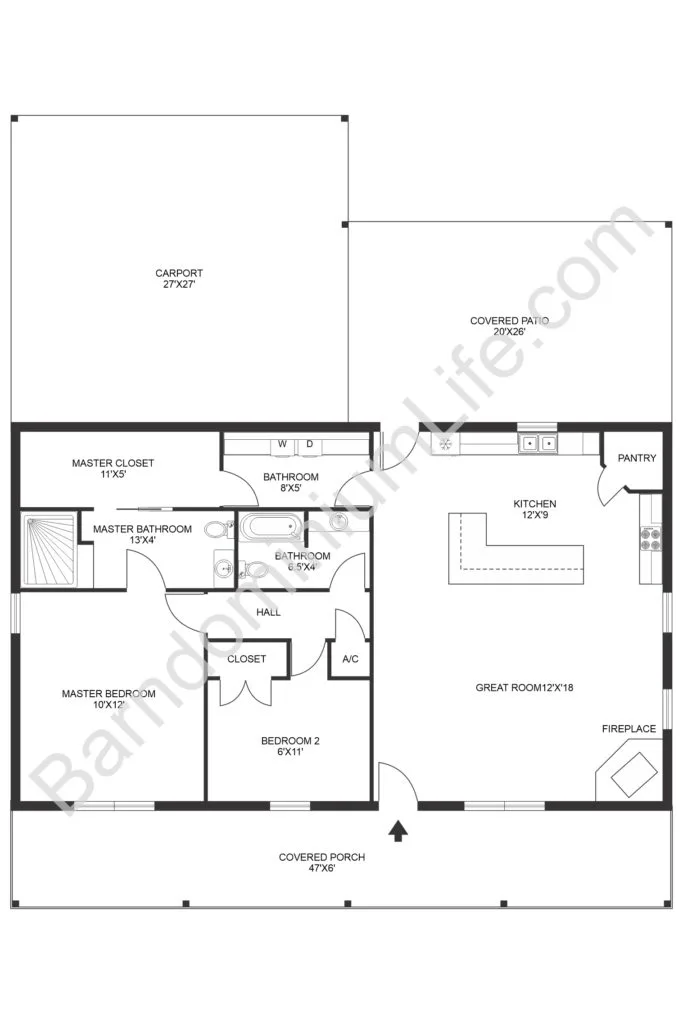 We're crazy about this barndo with two huge covered patios that you'll be able to enjoy with your family! Although it's on the smaller side with only two bedrooms, it's got an amazing master suite and a large carport that will give you ample room for parking or exploring all your hobbies.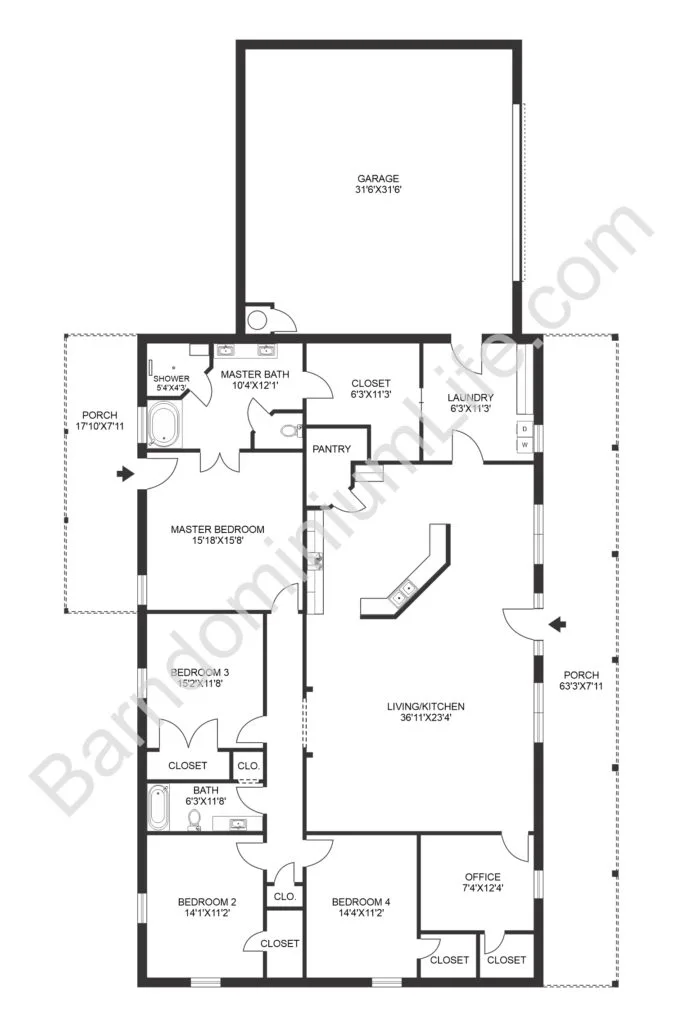 Consider this four-bedroom layout instead if you're looking for a barndominium with a little more room. The garage has plenty of space for all your needs, plus it's conveniently located next to the laundry and kitchen area for ease of use.
The ultimate in luxurious garage spaces, this massive 40'x35′ garage has its own dedicated full bath and access to the mudroom. This would make a great space for any workshop, and it could even be decked out as the perfect spot for entertaining with the right features! Space behind the garage could be converted into a parking pad to ensure there's a spot for all of your vehicular needs.
Design Your Own Barndominium Floor Plans
We know that you'll need to do a lot of work and information along the way as you plan out your perfect barndominium. That's why we've created a program that will help you with everything you need to get started. The Barndominium Life Program will take you through the building process step-by-step, giving you the peace of mind to know that you're going to end up with a home you'll love.
Conclusion
Although you may be certain that your dream barndo includes a large garage, be sure to take into consideration all of these other factors when crafting your floor plan so that you'll create a space that works for all of your needs.
Our site provides plenty of helpful posts and creative ideas that will ensure you end up with the barndominium you've always wanted. Be sure to subscribe to our email list so that you're alerted to our new posts, and click the link above to buy our e-book so that you'll have a valuable resource you can turn to during your barndo building process.
If you would like more guides like this one, check out the rest of BarndominiumLife.com. There, you will find more helpful tips and tricks from the pros. You will also find featured barndominiums, barndominium floor plans, and information on financing and insurance. Knowing as much as you can will help you get the best results for your dream home.