Mudrooms, sometimes known as boot rooms, are a staple of many rural homes. If you're planning to build a barndominium out in the country, or you just happen to have a particularly outdoorsy lifestyle, you may have decided that a barndominium mudroom will be a key feature for your build.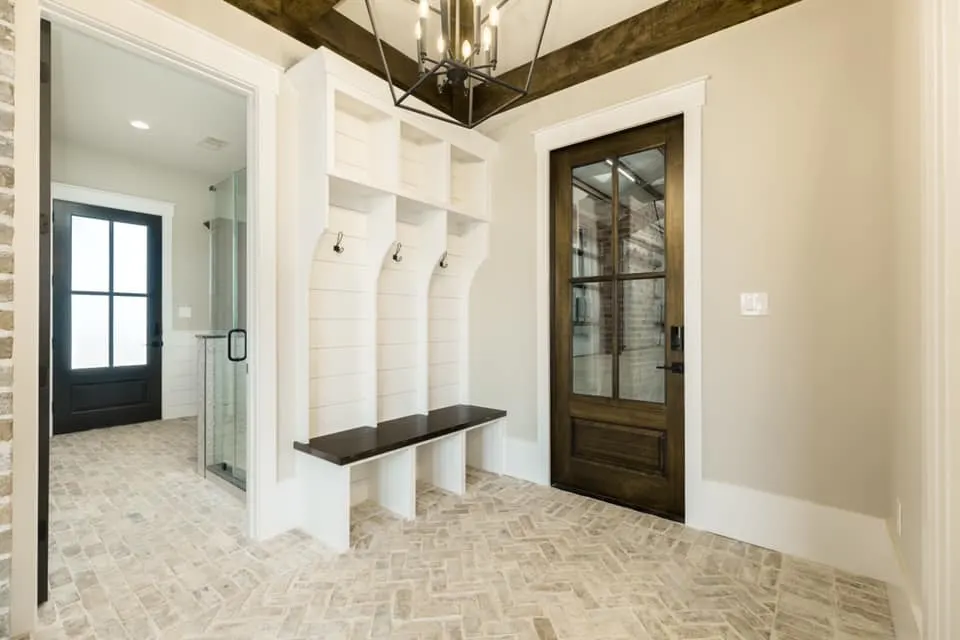 Though it may seem like a pretty rudimentary part of a home, mudrooms, like kitchens, have a broad range of design options, and require a careful balance of both aesthetics and functionality.
In today's post, we'll take a closer look at the design conventions around mudrooms, and some of our favorite mudrooms seen in our featured barndominiums, to help you find the inspiration you need to plan a mudroom that's perfect for your build. Let's jump right in!
How to Build Your Own Barndominium & 200+ Floor Plans
Get started today with our program "Barndominiums Made Easy: How to Build Your Own Barndominium" and get 200+ barndominium floor plans included!
What is a Mudroom?
A mudroom is a simple, secondary entranceway, usually at the side or rear of a home, and intended as a dedicated space for taking off muddy boots, shoes and clothing, and anything else that might have got dirty while you were outside!
In many cases, it can also double as a utility or storage room, and a home for appliances like the washer and dryer, tools that don't get a lot of use, etc.
Advantages of Mudrooms in Barndominiums
Though mudrooms aren't for everyone, for many barndo builders they can provide a number of great, utilitarian advantages for your home. Here are some of the key reasons why you might want to build a mudroom as part of your barndo:
Enhanced Storage and Organization
It's an unfortunately common occurrence for people to buy or build a property based around their immediate, current needs, only to find out later that they've underestimated the amenities they need to live there comfortably.
If you know, for example, that your household may be growing in the near future, or that your barndominium may be used as a vacation home for large groups, then having a mudroom could provide some much-needed extra storage space that will keep the rest of the home open and uncrowded, and your experience that much more pleasant!
Make a Home for Clutter and Dirt
If you have a fairly rural, 'outdoorsy' lifestyle, you'll already know it's a struggle to keep the outside outside, and prevent the activities that make country living so great from messing up your comfortable interiors. With a mudroom as part of your barndominium, you'll have a designated home for dirty clothes and equipment, as well as any miscellaneous clutter you don't want knocking around the home.
They're Highly Versatile
One of the great things about mudrooms is that there's no real hard and fast rules about their design. That means there's an abundance of ways you can customize yours to suit the way you and your family are going to use it.
When you come to plan out your mudroom, consider every different aspect; shelving, flooring, plumbing, the laundry appliances, etc, and how this is going to fit in with your lifestyle.
After a little research and brainstorming, you might be pleasantly surprised at the creative methods you can use to adapt your mudroom to your unique needs.
How to Build Your Own Barndominium & 200+ Floor Plans
Get started today with our program "Barndominiums Made Easy: How to Build Your Own Barndominium" and get 200+ barndominium floor plans included!
Barndominium Mudroom Ideas
To help you get a little more inspired as you plan out the vision of your barndominium, here are some of our favorite barndominium mudrooms from past featured homes, and the features about them we love so much.
This barndo mudroom has done a great job of doing a lot with a little space!
Though the space itself appears relatively narrow and confined, the ample use of fine, polished wood, both on the bench and the paneled cabinets opposite, fills the room with a timeless sense of warmth that helps the whole place breathe, and counteracts any feelings of confinement.
The white door and light colored paint on the walls also creates a tasteful contrast against the darker wood, and fills the mudroom with light, making it feel that much more spacious.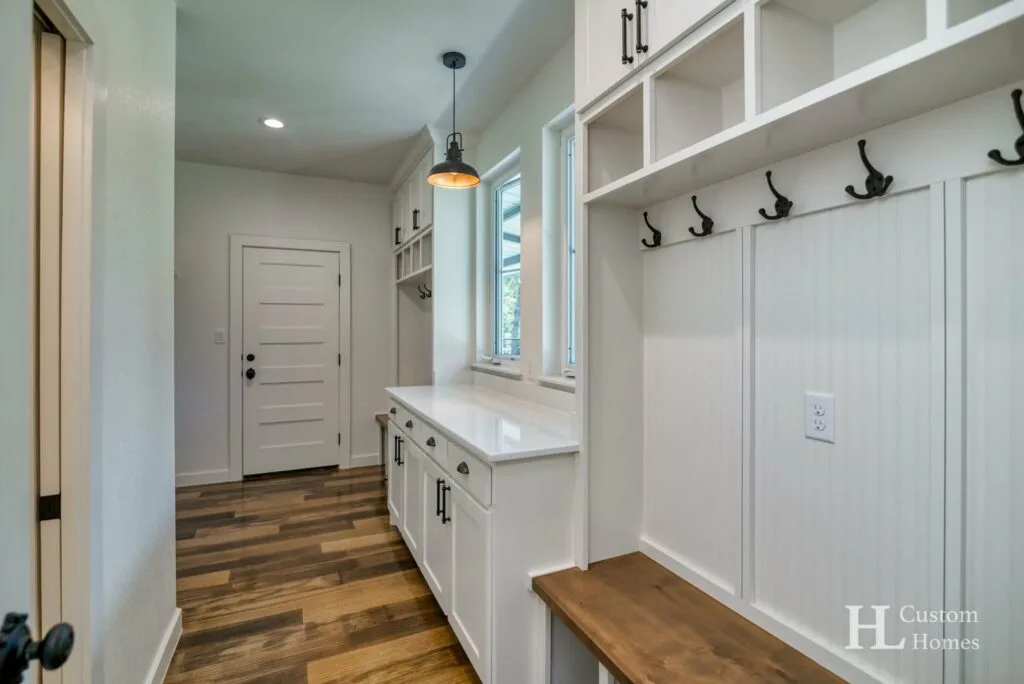 Here's a barndo mudroom that's done a great job of marrying modern space and functionality with a timeless, rural charm.
The wall equipped with a bench, coathooks, and shelf space is full of classic design conventions, which are reflected in a row of drawers and cabinets just to the side of it.
This same wall, as well as the one opposite, has a number of handy power outlets and utility faucets, bringing some great modern conveniences into an otherwise classic space.
This room is bright, open, and airy, with ample room for the functional elements and a beautiful combination of mint green cabinetry and natural wood worktops that make the space distinctly classic.
To top it off, a small but sturdy bench has been placed just beneath a timeless georgian window, which allows a lovely view of the pastoral land outside when you're putting your boots on or kicking them off.
Barndominium Floorplans with Mudrooms
Simple and universal, this floorplan keeps the mud room out of the way of the living spaces, but still keeps it easily accessible for when you want to go outside from anywhere in the house. We also like how there's a straight passage of access down the hallway along one wall to the laundry room, making it easier to run dirty clothes from one end to the other when you're putting a load in.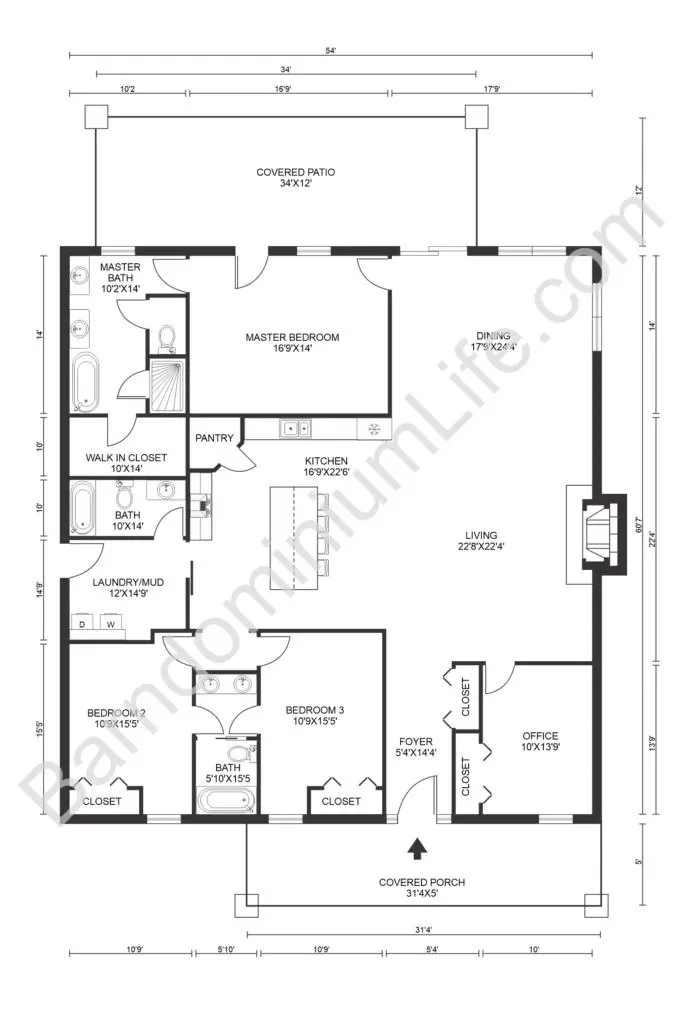 We love how the position of this mudroom allows an easy flow of traffic from the front of the home to the back, while still keeping the mudroom and utilities far back from the cozier, more 'livable' elements of the home.
The floor plan's open concept allows a straight route to the mudroom from the living area, kitchen, and dining room, while the mudroom itself is equipped with a washer and dryer, and has direct access to a full bathroom.
We always love to see floorplans that do a lot with a relatively small space, and this one has done a great job of just that! The mud / laundry room is tucked away in a corner, leaving plenty of space for a huge dining and great room, as well as two bedrooms and an office. We also love how the position of it allows you to come straight from the mud room, through the kitchen, and into the family area to re-join whoever you said bye to earlier!
Wrapping Up…
We hope this overview of barndominium mudrooms has given you better inspiration and direction as you plan how your mudroom will fit into your barndo build.
If you would like more guides like this one, check out the rest of BarndominiumLife.com. There, you will find more helpful tips and tricks from the pros. You will also find featured barndominiums, barndominium floor plans, and information on financing and insurance. Knowing as much as you can will help you get the best results for your dream home.
Like this Post? Sign up for our email list!
Be the first to see new posts about the best barndominiums, construction guides, floor plans, and more! Enter your information below to become a BarndominiumLife VIP.
Gail currently spends her free time geeking out about what's new and trending in the world of barndominiums.
She is the former executive editor of BarndominiumLife.com and loves working with the team and members of the barndominium community. She now contributes to the blog on occasion, but only when she feels like it!