Does a barndominium fit your lifestyle? If you're planning to build your dream barndominium, this white barndominium in Crafton Texas will inspire you!
The Crafton Texas White Barndominium Exterior
Living in this white barndominium feels like living in paradise. The exterior is a display of simplicity. White walls, gray roofs, and neutral-colored brick wainscot may be overly simple to some, but perfect to us. Yet, the greens that pop out from the grass and trees keep everything balanced. The beauty of nature- lush green grasses and dense woodland are striking colors against the blue and white clouds and certainly a sight to behold. The home itself is a humble portrait of beauty- so serene and looking very homey, with its colors not drawing too much attention to itself.
Tall trees that tower around the beautiful home provide a much-needed shade against the heat and cooler air during the night. Porch barriers are customed to keep fur babies roaming around but not wandering far from home.
When you sometimes think that your dream home is impossible to build, this barndo will make you think otherwise. It has 4 bedrooms, 2 full bathrooms, a laundry room, a spacious garage, and a spare room for furry pets. That's practically all your family needs conveniently under one roof. Plus, a couple of steps away from the home is a small shed.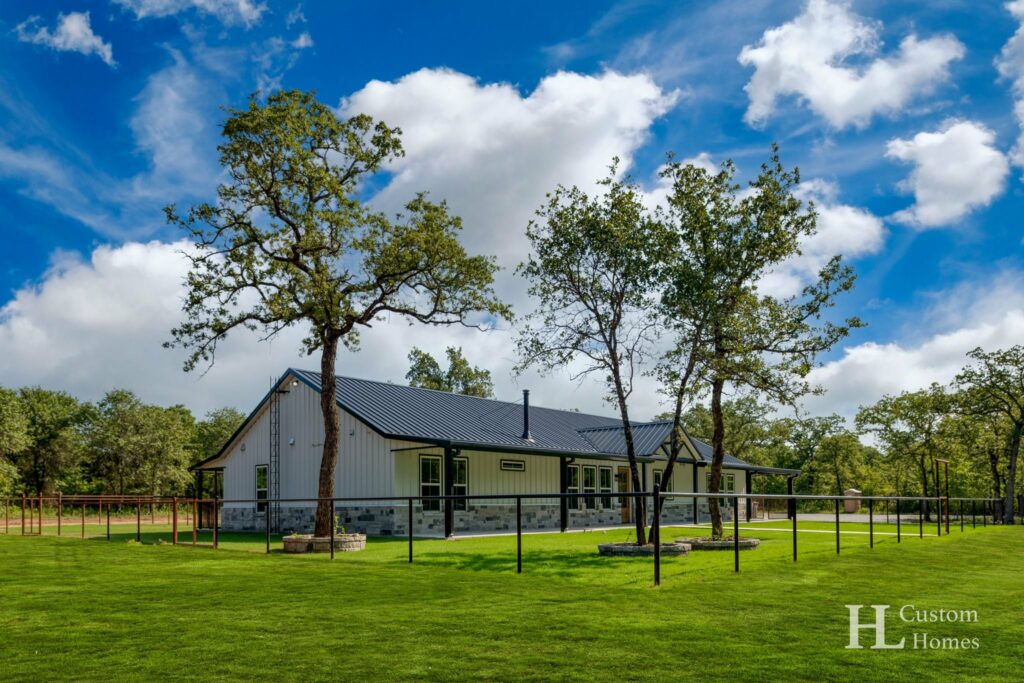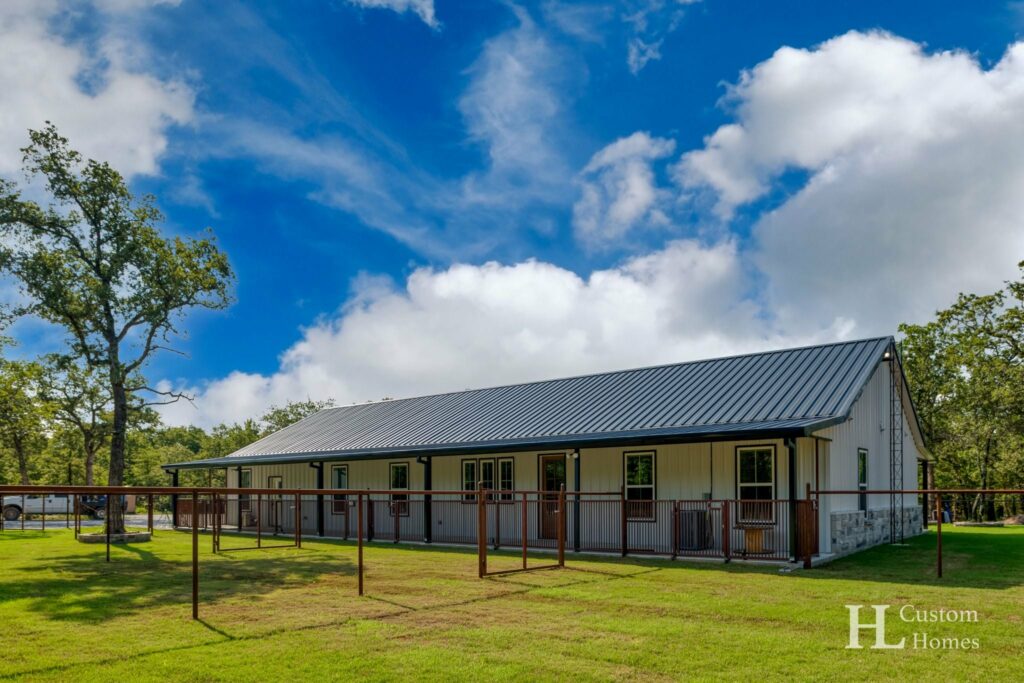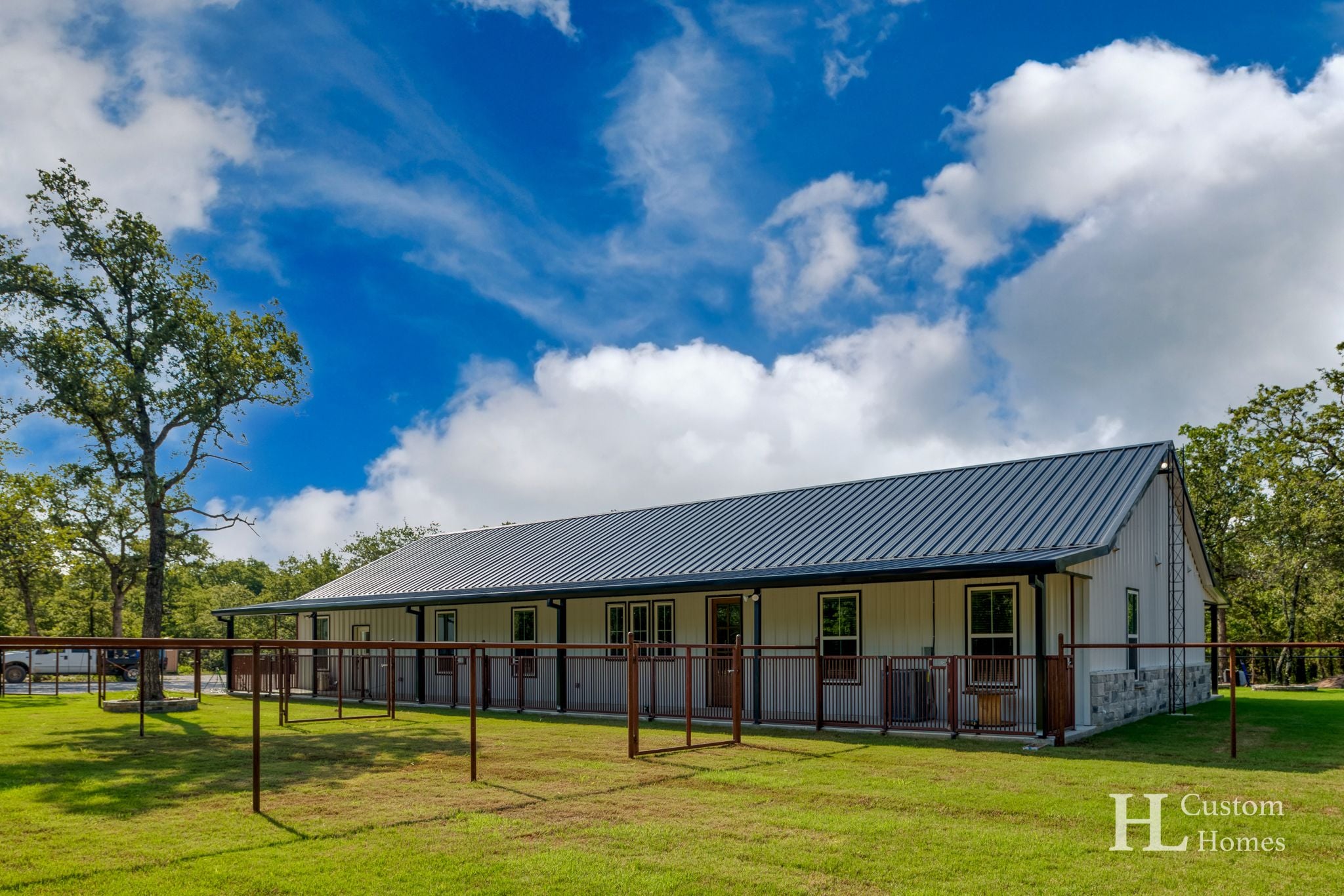 Crafton Texas White Barndominium Interior
Living Room and Kitchen
What did I say about paradise? Well, don't get too overwhelmed because going inside the white barndominium will be like being in an earlier form of heaven. Most of the interior is white, save for a few touches of earth tones here and there. Soft lighting gives the indoors a warm and welcoming feel. But of course, the house is only a reflection of the people that live there.
A style common of barndos is the open space from the living room to the kitchen and dining area. This concept never goes out of style, especially when you want the indoor space to look much bigger than it actually is.
And with this very gorgeous white living room cabinet on the right, there definitely is no reason to have clutter around as this furniture can hold so much stuff in to keep everything organized. Also to the right is the door that leads to the laundry room. This might have been the first time we get to encounter a laundry area right next to the entrance, but it could be what's most convenient for the family that lives in it. There is so much versatility in the barndo lifestyle and design.
On the left is a black wood stove that beautifully contrasts against the gray stacked stone veneer. This is a creative minimalistic yet functional decorative piece on this corner.
Although only a few pieces contrast against the "plainness" (there is definitely beauty in plainness) of the interior, the flooring is the largest part that breaks it. The shiny vinyl flooring imitates the beauty of natural wood and gives the space a little more stretch of space.
Kitchen
Don't we just love how low-key this kitchen is? Everything is just kept neat and simple. Smudges should be easy to spot and clean right away. Just need a bit more care not to stain these countertops and walls. And did I mention snow? Those lovely island pendants look like they've just caught drops of snow!
And without an observant eye, you wouldn't have seen this beautiful art in the backsplash. Most of the decorations are so subtle that it makes them worth appreciating.
Bedrooms
Each bedroom has ample light from the huge windows which also offer a great outdoor view. Installed recessed lighting brightens the rooms, including chandelier fan lights that splendidly match the wooden look of the vinyl flooring. All bedrooms also have their own closets. The master closet has a connecting door to the laundry room for easier access. The junior rooms are spacious enough and even when furnished with single beds and some cabinet furniture will not look cramped.
Bathrooms
The bathrooms are perfect areas that provide much comfort, especially in your me-time – whether it's in the shower, toilet, or a good soak in the tub to decompress from a long day. The bathrooms have a matching double sink and huge vanity mirrors. There are also enough storage drawers and cabinets to keep bathroom essentials organized. Keeping the bathrooms bright are different nice lighting fixtures- some recessed lightings, really cute vanity lighting that look like upside-down glasses, and a totally gorgeous pendant light hanging above the bathtub in the master's bathroom. The bathtub walls and master shower are also designed with wood-like tiles that are a beautiful match to the floor.
Laundry Room, Spare Room, and Garage
Other areas include the laundry area which is connected to the master closet, a huge garage that is also a storage area, and a spare room that could be for the fur babies that the family has.
Don't we all love to play with our barndo designs and layout to fit our needs and convenience? The best thing about it is that we can get a lot of houses at a lower cost compared to building a traditional home. There is limitless creativity and flexibility in the layout and designing of your barndo. However, although anyone can build a barndominium, the barndo lifestyle isn't for everyone.
For those who know the barndo life is perfect for them, or for those who still need a lot more learning about barndos to figure if it's right for them, the ebook by Don Howe, Build Your Dream Barndominium is a great guide for you, literally from concept to move-in day!

How to Build Your Own Barndominium & 200+ Floor Plans
Get started today with our program "Barndominiums Made Easy: How to Build Your Own Barndominium" and get 200+ barndominium floor plans included!
Gail currently spends her free time geeking out about what's new and trending in the world of barndominiums.
She is the former executive editor of BarndominiumLife.com and loves working with the team and members of the barndominium community. She now contributes to the blog on occasion, but only when she feels like it!