Today's featured barndominium is a truly beautiful home a short way outside Rosharon, Texas, boasting a grand 3,690 sq ft scale and stunning interiors that fuse modern design conventions with timeless materials and construction motifs.
Rosharon, Texas Barndominium
With 4 beds, 4 baths, and a wide array of unique features and extra rooms, there's no shortage of things to love about this Texas barndominium. Let's take a closer look at what makes this property so great!
Get a FREE 18 Month Barndominium Planner
There are 39+ steps that must be taken before groundbreaking. Learn them all in this FREE checklist, available for immediate download.
Exterior
This barndominium gives a strong sense of both luxurious scale and modern intrigue from all angles.
Approaching from the front, you're immediately greeted by a tall rock wall marking the front of the garage and acting as a back of a generously-sized carport, which is supported by an impressive wooden beam structure with sandstone-colored cladding. We love the way the wood-effect garage doors blend nicely with the struts of the carport roof and offset the cool gray of the rock wall.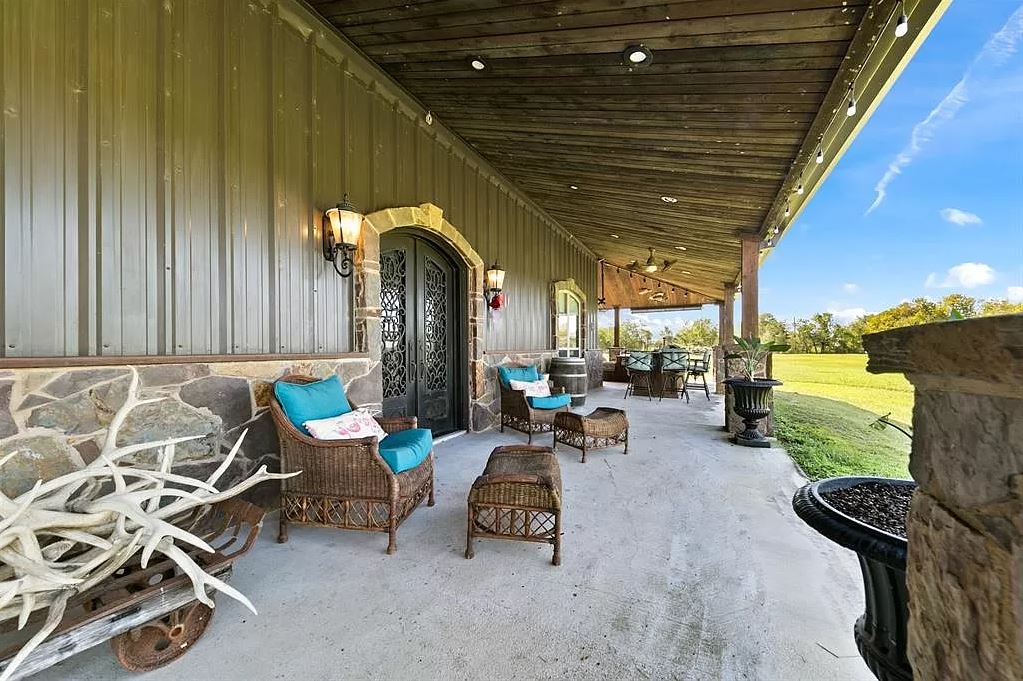 A secondary carport, also with garage access, occupies most of one side of the home, and further down the exterior is hugged by a large wraparound porch.
The spotlights in the porch's ceiling, classic wall-mounted lantern lights, and a string of bulbs around the edges make this an ideal space for chilling out on long summer evenings.
A shed / outdoor annex is a little way off the front drive, which shares the same subtle, earthy color scheme as the main home.
How to Build Your Own Barndominium & 200+ Floor Plans
Get started today with our program "Barndominiums Made Easy: How to Build Your Own Barndominium" and get 200+ barndominium floor plans included!
Living Room
The entranceway opens up immediately into a living room area with a generous size and a well-oriented color scheme. A suite of leather couches and armchairs creates a perfect contrast against the mint color of the walls, and matches the wood color used in the doors and baseboard.
A black mantel supported by two grand pillars frames the TV, and acts as a striking focal point that ties the room together. These kinds of bold statement pieces can be easy to overdo, but here it works well with the surrounding grandeur of the home.
Kitchen / Dining Area
Next to the living area, a sizeable part of the first floor is devoted to a large and welcoming kitchen, which is a place for relaxing and socializing as it is a functional space.
More natural stone cladding supports a long, marble-effect breakfast bar, which is served by four classic wooden barstools flanked by a pair of more modern seats. We love the four hanging bulbs that illuminate this surface, each with a distinctively rugged tin-can casing.
The kitchen itself is a foodie's dream, with plenty of floor space, maneuverable work surfaces, two huge fridges, and a large oven. The light wood of the cabinets, the patchwork colors of the backsplash, as well as an ornate-style black kitchen hood, work together to ensure the kitchen is not only highly functional but looks amazing too.
Just a few steps from the kitchen, you can sit down to eat at a grand wooden dining table with a simple but timeless design.
This corner of the home leans into the more ornate elements of the barndo's decor, with the classic table and chairs complementing an array of copper pots and pans along a high shelf.
Bathrooms
This barndominium is served by four bathrooms, and all of them carry the same feeling of luxury and grandeur as the other spaces.
The master suite's bathroom is centered around a large shower unit with an arched roof and beautiful tiling work reminiscent of a Turkish hammam. Next to it, another arched portion plays home to a hot tub complete with a mounted TV which immediately invites you to take a long, luxurious soak.
The home's other bathrooms are smaller, but full of beautiful decor and various comforts that make them feel just as luxurious as the master suite. In one, a simple bath/shower is accompanied by a marble-effect basin above walnut-colored storage, with a glass-fronted cabinet within arm's reach in the same beautiful dark wood.
In another, the classic hominess of the hardwood floors and wrought iron handle of the door is contrasted by a rounded, modern bathtub and an intriguing wood-colored array of tiles.
Bedrooms
Like the bathrooms, the bedrooms in this Texas barndominium have placed a lot of emphasis on size and luxury, promising heavenly lie-ins and an all-around tranquility after a long day.
Each of the bedrooms has its own distinctive charm, owing to the generous use of classic, ranch-style decor pieces, and a harder-to-pin, lived-in quality. The master suite's breathtaking grandeur takes the top spot!
From the moment you step into the room, you're immediately wowed by a recessed portion of the ceiling covered in an intricate, ornate carving, with a ceiling fan in the dead center which stresses the home's sense of southern comfort and timeless beauty.
Wrapping Up…
We hope you've enjoyed our look around this beautiful Texas barndominium and found some design and decor inspiration to use in your own barndo build project.
If you would like more guides like this one, check out the rest of BarndominiumLife.com. There, you will find more helpful tips and tricks from the pros. You will also find featured barndominiums, barndominium floor plans, and information on financing and insurance. Knowing as much as you can help you get the best results for your dream home.
Like this Post? Sign up for our email list!
Be the first to see new posts about the best barndominiums, construction guides, floor plans, and more! Enter your information below to become a BarndominiumLife VIP.