The perfect kitchen is something most of us dream about, but don't always think is achievable. However, if you are thinking of building a barndominium, then you can have the kitchen of your dreams without breaking the bank! Barndominium kitchens offer everything from modern elegance to rustic charm and make for some truly stunning spaces that will have all your friends and family amazed.
What to Consider for Barndominium Kitchens
Before you start planning your barndominium, it is best to get a good idea of what some of the best barndominium kitchens have and what they use to make their kitchens so appealing. Grab your pencil and paper and start taking notes of some of the things to take into consideration that will allow you to create your own kitchen that is perfectly suited to your style and your needs.
Space
One of the first things you should consider when thinking about these barndominium kitchens is their use of space. If you have enough room in your kitchen, you can get your cooking done efficiently and easily without having to sacrifice any of the appliances or things you want to do. Counter space in particular is very important, so make sure to keep an eye on how the below barndominium kitchens use their counter space and how it is laid out.
You should also look at how much room is in the actual kitchen and think about what your needs are for your family. One of the most important things when designing your kitchen is ensuring that it is physically big enough. Being able to have multiple people working in the kitchen without getting on top of each other is crucial.
Appliances
One of the important things to take note of in the below barndominium kitchens is the actual appliances. You can use appliances to your advantage by choosing some that fit in with your particular design style. There are all kinds of options available to you, and you can even get custom appliances from many different providers.
You will need to figure out whether you want stainless steel appliances or painted ones. Stainless steel appliances tend to have a more modern, contemporary look while painted appliances can make your kitchen look warmer and more coordinated with the rest of the house.
Layout
You should also be thinking about how your kitchen floor plan. Since you will be spending a lot of time in it, your kitchen should be utilized in such a way that is beneficial to the rest of the home. Its configuration will have a lot to do with this.
The most important decision you will make is whether you are going to have an open or closed-concept kitchen. Open-concept barndominium kitchens have no separation between the kitchen itself and the rest of the house. Closed-concept kitchens are confined to their own room in the home. Most barndominium kitchens are open concept because it saves space and allows you to socialize while you are working in the space. The one you choose will depend on your goals and what you want from your barndominium.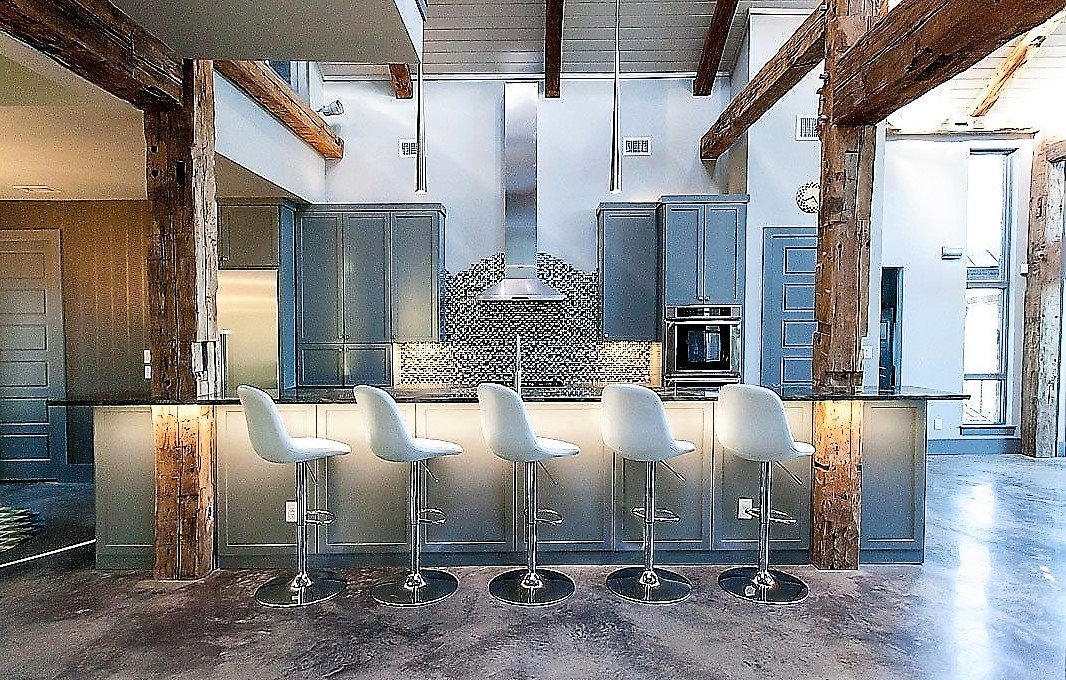 This stunning barndominium kitchen is part of a historic Dutch barn built in the mid 1700s in New York state. It was reclaimed and remodeled last year. Once you've decided on the idea of a barndominium in your future, it's time for the fun stuff. Like deciding on the interior decor and what it will actually look like.
Barndominium Kitchens Ideas
This kitchen is a great guide if you are looking for the open space. The island in the center is great for gathering the family around and eating breakfast at the bar area.
A smaller example of kitchen space but still a great guide to help you see where you can have a functioning kitchen but still ample place to have a coffee bar as well as bar sitting.
A vintage look for anyone looking to bring the outside in. This kitchen is both beautiful and functioning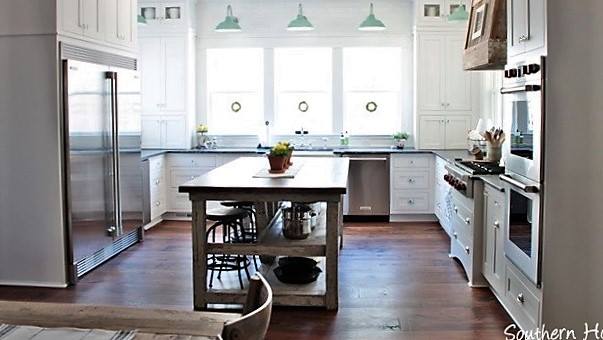 Can we just admire the lighting in this kitchen? With three large windows natural light makes this barndominium kitchen look much roomier than it actually is. Adding windows in your kitchen is the key to making your room look bigger.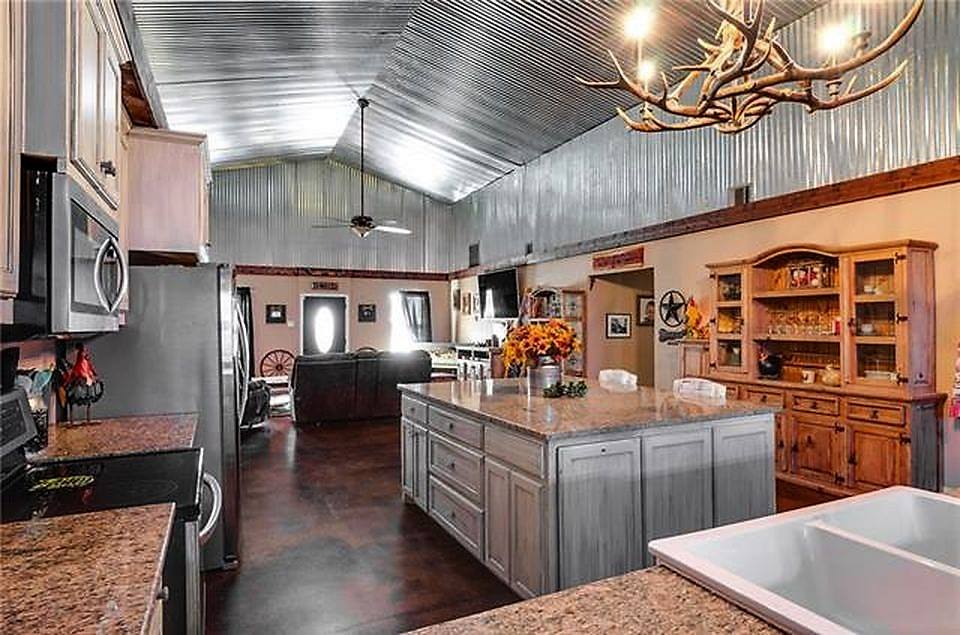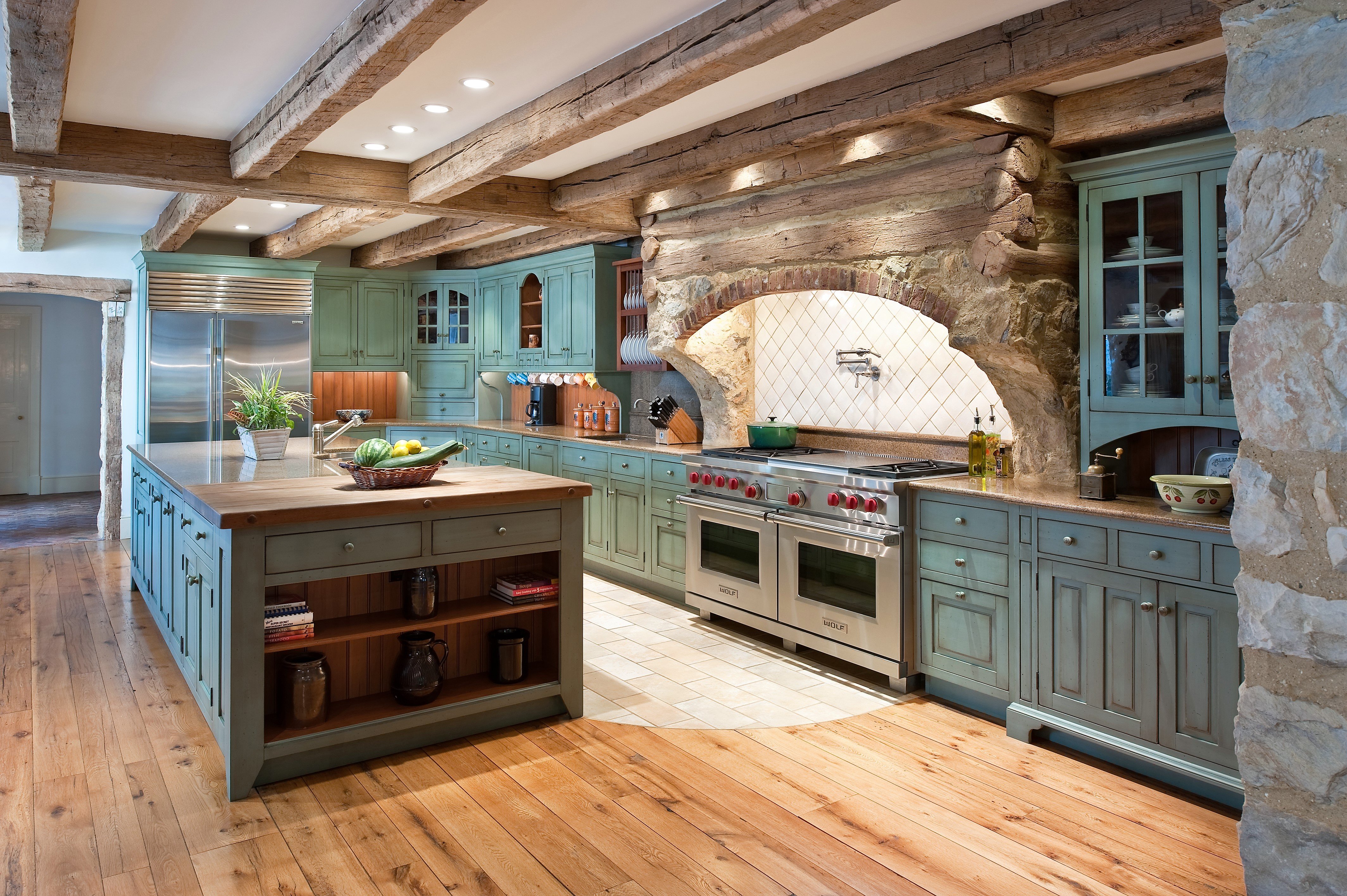 Here's a southwestern motif. most notable for the masonry arch over the stoves. The colors are also just right, offsetting the browns nicely.
Fixer Upper Barndominium Kitchens
Have you seen the first-ever remodeled Kitchen by YouTube stars Chip & Joanna Gaines.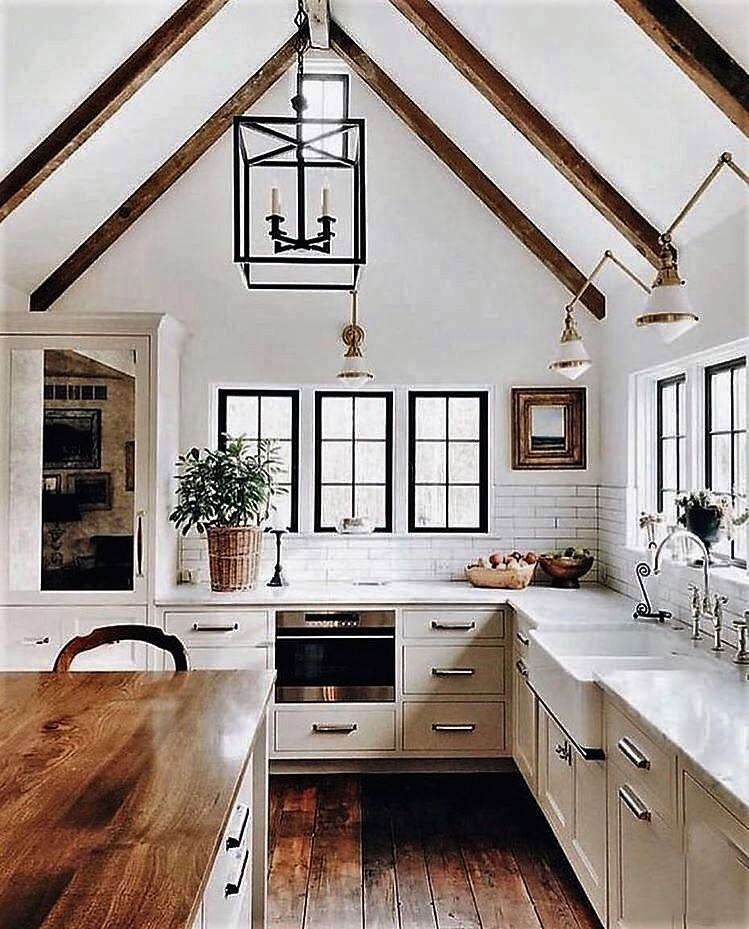 In this kitchen, everything is white except for the window frames, which contrast effectively. It's a technique you can use as well. Click here for more details
Another inspired design by Joanna Gaines. Wrought iron bar stools mesh with warm wood tones effectively.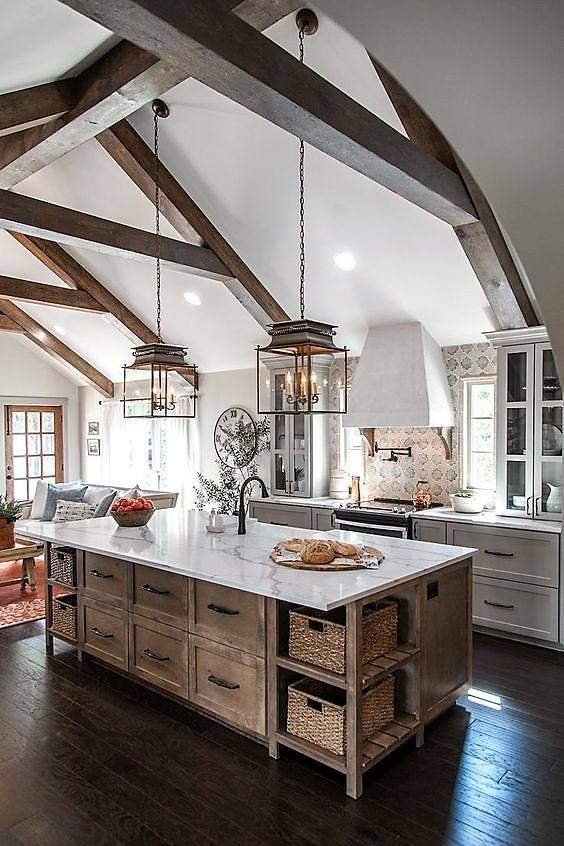 If you would like more guides like this one, check out the rest of BarndominiumLife.com. There, you will find more helpful tips and tricks from the pros. You will also find featured barndominiums, barndominium floor plans, and information on financing and insurance. Knowing as much as you can will help you get the best results for your dream home.