Barndominiums have become a popular choice for those who want a unique and functional living space that combines the charm of a barn with the comfort of a modern home. When it comes to designing a barndominium, one of the key decisions you'll need to make is the floor plan. For those seeking a compact and cozy living space, a 2 bedroom barndominium floor plan may be the ideal solution.
2 Bedroom Barndominium
A 2 bedroom barndominium can be an excellent option for small families, couples, or individuals looking for an affordable and manageable living space. However, there are factors to explore and consider when designing a barndominium. These include design options, tips for maximizing space, and examples of 2 bedroom barndominium floor plans. Whether you're building a primary residence or a vacation home, a 2 bedroom barndominium may be the perfect fit for your lifestyle.
Factors to consider when designing a 2 bedroom barndominium floor plan
When designing a 2 bedroom barndominium floor plan, there are several factors to consider to ensure that the space meets your needs and lifestyle. Here are some key factors to keep in mind:
The size of the barndominium
The size of the barndominium will determine how much space you have to work with. Consider the overall square footage, ceiling height, and the size of the bedrooms.
The location and size of the bedrooms
Think about where you want the bedrooms to be located within the barndominium. Would you prefer them to be side-by-side or on separate ends of the space? Also, consider the size of the bedrooms and whether they have enough space for your needs.
The flow of the living space
Think about how you want to move around the space and how the flow of the living space will work. Consider factors such as the placement of doors and windows, the location of staircases if there is more than one level and the overall layout of the space.
The potential for future expansion
Consider whether you may want to expand the living space in the future. If so, factor this into your design to allow for future modifications.
By considering these factors, you can create a 2 bedroom barndominium floor plan that is functional and tailored to your needs. Work with an experienced builder or architect to ensure that your design meets building codes and regulations.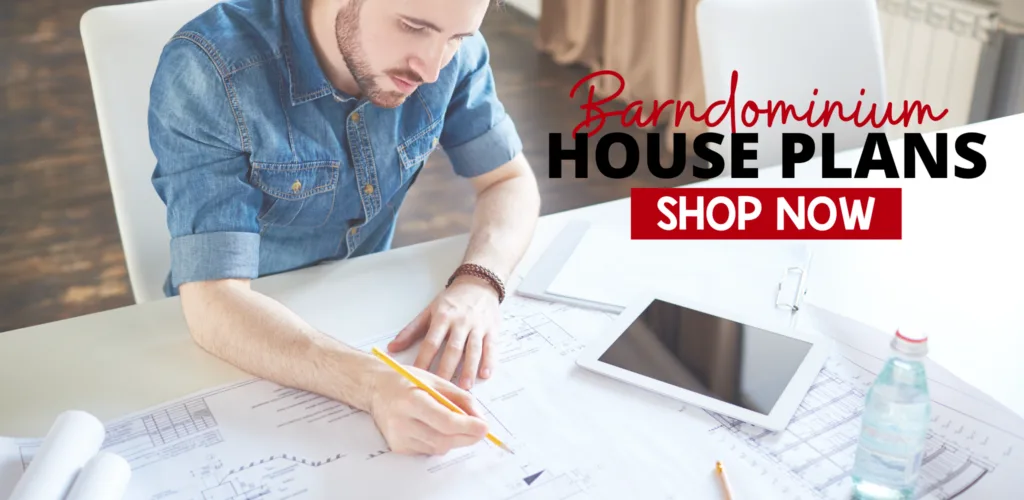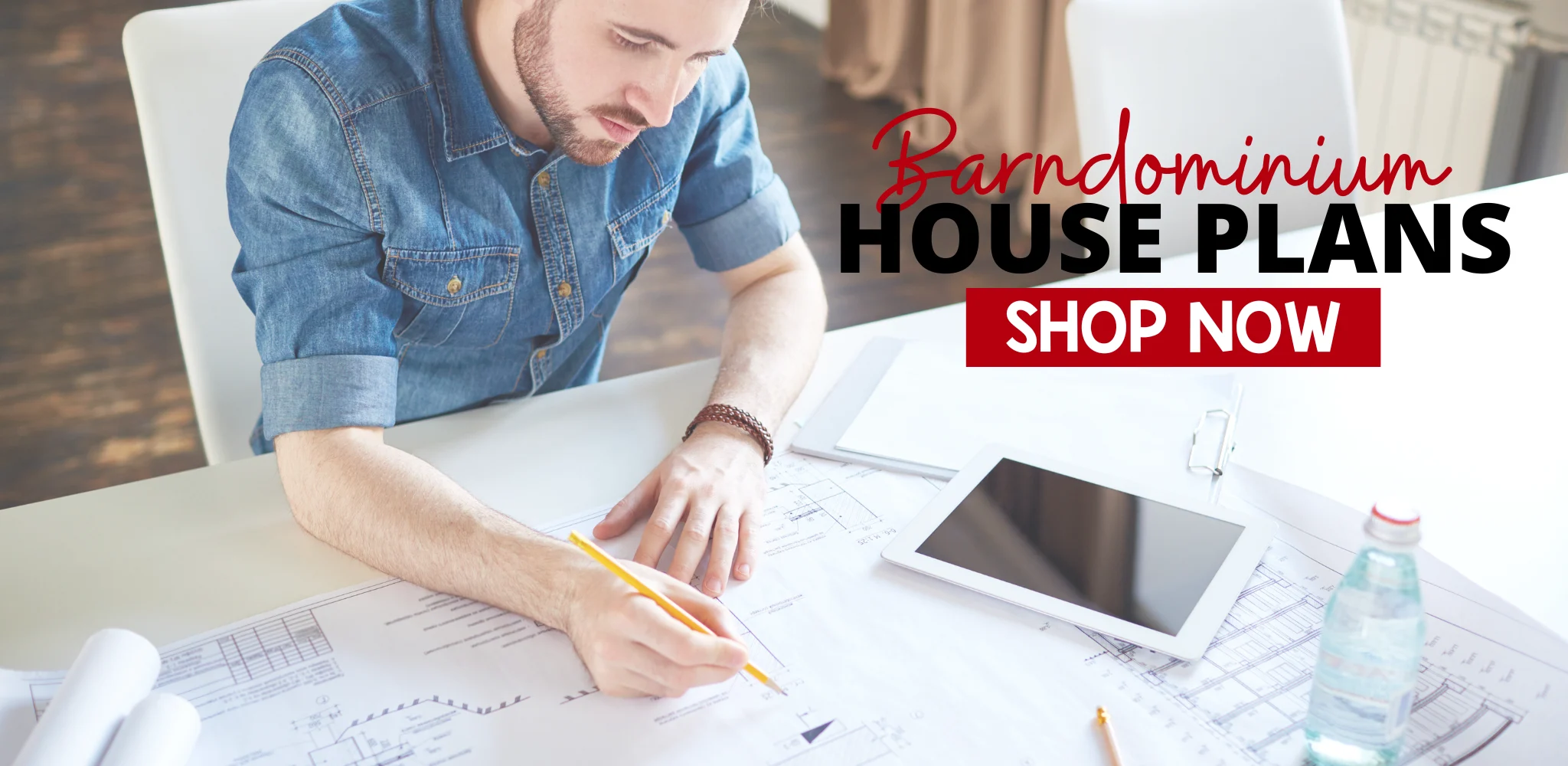 Design options for 2 bedroom barndominium floor plans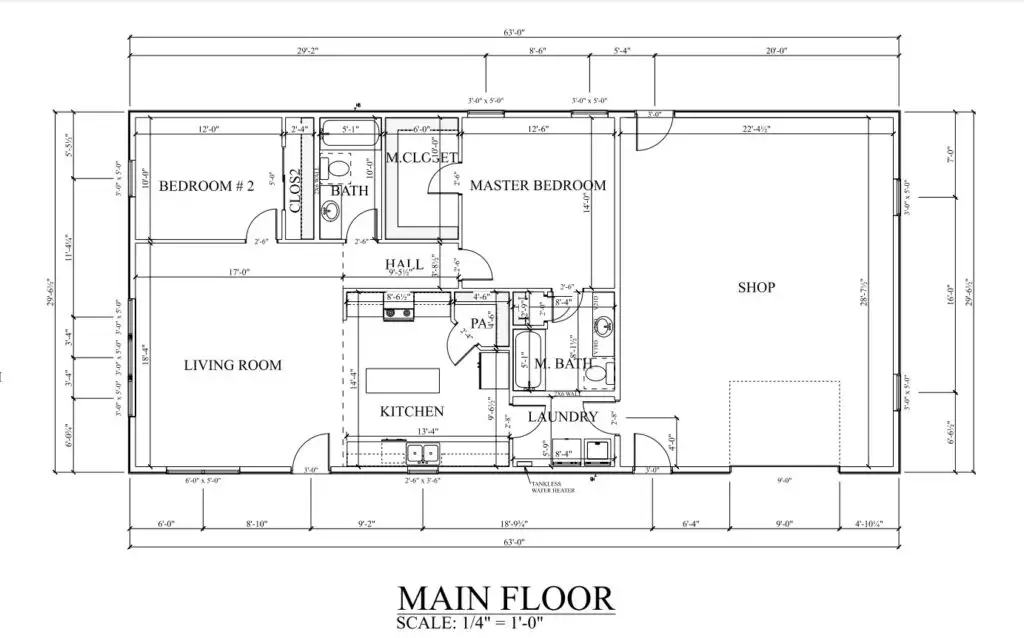 This inviting one-story home boasts a spacious 1,200 heated square feet, featuring 2 comfortable bedrooms and 2 modern bathrooms. With its open concept design, this residence offers a seamless flow between living spaces, making it perfect for both relaxation and entertaining. Additionally, the property includes a convenient 684 square foot attached shop, providing ample space for hobbies or storage. Experience the ease and charm of single-story living in this well-appointed home.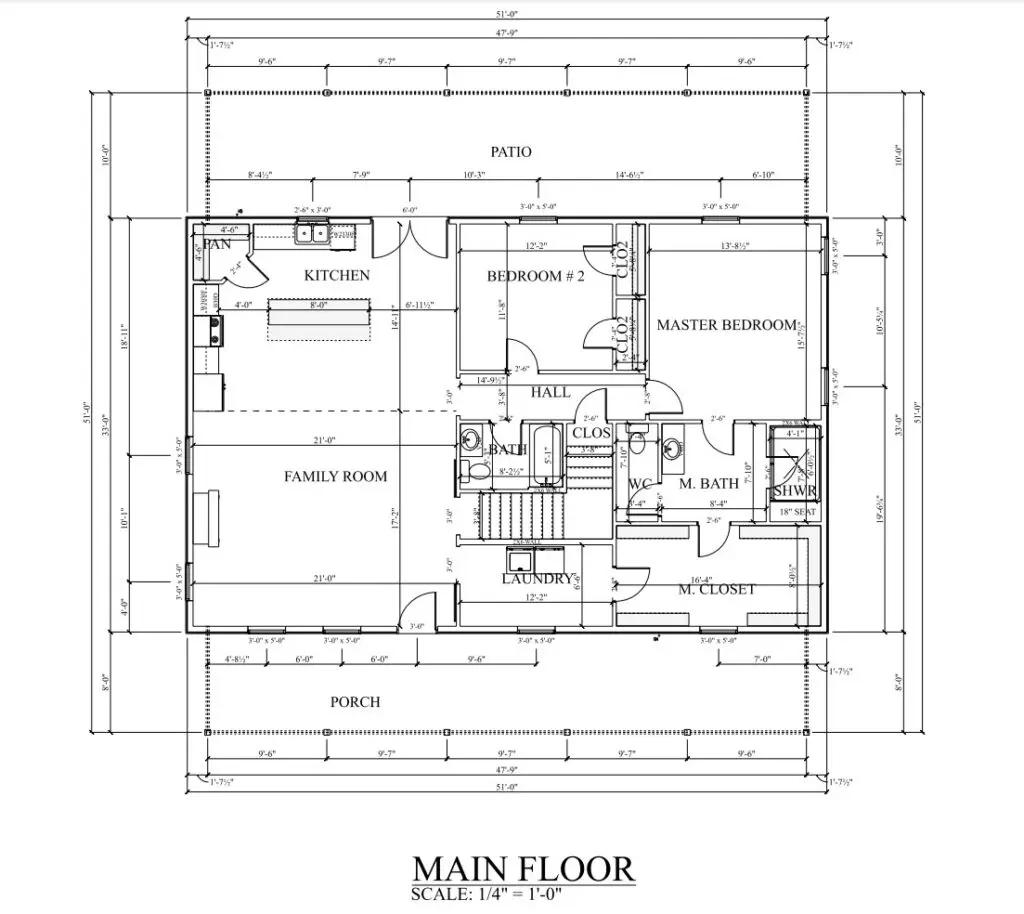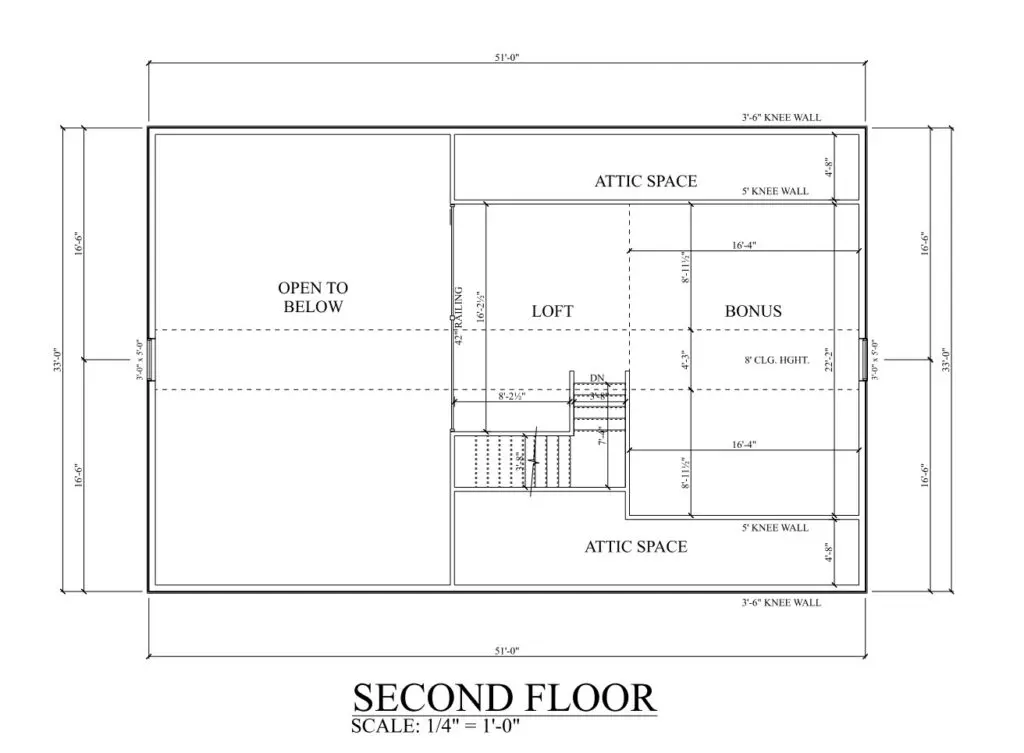 This layout is great for a smaller family who doesn't need a ton of bedrooms but still wants the versatility that a loft can provide. With only one open room up top that looks down over the family room, this loft would be a great spot to escape for playing, studying, or sleepovers.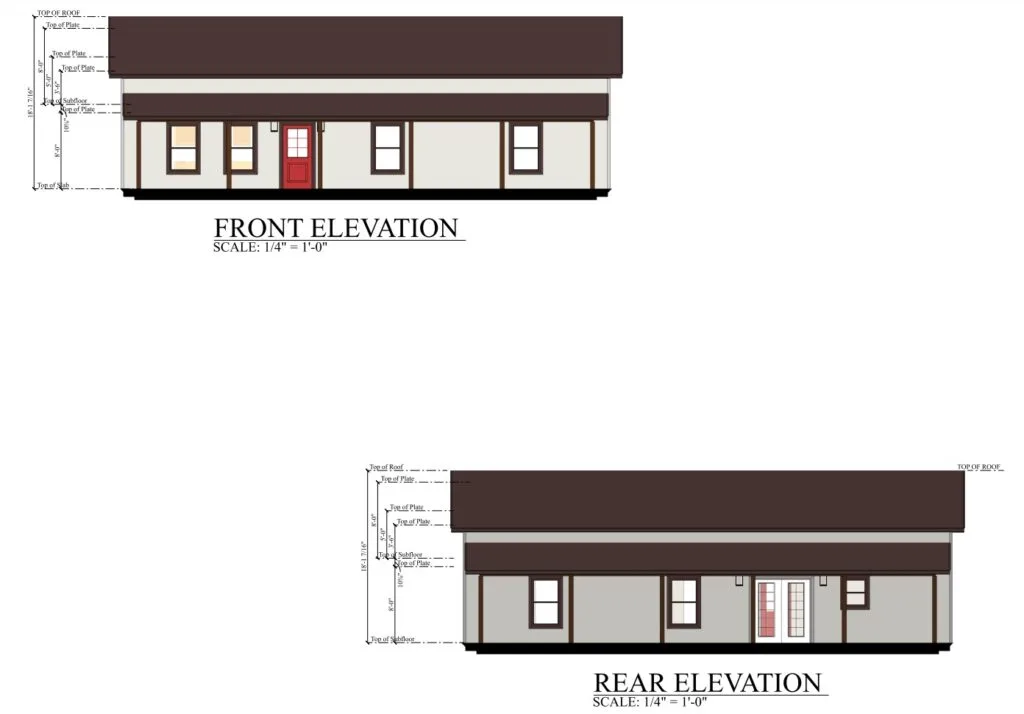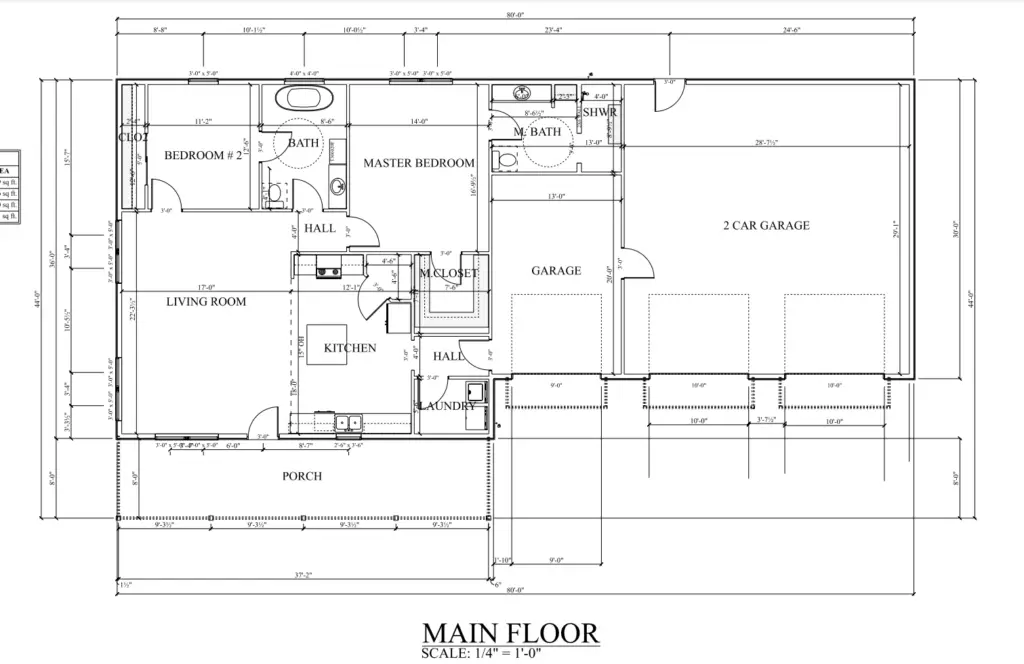 The PL-62510 Jordan Barndominium is a stunning and spacious home with a well-designed layout spanning 2,939 square feet. It features two bedrooms and two bathrooms. The barndominium offers a contemporary design with thoughtful details. The home's seamless flow and smart design make efficient use of every square foot, and the inclusion of a 2-car garage accessible through the kitchen adds practicality. Whether enjoying the front porch or hosting gatherings in the open living space, this floor plan offers a harmonious blend of comfort, convenience, and style, where modern living meets rustic elegance.
This barndominium is rustic and modern with 2 bedrooms and 2 baths. The open-concept living room, dining room, and kitchen will immediately wow you. The main bedroom's ensuite bathroom adds luxury to this spacious room. The second bedroom is also well-appointed and flexible. It can be a guest room, office, or playroom. Residents and guests can use the nearby bathroom.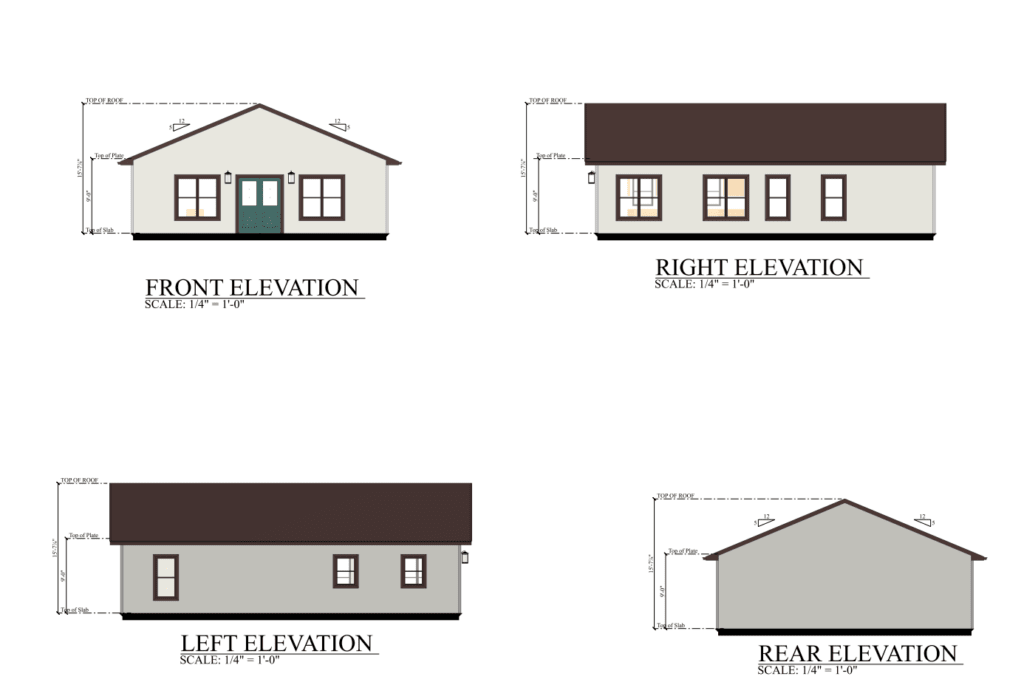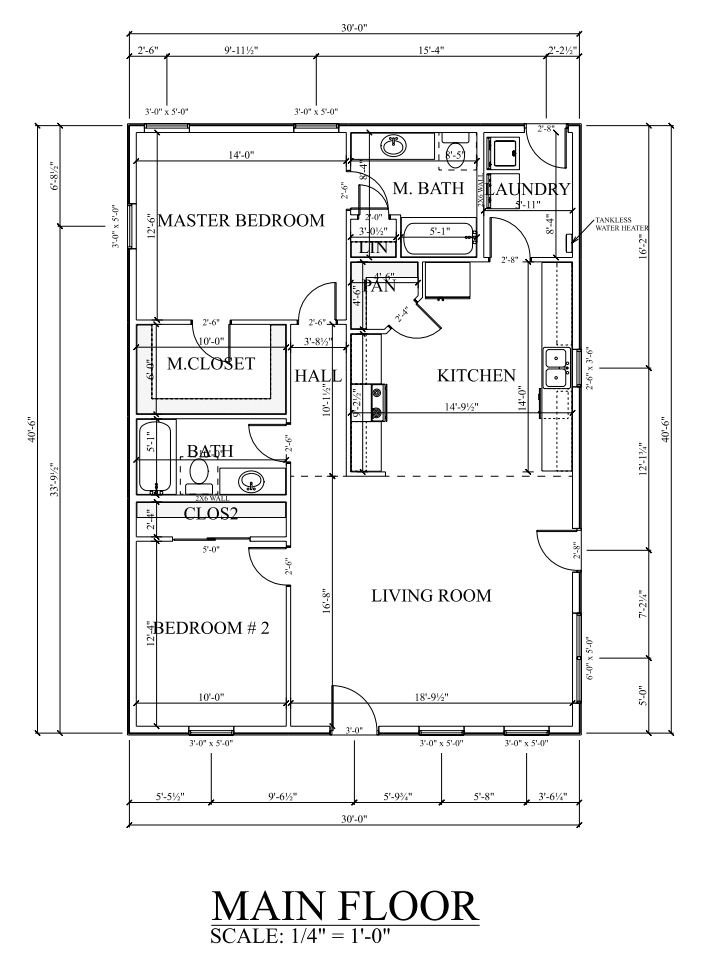 Featuring 2 bedrooms and 2 bathrooms spread across 1233 square feet, this luxurious home was built with your comfort and convenience in mind. Walking in, you'll see a huge great room/kitchen combination, and the kitchen is a cook's dream. Enjoy all that PL-60001 offers in style, comfort, and convenience.
This plan is also another classic floor plan with a touch of elegant complexity. Both the master and the other bedroom are put side by side with the master bedroom having all the essentials like the master bathroom. The living room is huge, with a classic kitchen to match. Finally, there is a screened porch just at the front of the house, which essentially makes it more beautiful than other plans.
This plan highlights beautiful compactness and an eye for having all the necessary things readily available. This plan contains extras like a garage and a collaborative kitchen and living space. It also has closets well placed to give it a well-designed space. The deck area right before the entry into the living space can be customized to your specific needs. Truly this is a good use of space.
This plan is great for those who prefer privacy but still want the room to congregate. It has a big garage from which you can get into the house as well. Both rooms feel like master bedrooms since they each have their own attached bathroom. This will help to make guests feel comfortable staying in your barndominium. Or, if you are a private person, this is the best plan for you.
Good use of space and a stunning example of getting the most out of a large porch area. This combination is pleasing to the eye, specifically because there are a lot of closet spaces. The open kitchen is also a part that helps make your family spend more quality time together. You can make the best of meals and still have your family time intact.
If you're an empty-nester but have more stuff and hobbies that take up a lot of space, this floor plan may be good for you. We count five closets in a single 2 bedroom area!
2 Bedroom Barndominiums – Pictures of Real-World Examples
Here are not just the 2-bedroom floor plans, but some real-life 2 bedroom barndos.
We have carefully selected these plans because there is nothing more important than open and expressive visuals that come from these pictures.
Step inside this captivating Glen Rose barndominium and be awestruck by its spacious open-concept design, exquisite finishes, and luxurious amenities. From its charming exterior to its meticulously designed interiors, every aspect of this home is a testament to creativity and fine craftsmanship.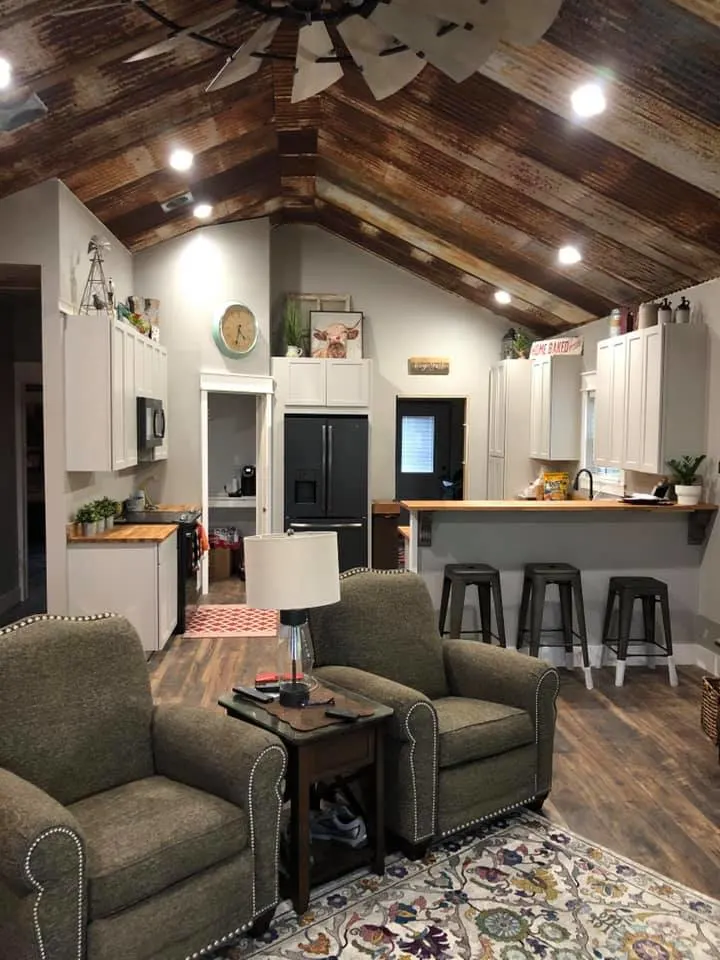 Discover the epitome of rustic elegance in this enchanting 2 bedroom Springtown, Texas barndominium! With its stunning design and luxurious amenities, this home is a must-see for anyone dreaming of a unique, modern living experience.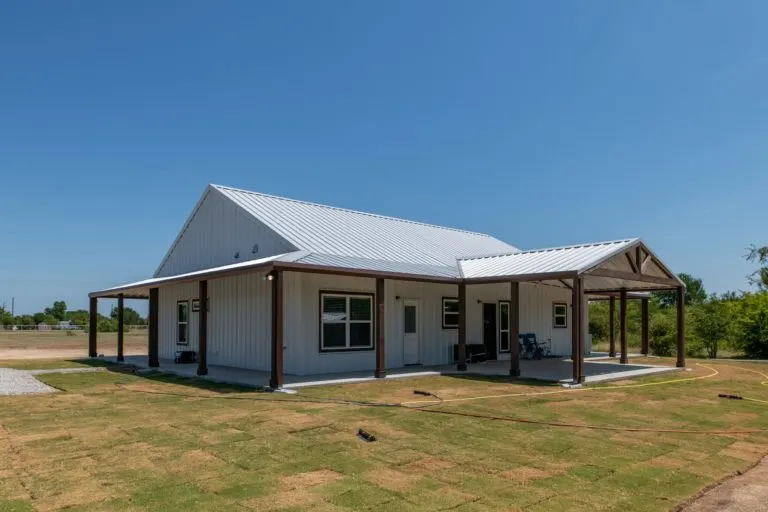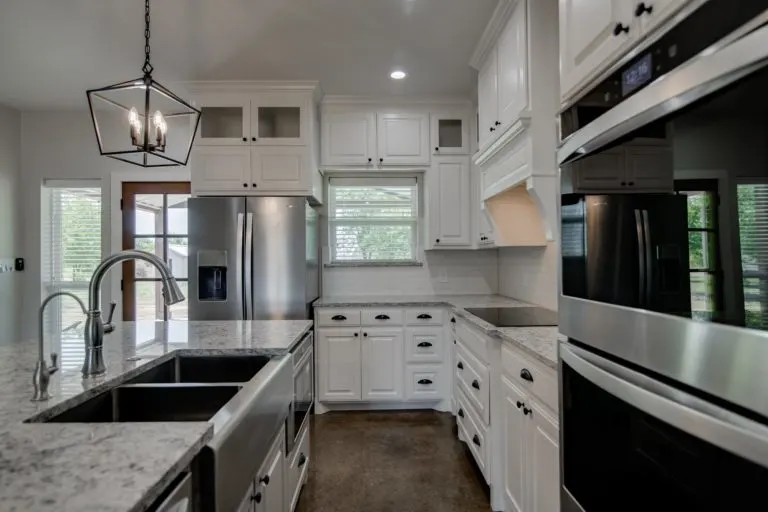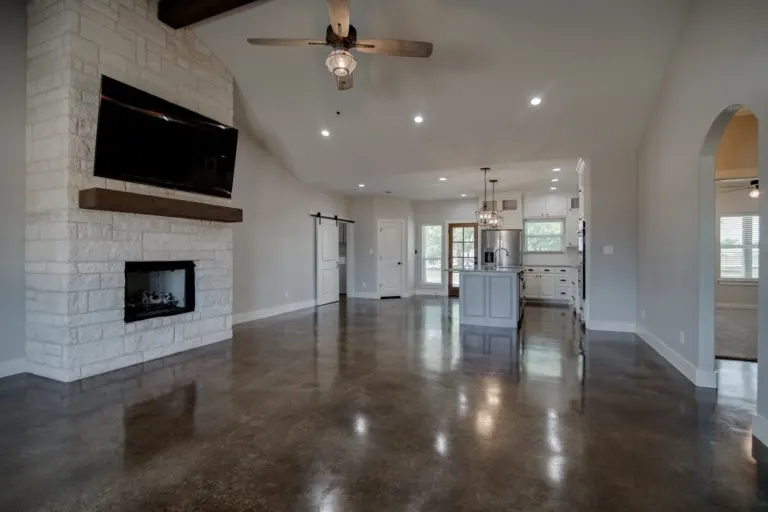 With a knowledgeable construction firm, a great designer, and some great organization skills, you too can build a similar barndominium. For folks who have not built a home before, it can be a bit overwhelming when first starting out.
That is why we published the book "Build Your Dream Barndominium." In this 138 page eBook, we explain the process you'll undergo from start to finish. It's a great reference while building your barndo, and it's available on Amazon now.
Unveil the charm of rural living in this exquisite 2-bedroom Arkansas barndominium, complete with horse stalls! Perfect for equestrian enthusiasts and fans of cozy, rustic design, this property is the ultimate countryside retreat.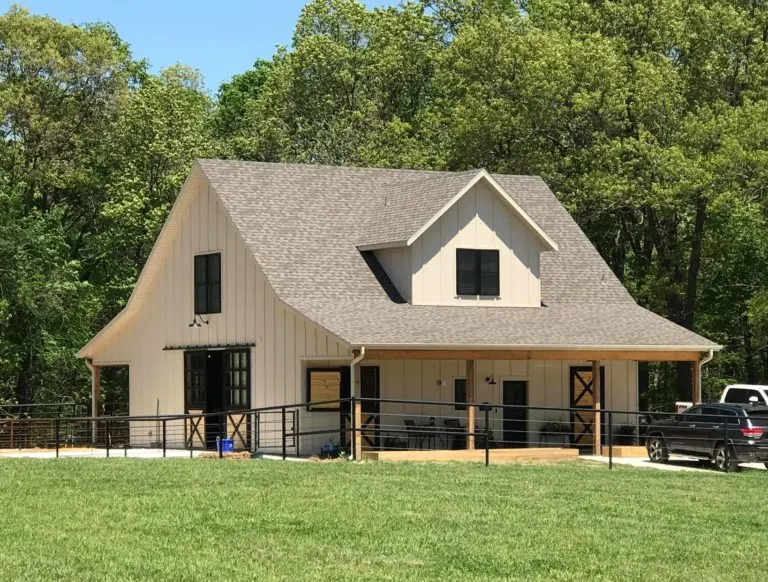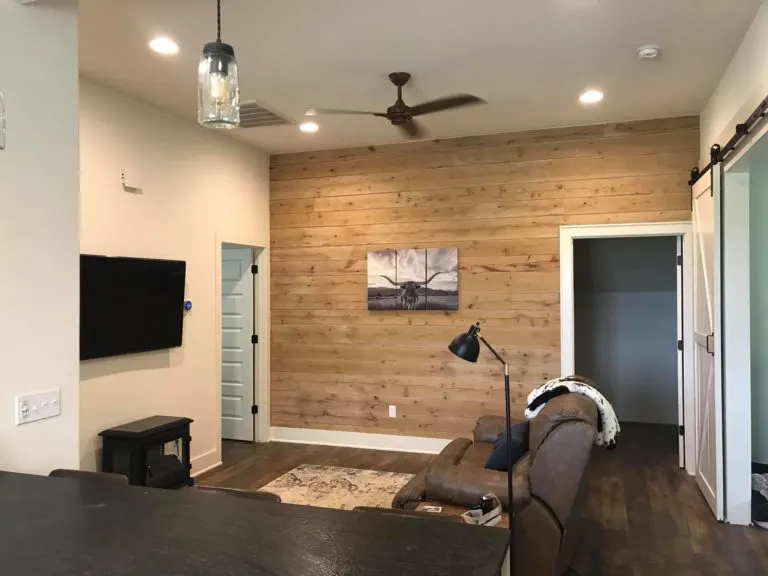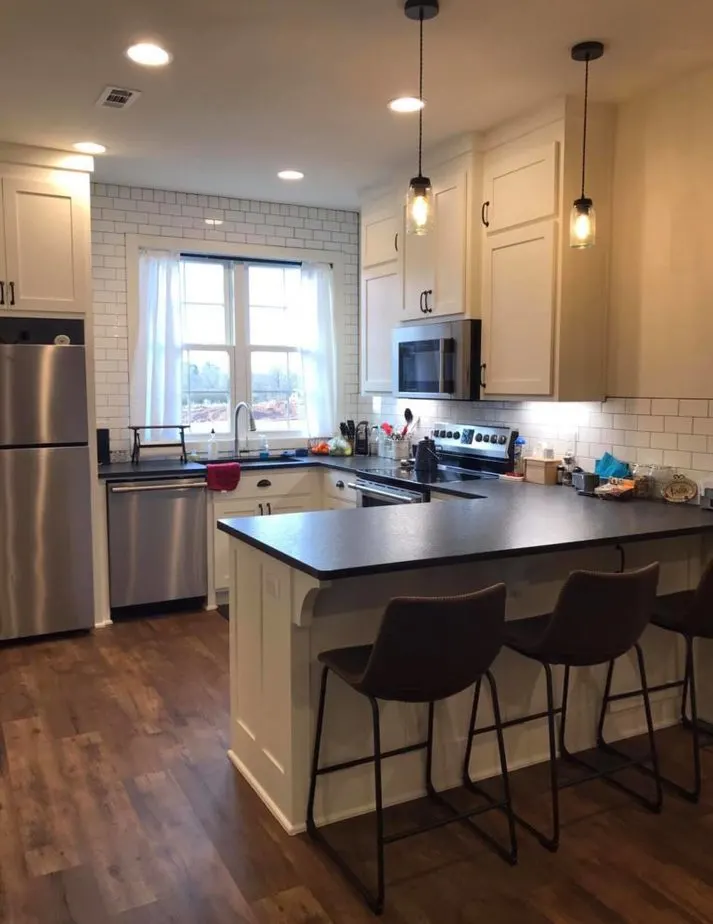 This is one of the better barndominium examples we've seen that are 2 bedrooms. This barndo was very easy to build and did not require in-depth construction. The great part is the easy maintenance at a low cost.
2 Bedroom Barndominium Inspiration
This Oklahoma Barndominium, built by Double B Welding and Construction, is one of the better 2 bedroom barndominiums we've seen. With a great open floor plan, mixed concrete for the floors, and simple construction, this is a barndo to replicate.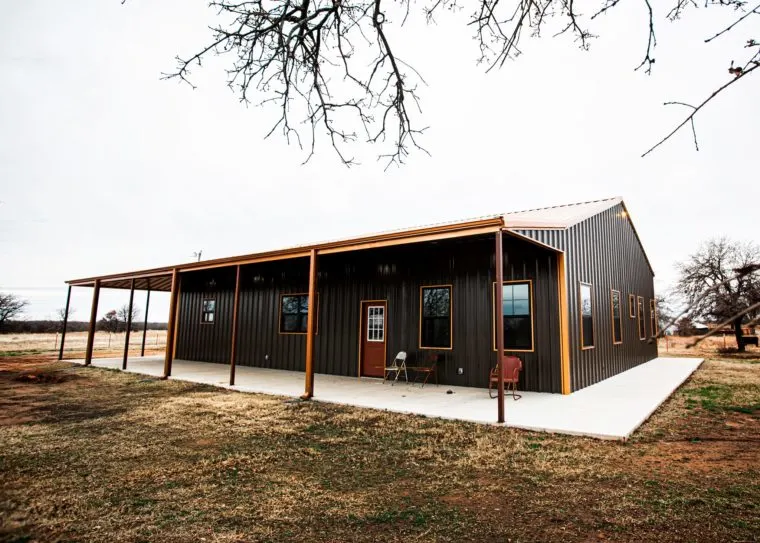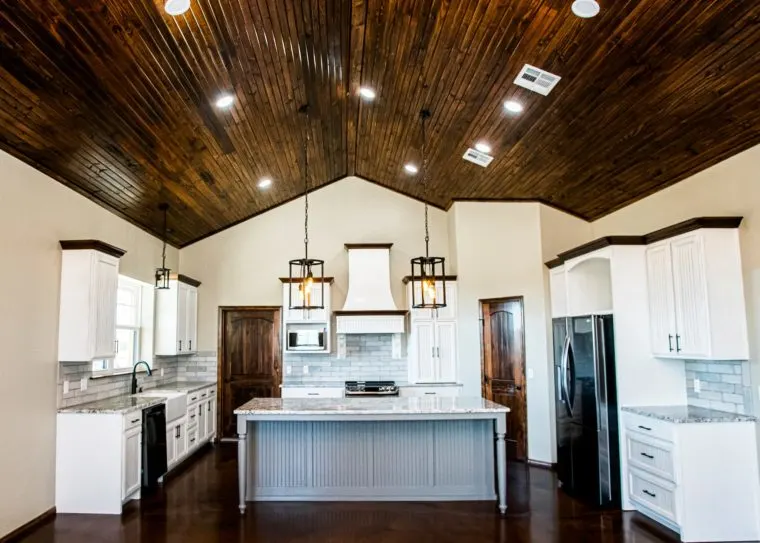 The kitchen area is luxurious without being over the top, and the rest of the barndo has features any couple or family will enjoy.
Conclusion
Creating a 2 bedroom barndominium floor plan demands thorough consideration of multiple crucial factors. These factors include the barndominium's size, the positioning and dimensions of the bedrooms, the arrangement of common areas, the flow of the living space, and the possibility of future expansion.
By factoring in these elements, you can construct a living space that is both practical and comfortable, custom-fit to your preferences. With the help of an experienced builder or architect, you can transform your vision into reality and create a stunning and functional living space that you can cherish for years to come.
If you would like more guides like this one, check out the rest of BarndominiumLife.com. There, you will find more helpful tips and tricks from the pros. You will also find featured barndominiums, barndominium floor plans, and information on financing and insurance. Knowing as much as you can will help you get the best results for your dream home.