Today we're featuring a Kansas barndominium that's been getting attention from many within the barndominium community. Photos courtesy of Dana Ann Blair, her family has been living in this barndominium outside of Bennington, KS for a number of years.
Featuring 2 bedrooms and 2 bathrooms, we love how this barndominium is special yet achievable. We love all the details that they've included for others looking to build their dream barndominium. Below we've highlighted Dana Ann's except from Facebook. Below that are all the pictures. Be sure to check our Pinterest for more featured barndominiums.
We built pole barn in Kansas. 2 bedroom 2 bath. Split down the middle half living space, half garage space.
$37100 for a 42x56x10, with 12 in overhang, gabled, soffit all around, 8 windows installed, 4 doors installed, 16 ft lean to porch off the back, 24 ft gabled porch off the front, wrapped in moisture barrier.

Under $1000 for plumbing material and pex pipes.
$4200 for 37 yards of concrete
$3200 for licensed concrete contractor, $600 was for pump truck.
$1300 for 8 windows
$1200 for 4 exterior doors
$800 for gutters and installed on both buildings
$300 7/8 20 ft rebar

Moisture barrier, tape, sand and rebar chairs under $600
Under $1600 for sheetrock, putty etc
$4200 for sheetrock to be hung, finished and knocked down.
Under $1000 for primer, paint and supplies. Also got a nice rebate check back.
$4735 for RTA all wood maple cabinets with soft closing hardware, dovetail. That includes some pull out trays, crown molding etc.
$305 hardware for the cabinets.
$1300 for concrete and material for porches.

Under $1300 for 2x4x10 for framing about 450 of them.
1 1/2 inInsulation board on pole barn frame, R21 in exterior walls, R13 in interior walls, R38 in ceiling. Garage is also insulated. $0.00. Thanks to a job perk.

$3536 for range, microwave, dishwasher and fridge, black Fri sale.
About $26000 for interior doors, whole house generator, genstone, hot water heater, heating and air, garage door openers, bronze ceiling tiles, free standing tub, 60 inch shower, glass shower doors, exhaust fan and light for bathrooms, pot filler, copper hood range, copper sink, outside lighting, pressure tank, bronze outlet covers, island lighting, ceiling fans, recess lighting, vinyl wraps for porch post, attic ladder, plywood and materials for attic space, needed tools and scaffolding to do the job, heated flooring and thermostat for bathrooms. I'm sure there are some things I missed.

About $1500 for electrical materials, conduit, breaker box, breakers, wire, outlets etc.
$2600 for inground tornado shelter.
$1956 for carpet and install.
$2400 for materials for Heating and air.
$269 for heating and air company to check out our system.
$1780 for Leggari epoxy floors.
$4586 for quartz countertops.
$800 for bathroom vanity, vanity top, mirror and faucet.

$1715 for tiles in bathroom, and kitchen backsplash, with needed materials.
About $600 for all the trim materials.
$420 for walking closet hardware.
So far, we have about $112902 give or take invested in the build.
Plus $500 for a cat, we got to be a mouser.
We consider our whole building in the sq ft, so as of now we are sitting at a little over $48sqft. We are hoping to stay under $115000. We have one bath left to finish. Which most of the materials are already purchased.

I'm sure once my Husbands starts focusing on his garage area, we'll end up alot higher.
I give credit to my husband,for spending hours upon hours doing most of the work.
Our septic and well, we budgeted on our first building.
We bought our Kansas barndominium land in 2015, almost 4.5 acres for 18000.
Here are the Kansas Barndominium Pictures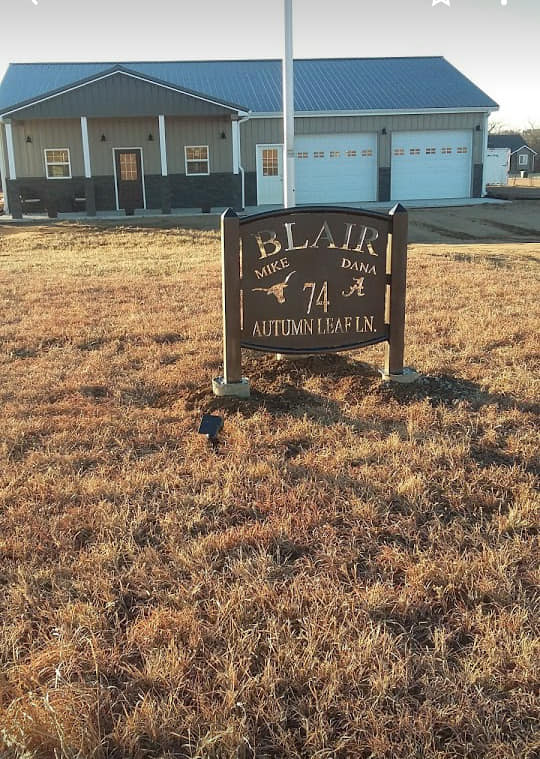 We love this Kansas barndominium address plaque! Very welcoming and lets you know where their football allegiances lie.
Awesome lighting and really shines at night
This barndominium kitchen is great, and we really like the backsplash.
The barndominium kitchen looks like it's ready for some delicious meals!
We love the built-in's – a very nice touch.
Like this Post? Sign up for our email list!
Be the first to see new posts about the best barndominiums, construction guides, floor plans, and more! Enter your information below to become a BarndominiumLife VIP.