After all those years living through the hustle and bustle of the city, don't you just miss the peace and quiet of the country? You might be planning to get a property outside the city when you retire. Maybe you have already done it, just like Robert and Tammy McCoy did with their Glen Rose Texas Barndominium.
Getting a barndominium could just be the best plan you can have to prepare for your retirement. Build your forever home with a small property, or even a huge family home, and enjoy the peace, the fresh air, and just the simplicity of life.
The couple, now at their retirement, sold their home near the DFW area to retire in their Glen Rose property of a little over 11 acres. They built their 42×60 barndominium evenly split by 14′ sidewalls between the house and a shop. The house has 2 bedrooms and 2 bathrooms.
Here are some of the shared photos of their beautiful home
To start with, the couple purchased the land first back in August 2018. All 11.2 acres cost them $118K. They only contracted for the concrete and erecting the building, and they did the rest of the inside. The cost of about $150K for the house already included the driveway, well, septic, spray foam, and new appliances.
Living Room
How to Build Your Own Barndominium & 200+ Floor Plans
Get started today with our program "Barndominiums Made Easy: How to Build Your Own Barndominium" and get 200+ barndominium floor plans included!
The rest of the rooms are done in 9-feet ceilings with 8-feet doors. The living room vaulted ceiling goes from 9 ft on the side up to 14 ft in the center. Vaulted ceilings give a very spacious look inside the house and add a rustic appeal to your barndominium. If you are considering vaulted ceilings for your home check out these pros and cons:
Pros:
It creates a sense of space and airiness.
The extra height allows more natural light in making the room brighter.
It occupies unused attic space.
It is simply a gorgeous design feature.
Cons:
Higher ceilings waste a lot of energy with more space to heat or cool.
Maintenance is harder with higher ceilings e.g. changing a busted light bulb
It is difficult to modify a space to include them if you don't have the right roof or ceiling structure
Kitchen
Bedrooms
Master Bathroom
How to Build Your Own Barndominium & 200+ Floor Plans
Get started today with our program "Barndominiums Made Easy: How to Build Your Own Barndominium" and get 200+ barndominium floor plans included!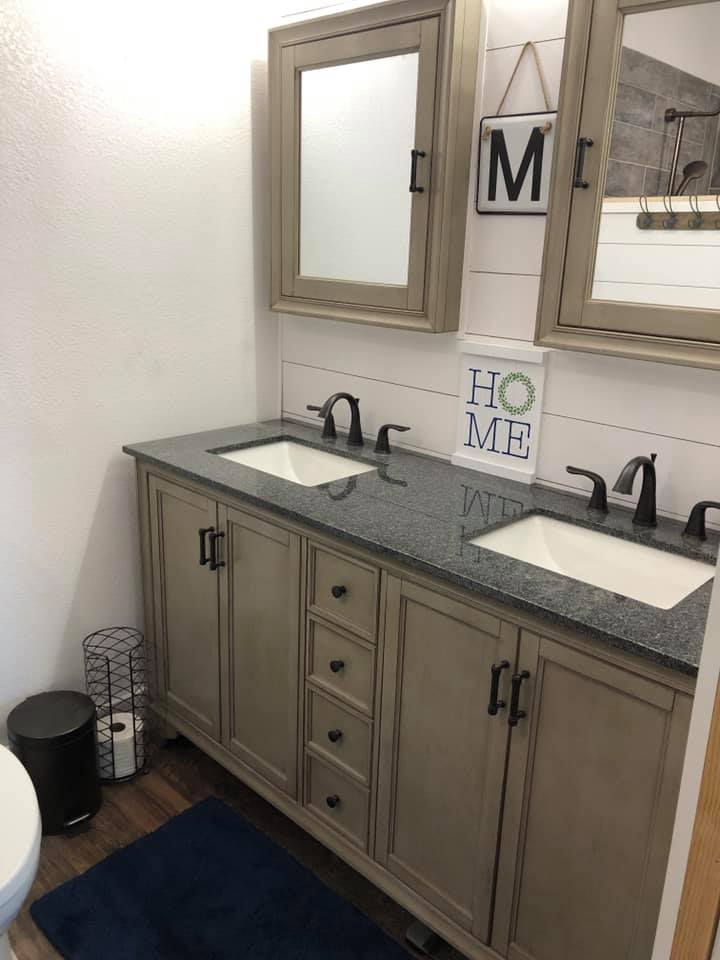 Bathroom 2
Closet
The closet size is around 8 x 8 ft. With a pocket door added, the closet now sits between the master bedroom and laundry room.
With everything inside the house done by the couple, lots of savings come together with lots of hard work and personal touch when building your own barndominium. And doing this gives so much more satisfaction and enjoyment knowing you did it yourself.
There are other saving tips that you could go for, especially in furnishing your home. Primarily, one saving tip could be from the materials you use for the building. The best materials sometimes come with the highest price, but not always. Depending on your budget, you can spend on what's best to use when building, and the savings come in the long run with fewer renovation expenses.
Other barndo owners act as their own general contractors. Being an owner-builder though requires a vast amount of experience. You also have to know even greater deals about specific things such as prices and getting discounts and so much more. Other than the savings, there are also lots of other benefits of being an owner-builder:
Doing only tasks that you are comfortable doing.
Being in control of the timeframe in building your barndo.
You have options for selecting tradespeople you know, or with a favorable reputation.
Bets of all, the satisfaction of being able to say you did it yourself!
Glen Rose Texas Barndominium Shop/Garage Area
The Glen Rose Texas Barndominium shop is equally the size of the main house (42 x 30 ft). What's better than spending your time in your shop, working, or doing your favorite hobby and just right next door, a home-cooked meal waiting for you to devour? Yep, just right next door! There's nothing better than having your shop within your home.
Check out other barndominium floor plans with shops for more ideas. But before you hop in to choose any design, there are still things to consider. Be sure to evaluate different factors first!
Glen Rose Texas Barndominium Floor Plan
Also, check out these other 2-bedroom barndomium floor plans. You're always on the safer side with more options to choose from and find that perfect layout you want. It's also best to play around when you have more ideas.
Amazing Glen Rose Texas Barndominium
The McCoy's barndominium is obviously a product of heavy labor and personal touch. The interior decoration is lovely and this home is an atmosphere of warmth and fulfillment just by its sight.
After long years of hard work, taking care of your family, and attending to all the other important matters, wouldn't it be fantastic to just relax, enjoy your fruits of labor and spend most of your time doing what you have always loved but never had time to do? Retirement would be the best time to get to do all these things, not to mention full time and free from any distractions. Best place? Your own barndominium, of course! How would anyone not want to start and end their day in this warm and cozy home?
There are countless channels where you can get ideas about barndominiums. You can peruse online on Pinterest, watch on Youtube or just simply Google it.
But there's one ultimate go-to for everything you need to know about barndominiums. Get the Barndominium Life Program!
How to Build Your Own Barndominium & 200+ Floor Plans
Get started today with our program "Barndominiums Made Easy: How to Build Your Own Barndominium" and get 200+ barndominium floor plans included!
Gail currently spends her free time geeking out about what's new and trending in the world of barndominiums.
She is the former executive editor of BarndominiumLife.com and loves working with the team and members of the barndominium community. She now contributes to the blog on occasion, but only when she feels like it!