Building a barndominium is a fantastic opportunity to get everything you want out of your home. Because of their unique construction, it is relatively easy to make modifications and create extra spaces. If you work from home or want space for your projects, shop plans with living quarters are a great way to achieve that.
In planning for our new barndominium, we thought how cool it would be to have a big shop area under the same roof as our 3-bedroom living quarters. So we set about searching for the best barndominium floor plans:
What do the best barndominium shop plans with living quarters look like? Ideally, they are between 30×60 and 40×60 feet long, although there are a few arena-size plans that are as large as 40×90. These are typically 3 or 4-bedroom barndos with either a shop, garage, or stables under the same roof. But a few surprised us.
The possibilities are endless when it comes to adding a shop to your barndominium. If you want the focus to be entirely on the shop or the living quarters themselves, you can do both. In this guide, we have put together some of the best shop plans with living quarters. You can use these examples as inspiration for your own home shop space.
Read on for more details.
What barndominium floor plans are best suited to a shop?
Once you decide how big a shop you want, then you can simply look for different size floor plans. A Google search turns up a few. But a Google Images query reveals dozens of them — although many don't lead to a site from which you can download plans.
This is because a couple of enterprising webpreneurs have decided to bait you with floor plans copied from elsewhere on the Internet. The links lead most often to a phony domain, seeking only your attention on a variety of Google ads.
This is annoying, but ultimately useful as you can often come away with a floor plan you haven't seen before. And with some help from barndominium design software or a "live" architect, you can begin turning those downloaded and altered plans into your dream barndo.
1 Bedroom Small Barndominium With Shop Floor Plan
Here's the perfect little barndo for way back in the woods, Check out, for example, the wood stove in the kitchen and the ironing board in the master bath closet. We're not sure, but we would bet this plan was originally drawn on a roadhouse bar napkin somewhere in Oregon….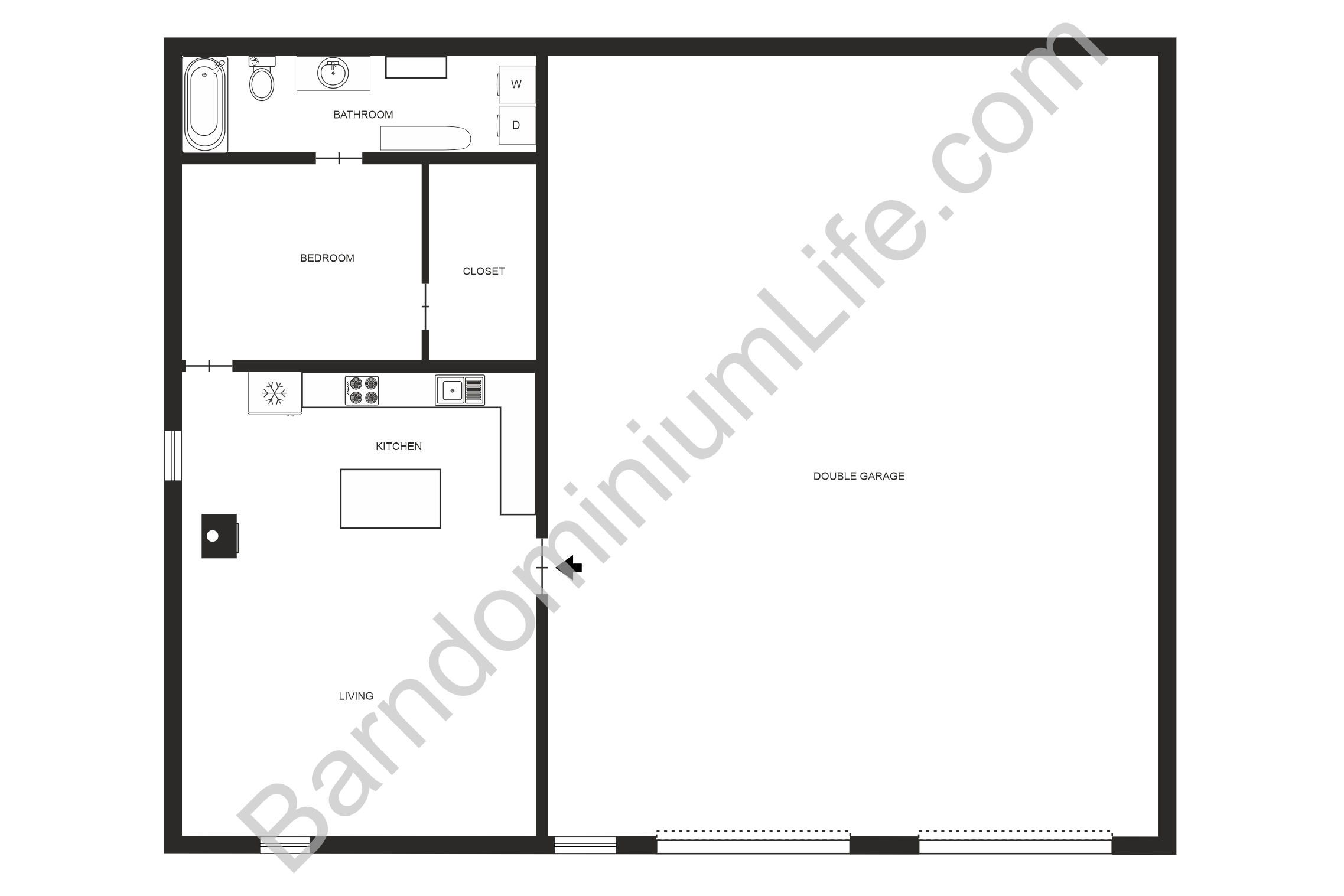 One of the best things about this shop plan with living quarters is the fact that the bedroom is located at the back. This means that work can be getting done in the shop without disturbing the occupants. This is a great way to separate your work and life. When you work from home, separating these two things is essential.
To get the high-resolution, non-watermark version of this floor plan enter your email address below.
30×60 Barndominium Floor Plan with Shop
Our second example is what amounts to a 2-bedroom cottage with 30×30 shop area. Note the generous 20-foot long family room and the huge kitchen area with big island — just right for party mingling.
The fact that this shop plan with living quarters has two bedrooms is a major advantage. Even though the footprint of this plan is relatively small, it packs a lot into the space. Through high-quality design and foresight, you can end up with an ideal home and shop. Having two entrances to the shop is another fantastic feature.
We love the layout of this one. Great for entertaining, while being able to keep your distance too. If you'd like the high-resolution, non-watermarked version of this 30×60 barndominium floor plan, please email us (My name, Don, at the website you're on right now!)
A 35×65 Barndominium with Shop Floor Plan
Here's an imaginative 65-foot long barndo with 35×35 shop area. It makes good use of the apartment area with a 3-bedroom layout and a roomy kitchen/dining combo.
This shop plan with living quarters is an incredibly accessible and fantastic design. One of the most important things to consider when designing a floor plan is the flow. The long hallway leading to the bedrooms in this plan give it a fantastic flow and feel. Plus, the shop is very large, giving you a lot of room for work.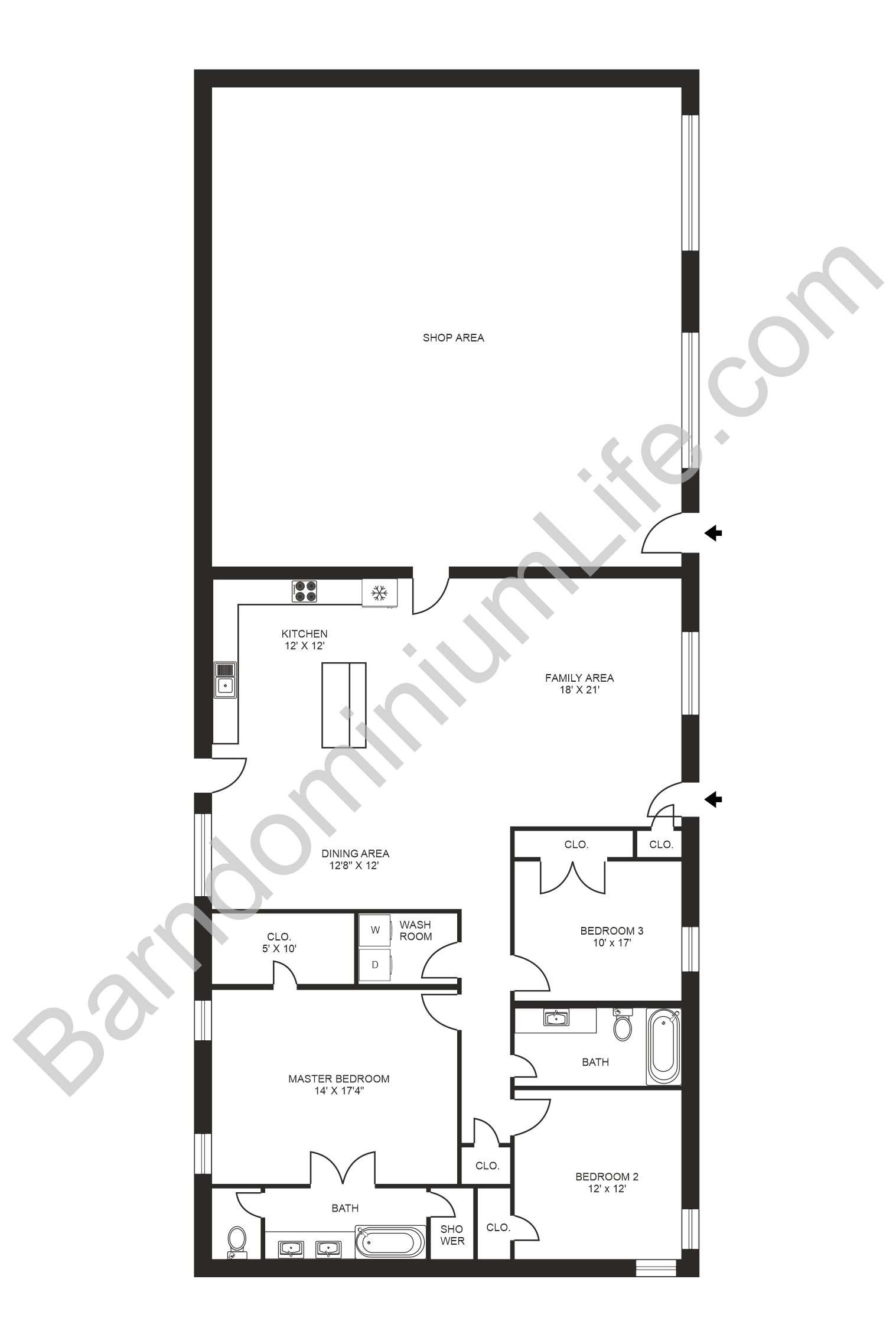 This one is a very similar size to the one above, but seems have much more living area. It also sports an extra third bedroom in addition to the master bedroom!
We love the way this barndominium floor plan maximizes the space it is given. We don't think it'd be too expensive to build given its small square footage.
A 30×90 Barndominium Shop Plans with Living Quarters
Who says you have to stop at 60 feet? or 70? Or even 80? This generously proportioned living area gives way to a roomy shop area. Note the incredibly luxurious master bath.
One of the great things about this layout is its length. Because it has a long footprint, you can get great separation between the shop and the living area. This is crucial for anyone who works at home and wants to have an isolated space. Plus, the living area and kitchen are massive, making for an ideal space for entertaining or family time.
We love this use of space and especially like the entire master area with its entire wing of the house. If you're looking for a bit more privacy, strongly consider this floor plan for your barndominium.
40×60 (Almost!) Barndominium Floor Plan with Shop
Another good example of why many good things come in small packages. Clearly, this highly customized 40×53 barndominium that is all about the shop areas was designed for someone who just wants a place to crash after spending a long but fulfilling day working, we imagine, on his classic car collection. OK, maybe it's a new boat…Or an old boat.
One of the best features about this shop plan with living quarters is the covered terrace and court. When you have covered outdoor spaces like this, you are effectively adding square footage to your home. They also add a fantastic visual element to the exterior, which boosts resale value and curb appeal. With unique homes like barndominiums, this is an incredibly important consideration.
We love the fact that this barndominium tries to keep the shop/garage area as far away from the main living areas as possible.
How Much Does it Cost to Build a Barndominium with a Shop?
However, looking with longing at these well-executed blueprints, we can't ignore the fact that you're still going to be paying for all that space, even if it is cool. Here are some numbers from HomeAdvisor.com
Using your unit for anything other than simple storage increases its costs. The average pole building costs $4,000 to $50,000. Flooring, doors and insulation push the price between $2,000 and $20,000 above the standard estimates. A 40×80 pole-based home with a porch and loft ranges between $50,000 and $60,000.
And, another pertinent factoid:
How much does it cost to build a 40×60 barndominium with shop?
Total costs for labor and materials can be $8,000-$50,000 or more. Graber Buildings estimates that a 20×40-foot wood structure costs $10,000 for the materials and$4,000 for labor, while a 40×60-foot building would cost $18,000 and a 36×48-foot structure would be $29,000.
And, finally…A 35×70 Barndominium Floor Plan with Shop
Here's a bonus 35×70 plan from one of our best designers on our staff. Spacious living quarters with an open kitchen give way to a 30×35 ft shop area. Nicely done!
The best thing about this shop plan with living quarters is the transition from the house to the shop. The entrance from the residential portion is through a washroom. This is a great feature and allows you to wash up before heading inside. If you work on cars or do any other kind of mechanical work, this is an incredibly important feature.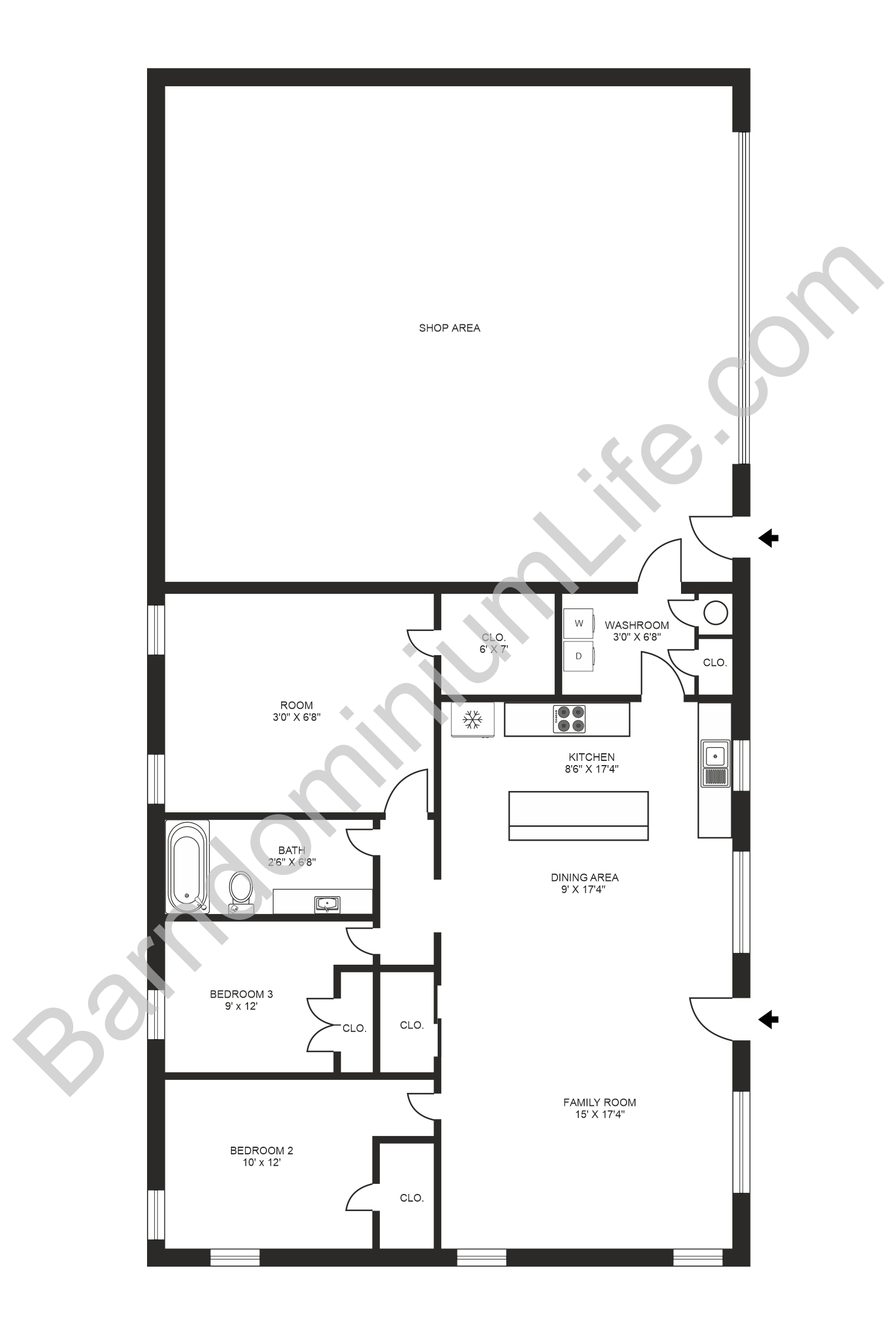 If you would like more guides like this one, be sure to check out the rest of BarndominiumLife.com. There, you will find more helpful tips and tricks from the pros. You will also find featured barndominiums, barndominium floor plans, and information on things like financing and insurance. Knowing as much as you can help you get the best results for your dream home.