Barndominiums are a lifestyle choice that are becoming more and more popular. The structures are safe, durable, and they provide a blank slate for you to design your dream home. If you have been contemplating building a 3 bedroom barndominium, then these 3 bedroom barndominium floor plans are a great option for you.
With a barndominium, any type of layout or design is possible.
How many beds and baths do you want to have?
Have you always dreamed of having a huge island kitchen? Whatever your family desires can be custom-designed into your own barndominium.
There are plenty of layouts and floor plans available to work from. This article presents a few to think about, but remember, this is your family's forever home.
For the ultimate flexibility in designing your own barndominium floor plans consider using barndominium design software.
3 Bedroom Barndominium Floor Plans—Things to Consider
Picking the perfect floor plan layout for your barndominium is not unlike any other house design or purchase. You need to imagine yourself and your family living in the space.
How will you use it? Is there enough space to be comfortable and enough places to put all your stuff?
Your Family's Lifestyle
The size of your family will dictate a lot of your requirements in a living space. Is your household big or growing soon? Lots of kids running around? Or perhaps you are planning to retire soon, and looking for a small space that's easier to keep tidy?
Everyone is different and looking for different things.
3 bedroom barndominium floor plans are one of the most versatile layouts available, especially for families.
These floor plans are not too big for the average family, and they also lend themselves to creating more multi-use spaces as the kids go to work or school.
For example, second and third bedrooms can be used as shared guest rooms and hobby spaces, or simply storage for extra stuff.
One of the great things about choosing a barndominium is that every space is pretty much wholly customizable.
Using Your Land Effectively
If you're coming from the suburbs or city life, this one might seem a bit counter-intuitive. But one of the most important factors in planning your barndominium's layout is where it's located.
Why did you purchase this particular property? What do you love about it? Whatever the reasons, leverage them in your living space.
Maybe you love the view of the river or stream from the back. If that's the case, you'll probably choose a layout with an open living space that points in that direction. A large patio area for enjoying sunrises or weekend barbecues would be a great idea. Many designs feature picture windows from which to enjoy that view from the main living space.
So while looking at layouts, imagine not only being inside the space but also how that space fits your land.
Traffic Flow
It's also important to ask how people use the interior space. Every living space has high-traffic areas that need a little extra planning. For 3 bedroom barndominium floor plans in particular, a little planning goes a long way.
When designing your own space, you have complete creative control over how you want things arranged.
Do you want the laundry area near the bedroom, or do you want the racket of the washer and dryer out in the shop? Do you like to entertain from the kitchen?
If so, you'll want an open floor plan with a large island where guests can sit and enjoy themselves.
Closets and Storage
Every family has varying amounts of stuff to store, so make sure the layout you pick has sufficient storage space.
This is one of the harder things to figure out from floor plans, so take a look at your current living space and how you use the closets you have. Is it enough space? Are the closets on this layout going to improve or hurt the situation?
Hobbies and Toys
Finally, what else in your life takes up space? Are you crafty people who need lots of workspaces? Would an attached shop improve your life?
Or maybe your family has a boat or RV and wants to use the shop space for storage. Kayaks, paddleboards, bicycles, and exercise equipment all take up a lot of space. The attached shop makes a tidy space to store all of this and work on projects.
The best way to plan the perfect layout is to visualize the space and how you would do day-to-day tasks. Who is coming and going? What do the views look like outside of the windows? Where would you like to sit and enjoy your coffee in the morning? And how will it all change with the seasons?
3 Bedroom Barndominium Kits
If you're looking to start building your barndominium, one of the first things to do is to get a quote for the metal shell or barndominium kit. By using the quote service below, you'll get connected with a barndominium kit provider within a few hours at most. Prefabricated barndominium kits mean that the metal shell that makes up your barndo is produced off-site, then it's brought to you for erection and assembly. While some builders will help you order the barndominium kit, we suggest doing it separately to avoid a potential markup on the barndominium kit.
That's it! By using the tool above you'll get connected with a kit provider for 3 bedroom barndominium kits.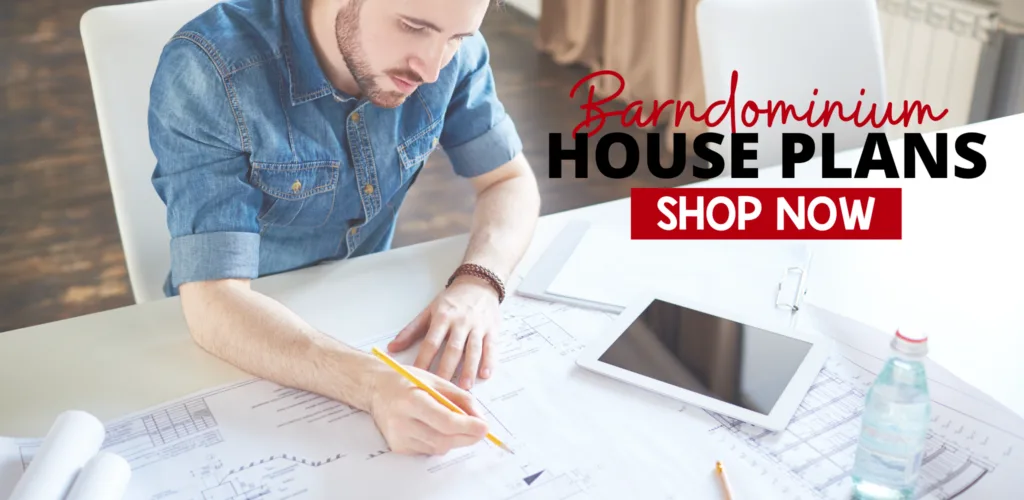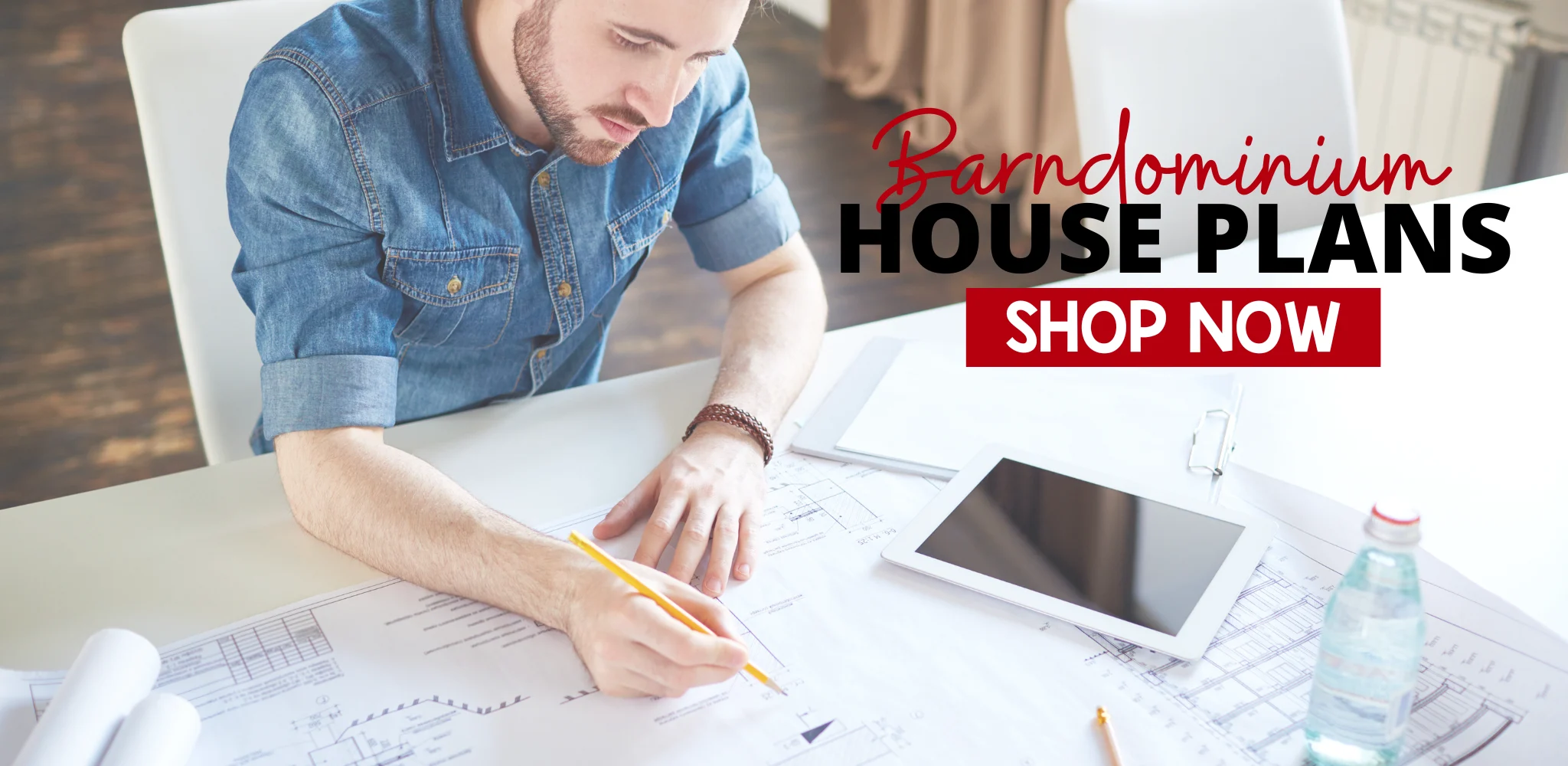 3 Bedroom Barndominium Floor Plans with Pictures – Get Inspired With These Floor Plan Ideas
This sprawling retreat spans an impressive 4,234 square feet, offering a harmonious blend of spaciousness, functionality, and stylish design. With three well-appointed bedrooms and two bathrooms, including a master suite, privacy and convenience are paramount. The grand entrance foyer leads you into the heart of the home, where an open-concept family room with a cozy fireplace awaits. Enjoy the convenience of an office space, dedicated laundry room, and abundant storage throughout. The front porch and back patio provide additional spaces for relaxation and entertaining.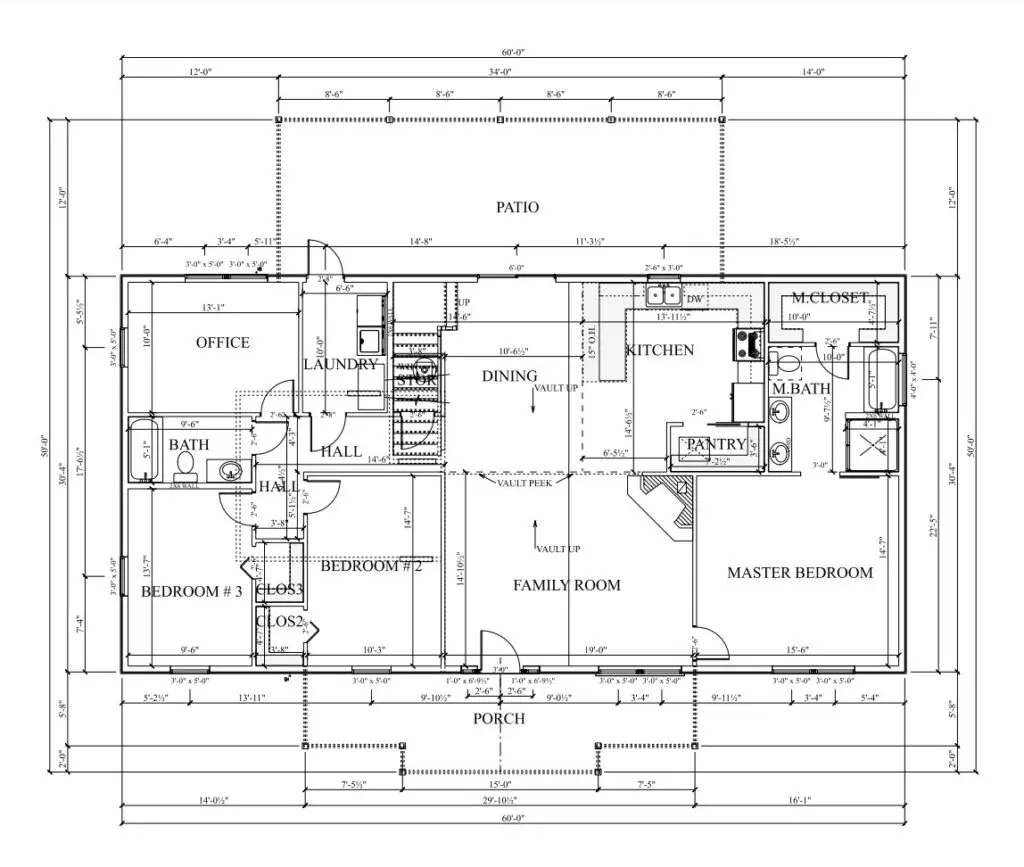 A charming 2,752 sq ft home featuring three spacious bedrooms, a family room with a cozy fireplace, and a separate office for focused work. Upstairs, a versatile bonus room and ample attic space offer creative possibilities. Enjoy the front porch and back patio, connecting with nature and relaxation. A perfect blend of comfort and style awaits you in this remarkable dwelling.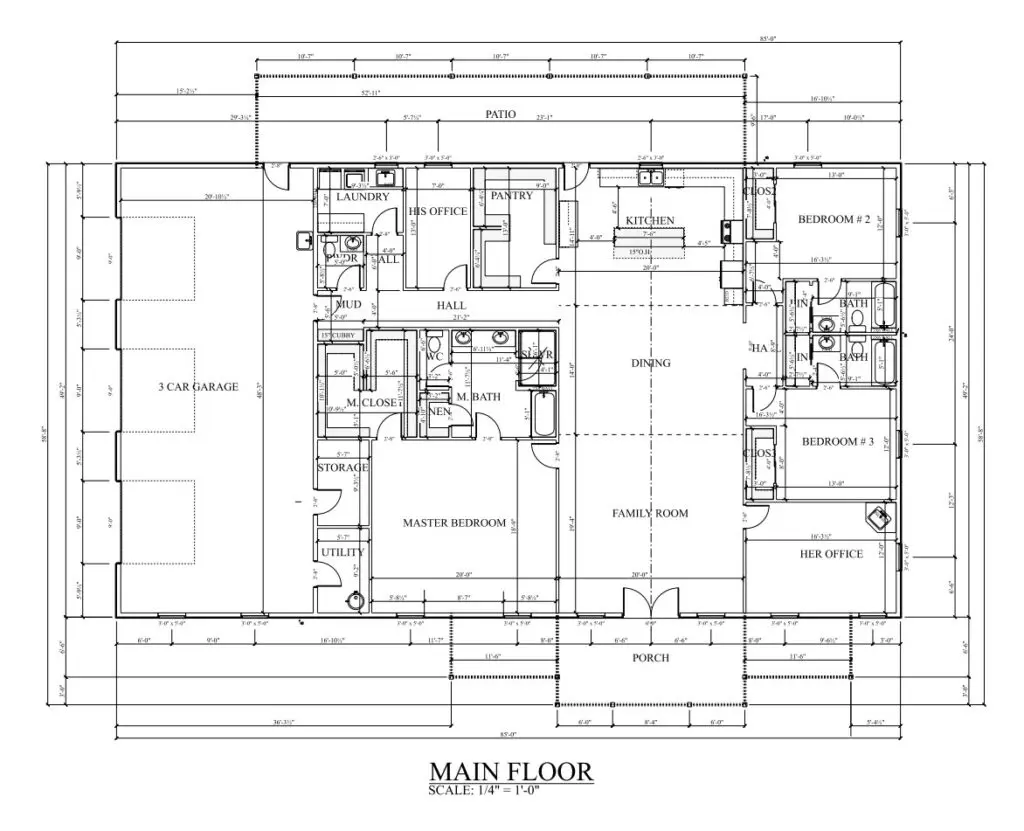 Step into spacious luxury with this exceptional home boasting 3,130 square feet of heated living space. With 3 generously sized bedrooms and 3.1 bathrooms, there's room for everyone to unwind and recharge. The attached 1,049 Sq Ft, 3-car garage adds convenience to your daily routine, complete with a storage room for organized living. The utility room simplifies household tasks, while two separate offices, tailored for him and her, offer comfortable and productive work-from-home solutions. Embrace the perfect blend of elegance and functionality in this remarkable residence.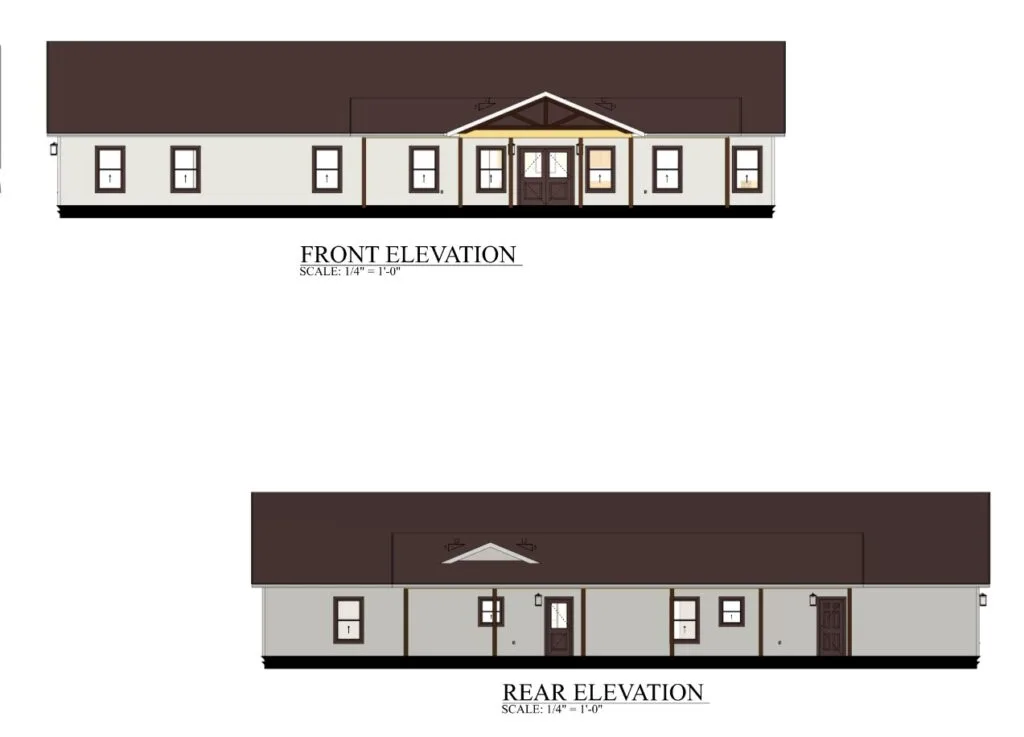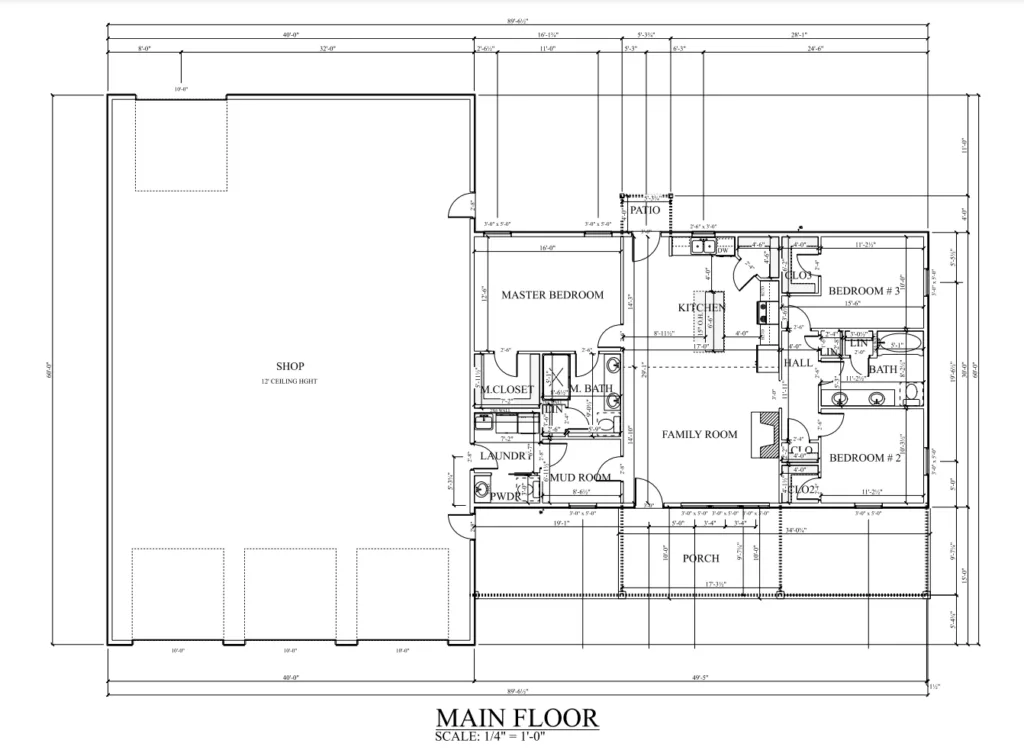 Discover 1500 sq ft of cozy comfort in this single-story home. With three bedrooms, 2.1 bathrooms, and an open concept design, it's the perfect space for your family. Stay organized with a spacious shop, a dedicated laundry room, and a practical mudroom. Cozy up by the fireplace and enjoy a clutter-free entryway.
Experience the luxury of space in this expansive, loft-style home that boasts 2,533 square feet of heated living area. Spread over two stories, it features three cozy bedrooms and two full bathrooms, ensuring convenience and privacy for all residents. The open-plan living and high ceilings offer a sense of freedom and creativity, perfect for those who appreciate a modern, industrial aesthetic. This home is a perfect blend of roominess, comfort, and modern design, ideal for a growing family or for those who love to host.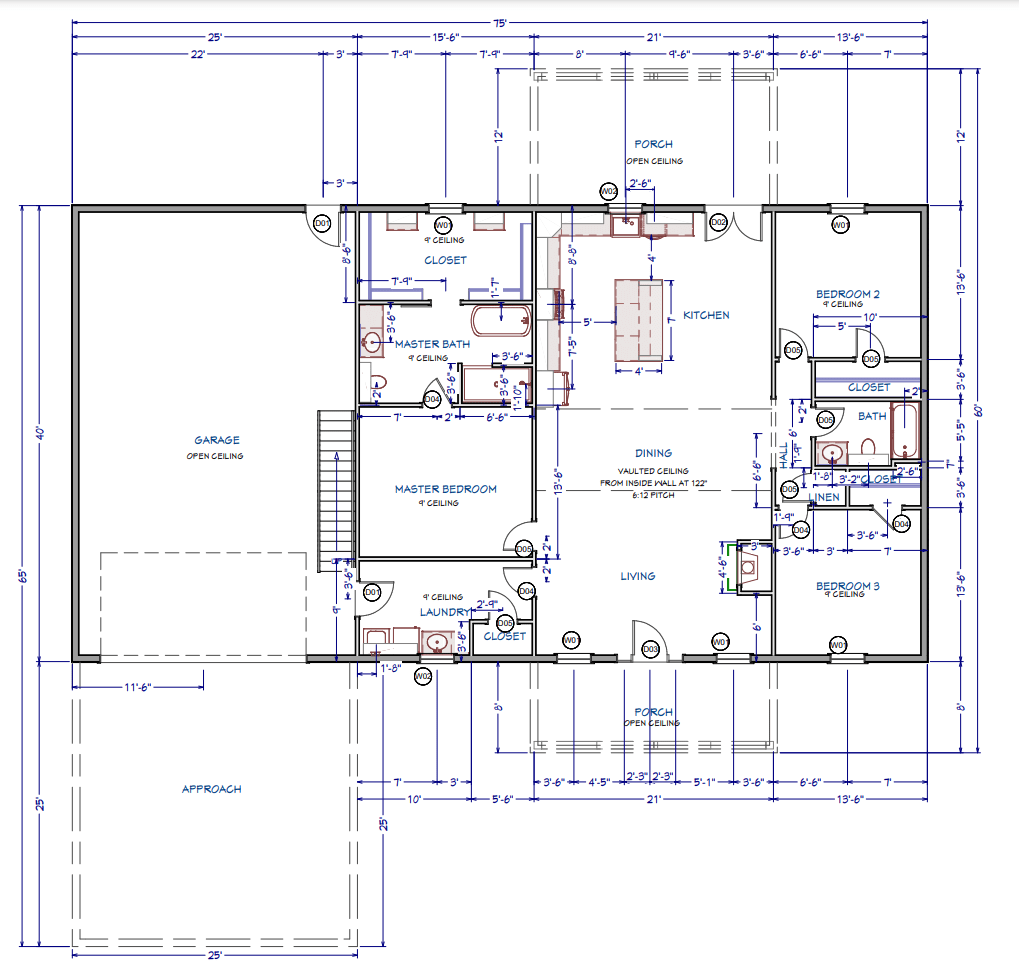 The open living room, dining, and kitchen area is great for hosting guests. A lovely fireplace warms the living room in winter. Chefs will love the kitchen and the huge island is ideal for cooking or eating with family and friends. Bedrooms have ample closet space. The new bathrooms are elegant. The front and back porches are ideal for outdoor relaxation. A garage provides room for parking and storing outdoor goods.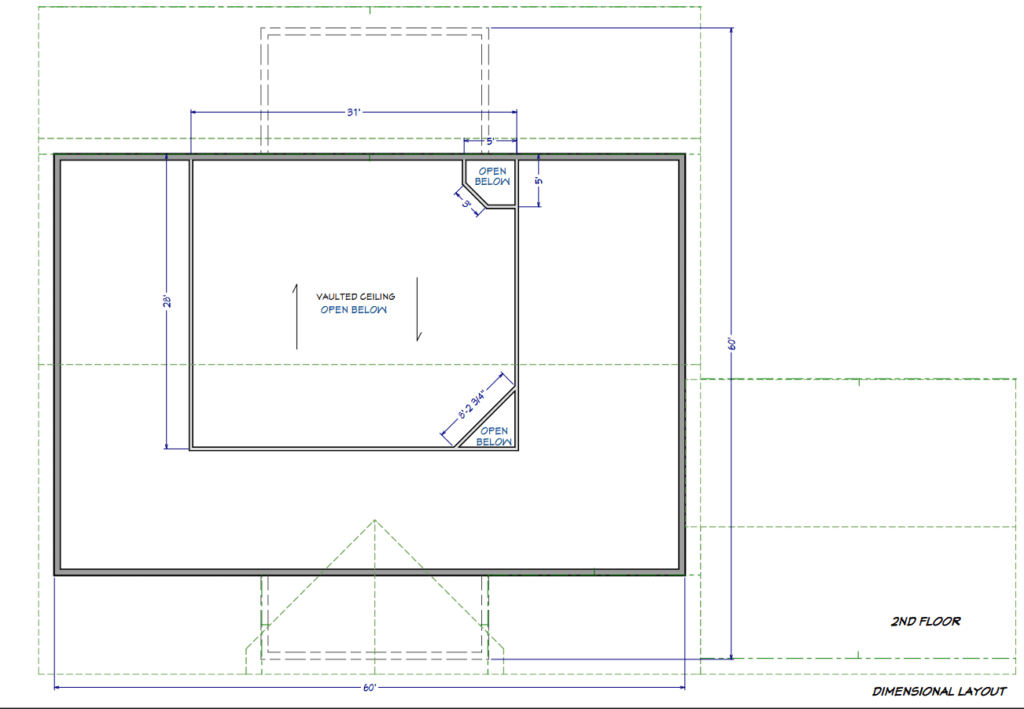 This magnificent property has 3 bedrooms, including a large master bedroom with a luxurious bath and a closet with attic access. The entrance opens to a pleasant living area with a fireplace. The open living room, dining, and kitchen are ideal for entertaining and making memories. The attic provides additional storage. Play and work in the barnd's playroom and office. Enjoy peaceful views and fresh air on the patios.
Discover the perfect blend of comfort and style in this charming 1-story home spanning 2,110 heated square feet. Boasting 3 bedrooms and 2 bathrooms, this residence invites you into a seamless open-concept living space. A generously sized wraparound porch welcomes you to enjoy the outdoors, creating a delightful space to relax and unwind. Complete with an attached 875-square-foot garage, this home is a testament to modern living with a touch of classic charm.
Experience spacious luxury in this stunning two-story home spanning 2600 heated square feet. Boasting a generous 1800 square feet attached garage, this residence offers ample space for both living and storage. With three bedrooms and two bathrooms, this home is designed for comfort and convenience. The open concept layout enhances the flow between rooms, creating an inviting atmosphere for gatherings and relaxation. Enjoy the beauty of all seasons in the charming three-season room, adding a touch of versatility to your living space. Welcome home to a perfect blend of style and functionality.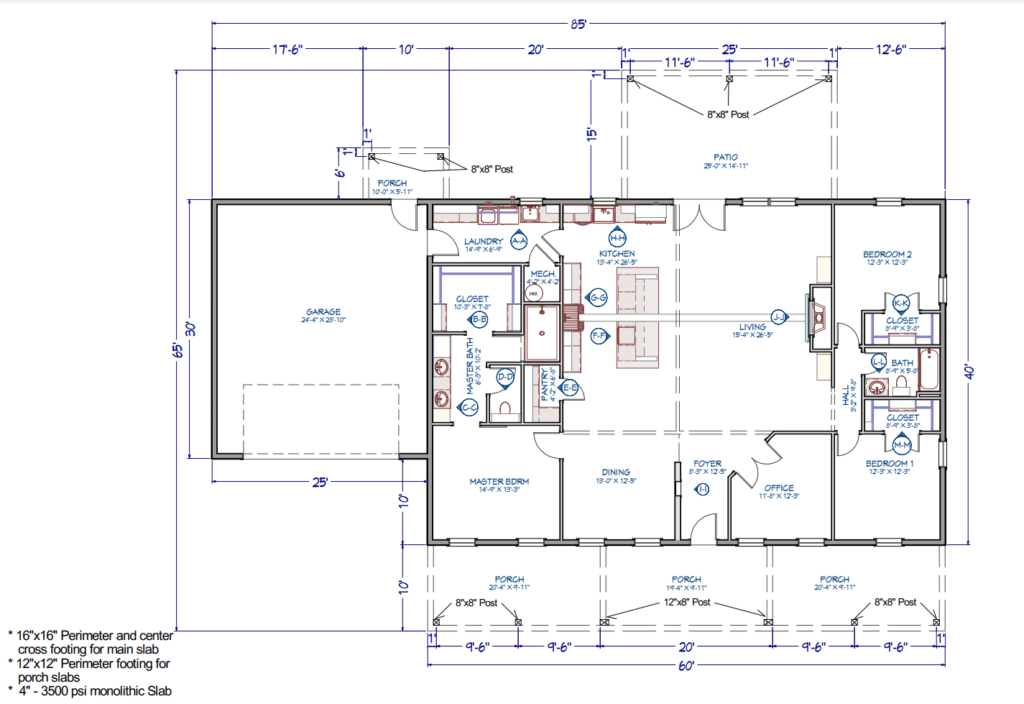 This beautiful home boasts 2400 sq ft of living space and a 750 sq ft garage. You'll find a spacious master bedroom with a bath and walk-in closet. Two other bedrooms share a well-appointed bathroom. You'll also have plenty of room to work from home in the dedicated office space. As you enter the house, a welcoming foyer leads into an open-concept living room with a cozy fireplace. The adjacent kitchen is a chef's dream, with plenty of counter space and storage.
Outside, you can relax on the front porch or entertain guests on the back patio. This stunning barndominium is perfect for those who love country living with all the modern amenities.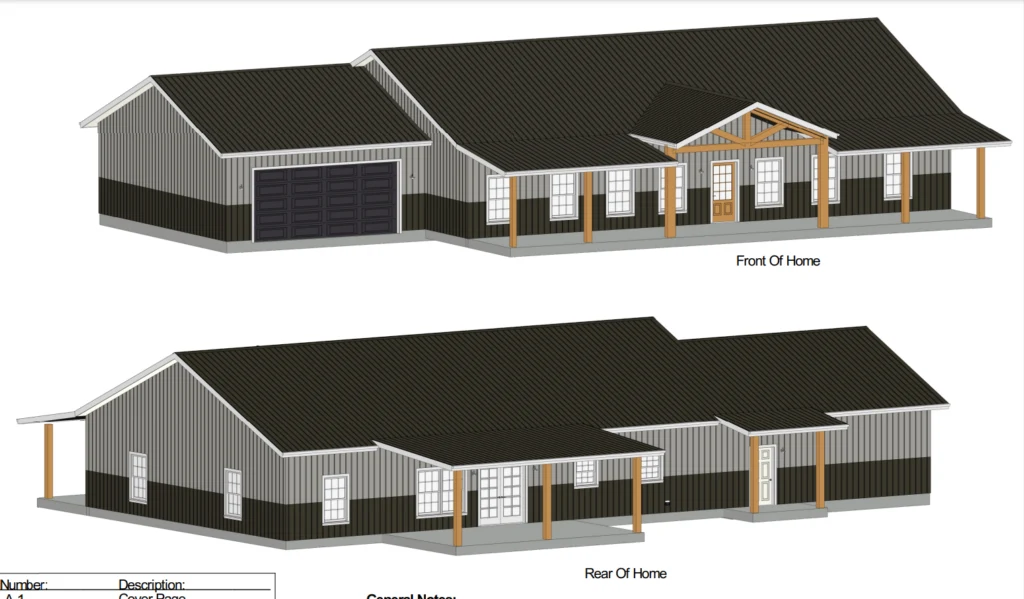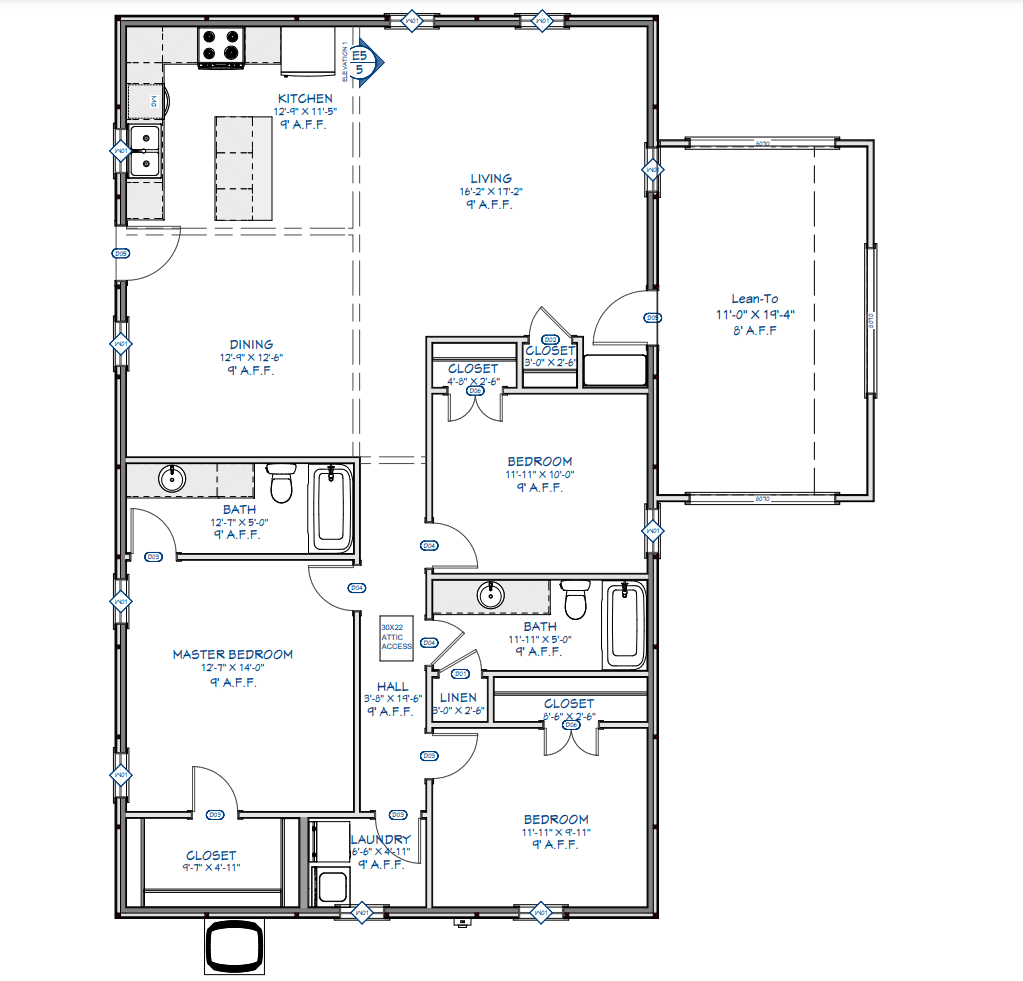 This home is perfect for anyone who loves modern amenities and rustic charm. With its spacious living areas, three bedrooms, and two bathrooms, everyone has plenty of room to live comfortably. And, with the lean-to roof and front porch, you'll have plenty of space to enjoy the outdoors.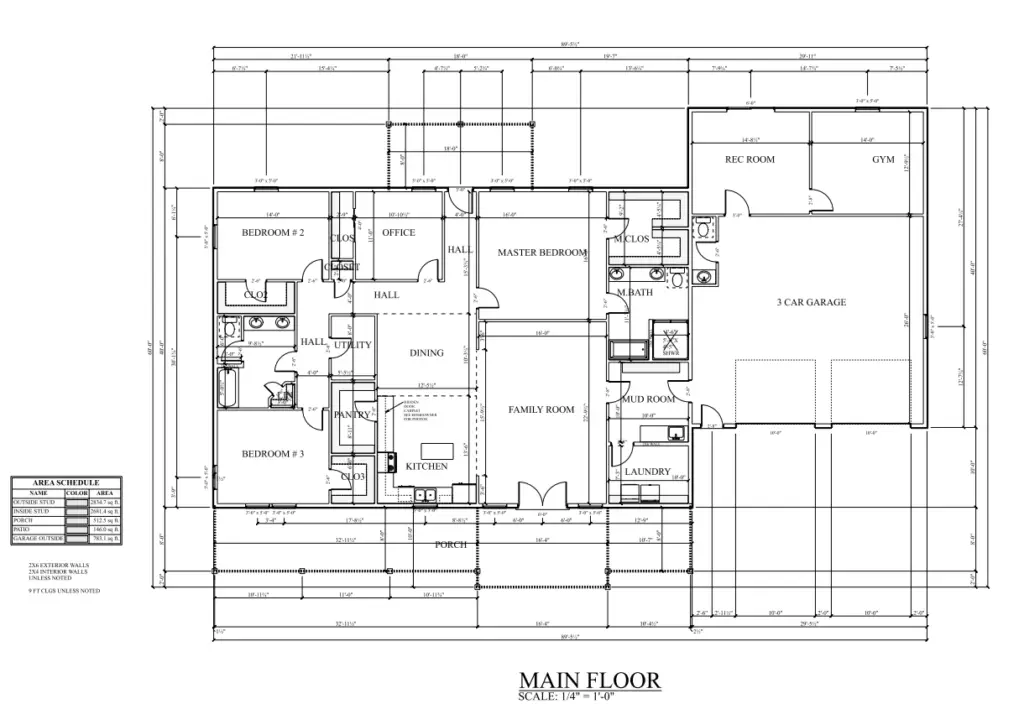 This beautiful house has a large floor area of 4,277 square feet, with three bedrooms and two bathrooms. The house also has a room for people who need to work from home and a large family room. This Barndominium house plan also has a three-car garage, a leisure room, and a gym. This beautiful house is finished off with a warm front porch, which is the perfect place to unwind after a long day.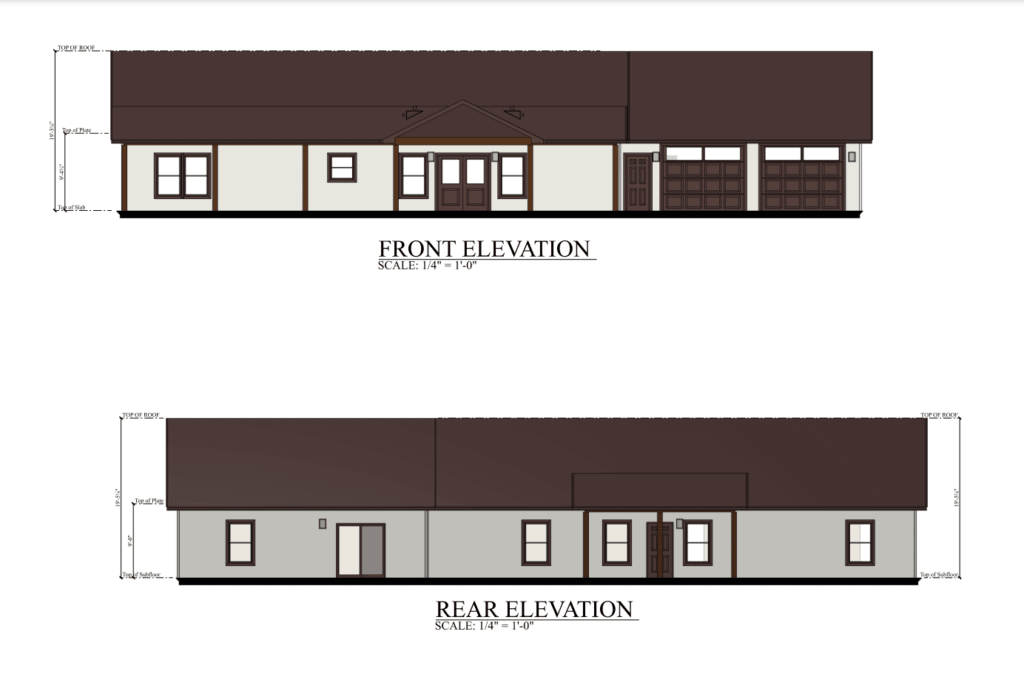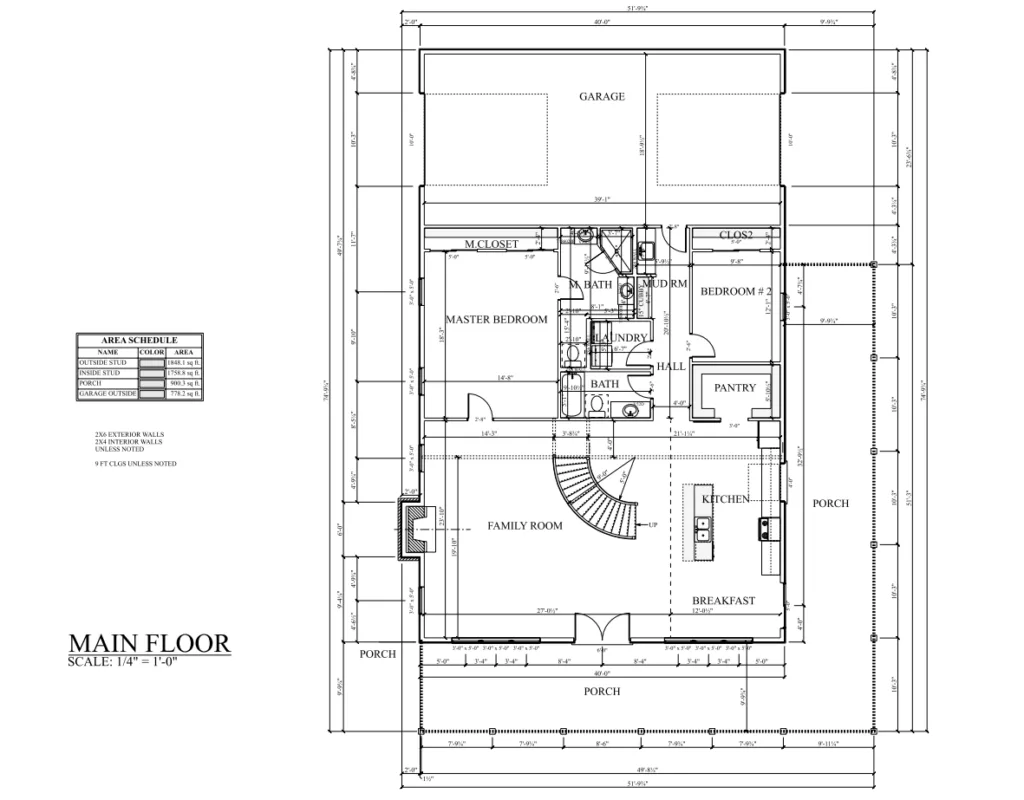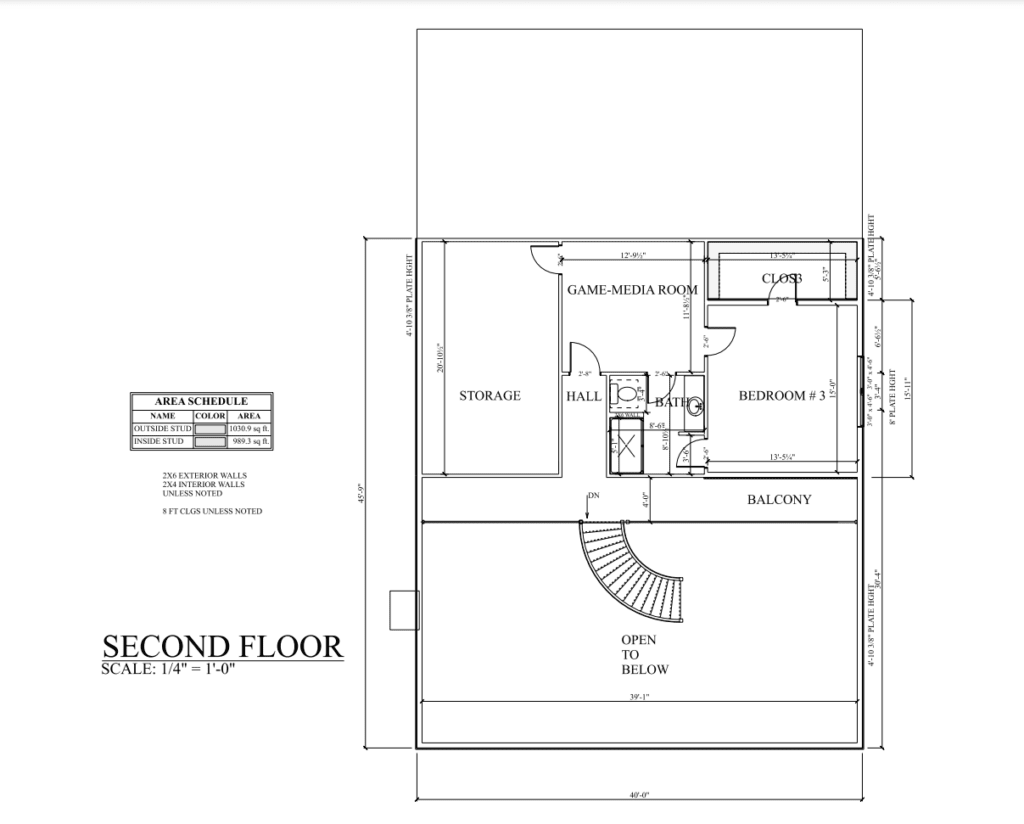 This stunning 2-story property offers 4,557 square feet of living space. The spacious family room with a fireplace is the heart of the home. The garage provides ample space for parking and storage. From the front porch extending to the sides, you can enjoy the beautiful scenery and relax in the fresh air.
The first floor features a master bedroom with its own bath and closet and a second bedroom with a closet, shared bath, laundry room, and mud room. On the second floor, a loft-style design includes another bedroom, a game room, a bathroom, and a huge storage room. This versatile space can be used for anything from a home office to a playroom for the kids.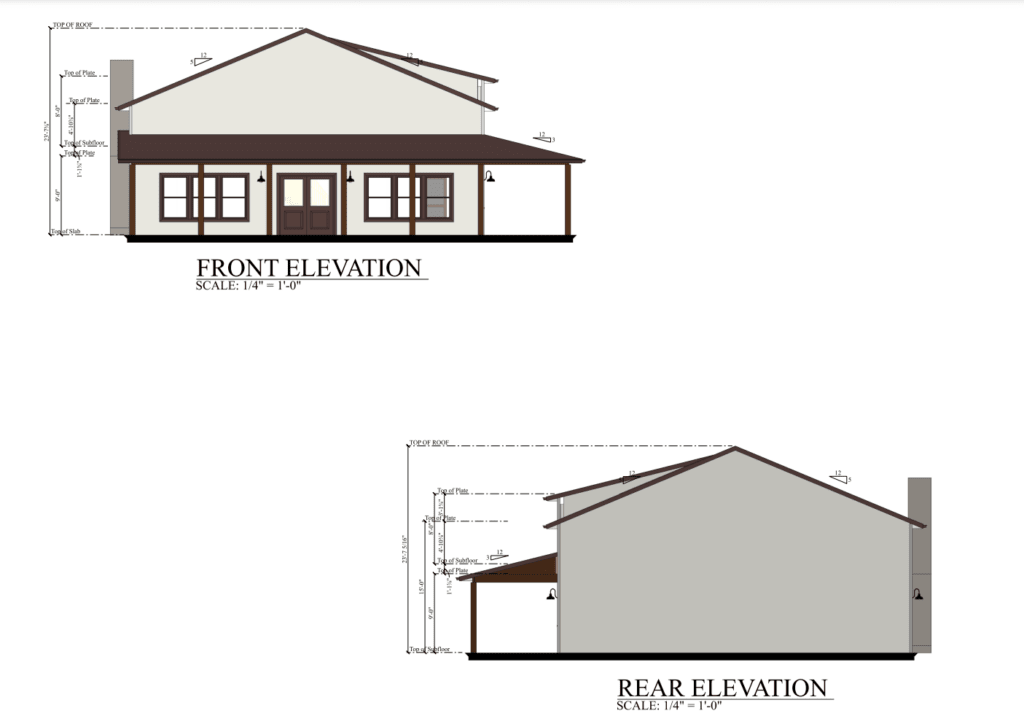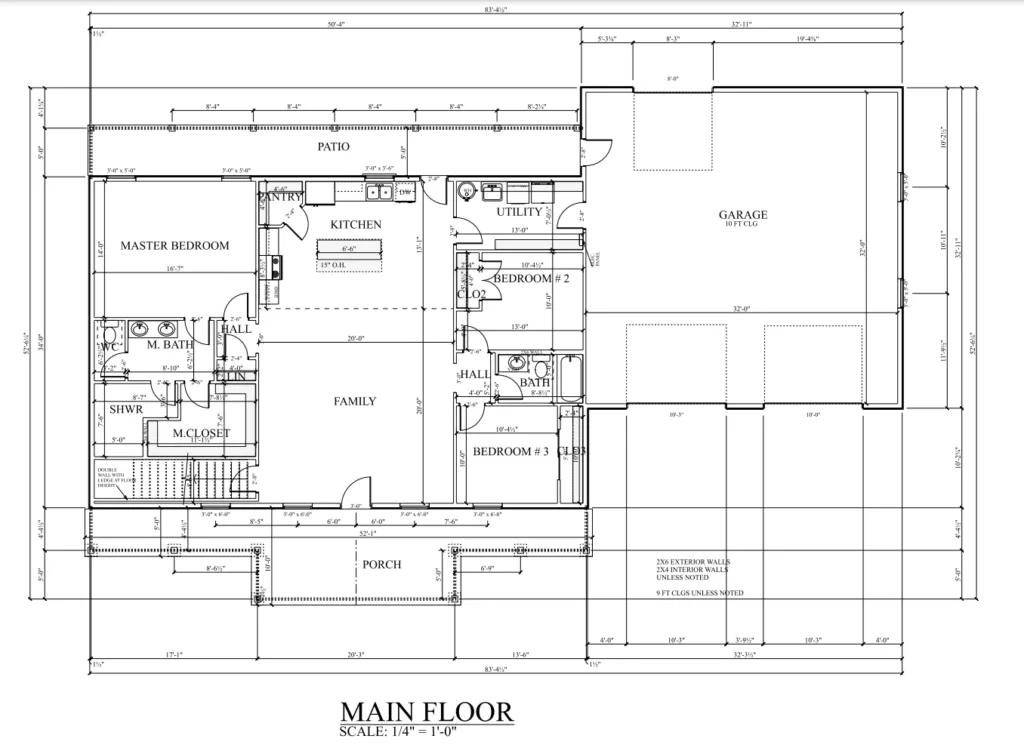 Equipped with a two-car garage on one side, this barndominium would have plenty of room for a parking pad for your vehicles if you'd prefer to use the space as a workshop instead. Easy access to the utility room and a dedicated dog washing area would make this perfect for hunters and hikers who love to take their 4-legged friends with them into the outdoors.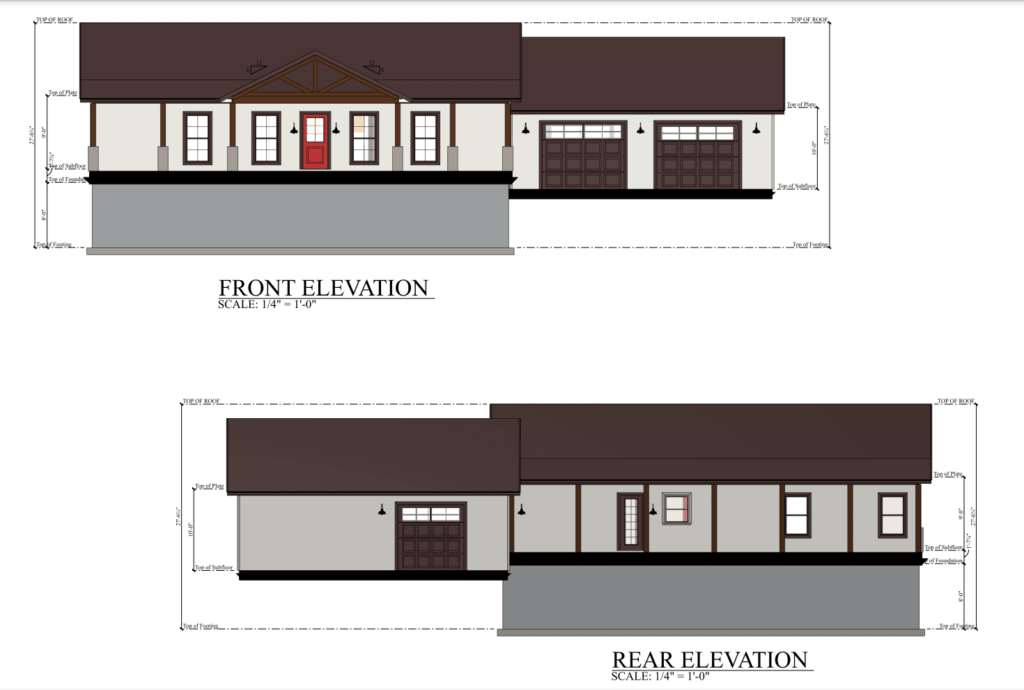 A 3-car garage to start off makes it a perfect home to store your vehicles and even function as storage at the same time. Pick a spot anywhere on the wraparound porch to relax and enjoy the outdoors. Spacious living space with loft with 2 bedrooms while the master bedroom has complete privacy on the main floor.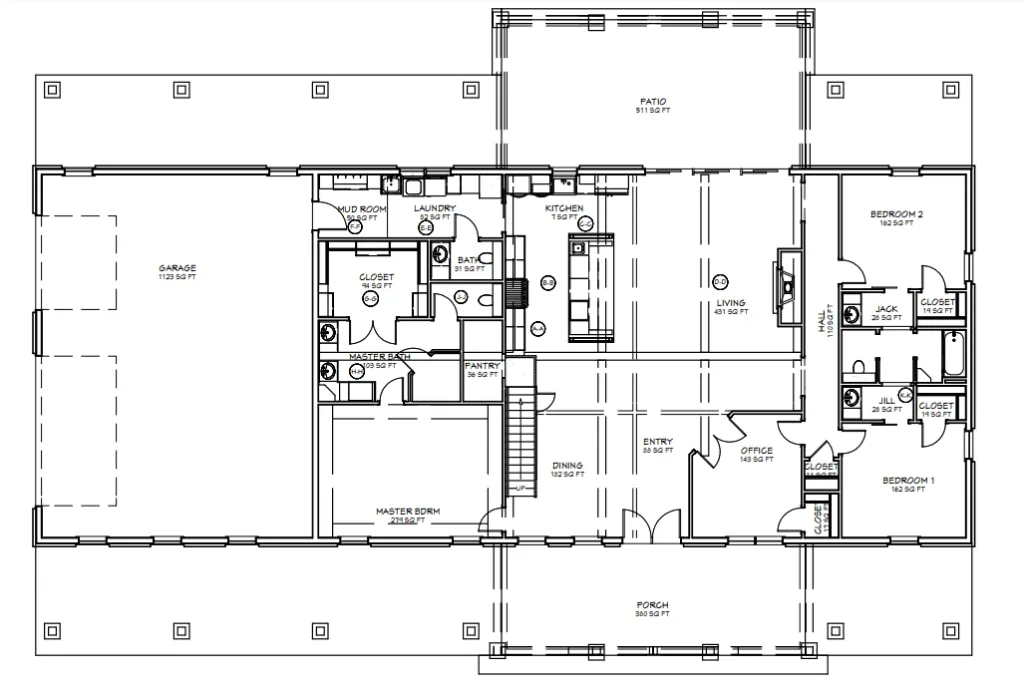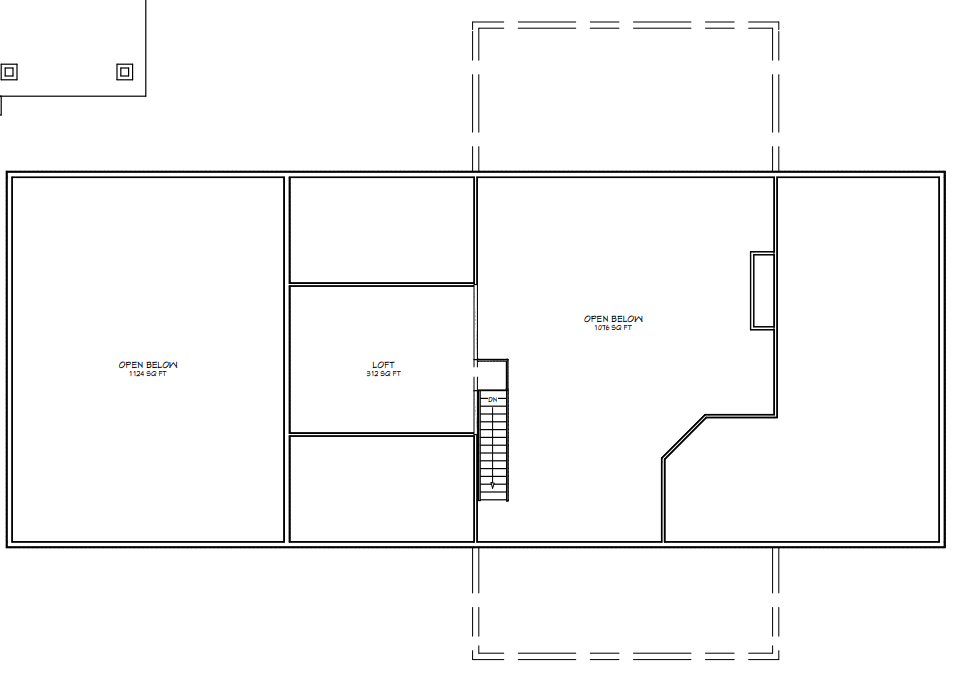 This barndominium with loft showcases makes the most out of all the space available. Vaulted ceilings create a huge indoor space. All the rooms are on the main floor while the loft can be turned into additional storage or a private space for guests. It features a front porch and a patio, and the garage can fit2-3 vehicles.
A spacious home with 2800 Sq ft with 3 bedrooms and 2.5 baths. It features a private space for working at home with one of the rooms intended for an office, a jack-and-jill bathroom, and a 2-door garage. Long stretches of front and back porches allow more space for relaxation, whichever view you prefer. Lots of storage spaces including the loft which can also be converted into a guest space, etc.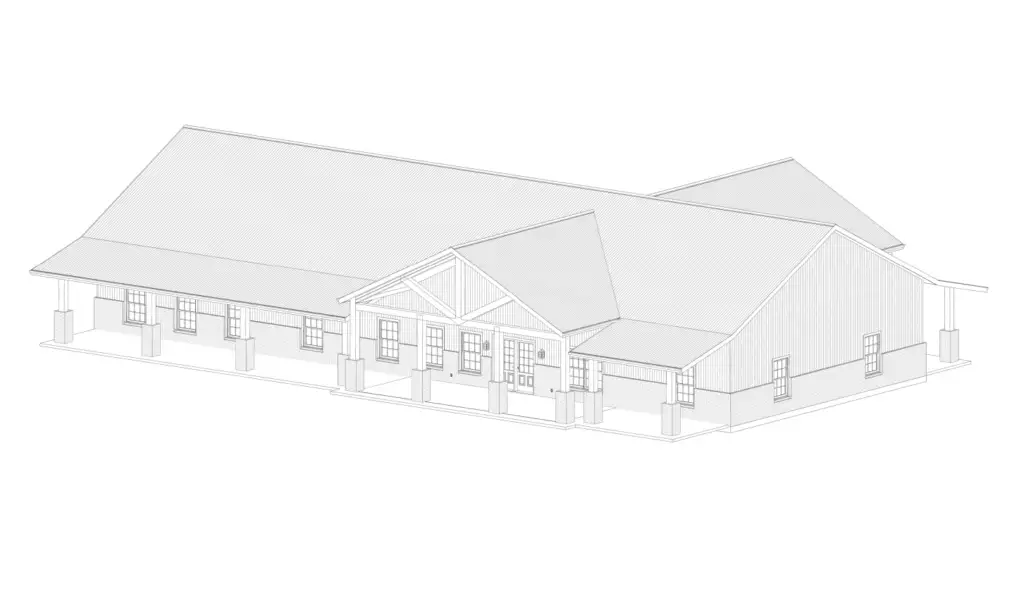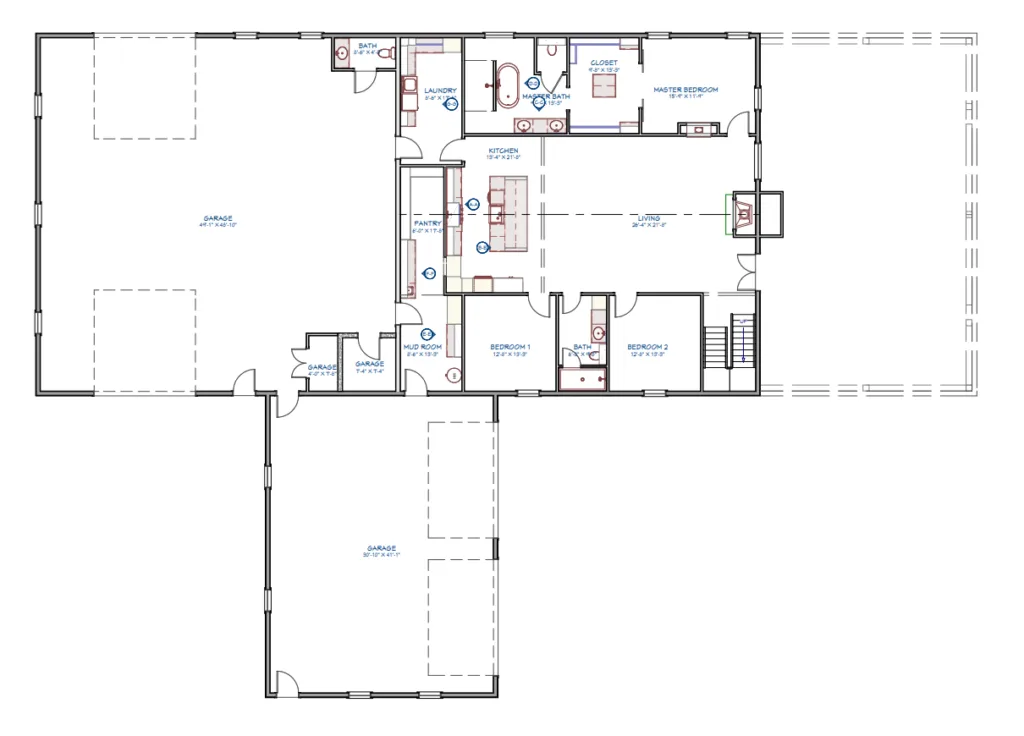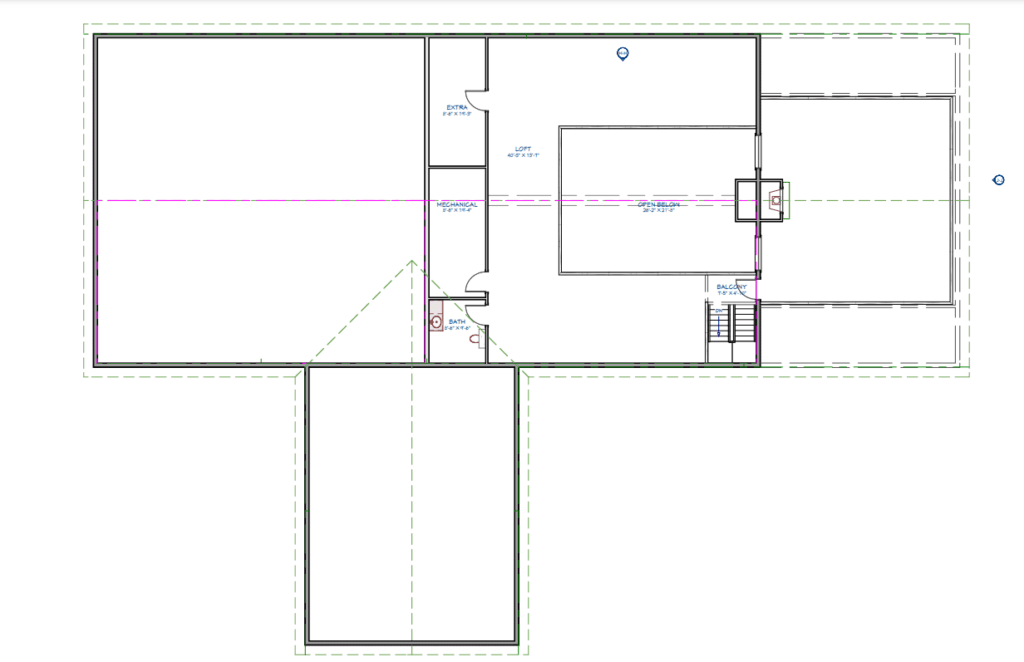 This 3 bedroom barndo is perfect for a family who loves the outdoors. It has 2 garages for storing off-road vehicles, and the other garage can also be a shop and storage for other outdoor gear. The spacious balcony is a great space for holding gatherings or relaxation.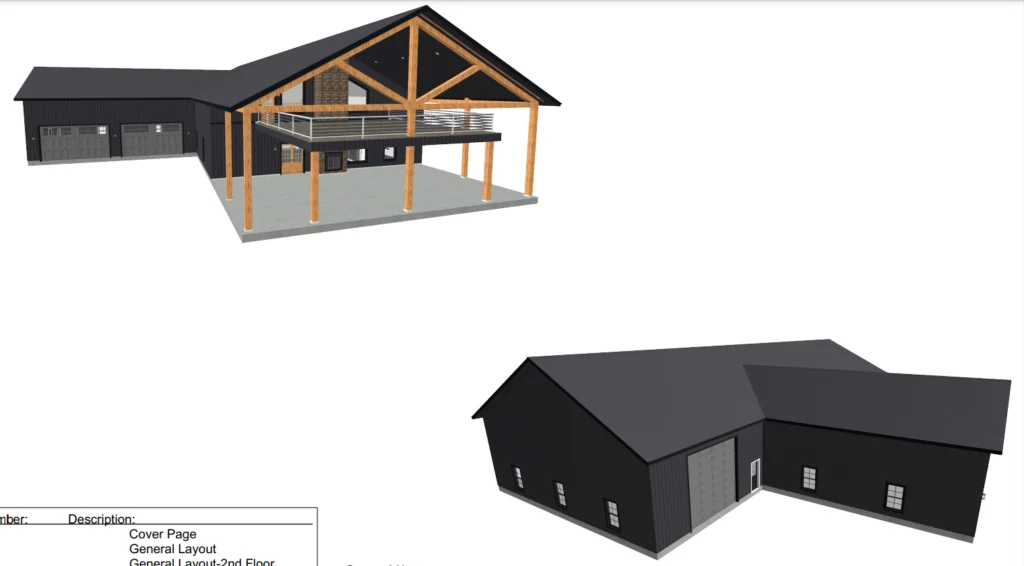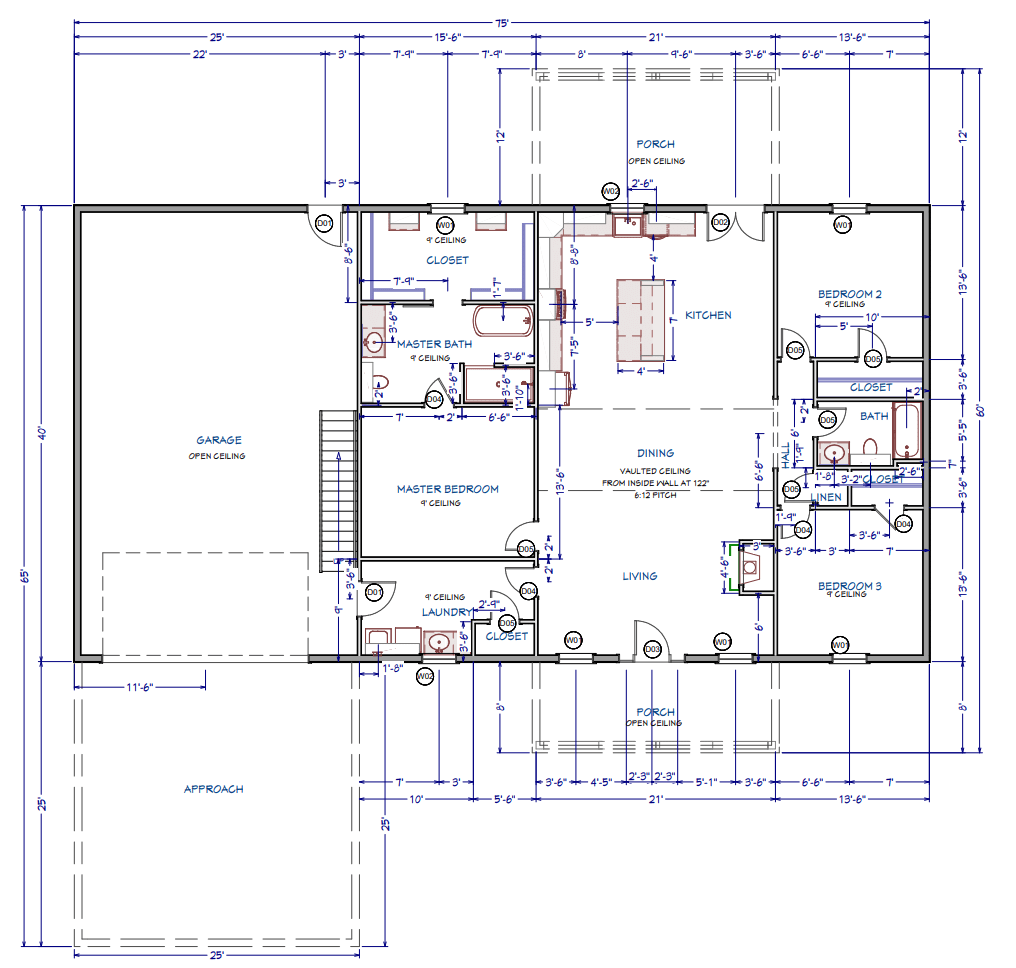 A 3-bedroom, 2000 sq ft barndo with massive garage is just the perfect plan for a family that loves lots of space. The huge master bedroom is on one side of the barndo with a spacious bathroom and walk-in closet. Opposite are the 2 other bedrooms also both boasting ample space. The stretch of open living and kitchen space gives a lot of room to freely move around. The garage is also great not only for holding your vehicles but for extra storage as well.
What's great about this home is the 1440 sq. ft. massive garage, perfect for families with multiple vehicles. It has lots of space surrounding the home with front and back porches, and the concrete garage apron is also spacious enough to temporarily park your vehicles. Unlike other open-space concepts, the space here combines the living and kitchen areas while the dining area is separated in the corner. Another great thing about this is that the master walk-in closet connects the master bedroom and the laundry area.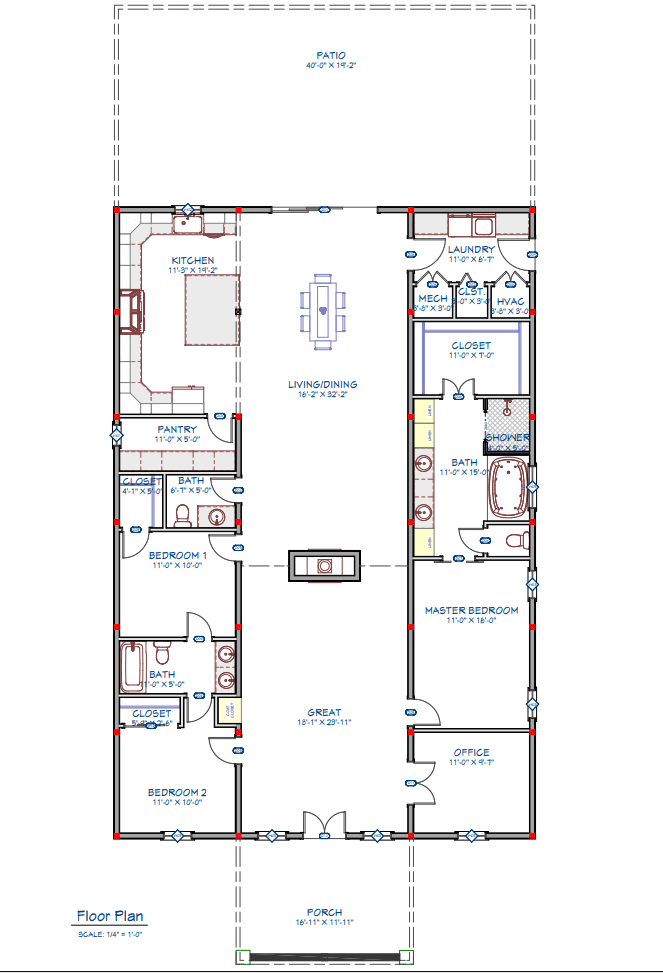 This floor plan is perfect for a small family and also accommodates a working-from-home setup with an office, which can also be turned into a storage, playroom, or recreational room. The front and wide back porches are great for relaxing and occasional get-togethers.
This floor plan features a cozy and functional layout that includes three bedrooms, two and a half bathrooms, a convenient mudroom, and a welcoming porch. The bedrooms are strategically placed to offer privacy and comfort to the occupants. The master bedroom includes a private ensuite bathroom, while the other two bedrooms share a full bathroom. The kitchen, dining, and living areas flow seamlessly, creating a spacious and open-concept living space. The mudroom provides a place to store shoes, coats, and bags. The back porch is perfect for outdoor entertaining or simply relaxing in the fresh air. Overall, this floor plan is designed for comfortable living.
This 55×33 3-bedroom barndominium floor plan is also available to purchase as a full home plan. It features a great layout with tons of closet space, a pantry off the kitchen, and great bedroom closets.
We would be remiss if we didn't mention the fantastic shop/garage area that leads into the utility room. Plenty of room for your cars or projects!
Click here to purchase this full home plan including electrical, elevations, plumbing, and everything else you need.
This design is a simple floor plan with a large shared living space. Notice that the bedrooms are closely spaced, so it's not best if you'd like to keep your kids or guests on the other side of the house.
It's also unique in that it has no hallways or crowded traffic areas. Everything centers around the main family room and eating area.
With only one bath, this layout is probably best for couples or retirees who want to use those extra bedrooms as offices or hobby spaces. It's a tidy layout for a small space and one of the best three-bedroom 30×40 barndominium floor plans we've seen.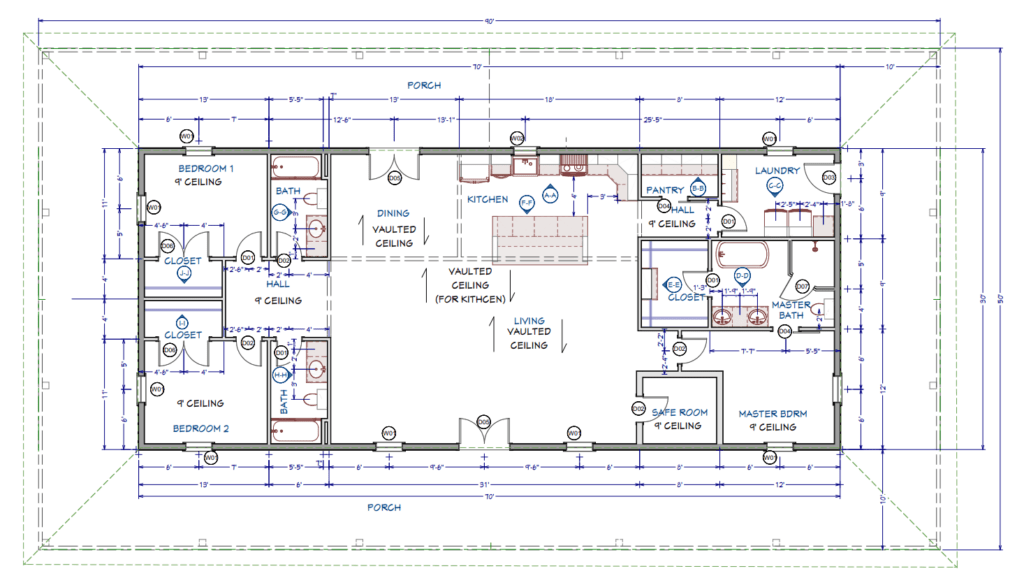 A perfect home for a medium-sized family with 3 bedrooms and 3 bathrooms. The wraparound porch is great for lots of outdoor relaxation and activities without being too exposed to heat or rain. An additional great feature for your valuables is the safe room.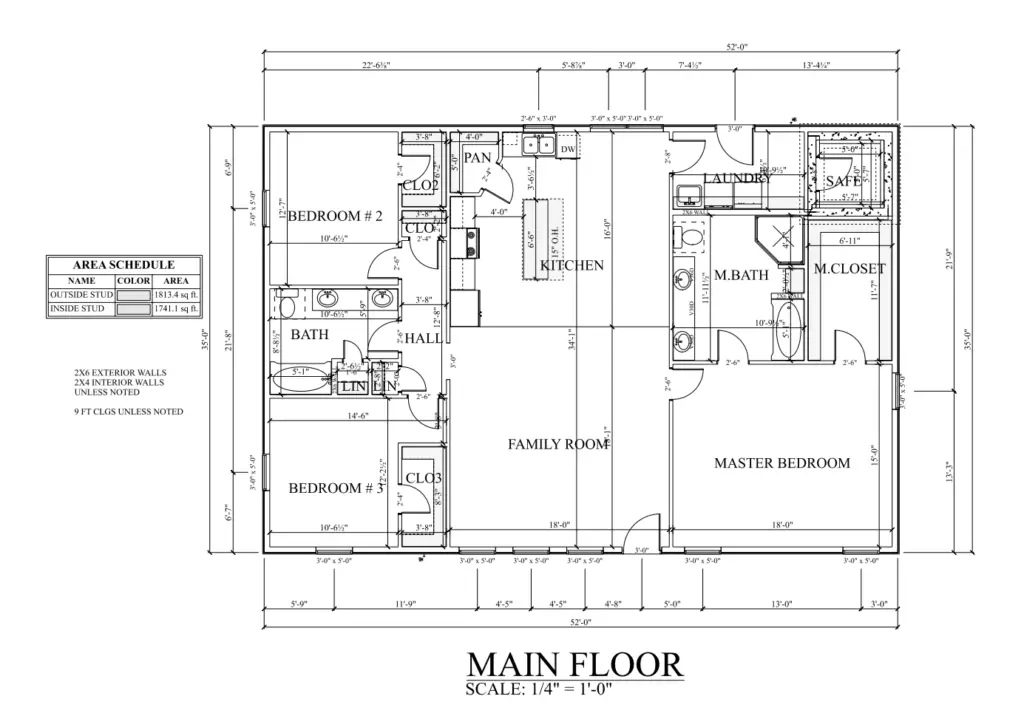 3 Bedrooms
2 Bathrooms
Safe Room
Pantry
Open concept
This high-tech home, with its handy safe room located within just a few feet of the master suite, provides the confidence you need knowing your family has a shelter to escape to during times of emergency.
Meanwhile, the open kitchen/dining/living room provides a cozy space for lots of family fun during safe times.

This layout has a little different aesthetic. Instead of all rooms adjoining the main living area, one central hallway connects to the area. The main dining room and living areas are still wide open, with big windows for looking out over your land. The master suite is self-contained with a big walk-in closet for storage and a private master bath.

Here's a similar take on the same idea. Here the master suite area is at the end of the hall, even more, removed from the second and third bedrooms. It also features a much bigger walk-in closet for the master bedroom.
It also has the kitchen centered along an interior wall instead of the exterior. That opens up the living space, providing more dining options with views.
With only one bath and measuring 35×40, this is a small barndominium plan. But unlike the first example, this one has the guest or kids' rooms separated from the living space by a long shared hallway. The living space is wide and open, with an island kitchen and big window views. But it's also quieter and away from distractions without doors and traffic running through the room.

This large barndominium features a smaller 35×50 living space adjoining a large shop area, perfect for parking your toys or working on your hobbies. The three bedrooms, two-bath home space is much like our second example above, with one central hallway connecting the bedrooms to the central living space.
We really like the flow-through design of the main living area and how the kitchen connects to the back of the house. It's the perfect place to add on a big patio out back with an outdoor grill!
If you really like the idea of a shop, but want a less cramped living space, here is a more open option. This one-bathroom layout still features three bedrooms, but they are mostly kept separate from the main family room.
Access to the shop area is through the washroom and kitchen area, which makes for a tidy layout. It also means you can keep a second freezer or extra pantry space in the shop area.
Design Your Own 3 Bedroom Barndominium Floor Plan
The beauty of basing your home on a barn is that you can make it any way you like. The layouts above are as simple as they are generic.
Looking to design your own barndominium floor plans in 2D or 3D? Check out our reviews of the top barndominium design software.
If you're considering taking the plunge into barndominium life, check out our program "Barndominiums Made Easy"
Conclusion on 3 Bedroom Barndominium Floor Plans
Whether you pick a pre-made or fully custom layout, designing a barndominium is a great way to use the space on your land and make a comfortable living area for you and your family.
To help you with your barndominium planning and building, we have created the Barndominium Life Program. It's a take-all program- from planning to building and finishing, tips, and lots of inspiration to make your barndominium journey a lot easier.
If you would like more guides like this one, check out the rest of BarndominiumLife.com. There, you will find more helpful tips and tricks from the pros. You will also find featured barndominiums, barndominium floor plans, and information on financing and insurance. Knowing as much as you can will help you get the best results for your dream home.