Barndominiums are a lifestyle choice that are becoming more and more popular. The structures are safe, durable, and they provide a blank slate for you to design your dream home. Today, we'll be covering some of the best 3 bedroom barndominium floor plans.
With a barndominium, any type of layout or design is possible.
How many beds and baths do you want to have?
Have you always dreamed of having a huge island kitchen? Whatever your family desires can be custom-designed into your own barndominium.
There are plenty of layouts and floor plans available to work from. This article presents a few to think about, but remember, this is your family's forever home.
For the ultimate flexibility in designing your own barndominium floor plans consider using barndominium design software.
3 Bedroom Barndominium Floor Plans—Things to Consider
Picking the perfect floor plan layout for your barndominium is not unlike any other house design or purchase. You need to imagine you and your family living in the space.
How will you use it? Is there enough space to be comfortable and enough places to put all your stuff?
Your Family's Lifestyle
The size of your family will dictate a lot of your requirements in a living space. Is your household big or growing soon? Lots of kids running around? Or perhaps you are planning to retire soon, and looking for a small space that's easier to keep tidy?
Everyone is different and looking for different things.
3 bedroom barndominium floor plans are one of the most versatile layouts available, especially for families.
These floor plans are not too big for the average family, and they also lend themselves to creating more multi-use spaces as the kids go to work or school.
For example, second and third bedrooms can be used as shared guest rooms and hobby spaces, or simply storage for extra stuff.
One of the great things about choosing a barndominium is that every space is pretty much wholly customizable.
Using Your Land Effectively
If you're coming from the suburbs or city life, this one might seem a bit counter-intuitive. But one of the most important factors in planning your barndominium's layout is where it's located.
Why did you purchase this particular property? What do you love about it? Whatever the reasons, leverage them in your living space.
Maybe you love the view of the river or stream from the back. If that's the case, you'll probably choose a layout with an open living space that points in that direction. A large patio area for enjoying sunrises or weekend barbecues would be a great idea. Many designs feature picture windows from which to enjoy that view from the main living space.
So while looking at layouts, imagine not only being inside the space but also how that space fits your land.
Traffic Flow
It's also important to ask how people use the interior space. Every living space has high-traffic areas that need a little extra planning. For 3 bedroom barndominium floor plans in particular, a little planning goes a long way.
When designing your own space, you have complete creative control over how you want things arranged.
Do you want the laundry area near the bedroom, or do you want the racket of the washer and dryer out in the shop? Do you like to entertain from the kitchen?
If so, you'll want an open floor plan with a large island where guests can sit and enjoy themselves.
Closets and Storage
Every family has varying amounts of stuff to store, so make sure the layout you pick has sufficient storage space.
This is one of the harder things to figure out from floor plans, so take a look at your current living space and how you use the closets you have. Is it enough space? Are the closets on this layout going to improve or hurt the situation?
Hobbies and Toys
Finally, what else in your life takes up space? Are you crafty people who need lots of workspaces? Would an attached shop improve your life?
Or maybe your family has a boat or RV and wants to use the shop space for storage. Kayaks, paddleboards, bicycles, and exercise equipment all take up a lot of space. The attached shop makes a tidy space to store all of this and work on projects.
The best way to plan the perfect layout is to visualize the space and how you would do day-to-day tasks. Who is coming and going? What do the views look like outside of the windows? Where would you like to sit and enjoy your coffee in the morning? And how will it all change with the seasons?
3 Bedroom Barndominium Floor Plans with Pictures – Get Inspired With These Floor Plan Ideas
This 55×33 3-bedroom barndominium floor plan is also available to purchase as a full home plan. It features a great layout with tons of closet space, a pantry off the kitchen, and great closets in the bedrooms.
We would be remiss if we didn't mention the fantastic shop/garage area that leads into the utility room. Plenty of room for your cars or projects!
Click here to purchase this full home plan including electrical, elevations, plumbing, and everything else you need.
This design is a simple floor plan with a large shared living space. Notice that the bedrooms are closely spaced, so it's not the best if you'd like to keep your kids or guests on the other side of the house.
It's also unique in that it has no hallways or crowded traffic areas. Everything centers around the main family room and eating area.
With only one bath, this layout is probably best for couples or retirees who want to use those extra bedrooms as offices or hobby spaces. It's a tidy layout for a small space and one of the best three bedroom 30×40 barndominium floor plans we've seen.

This layout has a little different aesthetic. Instead of all rooms adjoining the main living area, one central hallway connects to the area. The main dining room and living areas are still wide open, with big windows for looking out over your land. The master suite is self-contained with a big walk-in closet for storage and a private master bath.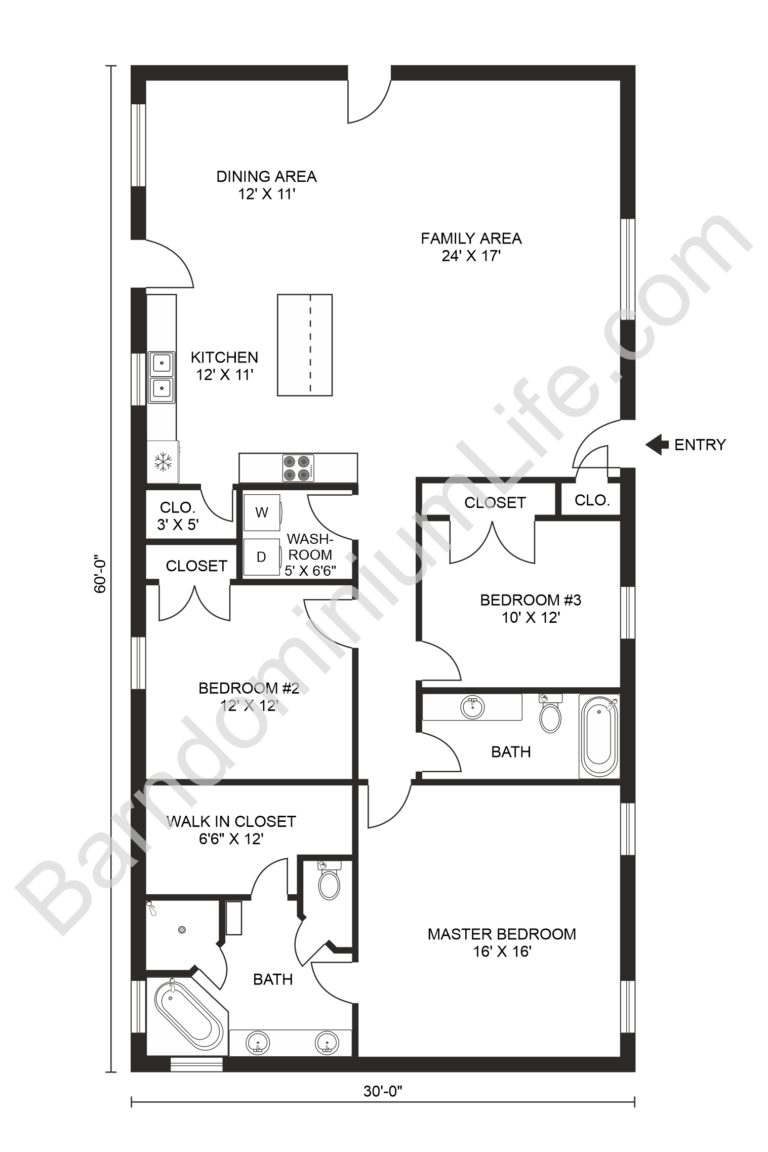 Here's a similar take on the same idea. Here the master suite area is at the end of the hall, even more, removed from the second and third bedrooms. It also features a much bigger walk-in closet for the master bedroom.
It also has the kitchen centered along an interior wall instead of the exterior. That opens up the living space, providing more dining options with views.
With only one bath and measuring 35×40, this is a small barndominium plan. But unlike the first example, this one has the guest or kids' rooms separated from the living space by a long shared hallway. The living space is wide and open, with an island kitchen and big window views. But it's also quieter and away from distractions without doors and traffic running through the room.

This large barndominium features a smaller 35×50 living space adjoining a large shop area, perfect for parking your toys or working on your hobbies. The three bedrooms, two-bath home space is much like our second example above, with one central hallway connecting the bedrooms to the central living space.
We really like the flow-through design of the main living area and how the kitchen connects to the back of the house. It's the perfect place to add on a big patio out back with an outdoor grill!
If you really like the idea of a shop, but want a less cramped living space, here is a more open option. This one bathroom layout still features three bedrooms, but they are mostly kept separate from the main family room.
Access to the shop area is through the washroom and kitchen area, which makes for a tidy layout. It also means you can keep a second freezer or extra pantry space in the shop area.
Design Your Own 3 Bedroom Barndominium Floor Plan
The beauty of basing your home on a barn is that you can make it any way you like. The layouts above are as simple as they are generic.
Looking to design your own barndominium floor plans in 2D or 3D? Check out our reviews of the top barndominium design software.
If you're considering taking the plunge into barndominium life, check out our 138-page eBook "Build Your Dream Barndominium" available over at Amazon.
Conclusion on 3 Bedroom Barndominium Floor Plans
Whether you pick a pre-made or fully custom layout, designing a barndominium is a great way to use the space on your land and make a comfortable living area for you and your family.
To help you with your barndominium planning and building, we have created the Barndominium Life Program. It's a take-all program- from planning to building and finishing, tips, and lots of inspiration to make your barndominium journey a lot easier.
If you would like more guides like this one, be sure to check out the rest of BarndominiumLife.com. There, you will find more helpful tips and tricks from the pros. You will also find featured barndominiums, barndominium floor plans, and information on things like financing and insurance. Knowing as much as you can help you get the best results for your dream home.