Introduction
Many of us have good knowledge about barndominiums while some others, not so much. And for those who know about them, the first thing we hear about is their size – and that they're usually Texas sized!
So, are you interested in small barndominiums? I mean let's face the facts, they look gigantic, and for some reason, we wonder if we could have one for ourselves mainly if they were not so big.
Stick around as we are here to answer many of the questions related to small barndominiums giving you an understanding of what it is and what it takes to get a small one for yourself.
Before going any further, let's cover some of the basics.
What is a barndominium?
A barndominium is a metal-built barn transformed into classic living spaces. Even though this is what it stands for right now, it was not always like this in the past because it had a different meaning back in the days. The designs used for barndominiums are similar to those of warehouses or pole barns, only that they are beautiful and affordable homes with lovely interiors.
Many of the new models of this building have the following features:
Spray foam insulation
Plumbing
Stained concrete floors
Engineered concrete slabs
9 feet ceilings
Energy-efficient windows
Why would you want a small barndominium?
These buildings are beautiful and for starters, to get a feel of what it is as well as what it offers requires that you start small – as smaller buildings are cost-effective – and work your way to the top.
This is also a good option for people who have little or no need for space, such as people retiring, empty-nesters, and small families.
If you take a look at the small barndominium floor plans, you will notice a lot of advantages which many people are looking for, such as:
2000 sq. ft space or less
Good use of the small space
Cost-effective
Easy to heat/cool due to proper insulation installations
We are going to be covering a number of these plans to help you understand the advantages of having a small barndominium for yourself. Let's go.
Small Barndominium Floor Plans
For many who understand floor plans, we are going to be taking a look at some of them so we can understand how beautiful these buildings are as well as why you would want them.
Beds / Baths
2 Bed, 2 Bath
Overall Building
30×40 = 1200 Sq. Ft
Living Quarters
30×40 = 1200 Sq. Ft
Workspace
None
Beds / Baths
2 Bed, 2 Bath
Overall Building
30×40 = 1200 Sq. Ft
Living Quarters
30×20 = 1200 Sq. Ft
Workspace
30×20 = 1200 Sq. Ft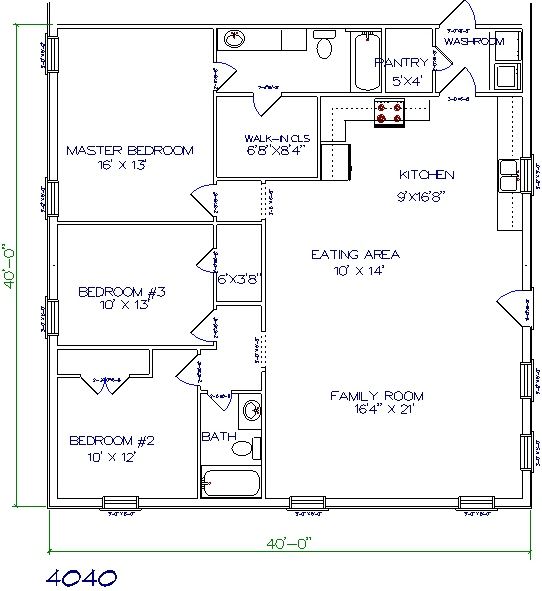 Beds / Baths
3 Bed, 2 Bath
Overall Building
40×40 = 1600 Sq. Ft
Living Quarters
40×40 = 1600 Sq. Ft
Workspace
None
Small Barndominium Interiors
The floor plans are captivating, I mean you get to see the skeletal form of your barndominium, but this is nothing compared to the interior designs we are about to show you.
You would find that these images stimulate your mind in such a way that you can visualize your dream barndominium would look like once it is completed.
These images would show you how easy it is to manage floor space and storage and still maintain a beautiful outlook.
Small Barndominium Interior #1
Small Barndominium Interior #2
Small Barndominium Interior #3
Note
The plans and interiors are for the living quarters only as we can see, but it can be customized to include whatever you desire to bring your dream small barndominium to life.
Small Barndominium Costs
Looking at the cost of a small barndominium, the cost-per-square-foot is normally on the average of about $95 – $125 per square foot. Still, there are many other factors like location, the material of choice, the builder and the special features you are looking for. There are many options like custom cabinets, and granite countertops, all of which affect the overall price of your small barndominium.
A Formula for calculating the total cost
To be able to calculate the total cost of your small barndominium, there is a simple and effective formula for calculation. With all the variables labelled, the overall price of the barndominium kit is to be labelled as "A," the total price of the finishing materials such as insulations and cabinets are "B" and the overall cost of labor "C."
So, for us to effectively calculate the final price, it is simply the coming together of these three factors.
A+B+C = Overall Price
Small barndominiums are cost-effective and for you to be able to manage your space and still get the best out of it is excellent value for your money. The bottom line of going small is that you virtually get everything you ever wanted in a home and still make sure that you do not spend too much on the building.
Conclusion
We have covered the basics of small barndominiums from outlook to cost, and for those who do not have any knowledge on it, there is a lot more information, and for those who have a little bit more information, a little bit more has been added today.
This information has been carefully gathered based on our thoughts and experience. You can give your opinion in the comments section below. We would be able to look at points where you agree with all that we have shared here, and you can constructively criticize whatever information has been shared here as well with your facts.
If the information provided has been useful, then you can give us feedback as well.
Finally, good luck on building your small barndominium and spread the word concerning what we have shared with you here via email and social media.