Before building a barndominium in Alabama, you have a long list of tasks to deal with. As with any new home construction project, building a barndominium involves extensive planning. You need to consider the costs, which also require you to choose the right barndominium layout, blueprints, builder, location, financing, and so much more.
If you plan on building a barndominium in Alabama, the following post will help you build the barndominium of your dreams in Alabama.
Cost of Building a Barndominium in Alabama
One of the first details you want to consider is the cost of the project. The national average cost of building a traditional home is between $160 and $310 per square foot. In Alabama, the average cost per square foot is $182, which is about 60% of the national average.
Nationwide, the average cost of a barndominium is between $150 and $250 per square foot. For a 2000-square-foot barndominium, the average cost is between $360,000 and $500,000. If you plan on building it yourself, you may spend closer to $60 to $80 per square foot.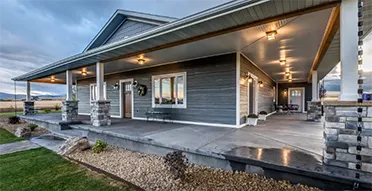 Based on these details, the average barndominium cost in Alabama per square foot is around $70 to $90 when hiring a contractor. At these prices, a 2000-square-foot barndominium may cost closer to between $140,000 and $180,000.
How are Barndominiums Taxed in Alabama?
How are barndominiums taxed in Alabama?
In Alabama, the average property tax is about $398 per year for a home with a median value of $119,600. The effective property tax rate is 0.33%, which is well below the national average of 1.035%.
As with traditional homes, barndominiums are taxed by assessors. Properties are taxed based on the value of assessed value and the type of property. In Alabama, all single-family, owner-occupied residential properties, including manufactured homes and barndominiums, are considered "Class III" properties.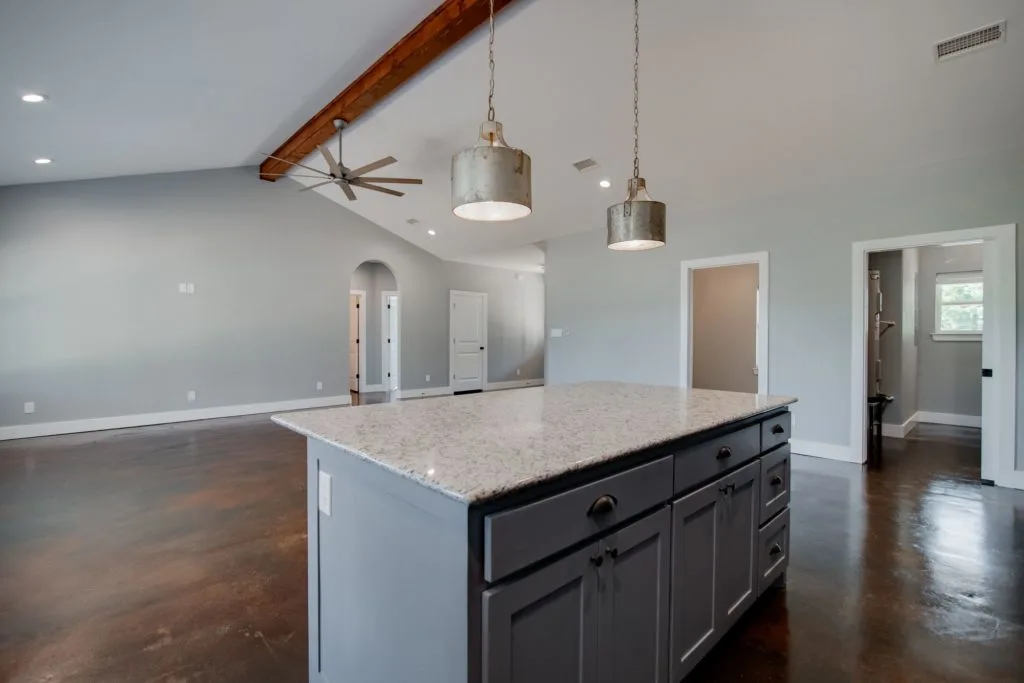 Class III properties are taxed at 10% of their appraised value. For example, if your barndominium is valued at $200,000, your assessed value is $20,000 ($200,000 x 10% = $20,000). However, the tax rate also depends on the millage rate of the county where you plan on building your barndominium.
After determining your assessed value, you multiply the figure by the millage rate for the state and county. The millage rate for the state is 6.5, while many counties have millage rates of 9 to 15. A single mill is one-tenth of a cent ($0.001).
Barndominiums are classed the same as traditional homes. The problem with this method is that some assessors include the square footage of the unheated space, such as a workshop or barn. Other assessors may only count the heated space, such as the living quarters, which can make a big difference in the assessed value.
Building Regulations in Alabama
Reviewing the building regulations in Alabama can help save you from major obstacles down the road. If you fail to comply with the state and county regulations, you may need to alter or demolish your barndominium. Some of the main considerations include the following:
Zoning regulations
Minimum and maximum home size
Property setback and height requirements
Most of these regulations will be defined by the county or city where you buy your land instead of the state of Alabama. The state of Alabama does not have statewide building codes.
The first detail to consider is the zoning regulations. Most lots are zoned for either residential or commercial use. In rural areas, you may find land that is zoned for both residential and commercial. If you plan on using a portion of your barndominium for commercial purposes, such as running a farm or a ranch, you may need land that is zoned for both residential and commercial use.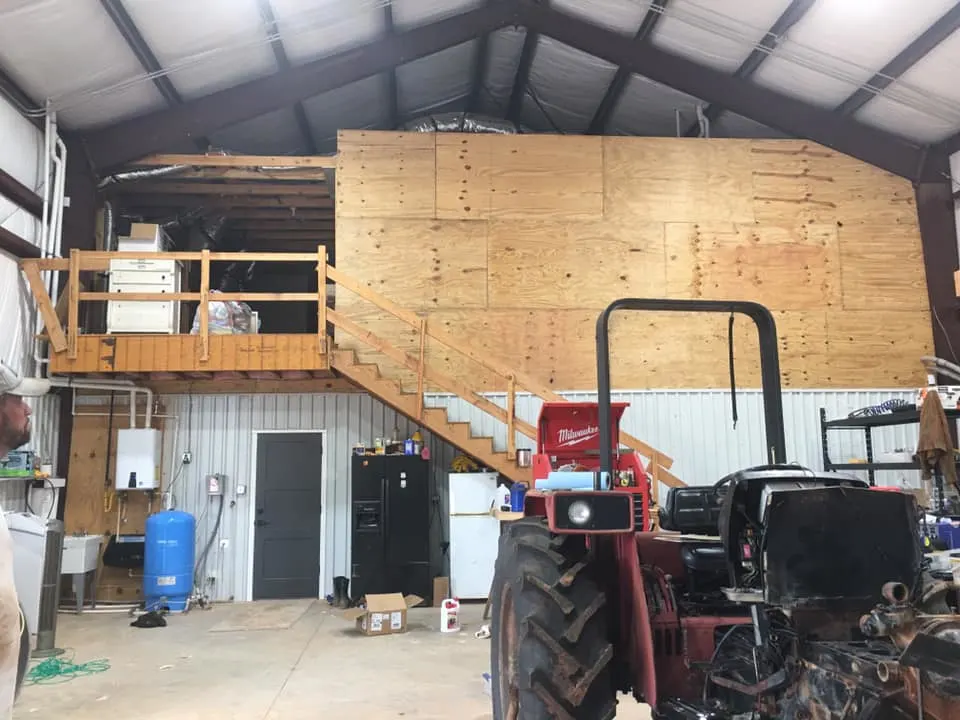 After choosing a tract of land, you should review the remaining building regulations for the county, starting with the minimum and maximum home size. In most Alabama counties, the home needs to have at least 150 square feet of floor space.
The maximum home size is often around 7200 to 7500 square feet. However, most counties also limit the coverage of all buildings on the site to no more than 35% of the property. If your land covers 20,000 square feet, you may only build a home up to 7000 square feet.
Many counties also limit the height and placement of structures. For example, some areas limit residential properties to no more than 35 feet in height.
The property setback requirements refer to the placement of the property. For example, if the setback for the front yard is 25 feet, the home needs to be built at least 25 feet from the front of the property line.
Additional restrictions may apply to sheds and detached structures. If you plan on adding any detached structures, ensure that you review any applicable building codes in your county.
Barndominium Builders in Alabama
The builder you choose can simplify the process of planning the construction of a new barndominium. To simplify your search, here are some of the best barndominium builders in Alabama:
Apex Contracting Service
Apex Contracting Service is based out of the Mobile, AL area and advertises their barndominium builder services across a wide region. You can find their contact information here.
Homestead Barndominiums
Homestead Barndominiums works with you throughout every stage to ensure that your barndominium matches the home of your dreams.
M&S Construction LLC

M&S Construction is a small operation that serves the area within 60 miles of Enterprise, Alabama. While they specialize in pole barns, they have built several barndominiums.
JCC Inc
Joe Crawford Construction (JCC) Inc is a home builder based in Tuscaloosa that has worked on a variety of barndominium projects.
Barndominium Kits in Alabama
If you are interested in the DIY approach, you may prefer to buy a barndominium kit. Some of the top barndominium kits in Alabama include options from the following companies:
Worldwide Steel Buildings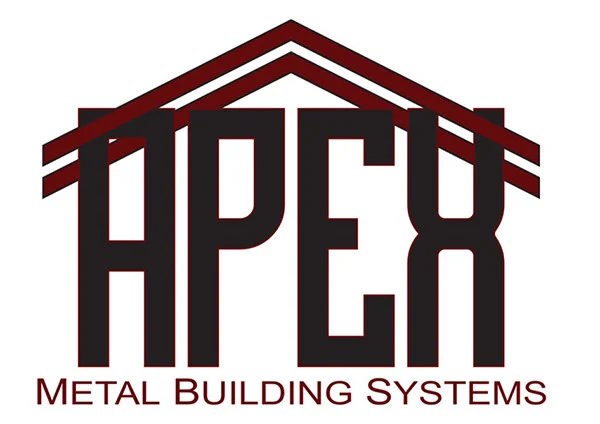 Apex Metal Building Systems
Premier Building Systems, Inc.
Agcor Steel
Morton Buildings
General Steel Buildings
Keep in mind that these are only a few of your options. When searching online, pay close attention to the fees involved in buying a kit. Some sites charge additional fees for blueprints or custom plans.
Barndominium Financing in Alabama
Barndominium Financing Request
Finding a lender for barndominium financing in Alabama is not always easy. National banks are less likely to approve a barndominium construction loan unless you have excellent credit, adequate collateral, and detailed plans.
The best sources for financing a barndominium in Alabama include farm credit unions and smaller local banks. Many local lenders have already approved loans for barndominiums. Here are a few recommendations:
Alabama Farm Credit
Alabama Farm Credit offers financing for a variety of purposes, including construction loans for recreational or residential property on rural land. This bank specializes in loans for farms and rural homes and offers competitive interest rates.
Alabama Ag Credit
Alabama Ag Credit has nine locations throughout the state. Alabama Ag Credit is a borrower-owned cooperative with over 100 years of service.
First Bank of Alabama
Unlike the previous options, First Bank of Alabama is not a cooperative. Founded in 1848,
First Bank of Alabama is a major lender and may require detailed plans before approving a construction loan.
Hometown Bank of Alabama
Hometown Bank of Alabama was established in 2003. It is a small bank with personalized service. As a local bank, they are more likely to have approved previous construction loans for barndominiums.
Peoples Bank of Alabama
Peoples Bank of Alabama opened in 1977 in Holly Pond and has expanded to cover most of the state. The bank has reasonable interest rates and digital services for easy loan repayments.
Where to Find Land for a Barndominium in Alabama
When choosing a piece of land for a barndominium in Alabama, pay attention to the following:
Location
Tax rates
Zoning
Building regulations
Access to roads
Topography
Barndominiums are typically built in rural areas, which provides several significant advantages. Rural counties tend to have lower millage rates compared to urban areas as they require fewer taxes to cover schools and roads.
A rural area is also likely to have fewer building restrictions that may limit your barndominium design options. You may even find land that is zoned for both residential and commercial use.
You should also think about the location of the property. If you are still working, you may not want to commute too far each day. You may also want to find a place that is near schools and amenities, such as shopping centers or a hospital.
A rural area may place you further from the places that you frequently visit. However, with good access to roads, your commute may not be too long.
When you start looking at potential sites for your barndominium, look at the topography of the land. This includes natural features such as uneven terrain, streams, ridges, and valleys that may require additional groundwork before building.
Working with a realtor can also help you find suitable properties. Many realtors in Alabama specialize in helping clients find vacant land and have knowledge of local building regulations for new home construction.
Don't want all the hassle of building a barndominium from the ground up? Then you may want to buy an existing barndominium in Alabama! With our Barndominiums for Sale Marketplace, you can browse to your state and find a barndominium for sale near you.
The beauty of buying an existing barndominium is that it can be really easy to customize the floor plan to your liking. The previous owners' setup is just a starting point! Also, by buying a barndominium in Alabama, you bypass the potential troubles of the building process – delays, dealing with contractors and subcontractors, and city or county bureaucrats trying to make your build process a nightmare.
Don't delay – find a barndominium for sale in Alabama now!
Conclusion
With these details in mind, you should be able to begin your path to building a barndominium in Alabama. Continue to research local requirements and compare options before choosing a blueprint, contractor, and lender.
Make sure to check out the Barndominium Life Program for lots of information on building barndos in Alabama.