Our featured Northern Louisiana Barndominium is perfect for a starting family, a retired empty-nester couple, or a single occupant intending to save some money. Barndominiums are cheaper to build. And when we say cheap, we mean even being able to use recycled materials to build it kind of economical, but never sacrificing quality and aesthetics.
These are cost and energy-efficient too, not to mention their durability. So many reasons to build one, and this is why a lot of people are now drawn to building their own barndo. Living in a barndominium is exploding in popularity, and for a good reason!
Our blue Louisiana barndominium in West Monroe was built by Toby Burnett. This is quite an exceptional one with three bedrooms, 2 bathrooms, and a sheltered carport for two vehicles. While the outside is simple with blue walls and white doors and window frames, the inside looks like a totally rustic image.
Get a FREE 18 Month Barndominium Planner
There are 39+ steps that must be taken before groundbreaking. Learn them all in this FREE checklist, available for immediate download.
Northern Louisiana Barndominium Photos
How to Build Your Own Barndominium & 200+ Floor Plans
Get started today with our program "Barndominiums Made Easy: How to Build Your Own Barndominium" and get 200+ barndominium floor plans included!
Corrugated Metal Walls and Ceiling
It's a totally different look once you step into this gorgeous home. You won't miss noticing the mix of the woodwork on walls and furniture and corrugated metal ceilings. While wood is a very common material used in barndominiums, corrugated metals– specifically reclaimed ones, might not be that common. But hey, who would have thought this could work? It has its own charm and it's definitely a clever idea if you aim for both inexpensive material and vintage style in one.
While most barndominium builds have open concept interiors, the Northern Louisiana barndominium has a division built to separate the kitchen and living room. This intentionally functions as a minibar as well.
White-painted kitchen cabinets break the monotonous browns of the ceiling 'rust', center island, wooden walls, and concrete floor. The lighting fixtures and stainless appliances give the place a little touch of modernity.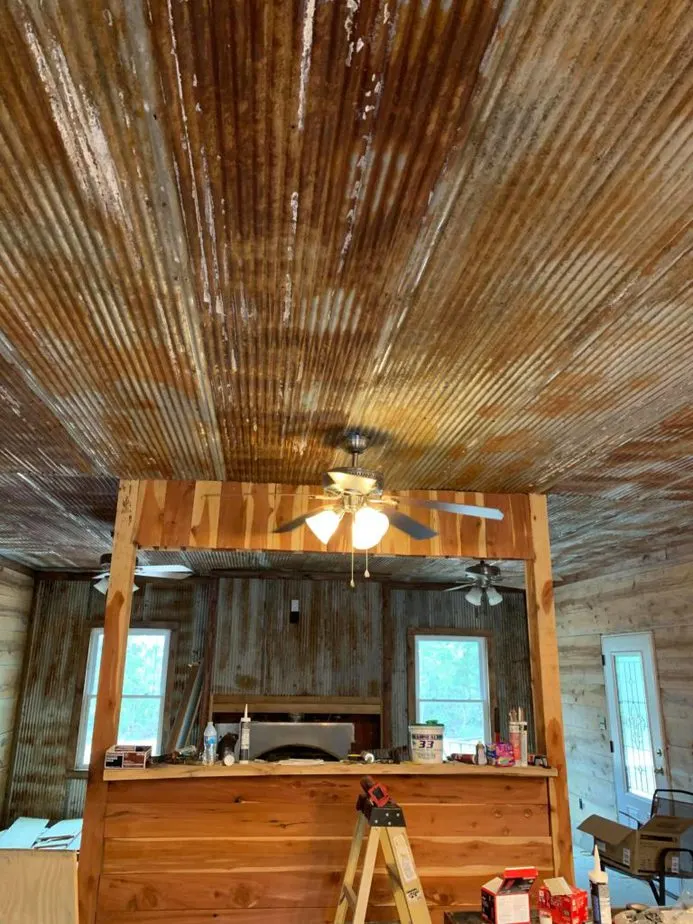 Though still stylishly simple, this living room gives off a "blast from the past" type of feeling. The ceiling, walls, and fireplace are also built with corrugated tin.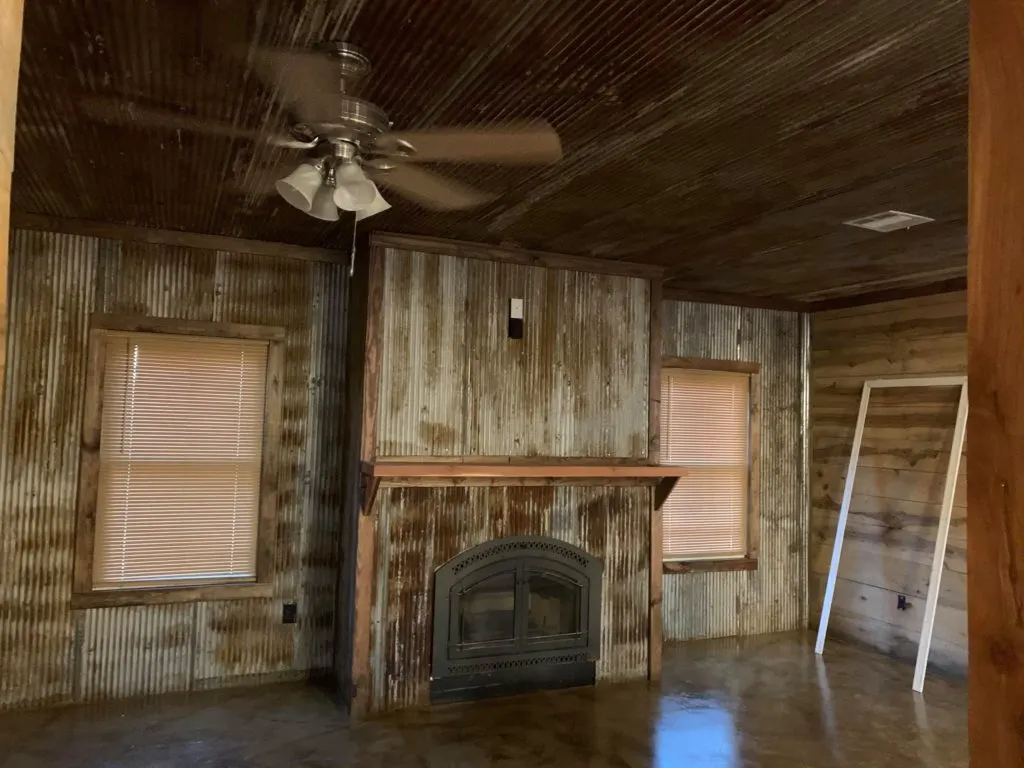 Unfinished Wooden Wall Planks
What we love about wood is that it looks beautiful painted or left as it is. The metal ceiling and concrete floor colors give the room a dark and tough look. In contrast, the unfinished wooden wall planks bring a softer appearance to the bedroom. With a lighter color, it also makes space look brighter.
Horizontal wall panels create a somewhat larger look out of small spaces. At one glance, we could see that the entire interior of the Northern Louisiana Barndominium displays manliness. The wooden walls only add more character to make the space look a little less macho.
Even in this modern age, a wooden four-poster bed is a true classic and never goes out of style. It makes the bedroom look classy and definitely romantic- although not so much when you live on your own. Still, this elegant piece of furniture is one way to emphasize 'rustic' without needing to throw in more ornaments.
How to Build Your Own Barndominium & 200+ Floor Plans
Get started today with our program "Barndominiums Made Easy: How to Build Your Own Barndominium" and get 200+ barndominium floor plans included!
Four-poster Bed, Bathtub & Rain Shower Head
The bedroom has its own bathroom and a closet. While the bed is where one gets to rest and relax, the owner has made sure there's another spot for that in the house – the bathroom!
Who wouldn't want to soak in the bathtub while watching a movie? Maybe bring in a glass of wine? Too awesome to not do it. And because you own the place, there is no limit to when you get to do this. And if that isn't enough to get you relaxed, a rain shower head for sure should make it. That'll get you excited to spend quality alone time with yourself every day.
Final Thoughts
Barndominiums are very flexible when it comes to your style and preferences. Whether you like it well-decorated, detailed when it comes to materials, or with lots of areas set up for different purposes; or whether you prefer it elegant and simple like the Burnett barndominium, you can never go wrong.
And if it's either because of preference or budget concerns, all that matters is that you have all that you need to cater to your lifestyle, especially when you live alone even on a small-sized barndo. Even better, you can always add an extension to your home once you've saved for it, or when you start your own family.
A great tip to start building your own barndominium is to start small. Other barndominium-owners have made a smaller space work for a starting family while waiting out to build a bigger one.
For more barndominium tips, get a copy of Don Howe's Build Your Dream Barndominium ebook available on Amazon.
Like this Post? Sign up for our email list!
Be the first to see new posts about the best barndominiums, construction guides, floor plans, and more! Enter your information below to become a BarndominiumLife VIP.
Gail currently spends her free time geeking out about what's new and trending in the world of barndominiums.
She is the former executive editor of BarndominiumLife.com and loves working with the team and members of the barndominium community. She now contributes to the blog on occasion, but only when she feels like it!