Landowner and mortgage-free. Wouldn't that be a wonderful thought? It may feel somehow a little far-fetched. Honestly though, it's quite achievable when you know when you grab an opportunity by its horns. Take this featured tiny Missouri Barndominium, owned by Zachary Dakota Huffmon together with his small family.
The couple had long planned on building their own barndominium, buying 5 acres of land where they would be building. Now came the opportunity when their neighbor came up selling their property. The couple took the chance and postponed their building. Now the good part, the land they bought already had an 18 x 24 metal building.
Three months later with around $5000 spent and some help from their family, let's check out the photos and find out what they had come up for their barndominium home.
Exterior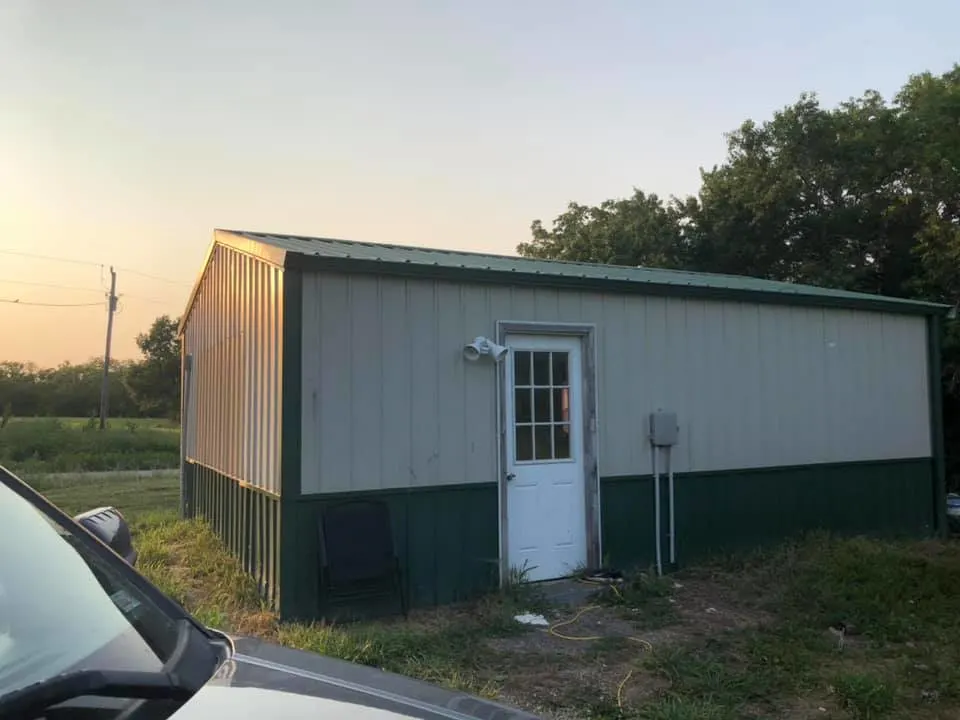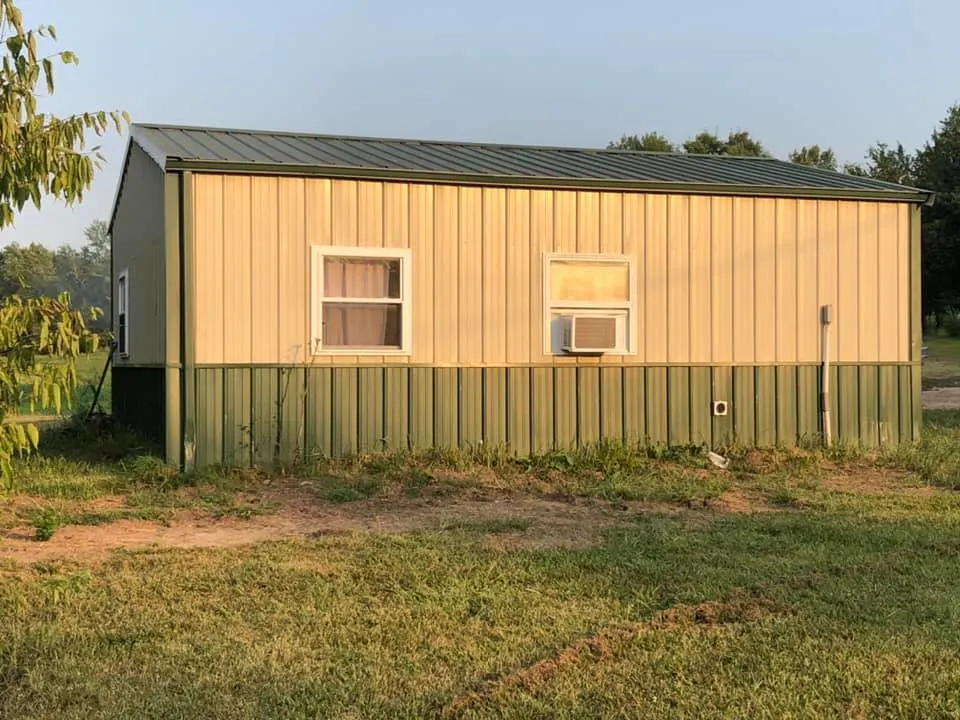 Small barndominiums are great for a smaller family. These are cost-effective and you can eventually work your way to building a bigger home. It's much more practical in some instances than building big and managing a mortgage that takes years to pay off. Small barndos can still look amazing, and definitely feel cozy and convenient when you have all you need right within your reach.
When it comes to having your own family, space is one of the most significant considerations. This 18 x 24 metal home accommodates a couple and their daughter. And for a small space like this one, they sure packed in everything they need with 2 bedrooms and a bathroom plus laundry area. There's can still be lots of ideas for a 2-bedroom floor plan that you can check out.
While postponing building their planned home, the family had also built something nice out of this small building. And the best part is that they are mortgage-free. And they have all the time they need to save up for building their bigger home. And when they do, this little home could be converted into a guest house, a man-cave, she-shed, or something else useful.
There are different types of insulation that can be used for your metal homes. Being a temporary living space, the home is insulated with R13 to keep it cost-efficient compared to spray foam insulation which is more commonly used. It would be advantageous to know the pros and cons of every type to make sure which one fits your building. much better, consult your builder about it.
Flooring is vinyl peel and applied with a liquid nail to hold them on. His wife got the idea from Pinterest. This kind of flooring is affordable, easy to install, and very stylish with lots of design options. On the other hand, the self-adhesive vinyl floor has its pros and cons. And if you do want to install one of these, do be aware of these 5 things before trying peel and stick flooring.
Master Bedroom
Now, these are quite clever hacks for a small bedroom layout. Of course, the bed is the most important, but what about storage? Space doesn't allow for closets and built-in cabinets. How perfect is it to put the storage in the area where there's space- under the bunk bed of course! Here are the other 20 clever storage ideas for small bedrooms.
Kid's room
Bath and Laundry room
The interior walls have just been framed up. The kitchen sink is the same wall as the bathroom. The bathroom floors are raised about a foot to run the plumbing. The combination of the bathroom and laundry room is just another space-saving tip. To add to the advantage, it's the best place to tap into existing plumbing lines. Here are also other laundry room ideas and tips to make it one of the other comfort zones at home (even when doing the chore) when space isn't that much of an issue for your home.
With everything in their little home already convenient, functional, and cost-efficient, the family can now focus on saving for their bigger home. Currently mortgage-free, it is more exciting to look forward to their bigger barndo when they build it. And ultimately, it would feel even more fulfilling.
How to Build Your Own Barndominium & 200+ Floor Plans
Get started today with our program "Barndominiums Made Easy: How to Build Your Own Barndominium" and get 200+ barndominium floor plans included!
Get more barndominium ideas from Build Your Dream Barndominium ebook, whether your home is Texas -sized or just right for a small family.
Gail currently spends her free time geeking out about what's new and trending in the world of barndominiums.
She is the former executive editor of BarndominiumLife.com and loves working with the team and members of the barndominium community. She now contributes to the blog on occasion, but only when she feels like it!