We're excited to show you around this featured barndominium! In a prior post, we mentioned that the exterior paint color of your home makes the first impression. Many have gone for light-colored exterior paint, some have gone for a darker color. But most aren't brave enough to take it like this black and white Barndominium in Oklahoma. And it took a lot of resolve to make it happen.
Built by the Oaks family, this featured barndo stands out with its white exterior paint color and black-colored roof. For Lyndsey Oaks, a black roof was non-negotiable and she did get her way.
The Energy Efficiency of Metal Roofing for a Barndominium
A metal roofing beats any other roofing material when it comes to durability and energy efficiency, especially in the warmer areas. It provides great insulation during the cold and reflects sunlight during the summer months, therefore keeping the energy costs down.
The only reason that causes homeowners to hold off on the metal roofing preference is because its installation is more costly given that it is a difficult material to install properly. Although, metal homeowners can testify on the great saving and durability of having a metal roofing in the long run, and it more than makes up for the installation cost.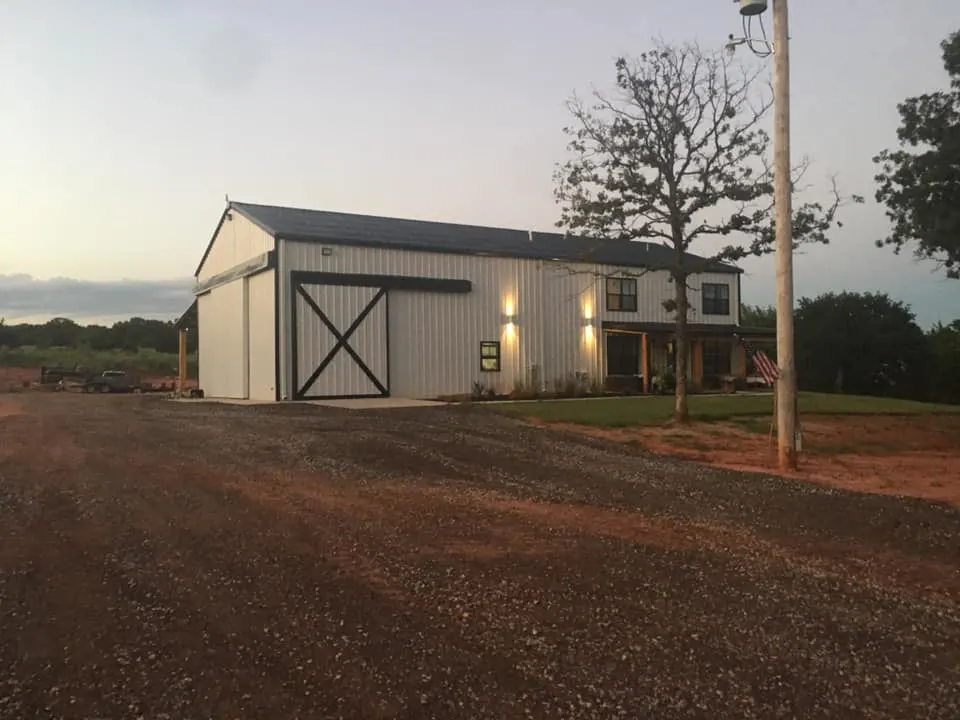 Now on to the roofing color, darker exterior paint color is a lot of times avoided because of its issue on energy-efficiency. Lighter-colored roofs are considered "cool roofs" as it deflects sunlight and keeps most of the heat away from the home. Darker- colored roofs, black specifically, are warm roofs since they deflect less heat and allows more of it to come into your home.
So how does this black and white Oklahoma Barndominium get away from high electric bills? Insulation.
Since the owners were fixed on getting the black and white theme for their home, they have already anticipated how it might affect their electricity bill. What they made sure was to install the proper insulation to sustain the comfort and energy-efficiency of their metal home.
There's a variety of options of insulation not only for metal homes, from cheapest to the more costly. But there is a perfect type of insulation considering the type of building and materials. Make sure to know the advantages and disadvantages of each type. It is best to consult your builder to find out which one is perfect for your home.
This 80×40 black and white Oklahoma Barndominium is half shop and half home. Though this build isn't for everyone, it is perfect for the Oaks family. The 2,790 square feet, two-story home has 4 bedrooms and 3.5 baths.
The exterior walls are 20 feet high. Having two storys, the first floor has 9 feet walls while the second floor has 8 feet.
These awesome windows are vinyl 6 x 6 sizes. The exterior is black while it is white on the interior. These were purchased from Mill Creek.
The beautiful flooring is Pearl White Epoxy with Silver veining, personally done by Lyndsey Oaks so it would be just like how she wanted. She shares about the process taking a long time to get done. Each coat has to dry first, taking 12-24 hours, before adding another coat. With Pearl White, they had to do several more coats to evenly cover the entire space.
We could gather a few reasons why some people prefer a shop attached to their homes. Include in less walking (especially in the cold), accessible work area, and almost unlimited working hours since you're still technically at home.
On the other hand, we can also note some disadvantages of having the shop attached to your home. Some of the common issues are noises from machines and tool work disturbing people in the house; even possibly, people poking their heads while you're in the middle of work to ask you to do some errands; and shop debris, fuel and fume smell coming inside the house.
For the last on the list, Lyndsey Oaks says it has been one of their concerns from the beginning and wanted to put a big circulation fan in the shop that has vents to the outside but they ran out of budget. But so far, it hasn't been much of an issue. Fuel smell only comes inside the home when the door gets opened. Otherwise, the house smells like oil fragrances placed around the house.
As another option, check out this barndominium with detached home and shop/garage connected by a breezeway.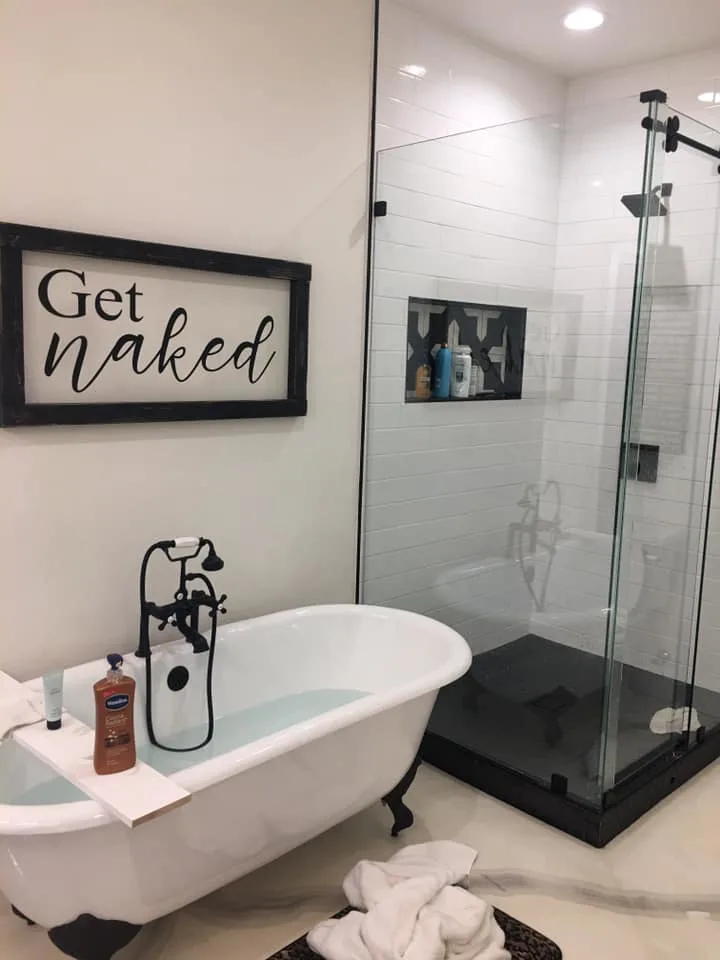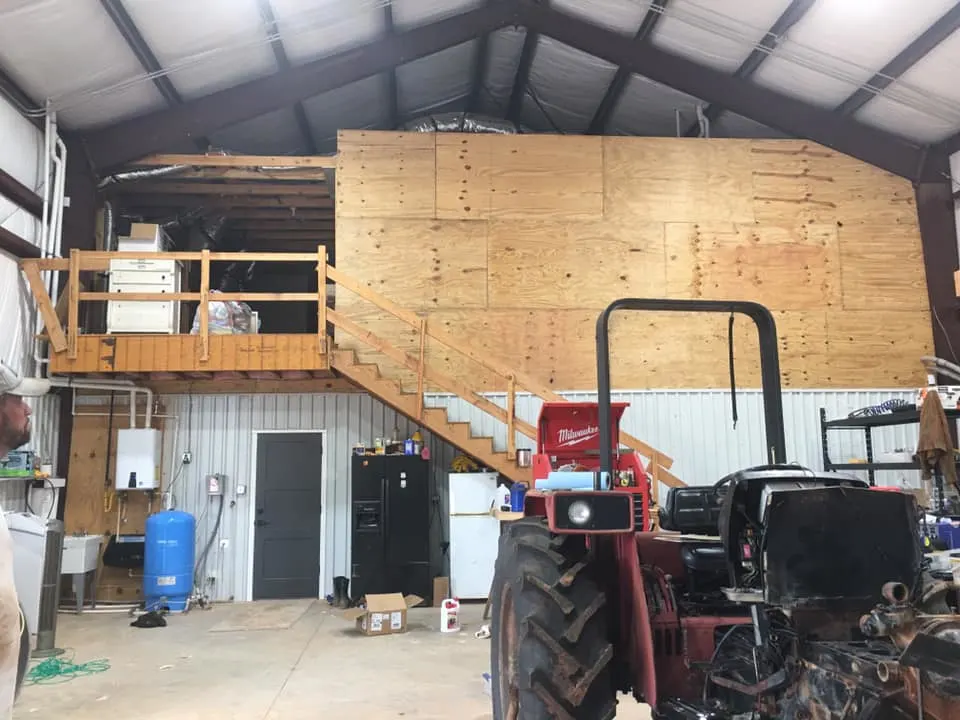 Black and White Oklahoma Barndominium Floor Plan
In any type of home, there will always be issues arising. It is up to you as the owner how to work it out. Like this Oklahoma Bardnomninium going against everyone else's worry of getting a black roof. They sorted it out with installing proper insulation. Or the other concern about having the shop attached to the home. Consulting your builder will greatly help in resolving the biggest issues when building your barndominium.
After knowing about this unique barndominium, one thing is for sure to keep you inspired in getting your own barndominium: know what you want and get on with it!
Find more detailed guides here on Build Your Dream Barndominium ebook by Don Howe.
How to Build Your Own Barndominium & 200+ Floor Plans
Get started today with our program "Barndominiums Made Easy: How to Build Your Own Barndominium" and get 200+ barndominium floor plans included!
Gail currently spends her free time geeking out about what's new and trending in the world of barndominiums.
She is the former executive editor of BarndominiumLife.com and loves working with the team and members of the barndominium community. She now contributes to the blog on occasion, but only when she feels like it!