Our featured Texas Barndominium stands on a large piece of land amidst natural surroundings. The total covered area with steel is 10,000 square feet, which includes a 4,000-sq ft living area and a 3,600-sq ft shop.
When you own a huge residence, durability, and energy efficiency must be top considerations for your barndominium. These features will ensure a happy and comfortable living for many, many years.
But before we get started exploring this beautiful barndominium, if you are looking for a barndominium for sale in Houston, be sure to check out our Barndominium for sale page to find your dream barndominium.
If you are looking for barndominium builders in Houston, you will want to check out our barndominium builders directory. Now onto the tour of this amazing house!
Houston Texas Barndominium – 35 Photos of a Stunning Luxurious Home

This sprawling abode contains 4 bedrooms and 3 bathrooms. It is ideal for large or multigenerational families and offers creative ideas for constructing your very own customized barndominium.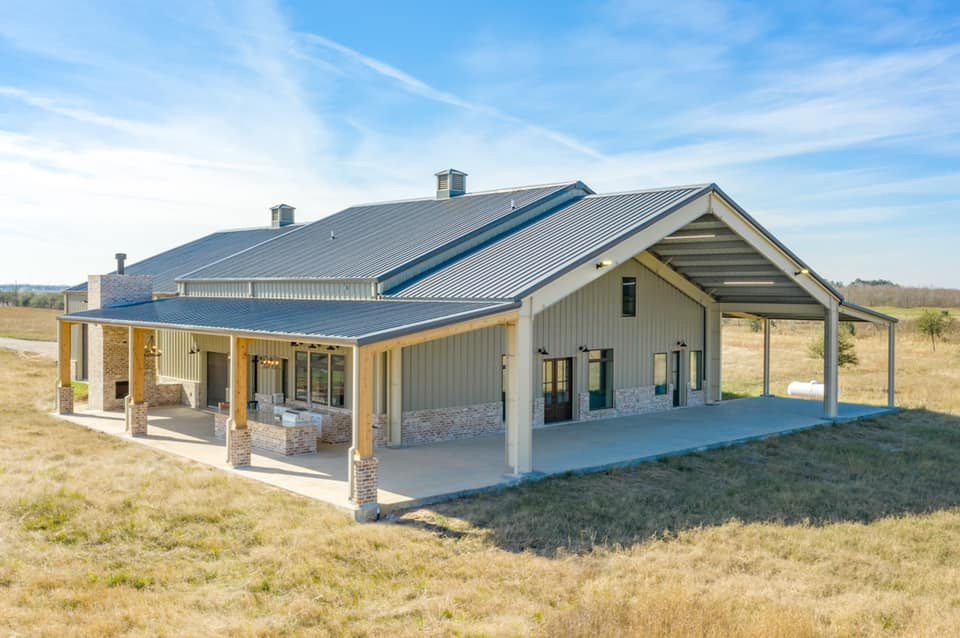 The sheer size of this barndominium is fitting for a king, his queen, 3-5 princes and princesses, and their court.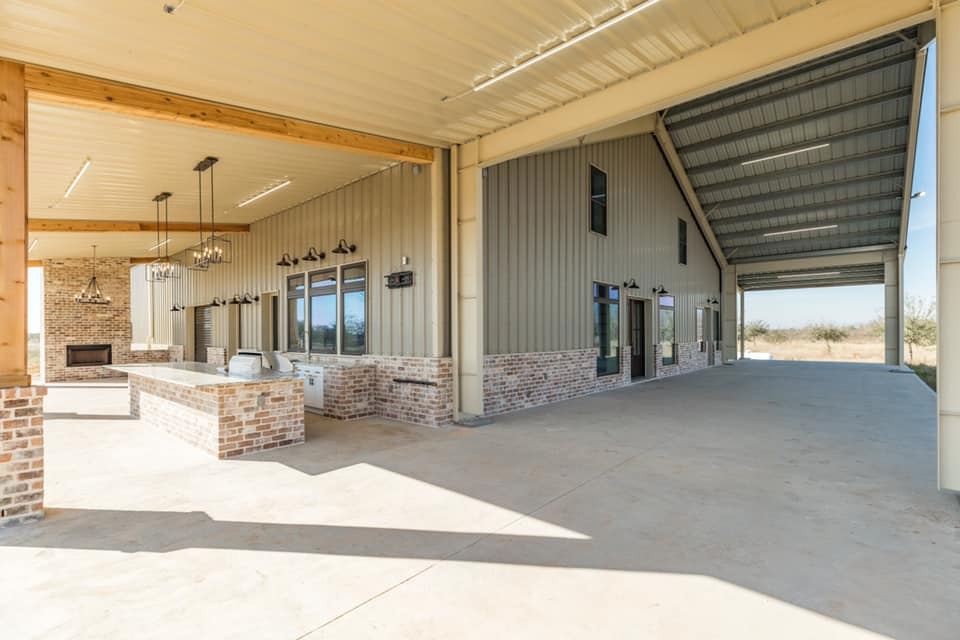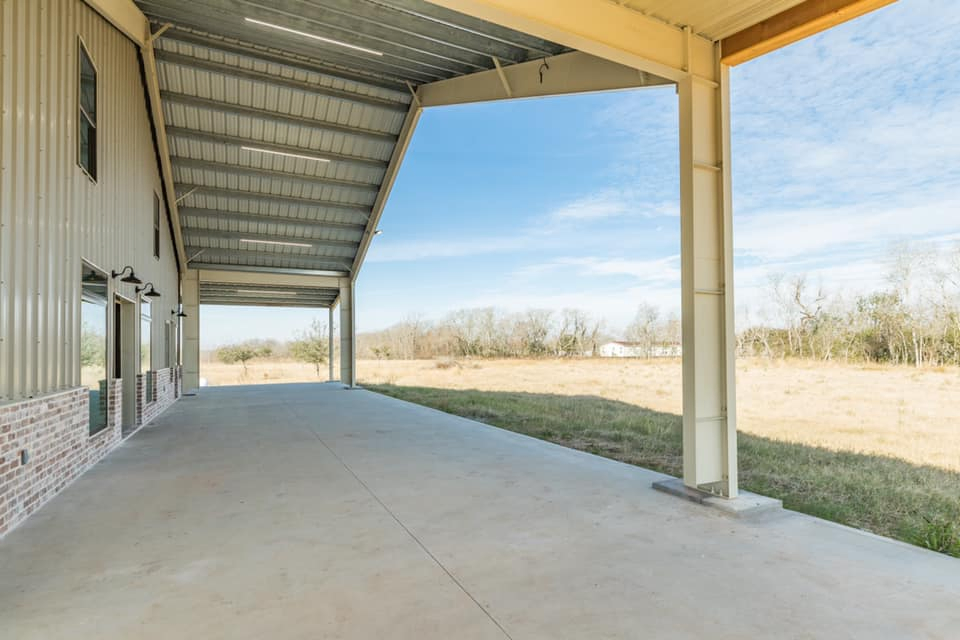 The huge front porch invites infinite possibilities for lounging and decorating during the different seasons. Imagine rocking chairs, rattan sofas, vintage tables, potted blooms, hanging plants and giant flower vases.
Notice the steel support? It's a distinctive feature that makes a barndominium stable and sturdy enough to withstand inclement weather.
To the side is an outdoor kitchen and grill designed to be enjoyed during hot summers as well as cool winters.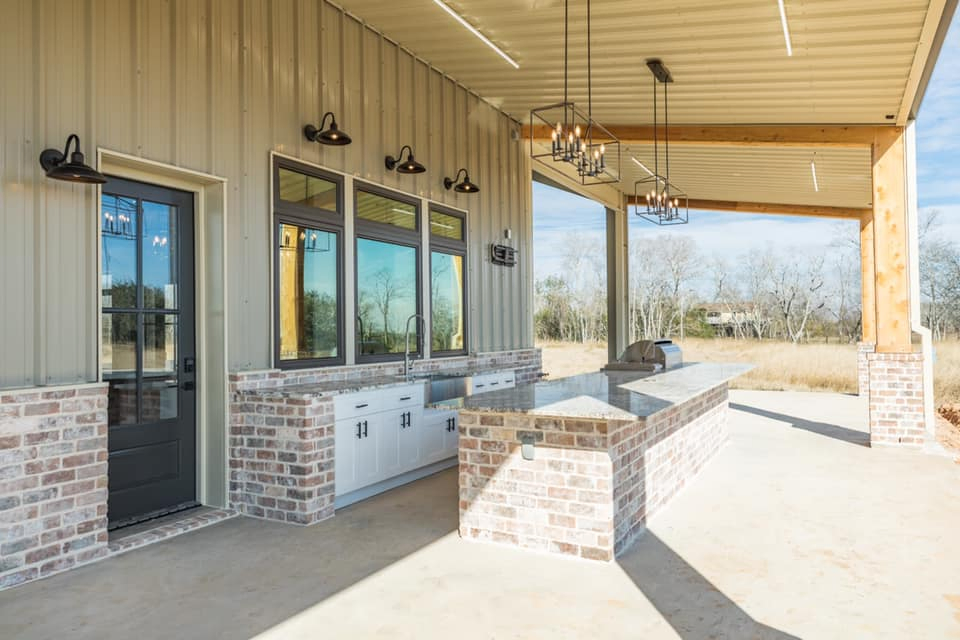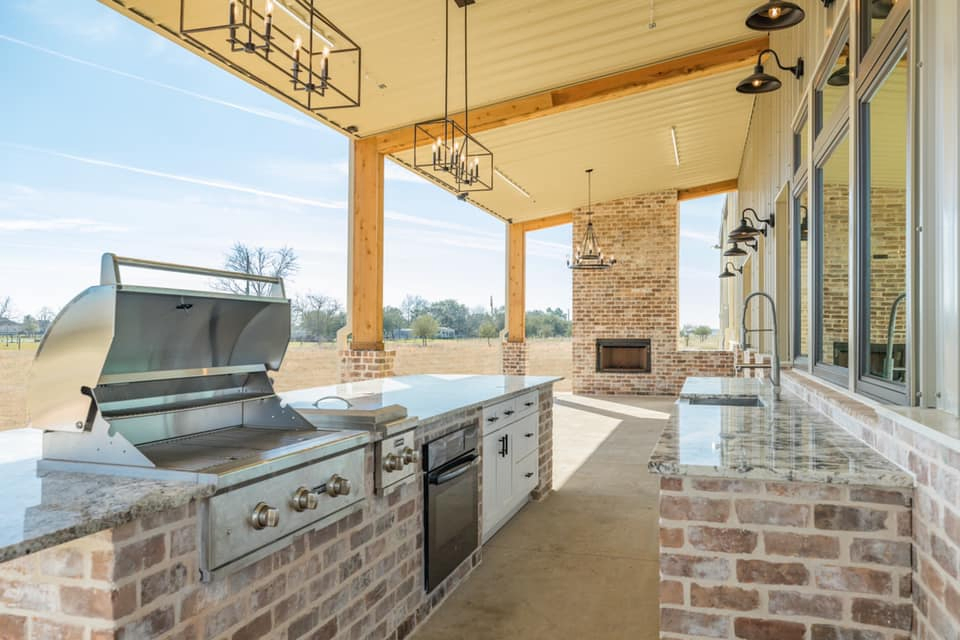 The well-appointed outdoor kitchen comes with an island and a sink made of brick and marble countertops, both in earth tones. In contrast, the cabinets and drawers are painted in stark white with black metal handles, while the grill and faucet are of stainless steel.
Entertaining guests outdoors at night won't be a problem. Atop the island are two metal chandeliers in candelabra style, and over the sink are three metal lighting fixtures in black.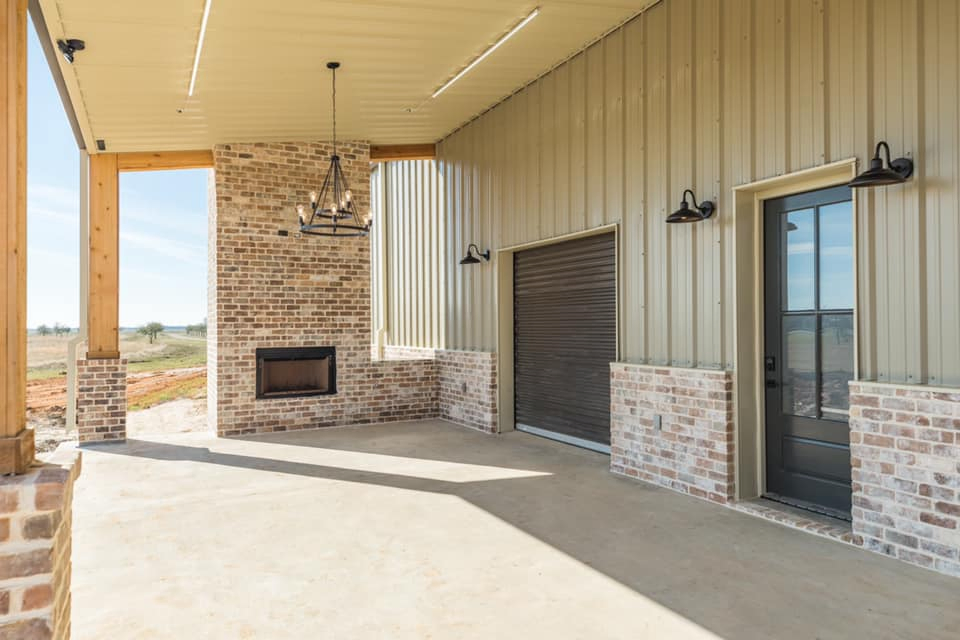 Next to the outdoor kitchen is the side porch adorned with the same earth-colored bricks on the walls and support beams. A fireplace on one side and a rustic metal chandelier overhead exude a relaxing warmth.
Open Concept Ground Floor in the Houston Texas Barndominium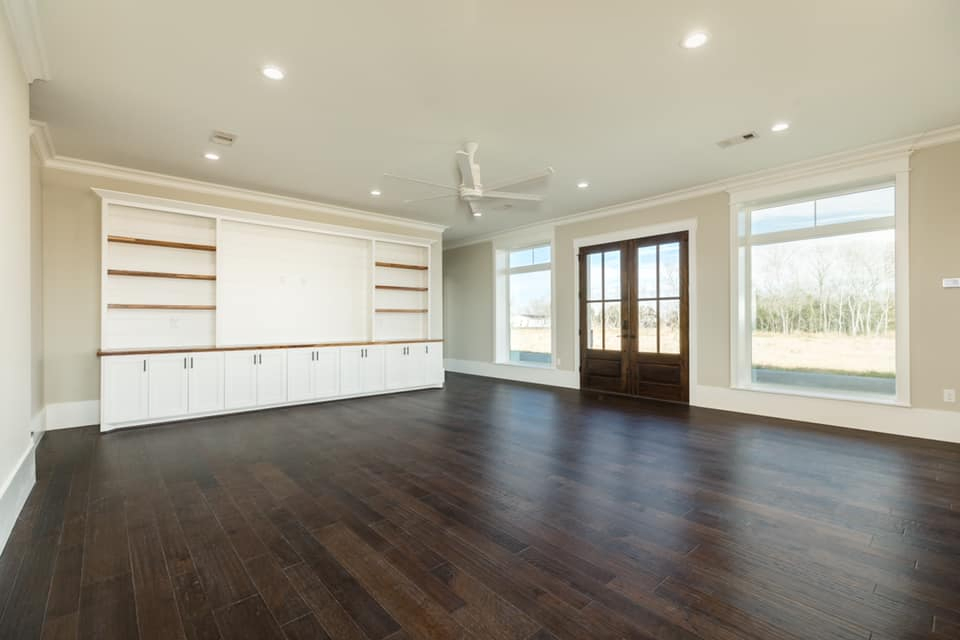 Playing around with neutral and warm brown colors, this barndo has a wooden front door that opens to a foyer. With thick wooden beams on the ceiling and a candelabra-inspired metal chandelier echoing the outdoor kitchen, it leads to a wide space.
Applying the open concept floor plan design to the living, dining and kitchen areas makes the expansive ground floor even more spacious.
A staircase leading to the second floor is discreetly tucked into a corner.
Rustic Kitchen in a Houston Texas Barndominium Equipped with Modern Amenities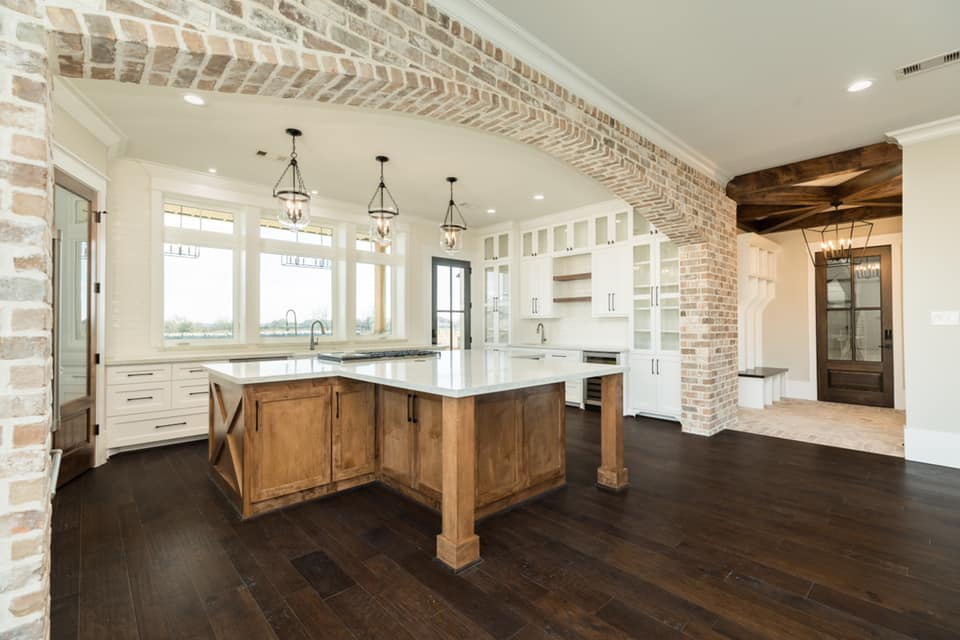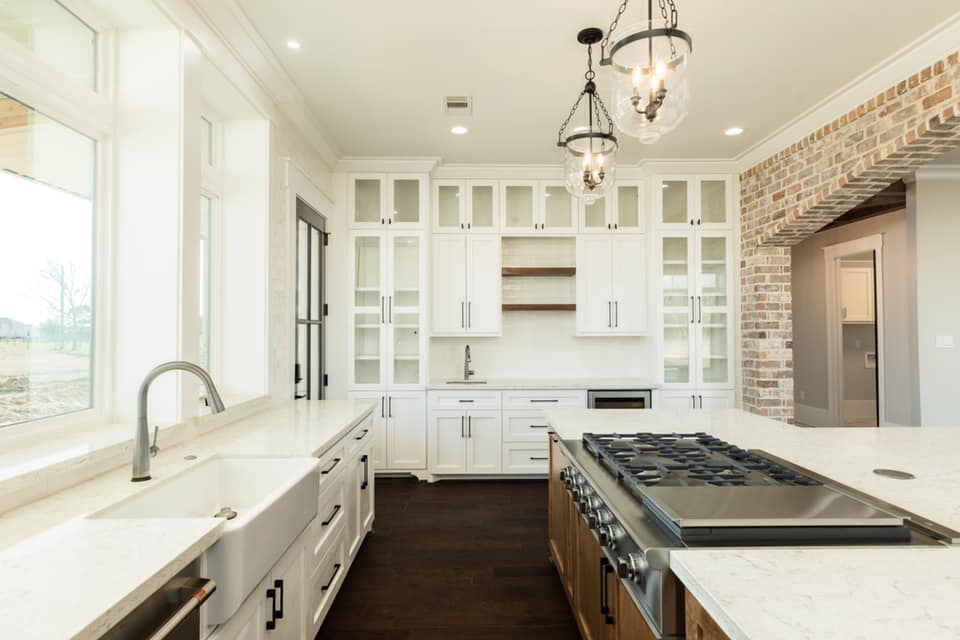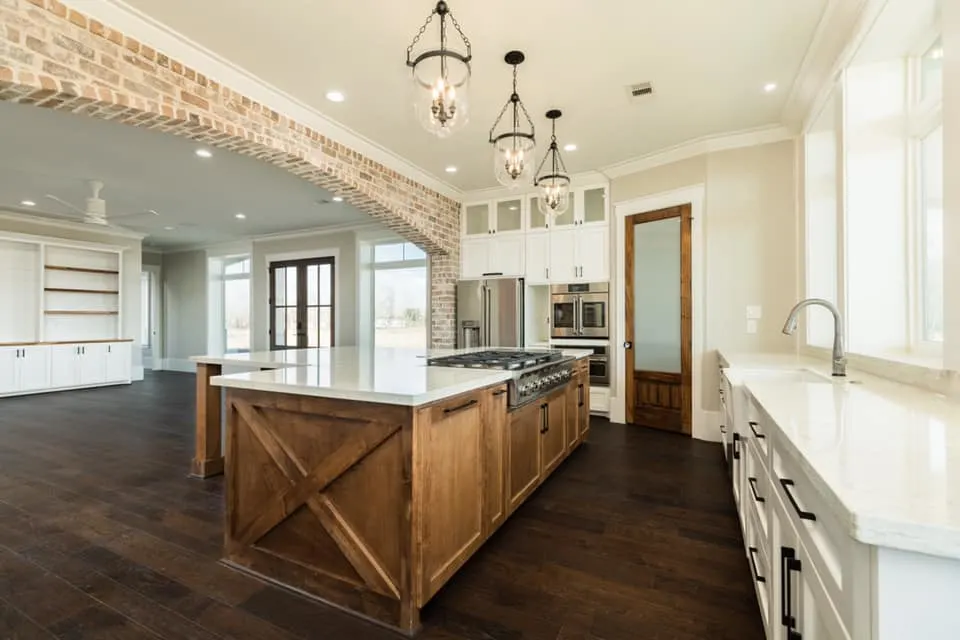 The heart of this home is a dream come true for every cook, chef and foodie. State-of-the-art appliances across a light brown wooden kitchen island uphold the dwelling's contrasting theme.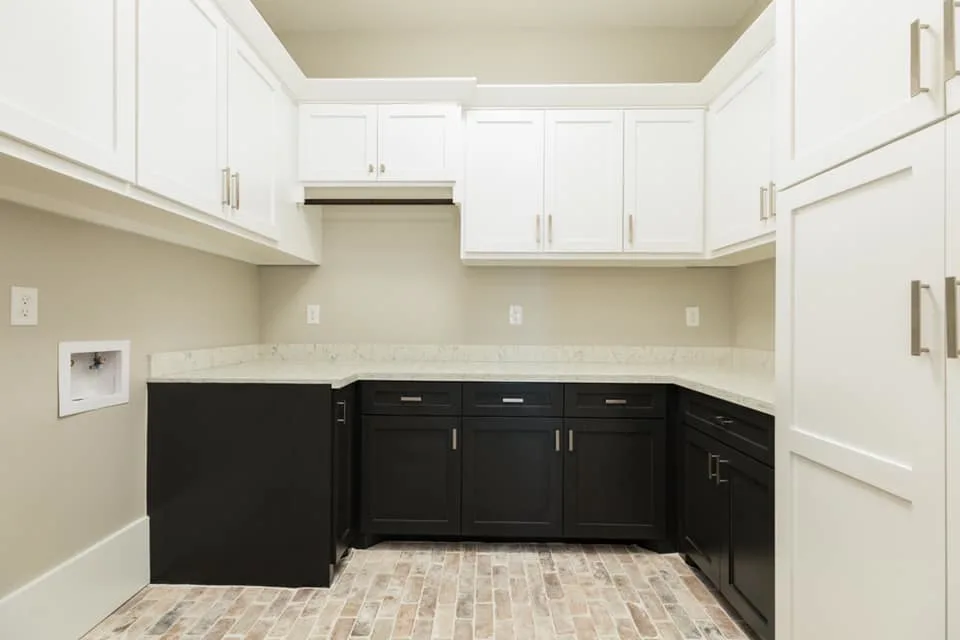 Storage and organization are a breeze when your kitchen comes with a cabinet housing floor to ceiling shelving. Plus, a walk-in pantry! What more could you ask for?
Lavish and Luxurious Bathrooms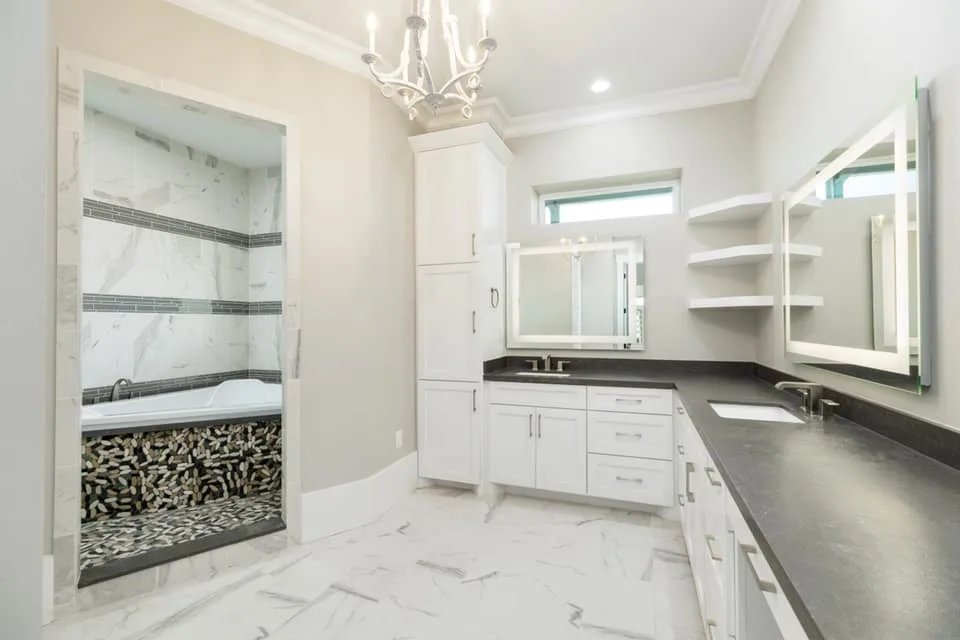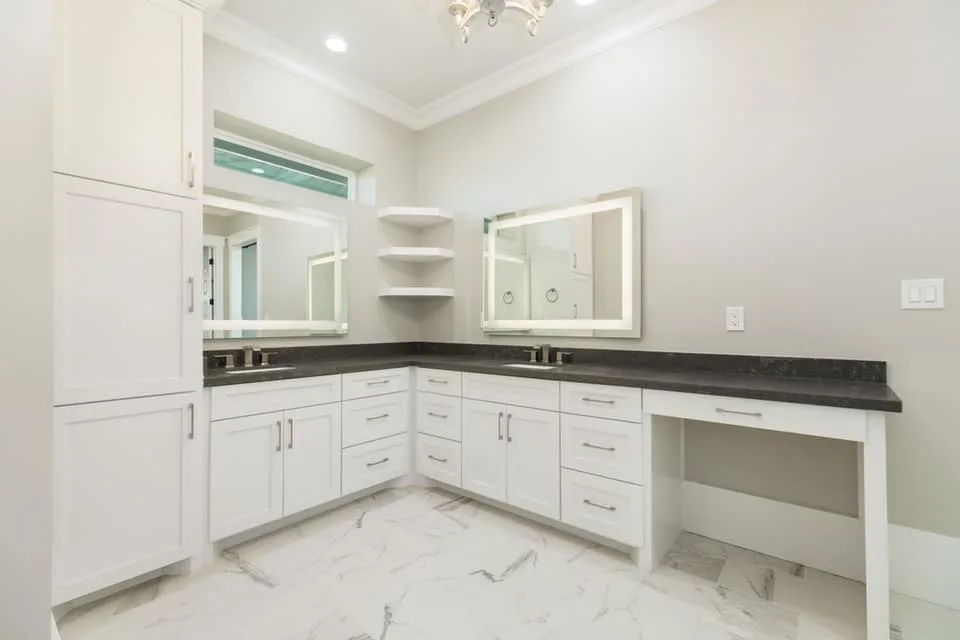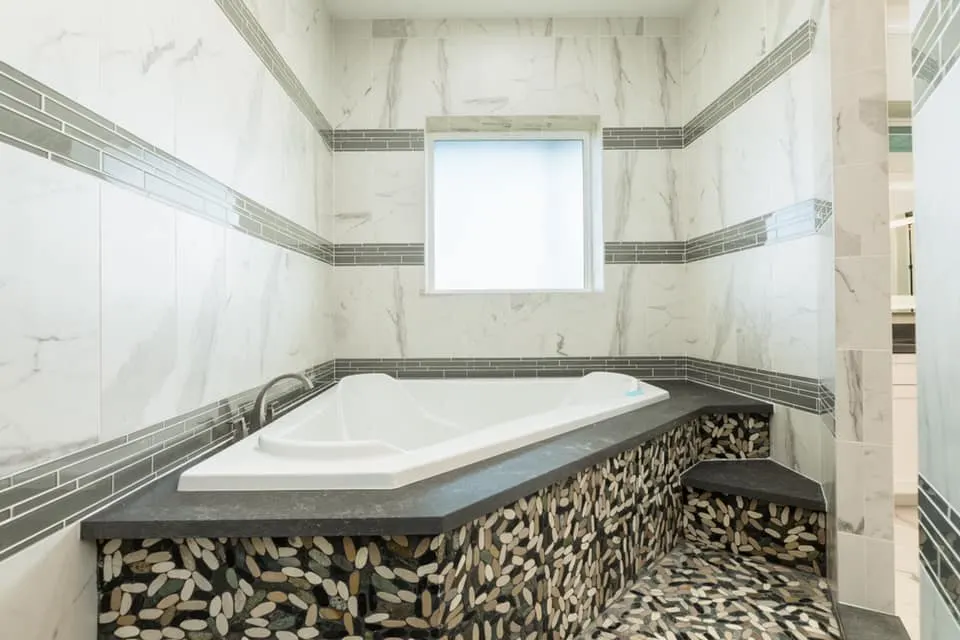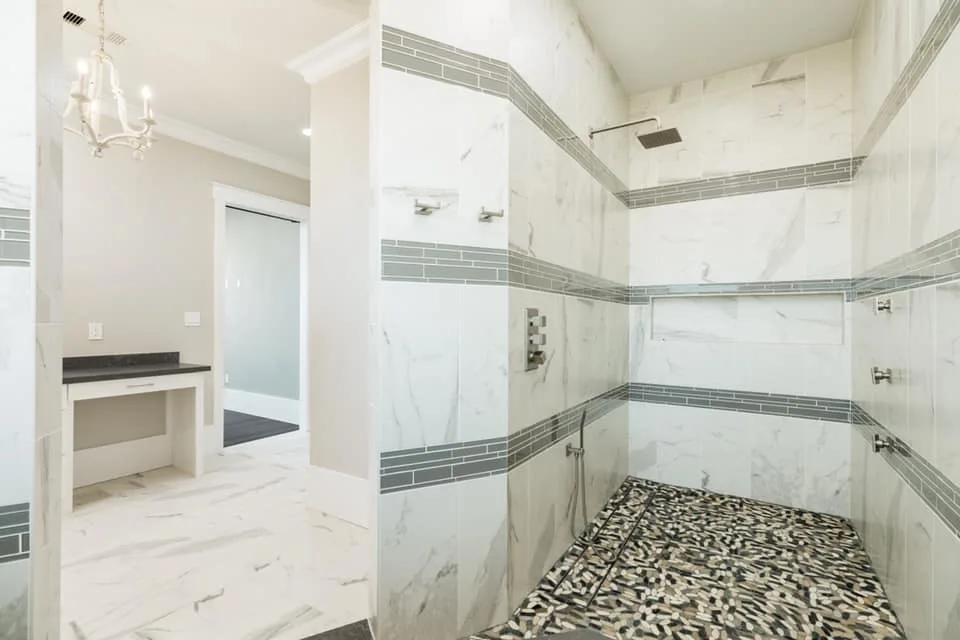 The deluxe master bathroom that accompanies the master bedroom is complete with a his-and-hers sink, a shower, and a jacuzzi. Each is separated by marble-tiled walls.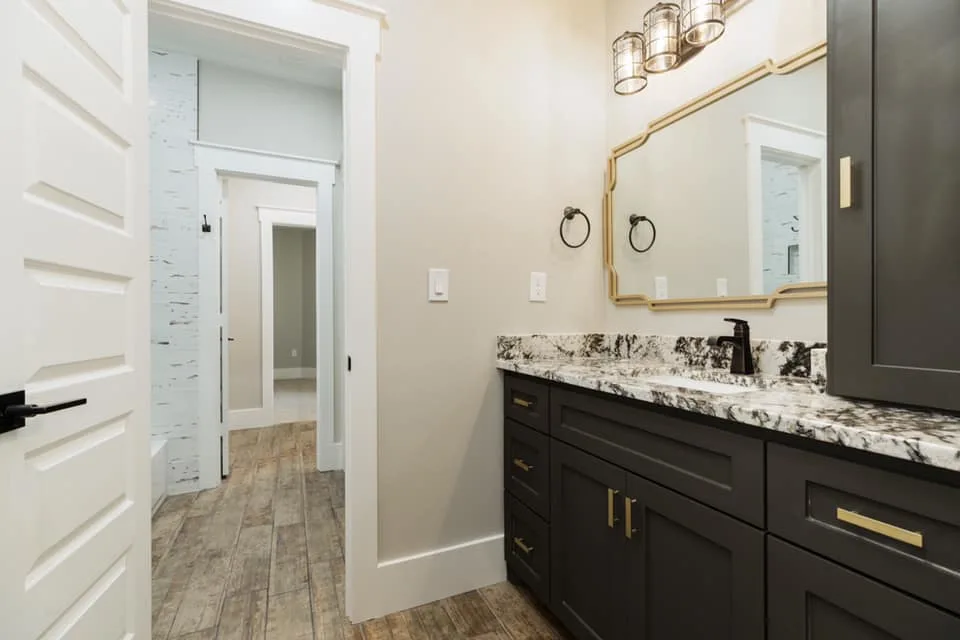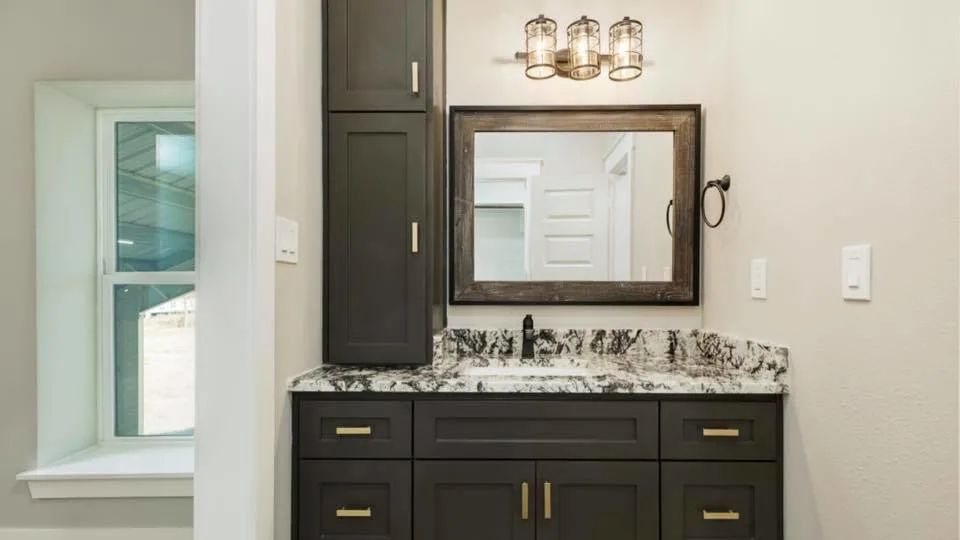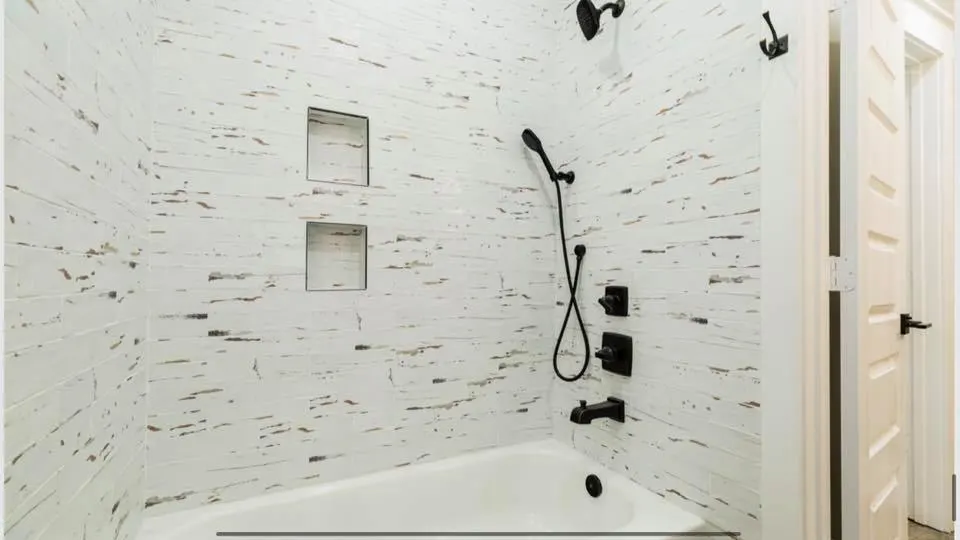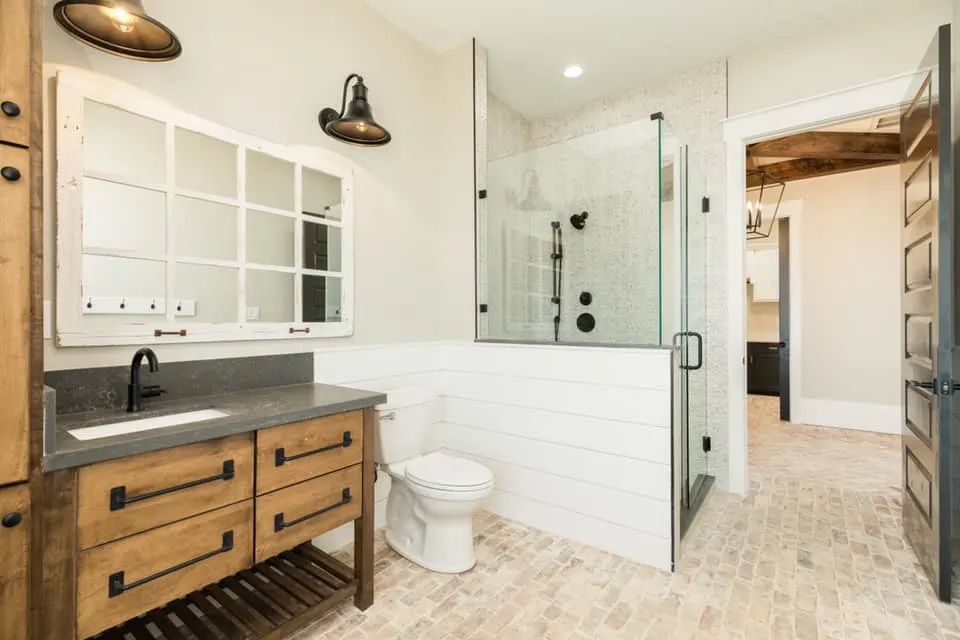 For the convenience of its occupants, this abode offers one bathroom on the ground floor and another one on the second floor.
Bedrooms with a View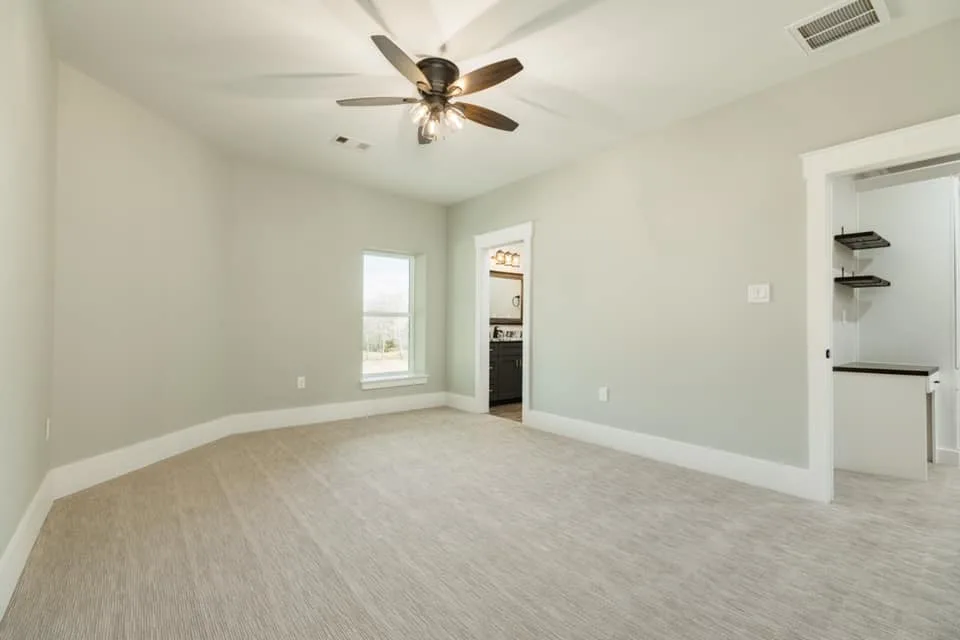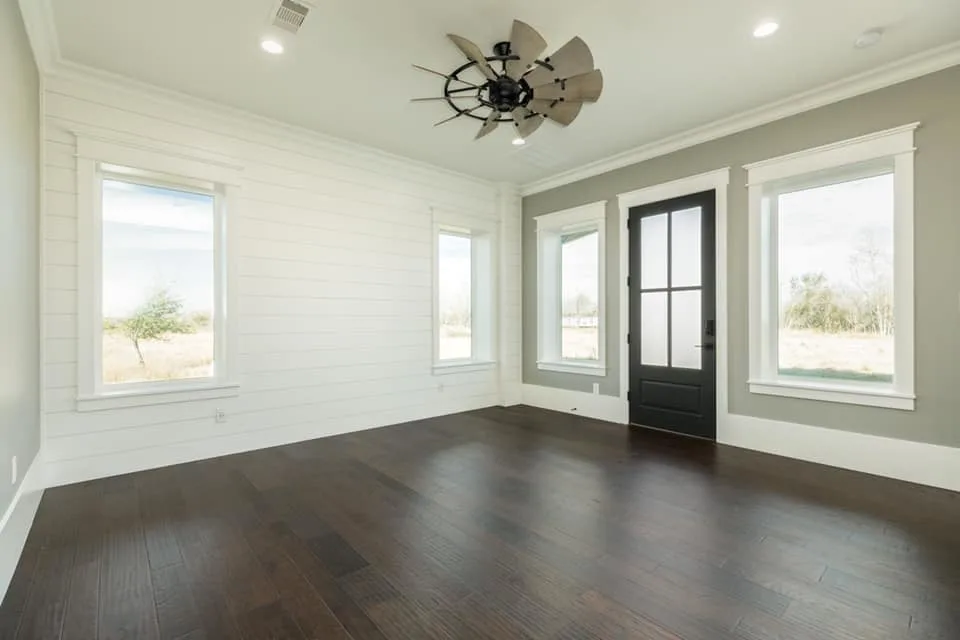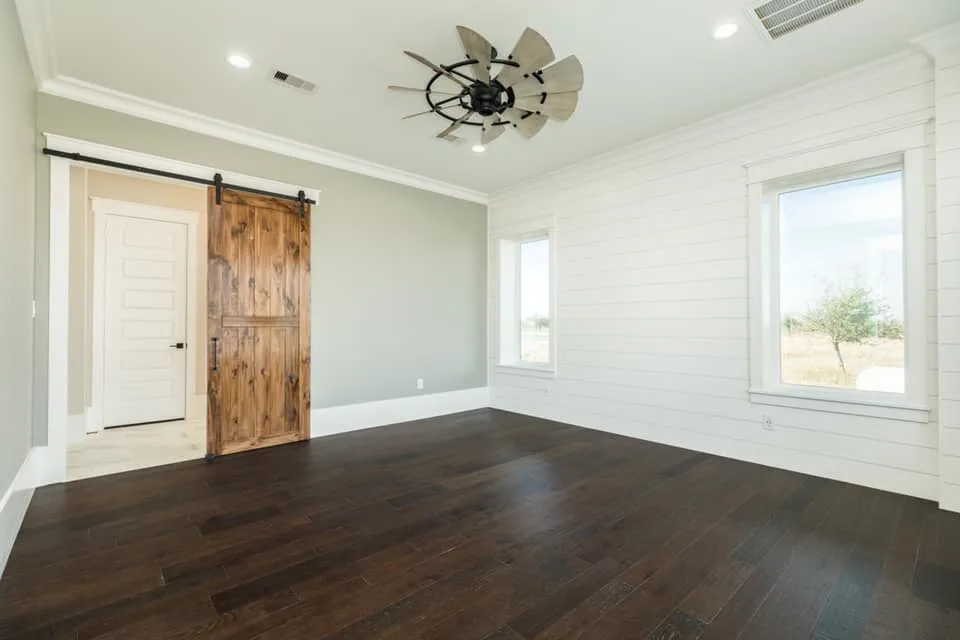 All 3 bedrooms are equipped with a ceiling fan and are large enough to be shared. Bay windows offer an unobstructed vista of the vast outdoors.
Second Floor Common Areas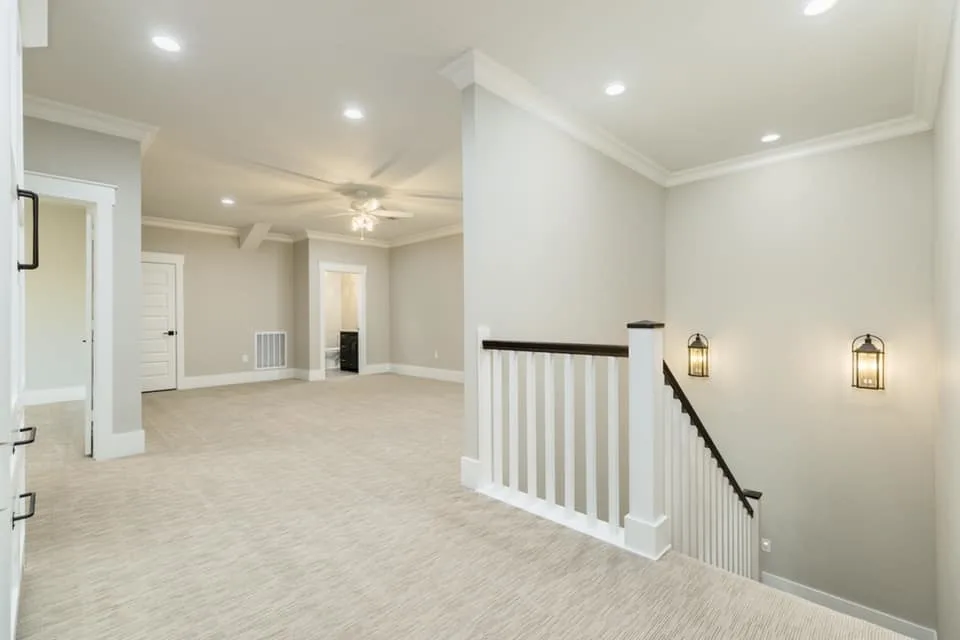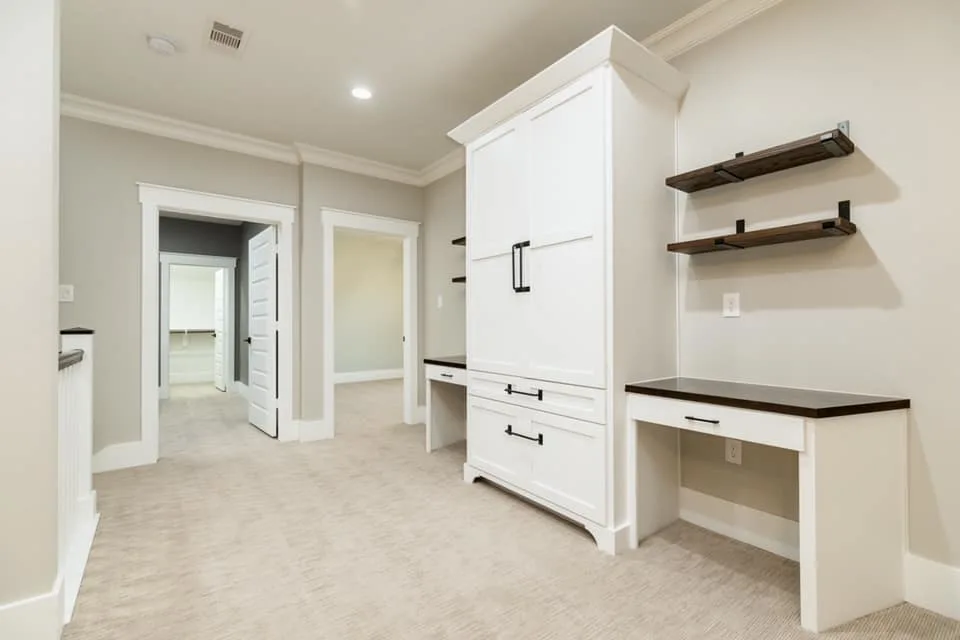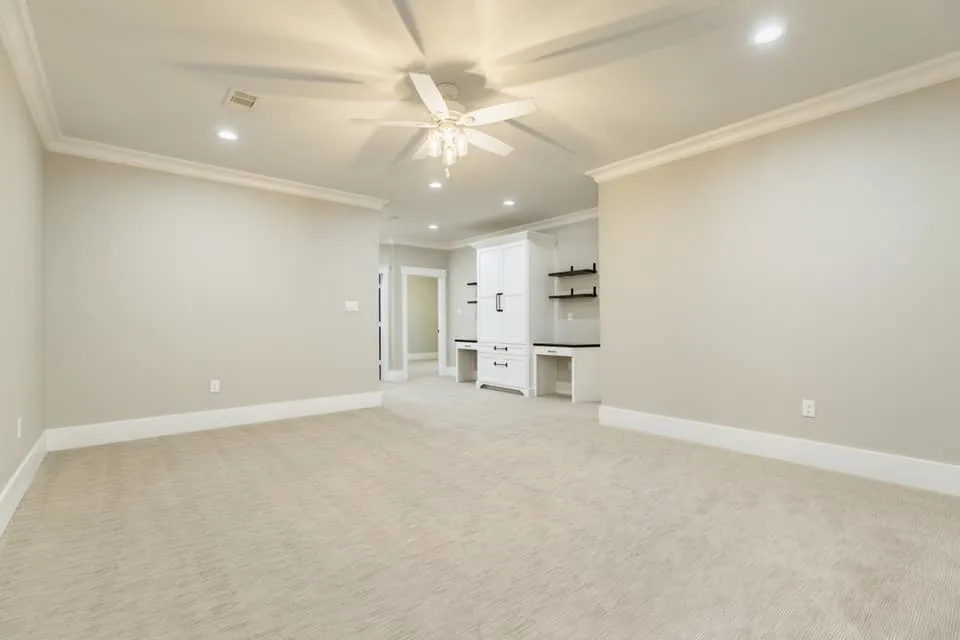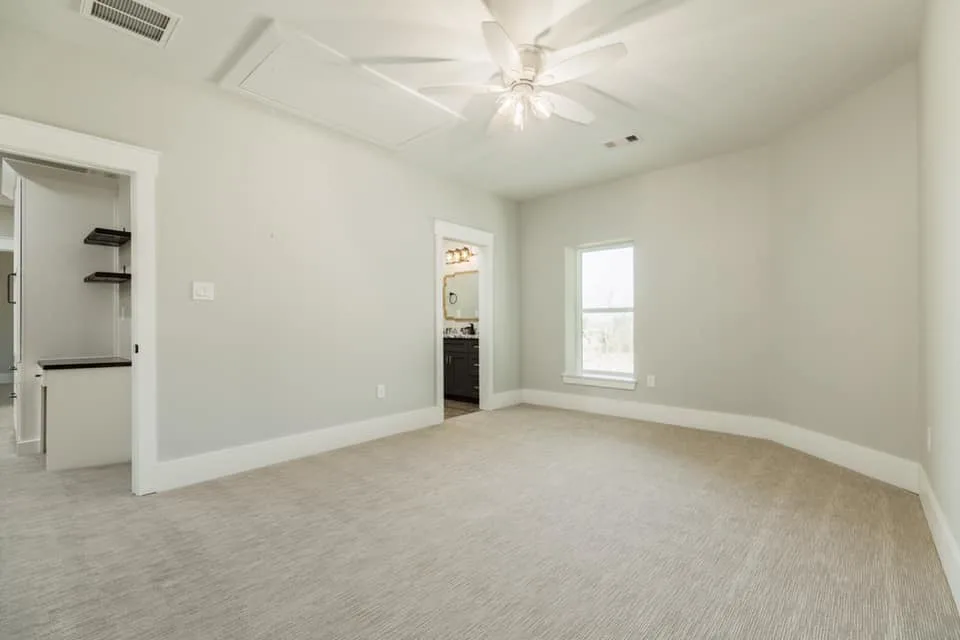 Laid out with a cream-colored flooring, the second floor of this abode houses the master suite, a home theater and a family game room.
Houston Texas Barndominium Shop – A Must See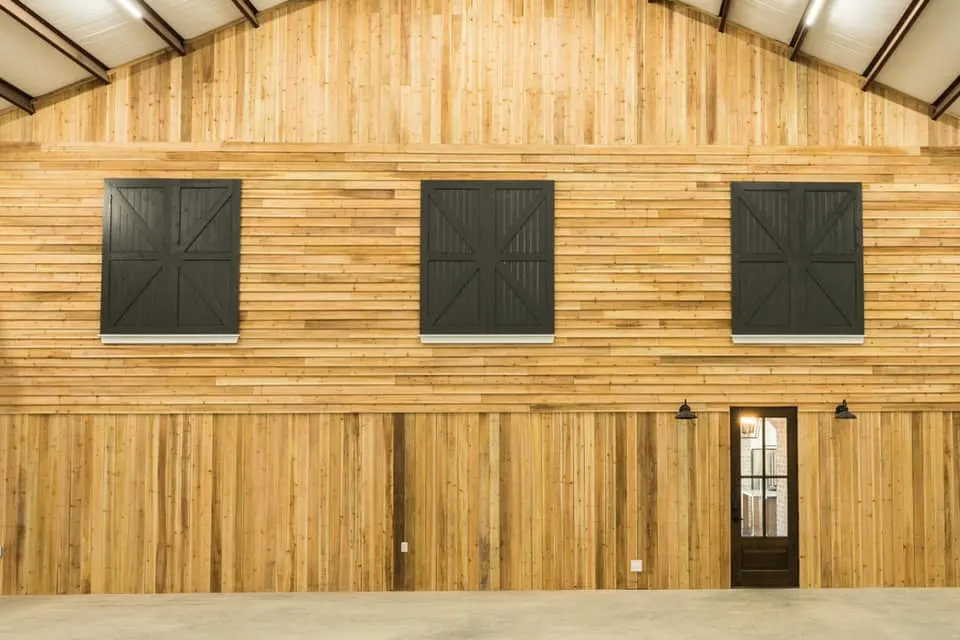 Adjacent to the living area of this barndominium is a 3,600 square foot shop. The huge space can be anything you want it to be – a car restoration hobby place, a carpentry workshop, or a greenhouse.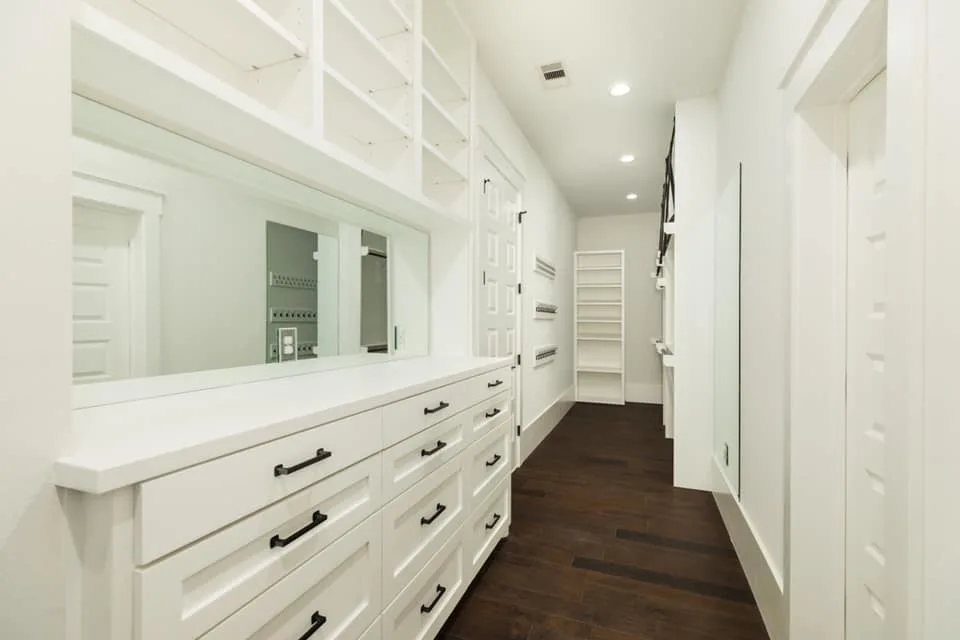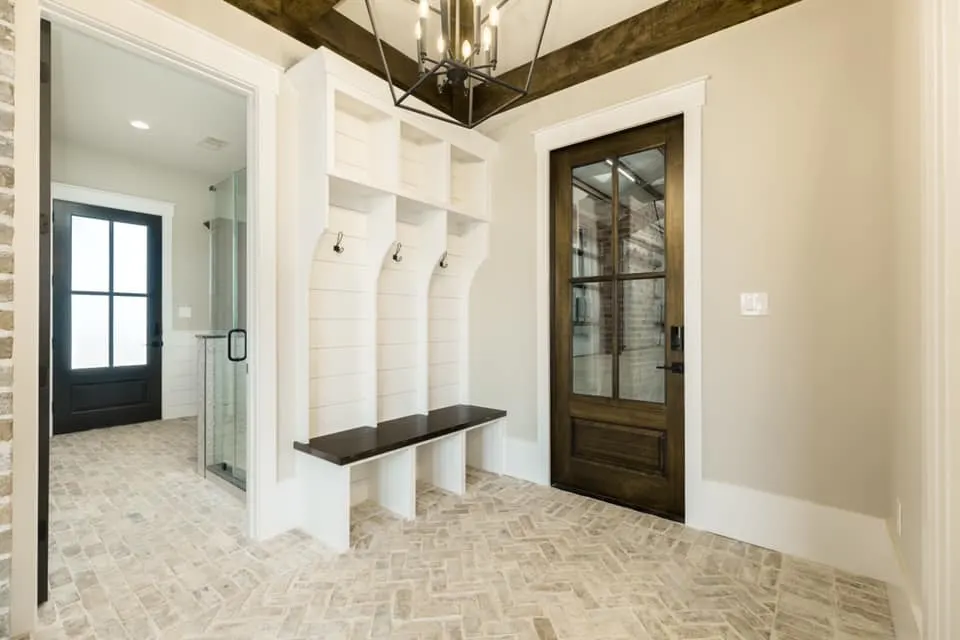 The utility room is perfect for storing gardening equipment, out of season clothing and footwear, and traveling paraphernalia. It can also double as a laundry area.
A mud room is also added and comes extremely handy for hanging coats and removing soiled boots to maintain the pristine indoors.
Design Your Own Sprawling Barndominium
Ready to build your very own dream home on a sizable tract of land? If so, then you should seriously consider a barndominium structure. It is very flexible, as you have seen in the photos above.
You have the freehand on the number of bedrooms and bathrooms, and you can add amenities specific to your family's needs, preferences and lifestyle.
Experiment with various layouts by drawing digital floor plans using our custom design software. The template allows you to add your specs to a template, and then presents a virtual plan accordingly.
Conclusion
For more tips and ideas to use on your future barndo, browse our website and view the images on our Pinterest page. The Barndominium Life Program is also available to help you build your barndo faster.
If you would like more guides like this one, check out the rest of BarndominiumLife.com. There, you will find more helpful tips and tricks from the pros. You will also find featured barndominiums, barndominium floor plans, and information on financing and insurance. Knowing as much as you can will help you get the best results for your dream home.