Living standards and the styles of homes that we live in has changed dramatically over the past hundred years or so. From being cave dwellers to living in luxury homes and high-rise condominiums, people have come a long way. Today, we have a variety of residential properties, and the barndominium is one of the fastest growing home styles out there.
The word barndominium can be a bit confusing for those who do not have much knowledge about real estate, but it is a portmanteau that combines the words, barn, and a condominium.
Remember how ranchers and farmers used to create loft areas above working barns for caretakers back in the day? While that practice hasn't ended, those basic living spaces have evolved into luxury homes and are now classified as barndominiums or barndos in short.
The flexibility of design and lower construction and maintenance costs of barndominiums have resulted in their increasing popularity, particularly in the South of the country.
If you're also planning to build a barndominium in Oklahoma, whether as a family home, away from the hustle and bustle of big cities, or as a vacation rental, please check out our eBook "Build Your Dream Barndominium"
Luxury Barndominium in Oklahoma – Introduction
Located in the outskirts of Edmond (Boomer!), in the heart of the picturesque landscape of Arcadia, Oklahoma, this beautiful barndominium is the brainchild of Brett Brinkley, an interior designer, and her husband Tray McPherson, a real estate developer (truly a match made in heaven). It sits on an area of 40 acres with over 6000 sq. ft. of covered area.
The barndo includes a 40'x60' barndo with four horse stalls, a wash room, and a small shop, measuring about 12'x20'.
The living space spans over 2500 sq. ft. and is divided into two floors. The first floor has a mudroom, a tack room, half kitchen, and a half bath. The second floor is spread over 2000 sq. ft. and includes two bedrooms with built-in closets, a storage room, a great room, a full kitchen and bathroom, an office, and a balcony.
Edmond Oklahoma Barndominium – Features and Images
Here are some pictures to give you a better idea of what this magnificent property has to offer:
Exterior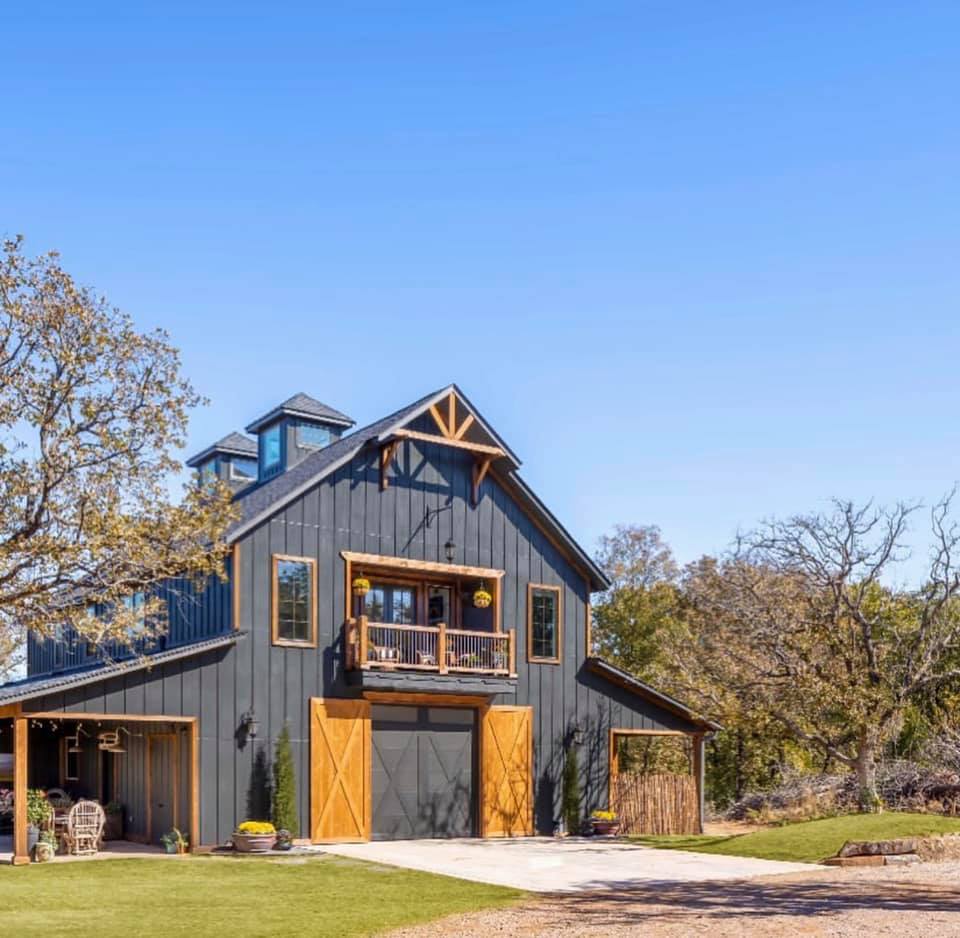 The property's exterior features the classic barn style. It is painted in iron ore shade and features a wooden door and finishing. The choice of materials and colors have given the barndo a simple and elegant look.
Great Room
Featuring a rustic décor, with plenty of natural materials, the great room of this Edmond, Oklahoma barndominium has laid-back and cozy appeal – just what you expect to see at a house in the countryside. The room also displays a mix of colors and textures.
Brett and Tray have not only made good use of wood but have also ensured to take full advantage of natural light. Not only the great room, but the entire barndo features several big windows to let the sunlight in.
Kitchen
The kitchen of this Edmond, Oklahoma barndominium is simple yet classy. The green color of the cabinets is a thoughtful choice that reflects the aesthetic sense of the designer. It's not a color that is generally seen in kitchens, but we have to admit, it looks great with different shades of brown.
The big kitchen window not only allows natural light into the house but also offers beautiful views of nature.
Staircase
The classic wooden staircase adds to the elegance of the house. The wall paintings and patterned tiles on stairway landings add just the right amount of color and pattern.
Patio
The patio of the barndominium is divided into two sections – a dining area and a small seating area.
Just like other areas of the house, the patio also has a rustic appeal and old-world charm. The chairs offer a raw, broken-in look, the plants bring in the element of nature, and the cushions in the seating area add a pop of color.
This unique wooden candle stand goes perfectly with the overall décor but also serves as the focal point of the seating area. It is sure to capture the attention of every guest.
Edmond Oklahoma Barndominium Floor Plan
Here's the floor plan of this wonderful Edmond, Oklahoma barndominium:
Conclusion
This barndominium in Edmond, Oklahoma features an open floor plan and the classic rustic, laid-back décor that you expect from farms and country houses. However, as mentioned earlier, a barndo offers the utmost flexibility in structure, style, and design. In other words, you can build just the kind of house you want.
Since a barndominium is a unique residential property, you need to consider several factors while building your dream home. Want to learn the intricacies of building a barndo? The Barndominium Life Program answers all your questions and concerns and provides detailed information about each step of barndo construction. Get your hands on it to start working on the biggest project of your life!