While we love perusing Pinterest for barndominium ideas and inspiration, we've found that some of these barndominiums are just not that realistic! Coming in at millions of dollars (like this beautiful Oklahoma barndominium), there's many on Pinterest and other places that we just can't relate to. While we'd love to drop $250,000 on a down payment and take out a huge construction loan, that's unfortunately out of our budget.
If you feel the same way, you'll love the pictures of this Southern Missouri barndominium posted by Stacey Jo Barnes on Facebook. This 3 bed, 2.5 bath barndo was built for an amazingly low amount of money (keep reading to see how much). Not only was it cheap, but it looks pretty darn good, too.
Coming in with dimensions as a 30×50 shop house and a including a nice-sized 8×50 covered porch, they also have room for a one car garage. The Barnes' decided to go small on the build by design, and we love the results.
Not only is it smaller than a typical barndominium at 1500 square feet, but it's also quite a bit more affordable. According to Stacey's post, this barndominium was built for only $115K total. Even MORE impressive, the house structure itself was $95K and completely finished with appliances and everything else.
You may be asking if the Barnes' built a large part of the barndominium themselves. Nope! The only things they did on their own was the paint and adding a few wooden walls. The rest of the barndominium was built by a contractor.
With no further adieu, please view the pictures of this barndominium in Southern Missouri below. We have also included the floor plans near the bottom of this post.
Affordable Southern Missouri Barndominium Pictures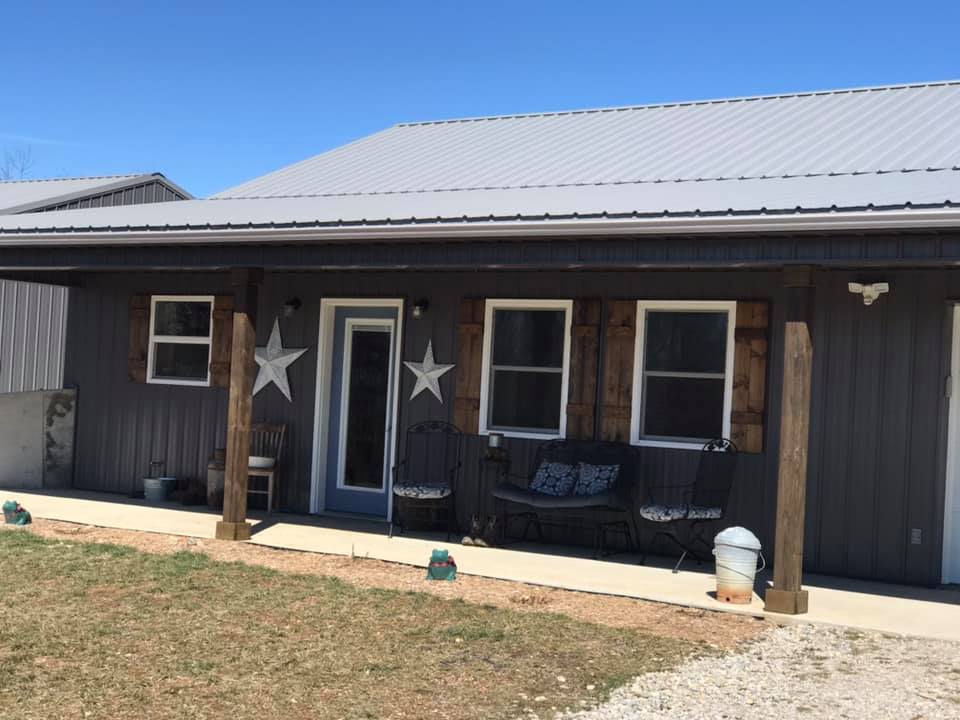 We love the exterior of this barndominium. It's low-key and not over the top like some other barndominiums. Even better is the cost of the barndominium at a little over $100K.
This barndominium in Southern Missour has plenty of room for laundry with a great washer/dryer setup.
This living room area is great.
Love the taxidermy on this southern Missouri barndominium!
Ready, aim, fire! LOL! Love it.