Anyone who has gone on a search for two story barndominium floor plans that are (a) ad-free and (b) actually link to a builder knows how time-consuming and frustrating it can be.
However, in this article, we cut through the maze of endless Pinterest boards. Our objective: to find five of what we think are the best of the best 2-story barndominium floor plans. Then, summarize them with links leading to their designers.
So, without further delay…
Let's get started with the best two story barndominium floor plans
This company, based in Nebraska, manufactures some awesome post and beam barndominium kits for transport to your homesite anywhere in the U.S. or Canada.
The image above is called their Great Plains Gambrel Barn Home. It's a 30×60 barndominium with 12 ft lean-to and 12 ft open porch.
Here are a few images from that barn home, all dressed up for Christmas: Click the image of the barn home above (or here) to see all the pictures, plus how you might build one of these iconic barn homes for yourself.
Barnwood Manor – Design 1014 from Nelson Design Group
Barnwood Manor
Here is a vintage barn house design. It showcases a classic farmhouse profile and a generous 4,072 sq ft on two floors.
Its high ceilings carry from the entry foyer into the great room. Then, this wide open concept continues into the kitchen and breakfast nook creating a cathedral-like effect. And it's just part of this home's welcoming charm.
Here are the floor plans.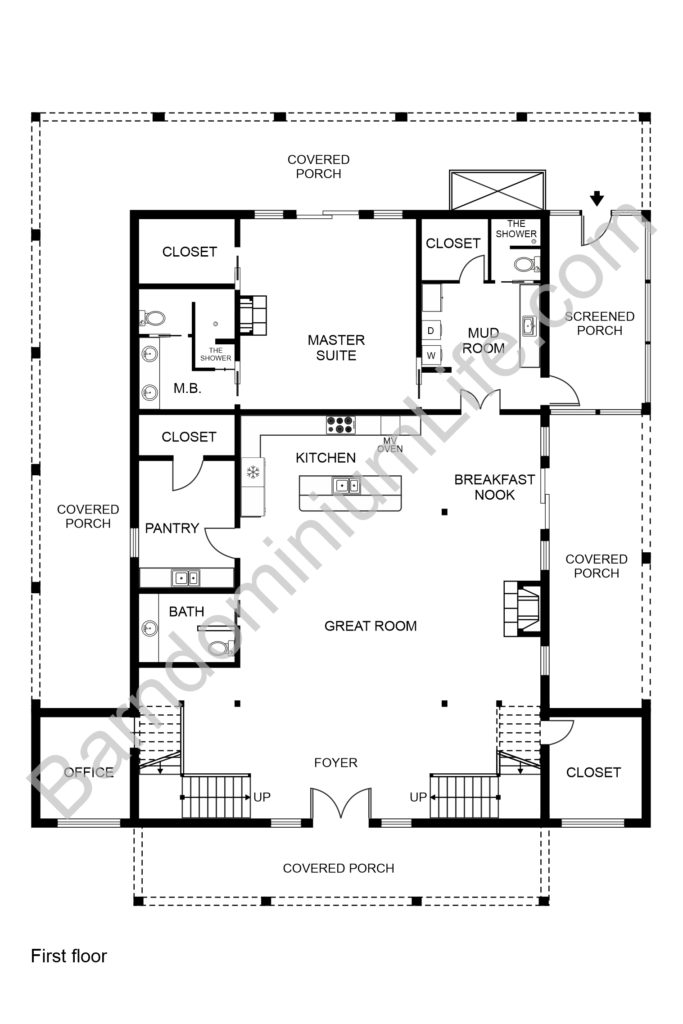 The plan offers, among other things, an innovative wet bar with access to one of four covered wraparound porches. And its twin staircases just off the entryway lead to spacious balconies that overlook the great room.
The bottom line
This is one of the few plans we could find that linked back to a design firm with whom you can work to make changes and not to a third party Internet repository of plans with no links.
Master architects at Architectural Designs have barndominium plans like this and many more. Here's the link.
---
---
2 Bedroom Barndominium Plans – 24'x30′ Ponderosa Country Barn, 9′ Wrap Around Porch
By way of contrast to the first example, here's a compact, 1,040 sq. ft. 2-story barndominum floor plan — this one from a company called Sand Creek Post and Beam.
It's a pre-designed barn home kit with cozy rooms and nooks aplenty. Topped off with a spacious loft and a wide covered porch on two sides. This is an outstanding 2-story plan, making the most of a small footprint.
720 sq. ft. main floor with 320 sq. ft. loft
600 sq. ft. covered porch
1,040 sq. ft. total
2 bedroom, 1 bathroom
Cost of this kit: $57,736
Barn home kits include:
Full dimension post and beam frame
Rough-sawn exterior board and batten siding
Construction Guide Booklet & Consulting
Foundation Plan (designed for slab)
R-40 Roof Insulation Package with pine T&G
interior ceiling
2"x6" Vertically Framed Wall Package – 16" O.C.
Perimeter downposts upgraded to 6'x8' to retain
post exposure
1/2" CDX wall sheathing and house wrap
Powder coated plates
Stair Package & Railing
Not included:
Interior finish, int. wall framing, drywall, paint, etc.
Residential doors and windows
Wall insulation (ready for spray foam or batt)
HVAC, plumbing, and electrical
Roofing Materials (shingles or metal)
Site preparation, foundation, utility hookups
*Shipping, engineering not included.
*Prices subject to change.
The bottom line
We realize you may just be looking for plan ideas which you can alter and take to your own builder. If so, you can easily find those through this link (if you can abide the annoying ads).
Instead, we feel it's our obligation to show you innovative barn home designs from builders who know and understand the construction of barn homes.
This particular set of plans is not available without the fully packaged kit from the builders. Click here to visit their site and to see 17 bigger and more elaborate 2-story plans.
---
DC Structures
This company builds and ships its kits from Oregon where it gets its signature rough-hewn posts and beams. They offer a number of stunning two-story designs. They call them "barns with apartments."
Well, technically they're not truly two story barndominiums — the first floor is given over to stables fit for prizewinning thoroughbreds. But the space can be finished out as a big shop, a garage or even as additional living space.
Kit Price: $132,315
2,707 Sq. Ft.
2 Bathrooms
"This example floor plan of the Alberta Barn Home showcases the openness and livability of this design. The great room, dining room and kitchen are completely open under sky-high ceilings. All of our pre-engineered barn home packages come with the highest quality materials to make for a structurally sound and beautiful home."
— DC Structures
Features
7 Gable Dormers
Heavy Timber Truss
Vaulted Ceilings
Mud/Laundry Room
Here's a link to a long list of what else is delivered to your jobsite.
The bottom line
When you buy from them, they insist you work with a builder experienced with post and beam construction and their final price reflects it. The kit price mentioned above is just a starting number. The final cost could well exceed $300,000 when the project is finished.
Having said that, there appears to be no finer builder of post and beam barn homes than DC Structures. Every testimonial and reference we could find indicates that they are a class act,
Get more information on thse floor plans and many other innovative designs here.
---
Mountain Home
Here is another design firm that will let you cruise their innovative plans and then pay a modest fee to acquire them.
Above and below are images and plans for a striking two story barndominium-style home, with special emphasis on warmth and country charm.
Here is what the company, John Gower Design, has to say about their plans:
"Our architecturally distinctive, pre-designed house plans can be modified to suit our clients' unique requirements. Each of our house plans is crafted to provide you with a simple, comfortable, yet elegant home that fits your life beautifully. We encourage our customers to work with us as co-designers to achieve a perfect design solution for your life. Stock plans typically range in price from about $600 to $1400, with additional fees for any modifications."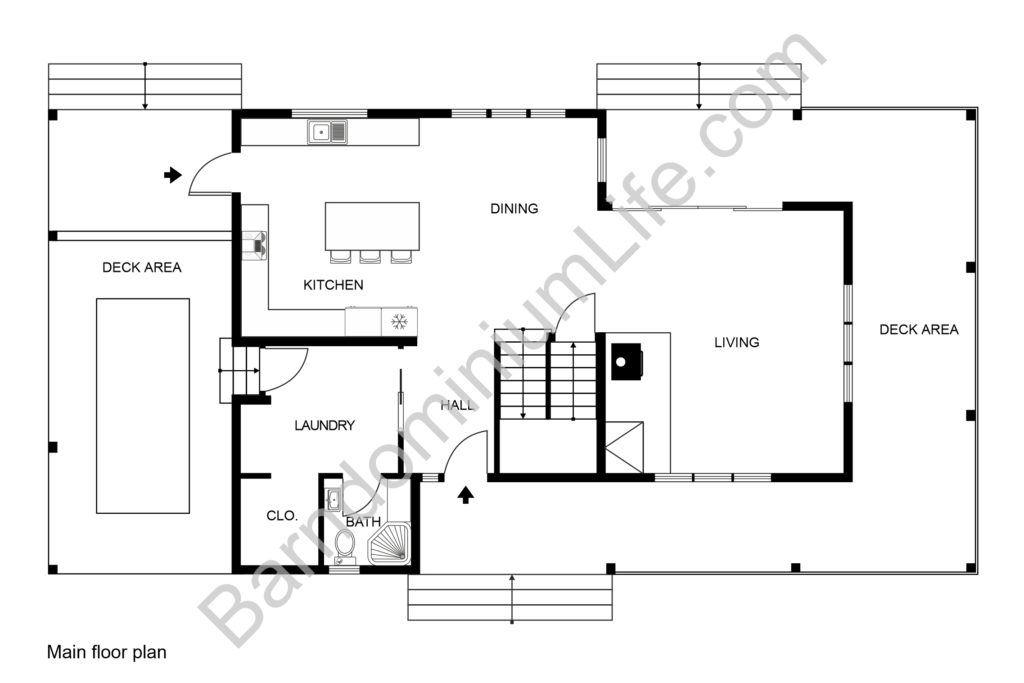 The bottom line.
This may ultimately be your best option for building you dream two-story barndominium. Check this design firm's plan gallery for still more excellent designs.
---
The Jocassee
Last in our two story barndominium floor plans roundup is this intriguing design by Blue Ridge Log Cabins — a premier kit manufacturer.
Here's a description of this 2,000 sq. ft. two story home:
"This three-bed/three-bath, 2,000- square-foot beauty features an open floorplan with cathedral ceilings. The Jocassee is surrounded with windows that will show off a multitude of gorgeous views. With Blue Ridge Log Cabins' exclusive 6-by-8 solid log systems building process, our teams can fully erect our cabins, including everything from appliances to light bulbs, within 90 days from order."
The bottom line.
If you're looking for a two story kit to assemble and furbish within 90 days, this is an excellent option. Visit their site at https://www.blueridgelogcabins.com/.
---
Before we close out, here is a marvelous resource for anyone looking for barn home and log home builders in every state in the union.
It's a website called, simply, Log Home Living and if they can't give you something very close to what you're looking for — you're extraordinarily particular.
Here's one of their two story barn home examples:
The Grantham by Yankee Barn Homes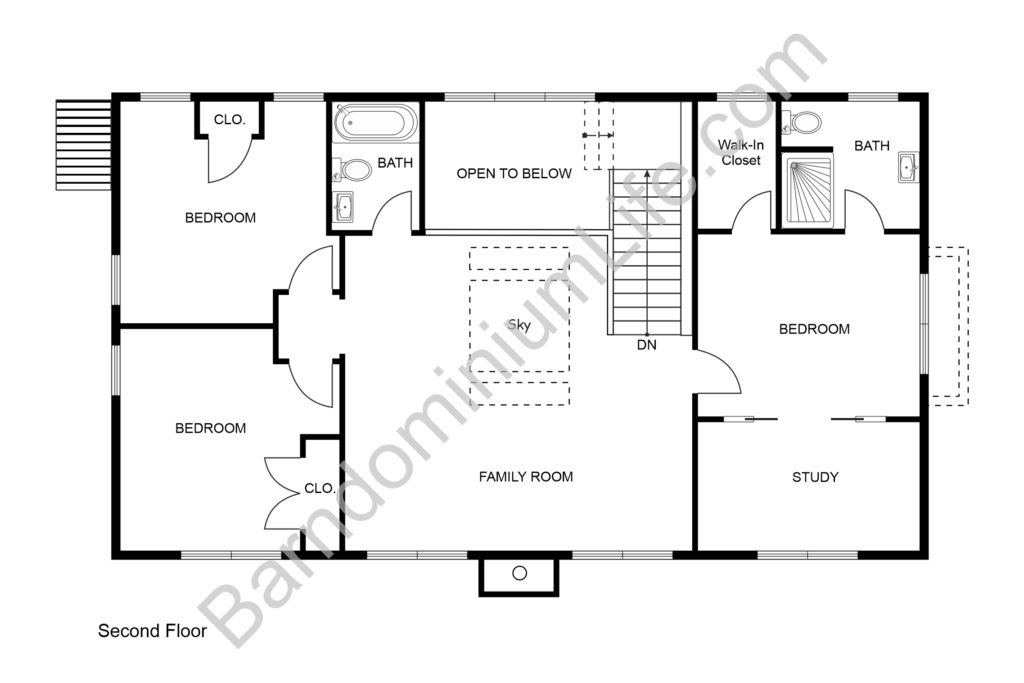 They also feature one of the best mortgage calculators we've seen in awhile, allowing you to build according to your budget. And, there's even a priceless link with dozens of articles to help you choose, plan, build and even furnish your new barndo.
The bottom line.
We realize we've skipped here and there in addition to providing a look at a few great two story floor plans. But we hope that, overall, it's been informative and helpful.
Read on for one more fascinating stop along our research while compiling this post.
---
Here's a bonus feature if your budget allows the extravagant.
This remarkable company in Waco, Texas, locates, removes then restores, piece by piece, historic old barns for folks to then call home.
Their body of past work is impressive and serves as an interesting option if you are a history buff and would like for your new barndominium to be truly unique.
Here's their bio:
"Heritage Restorations restores and rebuilds historic timber frame buildings from the 18th and 19th centuries including old barns, houses, hand-hewn log cabins, churches and mills. These time-tested, hand-crafted structures are then combined with modern, energy-efficient designs and materials to make beautiful and unique barn homes, post and beam spaces, wedding and event centers."
And, here are a few of their past restorations:




The bottom line
They also offer custom designs as well, based on their vast acquaintance with the architecture of barns for two centuries.
It doesn't matter if you're a serious client-in-waiting for their unique services or just a dreamer, looking for old world inspiration, they're worth a good look.
For an even more two-story floor plan inspirations, get the Barndominium Life Program. Also, check out the best barndominium floor plans with different features only from our program.