Today we are featuring a barndominium that many readers wrote in about. This Jefferson City Missouri barndominium has all the features you've been looking for.
Before we get into the pictures, here's what Nathan Jobe had to say about building this barndominium, the cost, and the process overall.
"So I had several people (like 20) ask for our floor plan and info. The floor plans are in the pics. It's a 40x50x18 with a 24×32 garage. 4 bedroom with 3.5 baths. It has two separate hvac systems for the upstairs and main floor.
If your do an open balcony I highly recommend you do that. It keeps a more even temp throughout the house. Also you always have a backup if one goes down. We were around 180-185k.
I'm a carpenter/cabinetmaker by trade so I did the plumbing, electrical, cabinetry, finish carpentry, flooring, and painting myself (yes my wife helped a ton). I'd say most people would spend more to get the same house.
With all that being said I would definitely build a bigger garage if I had to do it over. We also love the look of the open balcony but noise tends to travel pretty easily. Other than that it's been great."
So with no further adieu, here are the pictures of Nathan Jobe's Jefferson City Missouri barndominium. Please note these are both construction and finished pictures. Keep scrolling to the bottom to find the floor plans for both upstairs and downstairs!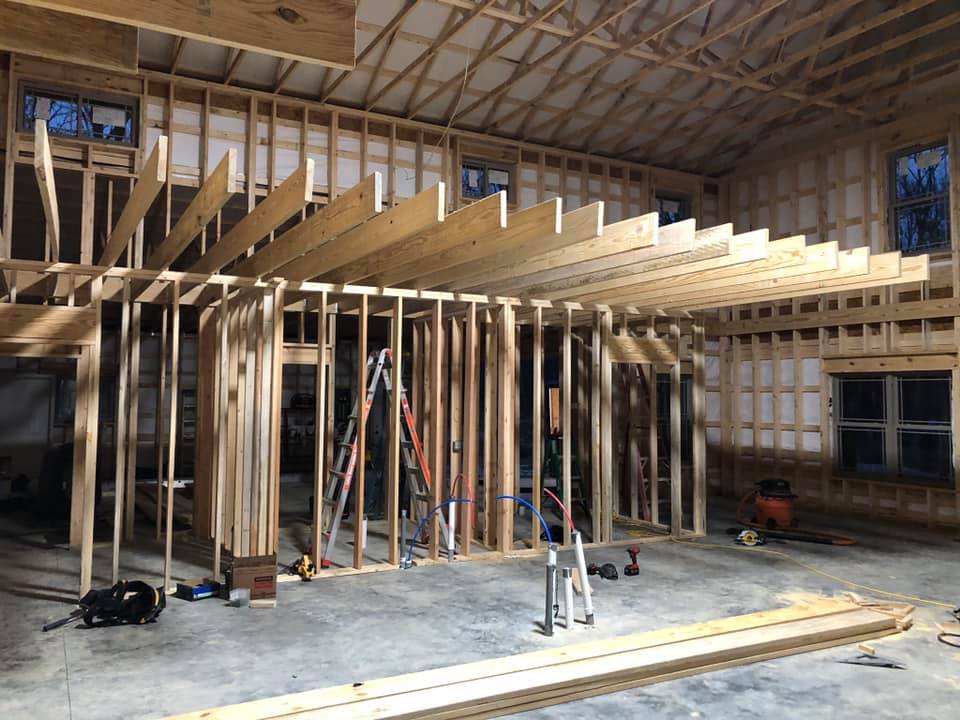 Jefferson City Missouri Barndominium Floor Plans – Main and Upper Floors