Multi-family barndominiums are the perfect way to bring families together while enjoying the rustic charm they have to offer. Learn more about the benefits and features to look for in multi-family barndominiums to help you decide if they are for you.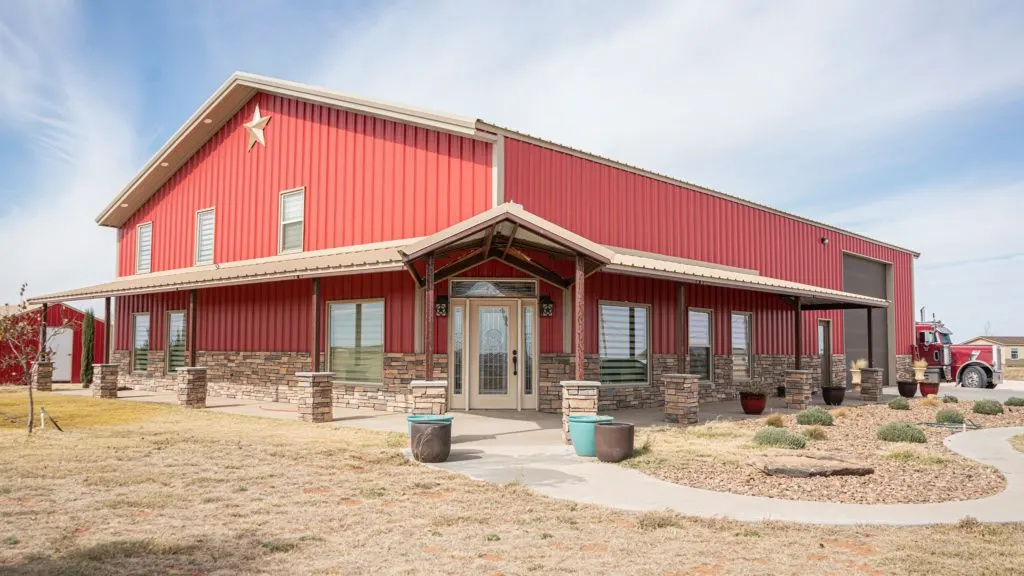 Multi-family housing has been on the rise in the US since 2007, increasing at a surprising rate. In fact, 1 in 5 Americans today are living in multi-generational housing situations. Multi-family, multi-generational, and next-gen housing are all different terms for the same concept: family living with family. Sometimes this may mean older generations living with their children and/or grown children continuing to stay with parents into adulthood when they are more financially stable. The barndominium community is bursting at the seams with interest in these types of homes, and many are asking, "Is a multi-family barndominium even possible?"
Get a FREE 18 Month Barndominium Planner
There are 39+ steps that must be taken before groundbreaking. Learn them all in this FREE checklist, available for immediate download.
Multi-family Barndominiums: Why Do We Need Them?
There are many reasons why someone may choose to look into multi-family living situations when building or buying a home. With the aging baby boomer generation living longer than any generation before it, more and more people are looking to have their aging parents taken care of. Other reasons for seeking out multi-family barndominiums are
College-age children who are not yet financially stable
Relatives with special-needs who are not able to live independently
Family and friends who need a place to stay for an extended period of time (think grandkids, holidays)
Real estate investors who are looking into building/buying multi-family barndominiums for renting purposes
Whatever your reason for considering a multi-family barndominium, it can be an effective way to get all of the people you love together in an affordable way.
Why should you choose a Multi-family Barndominiums?
Why should you build a barndominium specifically when choosing a multi-family housing option?
1. Construction Options
Barndominiums are extremely versatile. Unlike traditional homes, barndominiums are very customizable. They can span large areas with ease and without load bearing support, since they are mostly constructed with steel trusses. This is why you see large shopping centers without vertical beams or support poles. Because of this, there is a lot of freedom with the floor plan in a barndo. This makes a barndominium the perfect multi-family housing solution.
2. Easy to Construct
Barndominiums are easy to construct. If you use a builder or metal fabricator, the building will go up in a fraction of the time that it would take a traditionally framed home. Additionally, if you are a true DIYer, you can buy a building kit and construct the building on your own, saving thousands.
3. Durability
Barndominiums can withstand the elements better than most home constructions. They will not rot or burn like wood framing does. They are stronger when in a storm, tornado, or earthquake. There will not be issues with termites. Also, the owner may get a break on their insurance due to these things being less of an issue with these types of homes.
Pros and Cons of Multi-family Barndominiums
Pros
The obvious benefit of building a barndominium for multiple families or family members to live in together is being together and being able to care for someone who needs that supervision. However, many choose to build or buy multi-family barndominiums without needing to.
One major benefit is the shared expense. Building or buying two properties is double the price, and this could mean serious financial freedom for property owners. As well, the shared home responsibilities allow for more quality time together.
Not only will the members of the home share the main home expense, they will also benefit from sharing many of the other expenses as well, such as insurance, internet and television, trash, utilities, etc. That can amount to a large monthly savings. Additionally, if you are an investor looking into building/buying multi-family housing, you are lowering your risk by housing multiple families at one time.
Cons
Having multiple families and/or a large number of people under one roof can be challenging.
Everyone has different home routines and expectations, and this makes it so important to make considerations for privacy and alone time for each family member. And although, there are a ton of cost savings, as described above, the structure will cost more upfront to create a space that is large and effective to house multiple families.
How to Build Your Own Barndominium & 200+ Floor Plans
Get started today with our program "Barndominiums Made Easy: How to Build Your Own Barndominium" and get 200+ barndominium floor plans included!
Tips for Building a Multi-family Barndominium
1. Private Zones
In a multi-family barndominium, it is very important to be creative about carving out private areas for each family member or guest. Since more people under one roof can be more chaotic, having a bedroom specifically for each person may help everyone to have a place to retreat to when necessary. Other worthy considerations would be multiple outdoor spaces, extra garage space for many vehicles, and lots of storage space for each family.
2. Ground Floor Accessibility
Making a space for aging relatives, or those with disabilities, means thinking about accessibility. Multiple levels in a home can be a great addition, especially when housing multiple generations; however, the main floor needs to be ADA accessible for wheelchairs and other assistive devices. Once you are to a certain age, climbing stairs isn't really an option, and all the necessities (laundry room, bedroom, kitchen, bathroom) need to be on the main floor. Many find it important to include multiple master suites on the main floor for this reason as well.
For two small families, the below floor plan shows two master suites on the main floor in a split floor plan style. This may be the best option for this multi family situation; however, it is not a floor plan that most would consider, having two master suites on the main level. Many who decide to build multi family spaces find it advantageous to be creative with their floor plan.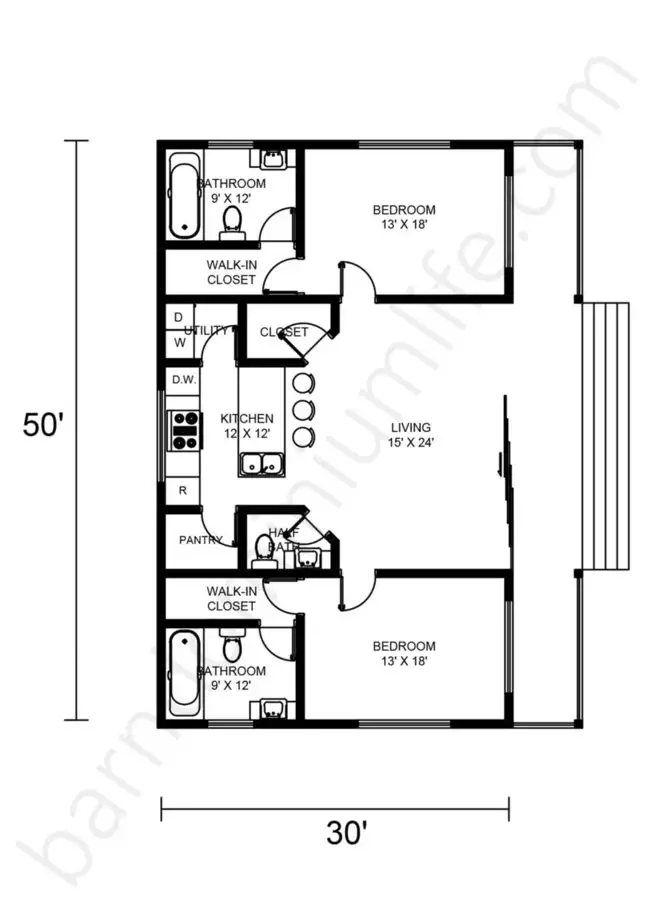 3. Large and/or Multiple Common Areas
Multi-family barndominiums need common spaces that are large enough for everyone to be together; however, there are going to be occasions where family members want to engage in different activities and should be able to do so.
For example, the kids may want to play video games while the adults enjoy a quiet conversation. Therefore, additional living spaces may be necessary in a multi-family build. Many see this as an opportunity to also look at planning for multiple outdoor living spaces as well.
One of our recent featured barndominium owners, Chelsey Burner does an excellent job of including multiple living spaces (a living room, a game room, and a movie room) creatively all in 2800 square feet. Her barndominium would be a great multi family space. You can check out the rest of her pictures here.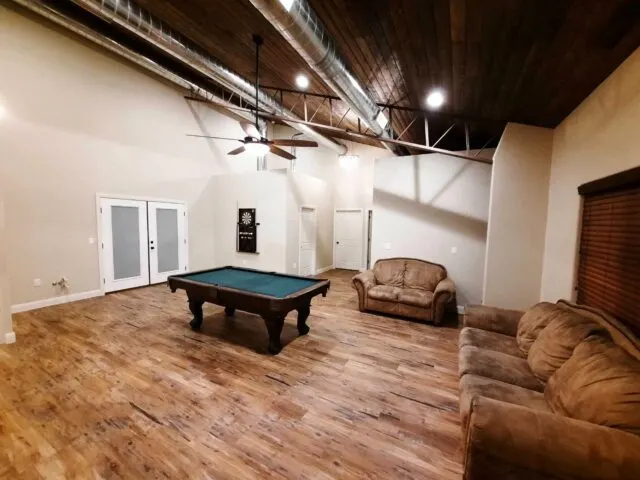 4. Private Entrances
Private entrances may be a necessity in a multi-family home, depending on the situation. Real estate investors who plan to rent out multiple spaces in a structure will surely need for there to be multiple locking entrances. This would also be essential for those who live in the home but also wish to rent out a portion of it. This would give the ability to have true privacy from the other family in the home.
Families who do not rent separately may also benefit from this element in their multi-family barndominium for privacy when entering and exiting. This may look like a locking door on a separate level, or it could be an entire guest house situation for an individual or couple.
Building a Multi-Family Barndominium
All of these things considered, bulding or buying a multi-family barndominium is a great choice. If you are looking to get starting building your dream barndominium, pick up a copy of our book, "Build Your Dream Barndominium". It will give you, step by step, everything you need to get started.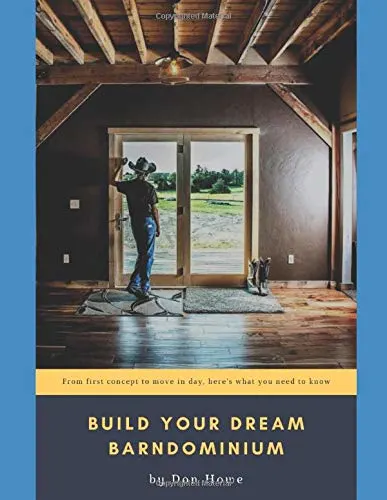 Like this Post? Sign up for our email list!
Be the first to see new posts about the best barndominiums, construction guides, floor plans, and more! Enter your information below to become a BarndominiumLife VIP.