Today's stunning Texas barndominium is a 4,000 square foot country dream. It has everything (and more!) that a person would need to complete the perfect barndominium home. This barndo sits on 40 acres and has multiple gorgeous ponds on the property as well. Also, it's for sale! If you're in the Bellville, TX area, check it out! They're also on Instagram @heritagehousehomestead
Barndominiums are all the rage in Texas and for good reason. Get more barndominium inspiration with another Texas barndominium.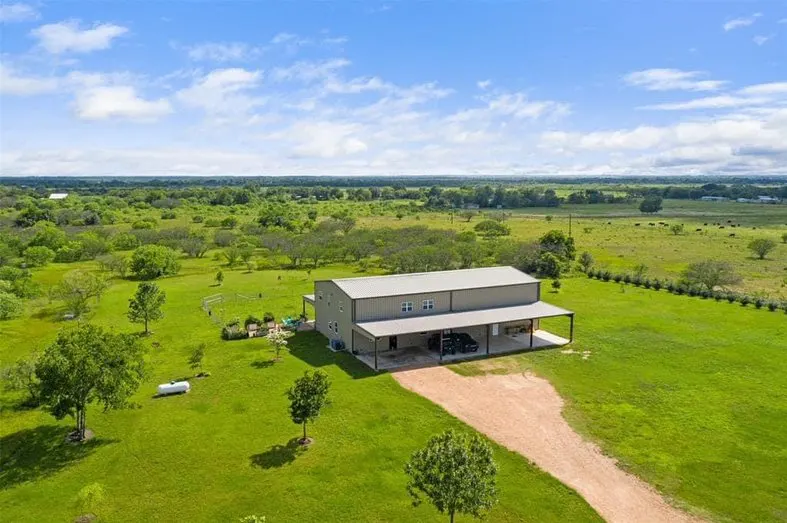 Get a FREE 18 Month Barndominium Planner
There are 39+ steps that must be taken before groundbreaking. Learn them all in this FREE checklist, available for immediate download.
Texas Barndominium: Kitchen
One amazing feature of this home is the space and details included in the chef's kitchen. There is a double gas range with double ovens, as well as a side-by-side full refrigerator and freezer. Notice the full sink to the left of the refrigerator, as well as a small prep sink on the island. A window over the sink, a paper towel rack, and a ceiling fan are also noteworthy mentions in this beautiful kitchen. We are loving all of the warm, natural tones on the floors and countertops, which mix well with the off-white cabinets.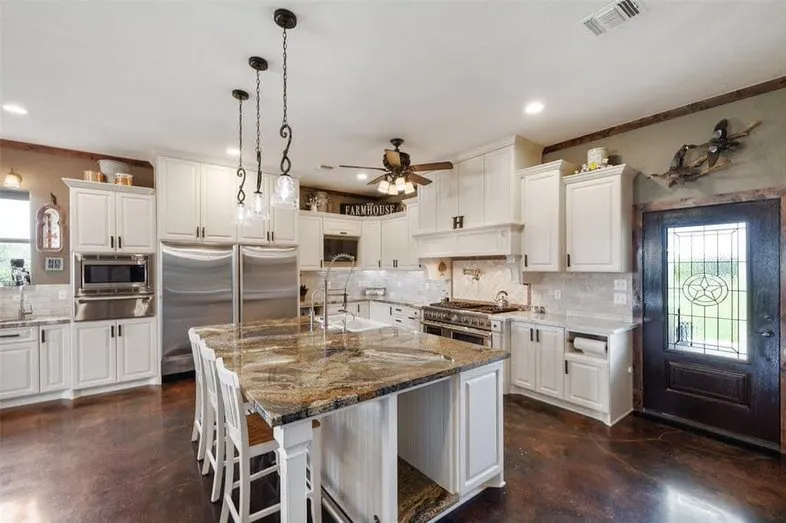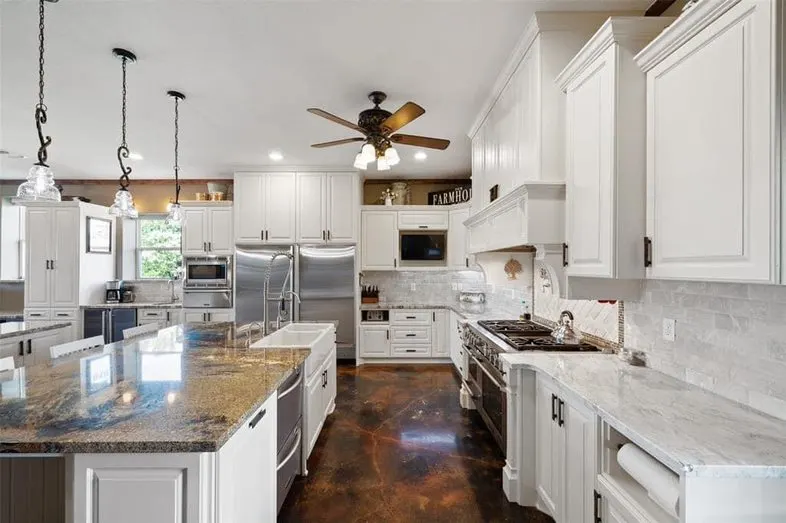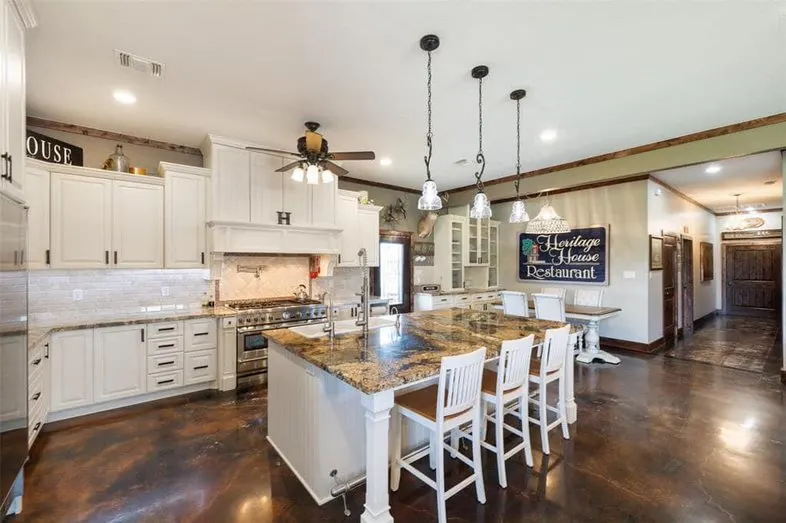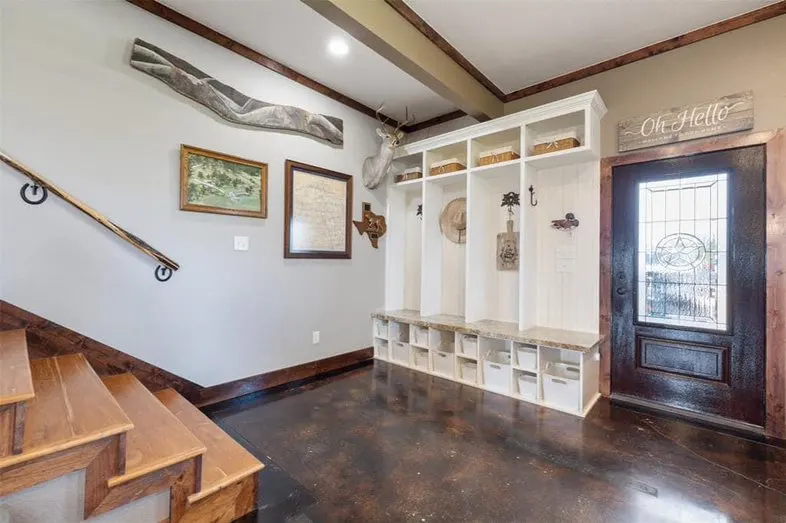 Texas Barndominium: Living and Dining Room
The kitchen, living, and dining room areas are all open concept and lined up which give a great view from the kitchen into these spaces. Custom built-in cabinetry around the entertainment center and next to the front door are the perfect touch for extra storage space, functionality, and design.
Also notice the additional living space included in this home. Creatively, this owner is also using this space as a bunk room for when large groups need a place to stay. What a great idea!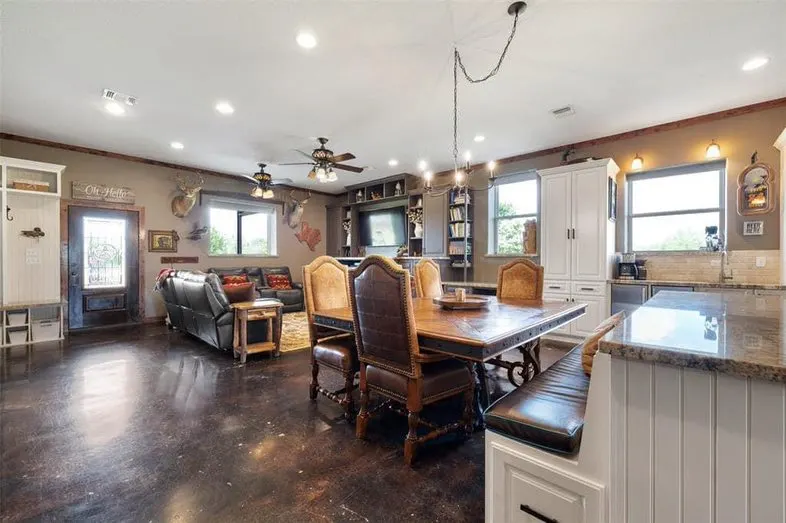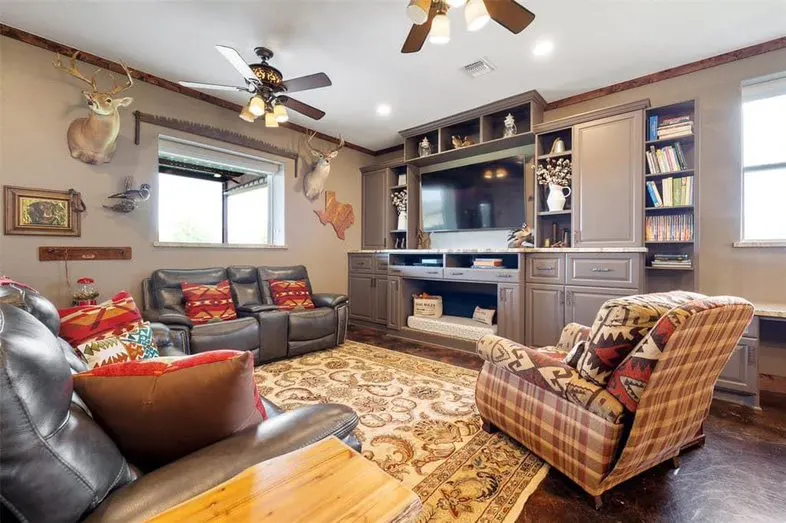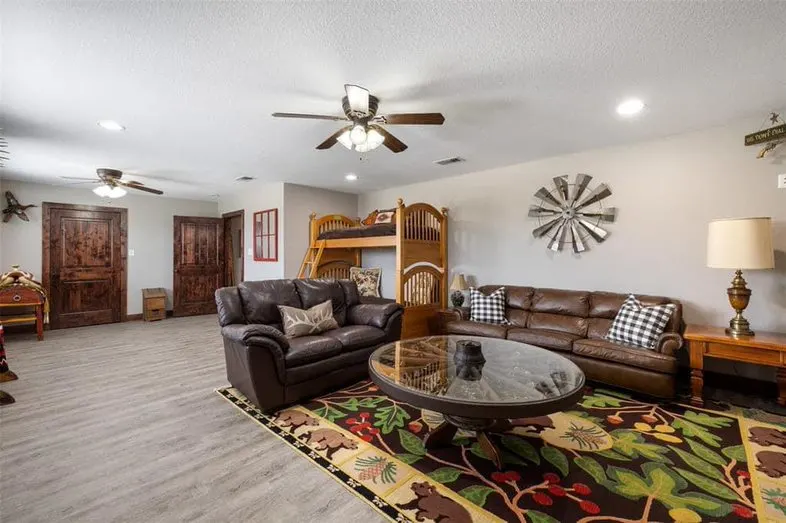 Texas Barndominium: Bonus Spaces!
The wow factor of this home comes from the amazing bonus spaces like its HUGE library and private wine storage room. All of the custom shelving in the library give the perfect place for decoration, storage of smaller items, and of course, books! What a unique idea!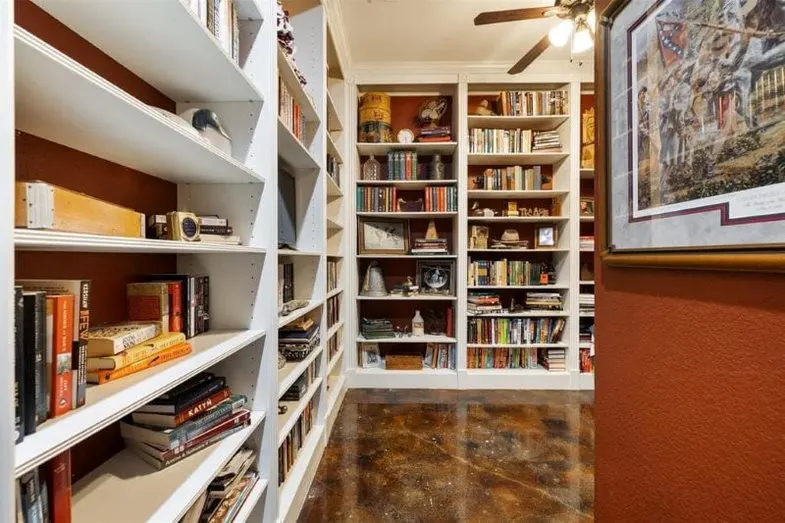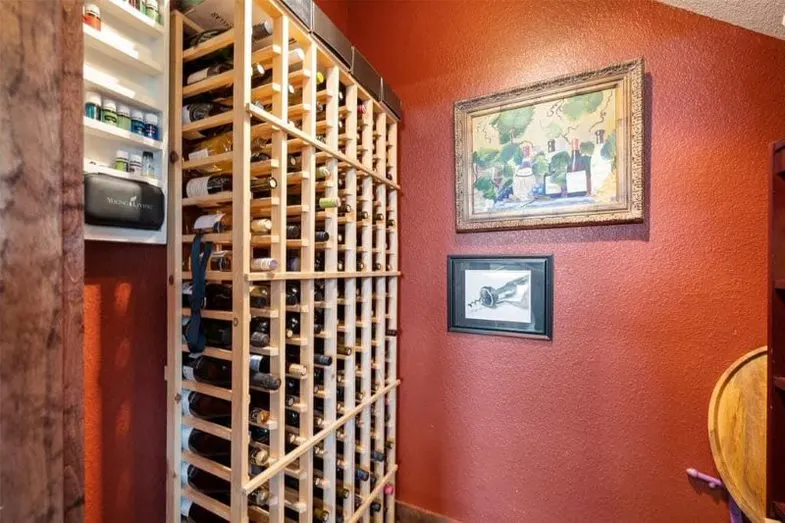 Texas Barndominium: Bedrooms
This 4 bedroom home has a special touch in each bedroom space. The acid-stained concrete floors in the master bedroom and the wood-stained crown molding tie in the county aesthetic. Other flooring and paint options in the additional bedrooms give them each their own unique vibe.
How to Build Your Own Barndominium & 200+ Floor Plans
Get started today with our program "Barndominiums Made Easy: How to Build Your Own Barndominium" and get 200+ barndominium floor plans included!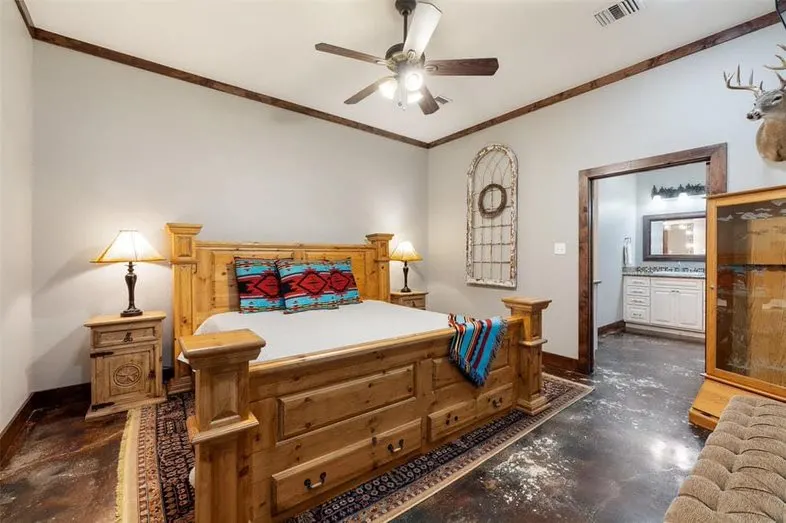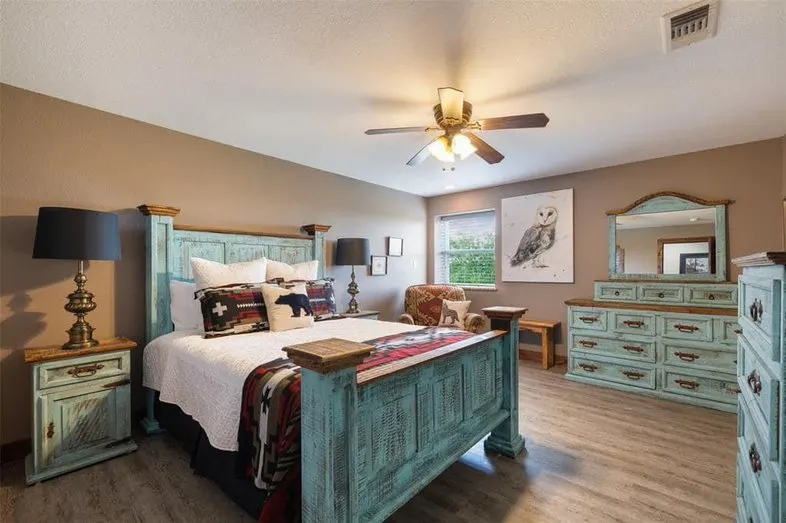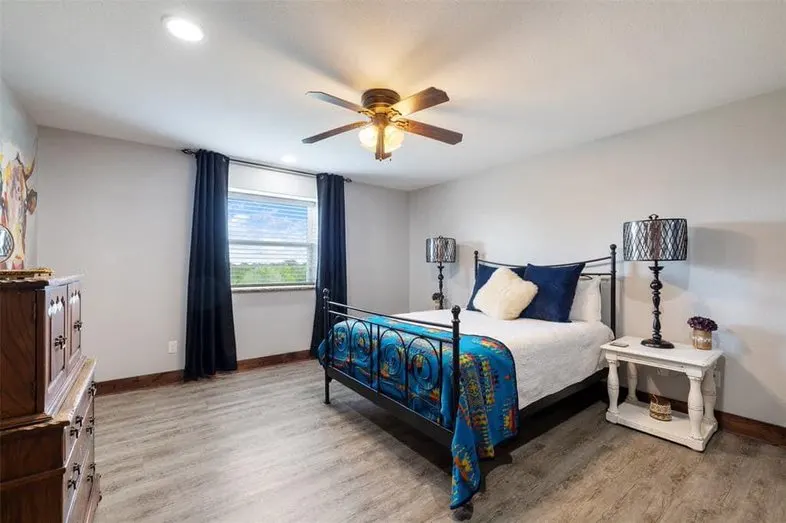 Texas Barndominium: Bathrooms
This sweet home also has four bathrooms that, although each is very different, all have the same style and color scheme. Especially grand is the master bathroom vanity with a floor-to-ceiling linen cabinet and a separate bath/shower room with a pedestal sink, a jetted tub, and a glorious walk-in shower. One secondary bathroom has a fun touch with a free-standing tub and bead board along the walls. So much care was taken in designing and executing these spaces.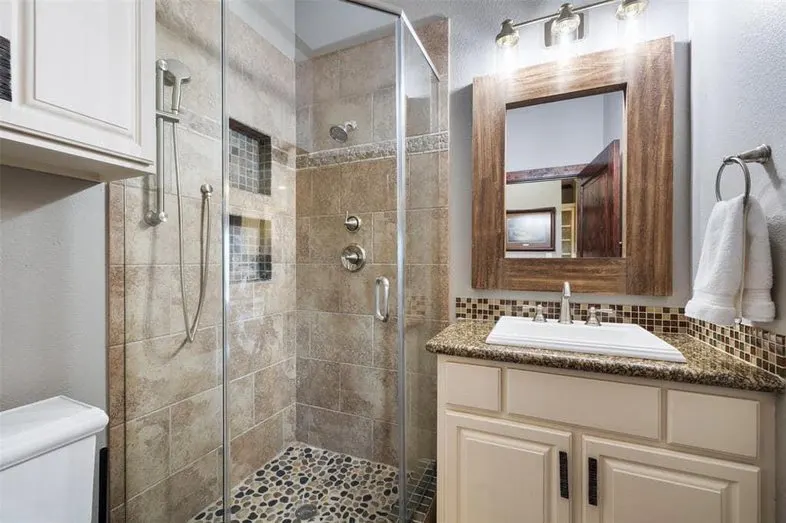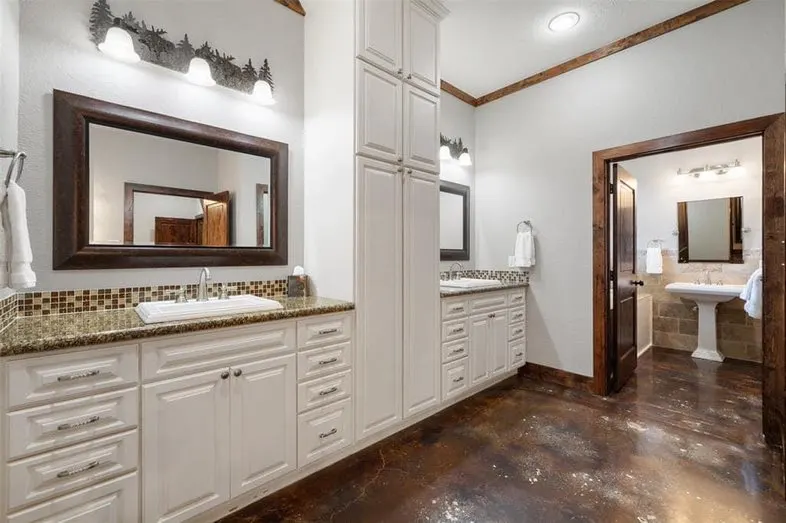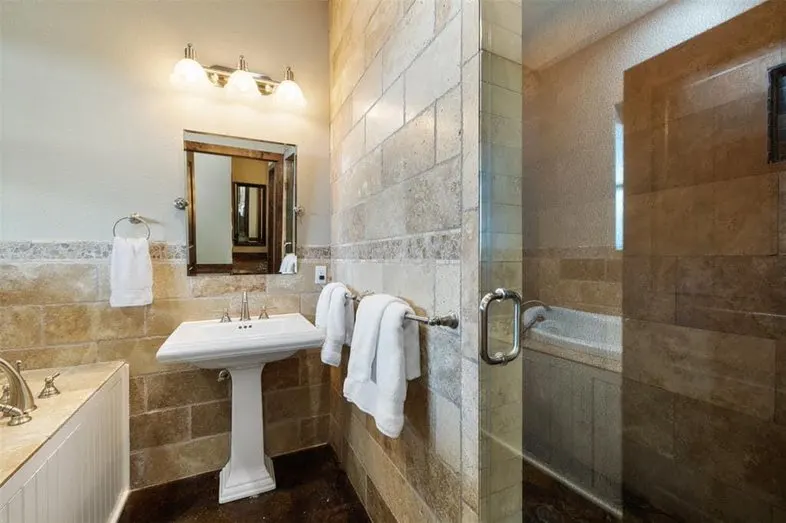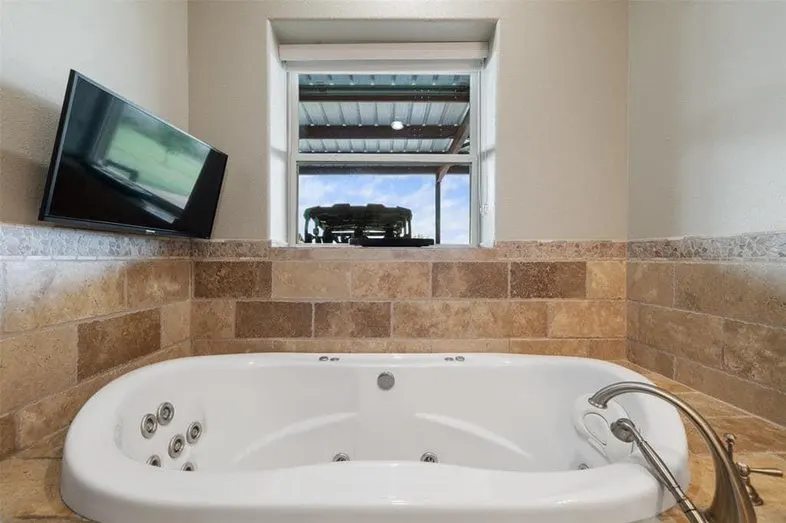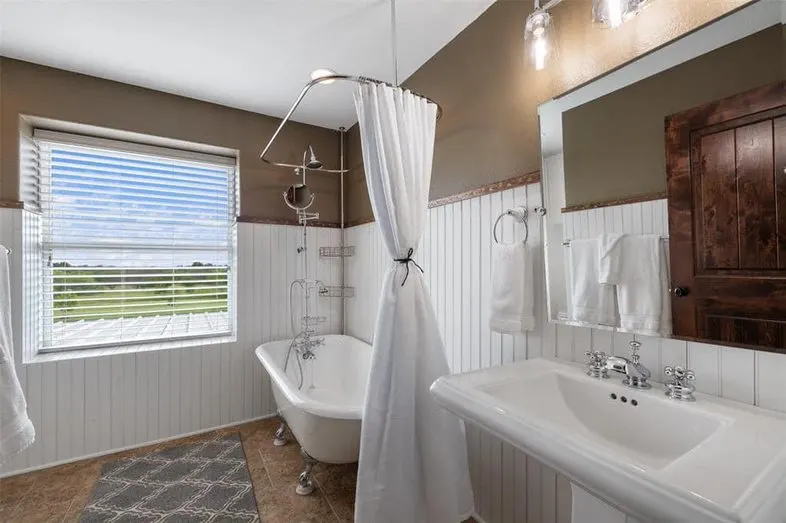 Texas Barndominium: Garage
Now, THIS is a garage! Barndominium Life has yet to see a garage space with so much room and so many other fun elements. Many would say that this garage space is a whole guest house all on its own! There is a kitchen space complete with a full appliance package, a TV, and a laundry space. Also included in the garage is a workstation, storage spaces, and a dining and sitting area.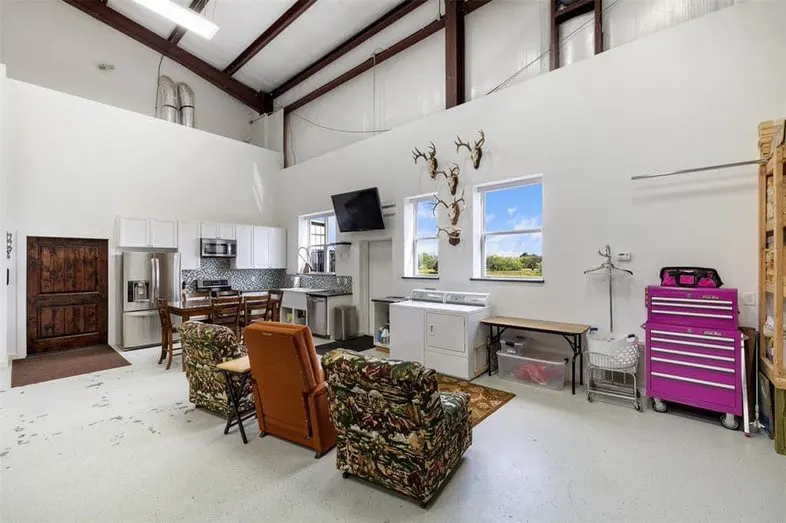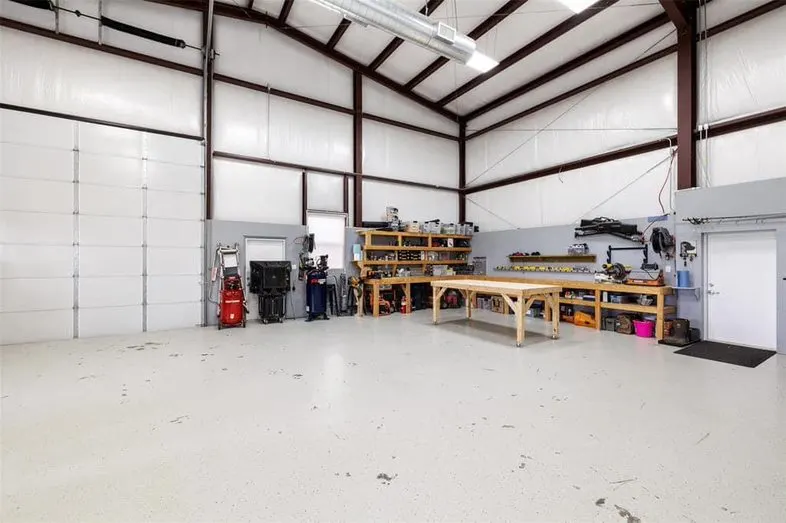 Texas Barndominium: Outdoor Space
Plentiful patio space is included with this Texas barndominium, and these owners have used it for a dining table, rocking chairs, a fire pit, and a grill. We love the included ceiling fans outside, and the extended rock patio area. Just imagine sitting out here soaking up that amazing view!
Check out another amazing featured barndominium porch/patio space here!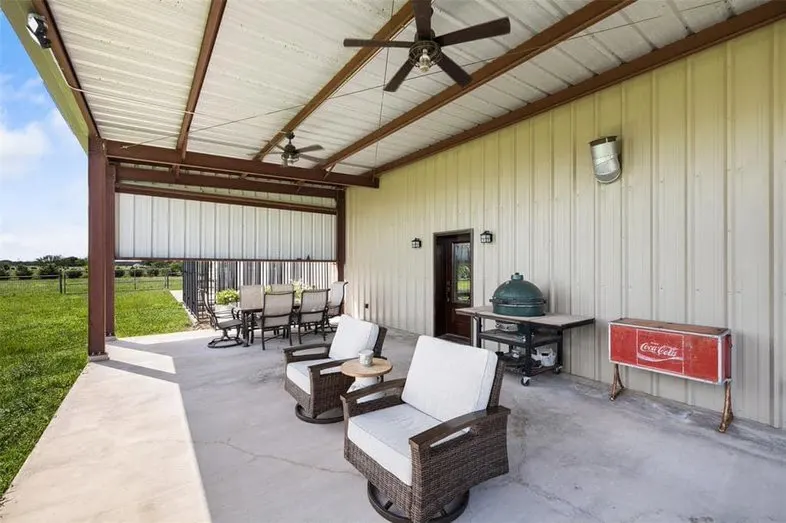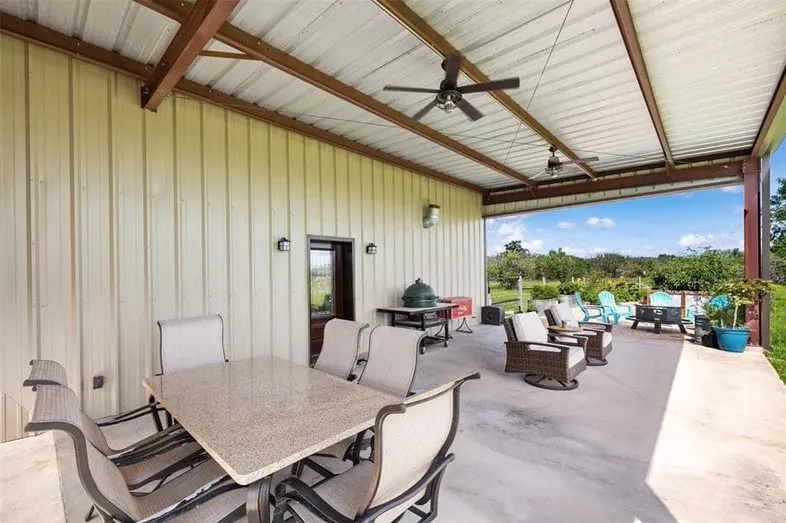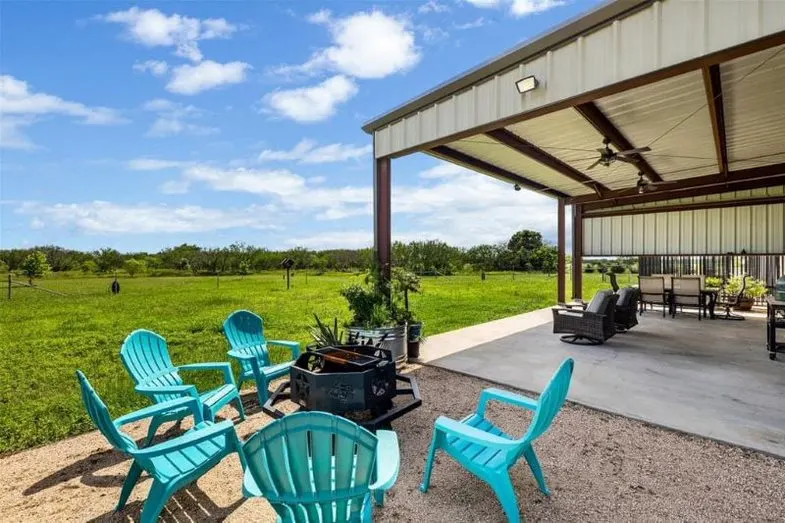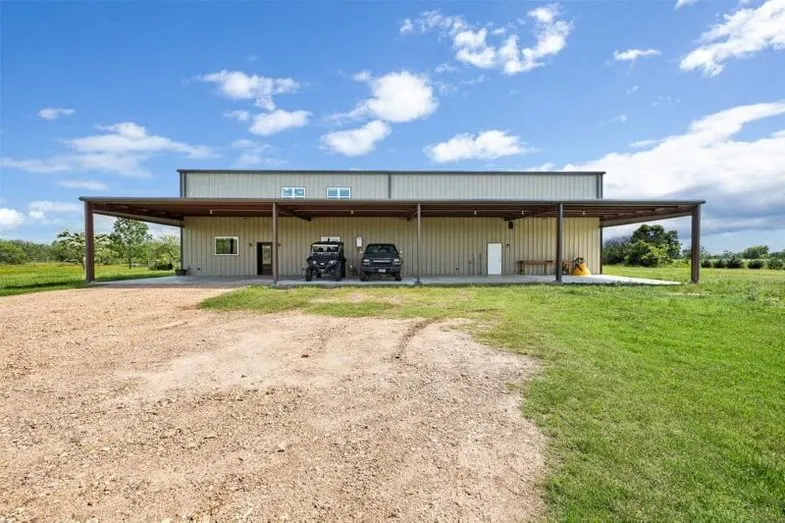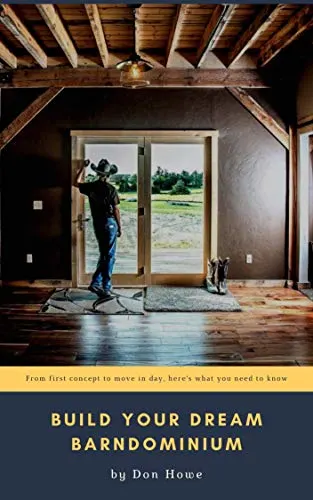 Are you dreaming of your perfect barndominium? Stop dreaming and start doing! We have collected all of the information you need in our book.
Like this Post? Sign up for our email list!
Be the first to see new posts about the best barndominiums, construction guides, floor plans, and more! Enter your information below to become a BarndominiumLife VIP.