If you are considering building a barndominium, one of the key decisions you will need to make is the floor plan. Barndominiums have become a popular choice for homeowners who want a unique living space that combines the functionality of a barn with the comfort of a modern home. One of the most sought-after features is a barndominium floor plans with 2 master suites, which can provide both comfort and privacy for homeowners and their guests.
Barndominium Floor Plans with 2 Master Suites
However, designing a floor plan that includes two master suites can be challenging. There are several factors to consider, such as the size of the barndominium, the location of the bedrooms, and the overall layout of the living space. Let's explore some of the key considerations to keep in mind when designing a barndominium floor plan with two master suites.
Barndominium Floor Plans with 2 Master Suites – Things to Consider
When designing your own floor plan, you need to take several basic elements into account. This is especially true for a family with special needs. Here are some aspects to keep in mind to ensure all those needs are met.
Lifestyle
How big is your family? This is the most important consideration in determining the number of bedrooms and whether the bathrooms should be private or to be shared. It is also the basis for defining the size of common areas, such as the living, dining and family rooms as well as the garage.
An extra master suite is ideal if you are taking care of a sick, disabled, or elderly parent. This way, they have ample space to accommodate a small dining area and a wheelchair or other medical equipment.
A master suite comes with its own bathroom and walk-in closet, which gives your loved one privacy while still being accessible to you as their caregiver. Similarly, a child with special needs might require a bigger and more private living space.
Likewise, consider the lifestyle of other family members, and designate each room as appropriate. For example, add a study room for the students and a guest room if you often have relatives or friends staying over.
Shared Household
Sometimes, an adult child may move back in with the parents. If they are already married with their own kid, then staying in their old room may not be an option. And this is where a second master suite can come in handy.
With this arrangement, both the parents and their child's new family can enjoy privacy. The latter may still maintain some level of independence by adding small appliances to their bedrooms, such as a small fridge, a microwave, and a breakfast nook.
Traffic Flow
If your lifestyle necessitates 2 master suites, consider how your special needs affect your movement around the household.
Two families under one roof, for instance, may require two laundry areas. Or, if your elderly parent uses a wheelchair, you would need to add a ramp from the door leading to the garage. Also, you may have to install double doors for all the rooms they use.
The master suites' location will also depend on who uses them. For two families, having the suites on opposite sides of the house is ideal. However, with an aging parent or special child, both suites situated side by side or across each other are preferred for accessibility.
Closets and Storage
For families with special needs, organization and tidiness are critical. Keeping items inside closets, cabinets, and drawers lower the risk of accidents. Having enough of these storage spaces, and placing them strategically, also saves time in looking for basic necessities used daily.
Don't forget to assign spaces to store seasonal things, such as clothing, luggage, and travel accessories, holiday décor, and bedding. Outdoor hobby equipment like jet skis, mountain bikes, and collapsible pools may be hung on wall hooks in the garage or kept in their own shed outside the house.
When planning your storage, think outside the box. Barndominiums offer wide spaces and high ceilings, so you can maximize your floor area by utilizing the walls and ceilings.
Parking
How many vehicles do you have? Is a carport necessary for your special needs? Should a separate parking pad on the side be added? Maybe a family member is planning to purchase their own car? Does your business use service vans?
Your answers to these questions will determine the type and size of the parking space you will include in your own floor plan.
Barndominium Floor Plans with 2 Master Suites with Pictures
Residences or barndominium floor plans with 2 master suites are an emerging design that's getting a lot of attention, and not just from families with aging parents, special kids, or dual households. Spouses may also find relief if one of them is a chronic snorer – the non-snoring partner can sleep in peace, and the afflicted don't have to sleep on the couch.
2 Master Bedroom Floor Plans
You may have your own personal reasons for wanting to have 2 master suites in your barndominium. This is why we've gathered 6-floor plans with different layouts to cater to your unique preferences.
Open Concept Barndominium Floor Plans with 2 Master Suites
This 50' x 30' barndo is perfect for either two startup families or two newlywed couples. With no other bedrooms but the 2 master suites on either end of the property, privacy is ensured. And with open space just beyond the front door, they can have their own living and dining rooms as well. Plus, the kitchen is spacious enough to share. A half bath is thoughtfully added for visiting family or friends.
How to Build Your Own Barndominium & 200+ Floor Plans
Get started today with our program "Barndominiums Made Easy: How to Build Your Own Barndominium" and get 200+ barndominium floor plans included!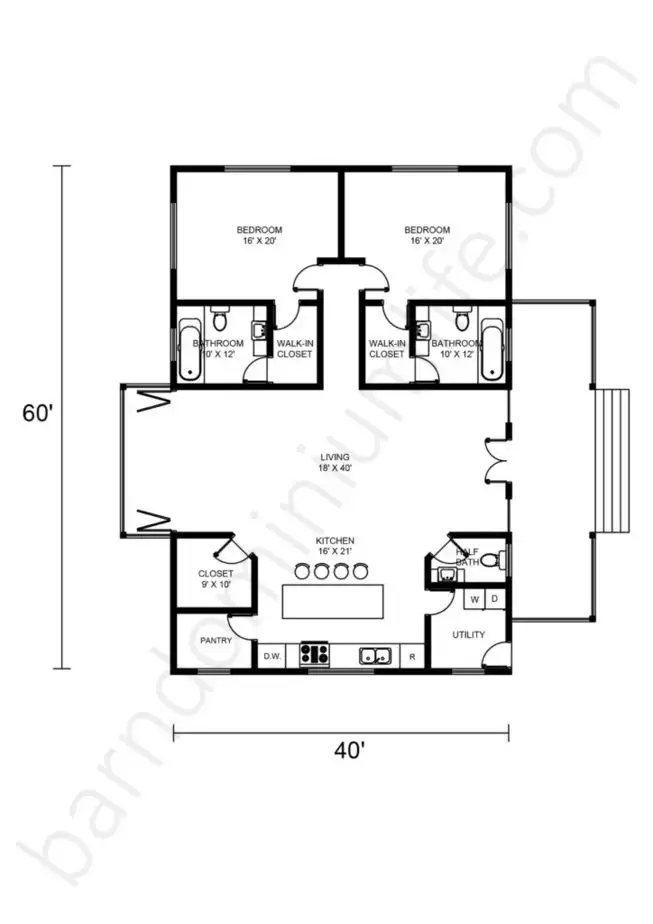 A variation of the above design, this floor plan stands on a 60' x 40' living area. In this concept, the 2 master suites are built side by side. It's perfect for parents with a special child, or a small family of 3 living with an elderly grandparent or two. The open space allows for greater mobility of loved ones with medical conditions.
Barndominium Floor Plans for Small Families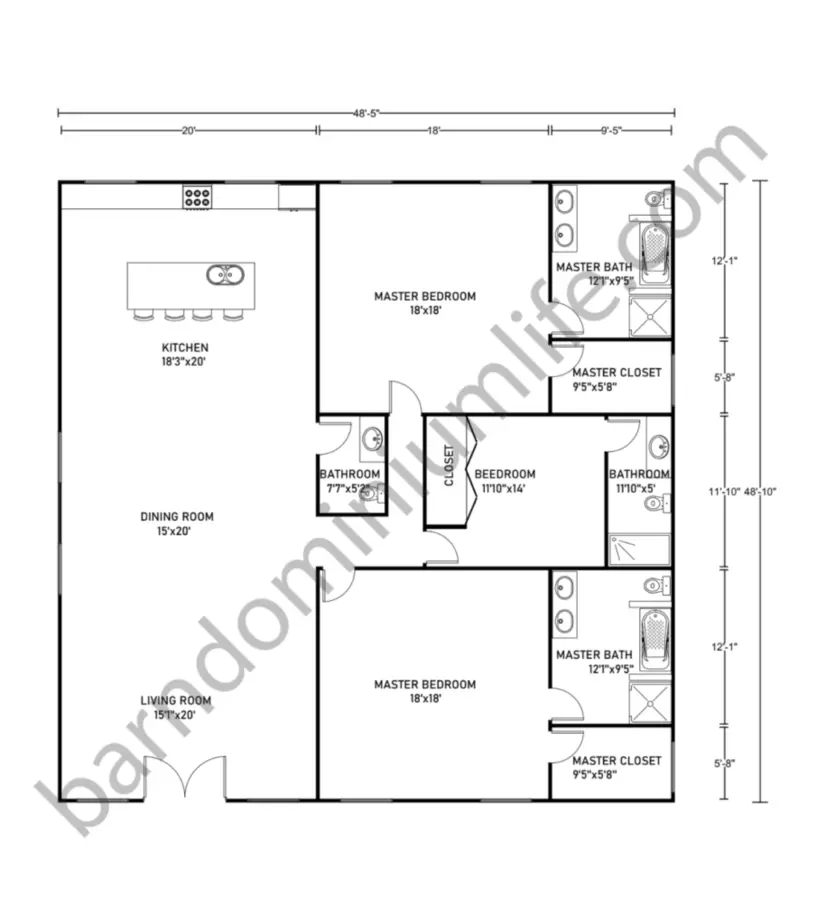 When a family needs 2 master suites, whether for a child with special needs or an ill grandparent, they might have to add an extra bedroom for various reasons. It could be for a caregiver, a special education tutor, or a governess. On the other hand, if one child is already in their teenage years or working, then they can occupy this space. For added convenience, it comes with a bathroom as well.
Barndominium Floor Plans with 2 Master Suites for Large Families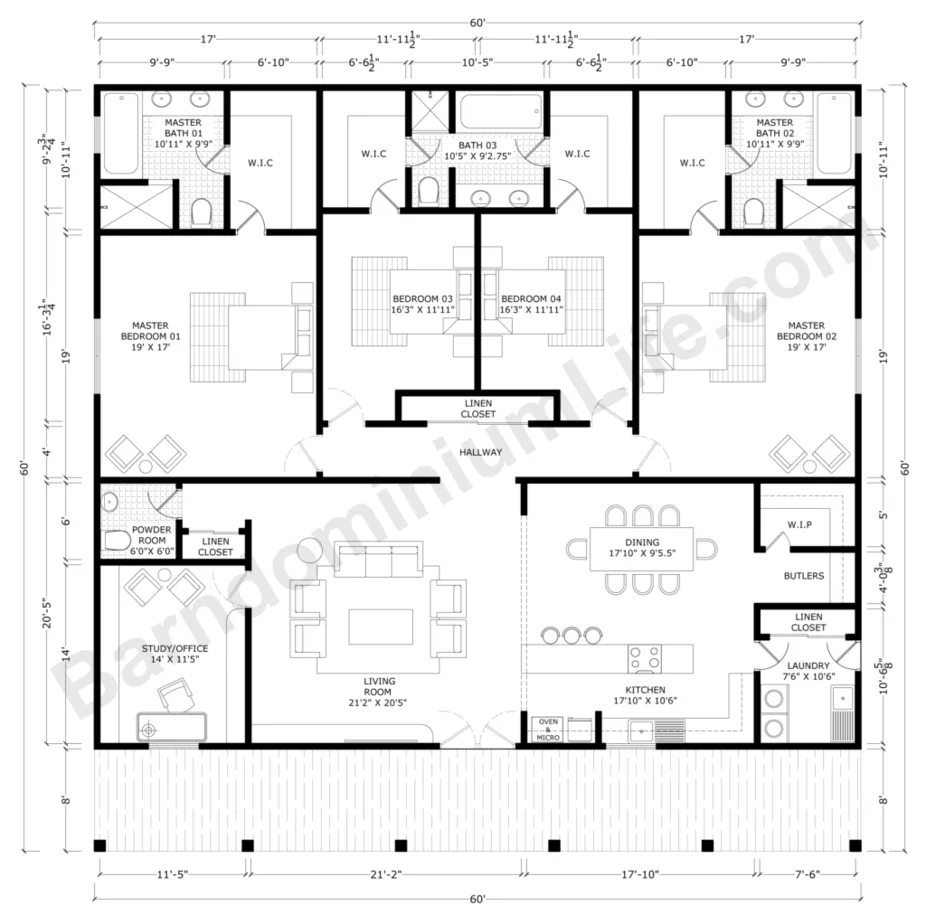 The designs of Barndominium floor plans with 2 master suites and 2 extra bedrooms with a shared bathroom, can be used by especially large families. Since the smaller bedrooms are sandwiched between the suites, the barndo can be home to two households with one child each. Alternatively, this layout is perfect for a family with 3 children, especially if one has special needs.
The study at the far left of the front part of the house is great for any family member who works from home. In addition, you'll find space for numerous closets located at strategic points. If you need a lot of storage space, then this is a good choice.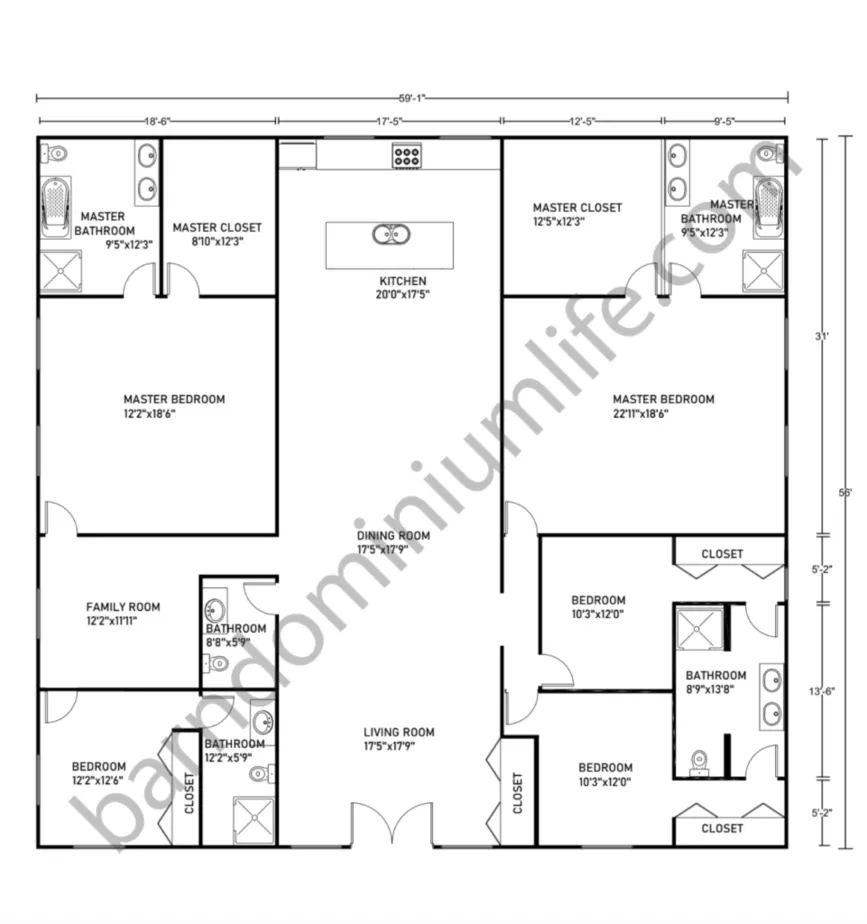 A large family wanting to build their own barndominium will love this floor plan. It maximizes the 59' x 56' living area by including 2 master suites, 2 bedrooms with a shared bathroom, 1 bedroom with its own bathroom, and 1 family room. All bedrooms are strategically located along the 3 sides of the house so that the common areas – living room, dining room, and kitchen are in the center.
The bedroom with its own bathroom can be the designated guest room, given that it's placed near the front door.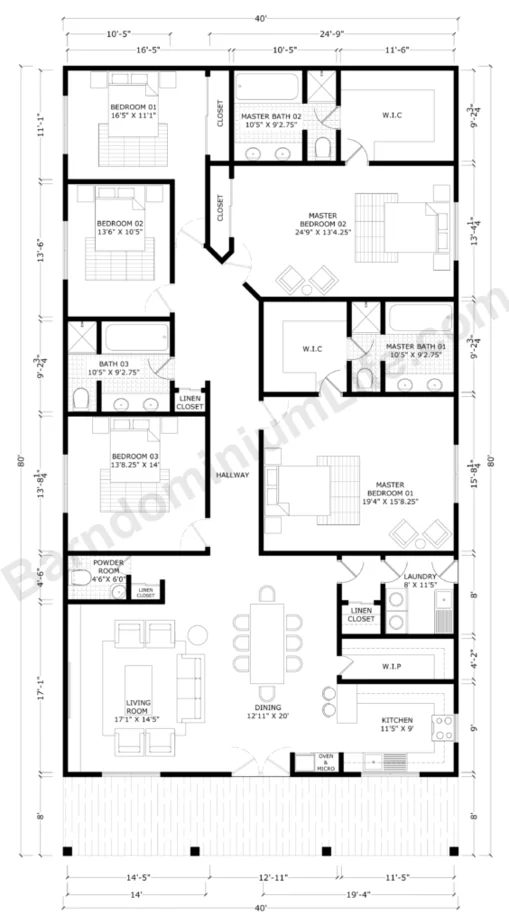 Big families need big space, and this barndo may just be what they need. With 2 master suites and 3 bedrooms, it is specially designed for those who prefer their sleeping area at the back part of the home. The front door opens to an expansive dining area, with the spacious living area to the left and the roomy kitchen to the right.
How to Build Your Own Barndominium & 200+ Floor Plans
Get started today with our program "Barndominiums Made Easy: How to Build Your Own Barndominium" and get 200+ barndominium floor plans included!
Design Your Own Barndominium Floor Plans
Like what you see? Or did these sample floor plans inspire you to design your own?
You can do so even if you're not a professional designer. Our custom design software makes it possible. By simply adding your specs to the template provided, you can draft a customized virtual floor plan with pictures in a matter of minutes.
Once you have decided on building a barndominium dream home, creating the floor plan is the first step you must take. The actual construction can be daunting, or even overwhelming. To help you make the process easier, get the Barndominium Life Program! You will get access to industry secrets and practical suggestions to make your barndo building journey a lot easier and your success is guaranteed!
Conclusion
Designing a barndominium floor plan with two master suites is a great way to add comfort and privacy to your living space. By considering factors such as the size of the barndominium, the location of the bedrooms, and the overall layout of the living space, you can create a floor plan that meets your unique needs and lifestyle.
Whether you are building a barndominium as your primary residence or as a vacation home, having two master suites can provide you and your guests with a luxurious and comfortable living experience. With the help of an experienced architect or builder, you can bring your vision to life and create a beautiful and functional living space that you will enjoy for years to come.
If you would like more guides like this one, check out the rest of BarndominiumLife.com. There, you will find more helpful tips and tricks from the pros. You will also find featured barndominiums, barndominium floor plans, and information on financing and insurance. Knowing as much as you can will help you get the best results for your dream home.
Like this Post? Sign up for our email list!
Be the first to see new posts about the best barndominiums, construction guides, floor plans, and more! Enter your information below to become a BarndominiumLife VIP.