Anyone who has gone on a search for two-story barndominium floor plans knows how time-consuming and frustrating it can be. Your floor plan is incredibly important and will dictate how efficient your barndominium project will be. You can give yourself the best chance at success with the right floor plan. You can also plan a home that will work best for you and your family.
However, in this article, we have brought you some of the most amazing two-story barndominium floor plans to help get you inspired and get you thinking about your own custom dream home. Our objective is always to find some of the best of the best two-story barndominium floor plans.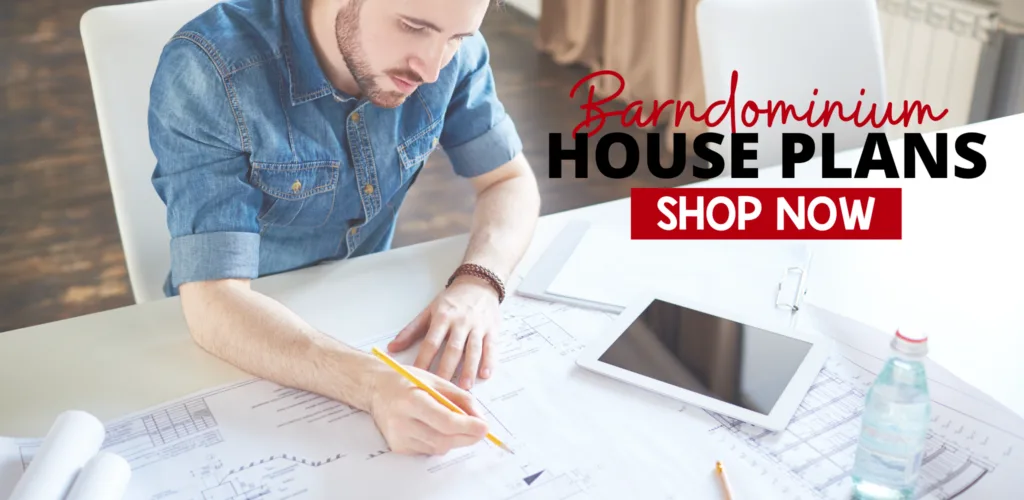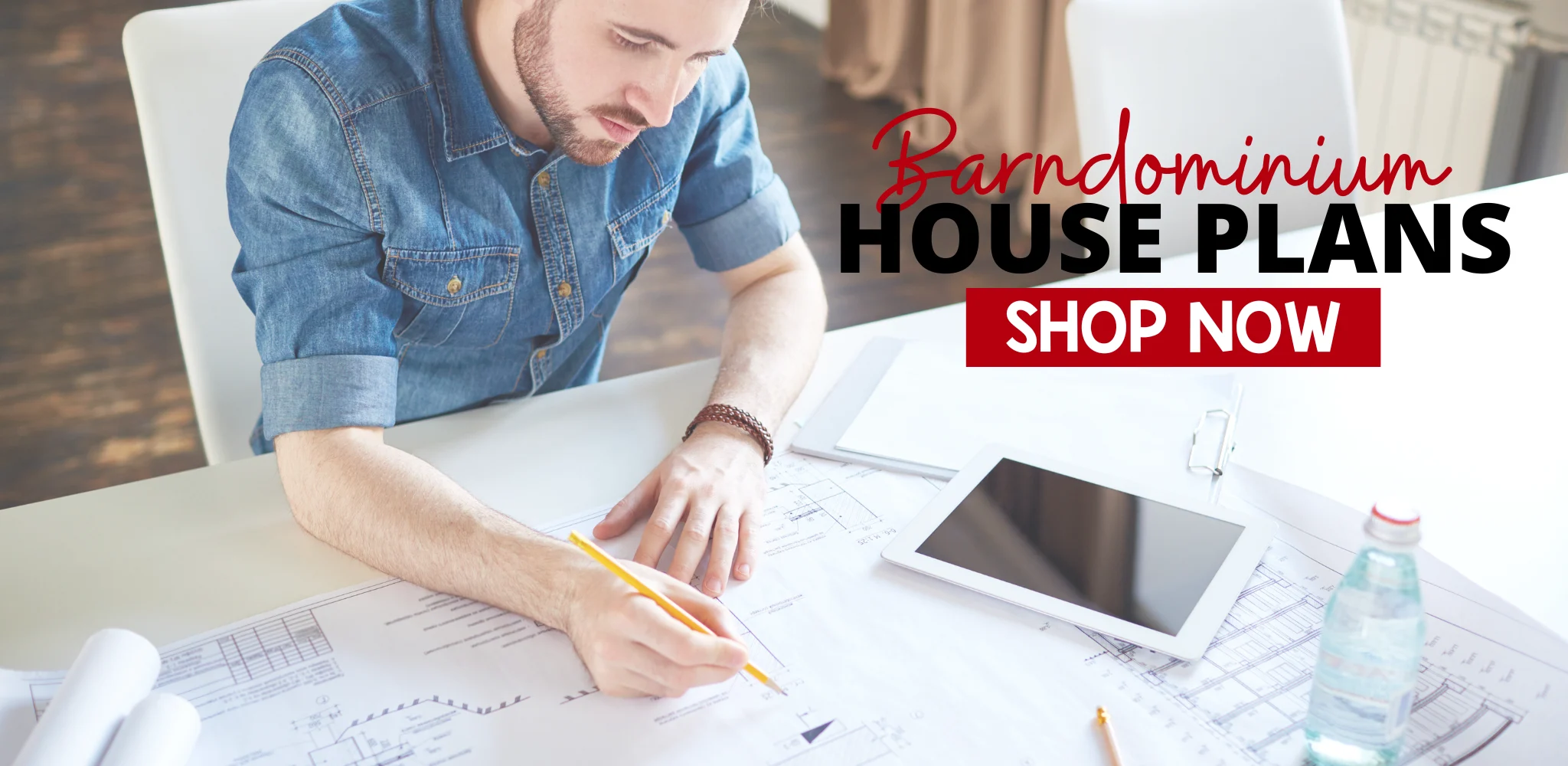 2 Story Barndominium Kits
If you're looking to start building your barndominium, one of the first things to do is to get a quote for the metal shell or barndominium kit. By using the quote service below, you'll get connected with a barndominium kit provider within a few hours at most. Prefabricated barndominium kits mean that the metal shell that makes up your barndo is produced off-site, then it's brought to you for erection and assembly. While some builders will help you order the barndominium kit, we suggest doing it separately to avoid a potential markup on the barndominium kit.
That's it! By using the tool above you'll get connected with a kit provider for 2 Story Barndominium Kits.
Get a FREE 18 Month Barndominium Planner
There are 39+ steps that must be taken before groundbreaking. Learn them all in this FREE checklist, available for immediate download.
Here Are the Amazing Two-Story Barndominium Floor Plans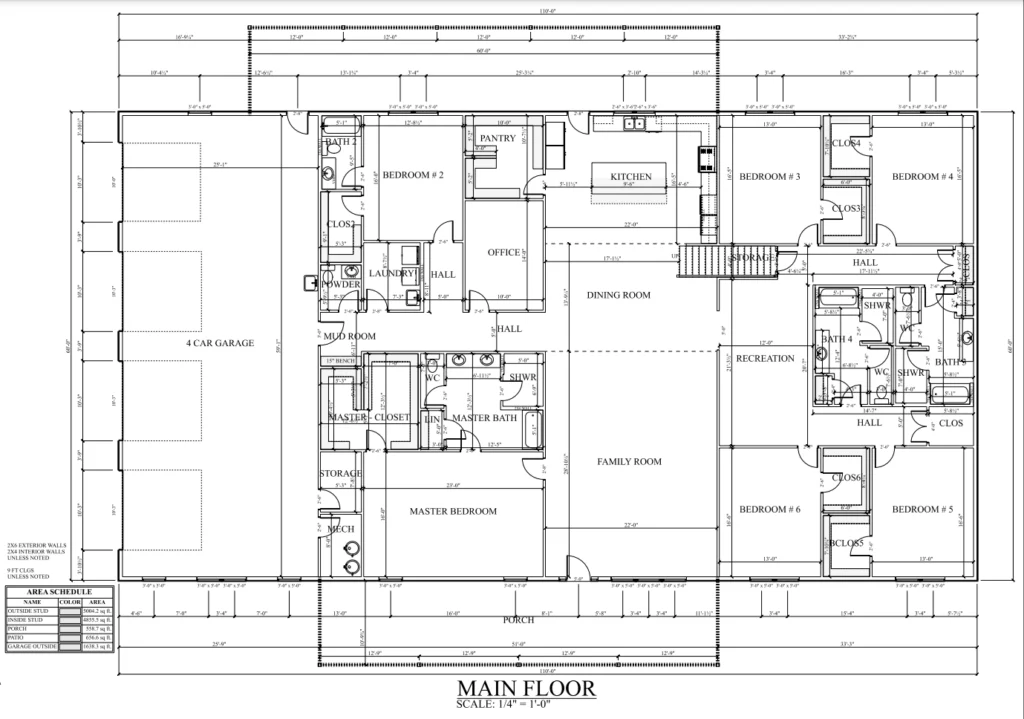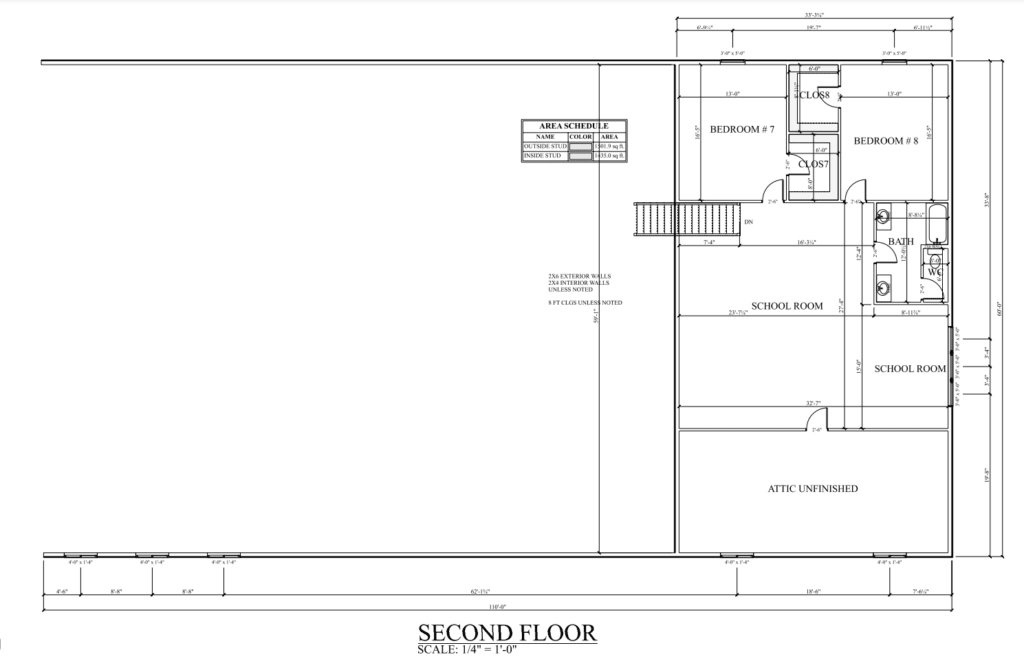 A stunning and spacious property offering 9,361 square feet of living space across two floors. This remarkable home features 8 bedrooms, 5.5 bathrooms, an office space, and a recreation room for relaxation and entertainment. With two school rooms and an unfinished attic for storage, there is plenty of space for educational activities and belongings. The property also includes a 4-car garage and front and back covered porches that provide beautiful views of the meadow. PL-60707 combines the charm of a barn with the comfort of a modern home, offering a versatile and inviting living space.
The PL-62511 Morgan Barndominium is an impressive two-story home spanning 6,300 square feet. It features five bedrooms and four bathrooms. The main floor offers a well-designed layout with a spacious open-space family room, dining area, and kitchen, creating a warm and inviting atmosphere. The kitchen includes a sizable pantry and a craft room for creative pursuits or hobbies. Upstairs, the second floor provides a loft-style living room for relaxation and entertainment. The bedrooms are strategically placed to ensure privacy and comfort for each family member. Overall, this floor plan offers an exceptional opportunity to create a stylish and harmonious living environment.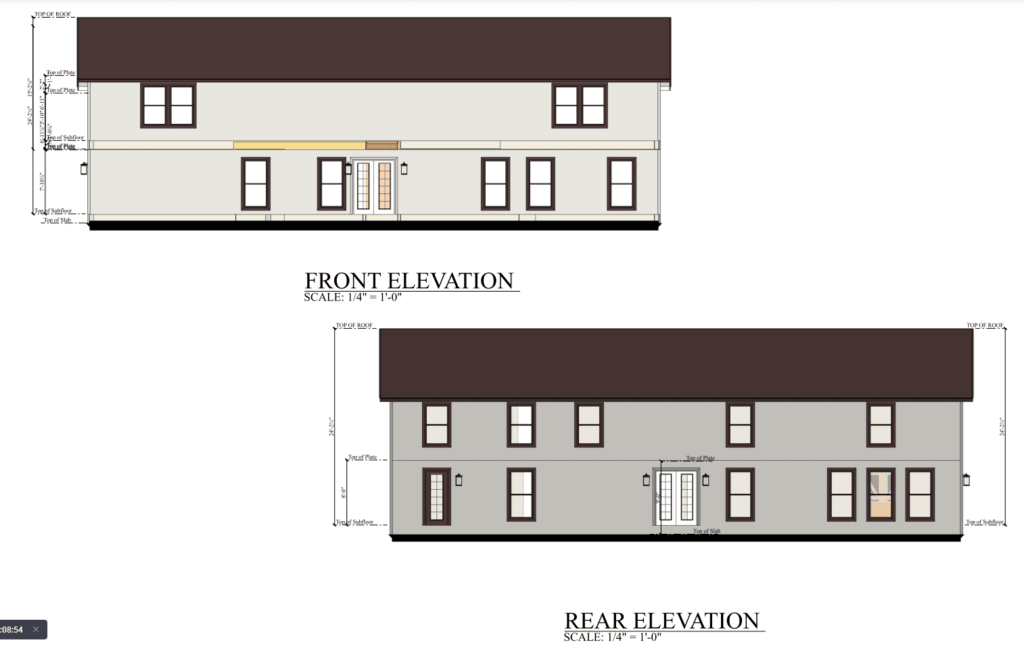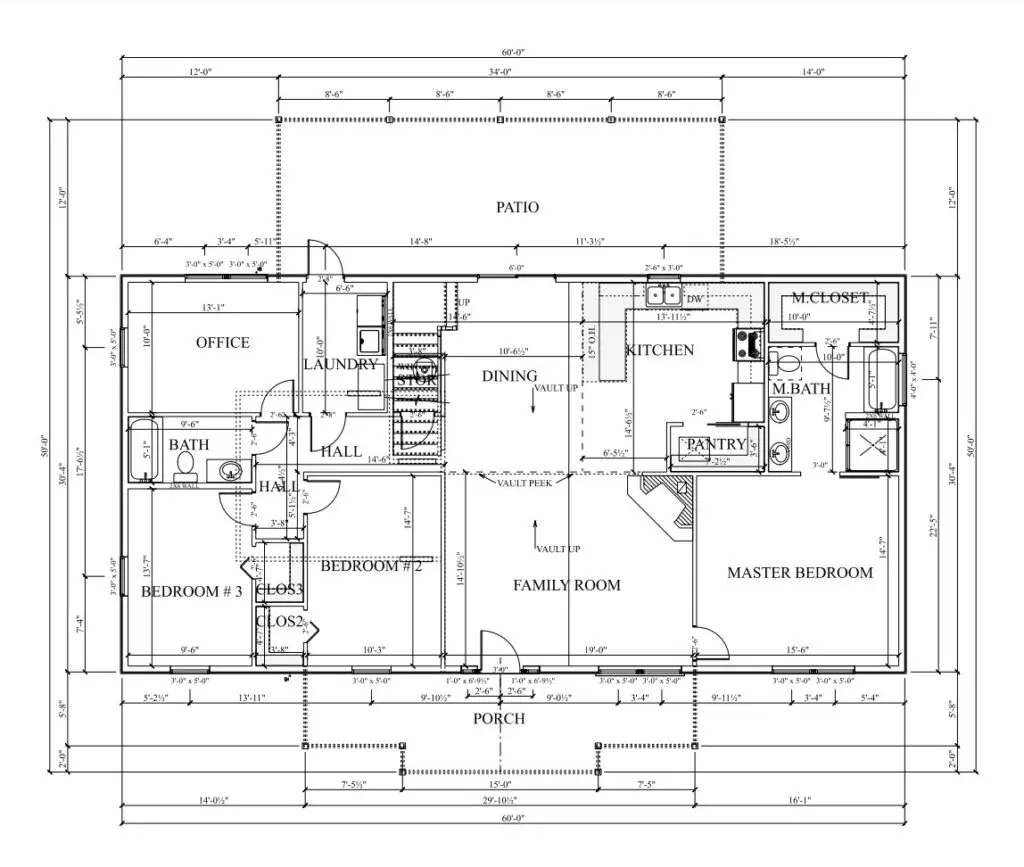 A charming 2,752 sq ft home featuring three spacious bedrooms, a family room with a cozy fireplace, and a separate office for focused work. Upstairs, a versatile bonus room and ample attic space offer creative possibilities. Enjoy the front porch and back patio, connecting with nature and relaxation. A perfect blend of comfort and style awaits you in this remarkable dwelling.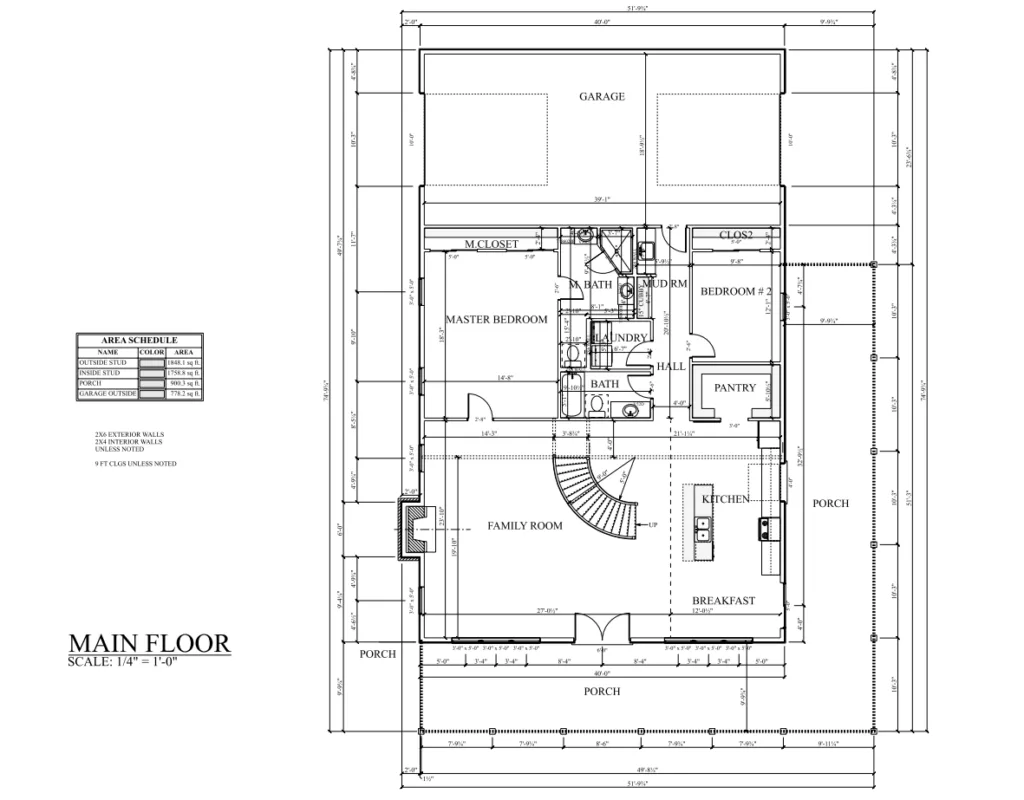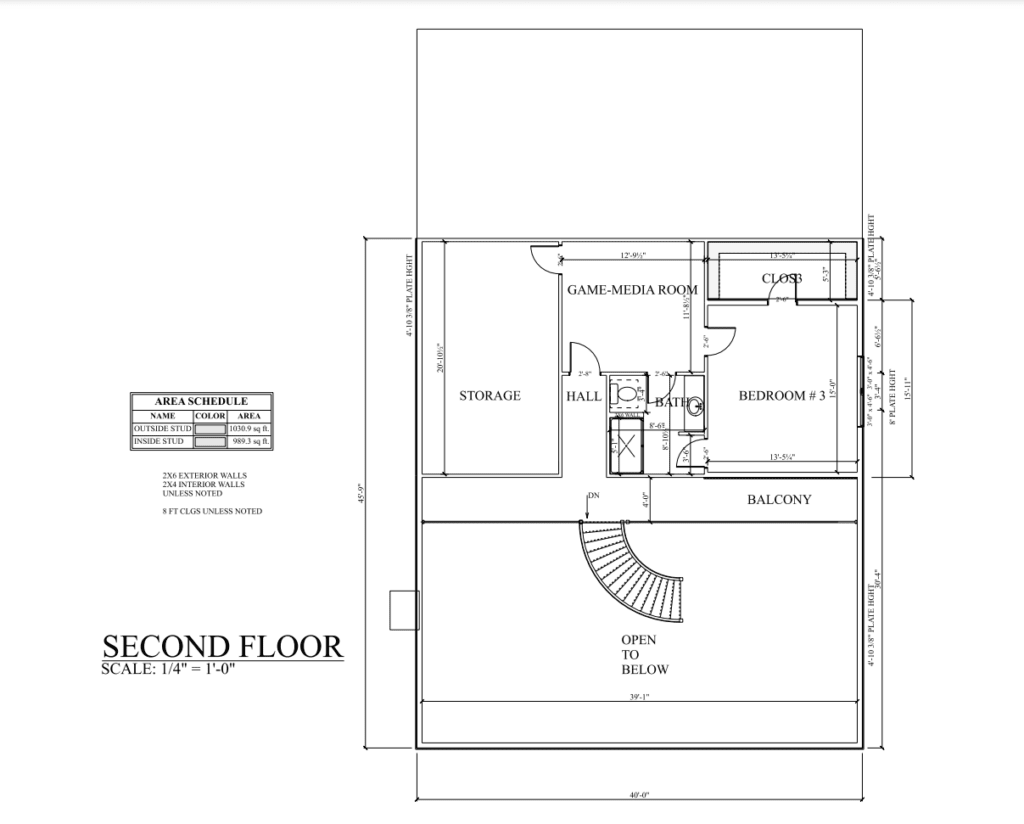 This stunning 2-story property offers 4,557 square feet of living space. The spacious family room with a fireplace is the heart of the home. The garage provides ample space for parking and storage. From the front porch extending to the sides, you can enjoy the beautiful scenery and relax in the fresh air.
The first floor features a master bedroom with its own bath and closet, as well as a second bedroom with a closet, shared bath, laundry room, and mud room. On the second floor, a loft-style design includes another bedroom, a game room, a bathroom, and a huge storage room. This versatile space can be used for anything from a home office to a playroom for the kids.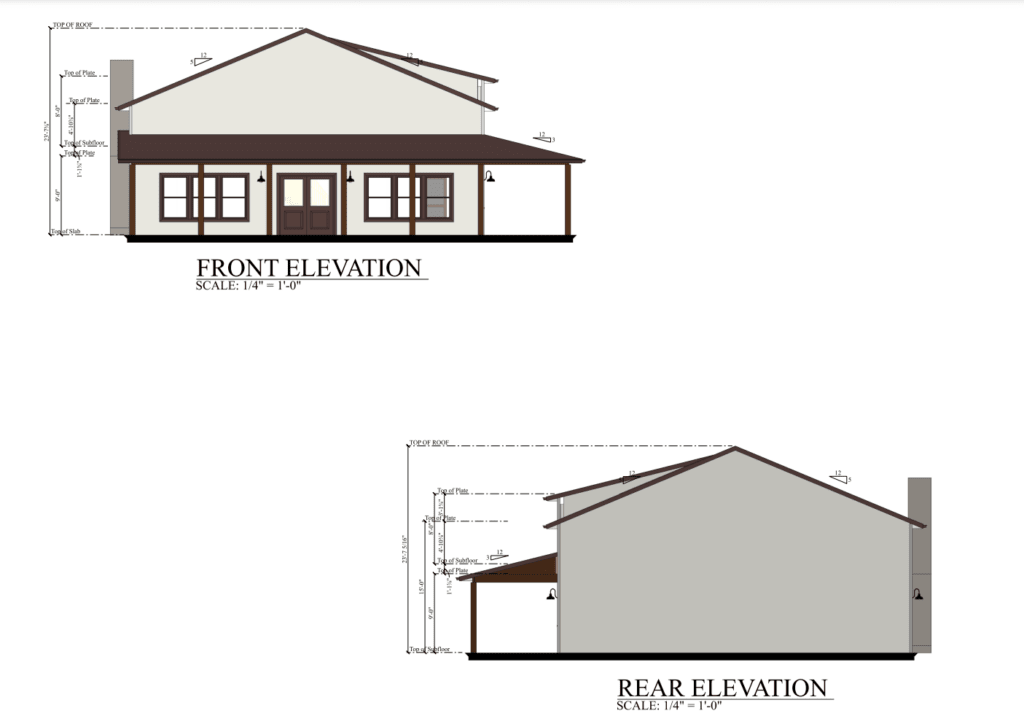 With this 2-floor Texas-sized Barndominium, every corner of the house screams space, especially with its vaulted high ceilings. Aside from the bedrooms, the house also has other functional rooms- the office, storage, and movie room; and even has a bonus room. You have front and back porches and a balcony at the back. It also has an attached small garage.
How to Build Your Own Barndominium & 200+ Floor Plans
Get started today with our program "Barndominiums Made Easy: How to Build Your Own Barndominium" and get 200+ barndominium floor plans included!
More Two-Story Barndominium Floor Plans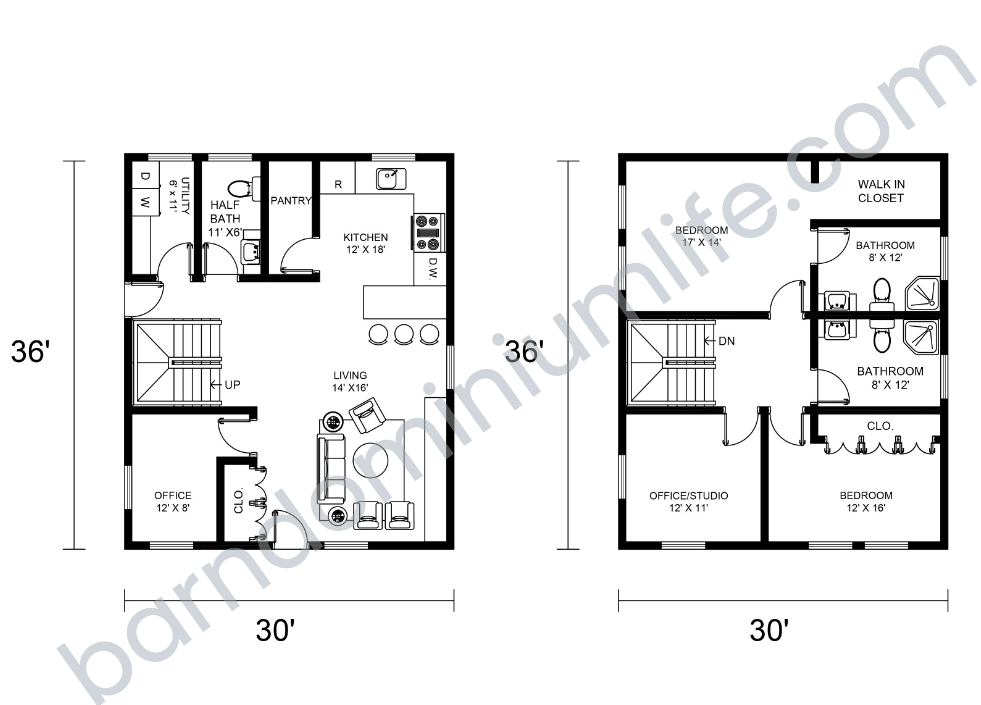 This two-story barndominium floor plan is a fantastic example of what can be done with the right layout. Even though this home is a relatively small plot, it still packs a lot of functionality into the space. It not only has enough room for two full bedrooms but also two office spaces and three bathrooms. This is a two-story barndominium floor plan that will be enough for almost any family.
We also love the open concept of this two story floor plan. By leaving out any separation between the kitchen and the living room, you can make the most of your space. This, combined with the two stories makes this a perfect choice for builders who want to maximize their home.
One of the most important things to look for in a floor plan is storage space. This is especially true if your home is relatively small. This two-story barndominium floor plan has a large walk-in closet and a walk-in pantry. These elements combine to create a fantastic space that is both functional and has a nice flow.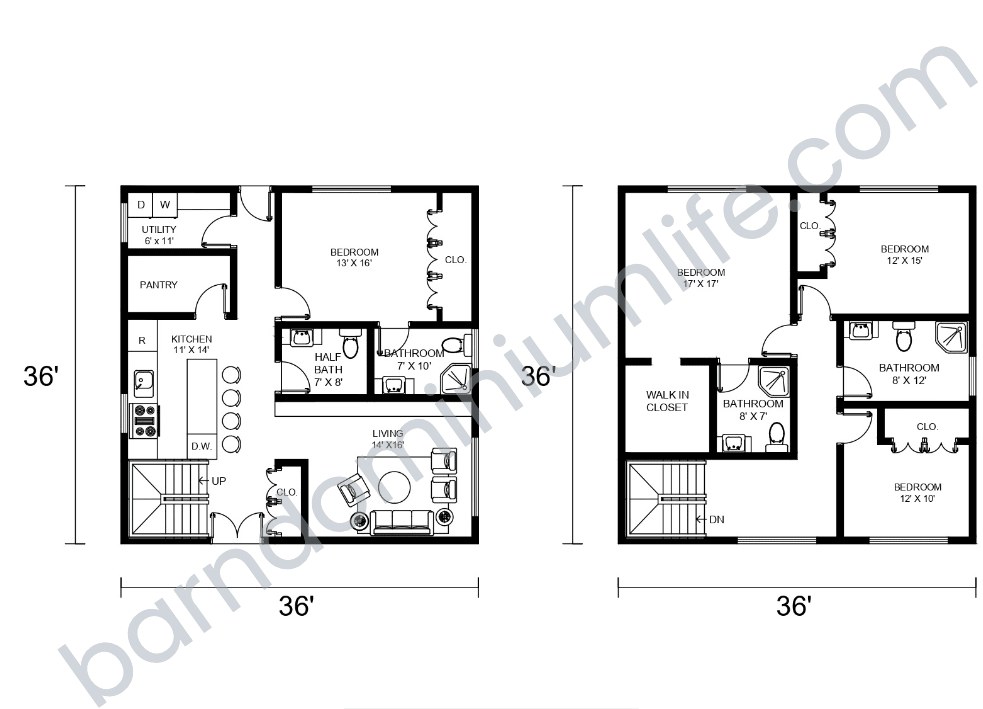 If you have a lot of people living in your home, you might be wary about building a barndominium. Luckily, this two-story barndominium floor plan has four bedrooms and enough living space for everyone. This plan also has the added benefit of having one bedroom downstairs. This is perfect if you have someone in your family who has a different schedule from everyone else.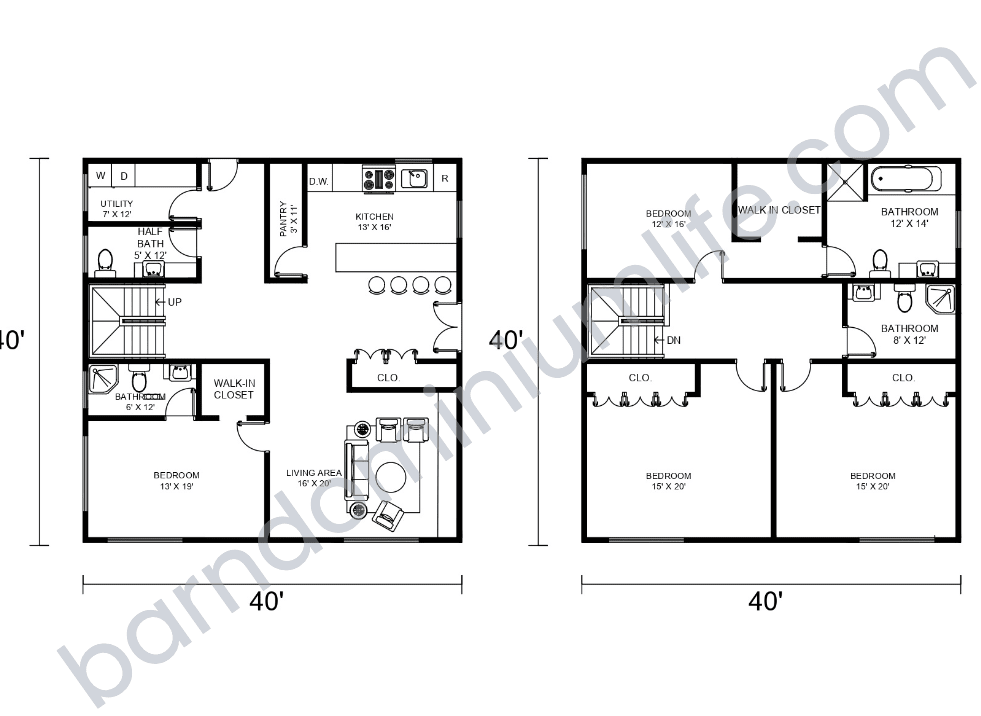 A combination of elements can take your two-story barndominium floor plan to the next level. This is a perfect example of that with three bedrooms upstairs and a walk-in closet between the two of them. Not only that, but this plan also has a large bedroom downstairs with its own walk-in closet. This is perfect for guests or people in your family who may want their own space.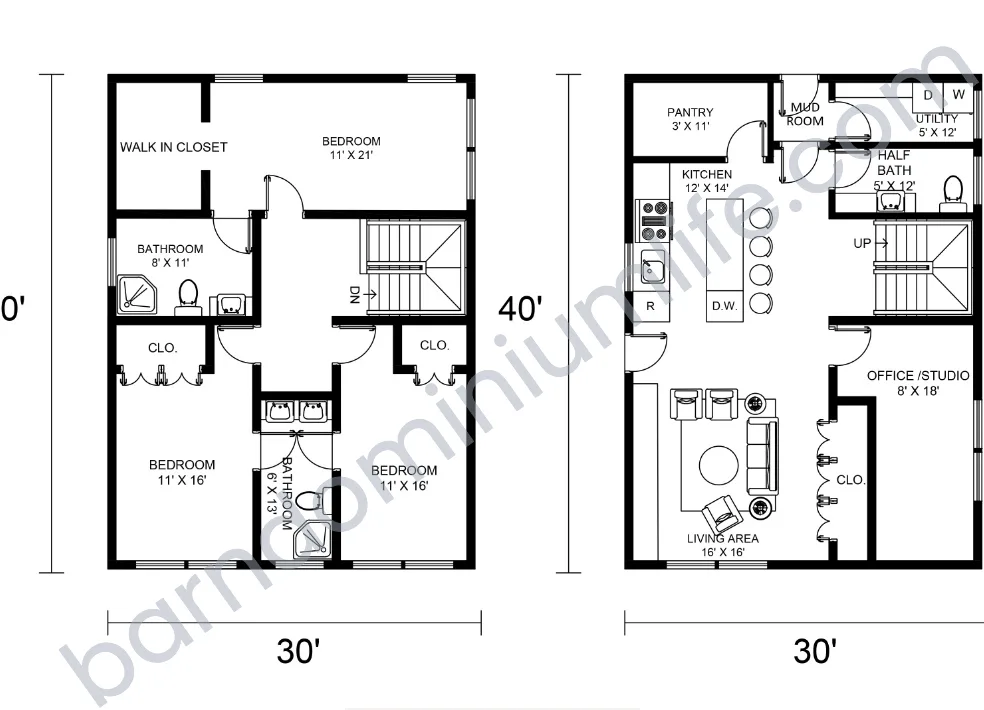 Arranging your home correctly is hugely important and this is one of the best two-story barndominium floor plans because it does it brilliantly. We love the open concept of the living room and kitchen. We also love the way the office is arranged downstairs. Since this is right off the living area, you can get some work done without feeling like you are isolated from the family.
How to Build Your Own Barndominium & 200+ Floor Plans
Get started today with our program "Barndominiums Made Easy: How to Build Your Own Barndominium" and get 200+ barndominium floor plans included!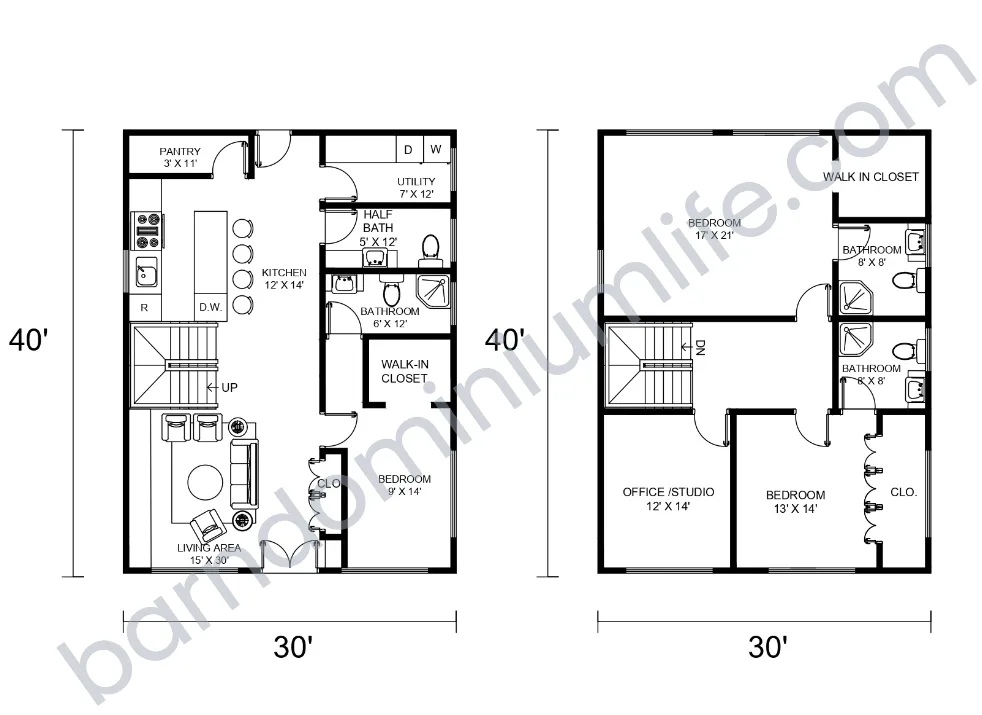 This example of two-story barndominium floor plans is not only slightly larger, but it makes good use of that space. The massive master bedroom upstairs is perfect for two people or even more. The downstairs bedroom can also serve as an office or utility room. There are all kinds of options available to you with this plan and it will work for many different arrangements.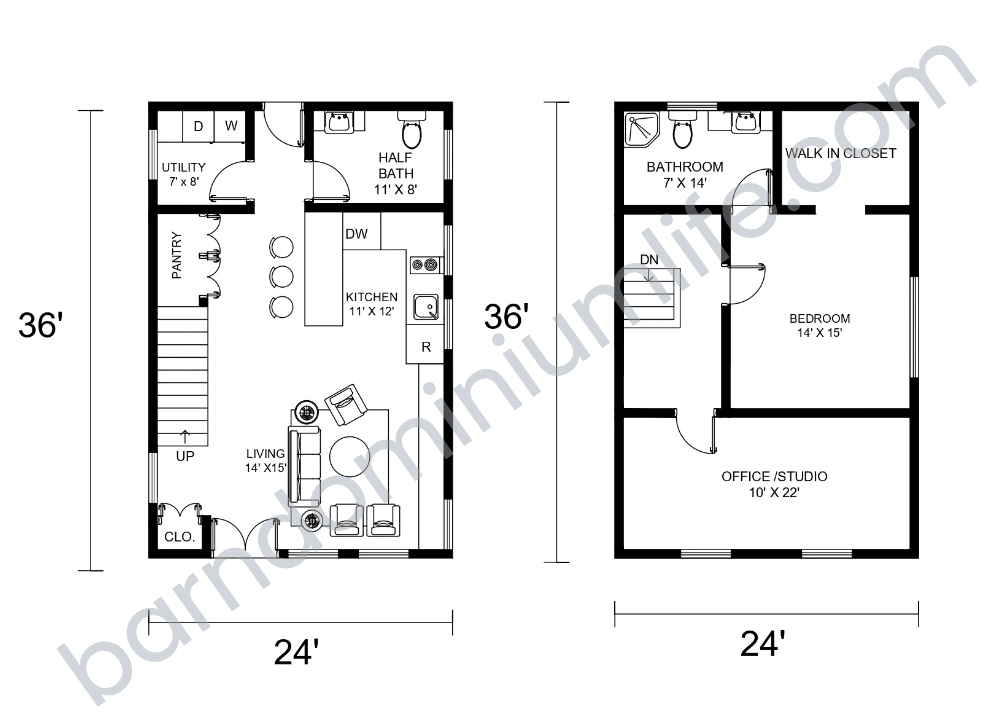 One of the challenging things about designing two-story barndominium floor plans is making use of space. This layout is very long and thin and the location of the stairs on the side is a great addition. There are many different things you can do with the utility space downstairs, as well. There is also an office upstairs that is perfect for people who work from home.
Sometimes, two-story barndominium floor plans will bunch everything together on the different floors. For example, all the bedrooms may be upstairs. However, this plan spreads everything throughout the home. This gives you all kinds of options for sleeping arrangements so the home is adaptable to your life.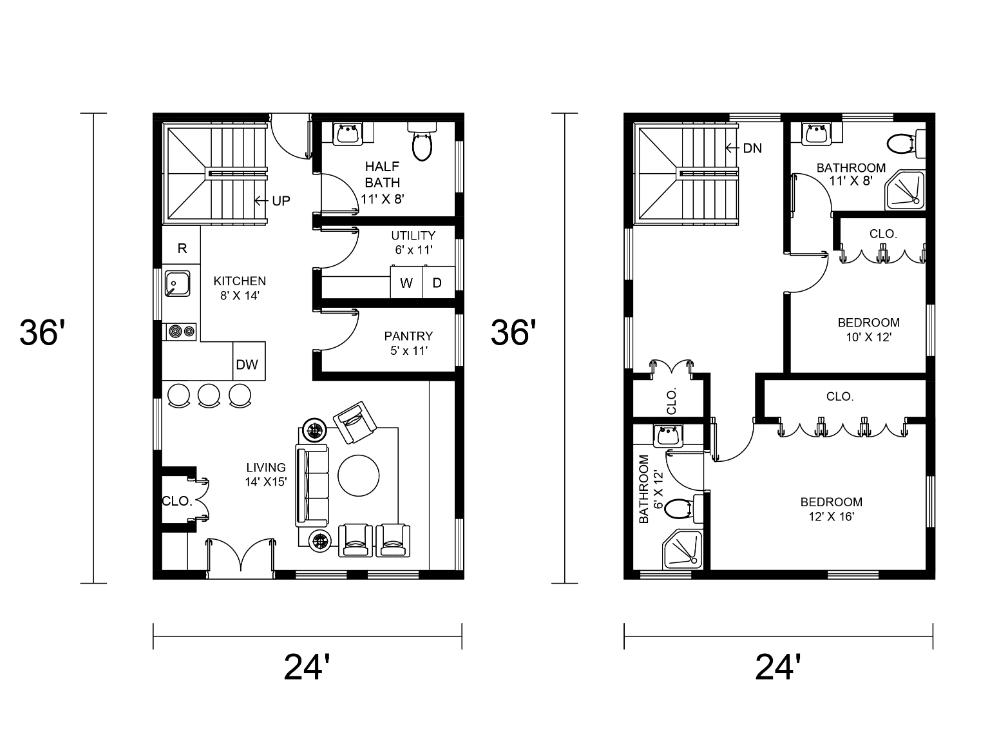 If you would like more guides like this one, check out the rest of BarndominiumLife.com. There, you will find more helpful tips and tricks from the pros. You will also find featured barndominiums, barndominium floor plans, and information on financing and insurance. Knowing as much as you can will help you get the best results for your dream home.
Like this Post? Sign up for our email list!
Be the first to see new posts about the best barndominiums, construction guides, floor plans, and more! Enter your information below to become a BarndominiumLife VIP.
Michael O'Connor is a seasoned barndominium writer passionate about creating unique and innovative barndominiums. With over 15 years of experience in the construction industry, Michael has established himself as a leading expert in barndominium design and construction.
His work has been featured in several respected publications, including Barndominium Life, where he frequently contributes articles on best practices and emerging trends in the field. Michael's ability to blend traditional techniques with cutting-edge technology and design concepts has earned him a reputation as one of the most knowledgeable writers in the industry.