If you're ready to build your forever home, whether for a growing family or to make more room for your business or a new hobby, a barndominium or pole barn house is worth considering. The structure offers flexibility when it comes to accommodating your individual style and specific preferences. Plus, the basic design allows for ample natural lighting and ventilation.
Studying different barndominium floor plans will inspire and help you custom-build your dream home. Having your floor plan drafted is an important first step in securing builder estimates, financing, and city or county building permits.
Designing your own living space according to your needs is an option as well. Here are a handful of 40×80 barndominium floor plans with shops to fire up your creativity and prompt bright ideas for that hobby room.
40×80 Barndominium Floor Plans with Shop – Things to Consider
Transitioning from a cramped space to an area that promises endless possibilities is exciting, but the euphoria could make you overlook important aspects. To ensure that these elements are included in your 40×80 barndominium floor plans with shop, take these factors into account:
Lifestyle
Family size is usually the first consideration when designing an abode. It determines the number of bedrooms and bathrooms you require, as well as the size of the garage or carport and common areas like the dining and entertainment rooms.
Work, studies, and hobbies are the next big influencers on your selected floor plan. If a family member works at home, then you might need a bigger study room or even add a library that the children can share. And if you're into carpentry, crafts, cars, or gardening, a shop attached to the house is in order.
Consider Your Land
Survey the area surrounding your future home, and make sure you take advantage of its highlights.
Make the most out of the scenic vistas on the landscape by situating windows where you can behold the spectacle. Place your kitchen where the sun rises to guarantee light and bright mornings. Add a deck where the sun sets. The land is yours, so let your floor plan reflect the judicious use of every inch.
Traffic Flow
Each household's movements are unique. Remember this as you study the sample floor plans provided in the sections below. While aesthetics is integral in your home's layout, it is best that you tailor the design based on how you conduct your daily activities.
For instance, you might need a door from the garage leading directly to the kitchen for easy unloading of groceries. Or, perhaps a family member often arrives late at night from work and would need their bedroom near the front door to avoid disturbing other occupants of the house.
Closets and Storage
Stored items can range from out-of-season clothing and travel essentials to holiday décor and sports gear. Thus, it is imperative to conduct an inventory of your current possessions prior to finalizing your floor plan.
You would need both indoor and outdoor storage. A utility room inside the house can double as a pantry, and each bedroom may have an extra closet just for this purpose. Ensure the security of the space if large and valuable pieces are kept in the shop or garage attached to your home. These include jet skis, extra furniture, and exercise machines.
Let your creative juices flow when incorporating ideas for storage areas in your floor plan. Maximize walls and ceilings whenever possible.
Hobbies
If your interests require more space than your indoors allow, it might be more practical to add a shop instead. The location of this space largely depends on the nature of your hobby. Restoration of bikes or four-wheeled vehicles would be best done beside the garage. A greenhouse must be located just outside the kitchen if you plan on consuming your harvest.
Painting, sculpture, and other similar forms of art need plenty of light, so the shop must be located in the east. These activities also tend to get the artist grubby and their implements soiled, which calls for the room to be near a bathroom and access to the laundry room.
Storage space is also an essential consideration in a workshop. Make room for hooks, shelves, drawers and cabinets.
40×80 Barndominium Kits
If you're looking to start building your barndominium, one of the first things to do is to get a quote for the metal shell or barndominium kit. By using the quote service below, you'll get connected with a barndominium kit provider within a few hours at most. Prefabricated barndominium kits mean that the metal shell that makes up your barndo is produced off-site, then it's brought to you for erection and assembly. While some builders will help you order the barndominium kit, we suggest doing it separately to avoid a potential markup on the barndominium kit.
That's it! By using the tool above you'll get connected with a kit provider for 40×80 barndominium kits.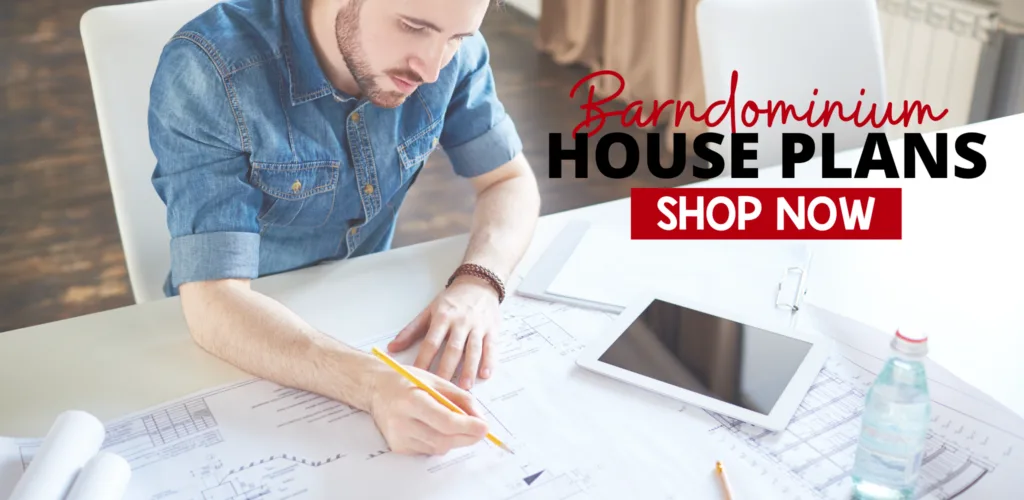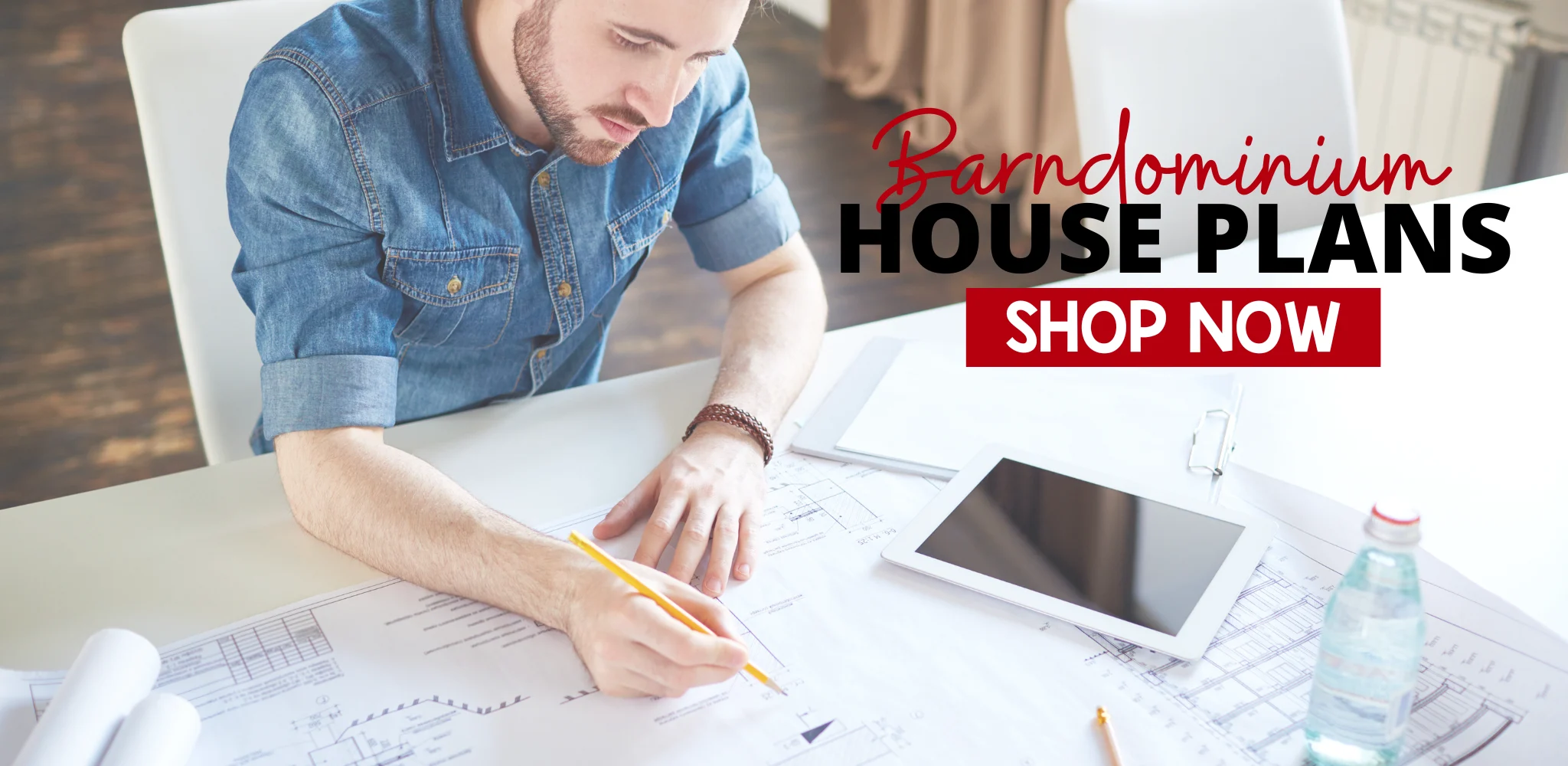 40×80 Barndominium Plans with Shop: Floor Plan Ideas
As promised, here are 6 excellent shop house plans designed especially for families that need a shop adjacent to their home. Imagine walking through each one of them, constantly referring to the above-mentioned considerations. You might be able to pick up a few ideas worth considering.
40×80 Barndominium Floor Plans with Shop
Built for a big family, this barndo houses a master bedroom with its own bathroom and walk-in closet. The 3 other bedrooms all have built-in closets and 2 bathrooms to share. This design includes a shop attached to the west side of the house but accessible only from the outside. It's perfect for writers and hobbyists who need solitude while they work, or for musicians to be able to play their music at high volume without disturbing the family.
Open Concept 40×80 Barndominium Floor Plans with Shop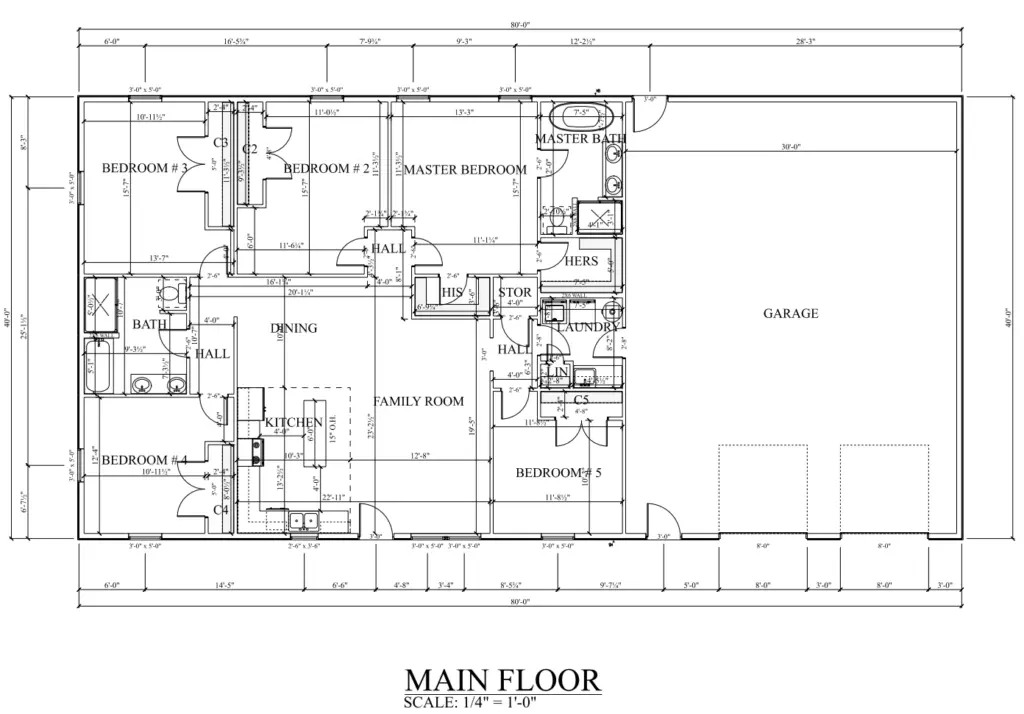 With open space for the living room, dining room, and kitchen, this barndo breathes a welcoming and homey atmosphere. Ideal for a large family, it offers a master bedroom and bathroom as well as 4 other bedrooms, one of which can be the designated guest room. An equally large shop is built to the right side of the house and is accessible from the inside through the laundry area, and from the outside via a separate door.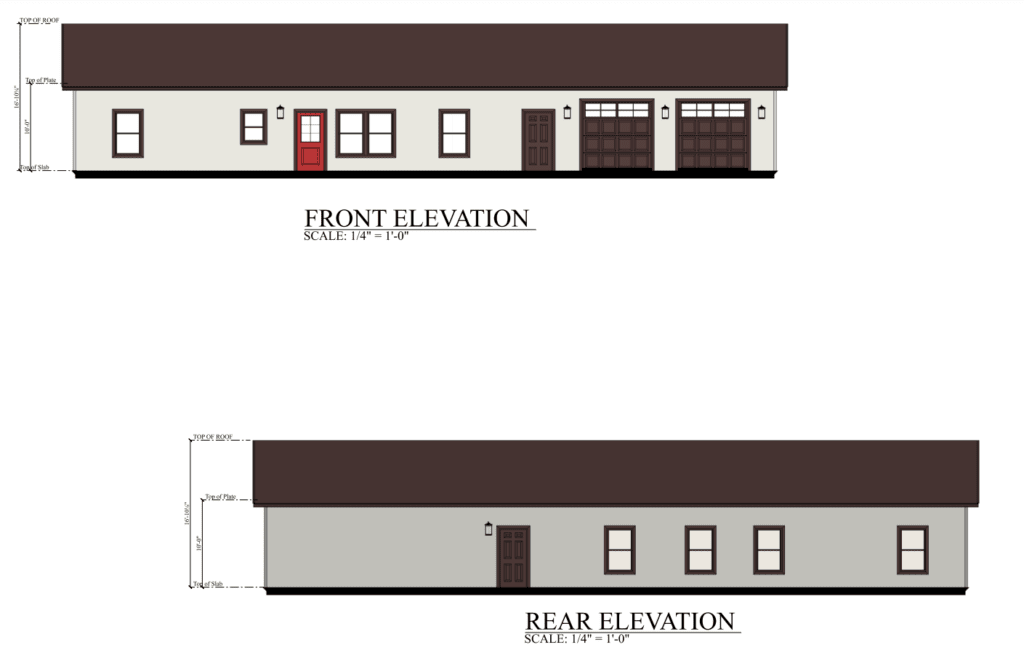 The second of our open-concept 40×80 barndominium floor plan with shop, just like the above, has one master bedroom and bath, and 4 other bedrooms. An office or study, located on the far right of the front part of the house, is added to this design. And this time, the shop is on the left side, also accessible either from outside or through the laundry area inside the home.
Barndominium Floor Plans with Loft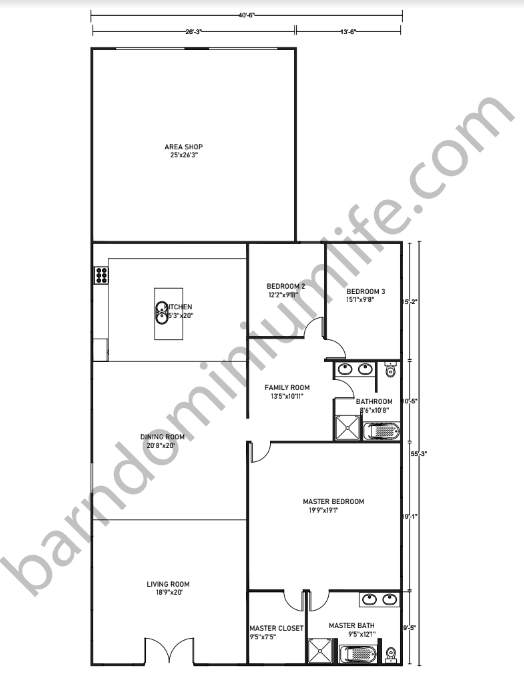 If you wish to add a private shop to your barndo and want it accessible from within, this floor plan is for you. In this design, the shop is located in a loft atop the kitchen.
It comes with a master bedroom with its own bathroom and walk-in closet. There are 2 additional bedrooms with a common bathroom between them. The whole brood can converge for movie night or other activities in the family room which sits right in the middle of all the bedrooms.
Barndominium Floor Plans with Garage/Carport
This barndo is perfect for a small family with a home-based business. The shop is accessible by suppliers or customers via the carport, and by the owners through the kitchen. We love the thoughtful addition of an office, storage area, and half bath to the shop. These ensure the family's privacy while supporting the needs of the business.
And while the home has only two bedrooms, each has a built-in closet and its own bathroom.
40×80 Barndominium Floor Plans with Shop and Carport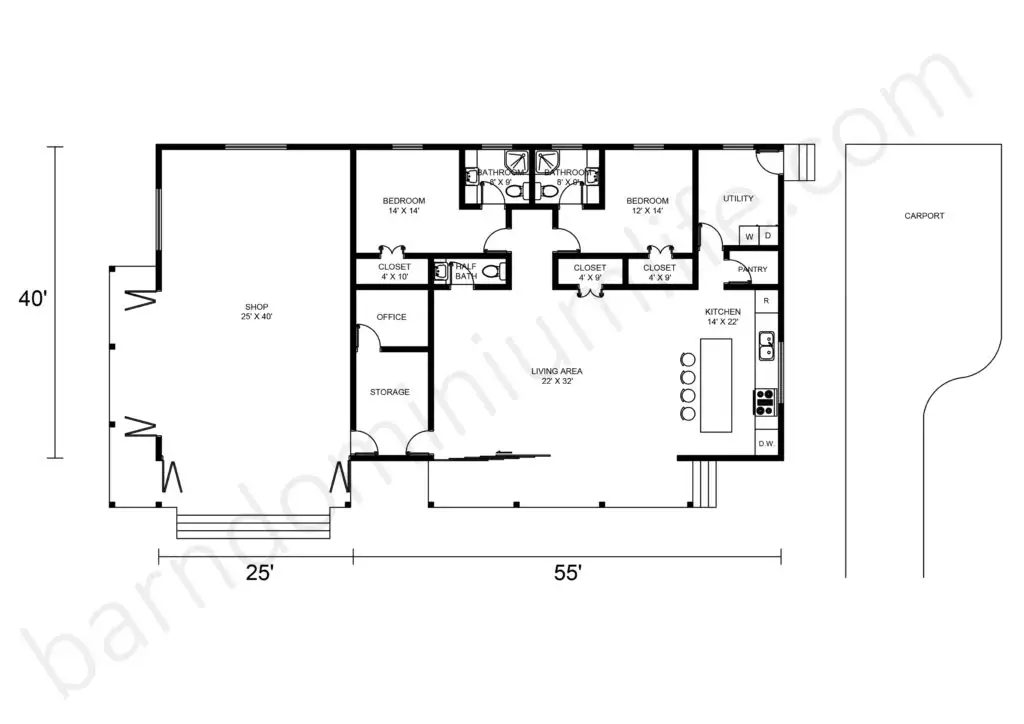 Similar to the above floor plan, this one also includes an office and storage within the shop. The difference is that the half-bath is located inside the house, which means people engaged with the business have access to the family's private living space. However, removing the shop's half-bath expands the working area.
If you're interested in having a barndo with a garage, you can check out more floor plan designs here.
Design Your Own Shop House Plans
If none of these floor plans cater to your needs, or if one of them speaks to you but you'd like to inject your personal touch, why not design your own barndo? Our custom design software is user-friendly and you'll be able to create your barndominium floor plans with pictures in minutes. Just add your specs to the template for a virtual peek into your dream home.
You can also get more ideas, tips, and building suggestions when you get the Barndominium Life Program. This indispensable resource will ensure that the home you build is exactly what you envisioned growing old in.
Conclusion
Building your own barndominium may be a daunting undertaking, but with the helpful information you can find on our website, you'll avoid the pitfalls and costly building errors. You can also check our Pinterest page for more visual recommendations.
If you would like more guides like this one, check out the rest of BarndominiumLife.com. There, you will find more helpful tips and tricks from the pros. You will also find featured barndominiums, barndominium floor plans, and information on financing and insurance. Knowing as much as you can will help you get the best results for your dream home.