If you have ever considered building a custom home to match up with the one you have dreamed of, building a barndominium in Mississippi might be a great option. However, with so many different considerations that must be taken into account, it can be overwhelming. Fortunately, we have put together a definitive guide for building a barndominium in Mississippi.
Each state has its own set of rules and codes that must be followed when building a new home from scratch. By reading this article, you can fully understand all the ins and outs of building a barndominium in Mississippi and how rewarding it can be. Having the knowledge before you start building can set you on the right track and give you a head start on the whole process.
If you would like even more in-depth tips on building your dream home, check out the ebook, Build Your Dream Barndominium by Don Howe. It is full of information that will give you ideas and inspiration and get you thinking about the best way you can go about building your barndominium.
What Is a Mississippi Barndominium and What Are Some of the Advantages?
A barndominium is a modern, contemporary home built inside the metal outer shell of a barn that either already exists, or has been built from scratch. Because of their rugged and rustic exteriors, barndominiums are great for rural areas. Their country-home style is perfectly suited for someone who wants that homey feel with a more pastoral look.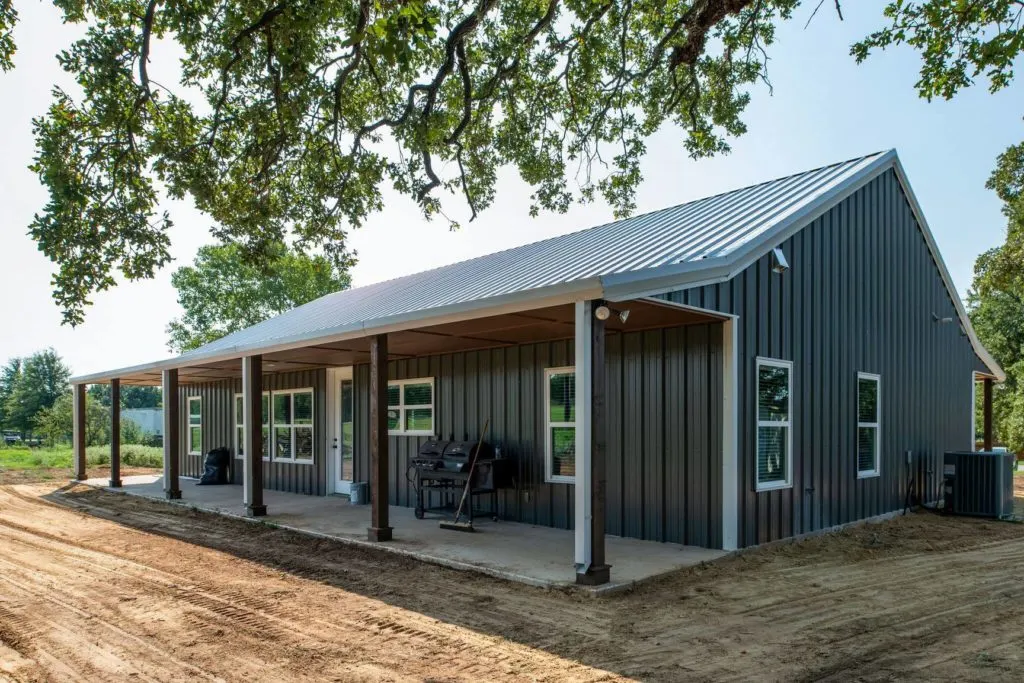 Barndominiums are usually built from metal pole structures with metal siding on the outside. This metal siding is fantastic to use as a blank canvas for your individual style. It can be painted in many colors and is extremely durable. It is able to stand up to harsh weather and is easy to clean, making it the ideal material for a barndominium in Mississippi.
Barndominiums have many advantages over traditionally built homes. They are cost effective and unique, making them perfect for first-time home builders or people who want to express their style with their home. Since they are built and framed out on the inside like a traditional home, they can be designed in ways that are limited only by the builder's imagination. This makes them ideal for someone who wants to try something different with the style of their home.
They are also much more cost-effective than a traditional home. Barndominiums tend to be cheaper, leaving more money for the custom touches that you desire. Built-ins, countertops and appliances are all expensive, and having some money left over from the less costly construction can make that personalization much more viable. The secret to getting the custom home of your dreams is to use money wisely and to put it where it is going to make you happiest.
Cost of Building a Barndominium in Mississippi
Perhaps one of the greatest advantages of building a barndominium in Mississippi is the cost. It is quite a bit cheaper to build a custom home out of a new or existing barn or metal pole structure. This makes it much more accessible to all kinds of people in all kinds of economic situations.
Odds are, at one point you have dreamed about building a custom home. If so, you have probably assumed that the cost would be prohibitive. Luckily, building a barndominium in Mississippi is a much more cost-effective way to realize your dreams and make them a reality.
When building a home from scratch, the cost is usually calculated by the square foot. This makes it easy to scale the project and start to put together a budget. By including both labor and materials, this measurement is a great way to get the full picture of how much your custom home will end up costing.
Building a barndominium in Mississippi costs between $150 and $200 per square foot. This covers the basic assembly and construction and will get you a blank canvas upon which you can start to customize and personalize.
A traditional home build in Mississippi costs between $200 and $400 per square foot. The price difference between these two leaves money for all the custom touches that you might want to include with your new home. This makes building a barndominium in Mississippi a great option for those who may not have the funds that are required for a traditionally constructed home project.
Barndominium Builders in Mississippi
When you are figuring out everything you need to build a barndominium in Mississippi, you will have to comb through a lot of builders to find the right one. There are many construction companies and contractors available and it can be difficult to pick the one that is best suited for your project.
There are a few things to look for when choosing a builder for your barndominium in Mississippi. One of the biggest ones is their reputation. By looking at their past projects and seeing how their clients have felt about them, you can decide whether or not they will be a good fit.
Another thing to look for in a builder is their communication and transparency. You are going to want to hire a builder that will listen to your wants and needs and will do their best to satisfy those requirements. That way, you can be sure that your custom home will look and feel exactly how you want it to.
It can be difficult to find the right builder for your barndominium in Mississippi. Fortunately, we have put together a list of the best barndominium builders in Mississippi that can help you make the right choice and get your project started on the right path.
Vintage Home Builders
Vintage Home Builders in Mississippi has been working with clients for years on all kinds of construction projects. They specialize in vintage-looking builds that bring a unique style to the process. If you are interested in building a home that has a homey, country feel, they could be a great option for you.
Homestead Barndominiums
The folks at Homestead Barndominiums specialize in barndos and metal pole structures of all kinds. They have been helping clients realize their dreams of a custom barndominium for years. If you want a company that has experience in this specific type of home, they could be a great choice. They know all the ins and outs as well as the common pitfalls that new barndo owners and designers can fall into.
Barndominium Kit Providers in Mississippi
If you are not someone who is interested in building your metal barn shell from scratch, there are other options for you. There are many barndominium kit providers that specialize in fabricating kits for all kinds of custom homes. This makes the whole process simple and, if you are interested in doing so, can be done all on your own.
Barndominium kits include everything you need to complete the project yourself. They are fabricated to exact specifications and have been designed to be as simple as possible. Many people like to use a barndominium kit just for the peace of mind that comes with knowing you have every part before you begin.
Kits are a great idea if you are unsure about your design or construction abilities. They are meant to help you through the process and come with detailed instructions that make the project as easy as it can possibly be.
Barndominium Financing in Mississippi
Barndominium Financing Request
Southern AgCredit
Southern AgCredit provides financing for agricultural construction projects of all kinds. If you are interested in working with a bank that has experience with farming and all manner of agricultural projects, they could be a great choice.
Mississippi Land Bank
The lenders at Mississippi Land Bank are dedicated to helping you get the loan you need to build your barndominium in Mississippi. They have been working with clients for over 100 years and have built a legacy out of working with people to get them the financing that is best suited to their project.
Where to Find Land for a Barndominium in Mississippi
In order to build a barndominium in Mississippi, you will first have to find a plot of land. This land must be zoned for residential construction and have access to utilities. Finding the right piece of land for your barndo can be intimidating, but once you have found it, your dream home can start to come to fruition.
You must receive an additional loan to finance your piece of land. Any of the agricultural banks listed above will be more than happy to help you with this and can make sure you are getting the best possible deal while still remaining in compliance with the laws of the state.
Barndominium Floor Plans in Mississippi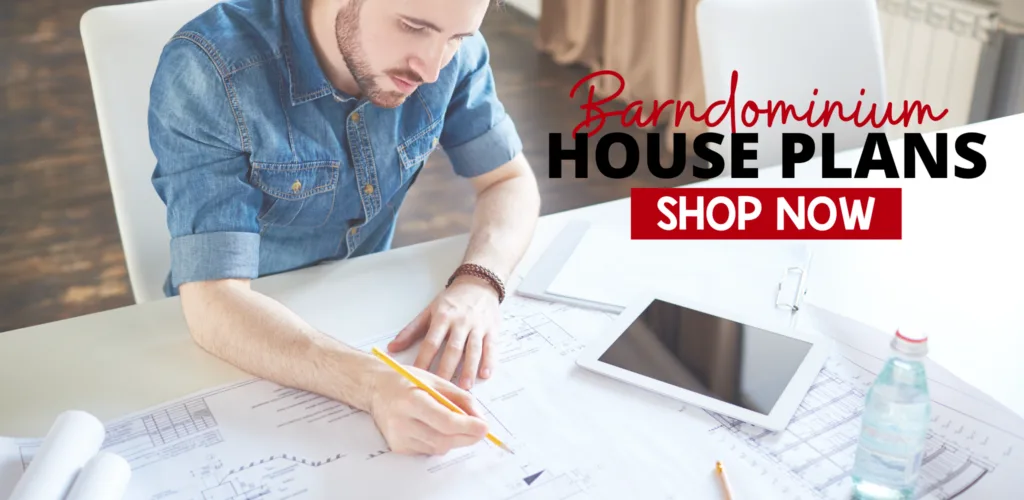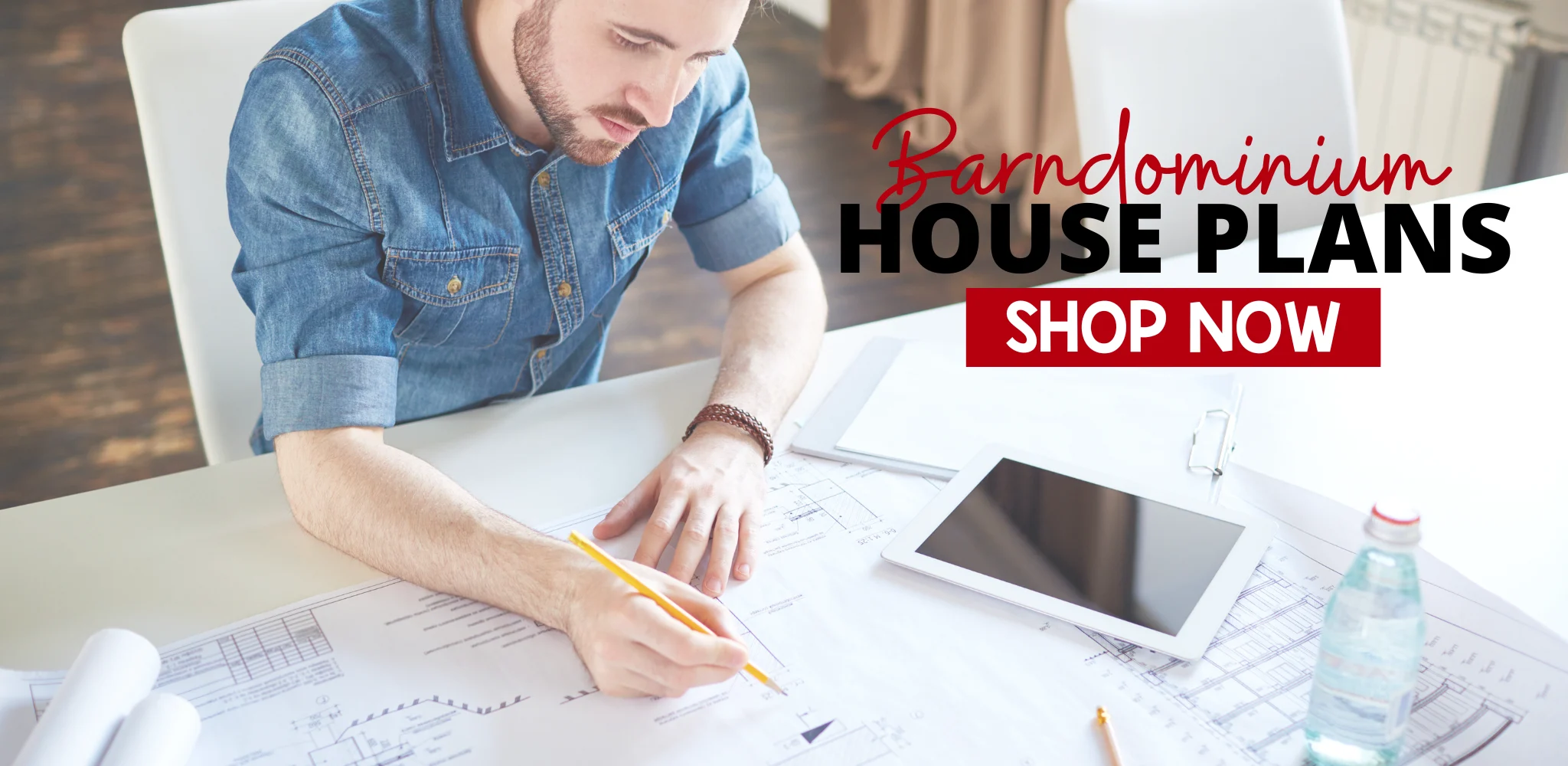 Don't want all the hassle of building a barndominium from the ground up? Then you may want to buy an existing barndominium in Mississippi! With our Barndominiums for Sale Marketplace, you can browse to your state and find a barndominium for sale near you.
The beauty of buying an existing barndominium is that it can be really easy to customize the floor plan to your liking. The previous owners' setup is just a starting point! Also, by buying a barndominium in Mississippi, you bypass the potential troubles of the building process – delays, dealing with contractors and subcontractors, and city or county bureaucrats trying to make your build process a nightmare.
Don't delay – find a barndominium for sale in Mississippi now!
Conclusion
Building a barndominium in Mississippi can be a rewarding process. There is nothing quite like moving into a home that you have designed and built yourself. If you want even more tips for building the best possible barndo that you can, check out the ebook, Build Your Dream Barndominium by Don Howe.
Michael O'Connor is a seasoned barndominium writer passionate about creating unique and innovative barndominiums. With over 15 years of experience in the construction industry, Michael has established himself as a leading expert in barndominium design and construction.
His work has been featured in several respected publications, including Barndominium Life, where he frequently contributes articles on best practices and emerging trends in the field. Michael's ability to blend traditional techniques with cutting-edge technology and design concepts has earned him a reputation as one of the most knowledgeable writers in the industry.