Building your own home is an exciting prospect. The idea of getting everything to your exact specifications and making sure it is perfect is incredibly alluring for most people. Not everyone gets to do this when they purchase a home and you might be thinking that it could be just the project you are looking for. However, building your own home can be costly and difficult. That's why building a barndominium in Washington is a fantastic alternative to the traditional home build project.
One of the things that put people off from building their own homes is the level of knowledge it takes to get the job done. Building a barndominium in Washington is certainly no exception. That's why we have put together this comprehensive guide to help you along in the process. By understanding everything it takes to get a project like this underway, you can start off on the right foot and make sure your barndominium build goes smoothly.
If you finish this article and you want to go even deeper into the planning process, be sure to check out the ebook, Build Your Dream Barndominium by Don Howe. In it, there are many different tips, tricks, and floor plans that can inspire you and get you thinking about your custom dream home.
What Is a Washington State Barndominium and What Are Some of the Advantages?
The word barndominium might be unique and interesting, but that's because barndominiums are unique and interesting themselves! A combination of barn and condominium, it perfectly describes what these homes are like.
They are custom homes built from existing or newly constructed metal pole barns or other similar structures. Because of their uncommon framing and design, the possibilities are endless when it comes to the design choices you can make when building a barndominium in Washington.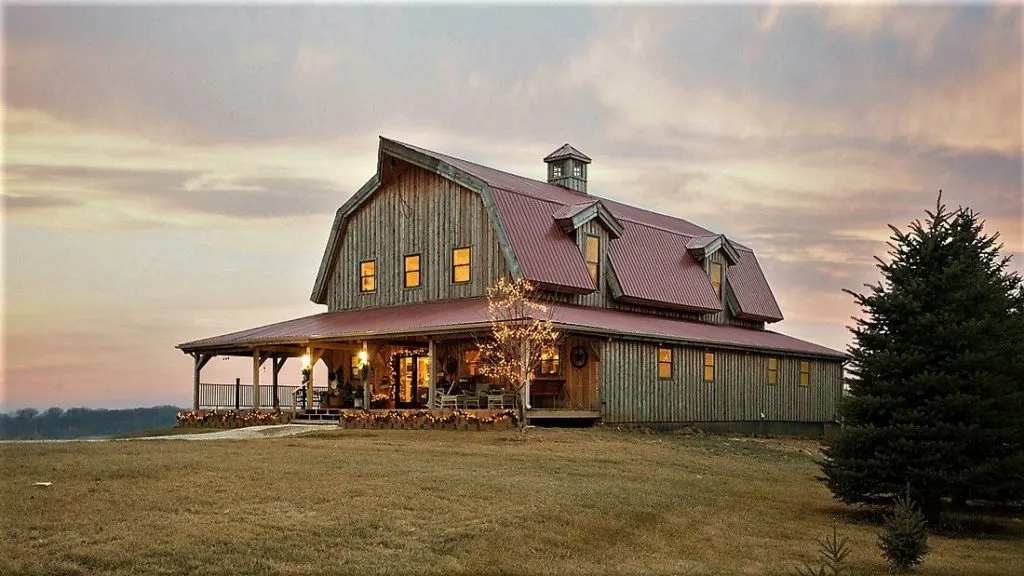 Perhaps one of the biggest advantages of building a barndominium in Washington is the price. As we will discuss further below, the cost of building a barndominium is much less than it is for a traditionally constructed home. Both the initial cost and the cost of upkeep are considerably lower, and this opens up all kinds of options for you. By saving money on the necessities, you can spend more on the fun stuff.
One of the other benefits of building a barndominium in Washington is the ease of the construction project itself. The initial construction of a barndominium can be finished in a matter of weeks. This is much quicker than a traditional wood-frame house, which can take months or even years if it is especially difficult. This alone is reason to build a barndominium in Washington.
The maintenance of a barndominium in Washington is also much simpler. With the metal construction, it is easier to keep clean and is also less susceptible to deterioration or damage. This is especially appealing in Washington where wet weather has a way of making its way into wood-framed homes and causing costly damage. If you want to save money and effort on both construction and maintenance, a barndominium in Washington is the way to go.
Cost of Building a Barndominium in Washington
As mentioned above, one of the major benefits of building a barndominium in Washington is the lower price. In order to fully grasp this, it is important to understand how homes are usually budgeted out. In order to estimate the cost of building a home, you must first know what the square footage will be. This will give you an idea of how much the home will cost per square foot. By doing this, you can decide how much house you can afford and how much you need in order to live comfortably.
The cost of building a traditional, wood-frame house in Washington is around $300 per square foot. This price only covers the initial construction of the home such as the walls, roof, and foundation. For other things like kitchen appliances and cabinetry, you are going to have to add more to this price. This can quickly eat away at your budget and the costs can shoot up dramatically if you are not careful.
On the other hand, the cost of building a barndominium in Washington is quite a bit less. The initial construction of this is more between $230 to $260 per square foot range. With this dramatic dip in cost, you can add room to your budget for all the things that make your custom house special and unique to you. Granite countertops, furniture, and electronics can all be included in your total budget if you are not having to spend so much on your initial construction.
Barndominium Builders in Washington
In order to build a barndominium in Washington, you are going to have to hire a construction company to do some of the heavy-duty work such as the initial construction. This can be a slightly nerve-wracking process due to the fact that there are so many different construction companies out there. However, there are a few things to look for that can give you a good idea as to whether or not a builder will be worth hiring.
One thing to consider when looking for someone to build a barndominium in Washington is their reputation. Construction is a deeply personal business and it is important that you have a good relationship with your builder. By looking for reviews from a builder's previous clients, you can get a good idea of how they deal with people and whether their clients were happy with the end result of their work.
Another thing to look for in a builder is their experience with metal pole structures. As stated above, there are all kinds of construction companies. Not all of them are going to have experience with the type of building you will need to build a barndominium in Washington. By finding a builder that has experience in this specific type of project, you can be sure they will be able to deliver a solid final product. That's why we have put together this list of some of the best barndominium builders in Washington.
Solid Structures
Solid Structures has built over 1,500 metal pole buildings in the Washington State area alone. They have a philosophy of not cutting any corners with their projects and they are always looking to get you the highest quality end product that they possibly can. This makes them a great choice for those looking to build a barndominium in Washington.
Cordis LLC
Larry D. Biggs of Cordis LLC has designed and built thousands of metal pole structures in his decade in the business. Cordis is familiar with all the local building codes in Washington and can help you make sure everything is in compliance and ready to go when the time comes to start building. By working closely with you, they can be sure that you are getting exactly what you are looking for in a barndominium in Washington.
Spane Buildings
Since 1945, Spane Buildings has been working on honing its process of building metal pole structures, barns, and garages. They are dedicated to building lifelong relationships with their clients. Because of this, they are a great choice for people who want to build a barndominium in Washington with a construction company that is on their side every step of the way.
Barndominium Kit Providers in Washington
One of the other options besides building a barndominium in Washington from scratch is to use a barndominium kit provider. Barndominium kits are a great way to get your barndominium project up off the ground with a lot less hassle. These kits come pre-fabricated with everything you need in order to get started. If you don't want to spend a lot of timing sourcing materials and getting all your parts from different companies, a kit provider could be a great choice.
Barndominium Financing in Washington
Barndominium Financing Request
WaFd Bank
WaFd Bank is an agricultural bank that is dedicated to the agricultural community. They work with people looking to get financing for barndominiums and other farm projects. If you want a bank that is interested in building a relationship with you as your project progresses, they could be a fantastic choice.
Farm Plus Financial
Farm Plus Financial offers loans for agricultural land and a line of credit loans for those looking to expand their farming projects. They understand that Washington is an incredibly diverse state and that every project will have its own needs and requirements. Because of this, they would be a good option for those looking to build a barndominium in Washington.
Where to Find Land for a Barndominium in Washington
In order to build a barndominium in Washington, you will first have to find a piece of land. This is an exciting process, but one that requires a lot of care and preparation. The land that you purchase will have to be zoned for residential and have all the required utility access in order to get your barndominium project going.
Any of the above agricultural banks will be happy to help you obtain financing for your plot of land. You will need to get a separate loan in addition to the building loan you are getting in order to build your barndominium in Washington.
Barndominium Floor Plans in Washington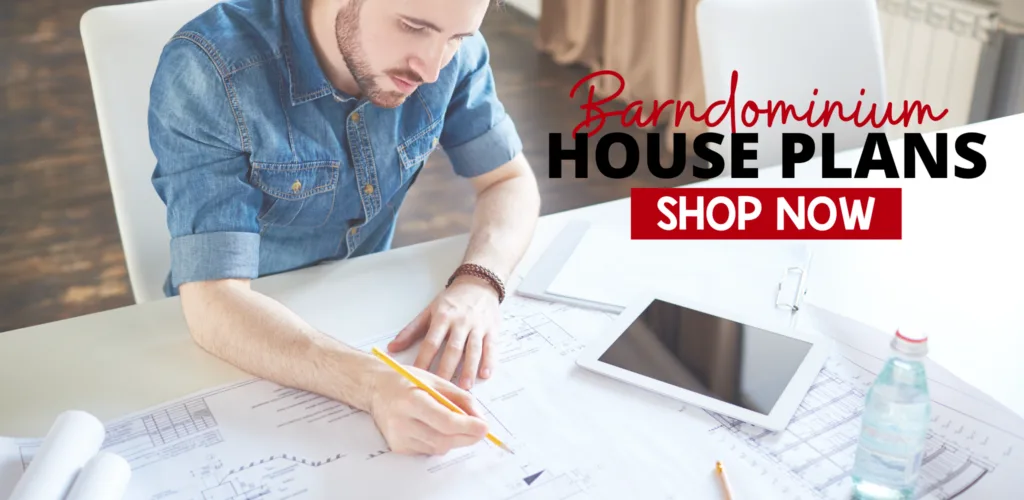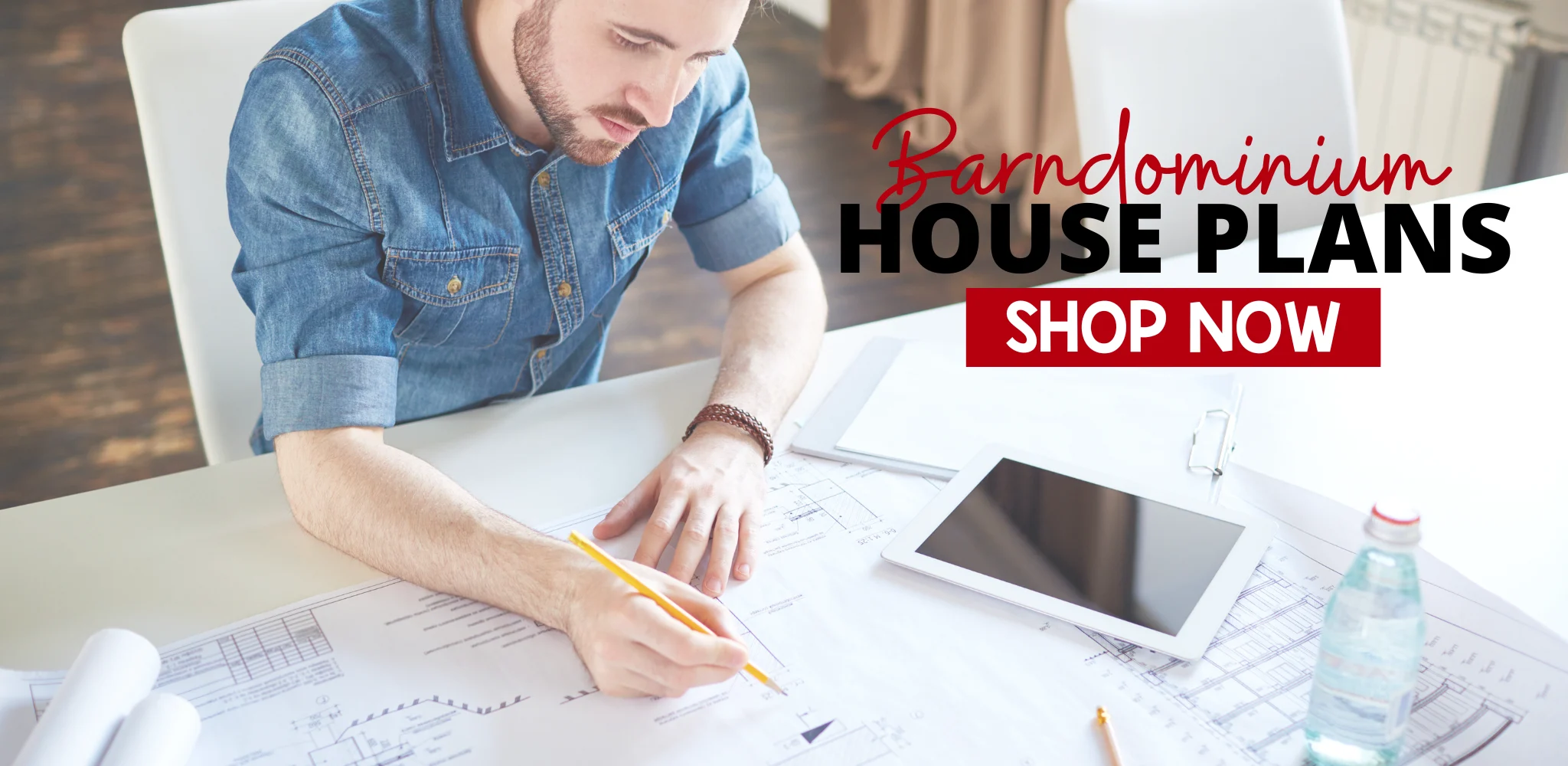 Don't want all the hassle of building a barndominium from the ground up? Then you may want to buy an existing barndominium in Washington! With our Barndominiums for Sale Marketplace, you can browse to your state and find a barndominium for sale near you.
The beauty of buying an existing barndominium is that it can be really easy to customize the floor plan to your liking. The previous owners' setup is just a starting point! Also, by buying a barndominium in Washington, you bypass the potential troubles of the building process – delays, dealing with contractors and subcontractors, and city or county bureaucrats trying to make your build process a nightmare.
Don't delay – find a barndominium for sale in Washington now!
Conclusion
Hopefully, by reading this in-depth guide, you have a greater understanding of what it takes to build a barndominium in Washington. While this is a challenging project, it is definitely worth your while and can be incredibly rewarding to build your own custom home. For more tips and design ideas, check out the Barndominium Life Program!.
Michael O'Connor is a seasoned barndominium writer passionate about creating unique and innovative barndominiums. With over 15 years of experience in the construction industry, Michael has established himself as a leading expert in barndominium design and construction.
His work has been featured in several respected publications, including Barndominium Life, where he frequently contributes articles on best practices and emerging trends in the field. Michael's ability to blend traditional techniques with cutting-edge technology and design concepts has earned him a reputation as one of the most knowledgeable writers in the industry.