Many people around the world dream of building their own home. However, since the initial cost of construction and materials can be so high, it can feel next to impossible. However, building a barndominium in Wisconsin can be a viable and affordable alternative. If you have a unique style and a desire to build a custom home that is specific to you, a barndominium could be a fantastic option.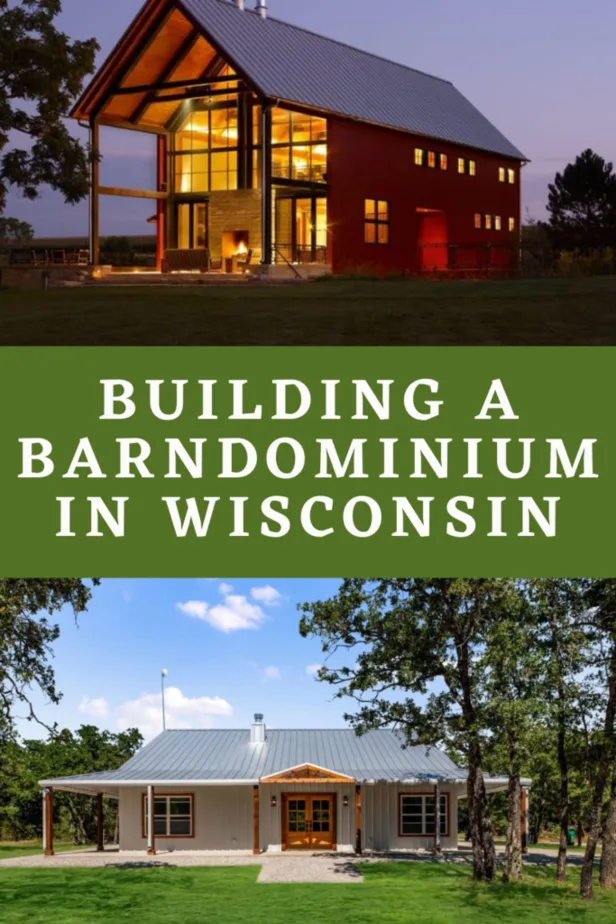 Since building a custom home is an involved and complex undertaking, you may be wondering how to best go about it. Luckily, we have put together a complete guide to building a barndominium in Wisconsin.
By reading this article, you can get a good idea of the advantages of a barndo as well as some of the pitfalls to avoid. Knowing how to start your project is just as important as knowing how to finish it. Hopefully, this guide will help you get on the right track and set yourself up for success.
If you decide to start planning your dream barndominium in Wisconsin and would like some more helpful tips and tricks, take a look at the ebook, Build Your Dream Barndominium by Don Howe. There, you can read about floor plans, design ideas and more that will help you get started on this incredibly rewarding project.
What Is a Wisconsin Barndominium and What Are Some of the Advantages?
A barndominium is a home built from an existing or prefabricated barn shell or metal pole structure. They are often designed in the country's home style and can be a unique expression of your individual style. If you are someone who loves construction projects or interior design, a barndominium in Wisconsin could be a great project for you. They are a relatively simple build and can be a blank canvas for your style and design ideas.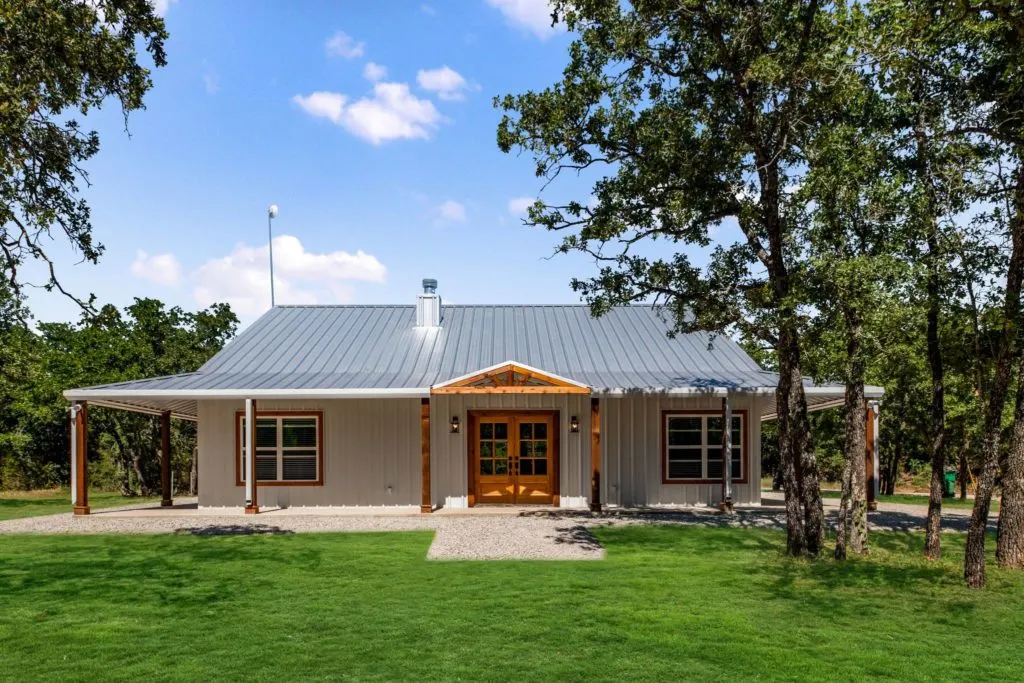 One of the main advantages of building a barndominium in Wisconsin is its relatively easy construction. Since the metal pole structure can be put up in a matter of days or constructed from a prefabricated kit, the initial construction can be significantly cut down relative to a traditional home. Because of this, they are a great project for people who are first-time home builders or new to the construction game. The less stressful construction period can be very appealing, especially if you do not usually work on projects of this scale.
The other advantage of building a barndominium in Wisconsin is the ease of maintenance. A traditional home requires a lot of care and costly repairs year in and year out in order to keep the exterior looking nice. However, a barndominium in Wisconsin will be constructed out of metal instead of wood or brick. This allows for a much easier process when cleaning the metal siding or other maintenance tasks. The metal construction also makes it incredibly durable, which is perfect for states like Wisconsin that tend to have colder winters that produce a lot of ice and snow.
Perhaps the most beneficial aspect of building a barndominium in Wisconsin, though, is the cost. As we will discuss below, the initial construction cost of a barndominium is much less than a traditional house that is framed up with 2x4s and a cement foundation. This lower cost can be transferred over to custom touches like appliances or built-ins that you may not otherwise have been able to afford.
Cost of Building a Barndominium in Wisconsin
When planning and budgeting for a new home build, the cost is usually calculated by the square foot. This makes it easy to plan for how big your new home can be and how many extra features you can afford to include. When designing a floor plan for a custom home, you can choose the number of bedrooms and bathrooms based on the square footage that you have allowed yourself in the budgeting process.
A traditional home in Wisconsin costs, on average, about $300 per square foot to build. This cost factors in the basic things like materials and labor. It does not include extras like bathroom and kitchen amenities. Things like appliances, countertops, and other custom touches will have to be paid for on their own, outside of the per-square-foot cost of construction. Because of this, you would have to set aside a much larger budget in order to buy the things that make building your own home worth the cost and labor.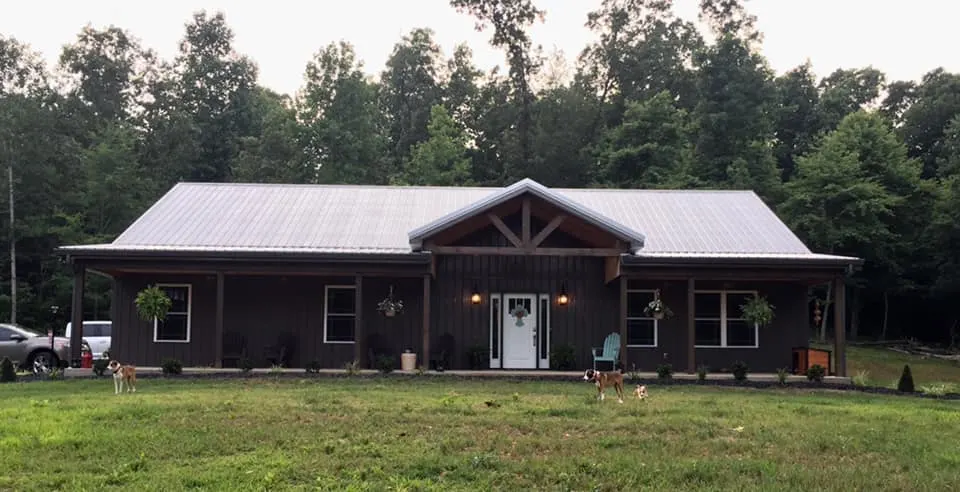 The cost of building a barndominium in Wisconsin, however, is much less. On average, a barndominium costs about $200 to $230 per square foot. While this number may not seem much lower than the traditional home, it adds up when multiplying it by the square footage. At this cost, a barndominium in Wisconsin is about ⅔ of the cost of a traditional home. With this extra money, you can afford custom cabinetry, televisions, and furniture, that will help round out your custom barndominium.
On top of the lower cost, a barndominium in Wisconsin takes much less time to build. This quicker construction period saves money on labor. This can end up not only giving you more room in your budget but also saving you a lot of stress and waiting for your new home to finally be constructed.
Barndominium Builders in Wisconsin
When figuring out everything you need to build a barndominium in Wisconsin, you will have to find a builder to do the initial construction. Unless you are incredibly mechanically inclined, this is highly recommended. The structure itself can be difficult to build from scratch, and it is best to hire a builder who has experience in this kind of project.
One of the things to look for in a builder for your barndominium in Wisconsin is honesty and integrity. If you can manage to find a builder that has a good track record with their clients, you can rest assured that your project will go as smoothly as possible. If they have a good relationship with their former clients, the odds are that they have developed an honest reputation and will continue to serve their clients in the same manner.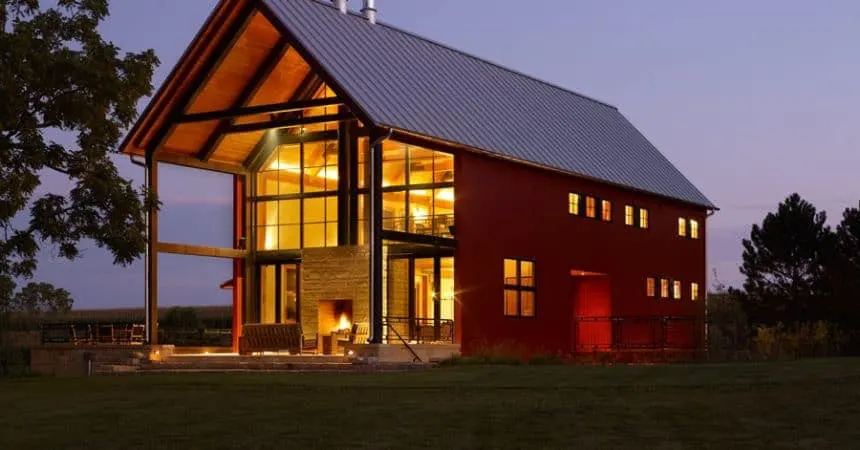 One of the other things to look for in a barndominium builder is experience. Not all construction companies have experience in building barns and metal pole structures. By making sure that you choose a builder who has done this kind of work before, you can be sure that they will get you the desired end result. Many barndominium builders in Wisconsin specialize in exactly these types of structures, so it is best if you choose one that has this kind of specific experience.
It can be difficult to sort through all the construction companies to find the best barndominium builders in Wisconsin. Fortunately, we have put together a list of experienced builders that specialize in these kinds of structures to help you along the way.
Cleary Building Corp.
Since 1978, Cleary Building Corp. has been building pole barns, pole buildings and other metal structures for clients all over Wisconsin. If you are looking for a builder that has years of experience with this specific type of structure, they could be a great choice. They have a focus on providing a stress-free construction process that is perfect for building a barndominium in Wisconsin.
Wick Buildings
Wick Buildings has been in business for 65 years in the Wisconsin area. They specialize in commercial buildings, equestrian buildings and barns for their clients. They also have a deep well of experience building barndominiums from scratch and know the ins and outs of that kind of project.
Pinno Buildings
Pinno Buildings understands the stress and uncertainty that comes with building a custom home. They also know the best ways to turn your dream barndominium into a reality. This kind of client-based focus makes them a fantastic choice for building your barndominium in Wisconsin.
Barndominium Kit Providers in Wisconsin
If you are not interested in building your barndominium from the ground up, there are also a great deal of barndominium kit providers around the country. These kit providers will send you a prefabricated barndominium kit that includes everything you need to get your metal pole structure up off the ground.
One of the main benefits of using a barndominium kit provider is that you will receive all parts and materials at once. Having this kind of security in knowing that everything is included is well worth the price. Some kit providers even allow you to order a barndominium kit to your exact specifications including custom floor plans.
Barndominium Financing in Wisconsin
Barndominium Financing Request
Royal Bank
The lenders at Royal Bank believe that agriculture is an important element of the culture in Wisconsin. They are committed to their clients and helping them pursue their dreams. They are a good option if you would like to work with a bank that has a hands-on approach to their investments.
Where to Find Land for a Barndominium in Wisconsin
One of the major aspects of building a barndominium in Wisconsin is finding a plot of land to build it on. You will have to get a separate loan for your piece of land outside of the financing for the build. However, many agricultural banks can help you through this process.
There are a number of listing sites and aggregators that have land for sale. You will have to make sure that these plots of land are zoned and regulated for residential use. You will also have to find a piece of land that can be hooked up to utilities such as electricity and plumbing. Luckily, many of these land listing sites have options for you to search for these specific requirements.
Barndominium Floor Plans in Wisconsin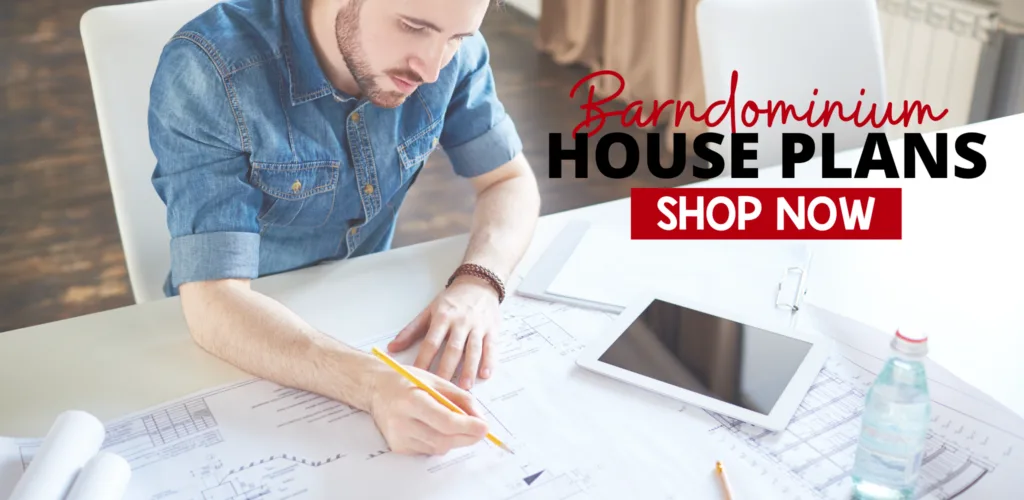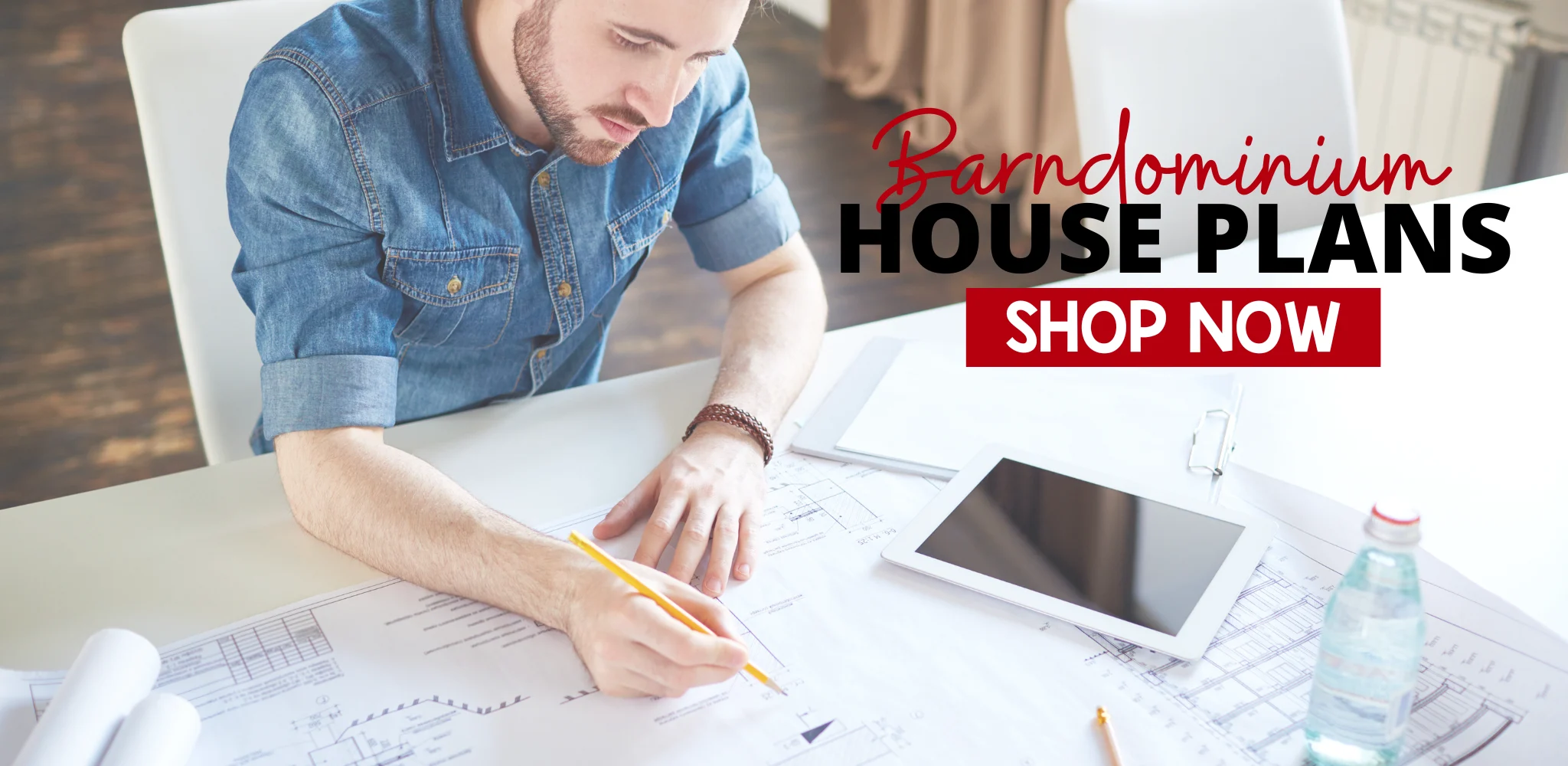 Don't want all the hassle of building a barndominium from the ground up? Then you may want to buy an existing barndominium in Wisconsin! With our Barndominiums for Sale Marketplace, you can browse to your state and find a barndominium for sale near you.
The beauty of buying an existing barndominium is that it can be really easy to customize the floor plan to your liking. The previous owners' setup is just a starting point! Also, by buying a barndominium in Wisconsin, you bypass the potential troubles of the building process – delays, dealing with contractors and subcontractors, and city or county bureaucrats trying to make your build process a nightmare.
Don't delay – find a barndominium for sale in Wisconsin now!
Conclusion
Building your own home can be difficult, but it can also be incredibly exciting. The prospect of moving into your custom home is the definition of the American Dream. If you have gone through this guide and are ready to start the process of building a barndominium in Wisconsin, be sure to get the Barndominium Life Program!
Michael O'Connor is a seasoned barndominium writer passionate about creating unique and innovative barndominiums. With over 15 years of experience in the construction industry, Michael has established himself as a leading expert in barndominium design and construction.
His work has been featured in several respected publications, including Barndominium Life, where he frequently contributes articles on best practices and emerging trends in the field. Michael's ability to blend traditional techniques with cutting-edge technology and design concepts has earned him a reputation as one of the most knowledgeable writers in the industry.