If you're looking for a place where you can stretch out and relax with all the room you need for you and your family, these 5 bedroom barndominium floor plans are a perfect choice. These large barndominiums will give you plenty of space for playtime, entertaining, family gatherings, and even a home office.
Even if you're relying on a professional to develop your pole barn or barndominium floor plans for your home, it's still important to ensure that it works for the needs of your lifestyle. You're the one who knows best how you live your everyday life, and your input is crucial to ensure you end up with the home of your dreams.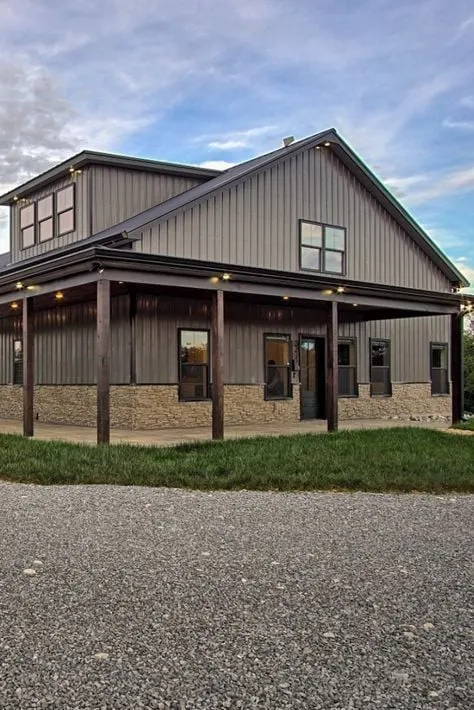 Many couples prefer to take the reins and design their own floor plan. This gives them much better control over the process, and today's programs make it easier than ever to create a layout that you'll love for your forever home. If this is something you prefer to do, be sure to check out the best barndominium design software to help you.
5 Bedroom Barndominium Floor Plans – Things to Consider
Before diving in and committing to a floor plan, make sure you've taken the time to think about how you plan to use the home. Here are a few crucial things you might want to consider before designing your barndominium.
Entertaining
Whether you're hosting a birthday party for your kids, a cocktail night for your friends, or a lavish sit-down dinner for the holidays, many people need ample space for entertaining. But more than that, they need the space to be able to function in a way that makes their guests feel comfortable and welcome.
Ensure you have guest bathrooms off the common areas of your house so that your visitors don't have to walk through too many private rooms to use the facilities.
Many barndominium floor plans have an open concept design, which is great for allowing you to spend time with your guests still while putting the finishing touches on your meals in your beautiful barndominium kitchen.
However, it can also be hard during times like Thanksgiving or Superbowl Sunday, when the lack of separation between rooms can make it difficult to carry on multiple conversations. There are certainly ways to work around this type of situation, but it's something to be aware of regardless.
Business Needs and Hobbies
One fantastic thing about many of these 5 bedroom floor plans is that they're perfect for people who have home businesses or hobbies that require a lot of space.
Depending on your needs, you may want to add a large garage or workshop to your design plans if you like to tinker around with cars or if you have a passion for woodworking.
Similarly, if you need an indoor crafting space or a spot for a home office, make sure you have a room that can be used just for that in a quiet area of the house. It can be an extra bedroom that's been repurposed or a dedicated office that's all yours, but you want to make sure it has everything you need to function for your lifestyle.
Play Areas
If you're interested in layouts for 5-bedroom barndominiums, chances are your family is on the larger side. To ensure that everyone is happy in the new home, consider having a dedicated space for the kids to play.
This may be a loft area that they can claim as their own or a separate playroom that's near their bedrooms.
Make the playroom big enough for all of their toys when they're young, while still allowing room for things like TVs and gaming systems when they're a bit older. Having a corner with tables or desks that can be used for homeschooling for study time would also be a huge benefit.
Outdoor Living Space
Having a beautiful porch or patio can extend the living space you have in your home, which is especially true if you live somewhere with nice weather year-round.
For many families, having an outdoor entertaining area is a top priority.
Installing a pool, an outdoor kitchen, or just relaxing on a deck overlooking your land is a perk that shouldn't be underestimated.
When drawing up your plans, be certain to account for the orientation of the house on your land to ensure that you're taking full advantage of any beautiful natural views you might have.
For many homeowners, allowing space in their budget to build out their decks and patios is money well spent.
That's it! Using the tool above, you'll get connected with a kit provider for 5 Bedroom Barndominium Kits.
5 Bedroom Barndominium Cost
It is important to think about how much a barndominium costs per square foot before deciding on the floor plan. Here you can figure out how much a barndominium per square foot costs as well as a barndominium cost calculator.
5 Bedroom Barndominium Kits
If you're looking to start building your barndominium, one of the first things to do is to get a quote for the metal shell or barndominium kit. By using the quote service below, you'll get connected with a barndominium kit provider within a few hours at most. Prefabricated barndominium kits mean that the metal shell that makes up your barndo is produced off-site, then it's brought to you for erection and assembly. While some builders will help you order the barndominium kit, we suggest doing it separately to avoid a potential markup on the barndominium kit.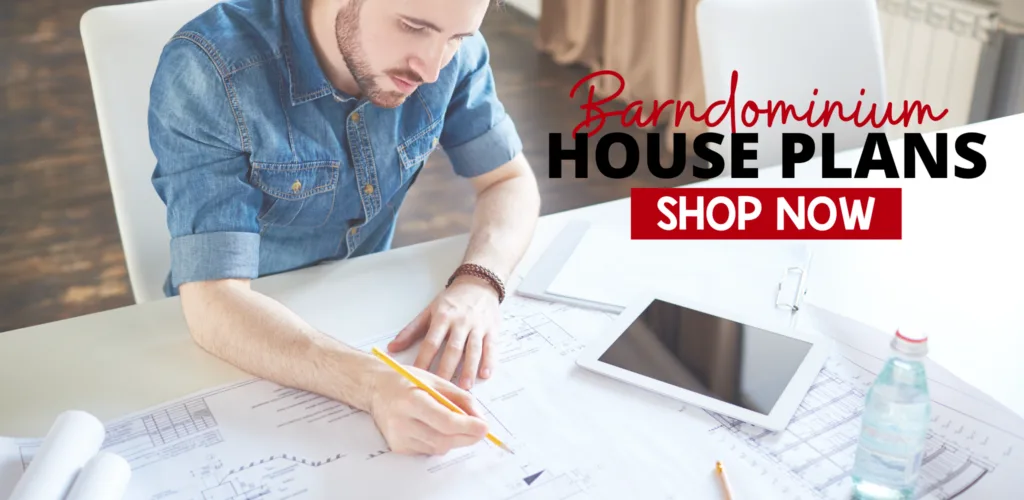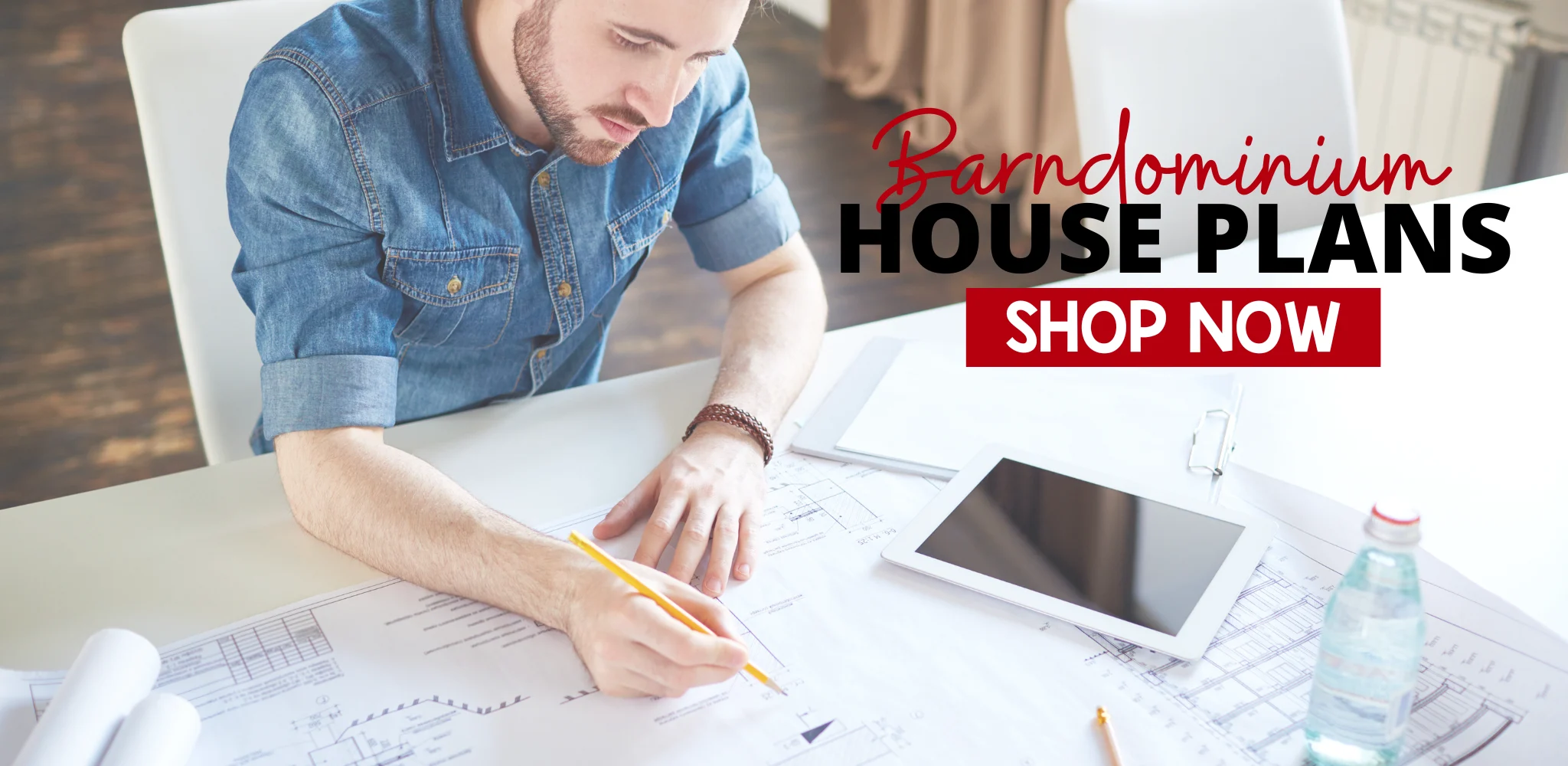 5 Bedroom Barndominium Floor Plans with Pictures – Get Inspired with These Floor Plan Ideas
After you've thought about all the layouts and features you want in your home, browse these five-bedroom floor plans to get even more inspiration.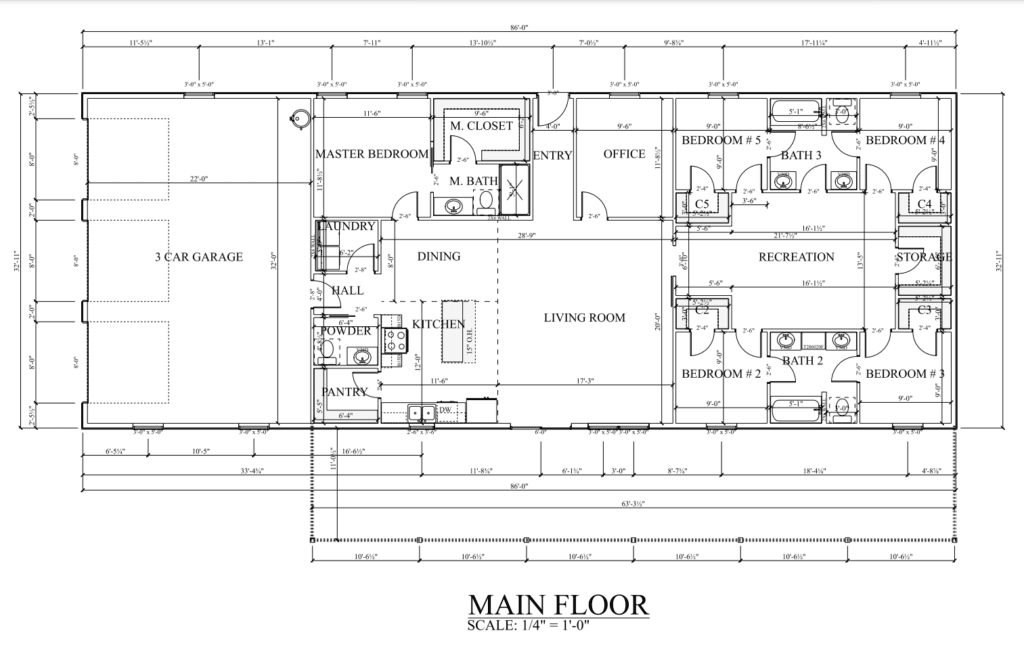 PL-62312 seamlessly blends style, functionality, and comfort, making it an ideal choice for a spacious and well-appointed home. With ample bedrooms, multiple bathrooms, office space, and a three-car garage, this floor plan caters to the diverse needs of modern living while exuding an air of elegance and sophistication.
Indulge in the epitome of spacious luxury with this stunning 2358-square-foot house plan. The balance of design and convenience ensures a living experience that is both sophisticated and practical. Boasting 5 bedrooms and 4.5 bathrooms, this single-story residence combines elegance with functionality, creating a harmonious living space. The open-concept design invites a seamless flow between rooms, fostering an atmosphere of connectivity and comfort. With a thoughtful mudroom addition, practicality meets style, providing a designated space to manage the transition from the outdoors.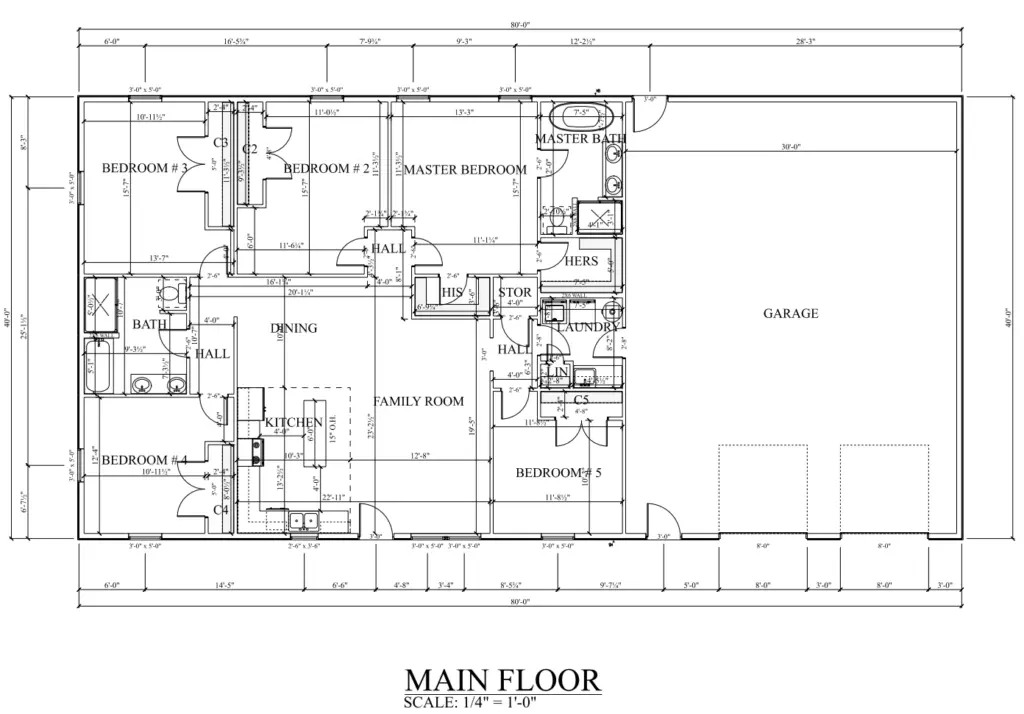 With open space for the living room, dining room, and kitchen, this barndo breathes a welcoming and homey atmosphere. Ideal for a large family, it offers a master bedroom and bathroom as well as 4 other bedrooms, one of which can be the designated guest room. An equally large shop is built to the right side of the house and is accessible from the inside through the laundry area, and from the outside via a separate door.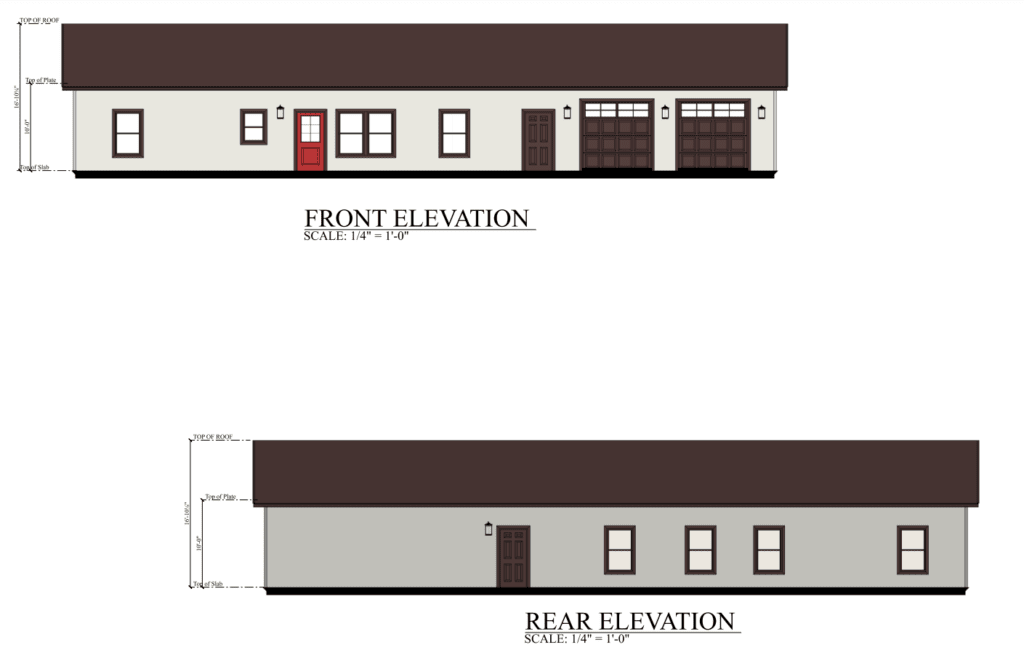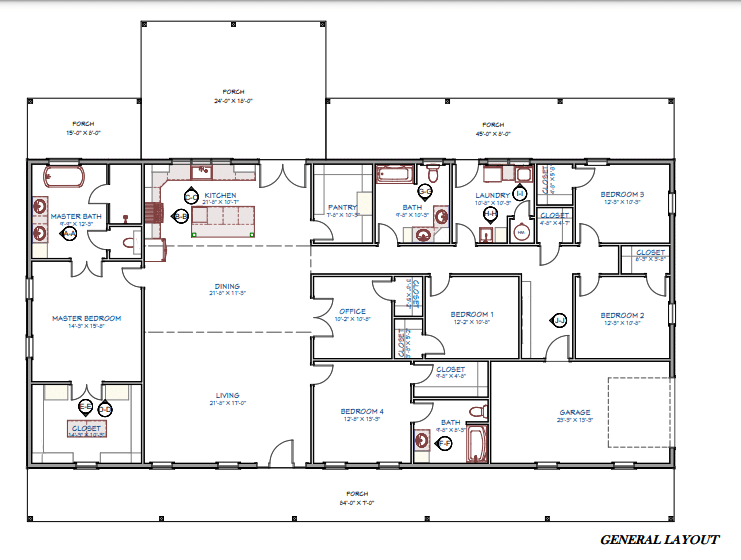 This barndominium with garage is perfect for a big family or those who love to have guests over. It also has a room for an office, which can be converted to a playroom or craft room, whichever suits your family's needs. An open-space living room and the kitchen is spacious enough for a gathering indoors. A small garage is attached, and the huge master bedroom is on the opposite side.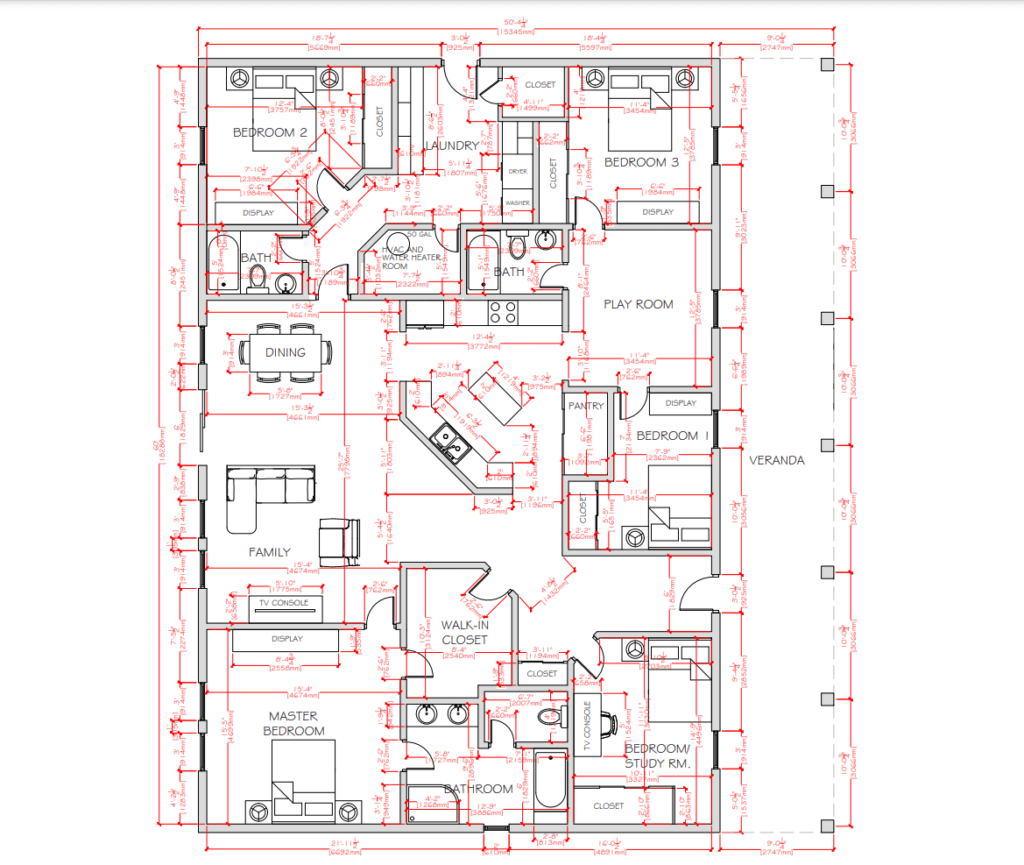 This floor plan features 4 bedrooms, including a master bedroom with an attached bathroom, and a spare bedroom that can be easily converted into an extra bedroom or study room. It also includes 3 bathrooms, with the master bathroom featuring luxury amenities. The living space is further enhanced with a spacious playroom, perfect for children or as a home entertainment center. The wide front porch is perfect for outdoor relaxation and adds to the charm of the house. With its ample living space and versatile rooms, this floor plan offers a comfortable and flexible living experience.
This spacious 5 bedroom barndominium floor plan has a huge workshop on one end of the home, plus a separate craft room with dedicated closet space. Mom and dad can both have their own places to play with a layout like this, plus there's still plenty of space for the kids with open family areas and generous bedroom sizes.
You'll have plenty of space to park your cars and have fun with your hobbies with this 45'x30′ garage attached to the home. With another separate hobby room, you don't have to worry about anyone's projects getting in the way. On the other end of the house is a game room that will keep the kids entertained and happy.
We love this layout that separates the master bedroom from the other bedrooms for privacy. The kid's bedrooms are centered around a large playroom, giving them the perfect spot to let their imaginations run wild as they play. Outside, a huge porch overlooks a playground area, which will be a great spot for them to spend time outdoors and burn off some energy in the process!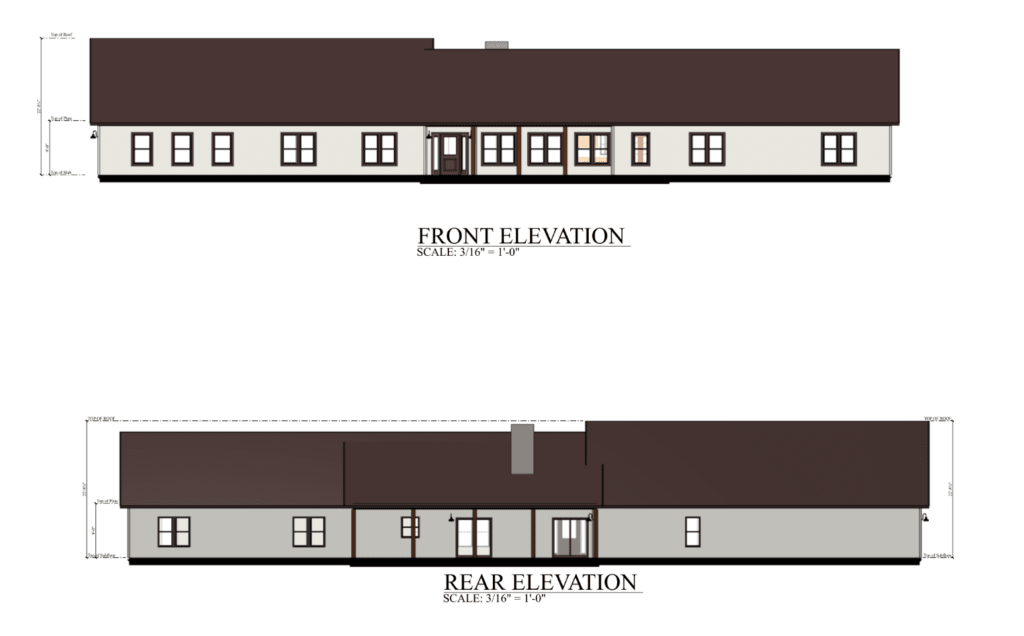 Two separate game rooms make this layout perfect for families with some younger and some older children. The younger ones can spread out their toys and have a blast while the older kids have their own space to retreat to with their friends for gaming or to watch movies. In the evenings, a large living room and kitchen will help bring everyone together for family time.
If you love the idea of a loft in your home, this is a great floor plan. The master bedroom is located on the lower level while the other 4 bedrooms are all spaced out on the top.
Jack and Jill baths are located on each side of the top bedrooms to make sure that no one in the family will be fighting for bathroom time in the morning, and the 17'x19′ common loft area is a great place for the kids to take over for their activities.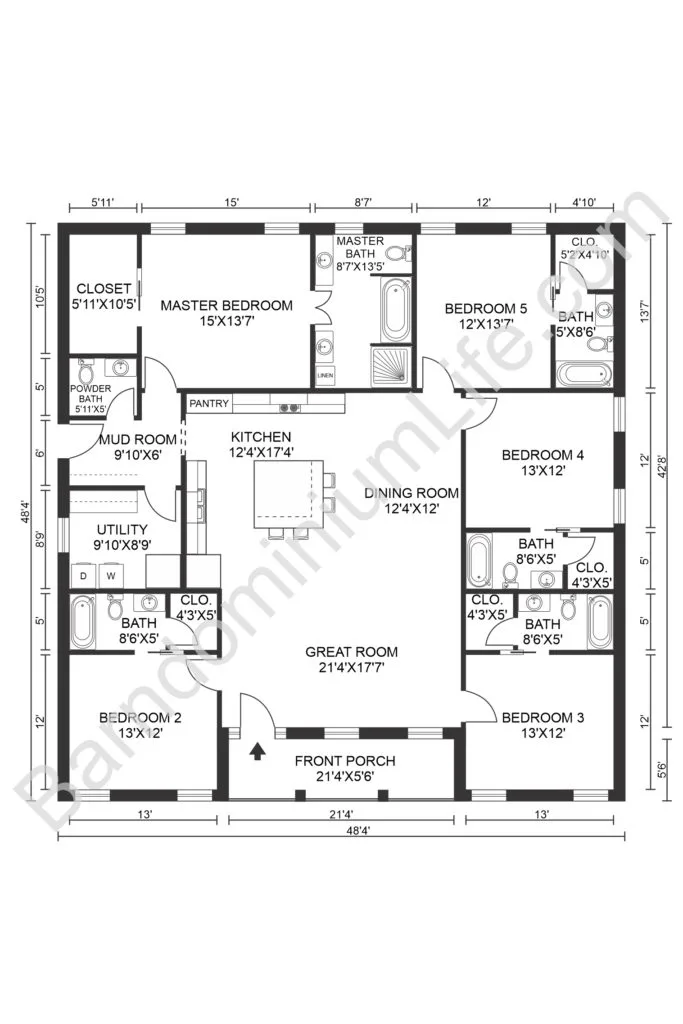 If you don't have it in the budget to splurge on huge outdoor living space, this cute little porch on the front of this home will still give you the perfect spot to relax at the end of a long day.
Another great perk of this layout is that each bedroom has its own dedicated bathroom, making it ideal for older kids who have returned to the nest, or elderly parents who are living with their kids. Everyone has their own space with plenty of privacy when needed in this floor plan.
This layout is hitting a lot of bases with us, which is one reason why we love it! Not only is there a huge covered patio that extends the length of the house, but it's also got a good-sized garage, a playroom, and a separate office! This is a one-floor plan that would work for almost any family who loves the barndominium lifestyle.
If you love porches, this is the layout for you! Perfect for those who have spectacular views all around and just can't pick a side, the front, and back porches open up to the common living spaces, which would make them natural extensions of your home when it comes to entertaining. For a bit more privacy, three of the bedrooms look over side porches, while the study off the master bedroom opens up to its own porch.
Design Your Own 5 Bedroom Barndominium Floor Plans
If these 5 bedroom barndominium floor plans have sparked your interest in creating your own, we have some great design software to help you make your dream come true. Even if you don't have any experience in design or architecture, it's a fun and easy way to create your own layout, which you can then see at the end with 3-D modeling.
For more information on how to get started building your own home, get the Barndominium Life Program! Filled with helpful tips on everything from budgeting to managing subcontractors during your build, we will guide you through the construction process from start to finish.
Conclusion
Five-bedroom barndominiums are perfect for large families or those that need a lot of space, but you still want to make sure the home is built to suit your needs. Make a list of all the features and ideas you want your home to have, and be sure they're incorporated into the final 5 bedroom barndominium floor plan for your forever home. Once you pick your dream floor plan visit our barndominium builders directory to find a builder in your area.
For more information, including design inspiration and helpful tips and tricks, buy our e-book and subscribe to our email list. We're constantly creating new posts to help barndo lovers everywhere build the home of their dreams easily and within their budget.
If you would like more guides like this one, check out the rest of BarndominiumLife.com. There, you will find more helpful tips and tricks from the pros. You will also find featured barndominiums, barndominium floor plans, and information on financing and insurance. Knowing as much as you can will help you get the best results for your dream home.